November, 19, 2013
Nov 19
9:30
PM ET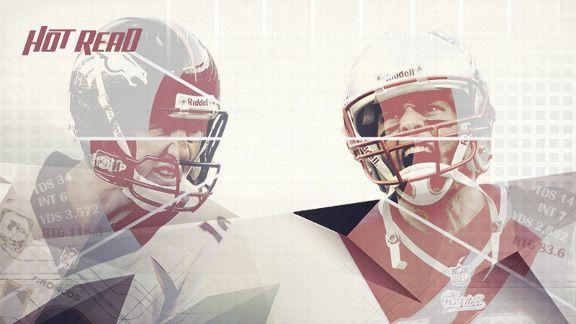 Call it a case of football déjà vu.
Four weeks ago, the
New England Patriots
found themselves with more questions than answers relating to a controversial penalty call in an overtime loss to the
New York Jets
, with a matchup against a divisional rival ahead of them.
Today, questions remain over a controversial non-call that proved costly for the Patriots in their 24-20 Monday night defeat at the hands of the
Carolina Panthers
, and a high-powered passing attack now waits in the wings.
There's nothing that can be done to atone for what looked like an obvious officiating error (the league stands by the call), and there's no time for disappointment within the walls of Gillette Stadium.
That's because the Patriots will welcome the
Denver Broncos
and their 39.8 points per game to Gillette this Sunday for one of the most highly anticipated games of the regular season.
As if the challenge of facing the Broncos on its own were not enough, the Patriots have a short week to do so, as they're already a day behind after playing on Monday night. The players received their customary day off on Tuesday, meaning they'll likely spend little -- if any -- time reviewing Monday night's defeat, focusing instead on what lies ahead with Denver.
[+] Enlarge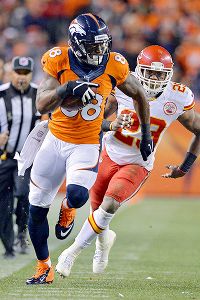 John Sleezer/Kansas City Star/MCT/Getty ImagesDemaryius Thomas is one of three Broncos with at least nine touchdown receptions.
The Broncos, riding high at 9-1 and fresh off of a win over the
Kansas City Chiefs
, own the AFC's best record (by virtue of a tiebreaker over the Chiefs) with an eye toward a top-two seed in the conference for a first-round playoff bye.
It won't be hard for Bill Belichick and his staff to size up the challenge ahead, as the Broncos are on pace to score nearly 50 more points than the Patriots did during their record-setting 2007 regular season.
Peyton Manning
is on pace to break
Tom Brady
's record for touchdown passes in a season, and the Broncos have three players who already have at least nine touchdown receptions this season (there are just five such players in total).
Manning is the orchestrator of the offense that has endured the loss of its best lineman, left tackle
Ryan Clady
, and still has surpassed 40 points in five games this season. His cast of receivers is unrivaled, with
Demaryius Thomas
and
Eric Decker
dominating the perimeter, while old Patriot
Wes Welker
and upstart tight end
Julius Thomas
present a nightmarish duo in the middle of the field. Welker's status for Sunday's game is uncertain, however, as he suffered a concussion in the win over the Chiefs.
This offense would be a challenge for the Patriots to contain even if they were at full strength, but the defense is dealing with injuries to each of its top three cornerbacks.
Aqib Talib
(hip) was forced out late in Monday night's game,
Alfonzo Dennard
(knee) sat it out entirely and
Kyle Arrington
(groin) had to leave the game temporarily for stretch and recuperation. Their status for Sunday is unknown, but it's fair to assume the secondary won't be at 100 percent. Add in the potential absence of starting safety
Steve Gregory
(thumb), and the Patriots will have their hands full while possibly leaning on reserve-level players.
It's nothing new for the Patriots, as they've weathered a litany of injuries already in 2013, led by season-enders to nose tackle
Vince Wilfork
and linebacker
Jerod Mayo
. Those have led to the ascension of little-known players such as
Joe Vellano
and
Chris Jones
in addition to the acquisition of veteran defensive tackle
Isaac Sopoaga
.
The Broncos aren't an imbalanced foe, however. The defense doesn't draw the same attention as the offense, but for the second consecutive week the Patriots will have their hands full with a pair of talented edge rushers,
Von Miller
and
Shaun Phillips
. And though the numbers are slightly skewed because they are so often playing with a sizable lead, the Broncos also boast one of the stingier run defenses, surrendering just 92.7 yards per contest.
Simply put, getting things going against this defense is no small feat.
Following their last controversial finish, the Patriots started slowly against the
Miami Dolphins
, falling behind 14-0 early. The Patriots flexed their resolve in scoring 27 of the game's final 30 points, catapulting them past their AFC East rival and putting to bed any lingering disappointment from the Jets game.
Falling behind against the Broncos is a recipe for trouble, something the Patriots are well aware of.
So that's why, as difficult as it may be given the circumstances surrounding Monday night's defeat, the Patriots have no time to feel bad for themselves.
With Peyton & Co. coming, the Patriots know it's time to go to work.
March, 14, 2013
Mar 14
5:59
PM ET
Pro Bowl receiver
Wes Welker
stepped to the podium Thursday for his introductory news conference with the
Denver Broncos
. It was the culmination of Welker surprisingly leaving the
New England Patriots
for one
of their biggest competitors
in the AFC.
Brady
Welker
Welker was complimentary of the Patriots' organization and thanked New England "for the six years there and all the trust and everything they put in me." But Welker shared his most candid thoughts on his good friend and Patriots quarterback
Tom Brady
.
"That was definitely the hardest part, was leaving Tom," Welker said. "He's a great competitor, a great player, a great friend across the board. So I wish the best to him."
Brady has not spoken publicly since Welker left for Denver. But you have to assume New England's leader is upset behind the scenes. Brady signed a three-year extension this offseason to provide the Patriots extra cap room, in part, to bring Welker back. New England still low-balled Welker and reportedly offered just $10 million over two years. He signed with Denver this week for two years and $12 million.
Welker dodged the question about whether he felt undervalued by the Patriots.
"I think that's all relative," Welker said. "I'm a Denver Bronco now and I'm excited about it. I'm not looking to the past now. I'm just looking forward."
Welker joins an explosive offense that already includes quarterback
Peyton Manning
and receivers
Eric Decker
and
Demaryius Thomas
. Welker has a proven track record of production and there is no reason to think he won't be successful with Manning in Denver.
The Patriots, meanwhile, will move on with a young but unproven
Danny Amendola
, who has big shoes to fill in New England.
January, 10, 2012
1/10/12
1:25
PM ET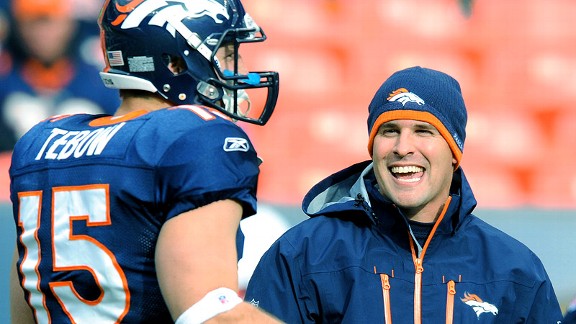 Ron Chenoy/US PresswireFormer Denver coach Josh McDaniels, right, is back with the Patriots. He'll help New England prepare for a Broncos team led by quarterback Tim Tebow, whom he drafted.
Someone has to lose Saturday's divisional-round playoff game between the
New England Patriots
and
Denver Broncos
. But one person will smell like roses this weekend no matter the outcome: Josh McDaniels.
The formers Broncos head coach and current Patriots assistant has cleverly positioned himself in a win-win situation.
On one hand, McDaniels rejoins New England at the perfect time to help the team make a deep playoff run. McDaniels has plenty of inside knowledge on the Broncos' roster and would get a lot of credit if he helped New England win its first playoff game since the end of the 2007 season.
On the other hand, if New England (13-3) were upset by the Broncos (9-8), it would be in large part due to McDaniels' most controversial draft pick in Denver:
Tim Tebow
. McDaniels was heavily ridiculed for "reaching" to take the former Florida quarterback in the first round. One more win by Tebow would advance Denver to the AFC Championship Game and within one game of the Super Bowl. That would be the ultimate vindication for McDaniels, who believed in Tebow from the start when no one else did.
Obviously McDaniels would prefer the former outcome, not the latter. But both options have McDaniels sitting pretty in this AFC playoff game filled with interesting storylines.
After an ugly two-year stint in Denver, after which he was fired, and one year with the
St. Louis Rams
, McDaniels was welcomed back in New England.
"I have a lot of respect for Josh, not only as a coach, but as a friend," Patriots director of player personnel Nick Casario said this week. "I've known Josh a long time, it's no secret. I think it's great to have him back. It's great to have him a part of our program and our system again. His goal and our goal is for everyone to work as hard as they can in preparation for this game, and that's what we'll try to do."
What is McDaniels' role during the playoffs with New England? Patriots head coach Bill Belichick has been vague.
McDaniels' title is "offensive assistant." But this week, because of the opponent, McDaniels could serve as more a scout on both sides of the football.
McDaniels, who was head coach of the Broncos from 2009 to 2010, has great intel on many of their key players. He drafted Denver's building blocks on offense -- Tebow and receivers
Demaryius Thomas
and
Eric Decker
. McDaniels also coached defensive stars
Champ Bailey
and
Elvis Dumervil
. This is priceless inside info that the Patriots could not get from simply studying tape.
McDaniels also should fit in seamlessly with New England's coaching staff. He spent eight seasons with the Patriots as an assistant and position coach, and three additional seasons as offensive coordinator. The system and terminology is virtually the same. This is a great way to ease McDaniels back into the fold to eventually take over for offensive coordinator Bill O'Brien when O'Brien leaves for Penn State after the playoffs.
"[McDaniels] is a person that I spent a lot of time with in a lot of different situations," Patriots head coach Bill Belichick said. "I have a lot of confidence in him, he's smart, he's got great experience and background, and he knows our system. I've enjoyed our conversations the past couple days as we've gotten caught up on some things and moved forward into the playoffs here. I think that he'll be a good asset to our team for the remainder of the season."
McDaniels is reviled by Broncos fans. He was expected to be the next prodigy at head coach. Instead, he went 11-17 and didn't complete his second season. Joining New England's staff this week in an effort to end the Broncos' season certainly doesn't help his reputation in Denver.
Still, no one can deny first-year head coach John Fox is advancing through the playoffs with a roster McDaniels helped build. Starters Tebow, Thomas, Decker and offensive linemen
Zane Beadles
and
J.D. Walton
were all from McDaniels' final draft class in 2010. McDaniels' 2009 draft picks
Robert Ayers
, who had two sacks in last week's playoff win against the
Pittsburgh Steelers
, and safety
David Bruton,
also are contributors on defense.
But Tebow and Thomas are McDaniels' greatest parting gifts to the Broncos. The quarterback-receiver tandem connected for one of the greatest plays in Broncos' history last week.
Denver's playoff run probably will end this weekend in New England. The Broncos are nearly two-touchdown underdogs. The matchup is perfect for the Patriots, who won the regular-season meeting in Denver by 18 points.
But if the Broncos pull a monumental upset, players like Tebow, Thomas, Decker (if healthy) and Ayers will have a huge role. For that, McDaniels would still deserve a lot of credit.
Sometimes the stars align.
McDaniels simply can't lose this week.