February, 26, 2010
2/26/10
8:56
PM ET
INDIANAPOLIS --
I doubt Bill Belichick will be too impressed
with this declaration.
Nevertheless, NFL Network analyst Charley Casserly made a bold statement Friday about this year's draft class.
[+] Enlarge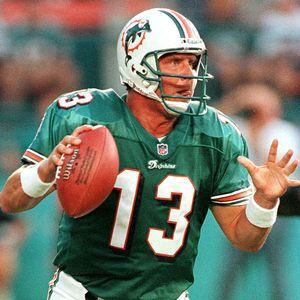 RHONA WISE/AFP/Getty Images Dan Marino was the 27th player drafted from the very successful Class of '83.
The former
Washington Redskins
and
Houston Texans
executive asserted the players taken in this year's first round will be the greatest collection of talent since the most celebrated class turned pro nearly three decades ago.
"This is the best first round I've seen since 1983," Casserly said at the NFL scouting combine in Lucas Oil Stadium.
Of the
28 players selected in the first round in 1983
, six have been inducted into the Pro Football Hall of Fame. They went to 77 Pro Bowls and won nine Super Bowls.
The 1983 quarterback class is legendary. All five AFC East clubs selected quarterbacks.
The
Baltimore Colts
took John Elway first overall. The
Buffalo Bills
drafted Jim Kelly 14th. One spot later, the
New England Patriots
chose Tony Eason. The
New York Jets
got Ken O'Brien 24th, and the
Miami Dolphins
used the 27th pick on Dan Marino.
Other first-round stars included running backs Eric Dickerson and Curt Warner, offensive linemen Chris Hinton, Jimbo Covert and Bruce Matthews and defensive backs Joey Browner, Gil Byrd and Darrell Green.
Casserly claimed only that crew will surpass the one that comes together in April.
With a rookie salary cap expected to be part of the next collective bargaining agreement, 53 underclassmen declared for this year's draft so they can sign under the current CBA, which allows rookies to get whatever they can.
"In talking to general managers throughout the league, decision-makers," Casserly said, "I think it's the result of two things. Last year, there was a concentrated effort to keep players in school. Conversely, both sides in the labor negotiations have talked about a rookie wage scale.
"So when you have those two things working, players without a motivation to stay in school will say 'The players who stayed in last year, you have a perfect storm to have the best junior crop you've had since all the way back to '83.' So I think this is the best first round I've seen going into a draft since 1983."
August, 8, 2009
8/08/09
8:55
AM ET
Posted by ESPN.com's Tim Graham
CANTON, Ohio -- Entering the Pro Football Hall of Fame in 1999 with Lawrence Taylor, Eric Dickerson and Ozzie Newsome, Billy Shaw wasn't nearly the star of his induction class.
2009 Hall of Fame Induction Coverage
Saturday in Canton, Ohio, six men will be hailed as the latest members of the Pro Football Hall of Fame. Bruce Smith, Rod Woodson, Ralph Wilson, Randall McDaniel, and posthumous honorees Derrick Thomas and Bob Hayes form the Class of 2009. The ceremonies will air live, beginning at 7 p.m. ET, on ESPN and ESPNHD. Follow ESPN.com's coverage.

• Our future HOF nominees: Story | Podcast


• Chat: Hall of Fame inductee Rod Woodson
• Chat: Hall of Famer Warren Moon
• Wickersham: Wilson valued for impact
• Scouts Inc.: Top 5 CBs in the NFL today


• Walker: Is Rod Woodson the best CB ever?
• Graham: Bruce Smith, Sackmaster
• Blogs: More Hall of Fame coverage

But he made the most indelible mark that year.
This is the 10-year anniversary of Shaw's enshrinement. At a casual media gathering at the McKinley Grand Hotel, the legendary Buffalo Bills guard retold the story of how he prompted the "Billy Shaw Rule" for future induction ceremonies.
"I'm the guy that they named the Billy Shaw Rule after when a new guy gets inducted because in my speech I forgot my wife," Shaw said. "I had to go get on my hands and knees on the podium to apologize to her."
Shaw did just that, quite literally.
"Now, when they are giving the new class their instructions, they say 'Certainly, in your acceptance speech, don't forget your family and, more importantly, your wife or significant other,'" Shaw said.
Shaw, who played nine years for the Bills and was a driving force to them winning back-to-back AFL titles, thanked just about everybody you could imagine and then walked away from the lectern to applause and posed for some photos with his bust.
"My daughter, sitting on the front row, gave me this sign," Shaw said before re-enacting the throat-slash gesture Cindy Shaw gave him.
"When she did that, I knew that I had screwed up royally. And she [mouthed] 'Forgot mom.' During the intermission I went to the front of the stage and I got my knees and did this to her."
Shaw mimicked a reverential bow, theatrically raising and lowering his arms in his wife's direction.
"Eric saved my life because I spoke before he did," Shaw said. "He went up there and made amends for me."
Shaw's groveling and Dickerson's followup request for forgiveness must have worked. Billy and Patsy Shaw recently celebrated their 49th wedding anniversary.