March, 12, 2014
3/12/14
8:00
AM ET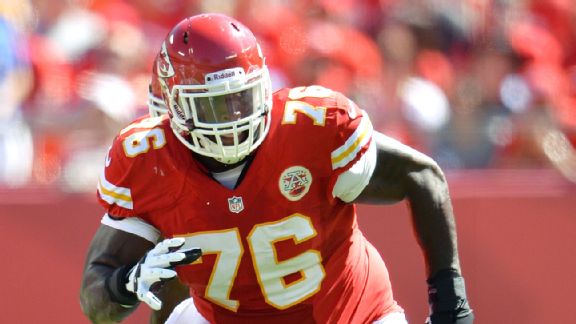 Peter G. Aiken/Getty ImagesThe Dolphins bolstered their O-line by agreeing to a five-year, $46 million deal with Brandon Albert.
NFL free agency kicked off with a bang Tuesday, and Pro Bowl left tackle
Branden Albert
was one of the biggest names to switch teams. Albert signed a five-year, $46 million contract with
Miami Dolphins
. He spent the previous five seasons with the
Kansas City Chiefs
.
One team's loss is another team's gain in free agency.
ESPN.com's Chiefs reporter
Adam Teicher and
Dolphins reporter
James Walker weigh in on both sides of the Albert signing.
James Walker:
Adam, the Dolphins are ecstatic to land a player of Albert's caliber. Pro Bowl left tackles do not grow on trees, and Albert was the highest-rated player at that position on the market. Albert also filled Miami's biggest need on the offensive line, which was torn apart last season with the bullying controversy. The price tag wasn't cheap. But the Dolphins feel it was worth the investment, especially after watching their quarterback get sacked a team-record 58 times last season. Albert will protect
Ryan Tannehill
's blindside. Adam, how are the Chiefs dealing with the loss of Albert?
Adam Teicher
: It's a loss for the Chiefs for the short term without a doubt. Eventually, the Chiefs should be able to handle his departure. The Chiefs and Albert were so far apart on a long-term contract last year that they knew it was never going to happen. So they began preparing for this day last year by selecting a tackle,
Eric Fisher
, with the first pick in the draft. Fisher started as a rookie at right tackle but didn't play well. He was a huge disappointment, but there's no reason to believe he won't eventually become the player the Chiefs envision. He needs a year in Kansas City's weight program. That alone should make him better.
The Chiefs and Dolphins talked about a trade involving Albert last year. How disappointed was Miami they couldn't acquire Albert then?
Walker:
The Dolphins liked Albert last year, but the person calling the shots this year is different. Miami fired former general manager Jeff Ireland and hired new GM Dennis Hickey in January. Ireland liked to acquire picks as opposed to trading them away. So it wasn't a shock when talks with Kansas City failed. It turned out to be a mistake as Miami's offensive line was atrocious, which played a factor in Ireland losing his job. Hickey doesn't want to make the same mistake. It appears he values the perks of a good offensive line and is making it a priority by putting money into Albert.
Adam, the Chiefs' offensive line appears to be in transition with losses of Albert,
Jon Asamoah
and
Geoff Schwartz
. How will they recover?
Teicher
: They've tried to prepare for this. Over the last four drafts, the Chiefs have used five picks in the first three rounds on offensive linemen. Four of them will start next season. They have three developmental linemen and the Chiefs could slide one of them into a starting spot in the middle of the line. Their depth will definitely take a hit, particularly at tackle. They'll have to find some backups and perhaps even a starter through free agency or the draft.
With regard to the offensive line, is anything left for the Dolphins to do or are they set?
Walker
: The Dolphins are far from set, Adam. Unlike Kansas City, Miami has not invested much in the offensive line in the past year. Pro Bowl center
Mike Pouncey
is the only starting offensive lineman expected to return. Last year's starting guards --
Richie Incognito
and
John Jerry
-- will not return due to their involvement in Miami's high-profile bullying scandal. Offensive tackles
Tyson Clabo
and
Bryant McKinnie
are both unrestricted free agents who are long in the tooth. Pouncey and Albert are a solid foundation. But the Dolphins still need two starting guards and a right tackle to play alongside their two Pro Bowlers.
April, 24, 2013
4/24/13
2:50
PM ET


The
Miami Dolphins
may be coming to the realization that they cannot land a top left tackle with the No. 12 overall pick. According to
ESPN's Ed Werder and Adam Schefter
, the Dolphins have re-opened trade talks with the
Kansas City Chiefs
for veteran tackle
Branden Albert
.
There is a lot of momentum for this trade to get done in the next 24 hours. The Chiefs hold the No. 1 overall pick and are expected to take one of the top two left tackles:
Luke Joeckel
or
Eric Fisher
. The third-rated tackle,
Lane Johnson
, also is expected to go into the top 10 and would not be available to the Dolphins.
It's no secret that Miami is desperate for a left tackle. Instead of giving up multiple picks to move up, which I did in
this week's blogger mock draft
, the Dolphins may feel it's best to give up a second-round pick for an older, proven left tackle.
Albert, 28, has 71 career starts in five years for Kansas City but has never been to the Pro Bowl. The Dolphins have been very aggressive in free agency. Albert currently has the one-year franchise tag and reportedly wants $8 million or $9 million per season.
April, 23, 2013
4/23/13
2:30
PM ET
With five picks in the first round, it was a busy time for the AFC East in the 2013 blogger mock draft. Our annual projection of the NFL draft took place again this week with some surprise picks. Our division made a draft board and did our best to stick to it.
Here is how things went for the AFC East:

No. 3: Miami Dolphins
Pick:
LT
Eric Fisher
, Central Michigan
Analysis:
Surprise! Yes, the Dolphins were extremely aggressive in the blogger mock draft, which falls in line with general manager Jeff Ireland's mindset this offseason in free agency. Miami has 11 draft picks total and can afford to make a major move up to get an elite left tackle. I didn't expect Oklahoma's
Lane Johnson
to fall in my lap at No. 12 overall. So I kept in touch with AFC West blogger Bill Williamson with the
Oakland Raiders
at No. 3 and NFC North blogger Kevin Seifert with the
Detroit Lions
at No. 5. I decided to go big with Fisher, who I really wanted. I traded Miami's first-round pick, second-round pick and two third-rounders to move up to No. 3 for Fisher. It's a steep price, but Miami takes protecting quarterback
Ryan Tannehill
seriously. The Dolphins also keep one of their second-round picks to fill another hole at cornerback or defensive end in the next round.

No. 8: Buffalo Bills
Pick:
WR
Cordarrelle Patterson
, Tennessee
Analysis:
I was looking to trade down with Buffalo but didn't receive any interest. All three left tackles (
Luke Joeckel
, Fisher and Johnson) were gone. So all I heard was crickets. On top of that, Alabama guard
Chance Warmack
was taken one pick higher at No. 7 to the
Arizona Cardinals
. Having to make the pick, I
trusted our final board
and went with Patterson. He has a lot of upside and could fit in well next to 1,000-yard receiver
Steve Johnson
. There has been a lot of speculation
about the Bills taking
quarterback
Ryan Nassib
at No. 8 overall, but that thought never crossed my mind. If Buffalo wants to risk taking a second-round prospect No. 8 overall, that's on the Bills. It turns out no quarterback was taken in the first round of our blogger mock draft. That sets up pretty well for the Bills to take a quarterback at the top of the second round. That's the better route for the Bills to take on Thursday.

No. 9 and No. 13: New York Jets
Picks:
DE
Barkevious Mingo
and WR
Tavon Austin
Analysis:
I view this pair as a success. The Jets have two picks in the top 13 and drafted two players from our final board who can make an immediate impact. Mingo and Austin are two of my favorite players in this draft and provide a solid foundation to rebuild the Jets. Mingo can provide an important pass rush and Austin is a playmaker who can boost New York's anemic offense. The Jets gained the second first-round pick from the
Darrelle Revis
trade. This pair could make Jets fans start to move on.

No. 29: New England Patriots
Picks:
USC WR
Robert Woods
Analysis:
This was a tricky pick as I waited for nearly the entire first round to develop. I even got an offer from NFC East blogger Dan Graziano, whose
Philadelphia Eagles
were interested in West Virginia quarterback
Geno Smith
. New England needs picks, and the Eagles offered their second- and fifth-round pick for No. 29. The value just wasn't good enough, so the Patriots balked and filled a major need at receiver with Woods. I liked two receivers in this spot for New England: Woods and
Justin Hunter
of Tennessee. Hunter was taken by the
St. Louis Rams
at No. 22. Woods does a lot of things well and looks NFL ready. The Patriots need receivers on the outside who could fill in for
Brandon Lloyd
, who was cut this offseason.
Overall, it was another successful blogger mock draft for the AFC East. I landed an elite left tackle for Miami, a receiver with plenty of upside for Buffalo, a pass-rusher and dynamic offensive playmaker for New York and a possible starting receiver for the Patriots.
Do you agree or disagree with the picks? Feel free to share your thoughts in the comment section below.
April, 12, 2013
4/12/13
4:30
PM ET
The
Miami Dolphins
could go in several directions with the No. 12 overall pick. Miami also has 11 selections total, which affords the team the flexibility to move up if necessary. That makes the Dolphins one of the most unpredictable teams in this month's NFL draft.

Miami has needs at cornerback, offensive tackle and defensive end. That is why ESPN draft analyst Todd McShay pegged Florida State cornerback
Xavier Rhodes
for
the Dolphins at No. 12.

But on a conference call with ESPN.com's Blog Network on Friday, I asked McShay about the prospects of Miami moving up to get a higher-rated player. McShay felt strongly about one position for the Dolphins.
Here was McShay's response:
"If I'm moving up, I'm moving up for a left tackle. That's just me. Cornerbacks are one of the four key positions. But left tackle is one of the two or three in terms of positional value, in my opinion. If I just invested the No. 8 pick last year in [Ryan] Tannehill and saw the promise I saw from him this past year and lose a Jake Long. ... I don't know. I would be sick to my stomach going into a season with Jonathan Martin as my left tackle if I'm trying to build around [Tannehill]. How many years have we've been looking for a quarterback for Miami? How many years? I feel like it's Groundhogs Day every single year in the draft, saying 'Well, they haven't had a quarterback since Dan Marino.' Now you've got one, so don't screw it up. To me, this is a no-brainer if you're the Dolphins. Give up the pick, move up and go get Lane Johnson, if not Eric Fisher, and lock down that spot."
I agree with McShay. Offensive tackle is the second-most important position on the field. Barring significant improvement from Martin, the Dolphins currently do not have one. This is a draft deep with quality offensive tackles, and Miami would do itself and Tannehill a huge favor by securing his blind side.