December, 2, 2010
12/02/10
3:57
PM ET
ORCHARD PARK, N.Y. -- A lot has happened since I started writing this
Stevie Johnson
story more than a week ago.
It looks nothing like what I intended, and yet it's about the same thing.
The
Buffalo Bills
receiver is a natural entertainer in shoulder pads. He comes from a musical family and was known as Stevie Styles at the
University of Kentucky with rousing pregame poetry
. Johnson projects on television. He has that innate ability to relate with an audience. He wants to move people, bring them joy.
Johnson was doing that a week ago. A colorful interview on Jim Rome's radio show included a freestyle rap that made him an immediate smash. Rome brought him back to appear on his television show. Johnson was on ESPN's "First Take." He was doing one-on-one interviews with outlets across the country.
[+] Enlarge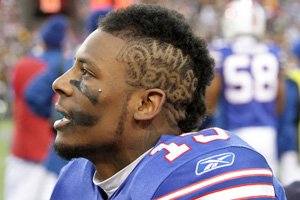 Timothy T. Ludwig/US PresswireIt's been a whirlwind season for Stevie Johnson, who's on pace to break the Bills' single-season record for TD catches.
"I didn't really expect this much attention," Johnson told me last week at One Bills Drive. "I always knew I could produce anywhere as long as I got the opportunity, but how it's blowing up, I didn't see that coming."
His breakout season started the whirlwind. He was a 2008 seventh-round draft choice who had trouble getting on the field until this year, yet he's tied for third in the NFL with nine touchdown catches, two away from the club record. He had a streak of five games with a touchdown.
Johnson scored three touchdowns in a stunning comeback victory over the
Cincinnati Bengals
in Week 11. His playfulness was revealed on his undershirt, lifting his jersey to reveal the hand-scrawled query "Why So Serious?" It was a reference to the Joker, and a tweak of former teammate
Terrell Owens
and
Chad Ochocinco
(aka Batman and Robin).
His stepfather, Andre Lewis, is a noted record producer in the Bay Area. So, using parlance to which he's well attuned, I asked Johnson how he prevents being a one-hit wonder.
"Continue being a student, knowing this isn't it," Johnson told me three days after the wild Bengals victory and four days before a perfectly thrown
pass landed on the end zone turf, not in his hands
for the winning touchdown against the
Pittsburgh Steelers
in Ralph Wilson Stadium.
Johnson's whirlwind turned tornadic. About an hour after he dropped what should've been a 40-yard touchdown in sudden death,
Johnson tweeted his anguish in a message to God
.
The assumption was that he was blaming God for making him drop the pass. Johnson clarified the next day, claiming he merely was making a rhetorical appeal.
Johnson's drop-and-tweet Sunday launched him into the media mainstream in a way he never wanted. Conan O'Brien and Jimmy Kimmel included Johnson jokes in their Monday night monologues. Johnson was a topic on "The View" and celebrity gossip site TMZ.com. He was the lead story on CNN.com's religion page.
I met up with Johnson again Wednesday at his locker stall. I'm no psychologist, but it appeared the incident was behind him. He was smiling again, confident he had adequately explained his poorly calculated tweet -- even though he still couldn't explain the drop.
As he beat Steelers cornerback
Ike Taylor
and looked skyward over his left shoulder, he saw the ball on its way and could tell by the trajectory.
"Money," Johnson said, re-enacting the play in the locker room. He held his hands out for the imaginary ball. "I got this. It's over."
From there, he doesn't know how the ball didn't land into the palms of what Kentucky head coach Joker Phillips (he didn't get the "Why So Serious" reference, by the way) told me "were some of the strongest hands I've ever seen." The tip of the ball somehow glanced off Johnson's right upper arm and fell incomplete.
I wondered if Johnson knew the story of Jackie Smith, the Hall of Fame tight end who dropped a pass in the end zone against the Steelers in Super Bowl XIII. The
Dallas Cowboys
had to kick a field goal and lost by four points.
Johnson said he wasn't familiar with Smith's tale, so I sent Johnson a link to a story about him. What struck Johnson most was that it was Smith's last play in the NFL.
Johnson will have more opportunities, including this year. With five games left, he's only two touchdown receptions from
Bill Brooks
' club record of 11.
"This Johnson boy has emerged," legendary Bills receiver
Andre Reed
said. "He catches the ball well in traffic. He finds seams in defenses. He's very confident about what he's doing and that's No. 1 what you have to have when you go out there. Plus, [Bills quarterback]
Ryan Fitzpatrick
is looking for him. Defenses are going to pay attention to him."
How amazing that a kid who didn't play football until he was a junior in high school and didn't play receiver until he got to college is on pace to score more touchdowns in a season for the Bills than
Eric Moulds
or Reed or
James Lofton
or Frank Lewis or Haven Moses or Elbert Dubenion.
When I mentioned that a week ago, I was more surprised at his reaction than I was at the fact he might break the record. It was almost as though he didn't realize how impressive the record would be.
"So you're saying, like, if I get these two touchdowns, I'll be the single-team leader in touchdowns? When you say Lofton, Reed and Moulds, that's huge. That's unbelievable," Johnson said.
"When I came into the season, I wasn't thinking about scoring 15 or 13 touchdowns or getting a record. I was just trying to fill a vacancy and be the guy next to
Lee Evans
to make plays."
There's a lot of aw-shucks in Johnson, and that's what makes him so easy to root for.
Phillips, the head coach at Kentucky who was Johnson's position coach there, explained how Johnson struggled in his transition from San Francisco to Lexington because he couldn't be with his future wife, Britney. She moved there to be with him, got a job, centered him.
"That says a lot about a young man who's going off to college," Phillips said. "He's a big-time family guy. He loves his daughter, loves his wife. From the day he got here, all he talked about was getting his [future] wife out here with him."
Johnson expressed a similar sentiment Wednesday, noting by the time he walked up to Britney in the kitchen after Sunday's heartbreaking defeat, he was all smiles -- because it was better than crying.
Why so serious?
"After looking at this season," Johnson said, "it's pretty evident: 'OK, Stevie. You probably can make some noise in this league. Just go out there next Sunday and do it again.' You can't be settled. I have to continue to prove to myself I can be with those guys."
November, 22, 2010
11/22/10
12:22
PM ET
Nearly 17 years ago, the
Buffalo Bills
pulled off the greatest comeback in NFL history. That's not just my opinion. The
Pro Football Hall of Fame
and
the NFL Network
have declared what transpired in January 1993 as the most epic rally the league has seen.
The Bills beat the Houston Oilers despite trailing by 32 points at halftime.
The stakes weren't nearly as high and the deficit not quite as deep Sunday. But the Bills pulled off a victory almost as astonishing in Paul Brown Stadium.
The
Cincinnati Bengals
led the Bills by 21 points early in the second quarter and 17 points at halftime. Then the Bills morphed into another team in the second half, scoring 35 unanswered points to turn a blowout defeat into a rout.
Some facts and figures pertaining to another epic Bills comeback:
Elias Sports Bureau notes it was the first time in NFL history a team at least seven games under .500 came back from a 21-point deficit to win on the road.
Also from Elias, the 18-point victory was the largest margin in NFL history by a team that trailed by at least 21 points.
It was the third time in franchise history the Bills won after falling behind by 21 points.
The 24 points Buffalo allowed in the second quarter were the third-most in club history. The 21 points Buffalo scored in the fourth quarter were sixth-most.
For the ninth time in Bills history, they had a 300-yard passer (Ryan Fitzpatrick), 100-yard receiver (Steve Johnson) and a 100-yard running back (Fred Jackson).
For only the fifth time, a Bills quarterback has two four-TD games in one season. Jim Kelly did it three times, Joe Ferguson once.
Buffalo's 49 points were their second-most of the past 19 years.
The last seven times the Bills have scored at least 40 points, it has happened on the road.
Strange stat to me: The Bengals haven't beaten the Bills since 1988.
Another strange stat: Even with all the great receivers Buffalo has had (Andre Reed, James Lofton, Jerry Butler, Eric Moulds), Johnson's three touchdown receptions put him only two behind the club record for most in a season. Bill Brooks had 11 in 1995.
"There's no quit in this team," Fitzpatrick said. "You really saw that in the second half. When you get that first win, then you start learning how to win, and everything starts falling into place. What a great team effort."
November, 8, 2010
11/08/10
8:25
PM ET
Patrick Moran of BuffaloSportsDaily.com picked a good day to publish his enlightening Q&A with former
Buffalo Bills
receiver
Eric Moulds
.
Moulds covered a lot of ground in the interview and gave blunt assessments of the current Bills, noting a glaring lack of leadership and his disdain for playing games in Toronto.
Purely by coincidence,
Moulds' best comments pertained to the firing of Wade Phillips
-- 10 years ago.
Phillips was the last coach to take the Bills to the playoffs. The
Dallas Cowboys
fired Phillips on Monday.
"I think we were onto something good," Moulds said of the 2000 Bills. "I think that move [firing Phillips] set us back 10 years as an organization, and the Bills are still trying to recover now. We had a playoff team, great coaches and a lot of Pro Bowl players, and the powers that be just ripped it up like a piece of paper. Still till this day it bothers me."
Moulds, without naming owner Ralph Wilson, also pointed a finger at "the powers that be" above Phillips for switching quarterbacks when the Bills began the playoffs after the 1999 season.
Doug Flutie
started every game until the regular-season finale, getting the Bills to a 10-5 record.
Rob Johnson
started instead and remained the starter for the playoffs.
"I thought it was the dumbest decision made in history of pro sports," said Moulds, a three-time Pro Bowler. "It's a story that I wish ended differently."
The season ended with the Music City Miracle. The Bills haven't been in the playoffs since.
November, 3, 2010
11/03/10
10:33
AM ET
»
NFC Stock Watch
:
East
|
West
|
North
|
South
»
AFC
:
East
|
West
|
North
|
South
FALLING
1. Jets' receiving corps:
A headline Monday in the New York Post read "Receivers drop dead." Drops aren't an official stat, but reports had the Jets dropping anywhere from six to nine of
Mark Sanchez
's passes in a 9-0 home loss to the Packers. Both of Sanchez's interceptions were accurate throws defenders simply wrestled away from Jets receivers. The usually sure-handed
Jerricho Cotchery
and
Santonio Holmes
had particularly rough afternoons with multiple drops.
2. Dolphins' offense:
The Dolphins' offense continues to struggle when it comes to the all-important touchdown. They have scored 10. Only the lowly Panthers have fewer. The Dolphins have scored just one touchdown in four of their seven games. Running backs
Ronnie Brown
and
Ricky Williams
have combined for two touchdowns all year.
3. Ryan Fitzpatrick, Bills quarterback:
Fitzpatrick last week was approaching cult hero status in Western New York with a gaudy passer rating surpassed only by
Peyton Manning
. Fitzpatrick's star waned along with his stats in Sunday's 13-10 loss to the Chiefs. He was decent, but didn't nearly play to the level of a desperate fan base's throbbing optimism. Fitzpatrick threw a bad interception at the end of regulation and was flagged for intentional grounding on third down from the Chiefs' 43-yard line in overtime.
RISING
[+] Enlarge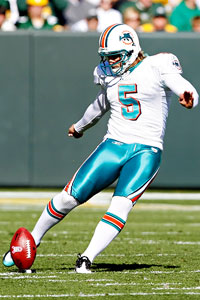 Scott Boehm/Getty ImagesDan Carpenter has connected on 13 consecutive field goals.
1. Patriots' offensive line:
In the previous three games,
Tom Brady
was sacked 10 times, and New England's running backs averaged an uninspiring 3.4 yards a carry. In Sunday's victory over the Vikings, Brady didn't get sacked once.
BenJarvus Green-Ellis
averaged 6.6 yards a carry and became the first player in eight years to rush for more than 100 yards in a half against the Vikings. Perhaps even more significant, Pro Bowl left guard
Logan Mankins
ended a contract squabble and reported for work Tuesday. A 6-1 team got even better.
2. Dan Carpenter, Dolphins kicker:
Offensive struggles have been a boon for Carpenter's productivity. He became the fourth kicker in NFL history to kick at least five field goals in consecutive weeks. Carpenter has made 13 straight field goals. He ranks third in scoring even though he has only 11 extra points. The other three kickers in the top four have converted at least 21 extra points.
3. Steve Johnson, Bills receiver:
With at least one touchdown in five straight games, the 2008 seventh-round draft choice tied a club record held by Elbert Dubenion, Eric Moulds and
Lee Evans
. Johnson's six touchdown receptions are tied for sixth in the NFL. He also has caught at least five passes in three straight games.
October, 31, 2010
10/31/10
4:49
PM ET
Some thoughts about the Buffalo Bills'
13-10
loss to the Kansas City Chiefs.
What it means:
Heartbreak again. For the second straight week, the Bills hung tough with a team many expected to annihilate them and went into overtime before losing by a field goal. The Bills are 0-7.


Torture:
In sudden death, Bills kicker
Rian Lindell
missed a 53-yard attempt. On the ensuing possession, Chiefs kicker
Ryan Succop
missed a 39-yard try before closing them out as bonus time expired.
Live and die with Fitzpatrick:
Bills quarterback
Ryan Fitzpatrick
extended his streak of touchdown passes to eight games, tying the game with a 4-yard toss to
Steve Johnson
in the fourth quarter.
Then the Bills had the ball on the Chiefs' 41-yard line with 32 seconds left in regulation.
Eric Berry
intercepted at the 27. In overtime, Fitzpatrick was flagged for intentional grounding on a third-down play from the Chiefs' 42-yard line, forcing a punt rather than a possible field goal.
Bills defense pro and con:
The Bills held the Chiefs to just 10 points in regulation time, but they also got trampled for 254 rushing yards by
Jamaal Charles
(177) and
Thomas Jones
(77).
Johnson's streak intact:
His touchdown reception gives him at least one score in five straight games, tying a club record held by Elbert Dubenion (1964),
Eric Moulds
(1999) and
Lee Evans
(2004).
What's next:
The Bills play their annual "home game" in Toronto in Week 9. The
Chicago Bears
will be their opponent.
October, 24, 2010
10/24/10
11:20
PM ET
There will be no negativity in this post about the
Buffalo Bills
, not even a reference to Sunday's score or result against the
Baltimore Ravens
in M&T Bank Stadium.
A few notes on the Bills' surprising offensive eruption against one of the NFL's best defenses:
Ryan Fitzpatrick was 29-of-43 for 374 yards and four touchdowns for a 106.1 passer rating.
He became the first Buffalo quarterback with back-to-back games of at least three touchdowns since Jim Kelly in 1990.
Fitzpatrick has thrown a touchdown pass in seven straight games, longest streak of his career and longest for any Bills quarterback since Drew Bledsoe went 10 consecutive games in 2002.
The last Bills quarterback to throw for at least 300 yards was J.P. Losman in November 2006.
Lee Evans caught six passes for 105 yards and three touchdowns, becoming the first player in Bills' history with at least three receiving touchdowns in multiple games.
Evans topped 100 yards for the first time since November 2008.
Steve Johnson also had a career afternoon with eight receptions for 158 yards and a touchdown.
Johnson has a touchdown in four straight games, the longest streak since Evans in 2006. One more next week would tie Elbert Dubenion's club record set in 1964 and tied by Eric Moulds in 1999 and Evans in 2004.
The Bills had two 100-yard receivers for the first time since Evans and Roscoe Parrish in September 2006 and first time on the road since Peerless Price and Josh Reed in September 2002.
Rian Lindell kicked a 50-yard field goal with four seconds left in regulation, only the 14th time since 1983 a kick of at least 50 yards forced overtime.
June, 23, 2010
6/23/10
4:01
PM ET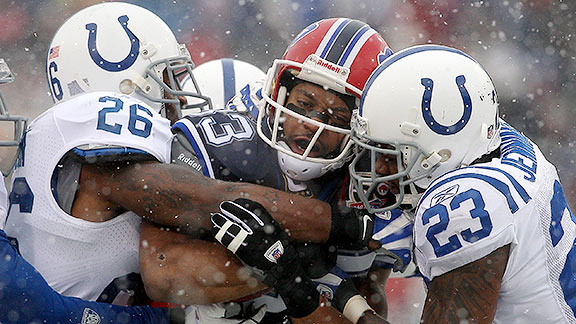 Luc Leclerc/US PresswireBills wide receiver Lee Evans might be known as an elite target by now -- if he played for another team.
ORCHARD PARK, N.Y. -- When
Lee Evans
left the Wisconsin Badgers six years ago, he expected to be well on his way to establishing himself as one of the NFL's elite receivers by now.
He was supposed to have made a few Pro Bowls, earned a couple All-Pro selections, burned defenders so frequently the
Buffalo Bills
couldn't help but field a playoff-caliber offense.
The Bills obviously agreed with that projection when they drafted him 13th overall in 2004 and four years later, awarded him a contract extension that made Evans one of the league's richest receivers.
Little has come to fruition. Evans has zero Pro Bowls, two 1,000-yard seasons and one season with more than 63 catches.
Evans is entering his seventh season. While he's respected around the league for his speed, hands and character, he still hasn't emerged as a star.
"Absolutely, I have something to prove," Evans told me after Wednesday's early practice to open Buffalo's mandatory minicamp. "The reality of it is, I haven't done anything yet."
Neither have the Bills. That's the primary reason Evans hasn't broken out.
Since he joined the Bills, they've failed to reach the playoffs. They've had one winning season, when he was a rookie. Their cumulative record with Evans on the roster is 41-55. They're on their fourth head coach and umpteenth offensive coordinator.
In Evans' six seasons, Buffalo's offense has ranked 25th, 28th, 30th, 30th, 25th and 30th.
Evans has had four starting quarterbacks --
Trent Edwards
,
J.P. Losman
,
Ryan Fitzpatrick
and
Brian Brohm
-- over the past two seasons and doesn't know who'll be throwing to him in 2010.
"Like
Steve Smith
with the
Carolina Panthers
and
St. Louis Rams
running back
Steven Jackson
, Evans is right at the top of my list of guys who I would love to see on another team," Scouts Inc. analyst Matt Williamson said. "I think he could be a monster and perennial Pro Bowler in a much better situation."
Evans won't say it, but regardless of how you choose to measure success -- winning games or personal statistics -- he essentially
has squandered the first six years of his career
. He turned 29 in March.
"Not being able to win or make it to the playoffs, you don't really get the recognition a lot of players get and that they deserve," Evans said. "That's the goal here. If we can win and make it to the postseason, recognition will come."
Evans posted one stat line commensurate with his talents. In 2006, with Losman taking downfield chances, Evans caught 82 passes for 1,292 yards and eight touchdowns.
The past three seasons, however, Evans' numbers have been limited. It's not the best situation for a deep threat when his quarterback is known as Captain Checkdown, the nickname bestowed on Edwards last year.
"He has to rely on downfield plays to really make a huge impact," Williamson said. "Buffalo's opponents know they can't protect and that their signal caller was, well, bashful about letting it fly deep. That eliminates the most threatening aspect of Evans' game, which is criminal."
Evans is a respected player in the locker room and among Bills fans. But he's just sort of there -- a vague protagonist. On a team with so many problems, there's no reason to worry about Evans.
Since the Bills hired head coach Chan Gailey in January, he has been asked almost every imaginable question. Yet in a search of Gailey's many transcripts, Evans' name doesn't appear once, peculiar for a team's most talented offensive player.
Evans was supposed to have his breakout campaign last year, but is coming off what he called the most frustrating season of his life.
"How do you explain last year?" he chuckled, repeating the question asked. "I can probably write a book about last year."
The Bills brought in future Hall of Fame receiver
Terrell Owens
. Part of the reasoning was Owens' presence would stop defenses from doubling up on Evans for the first time since
Eric Moulds
left the Bills. That was Evans' sophomore season.
Evans and Owens each had one of their worst seasons. Evans caught a career-low 44 passes for a career-low 612 yards and seven touchdowns.
Evans blames a series of problems outside the players' control. The organization mishandled two-time Pro Bowl left tackle
Jason Peters
, trading him to the
Philadelphia Eagles
. Ten days before the season opener, the
Bills fired offensive coordinator Turk Schonert
and replaced him with novice Alex Van Pelt. Then they
released their most experienced offensive lineman
,
Langston Walker
, who had been moved from right tackle to left tackle.
Evans said it "started with the Peters thing," but called Walker's release the biggest stunner of them all. As Evans relived everything that went wrong even before the team was decimated by injuries and finally
axed head coach Dick Jauron in November
, an incredulous look came over his face.
"There was a lot of turmoil amongst coaches, amongst coaches and players, amongst scheme," Evans said. "We were fighting an uphill battle against ourselves, really. That's what really made it tough, especially early on.
"The bottom line is, I don't think everybody had bought in to what we were trying to do. That makes it tough. When you have that coupled with a ton of injuries, that's what you get."
Evans didn't elaborate, but he said Schonert's firing "wasn't as big of a shock" as Walker's release.
"But it still takes its toll," Evans said. "This is the guy who had been calling the plays here all last year, all through camp, all through the preseason. Now you've got another guy coming in who has coached a while but has never been a coordinator on this level. Now you have to figure out what he wants to accomplish.
"Now it's 'Who are we?' It was tough."
Nobody would blame Evans for running out of patience with the Bills. He has given some prime years to a dysfunctional organization. The Bills have paid him well, but so would another team that has a better chance of winning.
As the Bills are experiencing with two-time Pro Bowl defensive end
Aaron Schobel
, perpetual losing is tough to endure.
Schobel is leaning toward retiring at 32
and with serious money on the table rather than return to the Bills.
Evans still has three years left on his contract, but another year without any signs of progress might cause him and the Bills to part ways.
"Chan has us excited," Evans said. "If you lose optimism and trust, you probably won't play well on Sundays. There's always a belief that we're going to win. That's what can carry you through tough times.
"This year, just looking at it on paper, I don't expect it to be anything like last year. It has to be better. It has to be."
June, 26, 2009
6/26/09
9:45
AM ET
Posted by ESPN.com's Tim Graham
To get in the spirit of ESPN.com's all-decade week, I asked readers on Monday to select their AFC East team for the 20-aughts.
Although some insisted on submitting ballots that included a 4-4-4 defensive scheme and somebody kept signing on under different usernames to stuff the box for guard Adam Levitre (I think "they" meant Buffalo Bills rookie Andy Levitre), the results were sound.
Here are your picks along with my own.
| | |
| --- | --- |
| | |
| | Al Pereira/NFL |
| | The Jets' Curtis Martin eclipsed 1,000 yards rushing in five seasons this decade. |
OFFENSE
Quarterback: Tom Brady.
Of note: One vote came in for anybody other than the two-time Super Bowl MVP. Chad Pennington was the recipient.
My pick: Brady.
Running back: Curtis Martin.
Of note: There have been some stellar rushing seasons in the AFC East, but not much longevity. Martin's closest competition was Ricky Williams. Beyond that, nobody received more than two mentions. Thurman Thomas, who had 28 carries this decade, got a vote.
My pick: Martin.
Fullback: Tony Richardson.
Of note: Richardson's career credentials are remarkable. He has blocked for five 1,000-yard rushers. But last year was his first in the AFC East.
My pick: Larry Centers. He spent only three seasons in the AFC East, but he had 80 catches for the Bills in 2001, earning him Pro Bowl honors.
Receivers: Randy Moss, Laveranues Coles.
Of note: The only thing worse than Richardson getting votes after one year would be Terrell Owens after zero. Thankfully, nobody made that mistake. Moss and Coles were clearly ahead of the field, with Lee Evans coming in third and Chris Chambers fourth.
My picks: Moss, Eric Moulds.
Tight end: Randy McMichael.
Of note: Aside from Brady, no player was more unanimous at his position than McMichael.
My pick: McMichael.
Tackles: Vernon Carey, Matt Light.
Of note: Only four tackles were nominated, with Light edging out Jason Peters by one vote. Kareem McKenzie was a distant fourth.
My picks: Light, Peters.
Guards: Logan Mankins, Stephen Neal.
Of note: Ruben Brown, a nine-time Pro Bowler at left guard, received only six votes.
My picks: Brown, Mankins. If Neal can learn right guard without playing a down in college, then Brown can learn how to play there on my team.
Center: Kevin Mawae.
Of note: Nick Mangold came in second with half as many votes as Mawae, a player many readers felt should have been on the NFL's all-decade offense instead of Olin Kreutz.
My pick: Mawae.
DEFENSE

Defensive ends: Jason Taylor, Richard Seymour.
Of note: Not even close.
My picks: Taylor, Seymour.
Defensive tackles: Vince Wilfork, Pat Williams.
Of note: Williams edged out Kris Jenkins, who's coming off his lone season in the AFC East.
My picks: Wilfork, Ted Washington. Washington was a Pro Bowler for the Bills in 2000 and won a Super Bowl with the Patriots in 2003.
Linebackers: Zach Thomas, Mike Vrabel, Tedy Bruschi.
Of note: Thomas was omitted from the NFL all-decade defense, but he received the most votes of any AFC East linebacker. Joey Porter finished fourth, four votes behind Bruschi.
My picks: Thomas, Vrabel, Takeo Spikes. Many folks overlook Spikes because his teams never had success.
Cornerbacks:
Ty Law
,
Asante Samuel
.
Of note: Aside from Brady, nobody received more votes at his position than Law.
My picks: Law, Patrick Surtain. While Samuel was a Pro Bowler in 20
07, he started only three seasons for the Patriots. Surtain went to three Pro Bowls and was named All-Pro once this decade.
Safeties: Rodney Harrison, Brock Marion.
Of note: Marion edged Lawyer Milloy by a single vote.
My picks: Lawyer Milloy, Marion. Harrison had one All-Pro season with New England. Milloy was a two-time Pro Bowler and had productive seasons for the Patriots and Bills.
SPECIAL TEAMS
Kicker: Adam Vinatieri.
Of note: Some clown voted for Olindo Mare.
My pick: Vinatieri.
Punter: Brian Moorman.
Of note: Tom Tupa received a couple votes, but Moorman was the obvious selection.
My pick: Moorman.
Kick returner: Terrence McGee.
Of note: Leon Washington might have been impacted by readers splitting their votes for him between punt and kickoff returner.
My pick: Washington. He ran back three kicks in 2007, led the NFL in all-purpose yards last year and still might be getting better.
Punt returner: Roscoe Parrish.
Of note: He led the NFL in punt return yardage the past two years.
My pick: Parrish.

March, 8, 2009
3/08/09
8:30
AM ET
Posted by ESPN.com's Tim Graham
Stretching the Field From
Both Sides (2006-08)



Owens


Evans

Other
Bills WRs
30-yard rec
26
22
8
30-yard TD
15
10
3
-- Compiled by ESPN Stats & Information
Terrell Owens and Lee Evans will give the Bills their most dangerous one-two receiving threat since Andre Reed and James Lofton played together in the early 1990s.
Their roles are reversed -- Lofton arrived late in his career as the deep threat to supplement the young Reed -- but the trouble Owens and Evans can cause for opposing defenses could be similar.
Owens and Evans have been two of the NFL's three best receivers when it comes to touchdowns of 30 yards or longer. Owens leads the way with 15, while Evans is tied with three others for third with 10.
"I'm very excited about the opportunity to have a threat on the other side," Owens said Saturday night at his introductory news conference in Orchard Park, N.Y. "I'm sure he'll be excited as well.
Most 30-yard TD Catches
(Last 3 Seasons)
The addition of Terrell Owens puts two of the NFL's deep threats together on one team:
Player
TD
Terrell Owens
15
Bernard Berrian
12
Lee Evans
10
Randy Moss
10
Greg Jennings
10
Steve Smith
10
-- Compiled by ESPN Stats & Information
"That's what we tried to do in Dallas in bringing Roy [Williams] there. For whatever reason, he came midway during the season, but that didn't work out. That doesn't bother me. I feel like my play kind of speaks for itself.
"If the opportunity kind of presents itself, I make those plays, we make things happen, and as I know, and as everyone knows, Lee's been doing that since he's been here. I think we'll complement each other very, very well."
Evans is considered by many to be among the league's best receivers. The Bills certainly thought he was elite enough to give him a four-year extension worth $37.25 million.
But Evans' stats don't reflect marquee status. He has been easy to contain without another formidable target on the field.
He has eclipsed 1,000 yards only twice in his five seasons. He scored nine touchdowns as a rookie and seven as a sophomore during Eric Moulds' last two seasons with Buffalo. But Evans has scored a combined five touchdowns his past two seasons.
July, 25, 2008
7/25/08
10:40
AM ET
Posted by ESPN.com's Tim Graham
Here is a look at two of the biggest position battles at Buffalo Bills camp:

Greer
Left cornerback: Jabari Greer vs. Leodis McKelvin
McKelvin wasn't drafted No. 11 overall to watch from the sidelines, yet he's not a lock to unseat Jabari Greer, a veteran who always seems to shine on the practice field and will get an even bigger head start because the rookie is unsigned.
The Bills, still trying to find a replacement for Nate Clements, hope they've found one in McKelvin, making the Troy University stud the first DB taken in the draft. He's a lockdown corner, a hitter and a sensational return man. He'll need to develop better awareness to become a total player.
That's where Greer has an edge. Although he didn't become a starter until last year, he has been a steady player in his four NFL seasons. Greer might be the safer choice right now, but undrafted free agents can keep a blue-chipper off the field only so long.
Intensity Index: Hot

Reed
No. 2 wide receiver: Josh Reed vs. James Hardy
The Bills haven't possessed a formidable No. 2 receiver since Peerless Price was opposite Eric Moulds. Now they need a threat to complement Lee Evans, whose production dipped last year partly because there wasn't another go-to option.
Hardy was drafted to provide a much-needed big target. He's 6-foot-6, and that will look delicious to Trent Edwards after a year of throwing to three WRs who are 5-foot-10 or shorter. Fantasy alert: Hardy, the fourth receiver off the board at No. 41, could be a monster in the red zone.
But there's always a catch. Hardy doesn't have the greatest mitts, and drops could become an issue while trying to decipher NFL speed and schemes. If he can't shine in camp, Reed will be there to fill the role. He's entering his seventh season, and his 51 catches were only four behind Evans' team lead.
Intensity Index: Hot