August, 29, 2012
8/29/12
9:30
AM ET
HBO's "Hard Knocks" with the
Miami Dolphins
aired its fourth episode Tuesday night. It was another interesting week in Miami, which included the trade of cornerback
Vontae Davis
.

Here were several highlights from the show:
The show began with former guard Eric Steinbach's decision to retire. Steinbach, who was once one of the best guards in the NFL, sat out all of last season with a back injury. Miami head coach Joe Philbin said he looks "real stiff." Steinbach was honest with the coaches that he just wasn't the same player and it was time to shut it down. Steinbach said he received his closure and he's happy he tried one more time.
There has been a goat on "Hard Knocks" every week. This episode it was Daniel Thomas. The second-year running back had a meeting called in Philbin's office. The head coach discussed Thomas' tardiness and it was revealed Thomas was late for the team plane to Carolina and was 15 minutes late to lift weights. "From where I sit, I get concerned about this stuff," Philbin told Thomas. The running back was fined by the team. Philbin said he's getting "queasy" about Thomas.
It's interesting to note the Indianapolis Colts called the Dolphins about Davis, not the other way around. Miami general manager Jeff Ireland received a text from the Colts and debated in his office whether Davis was part of the team's long-term plans. Ireland later discussed with the coaches that Indianapolis started with an offer of a fifth- and sixth-round draft pick. Then, the value moved up to a third-rounder and later a second-rounder. The Colts kept offering more and more and, in my opinion, came off as desperate for a corner. Ireland even told a Colts official on the phone that, "It has to be something that will blow me away. You called me." Miami eventually got a second-round pick and a conditional sixth-round pick. It was good work by Ireland and Miami's front office to get value.
The show ended with Ireland having to inform Davis that he was traded. Davis had a wide-eyed look on his face, prompting Ireland to ask, "Are you OK?" Davis immediately wanted call his grandmother, which was a little odd. But Ireland kept things on track and told Davis to finish the conversation first. Ireland told Davis he was too inconsistent and that's why the Dolphins traded the corner.
August, 23, 2012
8/23/12
7:00
AM ET
Here are the most interesting stories Thursday in the AFC East:
Morning take: We wrote as much on Wednesday. The Jets do not have the cap space to extend their own best player -- Pro Bowl cornerback Darrelle Revis. It would look really bad if they worked out a trade and big extension with an outside player when that money could've gone to Revis.
Morning take: The more time that passes, the less likely Waters is returning. The Patriots are preparing as though it won't happen. But if Waters plays this season it will be a bonus.
Morning take: Steinbach sat out all of 2011 following major back surgery. He was not the same player in camp he once was, and that clearly bothered him. I got to know Steinbach over his career and he's a good person and a good player. He had solid stints playing for the Cincinnati Bengals and Cleveland Browns.
Morning take: The second-year defender gets a chance to play behind Mario Williams, Mark Anderson and Chris Kelsay. The pressure isn't too much. Eddins just needs to respond when his number is called.
August, 21, 2012
8/21/12
11:01
PM ET

HBO's "Hard Knocks" with the Miami Dolphins aired its third episode Tuesday night.
Here is a recap:
August, 7, 2012
8/07/12
11:08
PM ET
HBO produced its first episode of "Hard Knocks," featuring the
Miami Dolphins
Tuesday evening. It was a good start to what should be an interesting season.

Here is a recap and observations on the show:
As expected, there was plenty of focus on the quarterbacks. Matt Moore got the airtime first with his newborn and wife. It was a good view of Moore's home life, in addition to the pressures of trying to win a three-way quarterback race with David Garrard and rookie Ryan Tannehill. HBO did a good job of introducing all three quarterbacks to the audience.
Tannehill's holdout was documented well behind the scenes. Dolphins general manager Jeff Ireland said at one point in the show the holdout is "driving me nuts." Tannehill eventually signed his contract and showed up past the team's curfew after 11 p.m. ET. He took his conditioning test the same night and practiced the following morning.
Here is some shameless self promotion: I got a two-second cameo on the show during Dolphins' owner Stephen Ross' press conference. I just had to get that in.
The Dolphins showed their workouts with both receiver Braylon Edwards and guard Eric Steinbach. Ireland questioned Edwards about his prior stops and if there's any concerns to worry about. Miami passed on Edwards, who later landed with the Seattle Seahawks, but signed Steinbach.
Dolphins cornerback Vontae Davis says he was "gassed" in the first practices. I remember watching Davis getting beat the first few days and thinking he wasn't the same player at the end of last season. Davis appears to have come into camp out of shape, which is not a good sign. The Dolphins have already put Richard Marshall ahead of Davis on the first depth chart. Davis has some ground to make up.
Receiver Chad Johnson was featured prominently. The former "Ochocinco" jokingly said he took the year off so everyone else could catch up. But Johnson also admits that he was exposed, and he's hungry to bounce back. The funniest part of the show was when Johnson interrupted a coaches' only meeting and demanded to have a seat. He left soon after. But it's a ploy you know Johnson could not have pulled off at a Bill Belichick-ran meeting with the New England Patriots. Johnson probably would've been released on the spot. Philbin, however, did not like Johnson's profanity during a press conference and had a one-on-one talk with the receiver to clean up his language.
The show ended with Philbin meeting with all the quarterbacks. Philbin explained that he must release a depth chart and explained that Garrard is the No. 1 quarterback, Moore No. 2 and Tannehill No. 3. Philbin concluded that this chart was not final and someone is going to have to earn it. Overall, it was a good first episode of "Hard Knocks" but not many huge surprises.
July, 29, 2012
7/29/12
4:00
PM ET
New
Miami Dolphins
guard
Eric Steinbach
has a glass-half-full outlook on sitting out the entire 2011 season with a back injury.
[+] Enlarge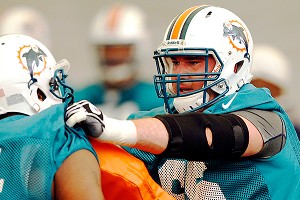 AP Photo/Alan DiazAfter missing all of last season, Eric Steinbach is eager to prove his back woes are behind him.
"When you go eight years hard, missing only three games and take a year off, I look at it as a positive," Steinbach said. "I'm hitting the refresh button. I'm going to come back hungry and ready to get back at it."
Steinbach was happy to be back on the practice field this weekend for the first time in a while. Following major back surgery, the former Pro Bowler and longtime Cleveland Browns star is trying to shake the rust and work his way into the starting lineup with the Dolphins.
Steinbach says he is 100 percent recovered from surgery and ready to help Miami in any way possible. Steinbach played his entire career at left guard, but says he just wants to be on the field, regardless of which position. Steinbach's best chance to get on the field is probably at right guard, where he will compete with
Artis Hicks
and
John Jerry
.
Steinbach, 32, also had interest from the
Baltimore Ravens
. He worked out for Baltimore but the Ravens didn't offer a contract, because they were scared off by Steinbach's back issues.
Miami's signing reunites Steinbach with Dolphins rookie head coach Joe Philbin. The pair have a lengthy past together. Philbin was Steinbach's offensive line coach at the University of Iowa a decade ago and is a huge reason Steinbach is in Miami.
"It's good to get back with someone you know and have a relationship with," Steinbach said of Philbin. "When you're out, missing a year due to back surgery, it's good to know you have a home."
July, 26, 2012
7/26/12
4:09
PM ET

The
Miami Dolphins
signed former Pro Bowler
Eric Steinbach
on Thursday. If healthy, Steinbach has a chance to compete for the starting job at right guard.
Steinbach was one of the NFL's top guards with the
Cleveland Browns
before suffering a back injury and sitting out the 2011 season. He has 124 career starts under his belt and gets to reunite with former teammate and receiver
Chad Johnson
, who played in Cincinnati with Steinbach.
The right side of the offensive line has been a question for Miami this offseason. The Dolphins have several candidates at right guard to compete with Steinbach, including
John Jerry
and
Artis Hicks
.
June, 14, 2011
6/14/11
1:00
PM ET
Jake Long
or
Joe Thomas
?
It's like deciding between
Tom Brady
and
Peyton Manning
. They're both elite. You can't go wrong with either pick.
But when you belong to ESPN.com's prestigious Power Rankings syndicate, you have to make tough choices.
In this week's left tackle poll, Thomas edged Long by one point. Long was listed first or second on each of the eight division bloggers' ballots. Three of them, including me, placed Long on top. Thomas received one third-place vote, but amassed five first-place votes to come out ahead.
The ballot I submitted:
Jake Long, Dolphins
Joe Thomas, Browns
Jordan Gross, Panthers
Michael Roos, Titans
D'Brickashaw Ferguson, Jets
Ryan Clady, Broncos
Chad Clifton, Packers
Donald Penn, Buccaneers
Doug Free, Cowboys
Andrew Whitworth, Bengals
Choosing between Long and Thomas is splitting hairs. They've been selected for the Pro Bowl every season in the NFL and are the reigning first-team All-Pros. Thomas was the third overall draft pick in 2007, Long the top choice in 2008.
But I gave Long the edge because of the circumstances he has dealt with in Miami.
Thomas has benefited from playing alongside reliable and steady left guard
Eric Steinbach
all four years. Steinbach has started 62 of a possible 64 games. For the past two seasons, first-round pick
Alex Mack
has shined, going to a Pro Bowl last year.
Long has had no such luxuries. He has played next to five left guards in his three seasons:
Justin Smiley
,
Andy Alleman
,
Nate Garner
,
Richie Incognito
and
Pat McQuistan
.
The Dolphins have been just as dicey at center. They should have their fourth different opening day starter in four years after drafting Florida center
Mike Pouncey
. They've used five centers the past three seasons.
Long also played at an All-Pro level last season despite a shoulder injury that had some wondering if he should shut it down.
New England Patriots
fans might be wondering why I didn't include
Matt Light
on my ballot. While he did go to the Pro Bowl as an alternate last year, Stats Inc. blamed him for 10 sacks for 78 yards in losses and four penalties -- all more than his previous two seasons combined.