April, 29, 2011
4/29/11
7:25
PM ET
ORCHARD PARK, N.Y. --
Marcell Dareus
didn't stand at the lectern at One Bills Drive as much as he loomed.
Dareus probably had to pay the tailor overtime for the suit he wore Friday afternoon. He's 6-foot-3 and 319 pounds, but seemed bigger than that.
He made a colossal impression when he was introduced to local reporters.
Dareus, the third overall draft choice Thursday night, was more prominent with his words than he was with his stature.
When explaining his approach to football and life, Alabama's star defensive lineman shared an anecdote about his mother. Michelle Luckey spent much of her life confined to a wheelchair because of congestive heart failure. She raised six sons and a daughter.
"Her whole drive was to never give up," Dareus said. "When she was on her death bed -- she was on her death bed a couple of times -- but one time I asked 'Mom, why are you still fighting?' I was in middle school. It was just a crazy question. 'Why are you still fighting?'
"She looked at me and said, 'I have seven kids. Do you want me to be gone now, or do you want me to just keep fighting?' I said, 'I want you to keep fighting.' She said, 'All right then. You go over there and sit down.' She rolled over and went back to sleep."
Draft followers may already know Dareus' tribulations. ESPN.com senior writer
Jeffri Chadiha told the tale last week with a feature story
.
Dareus' mother died last May, the latest in a series of heartaches. His father, a Haitian immigrant, died when Dareus was 6. The grandmother who helped raise Dareus died when he was 13. His high school coach died in a car crash right after Dareus signed with the Crimson Tide.
"I can't give up," Dareus said Friday. "When you can go to sleep in pain, you don't know what pain is. That's my whole thing. I got a little hurt elbow, a hamstring, an ankle, that's not going to keep me from playing.
[+] Enlarge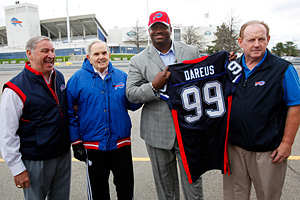 AP Photo/David DupreyMarcell Dareus, center, said all the right things when he was introduced to reporters on Friday.
"As long as she could go to sleep, wake up, put food on the table and be in pain 24 hours a day, the little things I go through is nothing."
Bills fans can't help but get excited about that type of gravitas from a potential star.
The Bills haven't been to the playoffs in 11 years. They've experienced more embarrassment than glory, especially when it comes to their first-round draft choices. Fans have endured busts and insulting malcontents such as Erik Flowers, Mike Williams, Willis McGahee, Marshawn Lynch and John McCargo.
Nobody can say for sure whether Dareus will be the real deal, but he has gotten off to a great start.
We need to keep in mind Dareus is fresh off the interview circuit from the NFL scouting combine, his pro day and a series of private meetings with this coach or that general manager from the West Coast to the Eastern Seaboard. Draft prospects are trained to answer interview questions. Dareus probably wasn't going to face a pitch he couldn't crush out of the park at Friday afternoon's news conference.
Dareus said all the right things. So have a parade of phonies throughout the years in the NFL.
"We're very pleased to have a man of not only his ability, but the man that he is," Buffalo head coach Chan Gailey said. "He's a great person in his own right, and he's going to represent our organization extremely well on the field and off the field for many years to come."
Gailey's testimony means something. He values high-character players maybe more than others in his profession. You get the sense Gailey would rather lead a mediocre player he respects than an elite athlete he doesn't.
Dareus conveyed himself as a grinder, the embodiment of Western New York's working spirit and the antithesis of Buffalo's first-round pick from two years ago.
Outside linebacker Aaron Maybin, the 11th pick in 2009, has been all flash and no substance.
Before Maybin signed his NFL contract, he had a rap song
that mentioned Maybach luxury cars, pinky rings, Circoc vodka, Nike endorsement deals and all the heads he was going to knock off.
Maybin has as many NFL sacks as Dareus does.
Dareus is about to strike it rich, too. But he said he's not going to keep his showmanship limited to Sundays.
"I want to be a pro on and off the field," Dareus said. "I want to handle myself in the community, back home with my brothers and sister, and when I do have kids I want to be a pro around them, let them know and set an example.
"Sometimes you have it. And even if you worked for it, that doesn't mean you have to flaunt it and blow it all away."
Dareus recalled after he visited One Bills Drive last month, he called one of his brothers and said "Buffalo might be my city." He said it reminded him of Tuscaloosa, a city with everything you need but a smaller feel and rabid fans who support the team.
If Dareus proves sincere about his feelings and can back up the Bills' scouting department's faith in him, then fans will have a new hero in their midst.
"I just want to go out there and give everything I have," Dareus said.
March, 4, 2011
3/04/11
9:31
AM ET
When word got out the
New York Jets
would release defensive end
Vernon Gholston
, I solicited your nominees for the AFC East's biggest draft busts.
These disappointments received the most votes for each club:

Buffalo Bills
Defensive end Aaron Maybin (11th in 2009)
Tackle Mike Williams (fourth in 2002)
Quarterback J.P. Losman (22nd in 2004)
Defensive tackle John McCargo (26th in 2006)
Defensive end Erik Flowers (26th in 2000)
Comment:
Sadly, Buffalo's list suggests readers don't remember the team before the Music City Miracle. Last year's strong safety,
Donte Whitner
, finished sixth. Epic busts Walt Patulski (first in 1972), Tony Hunter (12th in 1983) and Perry Tuttle (19th in 1982) received only one vote each. Nobody mentioned running back Terry Miller (fifth in 1978).

Miami Dolphins
Receiver Yatil Green (15th in 1997)
Receiver Ted Ginn (ninth in 2007)
Running back John Avery (29th in 1998)
Cornerback Jamar Fletcher (26th in 2001)
Receiver Randal Hill (23rd in 1991), Eric Kumerow (16th in 1988), running back Sammie Smith (ninth in 1989)
Comment:
The Dolphins were the most nominated team in this exercise. They led with 16 nominees and the number of votes cast. Green didn't play in his rookie or sophomore seasons because of injuries and lasted eight games his third year. My pick would have been Kumerow, whose career consisted of three seasons, zero starts and five sacks.

New England Patriots
Running back Laurence Maroney (21st in 2006)
Receiver Chad Jackson (36th in 2006)
Receiver Hart Lee Dykes (16th in 1989)
Cornerback Chris Canty (29th in 1997)
Offensive lineman Eugene Chung (13th in 1992), defensive end Kenneth Sims (first in 1982), linebacker Chris Singleton (eighth in 1990)
Comment:
I was surprised Sims didn't receive more attention. He was the No. 1 choice ahead of Marcus Allen, Gerald Riggs, Mike Munchak, Jim McMahon and Chip Banks. Maroney received the most votes, but he also generated the most spirited debate because many readers disagreed he should be considered a bust. Jackson was a second-round pick, but the Patriots traded up 16 spots to get him.

New York Jets
Running back Blair Thomas (second in 1990)
Defensive end Vernon Gholston (sixth in 2008)
Tight end Kyle Brady (ninth in 1995)
Defensive tackle DeWayne Robertson (fourth in 2003)
Receiver Johnny "Lam" Jones (second in 1980)
Comment:
There was a lot of material to work with here. I was satisfied readers emphasized the magnitude of the bust over the freshness of Gholston's release by voting for Thomas. The next running back off the board in 1990 was Emmitt Smith.