May, 29, 2014
May 29
5:57
PM ET
The
Buffalo Bills
signed offensive tackle
Cyrus Kouandjio
to his rookie contract Thursday.
Kouandjio, who played at Alabama, was the Bills' second-round pick. He is the final Bills' draft pick to sign his rookie deal.
The 6-foot-5, 310-pound Kouandjio split first-team reps with
Erik Pears
during organized team activities Wednesday and Thursday. Kouandjio and Pears will likely compete for the starting right tackle job in training camp.
May, 27, 2014
May 27
1:30
PM ET
The shorts and flip-flops are out in Buffalo, which can only mean one thing: training camp is right around the corner.
While an exact date hasn't been announced, the
Buffalo Bills
will begin training camp as early as the third weekend in July. That's sooner than usual because the Bills will play in the Hall of Fame game in early August.
Even before the Bills kick things off at St. John Fisher College, players can get in valuable work over the next three weeks during organized team activities. While the emphasis is on teaching and installation -- not so much evaluation -- players who excel in OTAs could carry that momentum into training camp.
Obviously, it's beneficial for every player to attend OTAs, pick up the system quickly, and build a head of steam entering the summer. Yet for some Bills, it's even more important that they don't fall behind in the coming weeks.
In our view, here are the players who will be under the microscope the most in OTAs:
Manuel
EJ Manuel:
This is a no-brainer. Unlike
Geno Smith
, his 2013 draft counterpart in New York, Manuel won't face veteran competition during training camp. It's a move designed to take some pressure off Manuel, whose health and up-and-down rookie season have been well-documented. Yet it keeps the spotlight squarely on Manuel, as backups
Thad Lewis
and
Jeff Tuel
don't pose a challenge to supplant Manuel as the opening-day starter. How Manuel and
Sammy Watkins
, the Bills' 2014 first-round draft pick, fit together during the three weeks of OTAs will be of top concern from an outside perspective.
T.J. Graham:
Graham could face an uphill battle during training camp this summer and will need to be sharper than most players over the next few months. He can't control how
Mike Williams
fares in training camp, or how
Marquise Goodwin
's role within the offense changes in his second season. Those two players are Graham's main competition. Goodwin is a near-lock to make the roster, while Williams' guaranteed salary makes him an unappealing cut come August. Yet if Graham can leap-frog either on the depth chart, it will help his case to stick. What Graham can control, then, is how he can become a more complete receiver. He's mainly a speed threat, but improving his pass-catching and route-running abilities should be his top goals.
Pears
Erik Pears:
Pears turns 32 next month and while he proved durable last season with the Bills, his health and conditioning should be of prime concern as he preps for training camp. Pears faces stiff competition at right tackle from second-round pick
Cyrus Kouandjio
. Like Graham, Pears' fate could be out of his control. If Kouandjio develops well over the next few months, then I don't think the Bills will hesitate to make him their starter at right tackle. If Kouandjio is slower to come along, then Pears could hold onto his starting job. He struggled as a run-blocker last season and while OTAs don't involve contact, improving his technique should be tops on his list.
Marcell Dareus:
The Bills exercised Dareus' fifth-year option for 2015 in April and within two weeks he was arrested for felony drug charges in Alabama. Dareus' court date hasn't been set yet and since he faces felony charges, the legal process could be drawn out. In the meantime, Dareus must make a good impression on the coaching staff if he participates in OTAs. He ended last season on the wrong note when he was suspended for parts of the final two games. OTAs are voluntary and the coaching staff can't discipline players for not taking part, but I can't imagine too many around the Bills' facility will be happy if any of Dareus' issues from last season carry over into OTAs or minicamp.
Duke Williams:
The Bills want to give Williams a chance to make an impression and earn a starting role. As we've noted previously, Williams didn't take advantage of his opportunities last season. The Bills weren't able to re-sign
Jairus Byrd
and didn't sign any veteran to replace him. That leaves a gaping hole in the secondary. While the Bills signed
Aaron Williams
to a contract extension and praised him as their next young star, he will need to continue to prove it. Even then, who will start alongside Aaron Williams? Duke Williams has the chance to take over that spot but he'll need to take steps forward during OTAs, minicamp and training camp to lock down that role.
February, 3, 2014
Feb 3
5:00
AM ET
With Super Bowl XLVIII in the books, Monday is the first official day of the 2014 NFL offseason.
It's also the first day teams can release players who are under contract for next season. In some cases, teams might release players to free up salary-cap room. In other cases, the team might determine the player isn't valued as highly in a new scheme.
Both scenarios could come into play with the
Buffalo Bills
. The NFL hasn't announced an exact salary cap for next season, but the Bills are currently projected to be in the middle of the pack in terms of cap space.
While the Bills will have sufficient cap space to make free-agent moves this offseason, it's typical for some players to be released for financial purposes. Here's our best guess which players could be on the outs in Buffalo:
Kolb
QB Kevin Kolb:
What's not clear is how Kolb has recovered from an August concussion that ended his season. What is clear is that the Bills view
EJ Manuel
as their starting quarterback entering next season, so Kolb -- even if healthy -- would enter the offseason as a backup. With a $3.6 cap number, including a $1 million roster bonus, it's hard to see that happening. It would be a surprise if Kolb remains on the roster at the start of the 2014 league year in March.
WR Stevie Johnson:
Johnson could be one of the toughest calls the Bills make this offseason. He's under contract through 2016, so by releasing him now, the Bills would have to absorb significant "dead money" this season. The true savings in releasing Johnson would come in 2015 and 2016. If the Bills feel like Johnson isn't a fit within their offense, they could make the decision to cut ties with him now. He's due a $1.75 roster bonus in March that essentially sets a deadline for that decision to happen. Unless they want to take a larger "dead money" hit, they can't wait until May to see if Sammy Watkins, the top receiver in the draft, is still on the board at ninth overall.
Moeaki
TE Tony Moeaki:
Once Moeaki recovered from a preseason injury last season, he signed a two-year contract with the Bills. He's due a $1 million base salary, a $250,000 roster bonus, and a $100,000 workout bonus this offseason, which suggests the Bills had competition in signing him. Still, Moeaki did not play an offensive snap after being signed in early December. If the Bills feel like things will come together with Moeaki by next season, perhaps he'll stay in the fold under his current deal. If not, it's possible they cut ties with him.
OT Erik Pears:
Pears started 16 games this season for the Bills, but there have been indications that the Bills want to upgrade along their offensive line. The journeyman right tackle turns 32 in June and has a $3.75 million cap number. The Bills could deem that too rich for a position they could target in May's draft. This could be a case where the Bills could ask Pears to restructure in order to remain in Buffalo.
OT Chris Hairston:
Hairston, who spent all of last season on the non-football illness list, has a cap hit of about $750,000. That's not significant on its own, but it's also not clear where Hairston stands health-wise. If he can't pass a physical or can't participate in the offseason program, he could be released. Hairston started 15 games between 2011 and 2012, but it's not known how the current coaching staff views the former fourth-round pick.
OLB Manny Lawson:
The potential for Lawson to be released moves onto the radar under new defensive coordinator Jim Schwartz. Lawson is considered to better fit in Mike Pettine's defensive scheme, where the 'Sam' linebacker plays closer to the line of scrimmage and is used more as a blitzer. In Schwartz's system, both outside linebackers typically play off the line of scrimmage and are used 'in space,' requiring better athleticism. Lawson will turn 30 this summer and doesn't have excellent range as an off-the-line player. Even though Lawson brought a veteran presence to the locker room, it's possible the Bills look to restructure his contract or release him. He has a $3.1 million cap number this season, but is signed through 2016, so like Johnson, the cap savings could come down the road.
September, 2, 2013
9/02/13
4:55
PM ET
ORCHARD PARK, N.Y. -- The
Buffalo Bills
were without a pair of starters for Monday's practice, as defensive end
Alex Carrington
and offensive tackle
Erik Pears
both were out of action.
Head coach Doug Marrone said afterwards that both are dealing with ankle soreness.
"His ankle was sore today, and it's good because tomorrow we're off, so we just wanted to give him two days off. He shouldn't be a problem," Marrone said of Pears.
Otherwise, the Bills were close to full health on Monday, with cornerback
Stephon Gilmore
(wrist) and offensive lineman
Doug Legursky
(knee) -- who both have longer-term injuries -- the only players not spotted.
The Bills will practice next on Wednesday.
September, 2, 2013
9/02/13
12:25
PM ET
ORCHARD PARK, N.Y. --
Buffalo Bills
quarterback
EJ Manuel
was back on the practice field Monday, one day after returning from knee surgery.
Manuel
Reporters had access to only stretching and light-intensity position drills. Head coach Doug Marrone said that Manuel would take part in the full practice on Monday, after sitting out team drills on Sunday.
Elsewhere, the Bills were without a pair of starters who were present for Sunday's practice. Defensive end
Alex Carrington
was spotted at the start of practice riding an exercise bike, while right tackle
Erik Pears
was not seen on the field.
Cornerback
Stephon Gilmore
(wrist) and offensive lineman
Doug Legursky
(knee) also remain out.
Bills players will be off Tuesday before returning to practice Wednesday.
August, 29, 2013
8/29/13
9:53
PM ET
Buffalo Bills
offensive lineman
Doug Legursky
was carted off late in the third quarter of Thursday's preseason finale with an apparent leg injury.
Legursky was hit in the side of his left calf by a falling Lions defender at the end of a run. He immediately grabbed for his left knee and was later carted off the field.
The Bills signed Legursky, 27, in June to compete for their open left-guard spot. Veteran
Colin Brown
looks to have that starting job locked up, but Legursky, who can also play center, was primed for the top interior backup spot.
Legursky has played in 50 career games (making 17 starts) over his first four NFL seasons, all with the
Pittsburgh Steelers
. He is the Bills' second-most-experienced offensive lineman, after right tackle
Erik Pears
.
In his place, the Bills could turn to
Antoine Caldwell
(fifth season) or
David Snow
(second season) as their top interior reserve.
November, 7, 2012
11/07/12
8:00
AM ET
Here are the most interesting stories Wednesday in the AFC East: Morning take: Buffalo takes a shot with both players out. The cornerback spot is particularly thin, with McGee done and second-year player Aaron Williams out approximately 2-3 weeks.
Morning take: Spikes is injured often, but he makes an impact when he's on the field. He's a hard hitter who brings physicality to the defense.
Morning take: Miami allowed 516 total yards of offense to the Indianapolis Colts. It was not typical of Miami's defense. Let's see if this group bounces back against the Tennessee Titans.
Morning take: New York needs depth at receiver. So they brought back Hill to see if he can contribute.
March, 28, 2011
3/28/11
8:08
PM ET
BUFFALO --
Cam Newton
is in town to meet with the
Buffalo Bills
, but not before general manager Buddy Nix and head coach Chan Gailey spoke at a "State of the Bills" event for season-ticket holders at the Hyatt Regency downtown.
Nix revealed that the Bills will host Missouri quarterback
Blaine Gabbert
and Florida State quarterback
Christian Ponder
at One Bills Drive. No other quarterbacks have been scheduled, but Nix did say they've accounted for only 25 of their 30 allowable on-campus meetings.
"We might bring in a couple more," Nix said.
Nix admitted quarterback wasn't Buffalo's greatest need because they have reliable veteran
Ryan Fitzpatrick
. Even so, that doesn't mean there wouldn't be a monster payoff to picking up a future star.
[+] Enlarge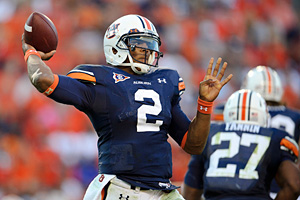 Paul Abell/US PresswireAuburn quarterback Cameron Newton will be a consideration for the Bills, who hold the No. 3 overall pick in April.
"I think we've got a lot of needs," Nix told reporters after addressing the fans. "Let me just say this to you -- and try not to read anything into this and try not to connect the dots, now -- but if you wait until you do not have a quarterback to draft one, you're too late.
"Now our greatest need is not quarterback. It's definitely not quarterback. Invariably, if there's going to be a franchise guy there and one we deem as a guy that can go eight or 10 years, be the face of the organization and take us to the playoffs and win every year, you can't pass him up."
Gailey said he will be completely frank about Buffalo's quarterback situation when he speaks with Newton on Monday night and Tuesday. The visit will begin with a physical and then include meetings with the Bills' staff.
"I lay everything on the table with guys when they walk in here," Gailey said. "I try to get them to understand exactly who we are, what we're about, where we're going and how we plan to get there. And if we end up working together, this is how they might fit into the scheme and into the system."
The Bills also met with Newton at the NFL scouting combine in late February and had dinner with him the night before his March 8 pro day at Auburn.
Other notes from Monday night's event:
Bills chief executive officer Russ Brandon said new season tickets and renewals were selling better than at this time last year.

Brandon reaffirmed the team's commitment to playing games in Toronto, stating their season-ticket base from Southern Ontario has grown 44 percent since the Bills started playing games there in 2008. The Bills are making $78 million off the series, which runs through 2012. Brandon suggested the Bills would be interested in extending after it expires.

Brandon conceded if a new collective bargaining agreement hasn't been hammered out by late June or July, then training camp at St. John Fisher College "could be in peril" because of the "operational and logistical" elements that must be addressed ahead of time.

Nix on talking about the draft at this time of year: "I want to make one thing clear. There's an unwritten rule that it's not a sin to tell a lie during pre-draft stuff. Everybody does it. It's accepted. So everything you hear or read or see, you need to keep in mind that about 10 percent of it's the truth."

Gailey on how he views himself: "I'm not very flamboyant. That's just not me. I'm not a comedian. I'm not a theologian. I'm not a philosopher. I just coach football. I want to coach your football team and get us to where we want to be, and that's be champions again and have things rocking and rolling out at Ralph Wilson Stadium."

Nix was pleased with in-season additions of offensive linemen Erik Pears, Mansfield Wrotto, Kraig Urbik and Chad Rinehart. Nix said Pears, a two-year starter for the Denver Broncos, could be the Bills' next right tackle, but added, "We also need another tackle. We need a tackle through the draft or through free agency -- if and when that happens."

Gailey reiterated the Bills will play a hybrid defense rather than a straight 3-4 or a 4-3. Nix noted his scouting department is focused on 3-4 players, but will not dismiss a player simply because he's not a perfect fit.

Nix will attend North Carolina's pro day Thursday to see defensive end Robert Quinn and Clemson's pro day Friday to check out defensive end Da'Quan Bowers, who reportedly has failed physicals because he hasn't recovered enough from knee surgery.

Nix on Bowers' workout: "It's big for him. I'm not sure that you'd write him off if he's not completely healthy Friday. But it's time for him to show he either is healthy or that he needs more work and more time."
December, 14, 2010
12/14/10
7:25
PM ET
Another disappointing
Lee Evans
season has come to an end.
The
Buffalo Bills
placed their highly paid receiver on injured reserve Tuesday. Evans hurts his ankle in Sunday's victory over the
Cleveland Browns
.
The Bills also placed tight end
Shawn Nelson
on the non-football injury list because of recurring migraines and signed offensive linemen Colin Brown and
Erik Pears
.
Evans' average salary ranks 12th in the league at $8.25 million a year. Yet he hasn't made the impact he and the Bills expected when they drafted him 13th overall in 2004.
"Absolutely, I have something to prove,"
Evans told me during June workouts at One Bills Drive
. "The reality of it is, I haven't done anything yet."
Evans caught 37 passes (29 fewer than team leader Stevie Johnson) for 578 yards and four touchdowns.
Evans' time in Buffalo can't be viewed as a success by victories or statistics. That's not necessarily his fault. He has played in weak offensive systems with a carousel of starting quarterbacks and coordinators over the past seven years.
The Bills rank 26th in total offense this year, one of their highest rankings since Evans joined them. In his first six seasons, Buffalo's offense has ranked 25th, 28th, 30th, 30th, 25th and 30th.
Buffalo's receivers for the past three games, including Sunday against the
Miami Dolphins
, will be a collection that went into the season with a dozen career catches: Johnson (a 2008 seventh-round draft choice),
David Nelson
(an undrafted rookie),
Donald Jones
(an undrafted rookie) and
Naaman Roosevelt
(an undrafted rookie promoted from the practice squad last month).
The Bills lost slot receiver
Roscoe Parrish
to a wrist injury in Week 9.