AFC East:

ESPN Texas: Road to Super Bowl XLV
February, 8, 2011
2/08/11
10:22
AM ET
An important Super Bowl moment has been lost somewhat amid
Aaron Rodgers
' performance,
Jordy Nelson
's numbers,
Charles Woodson
's injury and even speculation about what
Brett Favre
was thinking.
In the first quarter,
Green Bay Packers
defensive lineman
Howard Green
plowed forth -- and almost through --
Pittsburgh Steelers
guard
Chris Kemoeatu
on his way to
Ben Roethlisberger
.
Green's pressure and hit forced an awful throw. Defensive back
Nick Collins
intercepted and returned it for a touchdown in a 31-25 Packers victory.
ESPNNewYork.com writer Rich Cimini caught up with Green after the game.
Green spoke about how redemptive the play was
in light of the
New York Jets
releasing him twice this past season.
"One simple word: perseverance," Green said. "I had to deal with some tough things, some ups and downs. The Jets cut me for whatever reason. That's not an issue anymore.
"I appreciate them for giving me the opportunity, but I'm a Packer now and we just won the Super Bowl. That's all I need to say about that."
Green's time with the Jets in 2010 was tumultuous.
The Jets placed nose tackle
Kris Jenkins
on injured reserve and signed Green on Sept. 15 -- a day after they released running back
Danny Woodhead
.
Green was inactive for Week 2 and played in Week 3. Then the Jets released him for defensive lineman
Trevor Pryce
, who the
Baltimore Ravens
surprisingly cut in a roster-juggling maneuver.
The Jets re-signed Green and reinstated suspended receiver
Santonio Holmes
on Oct. 4. The Jets waived receivers
Patrick Turner
and
David Clowney
, the player the Jets needed to cut Woodhead to make room for.
Green played in Week 5, was inactive for Week 6 and was waived after the Jets' bye. He was so bewildered, he chose to drive home to Mississippi from New Jersey. Before he got home, the Packers claimed him.
He soon was on his way back to New Jersey because the Packers' next opponent was the Jets at the Meadowlands.
February, 6, 2011
2/06/11
11:53
PM ET
Some AFC East-oriented thoughts after the
Green Bay Packers
defeated the
Pittsburgh Steelers
31-25 in the Super Bowl:
[+] Enlarge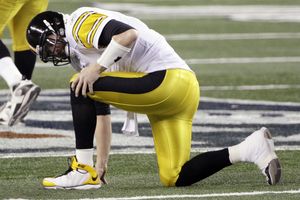 AP Photo/Patrick SemanskySteelers quarterback Ben Roethlisberger had a mediocre game in Super Bowl XLV.
Ben Roethlisberger is not in Tom Brady's league yet.
There had been some talk over the past two weeks that
if Roethlisberger won the Super Bowl he would stand next to Brady
and
Peyton Manning
in the pantheon of uber-elite NFL quarterbacks.
Roethlisberger has been sensational in the postseason, but not
this
postseason. Aside from a couple clutch throws, he was below average in beating the
New York Jets
in the AFC Championship Game. He had another pedestrian outing Sunday.
He threw two interceptions, one that
Nick Collins
returned for a touchdown. Roethlisberger overthrew
Mike Wallace
twice in key situations in the third quarter: a would-be touchdown after Wallace got behind the Packers secondary and a third-and-2 play right before the fourth quarter. Roethlisberger also failed to take advantage of a defensive backfield missing its best player,
Charles Woodson
, the entire second half.
Roethlisberger is 10-3 in the postseason and has been to three Super Bowls in his seven NFL seasons. Brady won his first three Super Bowls and his first 10 postseason games before a defeat. Plus, Brady has appeared in a fourth Super Bowl.
I understand Brady has lost three straight postseason games, but he still has more championship rings and conference titles.
The New England Patriots were the Packers' springboard.
The Packers have won every game since losing 31-27 at Gillette Stadium in Week 15. Super Bowl MVP
Aaron Rodgers
was hurt and couldn't play, but the Packers still gave the scalding-hot Patriots a scare with backup quarterback
Matt Flynn
.
"The New England game was a big game for us," Rodgers said on ESPN's Super Bowl set Sunday night. "We lost that game, a game we were double-digit underdogs. I was out. Matt played great, and our defense played pretty well also.
"That was the game where, I think, [we said] 'We got a good team. Let's not lose this opportunity.'"
Howard Green quietly made one of the game's biggest plays.
The former Jets defensive lineman didn't register a tackle. But he bull rushed Steelers guard
Chris Kemoeatu
and, in a great individual effort, harassed Roethlisberger into a bad throw that turned into Collins' pick six. Green started only six games in the regular season and playoffs.
It wasn't quite Thurman Thomas losing his helmet at the start of Super Bowl XXVI
, but Steelers left tackle
Jonathan Scott
-- not good enough to remain with the
Buffalo Bills
despite starting eight games in 2009 -- had to come off the field with the game on the line because his shoe came off.
Scott missed the Steelers' third-and-5 play with 62 seconds remaining and their fateful fourth-and-5 with 56 seconds left.
Trai Essex
replaced him as Roethlisberger's blindside protector and did OK while on his heels, but the switch was one more thing for Roethlisberger to worry about.
Roethlisberger threw incompletions on both plays.
A Lombardi Trophy would've completed a tremendous turnaround tale for Steelers offensive line coach Sean Kugler.
He was dismissed from Buffalo's staff at the end of last season. The native of nearby Lockport, N.Y., was living a dream by coaching his hometown team. He was on Dick Jauron's staff and served under interim coach Perry Fewell through an ugly campaign. But new Bills general manager
Buddy Nix cleared out the coaches' offices when he took over
, and Kugler was snatched up by the Steelers.
February, 6, 2011
2/06/11
12:12
PM ET
February, 6, 2011
2/06/11
10:39
AM ET
February, 2, 2011
2/02/11
9:10
AM ET
Joe Namath, still the last quarterback to take the
New York Jets
to the Super Bowl,
visited "The Herd with Colin Cowherd."

Namath talked about the pageantry of Super Bowl week compared to when he played in it 42 years ago, the crop of young quarterbacks in the NFL, what he thinks of
Pittsburgh Steelers
quarterback
Ben Roethlisberger
and his latest take on Jets quarterback
Mark Sanchez
.
"He's a winner," Namath said of Sanchez. "I played for a coach in college called Paul 'Bear' Bryant. I heard him describe somebody, it was Lee Roy Jordan at the time, a linebacker for Alabama. Coach Bryant really simplified things in a way: 'When I say he's a winner, I promise you can use him and he's going to be all right.'
"Sanchez in just these two years, to two championship games -- of course, he had two pretty good teams -- I think his future is unlimited, man. But he needs the team. All quarterbacks need a decent team, a good team, an offensive line.
"But Sanchez, the players have grown to rely on him. His work ethic has been absolutely outstanding, and he's a humble guy. He's a sharp kid. I really like him, and the future's really bright."
Namath is a Western Pennsylvania native but is picking against the Steelers for the second straight game because of their flimsy offensive line. Namath also predicted the Jets would beat them in the AFC Championship Game.
January, 31, 2011
1/31/11
9:20
AM ET
Super Bowl week is upon us. Prepare to get bombarded with stats, analysis, anecdotes and obscure storylines about the
Pittsburgh Steelers
and
Green Bay Packers
.
I won't go out of my way to hammer folks over the head with Super Bowl angles all week, but there's a fitting way to look at ahead to Sunday's showdown in this space.
Regardless of what AFC East team you follow, your boys squared off against both Green Bay and Pittsburgh in the regular season. AFC East cross-divisional opponents for 2010 were the AFC North and NFC North. They played each other nine times.
The Steelers went 3-2 against the AFC East, including their AFC Championship Game victory over the
New York Jets
. The Packers went 2-2.
The
New England Patriots
were the only AFC East club to beat both Super Bowl entrants, but the
Miami Dolphins
came close.
Let's review the games to see if we can find a comfort zone for making a prediction for Super Sunday.
[+] Enlarge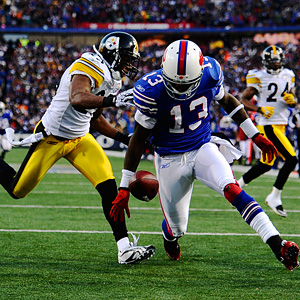 Karl Walter/Getty ImagesHad Stevie Johnson hauled in this pass, the Bills would have defeated the Steelers in overtime.
Pittsburgh Steelers
Results versus AFC East:
Won at Dolphins 23-22; lost to Patriots 39-26; won at Buffalo 19-16 in overtime; lost to Jets 22-17; won over Jets in playoffs 24-19.
What we learned:
There are no perfect teams, but the Steelers looked particularly flawed in their games against the AFC East. They Steelers easily could have been swept in the regular season and wouldn't have won the AFC North if not for two lucky breaks against the AFC East's non-playoff teams.
The sloppy Dolphins didn't deserve to win at home in Week 7, but they should have anyway.
Ben Roethlisberger
appeared to fumble into the end zone in the final minutes and Dolphins outside linebacker
Ikaika Alama-Francis
appeared to recover. But officials prematurely blew the play dead and didn't follow the fumble as they should have. Video evidence didn't help clarify the sequence, so the Steelers maintained possession and kicked a field goal for the victory.
The Steelers, conversely, didn't deserve to beat the Bills in Week 12 at Ralph Wilson Stadium. The Steelers were shaky and went into sudden death against one of the league's worst teams. In overtime, Bills receiver
Steve Johnson
infamously dropped a perfectly thrown
Ryan Fitzpatrick
bomb in the end zone. The Steelers survived to kick a field goal.
The Steelers lost both of their home games against the AFC East. The Patriots thumped them in Week 10, and the Jets pulled out of a potential nosedive with a Heinz Field victory in Week 15.
Of course, the Steelers rebounded in the playoffs to beat the Jets in the conference title game. The Jets sleepwalked through the first half, but outscored the Steelers 16-0 in the third and fourth quarters before falling short.
Green Bay Packers
Results versus AFC East:
Won over Bills 34-7; lost to Dolphins 23-20 in overtime; won at Jets 9-0; lost at Patriots 31-27.
What we learned:
Green Bay's games against the AFC East went a little more by the book, but not totally. And one of their losses was mitigated by
Aaron Rodgers
' absence.
Buffalo still had
Trent Edwards
at quarterback when Green Bay properly cruised in Week 2. The other game that went (mostly) as expected was a Week 15 loss in Gillette Stadium. Rodgers was out with a concussion against New England, but backup quarterback
Matt Flynn
still drove Green Bay within 15 yards of victory in the closing moments.
The Packers' other games were a tad peculiar. The Packers lost a thriller to the Dolphins at Lambeau Field in Week 6. Rodgers scored on a fourth-down run from the 1-yard line to send the game into overtime.
Dan Carpenter
's 44-yard field goal won it.
Two weeks later, the Packers went to the Meadowlands and blanked the Jets in one of the biggest head-scratchers of the year. Neither team scored a touchdown. The Jets' shutout was even worse considering they were coming off their bye week.
Prediction
I'm basing my prediction on what I witnessed throughout the season.
All in all, the Packers looked pretty solid against the AFC East and had a shot to beat the Patriots without Rodgers.
But what stands out even more for me is how wobbly the Steelers looked in all four regular-season games and the second half of the AFC Championship Game. Without two fortuitous bounces, the Steelers would have been swept in the regular season and wouldn't have had a first-round bye.
I can't get that out of my mind when I predict the Packers to win 27-20.
January, 24, 2011
1/24/11
1:24
AM ET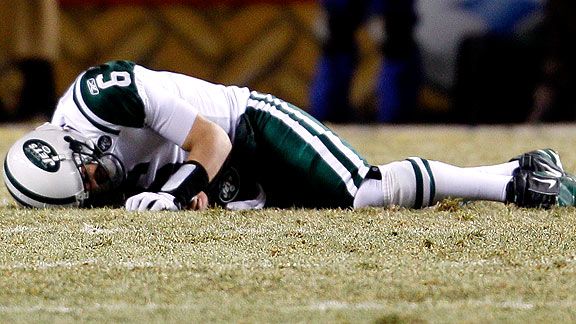 AP Photo/Matt SlocumJets quarterback Mark Sanchez played well but New York was doomed by a slow start.
PITTSBURGH -- A week earlier, the
New York Jets
carried on as though they'd won the Super Bowl.
They went into Gillette Stadium and did the unfathomable. They made
Tom Brady
look average and destroyed the mighty
New England Patriots
a month after losing to them 45-3 on the same grounds.
The Jets jumped into the stands to cavort with their fans, the Patriots' faithful having filed through the exits long before. The Jets ran around with their arms outstretched like airplanes.
Braylon Edwards
did a roundhouse backflip. Patriots receiver
Deion Branch
called them "classless."
You half expected to hear somebody in green and white exclaim "I'm going to Disney World!" to signal the end of the season. Of course, the Super Bowl used to be followed with a carefree exhibition where players revel in their success and go through the motions.
Fittingly, the Jets followed up their personal Super Bowl with a performance worthy of the Pro Bowl -- not in terms of star power, but with a lack of purpose.
For the first 30 minutes of Sunday night's
AFC Championship Game
against the
Pittsburgh Steelers
at Heinz Field, the Jets played like they were still hung over from their victory in Foxborough, Mass.
The Jets were flatter than old champagne through the first half and watched passively as the Steelers scored the first 24 points. The Jets finally snapped to attention at the intermission and dominated the Steelers for much of the second half.
But the Jets couldn't overcome their horrible two quarters and lost 24-19. For the second season under Rex Ryan, they were eliminated one step short of the Super Bowl.
But the Jets sure didn't play like they'd been there before -- not in the first half anyway.
"No determination, no focus in every single phase," Jets safety
James Ihedigbo
muttered.
"It just wasn't us. It wasn't New York Jet football."
Perhaps it's one of those unexplained sports phenomena. The Jets certainly knew the importance of Sunday's game. One more victory and they were headed to the Super Bowl.
But they didn't answer the call. Instead, there was a dial tone.
"We knew what was on the line," Jets linebacker
David Harris
said. "I don't know what to say."
To a man, the Jets were unable to explain their inability to compete in the first half.
Steelers running back
Rashard Mendenhall
left cleat marks all over the defense. Their poor tackling was unforgivable. Mendenhall had 95 yards and a touchdown before halftime. The Steelers dictated time of possession, keeping the ball for 21 minutes, 4 seconds.
Last week, Jets linebacker
Bart Scott
ridiculed the Patriots' defense for not being able to stop a nosebleed. Against the Steelers, the Jets couldn't patch a paper cut with a roll of duct tape.
The Jets' offense, meanwhile, gained 1 rushing yard by halftime.
LaDainian Tomlinson
had two carries for 1 yard.
Shonn Greene
had two carries for 4 yards.
"We didn't step on the field, playing the way we want to play," Harris said. "They jumped on us, had us on our heels."
The Jets played like they were emotionally spent, which is how they prepared for the game, too.
Unlike the first two rounds of the playoffs, the Jets displayed almost none of their distinctive spunk. They went from targeting
Peyton Manning
and Brady and
Wes Welker
to a deferential tone for the Steelers. Jets defensive lineman
Trevor Pryce
said it was an "honor and a privilege to play against"
Ben Roethlisberger
.
There was no edge throughout the week at the Jets' training facility in Florham Park, N.J.
The Jets insisted they'd be ready.
They clearly were not.
Fevered emotions are nearly impossible to maintain week after week, especially against a succession of nasty opponents on the road. That's a reason why it's such a feat when a wild-card team reaches the Super Bowl.
"It's three games to get to the Super Bowl," Scott countered. "It was just one more game."
[+] Enlarge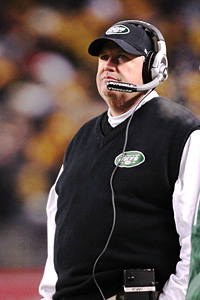 Matthew Emmons/US PresswireRex Ryan and the Jets fell one game short of the Super Bowl for the second straight season.
Scott delivered one of the great postgame interviews after eliminating the Patriots. He was a combination of thrilled and angry. In
reference to the Steelers, he barked "Can't wait!"
But the Jets sure seemed to wait 30 minutes before they got their heads into the game.
Intensity is difficult to tap again and again until the vein collapses. Sometimes it gets demanding to find more villains to despise. You
can't ask Dennis Byrd to deliver the same pregame speech
and have it make an impact.
The Jets did pull themselves together at halftime and cobbled together an admirable effort through the third and fourth quarters.
Mark Sanchez
played another solid road playoff game and outperformed Roethlisberger as a passer. Sanchez completed 20 of his 33 throws for 233 yards and two touchdowns for a 102.2 passer rating. Roethlisberger was 10-of-19 for 133 yards, no touchdowns, two interceptions and a 35.5 rating.
Sanchez, a revitalized ground game and a suddenly conscious defense gave the Jets a chance. They got within a touchdown with 3:06 to play, when Sanchez connected with
Jerricho Cotchery
.
But the Jets frittered away a better opportunity nearly five minutes earlier. The Jets had first and goal on the 2-yard line but couldn't score. A 17-play drive ended on the 1-yard line after two incomplete passes and a pair of stuffed runs. The passes were curious plays called by offensive coordinator Brian Schottenheimer, especially with Green trucking defenders.
A touchdown there and the Jets would have had more wiggle room.
"We had opportunities to make a comeback in the second half," Jets tight end
Dustin Keller
said. "Obviously, everybody's going to look at the first half and say 'If it wasn't for this and that,' but we still had an opportunity to win this game in the second half."
The Jets deserve credit for gathering themselves and not getting totally blown out. They did outscore the Steelers 16-0 in the second half.
But those first 30, flat minutes doomed them.
"It would be nice to take that first half back and come out better than we did and what we showed," Jets safety
Brodney Pool
said. "It just shows you can't come out flat at the beginning of a game like we did an expect to win."
January, 23, 2011
1/23/11
9:53
PM ET
PITTSBURGH -- The
New York Jets
' season concluded Sunday night at Heinz Field with a
24-19 loss
to the
Pittsburgh Steelers
in the AFC Championship Game.


What it means:
For the second straight season, the Jets reached the precipice and failed to advance to the Super Bowl. The Steelers amassed a 24-0 lead, and the Jets chipped away, but couldn't make up their deficit. The Steelers are going for the third time in six years.
Hero:
Steelers running back
Rashard Mendenhall
was a brahma bull. He ran 27 times for 121 yards and a touchdown. He rushed for more yards against New York than any other back since Rex Ryan took over the Jets in 2009.
Chicago Bears
running back
Matt Forte
rushed for 113 yards on Dec. 13.
Goats:
The Jets' run offense and run defense didn't show up until it was too late. They were flat and flat-footed. The Jets had 1 yard rushing on five carries in the first half, while their defense missed countless tackles.
Admirable effort:
Nobody can hang the loss on
Mark Sanchez
. He did just about all he could without a run game to help them avoid third-and-long situations. Sanchez played better than
Ben Roethlisberger
. Sanchez completed 20 of his 33 passes for 233 yards and two touchdowns with no interceptions. Roethlisberger was 10-of-19 for 133 yards and no touchdowns with two interceptions.
Pivotal play:
The last points the Steelers put on the board came on cornerback
Ike Taylor
's blindside strip sack of Sanchez near the end of the first half. Cornerback
William Gay
scooped it up and ran 19 yards into the end zone. The play proved to be the difference.
Bridesmaid revisited:
Jets running back
LaDainian Tomlinson
(10 seasons), fullback
Tony Richardson
(16 seasons) and pass-rusher
Jason Taylor
(14 seasons) each failed once again to reach his first Super Bowl.
Injury of note:
Even more impressive about Mendenhall's evening was that all but the first series was without Pro Bowl center
Maurkice Pouncey
, who went down with a left ankle injury and didn't return.
What's next:
The Jets have an interesting offseason ahead. They have several free agents to address, including receivers
Santonio Holmes
,
Braylon Edwards
and
Brad Smith
, defensive end
Shaun Ellis
, linebacker
David Harris
and cornerback
Antonio Cromartie
.