AFC East:

Faces of lockout AFC
June, 1, 2011
6/01/11
11:28
AM ET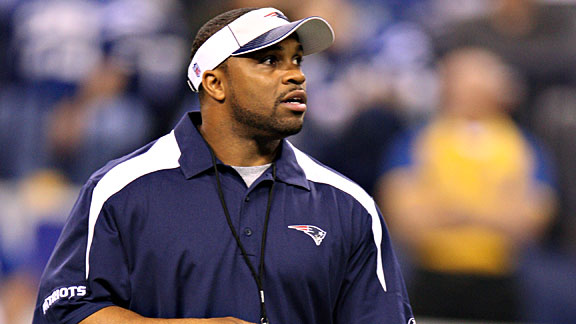 Courtesy of the New England Patriots Harold Nash is still waiting to make an impact as New England's head strength and conditioning coach.
The NFL lockout has put players and owners in limbo. The ripple effects are also felt by people whose lives or businesses touch their teams. Here are their stories:
Most observers would agree that all NFL coaches have their work cut out for them because of the lockout. Getting rookies up to speed quickly will be an immense challenge once the time comes to play football.
For Harold Nash, some might say the challenge is doubled.
Not only is the 41-year-old Nash in his first season as the Patriots' head strength and conditioning coach, he also assists in the coordination of the team's player-development programs that help rookies transition to the NFL.
Typically, at a time like this, Nash would be establishing a foundation for the type of strength program he planned to oversee in taking over for Mike Woicik, who held the position the past 11 years and owns six Super Bowl rings (three with Dallas in the 1990s, three with New England in the 2000s). He'd also be influencing this year's rookie class through his work in player-development programs, which are considered Super Bowl-quality in NFL circles.
The Patriots' financial education program was recognized as the NFL's best three times in the previous four years. In 2009-10, the club was recognized with the Outstanding Overall Player Development Award.
Each year, the NFL presents awards to teams' player development departments in the areas of financial education, continuing education, career development and life skills. The Outstanding Overall Player Development Award honors the club that excels the most in all four areas.
But when there's a lockout, the opportunities for player development are locked out, too.
As for Nash, he has the type of background in football that Patriots coach Bill Belichick appreciates. Nash walked on at the University of Southwestern Louisiana and played defensive back for four seasons, ultimately being named a team captain and earning the Cajun Spring Training Award from the coaching staff in recognition of his work ethic.
Nash signed with the
New York Giants
as an undrafted free agent in 1993, before landing in the Canadian Football League, where he played from 1994-2004 and was a three-time all-star. During his CFL career, Nash was an assistant to speed coach Tom Shaw, helping college defensive backs in preparation for the NFL draft.
Nash joined the Patriots as an assistant strength and conditioning coach in 2005, and after six seasons in that role, he was promoted this offseason.
But because of the lockout, Nash hasn't yet had the chance to fully make his mark.
June, 1, 2011
6/01/11
11:00
AM ET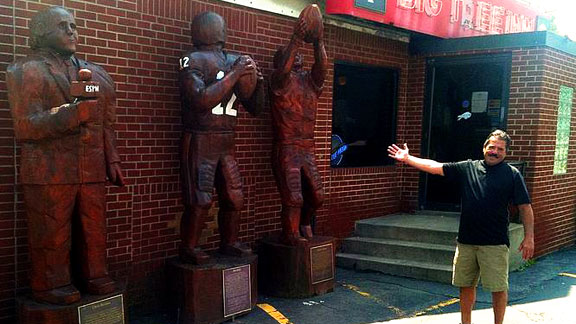 Tim Graham/ESPN.comOwner Dan DeMarco of the Big Tree Inn in Orchard Park, N.Y. The wooden statues, from left, are Chris Berman, Jim Kelly and Andre Reed.
The NFL lockout has put players and owners in limbo. The ripple effects are also felt by people whose lives or businesses touch their teams. Here are their stories:
ORCHARD PARK, N.Y. -- The Big Tree Inn has been a
Buffalo Bills
institution for decades.
The beloved watering hole and wing joint is about 600 yards of Abbott Road sidewalk away from Gate 4 at Ralph Wilson Stadium. Signed jerseys from
Jim Kelly
,
Thurman Thomas
,
Andre Reed
,
Kent Hull
,
Bruce Smith
and
Darryl Talley
adorn the walls of the modest 1,600-square-foot space.
Ruben Brown
, the perennial Pro Bowl guard, has his own corner.
The Big Tree Inn is a gathering spot for fans and a rite of passage for the players who pass through during the week -- and after home games -- to hang out with hardcore patrons. Wise visiting players place to-go orders for the bus ride to the airport or the outbound flight.
Reed called the Big Tree "a hallowed place," which, when he walks through the door, gives him the same feeling others might get when they walk into Fenway Park or Yankee Stadium.
"That was the first place I walked into as a so-called Bills rookie at that time," Reed said. "Every time you walk in there, you get a sense of what the Bills are all about."
You can imagine how much a Ralph Wilson Stadium neighborhood restaurant with 12 employees would rely on NFL games to remain profitable. With the lockout threatening to wipe out exhibitions and maybe even regular-season dates, Big Tree Inn owners Dan DeMarco and Brian Duffek are nervous.
"We're just praying," Duffek said on a quiet Tuesday afternoon at the bar. "If this is the crowd we have on a Sunday in October, we've got a big problem."
The Big Tree is as much of the game-day routine for many Bills fans as putting on a parka. Duffek said home games account for about 30 percent of the Big Tree's annual revenues. The till already had been shorted by games the Bills outsourced to Toronto through 2012.
In addition to the business' bottom line, bartenders could lose out on hundreds of dollars in tips each day. Hours likely would be cut for the whole staff.
"Everybody says 'There's only eight or nine home games,' but people don't realize that a home-game crowd starts showing up on Thursdays and pour into Mondays," DeMarco said from behind the bar. "People flock in from out of town and fill the motels around here. They give us four or five days of business every home game."
DeMarco joked about his regular crew of "season-ticket holders" who prefer to watch the home games at his place rather than in person.
A large wood carving of Reed stands outside the entrance, alongside versions of Kelly and ESPN's Chris Berman. Bottles of Reed's Over the Middle Sauce are stationed around the bar.
"It's been cemented in my life," Reed said. "When we became a team in the late 1980s and early 1990s, the Big Tree was a huge part of that.
"The camaraderie was always evident when we showed up there and, over some beers and some wings, would talk about our team and what our goals were. Every Friday we went to the Big Tree, talked about the week's practice and could be ourselves away from the coaches and the stadium. A lot of tension was released there. A lot of things were gotten off our chests in that place. Any time I go back up there, it's a lot of memories."
There are a lot of ghosts wafting around the Big Tree, but Sundays could make the place look like a ghost town if the lockout endures.
June, 1, 2011
6/01/11
11:00
AM ET
The NFL lockout has put players and owners in limbo. The ripple effects are also felt by people whose lives or businesses touch their teams. Here are their stories:
CORTLAND, N.Y. -- When his favorite team arrived two summers ago for training camp, Mark Braun was as happy as a clam -- make that a bucket of steamed littlenecks.
[+] Enlarge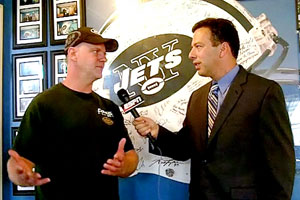 ESPNNewYork.comMark Braun, left, owner of Doug's Fish Fry, says sales spike when the Jets are in training camp.
Braun sells fish for a living, but he lives for the
New York Jets
. When they decided to hold camp in Cortland, a small city on I-81 south of Syracuse, it was both a football fantasy and a boon for business.
Braun owns a popular seafood restaurant, Doug's Fish Fry, located only a few
Brad Smith
kickoff returns from the football facility on the Cortland State campus. Quicker than Rex Ryan could say "We're gonna win the Super Bowl," Braun, 42, became a local celebrity. Players, coaches, staffers and, of course, fans -- plenty of hungry and thirsty fans -- flocked to Doug's between two-a-days.
Sales spiked by 25 percent in the month of August. Save for Good Friday, the day of the annual intrasquad scrimmage is his busiest of the year.
Now with the NFL lockout into June, threatening to sabotage training camp, Braun is facing the distinct possibility of a Jets-less summer. The Jets have two years remaining on their contract with Cortland State, but if the labor dispute isn't settled by July 1 (there is some wiggle room), they will have no choice but to hold camp at their headquarters in Florham Park, N.J.
For Braun, that stinks worse than week-old flounder.
"Of course, on the business side, it would hurt," he said. "Not having a year, Doug's Fish Fry wouldn't be as fresh in everybody's mind. But to be honest, I'll miss it more as a fan. You never know who's going to come in."
Ryan popped in once for a Jets sundae -- dyed-green ice cream, marshmallows and whipped cream, a diet-busting treat for the coach. GM Mike Tannenbaum brought in his young son for his birthday party, with Braun supplying the cake.
Dozens of players, from
LaDainian Tomlinson
to
Santonio Holmes
, have stopped by for the fried scallops and fish sandwich. One night last summer, the crew from HBO's "Hard Knocks" filmed for more than hour inside the restaurant, resulting in a spontaneous "J-E-T-S, Jets! Jets! Jets!" cheer from diners.
Braun's place is filled with Jets memorabilia -- photos on the wall, autographs, banners, helmets and jerseys. There are flat-screen TVs on the wall, always tuned to "SportsCenter." It's the ultimate man cave, with the bonus of good food, cold beer and killer milkshakes.
Braun got hooked on the Jets in the late 1970s, when he saw Mark Gastineau and his mother in an electric razor commercial. The following Sunday, Braun watched the game and spotted the guy from the funny commercial -- Gastineau -- performing his celebrated sack dance.
So began a lifelong passion.
Braun is a longtime season-ticket holder, driving 440 miles round-trip to every home game. As he said, "That's all I know on Sundays." Training camp is like a month of Sundays, but now he's deeply concerned that there will be no football.
"It would be like an empty nest," he said.
For Doug's Fish Fry, that would shuck.