September, 26, 2012
9/26/12
2:20
PM ET
The NFL came down hard on New England Patriots coach Bill Belichick on Wednesday.
Belichick was fined
$50,000 for what the league deemed "impermissible physical contact with an official."
Although I'm probably in the minority, I think this fine was excessive. Washington Redskins offensive coordinator Kyle Shanahan verbally berated an official and received a $25,000 fine. Is what Belichick did worth twice the penalty?
Belichick's arm grab of replacement official Esteban Garza took all of one second. It was actually a pretty weak attempt, as Garza quickly pulled his arm away from Belichick and continued with his jog into the tunnel. Belichick said he only wanted an explanation of whether the Baltimore Ravens' game-winning field goal was reviewable.
The biggest issue is respect. Would Belichick have grabbed a real NFL official in the same way he did the substitute? Probably not. The lack of respect probably had a lot to do with the amount of the fine. But verbally bashing an official showed a similar lack for authority. Shanahan, Denver Broncos coach John Fox ($30,000) and defensive coordinator Jack Del Rio ($25,000) were all guilty of that this week.
Belichick deserved to be fined. I just don't think he deserved twice the fine of Shanahan and Del Rio. A $35,000-$40,000 fine would have sufficed.
Overall, the biggest lesson to be learned is the expected return of NFL refs will raise the respect level between coaches and officials.
August, 19, 2012
8/19/12
8:00
AM ET
Here are the most interesting stories Sunday in the AFC East: Morning take: I don't like to overrate the preseason, but the Dolphins are pretty much showing what I expected. I predicted Miami won't win more than six games this year, because there are too many holes. The Dolphins have yet to prove otherwise.
Morning take: Their third preseason game against the Pittsburgh Steelers is the "dress rehearsal" game. This is Buffalo's last chance to get in a lot of work before facing the New York Jets in the regular-season opener.
Morning take: The play was not dirty. Landry was just trying to make a big hit, which he is known for. But it's hard to pinpoint what the league does with fines, so it's always possible.
Morning take: It's important that both players get their chemistry down. This could be a top deep threat in the AFC East.
June, 12, 2012
6/12/12
12:00
PM ET
I have gone over the
good and bad
of the
Miami Dolphins
signing of colorful receiver
Chad Ochocinco
to a one-year contact Monday. But one thing I haven't touched on is Ochocinco's personality -- or lack thereof in 2011.
Here is some personal background: I've covered Ochocinco in some capacity since 2004. The
Cincinnati Bengals
were my first NFL beat eight years ago when Ochocinco was growing with quarterback
Carson Palmer
and entering his prime. I eventually switched to the
Cleveland Browns
but kept close tabs on the Bengals, who were in-state rivals and played twice a year. I also covered Ochocinco last year with the Patriots.
[+] Enlarge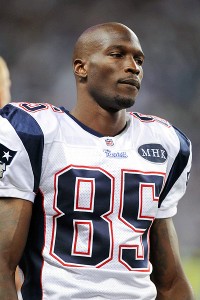 Mike Carter/US PresswireChad Ochocinco finished with just 15 catches in one season with the Patriots.
I've seen Ochocinco up close at his best (Bengals) and at his worst (Patriots). And I firmly believe he's is one of those players who must be a free spirit and let his personality show to be at his best.
The "Patriot Way" obviously doesn't work for Ochocinco. It's hard for him to stay quiet, and if he does, you're taking away his edge that's made him successful in his career. Ochocinco also can be a freelancer on the field, which is something Palmer worked through in Cincinnati. But quarterback
Tom Brady
and coach Bill Belichick were not going to let that fly in New England.
But how will things work in Miami?
Will the Dolphins let "Ocho be Ocho" in the first year under head coach Joe Philbin? Miami is trying to establish a new program, and Ochocinco saying and doing zany things could make for a circus atmosphere. It was that way in Cincinnati when Ochocinco would guarantee victories, change his last name and get fined for creative touchdown celebrations. But Bengals coach Marvin Lewis found the right balance and got the best out of him on Sundays. He is not a bad teammate. Ochocinco is just different and has much more personality than most people.
If Ochocinco is told to shut up, like he was in New England, Miami probably won't get the best of what he has left. Philbin might have a hard time figuring that balance out in his first year. It's not an easy task for any head coach, let alone a rookie.
Personally, I don't think Ochocinco is washed up. Sure, he's no longer in his Pro Bowl prime. But Ochocinco is better than the 15 receptions he had last season.
The key will be if the Dolphins are able to handle Ochocinco's free spirit -- on the field and in the locker room.
December, 4, 2011
12/04/11
4:15
PM ET
MIAMI -- Here are some initial thoughts on the
Miami Dolphins
' dominant
34-14
victory over the
Oakland Raiders
:


What it means:
Miami won its fourth game in five tries and continues to relish its role of spoiler. The Dolphins improved to 4-8 and will have their third consecutive non-winning season. But they continue to share their misery by beating other teams late in the season. This was Miami's most complete and impressive performance of the year. The Dolphins took advantage of their 10 days of preparation and looked very sharp offensively and defensively. It also came against an Oakland team (7-5) that is leading the AFC West.
Defense continues to dominate:
The light has come on for Miami's defense. The group has been one of the league's better units for the past month. The Dolphins baffled and battered Oakland's offense Sunday. Miami held Oakland to just 14 points, which were scored in garbage time, and sacked Raiders quarterback
Carson Palmer
two times. Miami was the NFL's sixth-rated unit in 2010, but started slow this season during its 0-7 start. The group is finally rounding back to its expected form.
Bush continues to thrive:
Dolphins starting running back
Reggie Bush
continues to have his most successful season running the football. Bush rushed for 100 yards on 22 carries. By the fourth quarter, Dolphins fans were chanting "Reggie! Reggie!"
Seymour Watch:
A fine could be forthcoming for Raiders defensive tackle
Richard Seymour
.
He was ejected
in the third quarter after a half-hearted attempt to punch Miami guard
Richie Incognito
. Seymour has a reputation for questionable play and the refs wasted no time ejecting him. This was the second ejection in as many seasons for the former Pro Bowl player. Seymour also was ejected last season for a shot to the face of
Pittsburgh Steelers
quarterback
Ben Roethlisberger
after the whistle.
What's next:
The Dolphins will play their second consecutive home game next week when the
Philadelphia Eagles
(4-8) come to town. Miami is looking to win its fourth consecutive game at home.
December, 4, 2011
12/04/11
3:19
PM ET
Frustration continues to mount for the
Oakland Raiders
. Oakland defensive tackle
Richard Seymour
was ejected in the third quarter of Sunday's game against the
Miami Dolphins
.
Seymour and Dolphins guard
Richie Incognito
were jawing most of the game. The Dolphins are thrashing Oakland, 34-0. And, in a moment of frustration, Seymour put his hand in the face of Incognito and officials threw him out.
It was called a "punch" by officials, but that is debatable. If anything, it was a weak attempt at a punch. But Seymour has a reputation for questionable play, and that likely played a factor.
Last season, Seymour was ejected for hitting
Pittsburgh Steelers
quarterback
Ben Roethlisberger
after the play. Expect the league to look into this ejection by Seymour and determine if he deserves a fine.
November, 30, 2011
11/30/11
3:25
PM ET

I'm usually against the heavy fines handed out by the NFL. Big hits can equal up to $50,000 or $75,000, which I think is absurd for a collision sport.
But
Buffalo Bills
receiver
Steve Johnson
's $10,000 fine for mocking
Plaxico Burress
' accidental shooting this past Sunday is too light. I think Johnson got off easy.
It's hard to understand the NFL's system for levying fines.
For example,
Pittsburgh Steelers
safety
Troy Polamalu
was fined $10,000 recently for calling his wife on the sideline following a concussion. To suggest Johnson's tasteless display of an event that resulted in jail time for Burress is equal doesn't send the right message. Also, tweeting during a game once cost Chad Ochocinco $25,000. Was that violation worth more than twice the fine Johnson received?
To Johnson's credit, he apologized to his teammates, coach and eventually to Burress for his antics. Johnson is smart enough to learn from his mistakes and realized pretty early that it wasn't a good idea. Once Johnson pays the fine, it will be time to move on.
November, 29, 2011
11/29/11
1:00
PM ET
»
NFC Stock Watch
:
East
|
West
|
North
|
South
»
AFC
:
East
|
West
|
North
|
South
FALLING
1. Steve Johnson, Buffalo Bills wide receiver:
Johnson (eight receptions, 75 yards) had success against
New York Jets
Pro Bowl cornerback
Darrelle Revis
. But his antics and dropped passes were crucial in Buffalo's 28-24 defeat. Johnson got a 15-yard penalty for his controversial touchdown celebration, mocking Jets receiver
Plaxico Burress
' accidental shooting. That helped the Jets score a touchdown before halftime in a close game. Johnson also dropped a potential score and failed to make a tough catch in the end zone on Buffalo's final drive. Johnson apologized to his team after the game. He made an even smarter move Monday when he apologized to Burress. Still, the NFL is expected to fine Johnson.
2. Bills' defense:
Buffalo gave up four touchdown passes to Jets quarterback
Mark Sanchez
and allowed 6.0 yards per carry. The Bills didn't generate any pass rush. They had zero sacks against the Jets, who often struggle with pass protection. Buffalo needs to take a hard look at this group in the offseason and find ways to improve. The Bills do not do anything particularly well defensively.
3. Darrelle Revis, Jets cornerback:
It wasn't a typical shutdown game for Revis. Johnson made some tough catches and gave Revis more trouble than any receiver I've seen this season. Most of the plays were not for big gains, and the Jets said afterward that the game plan was to keep everything in front of them. It's kind of odd that a receiver catching for 75 yards on Revis is considered a bad game. But that's how high his standards are.
[+] Enlarge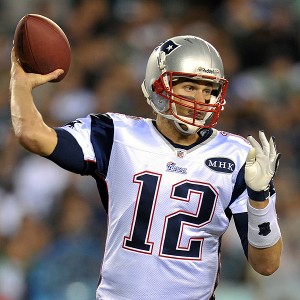 Drew Hallowell/Philadelphia Eagles/Getty ImagesTom Brady and the Patriots have scored at least 34 points per game during their current three-game winning streak.
RISING
1.Tom Brady, New England Patriots quarterback:
It looks like "Tom Terrific" is back. Brady has been in elite form lately, including this past Sunday's masterful performance in a 38-20 win over the
Philadelphia Eagles
. Brady threw for 361 yards and three touchdowns. He had the second-highest Total Quarterback Rating in Week 12. With a cupcake remaining schedule, expect Brady to continue to boost his numbers on his way to the playoffs.
2. Mark Sanchez, Jets quarterback:
Say what you want about Sanchez, but he comes through in the big moments. There was no bigger moment this season than New York's 82-yard drive that kept the team's playoff hopes alive. Sanchez was 7-for-9 for 65 yards on that drive and made two huge throws to Burress and
Santonio Holmes
. But Sanchez needs to be more consistent in the first three quarters.
3. Matt Moore, Miami Dolphins quarterback:
Moore completes the quarterback sweep this week. I don't think Moore is the long-term solution in Miami. But he's at least making me consider the concept. He's had a string of good performances, including a season-high 288 yards and a touchdown in a 20-19 loss to the
Dallas Cowboys
on Thanksgiving. Moore, who is under contract next year, might at least get a chance to compete with the Dolphins next season, depending on whom the team and new coach bring in.