March, 19, 2012
3/19/12
2:10
PM ET
Don't do it,
Miami Dolphins
.
[+] Enlarge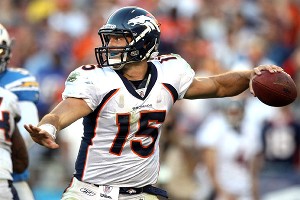 Donald Miralle/Getty ImagesThere are a plethora of reasons the Dolphins should avoid falling into the Tim Tebow trap.
Do not make a quarterback mistake that could stagnate the franchise for the next several years.
Do not, under any circumstances, trade for
Tim Tebow
.
I know this thought will cross the mind of Dolphins owner Stephen Ross, if it hasn't already.
Peyton Manning
agreed to join the
Denver Broncos
on Monday. Now, Tebow is
expected to be available
.
Ross is desperate to make a splash to help fill an empty and often
lifeless Sun Life Stadium
. The Dolphins even came up with the idea last year to honor Tebow and his national champion team with the Florida Gators even though he was the opposing starting quarterback.
It would be na´ve to assume the Dolphins' front office wouldn't be interested in Tebow. Getting the wildly popular Tebow would put more fans in the stands. That is one of Ross' main objectives. But from a pure football standpoint, the Dolphins should want no part of this.

Miami is implementing a precision-passing, West Coast offense under rookie head coach Joe Philbin. Last year Denver had to gut its offense to mold around Tebow's strength, which is more run-oriented. Acquiring Tebow and making him your starter would completely undermine everything Philbin and new offensive coordinator Mike Sherman were brought to Miami to do.
With Tebow, the Dolphins would not run the Packers' system or any pass-heavy system in Miami -- at least if they want a chance to compete. The only system you can successfully run with Tebow is the read-option offense he ran in college and last season with the Broncos. That is why Denver desperately did everything it could to land Manning.
Despite all the reasons to the contrary, expect a lot of speculation linking the Dolphins and Tebow. Miami's front office has made some curious decisions lately and doesn't appear to have a clear-cut plan this offseason. So you just never know with this group.
But what I do know is if Miami's starting quarterback search ends with Tebow, that is the biggest mistake Miami's regime could make.
October, 20, 2011
10/20/11
8:00
AM ET
Here are the most interesting stories Thursday morning in the AFC East:
Morning take: I don't think it's a must-win, but it's very important. The Jets cannot afford any more losing streaks this season if they want to make the playoffs.
Morning take: Tebow is very popular in Florida after his college stint with the Gators. This is probably the biggest storyline in this game. Sun Life Stadium hasn't been energized this year. So at least this puts people in the stands.
Morning take: This is a tough loss for Buffalo, but it's the right move. Williams hasn't looked the same playing through his injury since training camp. The Bills need him at 100 percent.
Morning take: First-round pick Nate Solder has done a good job in the starting lineup at offensive tackle. Third-rounder Stevan Ridley also has been a pleasant surprise at running back.
October, 11, 2011
10/11/11
9:10
AM ET


If you thought things couldn't get worse for the winless
Miami Dolphins
(0-4), they may be honoring the opposing, starting quarterback in their next home game.
Yes,
Denver Broncos
quarterback
Tim Tebow
will be a celebrated guest at halftime of the Broncos-Dolphins game on Oct. 23 at Sun Life Stadium. It is part of a pre-planned "Gator Day" promotion the Dolphins are doing to celebrate the 2008 Florida Gators National Championship team.
Tebow replaced Broncos quarterback
Kyle Orton
in Sunday's loss to the
San Diego Chargers
. Tebow led Denver to two scoring drives and a near comeback. Broncos coach John Fox hasn't named Tebow the starter yet, but it is expected.
I knew this was a bad idea when it was first announced. Miami, after all,
is Hurricane country
. But it looks even more strange now that Dolphins fans will be expected to boo Tebow for two quarters, cheer him at halftime, then boo Tebow again after intermission.
Update:
Denver coach John Fox named Tebow the
starter for this game.
August, 31, 2011
8/31/11
3:00
PM ET
Let's see who is rising and falling in the AFC East.
Falling
1. Miami Dolphins' halftime celebrations:
Last time I checked, the Miami Hurricanes play football at Sun Life Stadium. That is why it's baffling that
the Dolphins will honor
the rival Florida Gators' 2008 championship team during halftime of the Dolphins-Broncos game on Oct. 23. Most Dolphin fans are Hurricane fans. So expect
Tim Tebow
and even current Dolphins center
Mike Pouncey
to get booed profusely. This won't end well. Miami is not Gator country. So the Dolphins should leave the Gators halftime celebrations to the
Jacksonville Jaguars
.
2. New York Jets offense:
The Jets' first-team offense scored seven points on seven possessions last week. Quarterback
Mark Sanchez
connected with receiver
Santonio Holmes
for a 17-yard touchdown before halftime in a 17-3 victory over the
New York Giants
. But the Jets' other six possessions from the starting offense netted just 56 yards. The offensive line struggled with run blocking and the timing was off in the passing game. The Jets have to be more crisp offensively before their Sept. 11 regular-season opener against the
Dallas Cowboys
.
3. New England Patriots' pass defense:
It's always risky to make too much of a preseason performance for a veteran team like New England. But it's hard to ignore the Patriots' shaky pass defense in a 34-10 loss to the
Detroit Lions
. Detroit quarterback
Matthew Stafford
carved up New England's secondary. He was 12-for-14 passing for 200 yards and two touchdowns. Stafford was doing so well against New England that the Lions pulled him before halftime of the third preseason game.
Rising
1. Chad Henne, Dolphins quarterback:
Is Henne turning the corner? Miami hopes last week's performance against Tampa Bay in the "dress rehearsal" game was a sign of things to come. Henne was 10-of-13 for 175 yards and a touchdown. He started hot right away with a pair of long connections to tight end
Anthony Fasano
and receiver
Brandon Marshall
. Henne capped the opening drive with a 60-yard touchdown to Marshall. This is a big season for Henne, who has to prove he's worthy of being Miami's starting quarterback.
2. Ryan Fitzpatrick, Buffalo Bills quarterback:
Fitzpatrick was nearly perfect in Buffalo's 35-32 win over Jacksonville. Fitzpatrick was 11-of-12 for 165 yards and two touchdowns. He had a 158.3 passer rating. Fitzpatrick was aggressive downfield. He connected with receiver
Steve Johnson
for several nice plays, including a 52-yard touchdown reception.
3. David Harris, Jets linebacker:
Harris looks ready for the regular season. He had seven tackles, two pass defenses and an interception against the Giants. Harris' pick was a slick call by Jets coach Rex Ryan. The Jets sent a zone-blitz and dropped Harris into the flat. The blitz confused Giants quarterback
Eli Manning
, who threw the ball right into the zone Harris occupied. Harris returned the pick seven yards.