January, 21, 2011
1/21/11
4:00
PM ET
Conference Championship Final Word
:
Jets-Steelers
|
Bears-Packers
Five nuggets of knowledge about Sunday's Jets-Steelers AFC Championship Game:
[+] Enlarge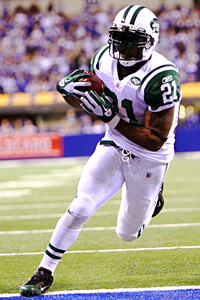 Michael Hickey/US PresswireJets running back LaDainian Tomlinson is on the verge of his first Super Bowl appearance in his 10-year career.
For LaDainian Tomlinson to reach the Super Bowl, he'll need to do more than most.
Despite a surefire Hall of Fame career, Tomlinson never has reached the Super Bowl. The onus will be on the Jets' run game. As always, the Jets' ground attack with Tomlinson and
Shonn Greene
will be crucial to moving the offense and making the game as manageable as possible for quarterback
Mark Sanchez
in a difficult environment. The Steelers led the NFL in run defense during the regular season, allowing a paltry 63 yards a game. But in a Week 15 victory at Heinz Field, the Jets rushed for 106 yards. In the postseason, however, Tomlinson averages 3.7 yards a carry and has six touchdowns in nine career games, but only four in his seven with the
San Diego Chargers
.
The Jets can win the game on special teams.
The Steelers' special teams are mediocre.
Brad Smith
set a tone for the Jets by returning the opening kickoff 97 yards for a touchdown in Week 15. In last week's divisional playoff game at Heinz Field,
Baltimore Ravens
punt returner
Lardarius Webb
had a 55-yard touchdown wiped out by a holding penalty. Webb also had a 38-yard kickoff return, and the Steelers' special teams were flagged three times. The Jets' venerable special-teams coordinator, Mike Westhoff, is as opportunistic as they come.
After two games of holding back, expect the Jets' pass rush to get aggressive.
The Jets focused more on keeping defenders in coverage than sending extra pass-rushers after
Peyton Manning
and
Tom Brady
. The Steelers, however, are vulnerable on the offensive line. Even when healthy, the Steelers' pass protection makes the game an adventure for
Ben Roethlisberger
, and tackles
Flozell Adams
and
Jonathan Scott
are hurt. The Steelers surrendered 43 sacks in the regular season. Only seven teams allowed more. The Ravens sacked Roethlisberger six times last week. Jets outside linebackers
Calvin Pace
and
Jason Taylor
and defensive end
Shaun Ellis
must be excited about the possibilities.
In addition to the return of Troy Polamalu, don't underestimate the presence of Heath Miller.
Much attention has been dedicated to how the Steelers' defense will be different with Polamalu at safety. He didn't face the Jets in Week 15. Neither did Miller, a dangerous weapon in the Steelers' passing game. He caught 42 passes for 512 yards and two touchdowns in 14 games.
Darrelle Revis
and
Antonio Cromartie
can handle the Steelers' receivers, but Miller can pose a matchup problem. Here's a noteworthy stat: The Steelers are 8-1 in the postseason with Miller on the field.
The Jets have the best receiving corps left in the playoffs.
The
Green Bay Packers
have the best quarterback. The Steelers have the most bling. But the Jets boast the best crew of receivers of the final four. That will be important if the Jets need to mount a late comeback and especially if the Steelers play prevent defense. The Steelers have a stellar duo with
Mike Wallace
and
Hines Ward
running routes. But
Santonio Holmes
is a former Super Bowl MVP and (mostly) has been a clutch receiver all season.
Braylon Edwards
has distanced himself from that butterfingers reputation. When
Jerricho Cotchery
is your third receiver, you know you're in good shape. Then there's tight end
Dustin Keller
, and Tomlinson makes catches out of the backfield. The Jets would prefer to have success on the ground, but with receiving options like those, they still have a shot to win through the air.
January, 20, 2011
1/20/11
6:54
PM ET

ESPN's Adam Schefter takes a look at injuries while previewing Sunday's rematch between the New York Jets and Pittsburgh Steelers at Heinz Field. The Steelers are banged up at offensive tackle and cornerback.
October, 24, 2010
10/24/10
4:09
PM ET
MIAMI -- The
Pittsburgh Steelers
caught a giant break late in the fourth quarter and
edged past the Miami Dolphins 23-22
in Sun Life Stadium.


What it means:
The Dolphins have a reason to complain after a controversial ending, but that won't erase their 0-3 record at home. A Dolphins victory would have propelled them into the conversation of best teams.
Play of the game:
On third-and-goal from the 2 with 2:37 left in the game,
Ben Roethlisberger
scrambled toward the end zone. He was met at the goal line by Dolphins safety
Chris Clemons
and apparently fumbled. The play was ruled a touchdown. The Dolphins challenged. The play was overturned, but there was no video evidence the Dolphins recovered.
Jeff Reed
kicked an 18-yard field goal.
A less-controversial critical play:
With the Dolphins up two points with about three minutes left, the Steelers had third-and-5 on the Dolphins' 43-yard line. Roethlisberger flipped a short pass to
Mewelde Moore
for a 29-yard gain. One play later, Dolphins defensive lineman
Tony McDaniel
commits unnecessary roughness to give the Steelers a first down on the doorstep.
Two-minute grill:
The Dolphins had more than two minutes left and needed only a field goal against an injury-depleted defense, but they couldn't muster anything.
Chad Henne
passed three times before losing the ball on downs.
Worthy of debate:
Dolphins fullback
Lousaka Polite
is virtually automatic when it comes to gaining 1 yard for a first down. On third-and-1 from the 50 early in the fourth quarter, the Dolphins handed to
Ronnie Brown
for no gain and then punted on fourth-and-inches.
Injury report:
The Steelers lost three players during the game: right tackle
Flozell Adams
(ankle), defensive end
Aaron Smith
(arm) and linebacker
Lamarr Woodley
(hamstring).
What's next:
The Dolphins visit the
Cincinnati Bengals
next Sunday.
October, 24, 2010
10/24/10
2:39
PM ET


MIAMI -- Halftime thoughts from Sun Life Stadium, where the
Miami Dolphins
trail the
Pittsburgh Steelers
17-16
on Sunday afternoon:
Dolphins quarterback Chad Henne has hung in there against the vaunted Steelers pass rush. The Steelers haven't recorded a sack. Henne has looked a little jumpy at times, but he's 12 of 20 for 153 yards and one touchdown with no interceptions.
Dolphins cornerback Jason Allen was victimized on a 53-yard Ben Roethlisberger strike to Mike Wallace in the second quarter. Allen gave Wallace a nice cushion, yet still got scorched by Wallace, who simply flashed past for a touchdown.
As you'd expect, the Dolphins are having trouble against the NFL's top-rated run defense. Ronnie Brown has five carries for 2 yards. Ricky Williams has six attempts for 20 yards.
There's been some bad tackling by both teams. Steelers receiver Hines Ward ducked and dodged his way into the end zone from 21 yards out, and Dolphins receiver Davone Bess juked past a couple Steelers defenders for a 26-yard score to pull the Dolphins within a point.
Here's a quirky stat: Thanks to the Steelers fumbling the opening kickoff and going three and out on their first possession, the Dolphins scored six points on 7 total yards in the first quarter. The Dolphins went three-and-out field goal, three-and-out field goal and then three-and-out punt.
That first-quarter punt was an impressive example of how to flip the field. With Miami on its 14-yard line, Brandon Fields crushed a 66-yarder. Antwaan Randle-El lost a yard on the return, plus a holding penalty put Pittsburgh on its 10-yard line.
Steelers right tackle Flozell Adams suffered an apparent left ankle or Achilles injury early in the second quarter and was replaced by former Buffalo Bills tackle Jonathan Scott.
December, 12, 2009
12/12/09
9:08
PM ET
One of the bigger stories that lingered from last weekend was
Flozell Adams
' unsportsmanlike blindside hit.
The
Dallas Cowboys
left tackle was fined $50,000 for jacking
New York Giants
defensive end
Justin Tuck
from behind on a missed field goal. After the whistle, Adams and defensive end
Mathias Kiwanuka
tried to snap each other's heads off like dandelions.
So that got me to wondering who the AFC East's nasty boys have been this year.
I've been sharing overall penalty counts within the division every Saturday, but this week I wanted to outline who has been flagged for the most 15-yard penalties this year. The NFL rulebook outlines 19 penalties that draw 15 yards, including face mask, roughing the passer, chop blocks and such.
Of the 65 players who have been busted for more than one major penalty, eight hail from the AFC East.
Buffalo Bills
rookie safety
Jairus Byrd
and
New England Patriots
safety
Bret Lockett
, placed on injured reserve this week, lead the division with three apiece.
Byrd's penalties cost the Bills 28 yards on two unsportsmanlike conduct penalties. He also had an offsetting unnecessary roughness. Lockett's penalties were worth 26 yards on a face mask and a taunting. Lockett had an illegal blindside block declined.
Two other Bills, cornerback
Reggie Corner
and linebacker
Kawika Mitchell
, have been zapped for two 15-yarders.
The strangest name on the AFC East list is
New York Jets
rookie quarterback
Mark Sanchez
, the only offensive player. He has been cited twice for a low block on an interception return.
The rest of the rundown with two 15-yard penalties apiece: Patriots nose tackle
Vince Wilfork
, Jets safety
James Ihedigbo
(one of only four NFL players to be kicked out of a game this year) and
Miami Dolphins
linebacker
Channing Crowder
.
New Orleans Saints
safety
Darren Sharper
leads the NFL with five major penalties.
Houston Texans
defensive end
Antonio Smith
and
Cleveland Browns
nose tackle
Shaun Rogers
have four each.