July, 27, 2010
7/27/10
6:23
PM ET
When somebody dies, it's polite to say something nice.
Out of respect, even the reviled are generally granted dispensation when they pass away. A particularly horrible decline elicits extra mercy.
But not when it's Jack Tatum, and not when the man being asked is Steve Grogan.
"I just can't do it," Grogan coldly said Tuesday afternoon.
[+] Enlarge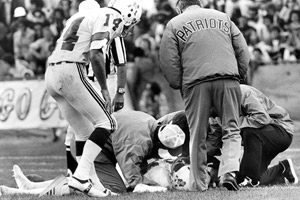 Ron Riesterer/The Sporting News/ZUMA PressDarryl Stingley, above, never recovered from a collision with Jack Tatum in Aug. 1978, remaining in a wheelchair for the remainder of his life.
Tatum, a safety who embodied the
Oakland Raiders
mystique and was called "The Assassin" for his brutal hits,
died of a heart attack at 61
. Tatum dealt with a series of problems related to diabetes in recent years. His right leg and all the toes on his left foot were amputated.
That he lived his final years in such condition was sad to some, tragically poetic to others.
Tatum's most infamous collision occurred when he paralyzed
New England Patriots
receiver Darryl Stingley in a 1978 preseason game. Stingley was 55 when he died three years ago from pneumonia complicated by his paralysis.
"I'm sorry because there was a life lost today," said Darryl Stingley's son, Derek, who was 7 when his father stopped walking. "Jack Tatum had a family. He was somebody's father, somebody's brother, somebody's cousin or uncle. I truly am sad because of that.
"But at the same time that life put my father in a situation that he couldn't feed himself when he wanted to."
Derek Stingley saw a report of Tatum's death on ESPN's news crawl and immediately called his grandmother, Hilda Stingley.
"This brings back all those memories," Derek Stingley said. "I've just been almost in a daze today."
On that fateful night in 1978, Grogan threw to Darryl Stingley on a crossing route in a meaningless game. The ball sailed incomplete. Tatum blasted him head-on anyway. Darryl Stingley didn't get up.
The hit was considered legal at the time, the kind of vicious shot Tatum delivered on a regular basis. No flag was thrown. The NFL didn't discipline Tatum. That Darryl Stingley suffered two broken vertebrae and was paralyzed from the chest down was considered bad luck.
"I've seen the hit over and over," said Derek Stingley, president of the
Darryl Stingley Youth Foundation
, which his father founded. "Tatum was just giving him a hard hit. That was in the cosmos. That was in the stars that day."
What happened in the days, weeks and years after the hit was what Grogan -- and much of the Patriots family -- deemed unforgivable.
"I have a hard time trying to find something nice to say," Grogan said about Tatum. "That bothers me because I'm not like that normally. You may talk to guys that played with him, and they might tell you he was greatest teammate in the world and everybody loved him.
"The circumstance that we were involved with, just the way he handled it, that will never come out of any of our mouths or minds."
Tatum never spoke to Darryl Stingley after the injury -- although he did suggest a televised reconciliation to coincide with the release of a book. Tatum wrote three of them: "They Call Me Assassin" in 1979, "They Still Call Me Assassin" in 1989 and "Final Confessions of NFL Assassin Jack Tatum" in 1996.
"When something like that happens and you can't apologize for it, go out and write a book to make money and try to get famous off the incident, that's just not right," Grogan said. "I thought he handled it very poorly."
In a 2003 Boston Globe story,
Darryl Stingley said he still would welcome a visit or a call from Tatum
-- without a commercial agenda.
"If he called me today, I'd answer," Darryl Stingley said. "If he came to my house, I'd open my door to him. All I ever wanted was for him to acknowledge me as a human being. I just wanted to hear from him if he felt sorry or not. It's not like I'm unreachable. But it's not a phone call I'll be waiting for anymore."
Darryl Stingley also claimed he harbored no hatred for Tatum.
"It's hard to articulate," Darryl Stingley said. "It was a test of my faith. The entire story. In who, and how much, do you believe, Darryl? In my heart and in my mind I forgave Jack Tatum a long time ago."
Tatum's legacy was forever tainted by his callousness. ESPN's John Clayton wrote a remembrance of Tatum and noted the behavior toward Darryl Stingley
likely prevented Tatum from garnering consideration
for the Pro Football Hall of Fame.
Tatum was a three-time Pro Bowler. He was involved in several memorable hits, knocking off
Minnesota Vikings
receiver Sammy White's helmet in Super Bowl XI and waylaying Frenchy Fuqua to ricochet the ball Franco Harris turned into the Immaculate Reception.
The NFL Network ranked Tatum the sixth-most fearsome tackler in league history, but the program never mentioned his hit on Darryl Stingley.
"He had close to 30 years to apologize," Derek Stingley said. "If that created a burden for him to live with, that's his own doing. There were plenty of opportunities.
"This is a reminder to put things to the side and let bygones be bygones. I wish they had that opportunity to close that chapter in their lives, but it never happened."
October, 15, 2009
10/15/09
1:31
PM ET

Posted by ESPN.com's Tim Graham
| | |
| --- | --- |
| | |
| | Steve Mitchell-US Presswire |
| | Running back Ricky Williams could be on his way to reaching a significant milestone. |
Two summers ago,
Ronnie Brown
and
Ricky Williams
talked openly about becoming the fourth running back tandem in NFL history to rush for 1,000 yards apiece.
Their plan didn't work out too well.
Brown fell 74 yards short of the mark. Williams gained a respectable 659 yards, but nowhere close to what he hoped.
Through five games, however, both are on track to accomplish the rare NFL feat.
As the Dolphins head into their bye week with essentially a third of the season behind them, Brown has rushed for 443 yards, putting him on pace the end the regular season with 1,417 yards.
Williams has rushed for 316 yards, projecting him to finish with 1,011 yards if he can keep it up.
Williams would make history.
It would be the fifth 1,000-yard season of his career, but his first since 2003. Five running backs have gone five years between 1,000-yard campaigns, but nobody has waited six years.
The list of players who went the longest between milestone seasons:
Mike Garrett 1967 and 1972
Ottis Anderson 1984 and 1989
Ernest Byner 1985 and 1990
Gary Brown 1993 and 1998
Mike Anderson 2000 and 2005
To save you the trouble of going to Google search, the other running back tandems to rush for 1,000 yards apiece were Larry Csonka and Mercury Morris for the Dolphins in 1972, Franco Harris and Rocky Bleier for the
Pittsburgh Steelers
in 1976,
Kevin Mack
and Byner for the
Cleveland Browns
in 1985 and
Derrick Ward
and
Brandon Jacobs
for the
New York Giants
last year.
Warrick Dunn
and quarterback
Michael Vick
also eclipsed 1,000 yards for the
Atlanta Falcons
in 2006.