February, 2, 2011
2/02/11
4:30
PM ET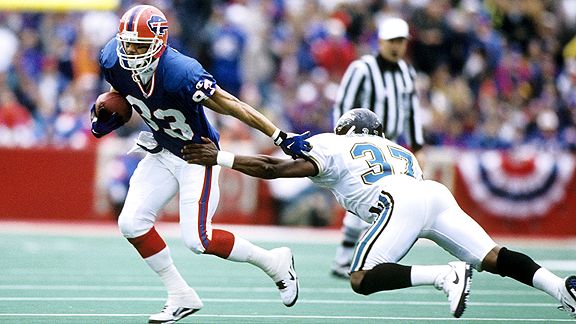 US PRESSWIREFormer Bills receiver Andre Reed finished his career with 951 catches for 13,198 yards and 87 TDs.
Receptions come a lot cheaper these days.
The game has changed, and all you need for proof is a glance at Paul Warfield's career stats. He caught more than 50 passes once. He gained more than 1,000 yards once. In some of his Pro Bowl seasons, his numbers wouldn't have justified a roster spot in your 10-team fantasy league.
Yet Warfield is considered one the most dangerous receivers NFL history, a first-ballot Pro Football Hall of Famer.
"Our game is beginning to resemble baseball in which everyone is looking at numbers," Warfield said this week from his home in Rancho Mirage, Calif. "Numbers tell the story to a degree, but I like to look at one's full body of work.
"I'm from the old-school generation. You might be termed a wide receiver, but you should be a football player first."
Steve Largent is another example of how stats don't quantify a receiver's worth like they used to. Largent retired after the 1989 season as the NFL's all-time leading receiver with 819 catches. He, too, was a first-ballot Hall of Famer.
Twenty-one years later, Largent ranks 20th in receptions behind such names as
Derrick Mason
,
Torry Holt
,
Keenan McCardell
,
Muhsin Muhammad
and fullback
Larry Centers
.
In 1985, only four players had caught 600 passes. The list is 55 players long now.
"It doesn't necessarily undermine a player's ability to get into the Hall of Fame because he had great stats or doesn't have great stats," Largent said Monday from his office in Washington D.C. "You're looking for a guy who was the total package."
With that in mind, you might consider
Andre Reed
's stats if you choose when deciding if he belongs in the Hall of Fame. They're sterling -- if a little outdated and discounted by time.
To both Largent and Warfield and other legendary receivers, Reed qualifies for Canton without even looking at the numbers.
"I saw the value Reed had to that team not only as a receiver, but also as a leader," Largent said. "There are some attributes you don't keep statistics of, but you become aware of as one player watching another play the game."
Reed is Largent's "total package" and Warfield's unequivocal embodiment of "football player."
"It's long overdue for Andre," Warfield said.
Reed is among the 15 Pro Football Hall of Fame finalists who will learn Saturday whether they will be included in this year's induction class.
The star
Buffalo Bills
receiver has been a finalist five times. There's a belief this year offers his best chance yet. In previous years, he has shared the ballot with at least one receiver who took precedence because they were icons (
Jerry Rice
,
Michael Irvin
) or had been waiting longer (
Art Monk
).
Reed could become the sixth Hall of Famer from a team that went to four straight Super Bowls but failed to win one.
Already enshrined are Bills quarterback
Jim Kelly
, running back
Thurman Thomas
, defensive end
Bruce Smith
and head coach Marv Levy. Wide receiver
James Lofton
also is in Canton, but he didn't play on all four Super Bowl teams, and is more closely associated with the
Green Bay Packers
.
"I was a part of something special, and I'll take that to my grave," said Reed, 47. "We were a family. But the Hall of Fame, I don't know how I would react. It would be a validation of your work and what you did.
"Hopefully on Saturday I can be in that fraternity with them, but every year it's a tough ballot."
The other finalists include running backs
Marshall Faulk
,
Curtis Martin
and
Jerome Bettis
, receivers
Tim Brown
and
Cris Carter
, tight end
Shannon Sharpe
, center
Dermontti Dawson
, tackle
Willie Roaf
, defensive ends
Richard Dent
,
Charles Haley
and
Chris Doleman
, defensive tackle
Cortez Kennedy
, cornerback
Deion Sanders
and NFL Films patriarch Ed Sabol.
The Hall of Fame's 44-member selection committee will decide Saturday. The group includes NFL writers, one representative per franchise, 11 at-large voters and one from the Pro Football Writers Association. The committee will pare the group of 15 finalists down to 10 and then to five. At that point, a vote will be held, with 80 percent agreement needed for induction.
Up to five modern-era candidates may be elected each year. First-time nominees Faulk and Sanders are virtual locks to get inducted. That leaves three spots available for Reed and the other finalists to get in.
Buffalo News reporter Mark Gaughan will make the case for Reed's induction. It's a compelling one.
"He certainly had a great career, one of the great clutch receivers," Warfield said. "He was consistent, one Jim Kelly could always go to and always find open in a situation where they're trying to make a big play. He's an all-encompassing receiver."
Reed was third on the NFL's all-time receptions list when he retired after the 2000 season with 951 catches, behind only Rice and Carter. Reed was a seven-time Pro Bowler and a superstar on a team that won four conference championships in a row.
"He was as dangerous a receiver as there is," former Bills quarterback
Frank Reich
said. "Versus press coverage, he was almost impossible to stop, coming off the ball. We always felt if they tried to play tight man on Andre it didn't matter who was guarding him. Any shutdown corner in the league in press coverage, Andre was going to beat him."
Reed was a force on the big stage. In 19 postseason games he had 85 receptions for 1,229 yards and nine touchdowns. He didn't score any Super Bowl touchdowns, but he did have 27 receptions for 323 yards.
In the Bills' epic comeback against the Houston Oilers in the 1992 postseason, he made eight catches for 136 yards and three touchdowns.
Reed is known as tremendously durable. He played 253 games, counting playoffs. He often darted into traffic to make plays in a crowd of defenders.
"No fear," Reich said.
Reed was one the greatest ever when it came to yards after the catch, second perhaps only to Rice.
[+] Enlarge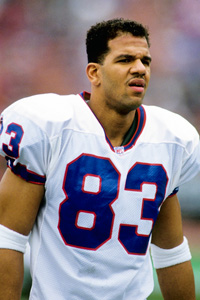 US PresswireAndre Reed, on playing for the Bills: "I was a part of something special, and I'll take that to my grave,"
"Most people that were on that team or played against us will remember how explosive he was in run-after-the-catch," said Reich, now
Peyton Manning
's position coach with the
Indianapolis Colts
. "He rivaled Jerry Rice in that category. Like Jerry Rice, his 40 time was good and probably not great. But there was nobody faster with the ball in his hands."
What put Reed's production in even greater context is a closer look at Buffalo's offense in the 1990s.
Many fans, even those who closely followed the Bills then, recall a prolific aerial attack. They remember Kelly running the no-huddle, K-Gun offense and slinging the ball all over the field to Reed and Lofton.
As Gaughan will point out again Saturday, the Bills ranked 17th in passing offense throughout Reed's career. In Reed's six prime seasons from 1988 through 1993, the Bills passed 51 percent of the time. By comparison, the
Washington Redskins
' famed "Hogs" offense passed 50 percent of the time when Monk was there.
Reed didn't have much receiving help either. He played with Lofton for four seasons, but Lofton was 33 years old when he joined Buffalo. In 1988, for instance, Reed's second and third receivers were Trumaine Johnson and
Chris Burkett
.
So far, the chief impediment for Reed's induction hasn't been his resume, but the other names on the ballot.
A wide receiver has been inducted each of the past four years, and in seven classes out of the past decade.
Gaughan noted there is room in Canton for at least two more receivers from the 1990s. A breakdown of membership shows seven receivers who predominantly played in the 1960s, four from 1970s, four from the 1980s and two from the 1990s.
Reed, Carter and Brown are the worthiest receiver candidates to join Rice and Irvin from that decade.
There's a velvet rope. This is Reed's fifth year as a finalist. Carter has been a finalist four times, Brown twice.
Reed apparently jockeyed to the head of the receiver line last year. In the selection process, Carter and Brown didn't make the top-10 stage, but Reed did.
That development has raised Reed's hopes for 2011.
"I'll be more nervous because of the way the voting went last year," Reed said. "I feel I'm more deserving of it. It was pretty close. The anticipation is enhanced this year."
But there are no guarantees. Several legendary receivers have waited longer than five years to get the Canton call. Don Maynard, John Stallworth and Monk got in on their eighth time as finalists. Lynn Swann was a finalist 14 times. The Seniors Committee was necessary to induct Bob Hayes 34 years after his last NFL game.
Reed admitted he has fantasized about the phone call too many times to count. He's even tried to research the moment.
"I've talked to a bunch of Hall of Famers who say when they get the call they're at a loss for words," said Reed, who plays a lot of golf and sells his own line of barbeque sauce in the San Diego area. "They don't know how to react.
"I'll just have to wait and see."
And hopefully not have to wait some more.
January, 31, 2011
1/31/11
11:07
AM ET
Buffalo Bills
fans will wince at the idea, but I encourage them to check out a Buffalo News package that looks back 20 years on Super Bowl XXV, the first and most heartbreaking of the Bills' four consecutive trips to the NFL championship game.
[+] Enlarge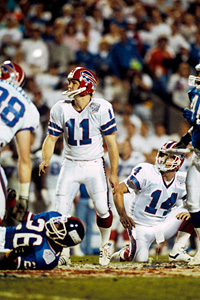 Manny RubioBuffalo's Scott Norwood misses a 47 yard field-goal attempt as time expires in Super Bowl XXV.
Buffalo News columnist Jerry Sullivan, beat reporter Mark Gaughan and editor Greg Connors presented
a compelling retrospective of a bittersweet event
that began with Whitney Houston's moving national anthem and F-16s whooshing overhead.
"Then I remember the Apache gunship flies over," Bills special-teams star Steve Tasker told Sullivan. "They weren't supposed to fly low, but it seemed to me I could see the whiskers on the guy hanging off the sides. It was as though he wasn't just flying for the ceremony. He was watching over us, like, 'Go ahead and play because I'm on guard.' That was awesome."
The game, however, will forever be remembered for how it concluded.
Scott Norwood's 47-yard field-goal attempt sailed wide right. The Bills lost by a point.
The Buffalo News spoke with two dozen members of the team and uncovered intriguing new information.
For instance, holder Frank Reich revealed for the first time that Norwood kept hooking his practice kicks to the left before the game, possibly impacting his fateful kick. Long snapper Adam Lingner told the story of how Norwood's successor, Steve Christie, noticed the laces were not spun to the proper place, suggesting Reich's hold wasn't as good as believed.
Sullivan also wrote about the
brotherhood that was forged and how much the 1990s Bills loved to party
. Another piece laid out all the
"what-if" scenarios that could have made the difference
. The two biggies for me: Bruce Smith's inability to strip Jeff Hostetler on a second-quarter safety and failing to stop Mark Ingram on third-and-13 in the third quarter.
In the style the Buffalo News now handles its Monday coverage of games, Gaughan breaks down Super Bowl XXV with a
quarter-by-quarter report of how the game unfolded
.
Connors added a feature on Van Miller, "the man who will
forever be known as the voice of the Bills
," and his recollections of the Bills' heyday. The story includes Miller's call of Norwood's kick.
January, 28, 2010
1/28/10
4:34
PM ET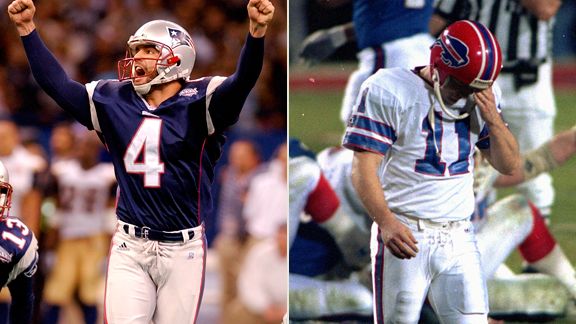 AP PhotoAdam Vinatieri and Scott Norwood played key roles in the best and worst AFC East Super Bowl plays.
ESPN's John Clayton put together his list of the
10 most memorable plays in Super Bowl history
.
AFC East clubs have been involved in many unforgettable moments, and in attempting to put together a list, the heartbreakers seemed more distinguished than the triumphs. Rather than combine them, I've decided to break down the five best plays and the five worst.
Think I missed one or disagree with the way I ranked them? Add your suggestions in the comments section below.
Five best
1. Vinatieri's field goal clinches Patriots' first title:
With broadcaster John Madden advising the
New England Patriots
to kneel out the clock and go to overtime,
Tom Brady
orchestrates a drive against the
St. Louis Rams
that lays the foundation for a Hall of Fame career.
Adam Vinatieri
kicked a 48-yard field goal as time expired to win Super Bowl XXXVI.
[+] Enlarge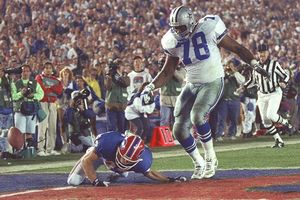 Getty ImagesDon Beebe saved a Dallas touchdown and proved that showboating doesn't pay.
2. Beebe strips Lett:
Super Bowl XXVII was getting out of hand when the
Dallas Cowboys
sacked
Buffalo Bills
quarterback Frank Reich, forcing him to fumble. Leon Lett scooped the ball and rumbled for what should have been a 60-yard touchdown, but he celebrated too soon. Don Beebe racing from behind knocked the ball out of Lett's hand at the goal line to revert possession to the Bills.
3. Law's interception:
In the second quarter and with the favored Rams ahead 3-0, Law made a statement when he intercepted a
Kurt Warner
pass and returned it 47 yards for a touchdown. The Patriots went on to score 17 straight points. The Rams never led again, and the Patriots launched a mini-dynasty.
4. Walker's kickoff return TD:
In a game full of big plays, Fulton Walker returned the first kickoff for a touchdown in Super Bowl history. Walker went 98 yards to give the
Miami Dolphins
a 17-10 halftime lead, but the
Washington Redskins
scored 17 points in the second half to win.
5. Maynard's incomplete bomb:
Speedy receiver Don Maynard was a significant contributor to the
New York Jets
' championship team, but he was shut out in Super Bowl III. "I didn't catch a single pass," Maynard recently told the Bergen Record, "
but I really had a great game
." With no score, Maynard raced behind the Baltimore Colts secondary for what should have been a long touchdown. Joe Namath barely overthrew him, but the play spooked the Colts enough to double- and triple-team Maynard the rest of the game, leaving George Sauer free to catch eight passes for 133 yards.
Five worst
1. Wide right:
So many fates swung on Scott Norwood's right hip socket when he attempted a 47-yard field goal that would've beaten the
New York Giants
in Super Bowl XXV. Norwood's kick sailed wide ride, spoiling what would turn out to be the Bills' best shot to win any of their four straight Super Bowls. The kick also propelled Bill Parcells to legend.
[+] Enlarge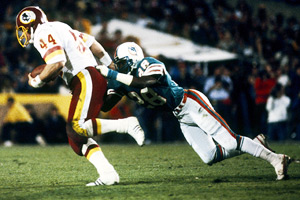 Alan H. Schwartz/Getty ImagesJohn Riggins broke a tackle from Don McNeal en route to a 43-yard touchdown run.
2. Tyree's catch:
Giants afterthought
David Tyree
made the most miraculous catch in Super Bowl history to help ruin the Patriots' pursuit of perfection in 2007. In the final minute and down by four points,
Eli Manning
made an unbelievable scramble and heaved the ball to Tyree, who outbattled Patriots safety
Rodney Harrison
and made the reception by pinning it against his helmet.
3. Riggins' run:
Redskins locomotive John Riggins made an iconic run in Super Bowl XVII that still symbolizes power football at its finest. On a fourth-and-1 play in the fourth quarter, Riggins ran off left tackle and steamrolled Dolphins cornerback Don McNeal on his way to a 43-yard touchdown to give the Redskins their first lead.
4. Howard's 99-yard return:
Desmond Howard
sealed a victory for the
Green Bay Packers
when he returned a kickoff 99 yards in the fourth quarter against the Patriots in Super Bowl XXXI. Howard was awarded the MVP for rolling up 244 return yards.
5. Yepremian's blunder:
The Dolphins were trying to achieve perfection in 1972 and seemed to have everything under control against the Redskins in Super Bowl VII. The Dolphins were ahead 14-0 with about two minutes left, when Garo Yepremian lined up for a 51-yard field goal. The kick was blocked and ricocheted to Yepremian, who comically tried to pass. The ball rolled off his hand and was bobbled. Mike Bass snatched it out of the air and ran 49 yards for a touchdown.
September, 1, 2009
9/01/09
8:11
AM ET

Posted by ESPN.com's Tim Graham

NOTE: This post might look familiar to some of you. It was posted Friday, right before the Great ESPN.com Server Crash of aught-nine, and wasn't salvaged in the recovery phase. So I share with you once again what I thought was an interesting nugget ...
There is a chance, of course, that
New York Jets
quarterback
Mark Sanchez
could get hurt before the season opener and not be able to play.
But let's assume he doesn't step into an uncovered manhole or get struck by a falling piano on his way to his big debut Sept. 13 against the
Houston Texans
.
Sanchez will break the NFL's longest-running streak of games without starting a rookie quarterback.
The Jets have gone 491 straight games -- over three decades worth -- without a newbie starter. The
Kansas City Chiefs
are next at 346 games.
The last Jets rookie quarterback to start was Matt Robinson in November 1977. He got the nod for one game that season and 20 times over his six-year career with the Jets,
Denver Broncos
and
Buffalo Bills
.
David Norrie started two games as a replacement player during the 1987 strike season, but technically wasn't a rookie. Norrie was an 11th-round draft pick of the
Seattle Seahawks
a year earlier.
Since Robinson, here is the list of quarterbacks who've started for the Jets:
Richard Todd
Pat Ryan
Ken O'Brien
David Norrie
Tony Eason
Kyle Mackey
Browning Nagle
Boomer Esiason
Jack Trudeau
Bubby Brister
Frank Reich
Neil O'Donnell
Glenn Foley
Vinny Testaverde
Ray Lucas
Rick Mirer
Quincy Carter
Brooks Bollinger
April, 30, 2009
4/30/09
4:33
PM ET
After several years of offensive tedium, the
Buffalo Bills
might actually be changing the way they operate.
A team source says the Bills are gearing up to run a no-huddle offense in 2009. It would maximize their skill players and perhaps neutralize any offensive-line deficiencies by wearing out defenders.
Sam Wyche, the coach who pioneered the up-tempo, three-receiver offense, thinks the Bills have assembled the components to support such a transformation.
| | |
| --- | --- |
| | |
| | Denny Medley-US PRESSWIRE |
| | According to a source, Bills quarterback Trent Edwards will be operating the no-huddle offense this season. |
"Buffalo's sitting pretty with all those guys," Wyche said from his home in South Carolina. "Believe me."
Wyche installed the entertaining no-huddle offense as head coach of the
Cincinnati Bengals
in the 1980s. Bills offensive coordinator Turk Schonert learned the no-huddle as quarterback Boomer Esiason's backup. Schonert also was Wyche's quarterbacks coach when the
Tampa Bay Buccaneers
ran the no-huddle in the 1990s.
Bills fans became enamored with a no-huddle offense known as the K-Gun, which Jim Kelly so masterfully conducted during their Super Bowl years. A significant reason the Bills tried it was because Wyche's no-huddle Bengals beat them in the 1988 AFC title game.
The timing would be right for a reprise.
The Bills have dangerous receivers
Terrell Owens
,
Lee Evans
and
Josh Reed
, versatile running backs
Marshawn Lynch
,
Fred Jackson
and
Dominic Rhodes
and quarterback
Trent Edwards
, who they believe can make quick decisions at the line of scrimmage.
"The no-huddle lends itself to guys that are big-play guys," Wyche said, "because if you get a defense that's just a little fatigued, just a little off their first-step quickness, and you get the explosive guys, they can hit the home run.
"They have those quick-strike guys."
The Bills also signed a brainy center to make the line calls.
Geoff Hangartner
scored 47 out of 50 on his Wonderlic intelligence test before the 2005 draft. That's supposedly the record among offensive linemen.
The Bills declined to draft a potential replacement for Pro Bowl left tackle
Jason Peters
, choosing instead to select guards
Eric Wood
and
Andy Levitre
.
Jim Ritcher, Buffalo's left guard on those K-Gun teams, noted the importance of mobility in a no-huddle offense.
"We were sort of smaller and could run better than some of the other lineman in the league that were much bigger than us," Ritcher said from his home in North Carolina.
Wyche said the no-huddle offense works on three levels.
"No. 1, you cut down the recovery time and the defense wears down," Wyche said. "No. 2, the defense has a real tough time getting substitutes in, and the offense gets natural mismatches. No. 3, defensive coordinators have a hard time sending in intricate blitzes because of the time it takes, and you never know when it's going to be a quick snap. So you simplify the defenses you're going to see."
Defenses usually can keep up for about a quarter before they begin to fatigue against a persistent no-huddle attack.
"Every 20 seconds we were getting off a play," Ritcher said. "It's not really difficult, but you have to be in good shape. Defense is so much tougher than offense anyways, when you're running all over the field like a defensive player has to do. It's much more tiring.
"Teams saw that they couldn't replace their defense or change their schemes. They stayed in their defense the whole series until there was a timeout or a penalty. We could just exploit whatever they were in with Jim Kelly and Frank Reich knowing what to do."
Wyche is familiar with much of the Bills' personnel. He was their quarterbacks coach under Mike Mularkey in 2004 and 2005. Wyche did not work with Edwards, who was drafted in 2007, but thinks highly of him.
"You always look for two things in quarterbacks: They've got to be smart, and they've got to be accurate," Wyche said. "If they're tall, that's a plus. If they can run, that's a plus. If they got a rifle arm, that's a plus. But if they're smart and accurate you can figure out a way to win."
Edwards, a Stanford graduate, completed 65.5 percent of his passes last year. That was the NFL's seventh-best efficiency rate.
One of the overlooked elements of a no-huddle offense is a sure-handed tight end. The Bills released the droptastic
Robert Royal
and drafted
Shawn Nelson
out of Southern Miss in the fourth round. Nelson is balanced, but known more for his catching ability than his blocking.
"Where the no-huddle is most effective is if you got a tight end that can step out a few yards and be a quick receiver and you've got a running back who can cheat out to the weak side and be a quick receiver out of the backfield," Wyche said.
"You don't have to substitute to get four wide receivers. You can get your third and fourth receiver from your tight end or your backs. That's when you really optimize your offense."
All three Buffalo backs can catch. Lynch had 47 receptions for 300 yards and a touchdown last year. Jackson had 37 catches for 317 yards. Rhodes caught 45 passes for 302 yards and three touchdowns as a part-time starter for the
Indianapolis Colts
, the preeminent no-huddle team.
"It's not that hard, and the players get to really like it because they get more involved in the offense," Wyche said. "They get to feel like they're more in charge.
"In the no-huddle everything is lining up at a much faster tempo. You're not in a two-minute mode, but you're not in slow-mo either. The Bills' opponents can't practice that tempo."
April, 15, 2009
4/15/09
10:31
AM ET
Posted by ESPN.com's Tim Graham
The 1985 Buffalo Bills barely made it, but they will face the 1974 Pittsburgh Steelers in the SportsNation NFL draft class tournament to determine the finest of all-time.
The third-seeded Bills edged out the second-seeded 1975 Dallas Cowboys by a meager 42 votes in what had been a dead heat.
The championship will be much more difficult for the '85 Bills, who feature defensive end Bruce Smith, receiver Andre Reed and quarterback Frank Reich.
Not bad, but the '74 Steelers produced four Pro Football Hall of Famers: Receivers Lynn Swann and John Stallworth, center Mike Webster and linebacker Jack Lambert.
Although the results were closer than one might think, the top-seeded Steelers comfortably defeated the fifth-seeded 1981 San Francisco 49ers. The Steelers finished with 57 percent of the vote.
The Steelers knocked off Dan Marino's eighth-seeded 1983 Miami Dolphins this week in the quarterfinals.
ESPN Stats & Information ranked the top draft class from each of the 32 clubs and seeded them into a five-round bracket to determine the best of all-time. SportsNation visitors are voting for the winners of each matchup.
April, 11, 2009
4/11/09
7:10
PM ET
Posted by ESPN.com's Tim Graham
Two AFC East clubs remain alive in SportsNation's NFL draft class tournament.
The third-seeded 1985 Buffalo Bills and the eighth-seeded 1983 Miami Dolphins advanced to the quarterfinals. They'r coming out of different brackets and can face each other in the final to determine the best draft class of all-time.
But an all-AFC East championship doesn't appear likely. The Dolphins are up against the top-seeded 1974 Pittsburgh Steelers, a class that produced four Pro Football Hall of Famers: receivers Lynn Swann and John Stallworth, center Mike Webster and linebacker Jack Lambert.
The '83 Dolphins class featured quarterback Dan Marino, receiver Mark Clayton and punter Reggie Roby.
The '83 Bills are matched against a surprise quarterfinal entrant, the 22nd-seeded 1983 Denver Broncos.
The Bills have defensive end Bruce Smith, receiver Andre Reed and quarterback Frank Reich. But the '83 Broncos featured one of the greatest draft picks ever. Linebacker Karl Mecklenburg was selected in the 12th round. John Elway doesn't factor because he was drafted by the Baltimore Colts.
ESPN Stats & Information ranked the top draft class from each of the 32 clubs and seeded them into a five-round bracket to determine the best of all-time. SportsNation visitors are voting for the winners of each matchup.
The 1977 New York Jets and 1973 New England Patriots were eliminated in the tournament's first round.
ESPN Insiders can click on each team for fascinating, detailed analysis on each team, including honorable mention classes and the greatest draft picks in franchise history.
April, 1, 2009
4/01/09
4:48
PM ET
Posted by ESPN.com's Tim Graham
ESPN Stats & Information rated 13,808 draft picks to assemble a field of the NFL's top 32 draft classes for a tournament to determine the best of all-time. Fans will have a chance to vote starting Thursday.
Each team is represented and has been seeded No. 1 through No. 32 based on the best class in franchise history.
The classes were chosen using a formula that awarded points to each player for various individual and teams accomplishments.
1 point: Super Bowl loss
2 points: Offensive rookie of the year
2 points: Defensive rookie of the year
2 points: Pro Bowl
3 points: Super Bowl victory
3 points: second-team All-Pro
4 points: first-team All-Pro
6 points: AP Defensive Player of the Year
6 points: AP Offensive Player of the Year
8 points: AP Most Valuable Player
15 points: Hall of Fame
The Buffalo Bills earned the third seed because of their 1985 draft class, which included defensive end Bruce Smith, receiver Andre Reed and quarterback Frank Reich.
The Miami Dolphins are the No. 8 seed behind their 1983 draft class that featured quarterback Dan Marino, punter Reggie Roby and receiver Mark Clayton.
The New England Patriots are a fine example of how the formula isn't perfect. They're seeded 19th because some of their greatest players still are active and, therefore, ineligible for the Hall of Fame. Four of their top six classes, according to ESPN Stats and Information, have been drafted in the past 14 years. They are the best overall since 2000, when Bill Belichick came aboard.
But the formula rates the Patriots' best draft class as 1973, the year they drafted one of their few Hall of Famers, guard John Hannah, and running back Sam Cunningham.
The New York Jets are seeded No. 25 based on their 1977 draft class. The selected offensive lineman Marvin Powell, receiver Wesley Walker and defensive tackle Joe Klecko.
ESPN Insider subscribers can see detailed breakdowns and find out which classes received honorable mentions for each club.
January, 17, 2009
1/17/09
2:57
PM ET
Posted by ESPN.com's Tim Graham
New York Jets
Buffalo Bills
Miami Dolphins
New England Patriots