June, 30, 2010
6/30/10
1:00
PM ET
Notable players:
QB Bob Griese, QB Earl Morrall, RB Larry Csonka, RB Mercury Morris, WR Paul Warfield, C Jim Langer, G Bob Kuechenberg, G Larry Little, DE Bill Stanfill, MLB Nick Buoniconti, SS Jake Scott, FS Dick Anderson.
[+] Enlarge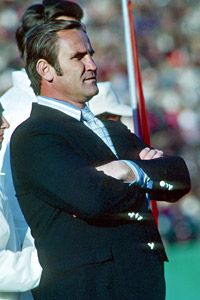 Malcolm Emmons/US PresswireDon Shula guided the 1972 Dolphins to a 17-0 record.
Analysis:
As it turns out, you can argue with perfection.
The obvious choice for the greatest team in
Miami Dolphins
history is 1972, the historic season in which they went undefeated and claimed their first championship.
But some important members of that team have claimed the 1973 edition was even better, although it lost two games against better competition before closing out the season with its second straight Super Bowl victory.
"The question is, do I think my team is better than it was a year ago?" coach Don Shula said after the follow-up title. "There's no question about it. I think we're a better football team than we were a year ago at this time. I think we've gone one step beyond last year's football team. Even though we were 17-0, a perfect season, going back-to-back on Super Bowls is more meaningful."
With all due respect to Coach Shula, perfection won't take a backseat here.
The '72 Dolphins played a pretty feeble schedule, but they ranked first in total offense, scoring offense, total defense and scoring defense. They beat their opponents by an average margin of 15.3 points in the regular season despite losing Griese to a broken ankle in October.
In the playoffs, they dispatched a pair of teams with double-digit victories, the
Cleveland Browns
and
Pittsburgh Steelers
.
The Dolphins easily beat the NFC's top-seeded
Washington Redskins
in the Super Bowl and would have shut them out if not for Garo Yepremian's flubbed field goal that turned into the Redskins' only points.
Most impressive win:
Down 10-7 in the third quarter and on the road against the Steelers in the AFC Championship Game, Griese replaced Morrall and directed a pair of touchdown drives in a 21-17 victory.
Forgiving schedule:
The Dolphins feasted on a schedule that was one of the weakest in NFL history. In the regular season, they played no playoff clubs and just two that finished with winning records. Six opponents won four or fewer games. The combined record of their regular-season foes was 70-122-4.
Honorable mention
1973:
Some assert Miami's back-to-back championship team was better than the one that went undefeated. It held opponents to single-digit points eight times, including the
Minnesota Vikings
in the Super Bowl.
1984:
Dan Marino
threw for 5,084 yards in propelling the Dolphins to a 14-2 record and the AFC championship. Marino's lone Super Bowl appearance ended in a miserable loss to the
San Francisco 49ers
.
1971:
Miami's motivation for its historic 1972 season was losing the Super Bowl to the
Dallas Cowboys
after going 10-3-1 and shutting out the Baltimore Colts in the AFC Championship Game.
1983:
Marino's rookie season was electric. He took over for David Woodley, who had guided the Dolphins to the Super Bowl in a strike-shortened season. Even more impressive was the No. 1-rated Killer B's defense.
January, 28, 2010
1/28/10
4:34
PM ET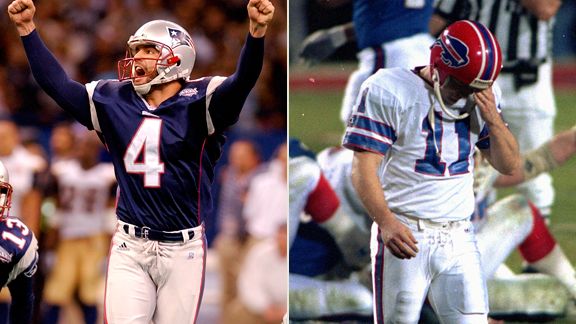 AP PhotoAdam Vinatieri and Scott Norwood played key roles in the best and worst AFC East Super Bowl plays.
ESPN's John Clayton put together his list of the
10 most memorable plays in Super Bowl history
.
AFC East clubs have been involved in many unforgettable moments, and in attempting to put together a list, the heartbreakers seemed more distinguished than the triumphs. Rather than combine them, I've decided to break down the five best plays and the five worst.
Think I missed one or disagree with the way I ranked them? Add your suggestions in the comments section below.
Five best
1. Vinatieri's field goal clinches Patriots' first title:
With broadcaster John Madden advising the
New England Patriots
to kneel out the clock and go to overtime,
Tom Brady
orchestrates a drive against the
St. Louis Rams
that lays the foundation for a Hall of Fame career.
Adam Vinatieri
kicked a 48-yard field goal as time expired to win Super Bowl XXXVI.
[+] Enlarge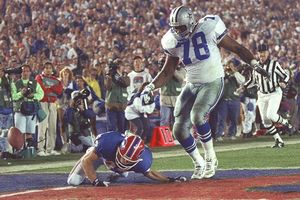 Getty ImagesDon Beebe saved a Dallas touchdown and proved that showboating doesn't pay.
2. Beebe strips Lett:
Super Bowl XXVII was getting out of hand when the
Dallas Cowboys
sacked
Buffalo Bills
quarterback Frank Reich, forcing him to fumble. Leon Lett scooped the ball and rumbled for what should have been a 60-yard touchdown, but he celebrated too soon. Don Beebe racing from behind knocked the ball out of Lett's hand at the goal line to revert possession to the Bills.
3. Law's interception:
In the second quarter and with the favored Rams ahead 3-0, Law made a statement when he intercepted a
Kurt Warner
pass and returned it 47 yards for a touchdown. The Patriots went on to score 17 straight points. The Rams never led again, and the Patriots launched a mini-dynasty.
4. Walker's kickoff return TD:
In a game full of big plays, Fulton Walker returned the first kickoff for a touchdown in Super Bowl history. Walker went 98 yards to give the
Miami Dolphins
a 17-10 halftime lead, but the
Washington Redskins
scored 17 points in the second half to win.
5. Maynard's incomplete bomb:
Speedy receiver Don Maynard was a significant contributor to the
New York Jets
' championship team, but he was shut out in Super Bowl III. "I didn't catch a single pass," Maynard recently told the Bergen Record, "
but I really had a great game
." With no score, Maynard raced behind the Baltimore Colts secondary for what should have been a long touchdown. Joe Namath barely overthrew him, but the play spooked the Colts enough to double- and triple-team Maynard the rest of the game, leaving George Sauer free to catch eight passes for 133 yards.
Five worst
1. Wide right:
So many fates swung on Scott Norwood's right hip socket when he attempted a 47-yard field goal that would've beaten the
New York Giants
in Super Bowl XXV. Norwood's kick sailed wide ride, spoiling what would turn out to be the Bills' best shot to win any of their four straight Super Bowls. The kick also propelled Bill Parcells to legend.
[+] Enlarge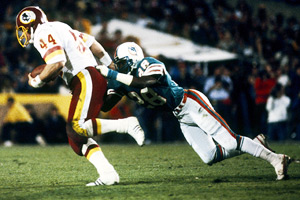 Alan H. Schwartz/Getty ImagesJohn Riggins broke a tackle from Don McNeal en route to a 43-yard touchdown run.
2. Tyree's catch:
Giants afterthought
David Tyree
made the most miraculous catch in Super Bowl history to help ruin the Patriots' pursuit of perfection in 2007. In the final minute and down by four points,
Eli Manning
made an unbelievable scramble and heaved the ball to Tyree, who outbattled Patriots safety
Rodney Harrison
and made the reception by pinning it against his helmet.
3. Riggins' run:
Redskins locomotive John Riggins made an iconic run in Super Bowl XVII that still symbolizes power football at its finest. On a fourth-and-1 play in the fourth quarter, Riggins ran off left tackle and steamrolled Dolphins cornerback Don McNeal on his way to a 43-yard touchdown to give the Redskins their first lead.
4. Howard's 99-yard return:
Desmond Howard
sealed a victory for the
Green Bay Packers
when he returned a kickoff 99 yards in the fourth quarter against the Patriots in Super Bowl XXXI. Howard was awarded the MVP for rolling up 244 return yards.
5. Yepremian's blunder:
The Dolphins were trying to achieve perfection in 1972 and seemed to have everything under control against the Redskins in Super Bowl VII. The Dolphins were ahead 14-0 with about two minutes left, when Garo Yepremian lined up for a 51-yard field goal. The kick was blocked and ricocheted to Yepremian, who comically tried to pass. The ball rolled off his hand and was bobbled. Mike Bass snatched it out of the air and ran 49 yards for a touchdown.
August, 11, 2009
8/11/09
3:20
PM ET
| | |
| --- | --- |
| | |
| | David Stluka/Getty Images |
| | Punter Scott Player represents the end of the single-bar facemask era. |
The NFL went as far as it could to replicate history.
The
Buffalo Bills
and
Tennessee Titans
were in their original duds in Sunday night's Pro Football Hall of Fame Game.
Clubs are wearing throwback uniforms this year in selected Legacy Games to celebrate the 50th anniversary of the American Football League, with Canton's preseason opener the first exhibition.
A lone red Buffalo stood proudly on the Bills' helmets. The Titans were dressed like their ancestors, the Houston Oilers, complete with derricks. Referees were on patrol in orange-striped jerseys.
No matter how hard the NFL tries to recapture the olden days, one glaring omission makes it impossible:
The single-bar facemask is gone and not coming back.
January, 26, 2009
1/26/09
9:18
AM ET
Posted by ESPN.com's Tim Graham
If you haven't had a chance to read the compelling Super Bowl MVPs feature ESPN.com unveiled Monday morning, do yourself a favor and check it out.
With that in mind, and with no reason other than history to write about the AFC East in the Super Bowl, I was inspired to take a look back at the division's six MVPs from the big game and rank them in order of their performance.
Seven AFC East teams have won a Super Bowl, but when the Baltimore Colts did it, Dallas Cowboys linebacker Chuck Howley won the award -- the lone player from a losing team to pull it off.
| | |
| --- | --- |
| | |
| | Andy Lyons/Getty Images |
| | Tom Brady has a pair of Super Bowl MVP trophies, including one following Super Bowl XXXVIII. |
1. Larry Csonka, Super Bowl VIII
In one of the Super Bowl's most dominant rushing performances, Csonka trudged for a then-record 145 yards and two touchdowns to power the Miami Dolphins past the Minnesota Vikings, 24-7, at Rice Stadium.
Csonka's relentlessness -- his 33 attempts still rank third in Super Bowl history -- didn't leave much else to do. Bob Griese threw seven passes to complete back-to-back championship seasons.
2. Tom Brady, Super Bowl XXXVIII
For the second straight Super Bowl, with the score tied and with a little more than a minute to play, Brady deftly guided the New England Patriots to a game-winning field goal, this time to beat the Carolina Panthers, 32-29, in Houston.
Brady's 32 completions are a Super Bowl record. His 354 yards rank fifth. He threw three touchdowns and one interception.
3. Tom Brady, Super Bowl XXXVI
Brady's heroics hold special meaning for Patriot Nation, helping to secure the team's first championship after so many years of futility. He took over with the score tied and no timeouts with 1:21 to play and completed 5 of 6 passes -- the incompletion was a spike to bring Adam Vinatieri onto the field for a 48-yard field goal to beat the St. Louis Rams.
But this MVP takes a back seat to XXXVIII because Brady's numbers were pedestrian by comparison: 16 of 27 for 145 yards and one touchdown. That 8-yard scoring toss to David Patten was the only touchdown New England's offense produced.
4. Deion Branch, Super Bowl XXXIX
A rarity for offensive players, Branch earned Super Bowl MVP honors without scoring a touchdown in the Patriots' 24-21 victory over the Philadelphia Eagles.
Branch, who was limited to 35 catches in the regular season because of injury, became one of only five receivers to win the MVP. He tied a Super Bowl record with 11 receptions (Jerry Rice, Dan Ross, Wes Welker) and 133 yards. Branch's 21 catches in two Super Bowls stand alone.
Only 103 of Brady's passing yards went to other receivers. On one third-quarter touchdown drive, Branch caught four passes for 71 yards.
5. Joe Namath, Super Bowl III
The AFC East was two years from formation then, but we're going to include this seminal game anyway.
I'm not ranking these based on historic symbolism. Had Broadway Joe not uttered his famous guarantee beforehand, he would not have been the MVP of the New York Jets' 16-7 upset of the Colts.
The lasting image from the AFL's momentous victory is Namath wagging his finger No. 1 as he ran off the Orange Bowl field, but the only special aspect of his stats was that he didn't throw an interception. He completed 17 of 28 passes for 206 and zero touchdowns. Yawn.
Matt Snell should have been the MVP. He ran 30 times for 121 yards and the Jets' lone touchdown and caught three passes for another 40 yards. The Jets' defense also recorded five takeaways.
6. Jake Scott, Super Bowl VII
Appropriately enough, a defensive player was selected for the lowest-scoring Super Bowl, a 14-7 Dolphins victory over the Washington Redskins in the L.A. Coliseum. The Dolphins would have recorded a shutout if not for kicker Garo Yepremian's absurd fumble that was returned for a touchdown.
Scott is one of only two safeties (Dexter Jackson) to be honored. He had two interceptions, including one in the end zone he returned 55 yards in the fourth quarter to lock down the championship.