June, 9, 2011
6/09/11
11:39
AM ET
ESPN.com's recent Power Rankings of the toughest NFL venues urged a few folks to drop notes into the AFC East mailbag. Some of them were printable.
Aaron in Los Angeles "can't begin to tell you how much of a moron" I am and that I "shouldn't be covering football" for ranking Lambeau Field ninth on my ballot.
He can understand how I have Gillette Stadium, Heinz Field and Lucas Oil Stadium all higher than Lambeau, but certainly not Arrowhead Stadium, Qwest Field, Soldier Field or Lincoln Financial Field.
That just goes to show how subjective taste can be. The examples Aaron gave for what is acceptable or unacceptable illustrate how people can emphasize different criteria when formulating an opinion. Based on the response from readers and writers the past couple of days, the most questionable stadiums I rated highly were the ones Aaron finds OK. ESPNBoston.com writer Mike Reiss asked
New England Patriots
fans about Gillette Stadium, and
69 percent of them disagreed it's a tough place to play
. AFC South blogger Paul Kuharsky didn't list Lucas Oil Stadium on his ballot at all.
Meanwhile, former players
Mark Schlereth
and
Marcellus Wiley
said
there was no doubt Arrowhead Stadium is the toughest place
to play.
Jacksonville Jaguars
linebacker
Kirk Morrison
agreed with Arrowhead and also listed
Oakland Coliseum, Heinz Field, Soldier Field and Qwest Field ahead of Green Bay
in a piece on the AFC South blog.
Indianapolis Colts
linebacker
Gary Brackett
, entering his ninth NFL season, didn't mention Lambeau anywhere in his top 10.
Jon in Watertown, Wisc., wrote (in all caps) that I couldn't rank Lambeau ninth "with a straight face" because he's a Packers season-ticket holder who has been on the field
, and he couldn't hear himself think down there. Jon also points out "Lambeau Field in December is like none other."
I know it's quite loud at Lambeau Field, but it's loud in a lot of stadiums. I would expect a season-ticket holder who loves the Packers to defend Lambeau Field as the best place on Earth. But let's not pretend Lambeau Field is the only place where noise is a factor and the only miserable NFL venue to visit in the winter.
NFC East blogger Dan Graziano had this to say about why he voted Ralph Wilson Stadium his toughest place to play:
"I personally did not factor in the home team in my choices because I think it's a variable. Right now, the toughest place is Gillette Stadium because the Patriots have been so great. But if the Pats stink for the next five years, no way that place makes the 2016 list. But that frigid old dump in Buffalo will still be a miserably unpleasant venue that players will hate to visit."
To which I reply, isn't weather a variable? If a stadium needs nasty weather to be considered a difficult place to play, then should there be a separate list for when conditions are moderate? I then would have to consider Sun Life Stadium in October or November to be a tough place to visit, too.
Steve in Minnesota and Brian in Fallbrook, Calif., took exception to my quote that appeared in the main Power Rankings story.
In the article, I explained why I had trouble rating Lambeau higher than I did:
"I distinctly remember a mediocre Miami Dolphins squad traveling a long way to beat the Packers at Lambeau last season. The Packers have gotten lit up at home a few times the past three years despite having very good talent. I guess I couldn't get past that."
Steve pointed out the Packers were banged up in that Week 6 defeat to the Dolphins and that "was an easy call for a loss." So I guess Lambeau Field wasn't a tough enough place for a 7-9 team to escape with a victory. It must be about the teams on the field.
Brian combed through the records the past three years and couldn't find any games where the Packers have been "blown out at home" by more than 12 points. That's true. I didn't say the Packers were blown out. I said they were lit up. In 2009, Cincinnati scored 31 and Minnesota scored 38. In 2008, Carolina scored 35 and Dallas and Atlanta (with a rookie quarterback) scored 27.
Upon seeing where I listed Lambeau Field, readers obviously went back through my previous Power Rankings ballots
because I received an unusual number of notes about polls we did months ago. Sergio in San Francisco was curious about why I ranked
DeMarcus Ware
ninth among linebackers. Chris in Merced, Calif., wanted to know why I had
Darren McFadden
10th among running backs.
As I explained when we did the linebacker Power Rankings, I was in total disagreement with the concept. It's
unfair to compare inside linebackers to 3-4 outside linebackers
because in a 4-3 scheme, outside linebackers wouldn't be linebackers at all. They'd be hand-on-the-ground defensive ends. With that in mind, I gave considerable weight to players who would be linebackers regardless of the defense. That favored inside linebackers significantly. Besides, ESPN.com had
previously rated the best pass-rushers. I rated Ware the best
.
As for McFadden, I don't think 10th is out of line when you consider the players who were rated ahead of him. There are a lot of talented running backs. Four of our eight panelists didn't rate McFadden at all. I'm sure if he can put together another season like last year, then he'll be considered elite.
January, 6, 2011
1/06/11
12:25
PM ET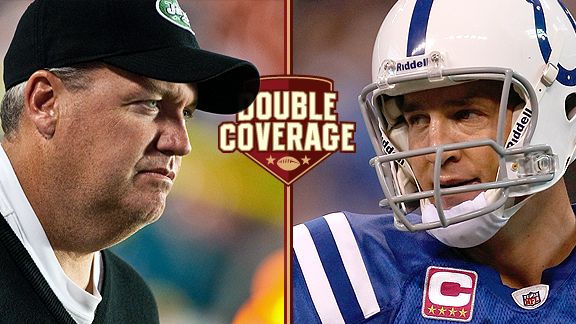 ESPN.com IllustrationWho has the advantage in the wild-card game between the Colts and the Jets this Saturday? Our bloggers debate.
In last season's AFC Championship Game, the upstart
New York Jets
were on their way to scoring their third straight road upset in the playoffs. They'd already knocked off a pair of division champions and led the
Indianapolis Colts
in the third quarter at Lucas Oil Stadium.
But the Colts outclassed the Jets in the second half and won easily to advance to the Super Bowl. The Jets had to regroup, knowing that to attain their Super Bowl dreams, they had to figure out a way to get past the Colts.
They won't need to look for them in the playoffs this year. The Jets and Colts will meet in the first round Saturday night, again in Indianapolis.
ESPN.com AFC South blogger Paul Kuharsky and AFC East blogger Tim Graham break down the rematch.
Tim Graham:
The first thought I have about the Colts is that
Peyton Manning
isn't going to win this game with his aura. Aside from past experience, the Jets don't have much reason to quake in their cleats Saturday night. They can beat this guy. Manning has proven to be a mortal without tight end
Dallas Clark
and receivers
Austin Collie
and
Anthony Gonzalez
to target. Seventeen interceptions? Almost knocked out of the playoffs by the
Jacksonville Jaguars
? These Colts are a shadow of what we've come to know.
Paul Kuharsky:
How about with his chakra, then? You've been spending too much time with
Ricky Williams
, dude. Has Manning been perfect? Hardly. But as Colts blogger Nate Dunlevy points out, and our ESPN Stats & Information confirms, Manning threw for 4,700 yards, tossed for more than 30 touchdowns, connected on 66 percent of his throws, had an interception rate of 2.5 percent and won 10 games. If that's a shadow of what you've known,
you must really know Tom Brady's 2007 season then
. Because that was the only other time it has happened.
[+] Enlarge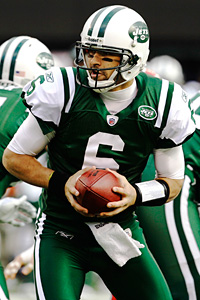 AP Photo/Kathy WillensJets quarterback Mark Sanchez reached 10 wins two games faster than former league MVP Peyton Manning.
TG:
Yeah, Manning won 10 games. So did
Eli Manning
and
Josh Freeman
. They didn't make the playoffs. The Colts' shadow doesn't have much to do with Peyton Manning slinging the ball all over the yard and racking up yardage. He's still great, but he's not a one-man show. If I were a Colts fan, my concern would be how they needed to close with four straight wins to avoid the embarrassment of being edged out of the playoffs by the Jaguars. The Jets, on the other hand, have shown to be a more complete team. That's how an erratic quarterback like
Mark Sanchez
can win one more game than Manning did and clinch a playoff berth weeks in advance.
PK:
Well, Manning's always been crushed for being great in the regular season and not good enough in the playoffs. Congrats on being the first to hammer him for winning "only" 10 games and the division while throwing to
Jacob Tamme
and
Blair White
.
TG:
That's what I mean. The Jets can contain those guys much easier than Clark and Collie. Plus, the Jets have been preparing for this matchup since last season's AFC Championship Game. They helplessly watched Manning carve the center of the field against them and realized immediately -- even though they had
Darrelle Revis
-- they needed more cornerbacks. Specifically with Manning in mind, the Jets traded for
Antonio Cromartie
and drafted
Kyle Wilson
in the first round. Previous starting cornerbacks
Dwight Lowery
and
Drew Coleman
gave them depth in nickel and dime packages. The Jets' biggest issue is at safety, where injuries have made them vulnerable.
PK:
Manning has a bit of experience against teams with poor safety situations. His numbers against Houston and Jacksonville? Just nine touchdowns, one pick and a 101.5 passer rating. On the other side is the unspectacular Sanchez. I doubt Sanchez will be able to attack
Aaron Francisco
, the Colts' fourth-string strong safety, in a similar fashion, but we'll see. The Sanchize was near perfect in the first half of last season's AFC Championship Game. But the Jets asked him to throw only seven passes. After intermission, Indy greatly reduced his potency. The Colts didn't sack him and were credited with only four hits that day. The Colts' big-play potential from their Pro Bowl defensive ends was neutralized, and they still rolled to a 30-17 win. Of course, it might have had something to do with Manning throwing two-second half touchdowns to Sanchez's zero (and one interception). What happens this time if
Dwight Freeney
and/or
Robert Mathis
are able to introduce themselves to him a few times?
TG:
Sanchez absolutely is the pivotal figure for the Jets on Saturday night. But, much like the personnel adjustments head coach Rex Ryan and general manager Mike Tannenbaum made on the defensive side to thwart Manning, they made changes on offense with the playoffs in mind. Sanchez might not have progressed much in his second season, but he didn't have a sophomore slump either. He has gained another 11 months and 16 games of NFL experience since the last time he faced the Colts. Plus, the Jets' offense has the ability to come from behind, something it couldn't do before. Last season's Jets were all ground-and-pound, and if an opponent took a two-score lead, the Jets' chances to win were slim. Sanchez showed several times this year he can strike in crunch time.
Santonio Holmes
and
LaDainian Tomlinson
out of the backfield give him much better weapons to go along with
Braylon Edwards
and tight end
Dustin Keller
.
PK:
The most dramatic on-the-field difference in the Colts this year as compared to last is how they finished up running the ball and defending the run. Indianapolis enters the playoffs coming off four games in which they ran for 4.5 yards a carry and held opponents to 3.5 yards. Last year in their final four meaningful regular-season games, they were getting 3.5 yards and allowing 4.1 yards.
TG:
Maybe the Colts will morph into the 1972
Miami Dolphins
before our eyes.
[+] Enlarge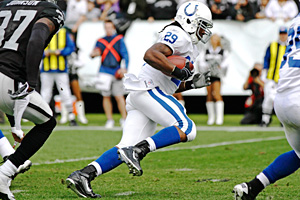 AP Photo/Marcio Jose SanchezColts running back Joseph Addai is averaging 4.3 yards per carry in an injury-plagued season.
PK:
A month ago the Colts defense recommitted to playing fast and having fun. It's funny how a team can get away from such simple themes, especially when a return to them produces such fine results.
Gary Brackett
's been great. Fellow linebackers
Pat Angerer
and
Kavell Conner
have been quite good, even as rookies. Veteran
Clint Session
could return to take time from Conner. Offensive coordinator Clyde Christensen's willing to send in whichever back is best suited for a situation or a matchup, so we could see any sort of mix of running backs Joe Addai,
Dominic Rhodes
and
Donald Brown
on Saturday night. They are running more than well enough to give the Colts a balance that makes Manning's play-action super effective.
TG:
Momentum on the ground has been a concern for the Jets since their bye in Week 7. Tomlinson went from MVP candidate to looking like the worn out player the
San Diego Chargers
thought they were bidding farewell. But
Shonn Greene
and Tomlinson found some traction in the closing weeks. Let's not even factor in what the Jets did against the
Buffalo Bills
in the regular-season finale, even though their backups trampled the Bills' first-stringers for 276 yards.
PK:
I'm always willing to toss out Buffalo. I don't even really like wings.
TG:
Yeah, but I know you still have a cache of Rick James 8-tracks. Anyway, the Jets ran the ball well against three of the NFL's best run defenses late in the year. They surpassed the
Pittsburgh Steelers
' league-leading average by 43 yards and the Chicago Bears' second-rated run defense by 34 yards. As for stopping the run, the Jets pride themselves on it and improved statistically this year. They ranked third this year at 90.9 yards a game and 3.6 yards a carry. But -- and this is a big one -- they allowed more than 100 yards in each of their games before the finale. The Steelers averaged 5.8 yards a carry. The Bears averaged 4.4 yards. That said, I would be willing to bet if the Colts wanted to try to run the Jets to death and not have Manning throw so much, then the Jets would be thrilled.
PK:
Give me a little impersonation of Rex Ryan thrilled after winning this game.
TG:
It probably would go a little something like this ... "Well, shoot, doesn't feel much better than that, to be honest with ya. We played like Jets today. It was a dogfight out there; I'll tell ya that much. Those Colts are sunthin' else. One thing I'll say about them: I saw
Joseph Addai
running like Lydell Mitchell out there and was, like, 'Whoa! Wait a second! We could be in for a long day here.' But our defense was flying around and eventually found a way to wrestle him down out there. I said earlier in the week this was personal with Peyton Manning, and they do a great job. He's great, and it's hard to get to him, but I just feel like we knew what to expect and were able to find a way to bear down and put all our chips in the center of the table and beat him. That guy's had my number and it feels good to know I can beat the guy when it counts. But I gotta give a ton of credit to our offense out there, too. Mark Sanchez played great and showed why we traded up to draft him. That right there's what we saw when we scouted him and just knew this guy was going to be a special player. Their crowd was tough with the way they were roaring at the opening kickoff I was, like, 'Whooo! Here we go!' It was full speed ahead. But one thing I should point out is that I broke out my lucky sweatshirt with the pizza stain this week." ... How would Jim Caldwell react to a Colts win Saturday night?
PK:
I can hear him, his voice just the same as if they'd have lost: "We're pleased to have beaten a good football team, a quality football team. It's gratifying that our work this week paid off. I shared with you some of the examples of the studiousness I encountered during the preparation week. You saw the rewards of that. We'll enjoy it, we should enjoy it, it was hard-fought and we're fortunate. We will have to do those same things to prepare for Pittsburgh. It's a tough place to play, an excellent football team. It's a new challenge. It will be fun to see them get out there and see what they can do."
TG:
In that case, I'm glad I'll be covering the Jets' locker room, win or lose. It'll be more interesting. I think the Jets have a better chance to win the game than a lot of prognosticators are giving them credit for. But even if they can't pull off the upset, they'll face a lot of questions as an organization. With all of the negative attention they've generated this season, a loss against the team they spent a year preparing for should lead to considerable introspection in Florham Park. Should we make picks?
PK:
Sure. I pick St. Elmo. Make a reservation.
November, 21, 2010
11/21/10
11:03
PM ET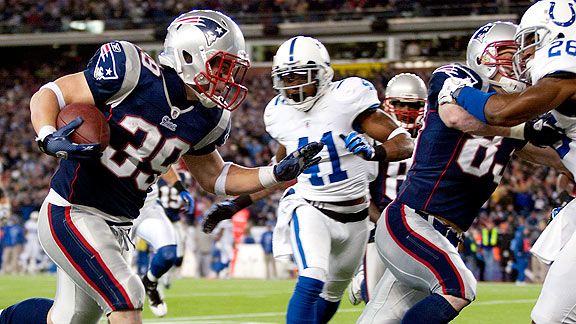 Stew Milne/US PresswireUnheralded running back Danny Woodhead has helped bring balance to New England's offense.
FOXBOROUGH, Mass. --
Tom Brady
and
Peyton Manning
are such iconic quarterbacks, their teams often are depicted as ancillary.
It was Brady and everybody else on the
New England Patriots
versus Manning and everybody else on the
Indianapolis Colts
.
On Sunday, everybody else on the Patriots was superior to everybody else on the Colts. The Patriots held on for
a thrilling 31-28 victory
in Gillette Stadium.
The latest installment of the Brady versus Manning rivalry didn't disappoint, but while Manning threw for a garish amount of yards and touchdowns, Brady didn't drive New England's offense.
The Patriots controlled the game with running backs
BenJarvus Green-Ellis
and
Danny Woodhead
, overachievers who were neither drafted nor claimed whenever they were placed on waivers.
Patriots play-caller Bill O'Brien was masterful at mixing in the bruising Green-Ellis and the elusive Woodhead, sometimes alternating them play for play. The DanJarvus Green-Woodhead combo rushed for all but 3 of the Patriots' 168 net rushing yards.
They have added a dimension to the Patriots' run game first-round draft choice
Laurence Maroney
wasn't willing or capable to bring. Maroney was criticized for being too indecisive and not hitting the hole.
That's not a problem with New England's current combo.
"It's just too hard to run away from these guys," Patriots tight end
Alge Crumpler
said of defenders. "They're too fast, too light on their feet. You have to go through them. It's hand the ball off and run downhill. Sometimes it works that way, and it was fun it be a part of it."
A quality run game is critical for New England's offense, especially since they traded
Randy Moss
. Defenses are crowding the box more than before.
And with the always-reliable
Kevin Faulk
out for the season after two games and the disappointing Maroney traded in September, a couple of unproven backs had to step up.
Green-Ellis ran 21 times for 96 yards and a touchdown against the Colts. He helped the Patriots grind down the clock with seven carries for 40 yards in the fourth quarter.
Woodhead had seven attempts for 69 yards. He produced a dazzling, 36-yard touchdown weave in the third quarter. He then made a stupendous tackle on the ensuing kickoff. Woodhead also caught four passes for 21 yards.
They gave the Colts fits, whatever the situation.
"With Woodhead in the game, we look at it as an empty backfield," Colts safety
Antoine Bethea
said. "He's another receiver. He has the ability to get out and, if a linebacker or safety is on him, it's a tough matchup.
"When Green-Ellis is in the game, we know they're running downhill, and they're going to get the hard yards."
[+] Enlarge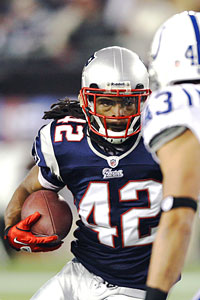 AP Photo/Stephan SavoiaBenJarvus Green-Ellis rushed 21 times for 96 yards and a touchdown against the Colts.
The Colts were going to win or lose with whatever Manning did. He passed for 396 yards and four touchdowns to give the Patriots a scare. But he failed to tie the game or win it when, with 31 seconds left on the clock and the Colts within field-goal range, he threw his third interception.
With Green-Ellis and Woodhead, the Patriots' offense was diversified.
Brady played a tidy game and certainly exuded his usual championship presence throughout the game. He completed 19 of 25 passes for 186 yards and two touchdowns for a 123.1 passer rating.
Still, Green-Ellis and Woodhead were highly prominent. Of their 60 offensive snaps, the Patriots ran 34 times.
"They're getting a lot of opportunities because we're running the ball," Brady said. "It's not just drop back and throw it every time. That's certainly important, especially in a game like this, to be able to run the ball. We found ways to do it."
Green-Ellis and Woodhead became more integral to the game plan as the game wore on.
The Patriots scored the first two touchdowns and held a pair of 14-point margins in the second quarter and took another late in the third. With 10:23 left in the game, a
Shayne Graham
field goal gave the Patriots a 31-14 lead.
Some teams would just pound away with their feature back. The Patriots kept mixing Green-Ellis and Woodhead with wonderful success. All but one of Woodhead's rushing attempts came in the second half.
ESPN Stats & Information charted New England for 114 rushing yards up the middle, its highest total of the year. Indianapolis' defense went into the game yielding an average of 4.6 yards a carry up the middle. With linebackers
Gary Brackett
and
Clint Session
scratched because of injuries, Green-Ellis and Woodhead feasted.
For the season, Green-Ellis has 568 rushing yards and seven touchdowns, the first Patriots running back to run for seven touchdowns through 10 games since
Corey Dillon
in 2006.
Woodhead has 529 yards from scrimmage and four touchdowns, certainly disgusting stats for anyone who wears
New York Jets
apparel. The Jets waived him this year because they didn't have a roster spot for him.
Woodhead and Green-Ellis are sharing the load and making the Patriots a better team.
"Football is a team sport," Woodhead said. "We've got to work together. We're on team. We're doing this thing together."
November, 21, 2010
11/21/10
7:13
PM ET
FOXBOROUGH, Mass. -- The
New England Patriots
held off a late
Indianapolis Colts
charge Sunday
to win 31-28
in Gillette Stadium.


What it means:
The Patriots kept up with the seemingly unbeatable
New York Jets
in the AFC East standings. Both are 8-2 and both will play four days later on Thanksgiving. The Jets still hold the tiebreaker because they won the first head-to-head meeting.
Brady versus Manning:
Tom Brady
won this battle, but not with any gaudy stats.
Peyton Manning
threw four touchdown passes, but also had three interceptions, including one to
James Sanders
with 31 seconds to play and the Colts in field goal range.
Running backs the difference:
The Colts played without injured linebackers
Gary Brackett
and
Clint Session
, helping the Patriots outrush them 168-71.
BenJarvus Green-Ellis
ran 21 times for 96 yards and a touchdown.
Danny Woodhead
had seven carries for 69 yards and a touchdown. Through three quarters, the Patriots averaged 5.2 yards per carry, while the Colts averaged 1.3 yards.
Patriots discipline:
Aside from
Tully Banta-Cain
's silly 15-yarder late in the fourth quarter to help the Colts score a touchdown, the Patriots didn't commit any penalties.
What's next:
Quick turnaround for the Patriots. They will visit the
Detroit Lions
on Thanksgiving.
November, 21, 2010
11/21/10
3:12
PM ET
February, 27, 2010
2/27/10
3:05
PM ET
INDIANAPOLIS -- Lots of newsy items and sexy chitchat being reported from the NFL scouting combine:

Buffalo Bills

Miami Dolphins

New England Patriots

New York Jets


February, 8, 2010
2/08/10
12:28
AM ET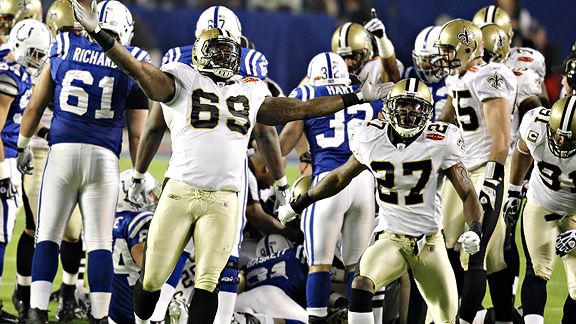 AP Photo/Chuck BurtonDefensive end Anthony Hargrove (left) and Malcolm Jenkins celebrate after the Saints recover an onside kick at the start of the third quarter.
MIAMI --
Reggie Wayne
couldn't bring himself to admit he admired Sean Payton's intrepid call for an onside kick to open the second half of Super Bowl XLIV.
"I'm the one that's over here with my lip puffed out," Wayne said Sunday night in a tent outside Sun Life Stadium. "So apparently it was a good call."
Wayne and the rest of the
Indianapolis Colts
' offense were left standing on the sideline when the
New Orleans Saints
pulled off the big gamble.
Experience was supposed to be the difference-maker for the Colts. They'd been on this grand stage before. The Saints had not.
Yet, the Colts were caught unprepared.
The Saints recovered the kick and, six plays later, established themselves as an underdog on paper only. The
Saints went on to win 31-17
, and leave the Colts wondering about all the plays that got away.
"I didn't see it coming," Colts right tackle
Ryan Diem
said. "At that point in the game, I didn't expect them to do anything like that. The element of surprise got us."
Indianapolis was eager to get the ball first after halftime.
Peyton Manning
directed the Colts' offense with his usual meticulousness in the first quarter. First possession: 11 plays, 53 yards, field goal. Second possession: 11 plays, 96 yards, touchdown.
Then came the second quarter. The Colts short-circuited, experiencing their first lamentable play. On third-and-4 from their 28-yard line, Manning zipped a short pass to
Pierre Garcon
. The play should have gone for a big gain, but Garcon dropped the ball.
"I seen it late, but I should've made the catch," Garcon said. "It was a great throw by Peyton. It should've been caught.
"It could've made the difference in the game."
Instead, the Colts were forced to punt for the first time. In the second quarter, they ran only six plays -- the second three-and-out series simply running out the clock. They gained 15 yards. They maintained possession for 2:34.
Still, the Colts seemed to be in control. They snuffed Saints running back
Pierre Thomas
on a fourth-and-goal run play that looked like it would doom Payton to a lifetime of second-guessing in New Orleans.
The double-team tackle by Colts linebackers
Gary Brackett
and
Clint Session
was the type of stop that championship teams make.
"The goal-line stand was big," Colts defensive end
Raheem Brock
said, "but you've got to play the rest of the game."
They led the Saints by four points at the extended Super Bowl intermission, and as Pete Townshend churned windmills on his guitar, the Colts strategized to bust the game open.
"In the locker room, we just talked about getting the ball back and going down and scoring some points and putting them in a hole," Wayne said.
The Saints concocted a plan to chop the Colts off at the knees.
Thomas Morstead
, who handles their kickoffs, was given the onside green light.
"Thomas came up and told me that we were running 'Ambush,' " field-goal kicker
Garrett Hartley
said. "To start off the second half of the Super Bowl, nothing like it. It's a gut shot, and it worked out in our favor."
Six plays later, Saints quarterback
Drew Brees
connected with Thomas on a 16-yard pass to give them a 13-10 lead.
"Every possession felt precious out there," Manning said.
The Colts did recover, mounting a typical 10-play, 76-yard drive to retake the lead on their next series.
But the tone had been set. The Saints were willing to trade shots all night, to get aggressive.
The Colts buckled.
"The Saints got some momentum there at the end of the first half and beginning of the third quarter and kind of kept the momentum from there," Manning said. "I thought we just didn't play well enough at certain times."
Indianapolis was outfoxed and outplayed by a team that hadn't been there, done that.