January, 7, 2014
Jan 7
1:30
PM ET
After some nervous moments following a late-season collapse, all indications are that head coach Joe Philbin is safe for another season with the
Miami Dolphins
. Philbin is 15-17 in Miami and will enter a crucial Year 3 to implement his program.

Philbin
But what does Philbin's status means for Miami's search to hire a new offensive coordinator to replace Mike Sherman? The 2014 season is setting up to be a make-or-break year for Philbin, and that will ultimately impact the quality of candidates he can bring to his staff.
Top candidates such as Gary Kubiak, Norv Turner and Rob Chudzinski will be hot commodities around the NFL. These top names will have options, and might be able to do better than what Miami is offering. In the cases of Chudzinski and Kubiak, in particular, both former head coaches also are being paid handsomely by their former employers next season. They can wait for the ideal situation.
The NFL Network also is reporting that
Green Bay Packers
quarterbacks coach Ben McAdoo will be interviewing for the
Cleveland Browns
head coaching position. McAdoo is another possibility for Miami. But if he becomes a hot name, that will make it tough for the Dolphins.
It's no secret the Dolphins could clean house if things don't go well next season. Coaches around the league are aware of it.
That might force Miami to dig deeper beneath the surface to find its next offensive coordinator.
January, 7, 2014
Jan 7
8:00
AM ET
Mike Sherman is out
as the Miami Dolphins' offensive coordinator. But who is coming in?
The Dolphins will be going through an extensive interview process over the next several days. Here is an early list of candidates to keep an eye on:
1. Ben McAdoo, Green Bay Packers quarterbacks coach
Pros:
McAdoo has been on Miami's radar for quite some time. Dolphins head coach Joe Philbin, who worked in Green Bay, had interest in McAdoo joining his staff in Miami two years. But McAdoo stayed in Green Bay and was promoted internally from tight ends coach to quarterbacks coach. The Dolphins' offensive coordinator position could lure McAdoo to Miami. McAdoo also comes from a West Coast offense in Green Bay, which is similar to Philbin's philosophy. Keeping a West Coast scheme could make sense for continuity.
Cons:
McAdoo has no experience as an offensive coordinator. He only has two seasons under his belt as a quarterbacks coach. The 2014 season could be a make-or-break year for Philbin and a lot of people in Miami. It would be risky putting the entire offense in the hands of a first-year coordinator.
2. Rob Chudzinski
Pros:
Chudzinski, who was surprisingly fired by the
Cleveland Browns
after just one season as head coach, has done well as an offensive coordinator. Most think Chudzinski did a good job with the
Carolina Panthers
and could add punch to Miami's offense. Chudzinski also has strong ties to South Florida. He coached various positions at the University of Miami from 1994-2003.
Cons:
Chudzinski does not run a West Coast offense. That would require the Dolphins to learn an entirely new offensive scheme in an important year for both Philbin and second-year quarterback
Ryan Tannehill
.
3. Norv Turner
Pros:
Turner was on the same staff in Cleveland under Chudzinski. He is a proven offensive coordinator and even had a stint at that position with the Dolphins from 2002-2003. Turner brings the experience needed to an otherwise inexperienced staff. Turner also had head-coach experience and could help Philbin along in a big third season.
Cons:
Similar to Chudzinski, Turner does not run a West Coast offense. Turner runs a numbers system made famous by Don Coreyell. That would require Miami to learn a new offense in an important year. Turner also is under contract with Cleveland. Although that is expected to change, Miami may want to move fast to fill its position.
4. Hue Jackson, Cincinnati Bengals running backs coach
Pros:
Jackson has been successful at every stop, with the exception of his stint as head coach of the
Oakland Raiders
. Jackson comes from a West Coast tree, which could factor in heavily. He's an aggressive play caller who gets the most out of his players. Jackson also has a good track record with young quarterbacks, which is key for Tannehill.
Cons:
Despite various positions, Jackson hasn't been an offensive coordinator for more than one season at a time in the NFL. Jackson was an OC for three teams:
Washington Redskins
,
Atlanta Falcons
and Oakland Raiders. Each time, Jackson held the position for one year.
5. Gary Kubiak
Pros:
Kubiak was very successful as a longtime coordinator with the
Denver Broncos
. His West Coast offense in Denver was among the top units for a long time. Eventually that got him a head-coaching job with the
Houston Texans
. He was fired after eight seasons.
Cons:
Health could be an issue after Kubiak passed out last season during a November game against the
Indianapolis Colts
. He may take the year off to get healthier or hold out for better offers. Kubiak's recent head-coaching experience also could provide a tense situation, considering Philbin is in a must-win year.
January, 10, 2013
1/10/13
11:15
AM ET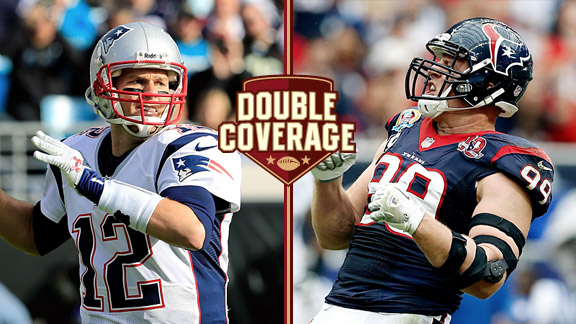 Getty ImagesThe Texans sacked Tom Brady, left, just once in their first meeting with the Patriots. Can J.J. Watt and the front seven do a better job in the rematch?
The Patriots seemingly snickered after they blew out Houston on "Monday Night Football" back on Dec. 10.
The Texans arrived in New England wearing letterman jackets that they thought showed team unity, but instead came off as high schoolish, particularly after they were easily dispatched in what
Andre Johnson
called the biggest game in franchise history.
For the Patriots it was the next game on the schedule.
Before the Texans got on the bus, middle linebacker
Bradie James
said the Patriots had delivered
a lesson
in championship football. The Texans headed back to Houston, humbled and officially in a slump. They lost two of their next three, fumbling away the AFC's No. 1 seed and a first-round bye.
A win over Cincinnati in the wild-card round earned the Texans a trip back to Gillette Stadium.
Can the Texans put up a better fight as major underdogs Sunday? James Walker of the AFC East blog joins me to discuss the game.
Paul Kuharsky:
Tom Brady
shredded the Texans in that regular-season game, James. He threw four touchdown passes in no time, recognizing Houston couldn't keep up with his targets, particularly
Aaron Hernandez
. Now, Brady has
Rob Gronkowski
back.
Do you see any way the Texans can get Brady off his game at home in the playoffs?
James Walker:
The key to stopping Brady is not a secret: You must beat him up. Brady doesn't like getting hit in the face, especially at age 35. The problem is that is much easier said than done. New England is extremely good at self-scouting and schemes very well to keep Brady upright. Houston got only one sack against Brady in the first meeting, so it was no surprise that he threw four touchdowns. I expect New England to once again keep some running backs and tight ends in protection to keep Houston's pass rush off Brady. The Texans will need to throw caution to the wind and blitz more defenders than New England has blockers, and that's where the chess match begins. Brady is tremendous at reading the blitz and rarely gets fooled with coverages. That's why he's so difficult to beat. Speaking of quarterbacks, what do you expect from Houston counterpart
Matt Schaub
in his first divisional-round playoff game?
[+] Enlarge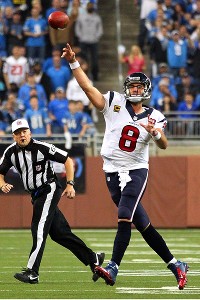 Mike Carter/US PresswireMatt Schaub's ability to connect on big plays downfield could be key for the Texans.
PK:
Schaub finally had his first playoff experience last week and he's now 1-0 in the postseason. But facing Cincinnati at home and New England on the road are two different things. He did fine against the Bengals, but I felt like coach Gary Kubiak was especially careful not to require many throws that were even moderately risky -- especially after Schaub threw that bad pick-six. Schaub has a bit of an unfair reputation for not being good in big games, mostly because he hasn't been in many big games. To spring an upset here, he'll have to supplement the run game with some big plays and, obviously, avoid killer mistakes. To have a chance, the Texans need to really ride
Arian Foster
. He has gone over 100 yards in all three of his playoff games. He had 19 touches in that regular-season blowout. To maximize their chances, I'd say he's got to have close to 30 this time.
JW:
Paul, I agree: Foster is the biggest key for the Texans in this game. He enters with some momentum after rushing for 140 yards and a touchdown last week against the Bengals. Getting Foster 30 or more productive carries would not only wear on New England's defense, it would keep the Patriots' high-scoring, up-tempo offense off the field. New England has thrived this year by getting off more plays and offensive possessions than its opponents. Houston's best chance is to slow down the game and make it ugly. Teams that beat the Patriots this year, such as San Francisco and Baltimore, ran the football well and limited New England's possessions.
PK:
What's the status of the Patriots' run game?
Stevan Ridley
ran fine in the regular-season game, gaining 72 yards on 19 carries. He earned a little doghouse time late in the season because of some fumbling issues. Has he regained the trust of Bill Belichick and the staff? And how much does it matter? It's not as though New England needs to run or is afraid to play a game without handing it off a lot and we know that they will keep throwing it even in a blowout situation. So does it even matter if they can run it?
JW:
Trust is big in New England, and Ridley has yet to earn it in the playoffs. Last year Ridley fumbled in the divisional round and didn't play for the remainder of the postseason. The Patriots do not have the luxury to bench him again this year, which makes Ridley a key player to watch. New England's offense usually passes to set up the run, but the ground game is more important than most people think. The Patriots rarely blow leads because they can run successfully when they need to. That time usually comes in the second half once they're ahead.
[+] Enlarge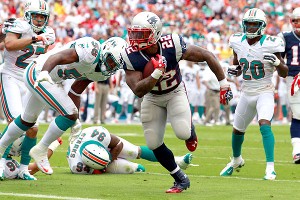 AP Photo/John BazemoreStevan Ridley may not figure heavily in the game plan, but he needs to make the most of his opportunities and limit mistakes.
I don't expect Ridley to be a huge part of the game plan. His carries probably will be in the teens. But he needs to make the most of each carry and take care of the football. If Ridley doesn't step up, look for the Patriots to go to a more dependable and sure-handed option such as
Danny Woodhead
. The Texans' defense allowed 42 points and 419 yards in the first meeting. What adjustments will Houston's defense need to make to be more successful in the rematch?
PK:
The coverage has to be way tighter.
Johnathan Joseph
played in the first meeting but had not been practicing and had missed time with groin and hamstring injuries.
Brandon Harris
was starting for the first time as the nickel after
Brice McCain
's foot injury. The Texans set out to slow
Wes Welker
and they did, then got killed by everyone else. They know they aren't going to get more than a sack or two on Brady because of how he gets rid of the ball and how skilled he is at changing protections. I expect they'll mix it up on Hernandez and Gronkowski but they won't be afraid to treat them as receivers.
The secondary had a bad night in Foxborough and a bad final quarter of the season. Joseph and
Kareem Jackson
and safeties
Glover Quin
and
Danieal Manning
are all better cover guys than they showed that night, when they were even getting beaten by Donte' Stallworth, who had been back in the league for barely five minutes. They simply have to be better if the Texans are going to be in this game.
JW:
I was with you in Houston last weekend, and I noticed the secondary played much better than the last time I saw the Texans in Foxborough. Joseph looked more like himself and did a good job, for the most part, on Bengals Pro Bowl receiver
A.J. Green
. On the other hand, I think an intriguing matchup will be Patriots corner
Aqib Talib
against Houston's Johnson, who had another monster season. Big games and matchups like this are why the Patriots acquired Talib in a midseason trade. He instantly became New England's best cover corner. The Patriots usually play a lot of zone, but they've been able to mix zone and man coverages a lot better in the second half of the season with Talib in the lineup. Houston will have a few opportunities to take shots down the field with Johnson against Talib one-on-one, and I think whoever wins those battles will have an impact on this game.
PK:
It'll be hard for the Texans to pull a surprise if there aren't a couple of big Schaub-to-Johnson connections.
Houston will arrive in New England with an "us-against-the-world" mentality, because the Texans are heavy underdogs. The Patriots aren't invincible. But if they start fast, they may look that way to the Texans yet again.
December, 4, 2010
12/04/10
2:00
PM ET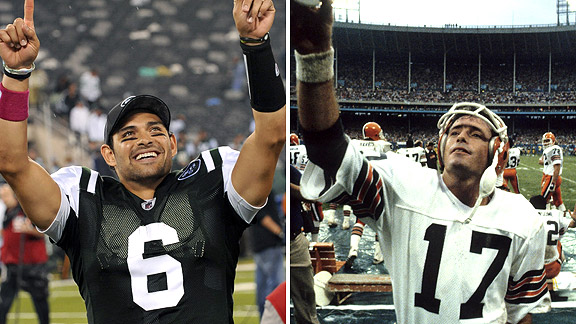 AP Photo/Getty ImagesMark Sanchez has shown the same uncanny ability to win games in the fourth quarter that Browns QB Brian Sipe had with the "Kardiac Kids" in 1980.
Dave Logan was hunkered down with some work notes two weeks ago, looked up at the television and traveled back 30 years.
The
Denver Broncos
' radio play-by-play man was preparing for their Monday night game against the
San Diego Chargers
in Week 11 and noticed old friend Gary Kubiak was about to score a big victory as head coach of the
Houston Texans
.
The Texans led the
New York Jets
by a point at the Meadowlands and had a first down at the two-minute warning because
Mark Sanchez
threw an interception. The Texans tacked on a field goal with 55 seconds left. That should've been that.
But then Logan watched Sanchez make "just a perfect throw" to
Braylon Edwards
down the right sideline for 42 yards. Logan remarked "There's just no way he's supposed to hit that route" based on the Texans' coverage. On the next play, Sanchez connected with
Santonio Holmes
in the left corner of the end zone to win.
"When they do stuff like that, it does remind me of a pretty good year," Logan said.
In 1980, Logan played wide receiver for a
Cleveland Browns
team known as the Kardiac Kids for their defibrillator finishes.
Win or lose, the Browns seemed to take it to the wire each week. Brian Sipe slung the ball around to five different targets who caught at least 50 passes. The Browns dropped their first two games, but won 11 of the remaining 14. Their three losses in that span were white knucklers that should've been victories.
The upstart Browns won the AFC Central after years of
Pittsburgh Steelers
dominance and back-to-back appearances by the Houston Oilers in the AFC Championship Game. The Browns lost in the divisional round of the playoffs that year, but that's not the part that Logan finds familiar when he considers the Jets.
The Jets have strung together an obnoxious number of stunning victories this year. They're riding a wave of confidence few teams get to experience.
"L-O-S-E is no longer in your vocabulary," said Sam Rutigliano, head coach of the 1980 Browns.
Invincibility becomes a weapon, and it might be necessary if the Jets are to stand up to the
New England Patriots
on Monday night in Gillette Stadium, where quarterback
Tom Brady
has won 25 straight games.
The Patriots have won with relative ease and seem to be in command of their opponents compared to the Jets' high-wire act of the past seven weeks.
[+] Enlarge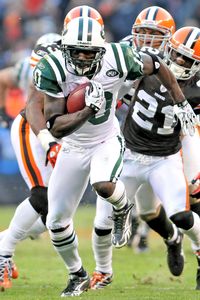 Jason Miller/US PresswireSantonio Holmes has come through several times in the clutch for the Jets this season.
The Jets routinely have trailed late or allowed a team to come back and tie the game.
Many look at what the Jets have done and call it blind luck. Regardless of how they're winning, however, the experience almost becomes a tangible, powerful asset.
"Now I know we have a chance no matter what," Sanchez said.
The Jets became the first team in NFL history to go into overtime on the road and win two weeks in a row. Tack on the miraculous Texans victory, and the Jets became the first team since the 2006
Tennessee Titans
to score their winning points inside the final 10 seconds of a game three straight times.
"When you win in that fashion you become really difficult to beat," Logan said. "Even if you get down in a game, you never feel like you're out. So you're still battling. You still have guys making plays.
"You get behind in a big game in the fourth quarter and you've never been there before, then maybe guys start to grip a little bit. But when you've had that kind of success like the Jets this year and we did in 1980, it's in the back of your minds that 'Listen, we've been here before. We know we're going to go down and score. How much time's left? Two minutes? OK. Where's the ball? Minus-30. OK, we got 70 yards in two minutes. No problem.' "
Logan called another one of the Jets' crazy victories. In Week 6, Sanchez threw a fourth-down desperation heave down the left sideline to Holmes. Broncos safety
Renaldo Hill
got his fingers accidentally tangled in Holmes' facemask near the goal line. Pass interference was called. One play later,
LaDainian Tomlinson
scored a touchdown. The Jets won by four points.
That was the start of the daredevil Jets dodging defeat.
"Don't think other teams around the league aren't aware of it, either," Logan said. "In tight games, late and the Jets have the ball with the chance to win, in the back of the other teams' minds, they're thinking 'Here it comes again.' "
Rutigliano was a Jets defensive assistant when Joe Namath was the quarterback. Rutigliano notices that Sanchez is developing the same ability Namath and Sipe (league MVP in 1980) had of turning teammates into believers.
"A quarterback is like a tea bag," Rutigliano said. "You don't know what you got until you put him in hot water.
"What's happening to Sanchez right now, the best quarterback coaches in the world can't teach him. He's learning it himself. Now he expects to win and is starting to empower people to play at a level they never thought they could play at."
Sanchez recently explained he'd never led a fourth-quarter comeback victory at any level until Denver. His teams at Mission Viejo High and USC were so dominant the opportunities were rare.
Now Sanchez has four fourth-quarter comebacks in his past six games.
"It's always been something that I've wanted," Sanchez said. "I know that that was kind of a knock coming out of college, that 'He's never had a come back in a game. They've been up. He hasn't played a lot of football.' To me, that was 'All right, give me a chance to come back. I'm going to win it, not making a miraculous play, but just making the plays we know how to make.' That's what we've done."