January, 24, 2011
1/24/11
11:02
AM ET
PITTSBURGH -- When he needed a moment to compose himself,
Jason Taylor
reached down and adjusted the twin microphones on the lectern although they didn't need to be moved at all.
[+] Enlarge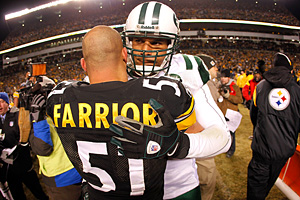 Gregory Shamus/Getty ImagesThe Jets' Jason Taylor, who has 132.5 career sacks, will turn 37 before the next season begins.
Taylor's eyes were glassy. If he hadn't been crying before he took his turn at the
New York Jets
' postgame news conference, then he was on the verge. Taylor came close to tears a few more times when answering questions about his future an hour after falling five points short of his first Super Bowl.
"So close," Taylor said, his voice barely above a whisper. "So close you could see it."
The Jets' enthralling season ended Sunday night in Taylor's hometown. The
Pittsburgh Steelers
jumped out to a 24-0 first-half lead and then held on for a
24-19
victory at Heinz Field.
Taylor always will be remembered as a Miami Dolphin, spending 12 of his 14 seasons with the aqua and orange. But the Jets presented his best opportunity to be a champion.
Taylor's career is in the gloaming. He knows he might have played his last down, whether it's up to him or not.
"There's so many emotions going through me right now," Taylor said. "Getting to this point and then losing ..."
Taylor paused and looked downward. His left hand jiggled the microphones.
"We'll cross that bridge."
Plane rides home after a season-ending loss provide some of the most poignant times for teammates. They're like wakes at 30,000 feet. You're not supposed to look forward to them.
But Taylor, expressing a need to soak in every last moment of what could be his final breaths as an NFL player, lamented that flying from Pittsburgh to New Jersey takes only an hour.
"I don't know what's going to happen, but I know one thing," Taylor said. "This team as you see it tonight will never be together again regardless of whether Jason Taylor is back or anybody else is back. It will not be the same football team. That's sad in its own right."
Taylor will turn 37 before the next season begins. He said his return would be up to Jets head coach Rex Ryan and general manager Mike Tannenbaum. Taylor signed a two-year contract with the Jets last April, but a clause tied to his sack output voided the second year.
With a slew of tough roster decisions to make, Taylor's not a priority. The Jets have several important free agents to address, including receivers
Santonio Holmes
,
Braylon Edwards
and
Brad Smith
, defensive end
Shaun Ellis
, linebacker
David Harris
and cornerback
Antonio Cromartie
.
Taylor's five sacks were a modest output, but only one behind team leader
Bryan Thomas
. Taylor will lead all active players with 132.5 career sacks if he were to play a 15th season.
"I pride myself on being a play-maker and a game-changer," Taylor said. "While I might not be the same as I was a few years ago, I still need to do more."
His career will be debated for the Pro Football Hall of Fame. He was selected for six Pro Bowls. He was a first-team All-Pro three times. But postseason success eluded him until this year.
He hadn't been to the playoffs since the 2001 season and hadn't won a game since 2000. He'd never before won playoff games and never advanced to the conference championship round.
"I've had some really, really good teammates throughout my career, played on some good teams and fun teams," Taylor said. "But I can't think of another experience I've had that was as fun as this.
"I've seen a lot in this league and, obviously, saw this game for the first time."
Taylor must now sort out the emotions of reaching the precipice of his career dream and the reality that the odds of returning to the final four are against any player -- even
Tom Brady
.
There's a healthy chance Taylor won't play again. And even if he does, there's an even greater chance he won't match this season's success.
ESPN.com senior writer Tom Friend shared the story of Taylor and his ailing agent, Gary Wichard, and how
Taylor had devoted his 2010 season to Wichard
.
"It wasn't meant to be, you know?" Taylor said. "Sometimes God has a different direction for you. You don't always understand it, but it is what it is."
January, 22, 2011
1/22/11
12:09
PM ET
New York Jets
outside linebacker
Jason Taylor
is returning to his hometown with a single victory separating the 14-year veteran from his first Super Bowl.

Taylor
ESPN.com senior writer Tom Friend takes a look back at how
Taylor's journey began with a leap of faith in a man he barely knew
, a man who became his father figure and confidant.
Taylor has dedicated his season to agent Gary Wichard, who took a raw prospect from the University of Akron and molded him into an NFL and entertainment commodity. Wichard convinced Taylor's mother it was OK for him to leave Pittsburgh and stay with Wichard's family in California to get ready for the draft.
The
Miami Dolphins
drafted Taylor in the third round. He went to six Pro Bowls, but never advanced past the divisional playoff round.
While Taylor has been getting closer to a achieving his professional dream -- the Jets will go to the Super Bowl if they beat the
Pittsburgh Steelers
on Sunday night -- Wichard has been trying to cope with personal and professional anguish.
The NFL Players Association suspended Wichard nine months for improper contact with North Carolina defensive tackle Marvin Austin. Wichard has throat surgery and gall bladder surgery and had been battling an undisclosed illness.
"What we're doing right now with the Jets is for him," Taylor said. "Us winning, it's keeping me going at a tough time. When he told me about his health issue, that was probably the toughest thing I've had to hear and deal with that I can remember. You don't know what to do, you don't know what to say.
"If it wasn't for Gary, no way in hell would I have ever thought about signing with the Jets. So prior to the situation he's in now, going to the Super Bowl would've been a great ride for all of us, and a great way to cap out a career, and what we've always tried to get done. But now in light of what he's dealing with now. I mean, you hate to say it, it would mean so much to get to that game and win it, and there's nothing I want more in this world than to win a Super Bowl and have Gary still be here with us at that point."