February, 10, 2014
Feb 10
5:00
AM ET
On Friday, we passed along news that the Bills promoted defensive quality control coach Jason Rebrovich to assistant defensive line coach.
When the Bills hired Doug Marrone as head coach a year ago, Rebrovich was one of six coaches that Marrone brought with him from his staff at Syracuse. That total increased to seven last Thursday, when Marrone added wide receivers coach Rob Moore to his Bills staff.
Along with Rebrovich and Moore, the Bills have hired the following coaches from Marrone's staff at Syracuse: offensive coordinator Nate Hackett, tight ends coach Greg Adkins, offensive quality control coach Jason Vrable, defensive backs coach Donnie Henderson and special-teams assistant John Anselmo.
That raises the following question: How much is too much when a college coach brings his former assistants on board in the NFL?
[+] Enlarge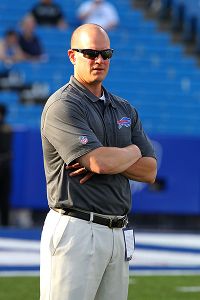 Timothy T. Ludwig/USA TODAY SportsNathaniel Hackett had no experience coordinating an NFL offense before joining Doug Marrone's staff in Buffalo.
For some perspective, we took a look at the hiring patterns of
Philadelphia Eagles
coach Chip Kelly, who made the jump from Oregon last season, as well as former
Tampa Bay Buccaneers
coach Greg Schiano, who left Rutgers for the NFL two years ago.
In Kelly's case, five of his Oregon assistants earned spots on his Eagles staff: assistant head coach/defensive line coach Jerry Azzinaro, assistant offensive line coach Greg Austin, assistant defensive line coach Erik Chinander, assistant special-teams coach Matt Harper and assistant defensive backs coach Todd Lyght.
Schiano, meanwhile, brought along six coaches from Rutgers: tight ends coach Brian Angelichio, wide receivers coach P.J. Fleck, linebackers coach Bob Fraser, assistant special-teams coach Phil Galiano, assistant defensive backs coach Jeff Hafley and defensive assistant Tem Lukabu.
In all cases -- with Kelly, Schiano and Marrone -- the college team replaced its departed head coach with one of his top assistants: Syracuse hired defensive coordinator Scott Shafer, Oregon hired offensive coordinator Mark Helfrich and Rutgers hired assistant head coach/offensive line Kyle Flood. Had that not happened, and those schools looked externally, then there may have been more defections of those former assistants to the NFL.
What is the benefit to keeping parts of a college staff intact as a coach makes the transition to the NFL? Besides giving a chance for loyal assistants to advance their careers, it provides continuity that can make a head coach's message easier to impress on players. Kelly
stressed the importance
of that when he hired his five former assistants in Philadelphia.
"That was really important to me to get a bunch of guys in here that understood me and really kind of built it from the bottom up," he said. "And Eric and Todd [Lyght], Matt Harper and Greg Austin are guys that are young coaches at Oregon that have been with me a couple of years and understood how I wanted things done and what my vision was."
However, unlike Marrone -- who bought along Hackett for the same position in Buffalo -- Kelly decided to have both his coordinators be coaches with NFL experience.
"I knew I was going to hire coordinators that were NFL guys that haven't had the opportunity to work with me before. I have a tendency to talk really fast and I want things to be efficient," Kelly said. "But I also know that I may forget to say something, and Pat Shurmur can go to Greg Austin and say, 'What did he mean by that?' Or the same thing with Dave Fipp and Matt Harper for those young guys. Now I can put together guys with NFL experience coming here, and those guys can say, 'This is what coach means, this is how we operate.'"
As such, the decision to hire Hackett as offensive coordinator last season is where it may be easiest to quibble with Marrone. The move highlights the downside of a former college coach hiring his former assistants, particularly the risk involved in a college coach making a lateral move to the NFL. While Hackett may have been successful at the coordinator level in college, the NFL poses a whole new set of challenges.
Marrone may be well-intentioned in trying to develop Hackett as an NFL coordinator, but it is fair to question whether Hackett was the best option for the Bills to win. This offseason, Marrone has added two "external" coaches to his offensive staff: quarterbacks coach Todd Downing and senior offensive assistant Jim Hostler, seemingly acknowledging the need to give Hackett some help directing the offense.
There's also the need to have outside voices in the room, typically in the form of veteran coaches who have experience outside the shadow of that head coach. Marrone, at least in part, addressed that need in hiring his defensive coordinator each of the past two seasons. Mike Pettine and Jim Schwartz were external candidates but also the best options on the market at the time.
Pettine's hire paid immediate dividends for the Bills, as he brought dramatic improvement to the defense. Schwartz will now lead that unit and the expectation is clear: The defense needs to continue to perform at a high level.
Offensively, the Bills remain a work in progress. Acknowledging the challenges of developing a young quarterback in
EJ Manuel
, the Bills still need to make strides on that side of the ball next season. If that does not happen, legitimate questions will be raised about Marrone's decision to bring his offensive system -- and several of his assistants -- from Syracuse to the NFL.
December, 6, 2013
12/06/13
10:00
AM ET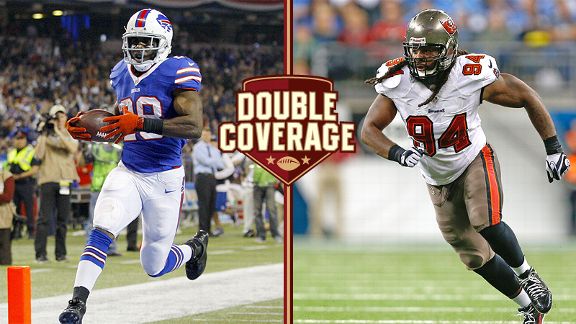 USA Today Sports; AP PhotoC.J. Spiller's Bills and Adrian Clayborn's Bucs are playing for pride -- with draft positioning at stake.
Aside from 2014 draft position, Sunday's game between the
Buffalo Bills
and
Tampa Bay Buccaneers
doesn't have a lot of obvious meaning.
At the moment, the Bucs (3-9) would hold the No. 5 overall pick in next year's draft, while the Bills (4-8) would hold the No. 9 pick. But Sunday's result could shake that order up.
ESPN.com Bills reporter Mike Rodak and Buccaneers reporter Pat Yasinskas examine the matchup.
Yasinskas:
Mike, this game features two rookie quarterbacks. Tampa Bay's
Mike Glennon
and Buffalo's
EJ Manuel
. Glennon is coming off his worst game of the season against Carolina. But, other than that, he has been fairly efficient. What's your assessment of how Manuel has played so far?
Rodak:
Manuel has been up and down, both before his knee injury and after it. The 16th overall pick of the 2013 draft missed four games in the middle of the season after he took a shot to the side of his knee against the Browns in Week 5. The Bills' brass has liked to say that Manuel was on the right track before the injury, but the reality is that he had a completion rate below 50 percent in Weeks 3 and 4 and had three turnovers in that Week 4 win over the
Baltimore Ravens
. When Manuel came back in Week 10, he had perhaps his worst game of the season, in Pittsburgh. Those have been the low points.
On the other end of the spectrum, Manuel led the Bills on a game-winning drive over the
Carolina Panthers
in Week 2 and posted a passer rating of 121.9 against the Jets in Week 11. Those have been the high points. But on average, he has been a below-average NFL quarterback to this point, posting a 45.5 QBR for the season.
Pat, the Bucs looked like a disaster about two months ago. Now they have won three of their past four games. What has changed for them?
Yasinskas:
The Bucs were in utter disarray at the start of the season. But, aside from Sunday's loss to Carolina, they've played much better over the past month or so. Part of it has to do with Glennon's steady improvement. He has shown signs he can be more than just a game manager. The other thing that has stood out has been how this team has stuck together. Despite some speculative reports to the contrary, coach Greg Schiano never lost the locker room. His players still believe in his system and have been playing hard for him. Finally, the defense, which has a lot of individual talent, has started to click and that coincided with the turnaround.
Speaking of defense, the Bills lead the league with 43 sacks, but they're allowing 25.6 points a game, which ranks 24th. What has gone wrong with this defense?
Rodak:
Earlier in the season, much of the problem was with the secondary. The Bills battled through some injuries -- safety
Jairus Byrd
and cornerback
Stephon Gilmore
both missed time -- and they got torched by some teams early. But they've been healthy back there for a while now, and the results have been better.
The problem recently has been with the run defense. The Bills rank 24th in the NFL, allowing 121.5 rushing yards per game, and allow 4.18 yards per carry. Some of that has to do with time of possession. The Bills' offense ranks 31st in the NFL, which has put some stress on the defense. More alarmingly for Buffalo, the run defense has gotten worse as the season has gone on. The Bills allowed 5.83 yards per carry to the Jets and 5.03 yards to the Falcons, including two long touchdown runs. There's a lot of talent on this defense, but the consistency isn't there.
Pat, there was a lot of talk this offseason about the moves the Buccaneers made in their secondary. They drafted
Johnthan Banks
in the second round, traded for
Darrelle Revis
and signed
Dashon Goldson
. How have those moves paid off?
Yasinskas:
The Bucs went overboard making moves in the secondary because they had the league's worst pass defense in 2012. There has been a noticeable improvement this year. But it hasn't been all roses. Banks has looked good at times, but also has had some rookie moments. Goldson missed two games due to injury and was suspended for another game for an illegal hit. Revis has been solid, although the Bucs brought him along slowly early in the year because he was coming off knee surgery. Overall, this is a decent secondary, but it has yet to approach its true potential.
Mike, what's your read on
C.J. Spiller
? He seems to be having an up-and-down season to this point. How much has his ankle injury been a factor?
Rodak:
He has been a tough one to pin down. This much is for certain: He hasn't lived up to the expectations many on the outside had for him entering this season, and his ankle is a big factor in that. But even after coach Doug Marrone removed Spiller from the injury report about a month ago, things still weren't right. He had disappointing games in Weeks 10 and 11, rushing a combined 21 times for 29 yards. But then, out of the blue, he broke open a 77-yard run Sunday, the longest of his career. He followed that with a 36-yard touchdown run and finished with one of the best games of his career, tallying 149 yards.
Going forward, I'm not really sure what to expect with Spiller. This could be his identity within this offense: a home run hitter who is prone to more strikeouts than the norm.
Pat, speaking of running backs,
Bobby Rainey
seems to have cooled off since his huge game against Atlanta a few weeks ago. What has happened to the Bucs' running game?
Yasinskas:
Rainey rushed for 163 yards against the Falcons, but has averaged just 49 yards in the two games since then. What's happening is that opposing defenses are loading the box to stop the running game. They're daring Glennon to beat them and he hasn't really done that. Until Glennon starts having more luck with the downfield passing game, defenses are going to continue to focus on bottling up the running game.
November, 8, 2013
11/08/13
10:00
AM ET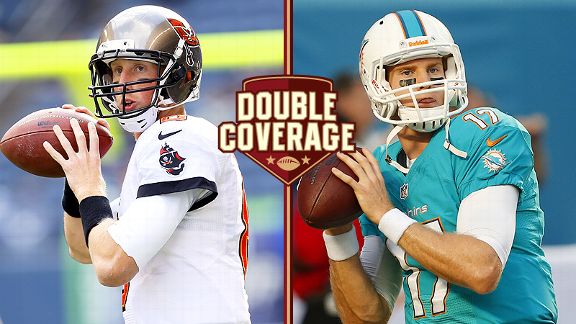 Getty ImagesMike Glennon, left, and Ryan Tannehill have a lot to prove in the season's second half.
TAMPA, Fla. -- Although their records are uninspiring, the
Miami Dolphins
and
Tampa Bay Buccaneers
have been all over the news this season -- for all the wrong reasons.
The recent incident involving Miami offensive linemen
Jonathan Martin
and
Richie Incognito
has dominated the headlines. Earlier in the season, the Bucs were in the news as the rift between coach Greg Schiano and quarterback
Josh Freeman
erupted, and Tampa Bay continues to draw attention after three players were diagnosed with MRSA infections.
But, on Monday night, the Dolphins and Bucs finally will be in the football spotlight as they play in a nationally televised game. ESPN.com Dolphins reporter James Walker and Buccaneers reporter Pat Yasinskas discuss the matchup.
Pat Yasinskas:
James, the Martin-Incognito situation has been one of the biggest stories of the season. How much of a distraction has it been for the other Miami players?
James Walker:
The Dolphins are trying to put a decent spin on things this week. However, you can tell it's weighing on them. Players are genuinely upset that it came down to this. They felt Martin could have handled this differently, and in a way that was better for the team, himself and Incognito. I would think most people outside of Miami's locker room would find issues with that line of thinking. But it's really within the NFL culture to think week-to-week and how to win games immediately. This has been an interesting case study on NFL locker rooms and how it relates real societal issues.
Pat, the Buccaneers have had their own share of drama this season. How is Tampa Bay handling its various issues at 0-8?
Yasinskas:
James, things finally seem to have settled down a little bit the past week or two. But, for the longest time, it seemed as if the Bucs had a fresh controversy every day. The Freeman saga was nothing short of a soap opera, and the MRSA is a very serious issue. Cornerback
Darrelle Revis
has admitted the Bucs have been affected by the distractions. Throw in the fact that the Bucs are 0-8 and have lost several games they should have won, and it appears as if there's a situation that could blow up at any time. But the one thing the Bucs have going for them is that they still are playing hard.
All right, let's move to some on-the-field stuff. How are the Dolphins going to adjust their offensive line?
Walker:
Here is the interesting thing about Miami's offensive line: It wasn't good with Martin and Incognito.
Ryan Tannehill
is the most-sacked quarterback in the NFL at the midpoint of the season, and, until two weeks ago, the running game was hit-or-miss. So, yes, on the surface, the Dolphins lost two starters on the offensive line. However, the bar set by the old group wasn't very high.
Tyson Clabo
will start for Martin at right tackle and
Nate Garner
at left guard. They're capable of holding up the same standard, but it remains to be seen whether they can do better.
Speaking of better, how much has the quarterback play improved with
Mike Glennon
? Can he become the long-term solution?
Yasinskas:
Glennon has shown gradual improvement in each game. He's been poised and has shown more mobility than most people thought he had. He has gone three straight games without an interception, which is a major accomplishment for a guy who has only five career starts. Schiano is very high on Glennon, and that admiration goes back to when Schiano tried (unsuccessfully) to recruit the quarterback to Rutgers. If Schiano sticks around, I think he views Glennon as his long-term answer at quarterback. But, with the way the Bucs are losing games, there is no guarantee Schiano will be back next season. A new coach might not be as high on Glennon as Schiano.
Speaking of long-term answers, has Tannehill shown enough to convince the Dolphins he can develop into a top-line starter?
Walker:
I like what Tannehill brings to the table. However, this season has been challenging to evaluate because of all the troubles on the offensive line. Tannehill has a few holes in his game, such as poor pocket presence, suspect ball security and an average deep ball. Maybe some of those can be corrected with experience. This is a big eight-game stretch for Tannehill and his long-term future in Miami. That important period starts Monday night.
.