AFC East:

Haley and Sparano fired
December, 12, 2011
12/12/11
7:11
PM ET
The
Miami Dolphins
will be led by interim head coach Todd Bowles for the final three games of the regular season. Bowles was Miami's secondary coach
until former head coach
Tony Sparano was fired Monday.
Bowles
Here are some quick facts about Bowles:
Bowles, 48, is in his fourth season with the Dolphins and has 20 years of coaching experience. He had a dual title of secondary coach and assistant head coach under Sparano before being promoted on Monday.
He spent three years with the Dallas Cowboys as a defensive backs coach. He coached several Cowboys to the Pro Bowl, such as cornerback Terence Newman and former safety Roy Williams.
Bowles played eight years in the NFL with the Washington Redskins and San Francisco 49ers. He had 15 career interceptions.
This is a good opportunity for Bowles. Dolphins owner Stephen Ross says Bowles will be "in the mix" and will get an interview in the offseason. Most likely, Bowles won't get the job, as Miami is looking to make a splash. But Bowles can make the most of this by showcasing ability for future openings.
Bowles will have his first game as head coach for Miami (4-9) Sunday against the
Buffalo Bills
(5-8).
December, 12, 2011
12/12/11
5:36
PM ET
In the past, NFL teams waited until the Monday after the season to announce their head-coaching firings. It's called Black Monday.
When the Dolphins jumped into the mix by firing Tony Sparano hours after Todd Haley was let go by Kansas City, it was an indication how the shortage of head-coaching talent forced owner Stephen Ross to make a bold move. Ross didn't want to fall behind other AFC teams looking for head coaches and
reached out to close friend Carl Peterson
to help run the Dolphins' operation.
The plan to hire Peterson is an indication the Dolphins will reach out to Bill Cowher, Jon Gruden and Jeff Fisher to start. Gruden is expected to stay with ESPN. Despite his good relationship with Peterson, Cowher might be reluctant to go to the Dolphins for several reasons. Cowher wants front-office control, big money and a top quarterback. The Dolphins have
Matt Moore
as their quarterback, which wouldn't attract Cowher. Money might not be a problem, but power is a problem. The team is expected to keep Jeff Ireland as its general manager, and that might be enough to prevent Cowher from being a candidate. That leaves Fisher as a top candidate.
Teams in the hunt for coaches know there are three price tags for coaches. You can get your Cowhers and Fishers in the $7 million-a-year range. If you find the right college or former NFL head coach, he might go for $5 million a year. First-time coaches go for close to $3 million.
By firing Sparano on Monday, Ross is hinting he might be willing to pay top money to get a coach. He worries about the empty seats at home games. Now that pro basketball is back, the Dolphins take a back seat to the Miami Heat, so hiring a big name is important for marketing the team. Because Peterson is an aggressive recruiter and salesman himself, the Dolphins won't be shy about going for the big names.
Firing Sparano now also gives Peterson and Ireland a chance to evaluate interim coach Todd Bowles, who had been the secondary coach. According to sources, Bowles had become more involved with the defensive play-calling over the past month. The Dolphins also played their best football over the past month. If Bill Parcells were running a team, sources indicate Bowles would have been a person he considered hiring as head coach.
Another name to watch is Jets offensive coordinator Brian Schottenheimer. Peterson reinvented the Chiefs and sold out Arrowhead with Brian's father, Marty Schottenheimer, as Chiefs head coach.
John Clayton, a recipient of the Pro Football Hall of Fame's McCann Award for distinguished reporting, is a senior writer for ESPN.com.
December, 12, 2011
12/12/11
5:20
PM ET
The
Miami Dolphins
are 4-9 this season, but they are not far from being a contender.
There are several good pieces in place in Miami, and the cupboard is not as empty as the Dolphins' record might suggest.
Miami began
moving in the right direction
Monday by firing embattled head coach Tony Sparano. This move has been in the making since the team's 0-7 start. Sparano's recent hot streak only delayed the inevitable.
[+] Enlarge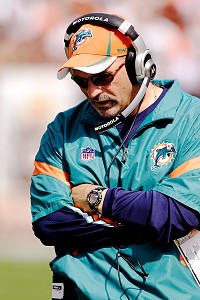 AP Photo/Amy SancettaAfter firing Tony Sparano, Miami has a chance to rebuild with a new quarterback and new head coach.
It's time for Miami to think about 2012 and beyond. The Dolphins are missing the two most important pieces of any NFL organization: head coach and quarterback. They must find today's version of Don Shula and
Dan Marino
.
The Dolphins were consistent winners under Shula and Marino. In fact, the pair once held the NFL record for most games won as a coach-quarterback combo.
New England Patriots
coach Bill Belichick and quarterback
Tom Brady
recently broke that record.
Since Shula and Marino retired, Miami has been in the doldrums with forgettable coach-quarterback pairings such as Nick Saban-
Joey Harrington
, Cam Cameron-
Cleo Lemon
and Sparano-
Chad Henne
. Miami's six head coaches after Shula posted a combined record of 126-127.
For the first time in four years, both spots are simultaneously open in this once-proud organization. The Dolphins must get it right, or it could set them back another several years.
Miami owner Stephen Ross has deep pockets and isn't afraid to spend. He wants to make a splash.
He must make a splash.
Football fans in Miami have short attention spans and have lost hope. The
thousands of empty seats for every home game
at Sun Life Stadium are prime evidence.
Miami is a glitzy town with an abundance of entertainment options. The Dolphins must compete with the Miami Heat's "Big Three" and the Miami Marlins, who are about to open a beautiful new ballpark. The Dolphins must give fans a reason to spend their hard-earned money on football, and right now, there's no reason to do so.
It starts by hiring the right head coach. A big name with experience would help, but Miami could be hard-pressed to find one.
ESPN's Chris Mortensen reports that
the Dolphins plan to keep general manager Jeff Ireland on board and hire Carl Peterson as president. The "A-list" names such as Bill Cowher and Jon Gruden likely won't come out of retirement unless they have complete control, or at least the ability to pick their own general manager and president. Veteran coach Jeff Fisher is a good possibility if he doesn't care about having a say in personnel. Otherwise, Miami must find the best NFL assistant to lead the team.
Finding a quarterback is next.
Matt Moore
is a good backup, but he's not the long-term solution who will lead a franchise to a Super Bowl.
Miami's quarterback question can be best answered in the draft. Fortunately for the Dolphins, 2012 is shaping up to be a very good quarterback class.
Andrew Luck
of Stanford leads the way, but he will be gone. Miami, with a top-10 pick, could have a chance at Baylor's
Robert Griffin III
, USC's
Matt Barkley
or Oklahoma's
Landry Jones
.
The Dolphins have one of the NFL's best left tackles,
Jake Long
, to protect their quarterback. Miami's next quarterback will have various weapons to throw to next season, such as receiver
Brandon Marshall
. Miami also has a solid defense that is only a couple of players away from being elite.
With the right coach and a top-level quarterback, Miami could be dangerous.
December, 12, 2011
12/12/11
4:10
PM ET
The
Miami Dolphins
(4-9) became the second team Monday to fire their head coach.
Tony Sparano was let go
in his fourth season leading Miami.
It was the worst-kept secret in the NFL that Sparano would not be the coach after this season. But it was a mild surprise he was fired this week after the team was 4-2 in his last six games. Overall, Sparano was 29-32.
I will be back soon with more thoughts on the move.