December, 1, 2010
12/01/10
12:00
PM ET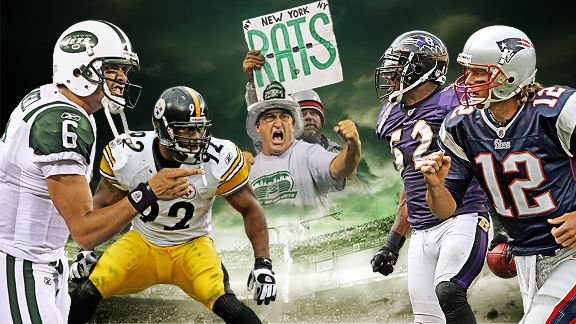 ESPN.com IllustrationTwo of our NFL bloggers weigh in on which division boasts the better rivalry.
Two of the NFL's hottest rivalries will take center stage in Week 13. Lucky for us.
The
Pittsburgh Steelers
will visit the
Baltimore Ravens
on Sunday night. The
New York Jets
then will visit the
New England Patriots
on Monday night. Combined record of the four teams: 34-10.
Millions of football fans will be tuned in to see both marquee matchups with superstars and storylines aplenty.
But which pairing represents the NFL's best divisional rivalry?
Each matchup has a history, quality quarterbacks and plenty at stake for the playoffs. A couple of feisty bloggers -- James Walker from the AFC North and Tim Graham from the AFC East -- will state a case for why his division has the better rivalry.
James Walker:
Tim, I just want to apologize in advance, because I don't think you have much of a leg to stand on comparing these two rivalries. Do you accept my apology?
Tim Graham:
If that's really what you think, then the only thing to accept is your resignation. The Jets-Patriots rivalry goes back 50 years, showcases ESPN's team of the decade versus the biggest media sensation, involves espionage, features incredible player and coaching crossover and will generate significantly more attention this week than the Steelers and Ravens. Yet I don't have a leg to stand on? This should be amusing.
Walker:
OK, let's get down to business. First, I'm going to tell you why the Jets-Patriots rivalry doesn't stack up to Ravens-Steelers. For starters, the Jets aren't even the Patriots' biggest rival in the AFC. The Colts are. Indianapolis and New England have played eight straight years in much bigger games -- sometimes with the Super Bowl at stake.
Meanwhile, there is no debating the Steelers and Ravens are each other's biggest rival. Both teams have played on the biggest stages, including the AFC Championship Game in 2008, when the Steelers went on to win Super Bowl XLIII. Finally, here's another difference: Pittsburgh and Baltimore both have championships within the past decade. When both rivals are able to reach the pinnacle while beating up each other along the way, that's when a rivalry is truly special. The Ravens and Steelers have it. The Colts and Patriots have it. The Jets and Patriots? I don't think so.
[+] Enlarge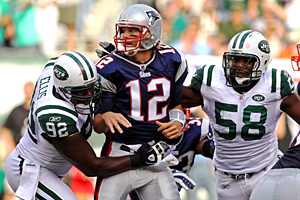 Ed Mulholland/US PresswirePatriots quarterback Tom Brady said earlier this season that he hates the Jets.
Graham:
Your opinion about the Colts representing a bigger rival than the Jets would be pertinent if the Patriots agreed with it.
Tom Brady
earlier this year declared "I hate the Jets," and he wasn't joking. The Patriots play the Jets twice a year. Division games are worth more than any other game in terms of importance. A Patriots-Colts game is more like a playoff exhibition.
You do make a good point about the Ravens and Steelers each winning a Super Bowl in the past decade. But recent titles don't necessarily make rivalries. If they did, then the Packers, Vikings and Bears don't have rivalries. Storylines and animus make rivalries. In that regard, Jets-Patriots is unsurpassed.
Walker:
Brady says he hates the Jets, but a rivalry is a two-way street. How much hatred does New York really have for the Patriots? It can't be too deep-rooted. Most of New York's key people recently came from the AFC North and other teams, including head coach Rex Ryan. I'd be willing to bet
Santonio Holmes
hates the Ravens more than he hates the Patriots. I know
Bart Scott
hates the Steelers. We've talked about it several times while he was in Baltimore.
Braylon Edwards
? He hyped his return to Cleveland 10 times more than this week's game against New England. Do you really think key players like Edwards,
LaDainian Tomlinson
and
Antonio Cromartie
have a feel for the Jets-Patriots rivalry? I doubt it.
But there is legitimate, two-way hatred between the Steelers and Ravens.
Hines Ward
hates the Ravens.
Ray Lewis
hates the Steelers. The markets of Pittsburgh and Baltimore simply cannot drive the point home like bigger cities New York and Boston can. For example, Ravens defensive end
Terrell Suggs
basically told me he doesn't like the Steelers, either, which is similar to what Brady said about the Jets. Yet it didn't get any attention. The Jets-Patriots rivalry may be unsurpassed in hype. But the Ravens-Steelers rivalry is unsurpassed in substance.
Graham:
Come on, James. You need to do more than take a glance at 2010 rosters to understand the Jets-Patriots rivalry. Every team has free agents who need to learn a rivalry. The point about Brady's hatred was that he never said that about the Colts, which you propose is a bigger rival for the Patriots than the Jets are.
But you want substance? How about Bill Parcells taking the Patriots to the Super Bowl and then leaving them for the Jets amid such controversial circumstances the NFL forced New York to send four draft picks to the Patriots over three years, including the first-round pick in 1999, as a penalty? How about the infamous
Curtis Martin
defection from the Patriots to the Jets and the infamous "poison pill" contract? How about Parcells abdicating his Jets job to Bill Belichick and then Belichick writing his resignation on a cocktail napkin moments before the Jets thought they were introducing him as their next head coach? How about the Jets blocking Belichick from joining the Patriots until he filed a federal lawsuit and then settling on the Patriots shipping five draft picks to the Jets over three years, including their 2000 first-rounder? How about Patriots defensive coordinator Eric Mangini departing to be Jets head coach and leaving the bridge in cinders? How about the Patriots filing tampering charges against the Jets on receiver
Deion Branch
? How about a little thing called Spygate? How about
Damien Woody
,
Danny Woodhead
,
Ty Law
,
Vinny Testaverde
,
Roman Phifer
,
Larry Izzo
,
Hank Poteat
and
Chris Baker
(among many other role players) wearing both uniforms within the past decade? Steelers-Ravens has nothing even remotely close to a third of that rundown.
[+] Enlarge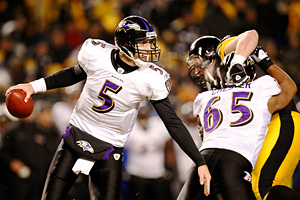 Gregory Shamus/Getty ImagesJoe Flacco will have to constantly prove himself against the Steelers and Ben Roethlisberger.
Walker:
Why you think playing for both teams makes it more of a rivalry is beyond me. I think it lessens your argument. I can't imagine
Ed Reed
or Lewis wearing a Steelers jersey. Ward would never sign a deal to play for the Ravens. Not in a million years. These two teams hate each other too much. Yet all these Jets and Patriots players simply flip-flop between teams at their leisure? That's weak and not the sign of a hated rivalry, in my opinion.
Graham:
That's rather Pollyanna to think Ravens would never go play for the Steelers or vice versa. Do you honestly believe if the Steelers had hired Ryan, then all of those players who followed him to the Jets wouldn't have gone to Pittsburgh? Please. Players pursue the best opportunity based on money, playing a system they love and a chance to win a title.
Here is how players switching teams make for a better rivalry: It thickens the plot. Fans who used to wear a player's jersey burn them. The expatriate player shares playbook secrets and other intelligence. That player has a chip on his shoulder and comes back to haunt his old team.
Walker:
Moving onto quarterbacks. I think there are some similarities between the teams' four passers.
Joe Flacco
is the third-year upstart trying to get to the championship level of
Ben Roethlisberger
, who already has two rings. Much of Flacco's status eventually will be determined by how much success he has against Roethlisberger and the Steelers within his division. It seems the Ravens and Steelers are always in the way and have to go through each other to have a deep run in the playoffs and get to the Super Bowl. What dynamic do you see developing with Brady and a young
Mark Sanchez
?
Graham:
I don't know if there's much of a quarterback comparison beyond the glamour element at this stage. Brady and Sanchez have a lot in common from an off-the-field standpoint. They sell a lot of jerseys, attract a lot of ladies, walk a lot of red carpets, appear in a lot of photo shoots and do a lot of cameos. But they're too far apart in experience to compare résumés.
[+] Enlarge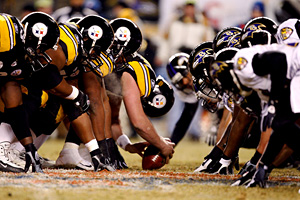 Streeter Lecka/Getty ImagesThe Ravens and Steelers have competed recently in many high-profile matchups -- including the 2008 AFC Championship Game.
I see the Jets and Patriots as more of a fan base and organizational rivalry: teams from two of the greatest sports markets, with two of the NFL's most influential owners, and two of the best defensive coaches in the game -- heck, two of the most controversial coaches of this generation. Ever since Ryan took over as Jets head coach, he has been tweaking Belichick. Some thought the rivalry would wane when the Jets fired Mangini, but Ryan -- a guy who helped build the Steelers-Ravens rivalry, by the way -- came along and made it juicier.
Walker:
Now is our favorite part. It's prediction time. It's no secret the Steelers and Ravens are built and play similarly. So it's usually a close game. Baltimore is going for its first series sweep since 2006, but Roethlisberger didn't play in the first meeting because of a suspension. Now he's back and is 7-2 all-time against Baltimore. But I have a feeling this is the Ravens' week. They are healthier overall, 5-0 at home and appear to be peaking at the right time. The Steelers, on the other hand, have been up and down. Both teams usually bring out the best in each other, but I'm picking the Ravens to win, 20-17. So who are you picking between the Patriots and Jets, Tim? Don't chicken out.
Graham:
I predict the loser of the Jets-Patriots game will have the same record as the team that wins the Ravens-Steelers game. Predicting a score has no bearing on our debate of which rivalry is better. But I will say the Jets and Patriots provide a rare showdown between teams with the NFL's best two records. This is only the fifth time in "Monday Night Football" history two clubs with records of 9-2 or better will play, and the first game under those circumstances that doesn't involve the
Joe Montana
-led
San Francisco 49ers
in Candlestick Park.
This is a special game befitting a special rivalry. Your game features clubs that needed overtime to beat the
Buffalo Bills
. I'll expect that resignation letter by kickoff.
March, 10, 2010
3/10/10
8:32
AM ET
In the book of great NFL mysteries, it's listed on the same page as "How did the Raiders wash Fred Biletnikoff's socks?"
The unanswerable question I'm referring to: "How does the NFL determine compensatory picks?"
Nobody knows because the league refuses to provide detailed insight into the formula. We know it depends on the number of free agents gained and lost the previous offseason and how well those players performed that year. Factors include the player's salary, playing time and awards -- we think.
But there's a compensatory vigilante out there who goes by the handle AdamJT13.
He seems to have darn near cracked the code
and has been giving accurate forecasts for 10 years.
My personal policy is not to link to people who write anonymously, but AdamJT13 has a track record and provides a unique service. With that in mind, here are his
compensatory projections for AFC East clubs
. The NFL will announce the official rundown in a couple weeks.
Buffalo Bills:
None. They signed two qualifying free agents (quarterback
Ryan Fitzpatrick
, center
Geoff Hangartner
) and lost two (cornerback
Jabari Greer
, linebacker
Angelo Crowell
). AdamJT13 adds the Bills could get a compensatory pick at the end of the seventh round based on net value of the players lost, depending on the evaluations.
Miami Dolphins:
Sixth-round pick. AdamJT13 notes it might be a seventh-rounder, or depending on how the NFL views guard
Joe Berger
, nothing at all. They signed one definite qualifying free agent (center
Jake Grove
) and lost two definites (cornerback
Andre' Goodman
and safety
Renaldo Hill
).
New England Patriots:
Four seventh-round picks for losing receiver
Jabar Gaffney
, long-snapper
Lonie Paxton
, fullback
Heath Evans
and running back
LaMont Jordan
, but not signing any definite qualifying free agents. Gaffney could be good enough for a sixth-rounder.
New York Jets:
None. They signed at least as many qualifying free agents (linebacker
Bart Scott
, safety
Jim Leonhard
, cornerback
Donald Strickland
and maybe linebacker
Larry Izzo
) as they lost (receiver
Laveranues Coles
, linebacker
Eric Barton
, defensive end
C.J. Mosley
and maybe cornerback
Hank Poteat
).
January, 16, 2009
1/16/09
8:35
AM ET
Posted by ESPN.com's Tim Graham

Throughout the day I'll post the rundowns of free agents for each AFC East club.
We'll start off with the New York Jets, who have a lot of work to do to get their roster organized for 2009.
They're already about $7 million over the projected salary cap because of an accumulation of prorated signing bonuses.
Before we get to the list of free agents, here are some of the higher cap numbers for Jets under contract. I think everybody can identify one player in particular who will alleviate a lot a lot of cap strain if he doesn't return:
Here are the Jets whose contracts are up:
Unrestricted (free to negotiate with any team beginning Feb. 27)
Restricted (Jets have right to match offer from other team)
Exclusive rights (cannot negotiate with other teams if tendered qualifying offer)
August, 30, 2008
8/30/08
10:35
PM ET
Posted by ESPN.com's Tim Graham
Biggest surprise: The Jets decided to keep all four of their QBs, fueling speculation in New York Kellen Clemens might be on the move. Jets coach Eric Mangini defused that talk by suggesting Clemens would be on the roster opening day as Brett Favre's primary backup. Because Brett Ratliff had performed so admirably, many observers were skeptical fifth-round draft pick Erik Ainge would stick. Ainge looked shaky throughout training camp, but he closed out the preseason with a fine performance Thursday night.
The most significant veterans dropped were eighth-year CB Hank Poteat and ninth-year LB and special-teamer Matt Chatham. Poteat was beaten out by fourth-round draft pick Dwight Lowery. Marques Murrell showed the Jets enough to bump Chatham.
No-brainers: Division I-AA record-setting WR David Ball got lost at a position that includes Laveranues Coles, Jerricho Cotchery, Brad Smith, Chansi Stuckey and David Clowney. The same fate befell WRs Larry Brackins and Paul Raymond, who never had much of a chance.
TEs Jason Pociask and A.J. Schable were on the outside looking in at veterans Chris Baker and Bubba Franks and first-round pick Dustin Keller.
What's next: The Jets, like many other teams, will be looking for offensive line depth. They kept seven receivers and nine defensive backs, so those look like areas to trim if they find some players they like on the waiver wire.
August, 30, 2008
8/30/08
7:28
PM ET