November, 8, 2013
11/08/13
11:00
AM ET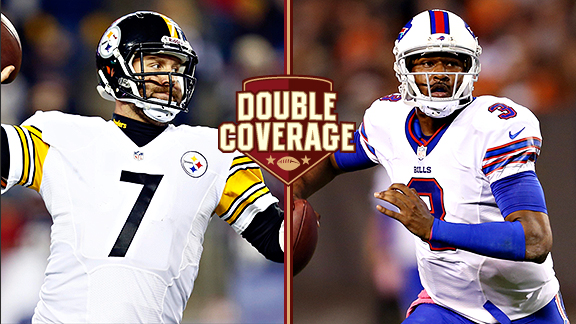 USA TODAY SportsBen Roethlisberger, left, and EJ Manuel are trying to guide their teams through difficult seasons.
Two teams that have combined for five wins and don't appear to be going anywhere this season meet Sunday at Heinz Field. The
Pittsburgh Steelers
will be angry after getting routed Sunday in New England, but the
Buffalo Bills
might be equally desperate after losing four of their past five games.
It looks like
EJ Manuel
will return for the Bills, but rookie quarterbacks have not fared well against Dick LeBeau defenses. But no rookie quarterback has faced the Steelers defense when it has been this vulnerable under LeBeau.
ESPN.com reporters Mike Rodak (Bills) and Scott Brown (Steelers) take an in-depth look at the first meeting between the teams since the Steelers won a 19-16 overtime game at Buffalo in 2010.
Brown:
Mike, is this team Pittsburgh North? There are a lot of Steelers connections there with general manager Doug Whaley and a handful of the players. The two I'm interested in hearing about are the starting guards --
Doug Legursky
and
Kraig Urbik
. How have the two played, and how has the offensive line played overall?
Rodak:
Scott, I think Whaley would like it to be Pittsburgh North, eventually. The Steelers are one of the most successful franchises, and Whaley comes from that background. Defensively, there are similarities between Mike Pettine's blitz-heavy scheme and much of the zone blitzing that LeBeau uses. And offensively, Manuel is a big, mobile quarterback with some speedy receivers, much like
Ben Roethlisberger
and his pass-catchers in Pittsburgh. Ultimately, though, I think the Bills want to forge their own identity, and the Steelers connections don't run much deeper than Whaley and a few others.
As far as Urbik and Legursky, they haven't been Pro Bowlers by any stretch. Returning from a knee injury last month, Legursky helped stabilize a left guard position that has been reeling since losing
Andy Levitre
in free agency last offseason. But as a whole, the offensive line has allowed more sacks -- the seventh most in the NFL, to be precise -- than it would prefer.
Looking at the Steelers' big picture, what has gone wrong this season? From an outside perspective, an aging defense appears to be part of it, but that can't tell the whole story. What are the biggest problem areas?
Brown:
Age is only part of the equation when looking at the Steelers' struggles. The other half is that the Steelers were so good for so long at developing younger players to step in for veteran stalwarts who retired or signed elsewhere. That hasn't happened in recent years, in part because the quality of Steelers' drafts has slipped.
The drop-off in talent hasn't been as severe as it would seem for a team that has lost 11 of its past 15 games, which leads me to perhaps the Steelers' biggest problem on the field: This team is simply allergic to momentum. The Steelers, when they were winning regularly, played so well off one another as far as the different units. This season, more often than not, the offense has not been able to bail out the defense and vice versa.
I'm curious what has held back the Bills, aside from the instability and inexperience at quarterback. This team seems to have its share of talent, so why aren't the Bills winning more?
Rodak:
The quarterback situation is a big part of it, like you said. No matter who's been out there -- Manuel,
Thad Lewis
or
Jeff Tuel
-- they haven't been able to make enough plays to win in the NFL. It's really been the defense that has picked up the slack in two of the Bills' three wins this season. Against the
Baltimore Ravens
, it intercepted
Joe Flacco
five times, and just when it looked like the
Miami Dolphins
were going to win a few weeks ago,
Mario Williams
came up with a game-changing strip-sack. So when dissecting why the Bills are 3-6, their quarterback play is the overriding factor.
Otherwise, I think the story is similar to Pittsburgh's. The defense has played well at times, but when it hasn't played well, the offense hasn't been up to snuff. And when the offense has started cranking -- and that's been rare -- the defense has dropped off. Doug Marrone referenced Wednesday the need for the defense to generate more turnovers -- it hasn't forced one in more than two games -- which has caused the Bills' turnover differential for the season to turn negative this week.
What has been the problem offensively for the Steelers? I've always counted Roethlisberger among the top 10 quarterbacks in the league, and at least on paper, there is some serious talent between
Le'Veon Bell
,
Heath Miller
and
Antonio Brown
. Is the offensive line really that bad to drag everyone down?
Brown:
The offense played without Bell and Miller for the first two games, and it showed as the Steelers managed just two touchdowns in those contests. Bell has stabilized the running game, and Miller's return has been huge considering his value in the running and passing game.
The offense's struggles stem most from the ongoing shuffling along the offensive line. The unit, for whatever reason, is consistently decimated by injuries, and this season is no different. Pro Bowl center
Maurkice Pouncey
went down with a season-ending knee injury in the opener. The Steelers even lost a lineman (
Levi Brown
) to a season-ending injury in pregame warm-ups. Those kinds of things have happened to the Steelers' offensive line, it seems, every season since Mike Tomlin took over as head coach in 2007.
The line has played better in recent weeks, and I thought it did fairly well in New England even with the crowd noise forcing the Steelers to use a silent snap count. It faces another challenge this week as the Bills have the kind of defensive line that can really give the Steelers fits.
Williams has been a beast, and the Steelers will probably have to give left tackle
Kelvin Beachum
some help with Williams. Mike, what about the two interior lineman,
Kyle Williams
and Marcell Dareus? They seem like they can be plenty disruptive.
Rodak:
They certainly can be, Scott. Each has four sacks this season, which puts both on pace for career highs. It seems like each week, when we talk to opposing head coaches, they start off by mentioning Dareus, Mario Williams and Kyle Williams. They're the strength of the team. Kyle Williams in particular has shown a knack for being disruptive in the backfield at the right time, while Dareus has improved from what some felt were subpar seasons since being drafted third overall in 2011. The Steelers' offensive line will need to hold its ground and allow Roethlisberger to take shots at the weaker points of the defense.
What do the Steelers need to do to turn this season around? Does any hope remain that they will make the playoffs?
Brown:
Believe it or not, the players still believe they have a shot at the playoffs given how mediocre the AFC has been aside from a few teams. But they are also realistic that their focus has to stay squarely on what is in front of them.
The biggest thing the Steelers need to do to turn around their season is get back to what has worked for them for so long. That starts with stopping the run. As much as some Steelers fans want to lay blame for the defense's failings on LeBeau -- and the fact that he is 76 -- the reality is this: LeBeau didn't suddenly forget how to coach. However, his defense doesn't work if the Steelers can't stop the run and force teams into obvious passing situations.
Offensively, the Steelers have been at their best this season when they have established balance. If they want to take better care of Roethlisberger, who is taking another beating this season, they need to limit his passing attempts. The best way to do that is establish the ground game and run Bell early and often. Sounds easy enough, no?
October, 11, 2013
10/11/13
12:00
PM ET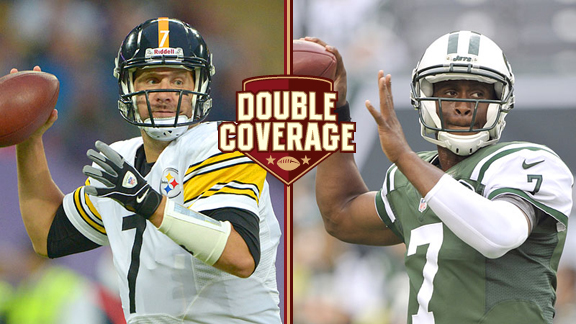 USA TODAY SportsBen Roethlisberger and the 0-4 Steelers take on Geno Smith and the surprising Jets.
Things you didn't expect to see in the standings when the NFL released the schedule last April: The
New York Jets
at 3-2, the
Pittsburgh Steelers
at 0-4.
The rebuilding Jets were supposed to struggle under a coach who already was being called a lame duck, and the Steelers ... well, they were supposed to be the Steelers, a model of consistency.
The two teams meet up Sunday at MetLife Stadium. The Steelers are off to their worst start since 1968, the year of the Jets' only Super Bowl season. If the Steelers lose this game, they're pretty much done in terms of playoff aspirations. The Jets played a similarly desperate team Monday night, and that didn't seem to faze them, as they stunned the
Atlanta Falcons
on the road. The Steelers should be well-rested coming off a bye week.
ESPN.com Jets team reporter Rich Cimini and Steelers reporter Scott Brown break down the matchup:
Cimini
: Scott, I look down the Steelers' roster and I still see a lot of those familiar names --
Ben Roethlisberger
,
Antonio Brown
,
Troy Polamalu
,
LaMarr Woodley
, etc. It's hard to imagine how the Steelers could be this bad. I'm sure you could write 5,000 words on why they're 0-4, but how 'bout a few thoughts on what has gone wrong?
Brown
: Rich, I think I have written triple that amount on everything that has gone wrong. Turnovers have been the biggest problem for the Steelers, and that is on both sides of the ball. The Steelers have committed 11 of them with six coming in the last two games by Roethlisberger alone, and they are still without a takeaway, which is unbelievable when you think about it.
Playing from behind has a lot to do with the Steelers' turnover problem, especially on defense. The defense is at its best when it puts opposing quarterbacks in obvious passing situations and forces them into the kind of mistakes that lead to turnovers. Would you believe the Steelers have had exactly two leads this season and those were 2-0 and 3-0 in the season opener against the Titans and in the second game at Cincinnati, respectively?
Rich, this defense usually confuses and frustrates rookie quarterbacks, but
Geno Smith
has hardly played like a first-year signal-caller. Has his play surprised you, and is it sustainable?
Cimini
: I was surprised by how well he played Monday night in Atlanta because he had been a turnover machine -- 11 in his first four games. All of a sudden, something clicked. I don't know if it was a one-game thing or the start of a trend.
I know the Steelers' defense isn't what it used to be, but Dick LeBeau will have had two weeks to cook up something to confuse the kid. How Smith responds to new looks from the defense will decide this game. The Jets leaned a bit more on the running game last week, taking some pressure off Smith, and I suspect they'll take a similar approach on Sunday. Blitz pick-up will be a key, as will the receivers' ability to gain separation. I remember the Steelers were very aggressive last season in Week 2 with the Jets' wideouts. While on the subject of quarterback play, how would you assess Big Ben's play to this point?
Brown
: It has been fine other than the turnovers, and I think it will get better with tight end
Heath Miller
back and running back
Le'Veon Bell
giving the Steelers a legitimate threat in the ground game. Roethlisberger is on pace to throw for almost 5,000 yards this season, which would obliterate his career-high of 4,328 yards (2009). But Roethlisberger is also averaging just over 40 pass attempts per game. That number is way too high, especially given how leaky the Steelers' offensive line has been through the first quarter of the season.
The emergence of Bell should restore balance to the Steelers' offense. My question for you is, will such balance have to wait a week? The Jets' defensive line looks awfully physical and it is hard to envision the Steelers having much luck running the ball against it.
Cimini
: You're right, Scott, the Jets have been very good against the run. They've faced some good backs --
Chris Johnson
,
C.J. Spiller
,
Doug Martin
-- and they're allowing only 76.2 yards per game and 3.0 per carry. I'd be surprised if the Steelers have much success on the ground.
The Jets' front seven is much improved from last season. They added more athleticism at nose tackle (
Damon Harrison
), tackle (
Sheldon Richardson
), weak inside linebacker (
DeMario Davis
) and rush linebacker (
Quinton Coples
). They're no longer vulnerable on the perimeter, as they were last season. I think they will make the Steelers one-dimensional, which should allow the Jets to get good pressure on Roethlisberger. Speaking of pressure ... four sacks for the mighty Steelers? What happened to that defense?
Brown:
Man, depends on who you ask. The easy answer is to say that age has finally collared a once fearsome defense, but that is not entirely accurate. Defensive end
Brett Keisel
, strong safety Polamalu and cornerback
Ike Taylor
are among the most tenured Steelers, and they have played well this season.
Age has caught up with the Steelers a little bit, and the defense needs to get more out of younger players such as cornerback
Cortez Allen
and outside linebacker
Jarvis Jones
. Jones, the Steelers' No. 1 pick last April, is going to be really good, but he has not made much of an impact as a pass-rusher. The Steelers desperately need Jones to emerge opposite Woodley, who has three of the team's four sacks.
.
April, 7, 2011
4/07/11
12:00
PM ET
»
NFC Draft Watch
:
East
|
West
|
North
|
South
»
AFC
:
East
|
West
|
North
|
South
Each Thursday leading up to the NFL draft (April 28-30), the ESPN.com NFL blog network will take a division-by-division look at key aspects of the draft. Today's topic: history in that spot.

Buffalo Bills
The Bills' top pick is No. 3 overall. Here are the past seven players taken in that spot, with their NFL teams in parentheses:
2010:
DT
Gerald McCoy
(Buccaneers)
2009:
DE
Tyson Jackson
(Chiefs)
2008:
QB
Matt Ryan
(Falcons)
2007:
T
Joe Thomas
(Browns)
2006:
QB
Vince Young
(Titans)
2005:
WR
Braylon Edwards
(Browns)
2004:
WR
Larry Fitzgerald
(Cardinals)
ANALYSIS:
Some sexy picks have been made in this spot. None of the players have been out-and-out busts, although character concerns have overshadowed a couple. Only McCoy and Jackson haven't been selected for at least one Pro Bowl. Fitzgerald is an elite receiver, arguably the best in the business. Edwards can be a dangerous playmaker when not dropping passes, which he didn't do last year. Ryan is an emerging star. Young has been a lightning rod, but he did win rookie of the year and has gone to a pair of Pro Bowls. Thomas is a star blocker with four Pro Bowls on his résumé already.

Miami Dolphins
The Dolphins' top pick is No. 15 overall. Here are the past seven players taken in that spot, with their NFL teams in parentheses:
2010:
DE
Jason Pierre-Paul
(Giants)
2009:
LB
Brian Cushing
(Texans)
2008:
G
Branden Albert
(Chiefs)
2007:
LB
Lawrence Timmons
(Steelers)
2006:
CB
Tye Hill
(Rams)
2005:
LB
Derrick Johnson
(Chiefs)
2004:
WR
Michael Clayton
(Buccaneers)
ANALYSIS:
This is a region of the first round where picks can break either way. There have been solid players drafted here, but no superstars. Cushing was a rookie of the year, but his career has been tainted by performance-enhancing drug usage. Clayton made an immediate impact with 80 catches for 1,193 yards and seven touchdowns as a rookie but hasn't caught more than 38 passes since. Johnson has been a solid linebacker for Kansas City, while Timmons has been an influential member of Pittsburgh's defense the past two seasons. Hill has been the biggest disappointment. He has been with four teams, starting 25 games.

New England Patriots
The Patriots' first-round picks are Nos. 17 and 28 overall. Here are the past seven players taken in those spots, with their NFL teams in parentheses:
2010:
G
Mike Iupati
(49ers) and DE
Jared Odrick
(Dolphins)
2009:
QB
Josh Freeman
(Buccaneers) and G
Eric Wood
(Bills)
2008:
T
Gosder Cherilus
(Lions) and DE
Lawrence Jackson
(Seahawks)
2007:
DE
Jarvis Moss
(Broncos) and T
Joe Staley
(49ers)
2006:
LB
Chad Greenway
(Vikings) and TE
Marcedes Lewis
(Jaguars)
2005:
LB
David Pollack
(Bengals) and DE
Luis Castillo
(Chargers)
2004:
LB
D.J. Williams
(Broncos) and CB
Chris Gamble
(Panthers)
ANALYSIS:
Results have been mixed with these slots, but the 28th pick actually has found more starters than the 17th in recent years. Freeman showed signs of developing into a future star last year, and Cherilus has started 40 of his 43 games at right tackle. Williams and Greenway have been regular starters. But Moss and Pollack didn't work out. In the 28th slot, Odrick is the only one who hasn't been a regular starter. Injuries detonated his rookie season.

New York Jets
The Jets' top pick is No. 30 overall. Here are the past seven players taken in that spot, with their NFL teams in parentheses:
2010:
RB
Jahvid Best
(Lions)
2009:
WR
Kenny Britt
(Titans)
2008:
TE
Dustin Keller
(Jets)
2007:
WR Craig Davis (Chargers)
2006:
RB
Joseph Addai
(Colts)
2005:
TE
Heath Miller
(Steelers)
2004:
RB
Kevin Jones
(Lions)
ANALYSIS:
What strikes me is that all seven selections not only are offensive players but also ball handlers. Perhaps teams in the back of the draft feel they can gamble a little bit and try to hit big on a skill position. Whatever the reasoning, it seems to have worked. This has been a successful spot. Jones and Addai rushed for 1,000 yards as rookies. Best appears to be the Lions' running back of the future. Miller and Addai have gone to Pro Bowls. Britt was the Titans' leading receiver last year. Keller is one of the NFL's better tight ends.
January, 21, 2011
1/21/11
4:00
PM ET
Conference Championship Final Word
:
Jets-Steelers
|
Bears-Packers
Five nuggets of knowledge about Sunday's Jets-Steelers AFC Championship Game:
[+] Enlarge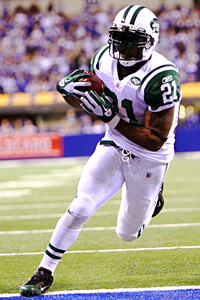 Michael Hickey/US PresswireJets running back LaDainian Tomlinson is on the verge of his first Super Bowl appearance in his 10-year career.
For LaDainian Tomlinson to reach the Super Bowl, he'll need to do more than most.
Despite a surefire Hall of Fame career, Tomlinson never has reached the Super Bowl. The onus will be on the Jets' run game. As always, the Jets' ground attack with Tomlinson and
Shonn Greene
will be crucial to moving the offense and making the game as manageable as possible for quarterback
Mark Sanchez
in a difficult environment. The Steelers led the NFL in run defense during the regular season, allowing a paltry 63 yards a game. But in a Week 15 victory at Heinz Field, the Jets rushed for 106 yards. In the postseason, however, Tomlinson averages 3.7 yards a carry and has six touchdowns in nine career games, but only four in his seven with the
San Diego Chargers
.
The Jets can win the game on special teams.
The Steelers' special teams are mediocre.
Brad Smith
set a tone for the Jets by returning the opening kickoff 97 yards for a touchdown in Week 15. In last week's divisional playoff game at Heinz Field,
Baltimore Ravens
punt returner
Lardarius Webb
had a 55-yard touchdown wiped out by a holding penalty. Webb also had a 38-yard kickoff return, and the Steelers' special teams were flagged three times. The Jets' venerable special-teams coordinator, Mike Westhoff, is as opportunistic as they come.
After two games of holding back, expect the Jets' pass rush to get aggressive.
The Jets focused more on keeping defenders in coverage than sending extra pass-rushers after
Peyton Manning
and
Tom Brady
. The Steelers, however, are vulnerable on the offensive line. Even when healthy, the Steelers' pass protection makes the game an adventure for
Ben Roethlisberger
, and tackles
Flozell Adams
and
Jonathan Scott
are hurt. The Steelers surrendered 43 sacks in the regular season. Only seven teams allowed more. The Ravens sacked Roethlisberger six times last week. Jets outside linebackers
Calvin Pace
and
Jason Taylor
and defensive end
Shaun Ellis
must be excited about the possibilities.
In addition to the return of Troy Polamalu, don't underestimate the presence of Heath Miller.
Much attention has been dedicated to how the Steelers' defense will be different with Polamalu at safety. He didn't face the Jets in Week 15. Neither did Miller, a dangerous weapon in the Steelers' passing game. He caught 42 passes for 512 yards and two touchdowns in 14 games.
Darrelle Revis
and
Antonio Cromartie
can handle the Steelers' receivers, but Miller can pose a matchup problem. Here's a noteworthy stat: The Steelers are 8-1 in the postseason with Miller on the field.
The Jets have the best receiving corps left in the playoffs.
The
Green Bay Packers
have the best quarterback. The Steelers have the most bling. But the Jets boast the best crew of receivers of the final four. That will be important if the Jets need to mount a late comeback and especially if the Steelers play prevent defense. The Steelers have a stellar duo with
Mike Wallace
and
Hines Ward
running routes. But
Santonio Holmes
is a former Super Bowl MVP and (mostly) has been a clutch receiver all season.
Braylon Edwards
has distanced himself from that butterfingers reputation. When
Jerricho Cotchery
is your third receiver, you know you're in good shape. Then there's tight end
Dustin Keller
, and Tomlinson makes catches out of the backfield. The Jets would prefer to have success on the ground, but with receiving options like those, they still have a shot to win through the air.
January, 21, 2011
1/21/11
1:55
PM ET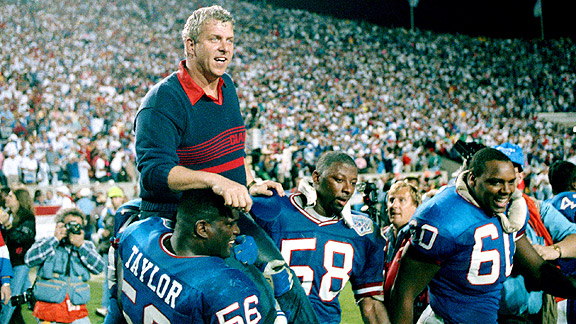 AP Photo/Ed ReinkeEx-NFL coach Bill Parcells advanced to the Super Bowl three times in his career, but never had to face three potential Hall of Fame quarterbacks to get there.
Bill Parcells certainly should be envious of where
New York Jets
head coach Rex Ryan is this weekend -- one victory away from the Super Bowl.
Parcells has been there a few times. He took three teams to the Super Bowl. He won a pair with the
New York Giants
and lost another with the
New England Patriots
. Parcells has navigated his share of treacherous postseason games.
But Parcells, now a consultant with the
Miami Dolphins
, doesn't covet Ryan's road.
If the Jets do reach the Super Bowl, then they will have beaten
Peyton Manning
in Lucas Oil Stadium,
Tom Brady
in Gillette Stadium and
Ben Roethlisberger
at Heinz Field (twice in a month).
"I can't say I've ever faced three in a row like that," Parcells told me by phone from South Florida. "The closest I ever came to anything like that was Joe Montana and then Jim Kelly in the Super Bowl."
That was the 1990 season, but the Giants had a first-round playoff bye and home-field advantage in the divisional round, where the
Chicago Bears
' quarterback was Mike Tomczak.
But before my conversation with Parcells found much traction on what it must be like to face such a homicidal lineup of quarterbacks, he put the job into perspective.
"I don't look at it like that," Parcells said. "Obviously, those are marquee, proven, winning quarterbacks. That's a difficult task.
"But I kind of look at it like they need to beat the Colts and the Patriots and the Steelers. The dynamics of each of those games is substantially different than the others aside from the fact they have those productive quarterbacks."
Parcells emphasized all opponents have liabilities to target as long as you look at them in their totality and not get too consumed with star players. It just so happens that none of the Jets' opponents are weak at quarterback.
With that, Parcells broke down some of his key points for the Jets and Steelers in the AFC Championship Game.
Tim Graham:
So you don't think we should focus too much on the quarterbacks the Jets have to face?
Bill Parcells:
There are a lot of other things that come into play from a matchup standpoint besides the efficiency of the opponent's quarterback. I do think this game is a far different game than the one they played last weekend. The style of defense that both teams play will be markedly different than the ones employed by New England and the Colts.
TG:
Can you give some examples?
BP:
Pittsburgh plays a lot of zone, and they zone blitz and they're better against the run than the other two teams. Off the top of my head, if Pittsburgh is successful in defending the run, then the third-down efficiency of the Jets will probably go down. That will be an issue for the Jets.
Now, on the other side of the coin, Pittsburgh has shown some vulnerability to a good pass rush, and Pittsburgh has some injuries at tackle. The Jets didn't blitz much versus New England. You may see a very different plan from the Jets versus Pittsburgh because besides the fact Roethlisberger will hold the ball, which makes him a little more vulnerable, Pittsburgh doesn't look like they pass protect as well as, say, a team like New England.
The other element that I think is different this week for the Jets is that Pittsburgh has a definite deep threat in
Mike Wallace
. New England, in my opinion, doesn't have a player like that right now. That deep threat, I think, will force the Jets to do something.
TG:
What are your thoughts on
Mark Sanchez
?
BP:
My hat's off to him because he's done a good job for that team. But the key to the Jets more -- not so much that he's not a key because he is; he made some great throws the other day to win that game -- is the Jets' overall running attack. If they don't run the ball well and they're one-dimensional, they will have a hard time with Pittsburgh. If they have some good balance, I think you'll see the Jets have success. But the same's true for Pittsburgh, now. No different. They've got to do something, too, in the run game because I don't know if they'll pass block the Jets well enough to beat them if they don't.
Sanchez will be a good contributor. He'll do what he's been doing, which so far has been good enough.
They've already beat them out there [in Pittsburgh], so they have a good chance. But the game is a toss-up, to me. There's a lot more on the line right now. This is a lot different than a regular-season game. The Jets have a good special teams group. That's another thing Pittsburgh has to be concerned about.
TG:
How much does the fact the Jets won at Heinz Field a month ago impact the rematch?
BP:
The good thing about this game for the Jets is they've gone to Pittsburgh and beaten them already. So they know they can do it. Pittsburgh will have their ears up because, 'Gee whiz, they came in here and beat us once. They might be able to do that again.' The psychology of the game can play into both teams' hands. That could favor both teams. They both should be crystal clear on the situation.
TG:
Troy Polamalu
didn't play in that game, though.
BP:
That's correct. But I think what will be an even more important weapon is the Steelers' tight end,
Heath Miller
. He didn't play last time either. In the grand scheme of things, that presents some issues. Polamalu is a player that you have to deal with. He's one of the 11 defenders. But offensively, you don't have any control over where he's going to be and what he's going to do. You have to react to him. Pittsburgh's tight end, the Jets can exercise a measure of control on that player if they want to attempt to.
TG:
How do you think the game will go down?
BP:
It should be interesting. It's going to be a great game. Both teams have done well, but I can't tell you what's going to happen anymore than I can tell you what's going to happen with the Bears and the Packers. If the Packers play like they played last week, they're going to win.
TG:
Well, that's anticlimactic. ... But I can't thank you enough for your analysis, Bill. Should I have ESPN send a check?
BP:
No, but remember this, Tim: Sometimes the value of my analysis is commensurate with what I'm charging you for it.
January, 21, 2011
1/21/11
9:57
AM ET

ESPN commentators Tim Hasselbeck and Mark Schlereth preview Sunday's game between the New York Jets and Pittsburgh Steelers for the AFC crown.

Both analysts predict the Steelers will win the rematch because superstar safety Troy Polamalu is back, and the Jets won't be able to handle Ben Roethlisberger's brand of "backyard football."
December, 19, 2010
12/19/10
3:11
PM ET
PITTSBURGH -- The lineup scratches from Sunday's high-profile matchup between the
New York Jets
and
Pittsburgh Steelers
at Heinz Field:
New York Jets
Pittsburgh Steelers