April, 27, 2011
4/27/11
11:00
AM ET
When I heard Rex Ryan was working on an autobiography, I wondered what he could put on those pages that we didn't already know.
Ryan has been an open, nearly unabridged book his entire life. It's one of the main reasons he's so beloved by his players and fans. Since he became head coach of the New York Jets two years ago, seemingly every aspect of his life has been reported.
But it turns out Ryan's entertaining style makes "Play Like You Mean It" a page-turner with fresh ideas and revelations.
About the only aspect of his life not illuminated was last year's foot-fetish storyline, but he did comment on the Jets' other prominent scandals that drew league investigations: the Ines Sainz sexual harassment claim and the Sal Alosi sideline trip of Miami Dolphins gunner Nolan Carroll.
ESPNNewYork.com's Rich Cimini
previewed the book and shared some of the sexier passages
.
Ryan gave details about the transition away from Brett Favre, revealed his disgust over Tony Dungy's criticism of his language and knocked former players such as safety Kerry Rhodes and defensive draft bust Vernon Gholston.
Ryan called Rhodes "a selfish-ass guy. He wouldn't work and he was a Hollywood type, flashing and needing attention."
While still defensive coordinator for the Baltimore Ravens, Ryan said he warned then-Jets head coach Eric Mangini not to draft Gholston.
"Truth be told, I didn't like the kid coming out of college," Ryan said. "He's a good athlete and a smart guy, but I thought he was a phony."
Ryan also took a dig at New England Patriots quarterback Tom Brady, who last year spat how much he hated the Jets.
"I really don't know Tom Brady, but who wouldn't hate him?" Ryan said. "Look at his life. Actually, look at his wife. Every man in America hates Tom Brady, and he should be proud of that."
January, 5, 2011
1/05/11
1:00
PM ET
»
NFC Wrap-ups
:
East
|
West
|
North
|
South
»
AFC
:
East
|
West
|
North
|
South
Arrow indicates direction team is trending.

Final Power Ranking:
8
Preseason Power Ranking:
9
[+] Enlarge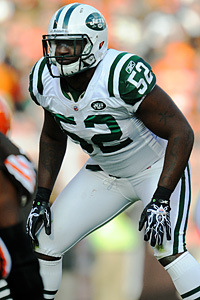 AP Photo/David DrapkinLinebacker David Harris led the Jets with 119 tackles this season.
Biggest surprise:
LaDainian Tomlinson
was supposed to limp into the sunset when he left the
San Diego Chargers
. The Jets were criticized for dumping their 2009 MVP,
Thomas Jones
, and picking up an older player with lower expectations. But Tomlinson showed he still had plenty to offer. He took over the lead duties from
Shonn Greene
and carried the Jets to a 5-1 record at their bye. He had 490 rushing yards with five touchdowns and averaged 5.3 yards a carry at the time. But more importantly he took pressure off sophomore quarterback
Mark Sanchez
. When Tomlinson's production waned after the bye -- he hasn't rushed for more than 55 yards in a game since -- Sanchez became more of a liability. Tomlinson finished with 914 yards and probably would have eclipsed the 1,000-yard mark had Rex Ryan not rested him for Sunday's game against the gracious
Buffalo Bills
run defense.
Biggest disappointment:
If you drafted the Jets in your fantasy scandal league, then you ran away with the title. They led the league in NFL investigations, including
Brett Favre
's sexting scandal with Jenn Sterger, the Jets' admitted mistreatment of female reporter Ines Sainz and $100,000 in fines over setting up a sideline wall that led to strength coach Sal Alosi tripping
Miami Dolphins
gunner
Nolan Carroll
. They drew even more unwanted attention over Ryan's purported foot-fetish videos and
Braylon Edwards
' DUI arrest. ... Purely from a football standpoint, Ryan's defense didn't live up to the hype. Top cornerback
Darrelle Revis
' contract standoff and hamstring injury caused a negative ripple effect. Season-ending injuries to nose tackle
Kris Jenkins
and safety
Jim Leonhard
were damaging.
Biggest need:
The Jets will have some difficult roster decisions to make over the offseason because so many players have expiring contracts. The biggest holes might not reveal themselves for a while, but upgrading the offensive line will be a priority regardless. Jenkins has undergone reconstructive knee surgery two years in a row.
Sione Pouha
was an admirable replacement. Overachiever
Mike Devito
was solid at defensive tackle, and
Shaun Ellis
was one of their better quarterback chasers. But Ryan's defense needs to be more dynamic up front, especially if Jenkins doesn't return. Ellis will turn 34 and Pouha 31 before next season. Their top backup at defensive end is
Vernon Gholston
, the sixth overall draft pick in 2008 who has zero NFL sacks.
Team MVP:
David Harris
, inside linebacker. Other Jets might have played like bigger MVPs for segments of the season -- Tomlinson through the first six games,
Santonio Holmes
in November -- but Harris was the most constant and consistent presence. Harris led the Jets with 119 tackles and 14 quarterback hits. He had three sacks, one forced fumble and one recovery. Harris also is one the Jets' quieter personalities, which earns him bonus points for 2010.
Yardage by committee:
The Jets' offense features several decorated players, but none of them reached the 1,000-yard barrier and none scored more than seven touchdowns. Tomlinson came closest, but Greene appeared to supplant him toward the end of the season. The Jets had five players with at least 41 receptions, but none with more than 55. Tight end
Dustin Keller
, Edwards, Holmes and Tomlinson finished within three catches and two touchdowns of each other.
January, 2, 2011
1/02/11
1:04
PM ET

Miami Herald columnist Israel Gutierrez whipped out his TV Guide during the "Parting Shots" segment of "The Sports Reporters" and counted all the episodes that make the New York Jets the embodiment of must-see TV.
December, 30, 2010
12/30/10
6:15
PM ET
The
New York Jets
avoided disciplinary action when the
Brett Favre
-Jenn Sterger sexting investigation came to a close Wednesday, but another day brought another opportunity.
The NFL has fined the Jets $100,000 for events surrounding Jets strength and conditioning coach Sal Alosi's infamous trip of
Miami Dolphins
gunner
Nolan Carroll
in Week 14.
NFL commissioner Roger Goodell declared Alosi violated rules by ordering inactive players to form a sideline phalanx that would hinder gunners on punt coverage.
The NFL released a statement that said Alosi "placed players in a prohibited area on the sideline to impede an opposing team's special teams players and gain a competitive advantage. This is both a competitive violation as well as a dangerous tactic."
The $100,000 fine also extends to a
broadcast claim Jets special teams coach Mike Westhoff made
that the
New England Patriots
have used a similar ploy.
"Both the NFL Constitution and Bylaws and other league policies require clubs to report actual or suspected violations of competitive rules by other teams only to the league office and not to engage in public criticism of other clubs," the league statement read.
The Jets have been ensnared by a series of embarrassing scandals this year, including
Braylon Edwards
' DUI arrest, their
mistreatment of female sports reporter Ines Sainz
that led Jets owner Woody Johnson to fund a league-wide training program to educate players, and last week's report head coach
Rex Ryan and his wife had posted foot-fetish videos
on the internet.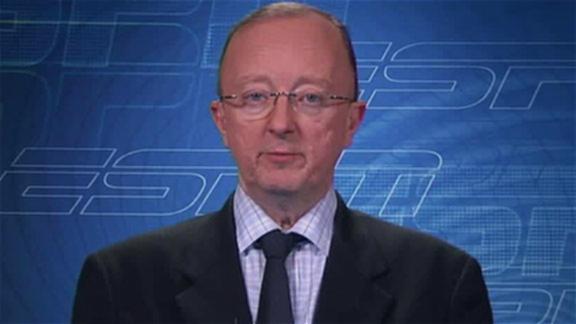 December, 23, 2010
12/23/10
2:17
PM ET
New York Jets
owner Woody Johnson held a news conference Thursday to reaffirm his support for Rex Ryan in light of recent incidents that have ensnared the head coach and the organization.
"He's still the coach of the New York Jets," Johnson said. "I have a lot of respect for Rex and his family.
"My respect has not diminished one iota."
Ryan has declined to discuss a recent Deadspin.com report
he and his wife produced foot fetish videos that were posted on YouTube. Ryan repeatedly called them "a personal matter." The Jets and the NFL agree.
The allegations came a week after the Jets had drawn NFL scrutiny for strength coach Sal Alosi's trip of
Miami Dolphins
gunner
Nolan Carroll
.
Johnson also addressed that investigation. He said he has apologized to Dolphins owner Stephen Ross for the trip and to
New England Patriots
owner Robert Kraft after Jets special teams coach
Mike Westhoff accused the Patriots of forming the same phalanx Alosi
organized along the sideline to inhibit gunners.
"We're going to make mistakes," Johnson said of the organizations repeated problems, which also included an NFL investigation for treatment of female reporter Ines Sainz and receiver
Braylon Edwards
' DUI arrest. "We're not perfect, but we are pretty good -- once we've made a mistake -- at trying to make remedies, trying to cure, trying to correct what we're doing.
"We're trying to get better every year. We're going to work on things like our culture. We're going to work on trying to make ourselves an organization that doesn't have, preferably, any incidents."
December, 22, 2010
12/22/10
1:18
PM ET
The
New York Jets
latest distraction is their most bizarre yet.
Jets head coach Rex Ryan didn't deny a Deadspin.com report
that included several foot-fetish videos of a woman who looks strikingly similar to Ryan's wife, Michelle, showing off her feet to a cameraman who sounds exactly like Rex Ryan.
Rex Ryan was asked about the report Wednesday morning during a conference call with
Chicago Bears
media.
"I know you need to ask," Ryan said. "It's a personal matter."
Ryan's normally scheduled news conference with New York reporters is Wednesday afternoon, but the Jets previously released a statement that Ryan wouldn't address the report.
Over my 20 years as a sports reporter, I always use Mike Tyson biting Evander Holyfield's ear as the baseline for surrealism.
When I clicked on one of the alleged Michelle Ryan videos and heard the cameraman's voice, I might have found a new standard.
The Jets have dealt with a series of distractions since Ryan took over as head coach. Not all of them are his fault, but he was photographed flipping off
Miami Dolphins
fans at an MMA event last February and came under fire -- his mother even called him out publicly -- for gratuitous profanity on "Hard Knocks."
NFL investigators have been to the Jets' facility three times this year because of the
Brett Favre
sexting scandal, boorish treatment of female reporter Ines Sainz and Sal Alosi's trip of Dolphins gunner
Nolan Carroll
.
Braylon Edwards
was arrested for DUI in September.
Other than that, it has been a quiet season for the Jets.