June, 5, 2014
6/05/14
10:00
AM ET
FLORHAM PARK, N.J. -- You don't want to stand out the way rookie tight end
Jace Amaro
did in Wednesday's organized team activity. He had a number of ugly drops and looked lost at times in the offense, something
New York Jets
coach Rex Ryan didn't have to be prompted to address in his post-practice news conference.

Amaro
"All you've got to do is look at Jace," Ryan said. "Jace had like three drops today. And I'm like wait a second, he did catch 106 balls right? But, he had three drops and that's where clearly a guy is thinking so much that all of a sudden you lose the focus on what Job 1 is: catch the football."
At 6-foot-5 and 265 pounds, Amaro is a bigger receiving tight end than the Jets have had in the past. He left after his junior year at Texas Tech, and the Jets nabbed him in the second round of the draft. There is a lot of promise in that frame, but Amaro sat at his locker after practice and had disappointment etched on his face.
"It's been fun out there, but I have to make sure I get better," Amaro said. "Today, just have to make sure you're getting better at routes. I'm just overthinking a little too much on the plays and stuff like that."
As annoyed as Ryan was with Amaro's performance, he was able to put it into context. It's not like the Jets are preparing for the first game of the season -- it's June. This is the time to make mistakes.
"It wasn't a good thing, but, he's really been looking good until today," Ryan said. "There (are) moments with each guy and you can say some real positive things and then you've got some with growing pains."
That didn't take the sting out for Amaro.
"I have high standards," Amaro said. "I could have stayed and just been comfortable for one more year, but I chose not to and I'm ready for the challenge."
June, 4, 2014
6/04/14
3:35
PM ET
FLORHAM PARK, N.J. --
New York Jets
cornerback
Dee Milliner
was held out of Wednesday's organized team activities with tightness in his left hamstring.
"Just precautionary," Milliner said after practice. "I'll be fine."
The Jets are counting on Milliner, the ninth overall pick in 2013, to be one of their starting cornerbacks this season. He started 12 games as a rookie, but missed last year's OTAs and minicamp with a torn labrum, missed two preseason games with an Achilles injury, and missed three regular season games with a hamstring injury.
Jets coach Rex Ryan said Milliner has been "impressive" thus far in OTAs, prior to the hamstring issue, but needs to stay on the field.
"He has to understand too that he's gotta be in extraordinary shape," Ryan said. "His challenge will be to be in world-class shape, 'cause we gotta have you out there. He needs to be out there and he needs to get work, 'cause that's how he's gonna get better.
"And you saw it as the year went on last year, he got better because of the work on the practice field and in the classroom. He was taking off from there, and you don't want to see this happen. He's gotta step it up, because I think he's got all the talent in the world."
Sloppy!
The Jets practiced for two hours on Wednesday, with owner Woody Johnson and general manager John Idzik joining Ryan on the sideline -- and it wasn't pretty.
Neither
Geno Smith
nor
Michael Vick
looked particularly sharp at quarterback, rookie tight end
Jace Amaro
had multiple dropped passes, and there were several yellow flags, resulting in push-ups for the entire team and staff.
"We had like six or seven penalties today, we were blowing coverages, blowing assignments," Ryan said. "It's a good thing we're not playing, 'cause it was kind of ugly out there today."
Amaro, the team's second-round draft pick, had 106 catches for an FBS-record 1,352 yards last year for Texas Tech. "But he's really been looking good until today," Ryan said.
Step right up:
First-round draft pick
Calvin Pryor
, who finalized his contract on Monday, played with the first unit Wednesday, along with fellow safety
Antonio Allen
.
Dawan Landry
, who started all 16 games for the Jets last season, played with the backups.
"We expect this young man's gonna contribute in a big way for us, there's no doubt," Ryan said, of Pryor. "I know [Landry] knows what to do. I gotta get these other two to work together and communicate together.
"That's why you throw [Pryor] out there. You leave him out there with the ones, and let's see what happens. Make him communicate with the other guys that are working, and we'll see how it goes."
May, 17, 2014
5/17/14
2:35
PM ET
FLORHAM PARK, N.J. -- The
New York Jets
practiced for two hours Saturday under sunny skies. A few takeaways from Day 2 of rookie camp:
Pryor
Good to the last drop
: In the what has become a rite of spring around the Jets, the receivers struggled with drops throughout practice. All three draft picks dropped at least one pass --
Jalen Saunders
,
Shaq Evans
and
Quincy Enunwa
. Not even tight end
Jace Amaro
, a sure-handed pass-catcher, was immune. Many of the drops came against "air," which can be attributed to a lack of concentration. It was a particularly tough day for Saunders, who dropped a long ball and a well-thrown pass on a crossing route. The dropsie epidemic strikes the Jets every spring. This time, coach Rex Ryan wasn't critical. He chalked it up to rookies being rookies. "Their heads are spinning," he said. The Jets need one of these rookies to stand out from the crowd, emerging as a contributor.
Calvin a quick study
: First-round pick
Calvin Pryor
didn't make any eye-catching plays (remember, these are non-contact practices), but he continued to impress the coaches with his knowledge of the defense. Ryan praised the hard-hitting safety for being a quick study, calling him the most impressive player in camp. Specifically, he said the former Louisville standout has "great pattern recognition." Pryor definitely has a swagger, admitting afterward that he loves to talk trash. Nothing wrong with that; the Jets could use a little more of that attitude on defense.
Boyd can relate to Geno
:
Tajh Boyd
is experiencing what
Geno Smith
went through a year ago, learning a pro-style offense after playing almost exclusively in the shotgun in college. The footwork is different. So is the timing of the pass routes. It's not an easy transition, which explains why Boyd has struggled with his accuracy in this camp. There were some hiccups on short and intermediate routes, but say this for Boyd: He throws a good deep ball. He was victimized by a couple of drops on long passes. Speaking to him afterward, Boyd came across as confident and charismatic. It's easy to see why he was considered such a good leader at Clemson.
Odds and ends:
Safety
Rontez Miles
, who spent most of last season on the practice squad, is attending the camp, but he's still not 100 percent after offseason hip surgery. ... Running back
Alex Green
remains on the roster. On Friday night, he sent out a tweet that suggested he had been released. He apparently thought he was toasted after the Jets acquired
Daryl Richardson
on waivers. Ryan said Green made an incorrect assumption. ... Ryan felt they were "loaded at running back" before picking up Richardson, but he believes that Richardson upgrades the position. They have five veterans at running back. ... Pryor switched his number, changing to 25.
May, 16, 2014
5/16/14
5:00
AM ET
The
New York Jets
' largest draft class since 1998 will participate in a three-day rookie camp, starting Friday. Only the first two days are open to the media. No portion is open to the public. What we might see from the Idzik 12:
Pryor
1. The Louisville Slugger
: First-round pick
Calvin Pryor
won't generate as much rookie-camp buzz as
Geno Smith
did last year, but that's because he's a safety, not a quarterback. Because he's a safety known for his physical style of play, Pryor probably won't get a chance to show everyone why they called him the "Louisville Slugger" in college. After all, it's a non-contact camp. Nevertheless, it'll be interesting to see his movement skills and how well he responds in pass coverage. That wasn't his forte in college.
2. The catcher
: By the nature of his position and college résumé, second-round pick
Jace Amaro
, a record-setting tight end at Texas Tech, will draw the most attention in camp. He put up video-game numbers in the Big 12, which plays no defense, so it'll be fascinating to see if he's the real deal. There will be a learning curve, as he attempts to get acclimated in a pro-style offense. The matchup everyone wants to see, of course, is Amaro vs. Pryor in a one-on-one coverage drill.
3. A mini-Senior Bowl
: The Jets devoted nearly half their 12-player draft to wide receivers and cornerbacks -- three receivers (
Jalen Saunders
,
Shaq Evans
and
Quincy Enunwa
) and two corners (
Dexter McDougle
and
Brandon Dixon
). There will be ample head-to-head opportunities, turning rookie camp into scaled-down version of an all-star game. It'll be ideal for evaluation purposes. McDougle, who underwent shoulder surgery last September and missed the season, could be limited.
4. The Tajh Show
: Quarterback
Tajh Boyd
was surprised he lasted until the sixth round; he felt he was a first-round talent. Well, now he gets a chance to prove the skeptics wrong. It won't happen in one weekend, as this will mark the start of a long, arduous process, but you know what they say about first impressions. The former Clemson star has a lot of work ahead of him, learning a pro-style offense and cleaning up mechanical flaws in his delivery.
5. Big Mac
: This will be the media's first chance to see new special teams coordinator Thomas McGaughey, who replaces Ben Kotwica.
May, 13, 2014
5/13/14
10:30
AM ET
Leftover "sound" bites from draft weekend, with general manager John Idzik, Rex Ryan and senior director of college scouting Terry Bradway discussing some of the
New York Jets
' second- and third-day draft picks:

Amaro
Idzik on whether second-round tight end Jace Amaro can block well enough to be used in-line or flexed out as a receiver
: "I think we can do both, really. He hadn't been in-line as much. He did do a little bit of that at (Texas) Tech. He certainly has the size and he has the will, too. You see him get after it as a blocker. I think he has the size and now it's just a matter of getting a (few) more reps at doing it. We're not concerned that way.
Ryan on third-round cornerback Dex McDougle
: "When we watched him, we saw a guy that we think has versatility, can play outside, can play inside as a nickel possibly. Obviously, we like his cover skills. But we think he's a complete corner. We think he can tackle. We know he can tackle. He's aggressive. He'll challenge you at the line of scrimmage. He's got good ball skills. And, obviously, we feel good he can run. But (he's) a very aggressive player as well. And the thing that I thought was impressive."
Bradway on fourth-round wide receiver Jalen Saunders, listed at 5-foot-9, 175 pounds
: "I think he's played both inside and outside. You're right, he is smaller in stature, but he's as tough as they come. You go watch him play ... no fear. He's blocking bigger guys. He's breaking some tackles. He's a dynamic playmaker with a ball in his hands, too. He brings that return element. It was really an attractive pick for us."
Ryan on sixth-round cornerback Brandon Dixon
: "He's coming from a small school (Northwest Missouri State). So I get that, that there'll be some developing there. But at his school, wow, it was zero coverage or cover-1. So, he's got the guts, I'll tell you that. He's played it. The measurables, he's got size, he's got speed, and the thing that I was impressed with when you saw all the scouts' grades and the coaches', it was competitiveness. This young man is a competitor, and I think that's what he's going to bring. How quick he learns the system and all that, we'll have to determine that at a different time. But I love the competitiveness and obviously his God-given size-speed combination is rare."
Ryan on fifth-round linebacker Jeremiah George, only 5-11, 234 pounds
: "I like having the flexibility of playing a 'Mike' linebacker or a 'Will' linebacker. ... So here, he fits a role. We'll try to teach him both. We'll flip both those guys. That's what you want to have, that kind of flexibility. We love the fact that he's a run-hit guy, loves to play. He's got great passion for the game. You mentioned the production. We saw all that. We really like him. ... Sometimes (size) can be overrated. Zach Thomas was one of the best linebackers in the league and he was much smaller in a 3-4."
Idzik on whether linebacker Trevor Reilly's age (26) dropped him to the seventh round
: "That may be a factor. The bottom line is, what do you think of him as a player and a person? Again, he fit that way for us."
May, 12, 2014
5/12/14
2:00
PM ET
One of the lingering questions involving the
New York Jets
is whether they adequately addressed their wide-receiver need in the draft.
Amid the endless pre-draft hype, they were linked to big-name prospects such as
Odell Beckham
Jr.
,
Brandin Cooks
and
Marqise Lee
. They went hard after receivers on the third day, selecting three wideouts, but it's never a sure thing when you're relying on middle- and late-round picks. ESPN draft analyst Todd McShay agrees, claiming the Jets' draft strategy underscores their belief that
Eric Decker
-- the No. 2 receiver with the
Denver Broncos
-- will be their top dog for the foreseeable future.
"Outside of (the three picks), I don't think they were really able to solve their problem at wide receiver," McShay said Monday on a media conference call. "You have to believe Eric Decker is your No. 1 if you're going to spend that money" -- meaning the five-year, $36.25 million contract.

Amaro
The Jets drafted
Jalen Saunders
(fourth round),
Shaq Evans
(fourth) and
Quincy Enunwa
(sixth), but their key draft pick is tight end
Jace Amaro
(second). McShay described Amaro as a "big wide receiver" who needs to make an immediate impact. To me, he's the key to the draft.
"Ultimately, you need Amaro to come in and contribute, and you need more from
Stephen Hill
and you need Eric Decker to play the way he was paid," McShay said. "Hopefully, between Saunders, Evans and Enunwa, if you hit on one of those guys, you'll fill out the depth a little bit."
McShay believes the Jets got good value with their first two picks, safety
Calvin Pryor
and Amaro, but he wonders if they reached for need in the third round, taking cornerback
Dex McDougle
. No matter how team officials try to spin it, this was a "need" draft for the Jets. It's the kind of strategy that results in reaches, which end up being bad picks.
"Could they have gone wide receiver there? Yeah, sure, there were some better players at wide receiver available (in the third round), but they're still trying to fill in that secondary and get the right guys there," McShay said.
Pryor
McShay offered a few other takeaways on the Jets' draft. He sees Pryor as a great fit in Rex Ryan's defense, but he wonders if he'll have to dial back his aggressive ways to conform to the new safety rules.
"I know some Jets fans were frustrated they went with (him) at 18, but he was just a really good value and he fits what they want," McShay said. "They want a guy who's going to set a tone physically, who's tough. He's got enough range to cover the deep third and the deep middle of the field. He's never going to be a matchup safety, but he can cover in zone, he's capable of playing in the box and he's going to fill the alley hard. I mean, he knocked some guys out. He's probably going to wind up with some fines in the league, and he may have to adjust his mentality a little bit, but he's a perfect Rex Ryan-type football player."
The criticism of Amaro is he's a below average blocker. Doesn't matter, according to McShay.
"He can block a little bit, but ultimately all they did was draft a big wide receiver they can flex out and put in the slot, even split out wide at times and try to create some mismatches," he said. "I really like that pick for the Jets."
McShay's take on the next three picks:
McDougle: "I like his tape. He has durability issues, but I thought he was one of the under-rated players in this draft. When you studied what he did in 2012 and his first couple of games this season, he's got a lot of potential. They obviously love drafting defensive backs."
Saunders: "He's quick. He's a good slot receiver, he makes plays and he create after the catch."
Evans: "We had him in that fourth/fifth-round range. He doesn't have explosive burst. He's not going to stretch the field much vertically, but he has good hands and I thought he had a really good performance at the Senior Bowl. He's got a chance to stick maybe as the No. 4 or No. 5."
May, 10, 2014
5/10/14
8:00
PM ET
»
NFC wrap-ups
:
East
|
West
|
North
|
South
»
AFC
:
East
|
West
|
North
|
South
FLORHAM PARK, N.J. -- A wrap-up of the
New York Jets
' draft.
Click here
for a full list of Jets draftees.
[+] Enlarge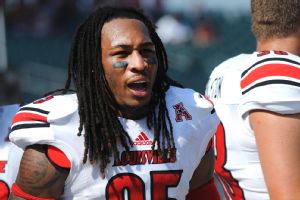 AP Photo/Tomasso DeRosaThe Jets' scouts believe safety Calvin Pryor has enough athleticism and range to hold up in coverage.
Best move:
Safety
Calvin Pryor
in the first round was a solid move. It came as a mild surprise because of their previous philosophy at the position. Rex Ryan always treated his safeties as interchangeable parts, saving the big money for the cornerbacks. Now they are trying to copycat the champion
Seattle Seahawks
, recognizing the importance of safeties in the current NFL. Let's face it, the Jets' safeties were mediocre at best last season, so they needed a playmaker. Pryor isn't a ballhawk, but he's a hard-hitting enforcer who will bring attitude to the secondary, the weak link on defense. He was a good value at No. 18 overall. They could have used a cornerback in Round 1, but their scouts believe Pryor has enough athleticism and range to hold up in pass coverage. Pryor will be a Week 1 starter, mark it down.
Riskiest move:
Third-round cornerback
Dex McDougle
missed the final nine games last season because of shoulder surgery. So, yes, he qualifies as a risk. Cornerback is the last place they needed another durability question; remember, they signed the injury-prone
Dimitri Patterson
in free agency -- and he's a likely starter. With McDougle, the Jets are making a projection based on his junior tape -- but it's not like he lit up in the ACC in 2012. He displayed ball skills in the first three games of '13 (three picks), but the competition was highly suspect. At 5-foot-10, he'll have trouble matching up against the big receivers. The Jets' scouts were giddy after watching his pro day (he ran the 40 in 4.43 seconds), but great pro days don't always translate to the field. McDougle doesn't solve the concerns at cornerback.
Most surprising move:
We'll call this most surprising nonmove. The Jets went into the draft with 12 picks and came out with 12 players -- not a single trade, reinforcing John Idzik's reputation as a conservative general manager. Naturally, he was satisfied with the outcome, but this was curious draft management. The Jets squandered a rare opportunity. They could have used the extra ammunition to jump other teams, allowing them to cherry-pick players they really wanted. They tried to trade up in the second round for wide receiver
Marqise Lee
, but they couldn't get a deal done. Right now, their draft haul includes a handful of small-school players and undersized talents for their respective positions. You can't help but wonder if they could have done better. Of course, their passive approach will be forgotten if it turns into a watershed draft for the Jets.
File it away:
The wild card is second-round tight end
Jace Amaro
. He was the most prolific pass-catching tight end in college football, but were his gaudy statistics (106 catches for 1,352 yards in 2013) the product of Texas Tech's pass-happy offense? It will be fascinating to see it play out because, if the Jets are right about him, they will have a legitimate threat at a position that has been a black hole in their passing attack. No one is expecting him to be the next
Jimmy Graham
, but if he can be a poor man's Graham, the Jets' passing game -- ranked 31st last season -- will be dramatically improved. It might take time, though. Amaro faces a potentially difficult transition into a pro-style offense. He's not a blocker, so it will be up to coordinator Marty Mornhinweg to scheme up ways to feature his strengths.
May, 10, 2014
5/10/14
12:40
AM ET
FLORHAM PARK, N.J. -- Give the
New York Jets
credit for finally recognizing the importance of having a receiving threat at tight end. On Friday night, they used a second-round pick on
Jace Amaro
, who has modeled his game after
Rob Gronkowski
and
Jimmy Graham
.
Yes, the position has evolved, and Amaro could be the next new-age tight end.
[+] Enlarge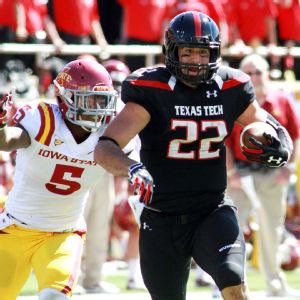 Michael C. Johnson/USA TODAY SportsJace Amaro believes his numbers at Texas Tech can translate into the Jets' offense.
Or he could be a flop, a product of a Texas Tech system that generates video-game statistics for quarterbacks and pass-catchers. It's one of the most difficult aspects of scouting, looking past the inflated numbers and separating the future stars from the faux prospects. Naturally, the Jets say they got it right, but there are enough questions about Amaro that make you wonder.
Amaro doesn't have top-end speed (a less-than-stellar 4.74 in the 40) and some scouts say he can struggle to separate from defenders. There will be a significant transition period as he attempts to learn a pro-style offense. He acknowledged that Kliff Kingsbury's offense is "easy to understand. The plays are very simple." He said it may take a couple of weeks to learn Marty Mornhinweg's system. A couple of weeks? He doesn't know what he doesn't know.
"Obviously, now in college football with spread offenses, a lot of numbers are put up," said Terry Bradway, the Jets' senior director of college scouting. "But when you look at him, we like the way he runs routes and he catches the ball well. ... Anytime you're evaluating a college player, it's not apples to apples, but we have a pretty good feel for this player, watching him on tape."
At 6-5, 265 pounds, Amaro passes the look test. His 2013 numbers resemble career numbers -- 106 receptions for 1,352 yards, an FBS record for most receiving yards in a season for a tight end. Then again, the water boy could step into the Texas Tech offense and catch passes. In Kingsbury's up-tempo system, in which Amaro was deployed mostly in the slot, the Red Raiders averaged 55 passes per game.
All the Jets can do is trust their eyes and instincts. They believe he can be a big-time tight end, providing a new dimension in their refurbished offense. With
Eric Decker
on the outside, with Amaro working the middle seams and with
Chris Johnson
in the backfield, the Jets actually have legitimate balance. Young, athletic tight ends are starting to populate the landscape, changing the way offense is played. Finally, the Jets are hip to the trend.
"Believe me, those guys are hard to defend," coach Rex Ryan said.
Amaro was widely projected as a second-round pick, so it's not like the Jets reached. He was the third tight end off the board, behind
Eric Ebron
and
Austin Seferian-Jenkins
. None of them are accomplished blockers; they're basically wide receivers in tight end bodies. Amaro believes he should've been ranked up there with Ebron, who was picked 10th overall.
"Going into the draft ... I always felt like I was the best guy," he said. "I was the most versatile. I had the record for the most receiving yards for a tight end ever. I think that's something that needs to be put into a lot of play. I think we're similar, but he ended up being a top-10 pick and I didn't. The only thing I can do is show them why I should've been there."
The Jets hope he's right.
May, 9, 2014
5/09/14
8:49
PM ET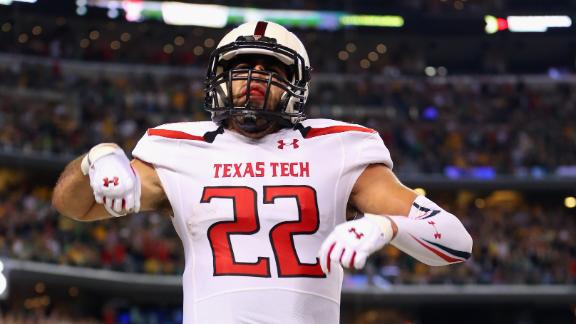 FLORHAM PARK, N.J. --
The pick
:
Jace Amaro
, TE, Texas Tech
My take:
The Jets continued their extreme makeover on offense, selecting the most prolific pass-catching tight end in the nation. They can't use the "no weapons" alibi anymore. Amaro joins wide receiver
Eric Decker
, running back
Chris Johnson
and quarterback
Michael Vick
(if he starts) in a new-look offense. The Jets still have
Jeff Cumberland
at tight end, but Amaro gives them a legitimate threat in the passing game.
Make no mistake, Amaro is a catcher, not a blocker. Consider: 97 of his 106 receptions last season came when he lined up in the slot or a wide receiver position. At 6-foot-5, 265 pounds, Amaro is a big target, but he runs well (4.74 seconds in the 40). He racked up 1,352 yards last season, an FBS record for tight ends. The numbers are deceptive because Texas Tech ran a wide-open, pass-happy offense, but you can't throw a wet blanket on 106 catches. The concern is that he might be a one-year wonder. He was a nonfactor in his first two seasons.
A new dimension
: The Jets hadn't drafted a tight end since 2008, when they picked
Dustin Keller
at the bottom of the first round. Amaro's arrival should allow offensive coordinator Marty Mornhinweg to open up his playbook, incorporating the tight end position into the passing game. A year ago, the Jets didn't use many two-tight end packages at all. Now they can use Cumberland as the traditional "Y" (in-line tight end), with Amaro flexed out as a receiver. Their tight end production was below average last season -- 63 receptions and only six touchdowns. If Amaro is as good as advertised, the beneficiary will be quarterback
Geno Smith
. Nothing helps a young quarterback more than a reliable tight end who can work the middle of the field.
What's next
: The Jets own a third-round pick (80th overall). They could go in a number of directions -- wide receiver, cornerback or pass-rusher.
May, 1, 2014
5/01/14
5:00
PM ET
NFL Network draft analyst Mike Mayock held a two-hour conference call on Thursday, and here were some of the things that were notable from this viewpoint:

Amaro
1.
Patriots chatter at 29:
Asked his thoughts about what the Patriots might do at No. 29 and beyond, Mayock said tight end
Jace Amaro
could fill an
Aaron Hernandez
-type on-field role that would create another dynamic in the passing game. Mayock said he has a second-round grade on Amaro, but specific to the Patriots, he said, "I find that fairly intriguing." Mayock mentioned interior defensive line and safety as two other areas that he felt the club could help itself by addressing, before adding the unpredictable Patriots will likely be busy with trades, as usual.
Manziel
2.
Better quality at quarterback this year:
Mayock made the point that he has 10 quarterbacks with grades within the first three rounds, which is much higher than the norm. This highlights the thought that it's a good year for teams seeking developmental quarterbacks, as the Patriots appear to be. Specific to Pittsburgh's
Tom Savage
, who has seemed to pick up quite a bit of momentum in recent weeks, Mayock mentioned him in the late third-round range. Mayock sees Texas A&M's
Johnny Manziel
and Georgia's
Aaron Murray
as the two quarterbacks most ready to play, while everyone else is more suited to a red-shirt year.
3.
Conflicting opinion on defensive line class:
We were surprised when Patriots director of player personnel Nick Caserio pinpointed the defensive line as one of the depth spots in the draft in his pre-draft news conference, because that ran counter to what most media analysts have said to this point. Mayock sees the D-line class as light, particularly at end. Mayock also called this a bad tight end class, and his point on the offensive tackles was notable, saying it's not as good of a class as some suggest after the top group of seven. Mayock likes the guard class, which means there could be some mid-round value there (the Patriots could target that area).
Mankins
4.
Re-telling the Mankins story:
Mayock relayed the story about the Patriots' 2005 draft and how it's a good lesson for anyone. The team was coming off a Super Bowl victory and badly wanted to go defense at No. 32, according to Mayock, but the board was picked clean and they instead were flexible in switching to Fresno State offensive lineman
Logan Mankins
. Ultimately, the team was rewarded for not forcing a need, and that was Mayock's main point -- teams shouldn't lock in and must remain light on their feet to pick good football players regardless of position.
April, 10, 2014
4/10/14
12:10
PM ET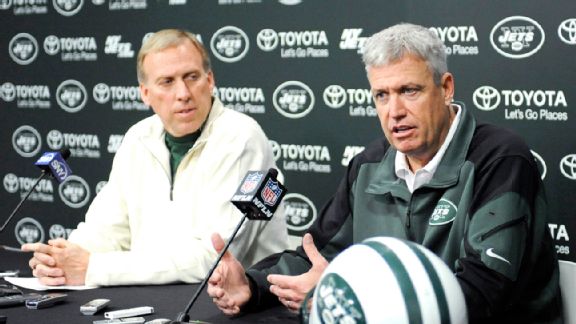 AP Photo/Bill KostrounWill Jets GM John Idzik draft the starting-caliber cornerback that Rex Ryan needs?
The biggest cliché you will read or hear over the next few weeks will be from NFL experts explaining that this will be a critical draft for (insert any team name).
Hello?
They're all critical because they happen only once a year.
The second-biggest cliché will be from smart-alecks like me reminding you it's a cliché.
That said, I'll probably incur a penalty flag for writing this, but there are special cases -- see the
New York Jets
-- where there is simply no way to minimize the importance of a particular draft.
This is one of those years for the Jets. Because of their deliberate approach in free agency -- some might say cheap -- they have raised the stakes for the upcoming draft. May 8-10 will be the three biggest days of the year for a franchise in Stage 2 of its rebuilding project.
Despite having enough salary-cap room to pay an entire small-market baseball team, general manager John Idzik chose to save most of his money, counting on a bountiful draft to fill the many holes on the Jets' roster.
You might say he's putting most of his eggs in one basket, and it happens to be a complete dozen -- 12 draft picks. He'll have yolk on the face if he blows this draft, because he passed up a lot of potential upgrades in free agency.
Many fans are restless because they are not accustomed to this way of doing business. Under Idzik's predecessor, Mike Tannenbaum, the Jets owned the New York back pages in March, titillating the fan base with sexy trades and expensive signings.
Tannenbaum knew how to feed the beast, but there was a method to his madness. His research told him they were better off spending the money on proven commodities instead of stockpiling draft choices, figuring the bust rate of draft picks -- especially in the late rounds -- didn't validate the risk-reward.
In the past six drafts under Tannenbaum, 2007 to 2012, the Jets added 31 players -- an average of roughly five per year. If Idzik keeps his full allotment of choices, which includes four compensatory selections and a pick from the
Darrelle Revis
trade, he'll be up to 19 picks in two drafts.
Tannenbaum's plan damn near worked, as the Jets reached back-to-back AFC Championship Games in 2009 and 2010, but the talent base eventually eroded and he was fired. Now they have the anti-Tannenbaum in Idzik, building at a glacial pace through the draft.
"The football offseason is like an event, a circus act, and fans in general want to see something," a longtime personnel executive said this week. "With John, he takes the air out of the balloon. It's not exciting, but he does it his way. You have to respect that."
Idzik's way is similar to those of the
Green Bay Packers
,
San Francisco 49ers
and
Seattle Seahawks
, three successful organizations that rely on the draft more than free agency. In Wisconsin, you're more likely to see a March thaw than a flurry of free-agent signings. The signing of
Julius Peppers
last month was a stunning departure from the norm, a rare walk on the wild side by GM Ted Thompson.
Their usual philosophy: Draft. Develop. Extend. In other words, use your money to re-invest in your homegrown talent.
"He's modeling those organizations," the former personnel executive said of Idzik.
Idzik has to yet to make a long-term commitment to an ascending player, although you could make the case that the Jets haven't had anyone worthy of a contract extension. That will change when defensive end
Muhammad Wilkerson
gets a new deal, this year or next. For now, the objective is to find more Wilkersons.
Their list of needs is long, perhaps too long, considering they began free agency with close to $40 million in cap room. They upgraded the No. 2 wide receiver spot by signing
Eric Decker
, and they fortified the quarterback position by adding
Michael Vick
. But where are the playmakers? If the Jets are counting on Decker to be a difference-maker, they misspent their guaranteed $15 million.
Defensively, the personnel is worse than it was at the end of the season, specifically at cornerback. The mistake wasn't cutting
Antonio Cromartie
and making no effort to re-sign him; after all, he played poorly last season. No, the mistake was failing to come up with a better replacement than the aging and injury-prone
Dimitri Patterson
.
Defense will drive the Jets as long as Rex Ryan is the coach, and his defensive system is driven by cornerbacks. Idzik knows that, but he obviously held back in free agency, knowing he has an XXL draft to attack the team's weaknesses.
The second-year GM and his revamped scouting department enjoyed a solid first draft, so there is hope, but the challenge is greater this year because the expectation level is higher. If you're going to be frugal in free agency, you had better own the draft.
The Jets need to come away with a starting-caliber cornerback, a potential No. 1 receiver and a pass-catching tight end. With six choices among the top 137, they have the bargaining chips to wheel and deal. Idzik has enough ammo to take control of the draft, cherry-picking the players he covets most. A
Justin Gilbert
-
Allen Robinson
-
Jace Amaro
troika would be a nice start.
This is a critical draft for the Jets. Sorry about the cliché, but it's the truth.
April, 3, 2014
4/03/14
12:15
PM ET
A team often can fill its biggest needs in free agency, creating more flexibility when it comes time for the draft. In other words, the team can draft the best available player (in theory) without having to reach to address a need.
You can't say that about the
New York Jets
. They signed five free agents from other teams, including two wide receivers and a cornerback, but their top needs remain the same -- wide receiver, tight end and cornerback. This illustrates an absolute lack of depth at those positions.