AFC East:

Jaiquawn Jarrett
December, 19, 2013
12/19/13
6:15
PM ET
FLORHAM PARK, N.J. -- Out of playoff contention, the
New York Jets
are planning to use the final two games to evaluate certain young players. Reading between the lines, it could mean Rex Ryan feels secure and isn't worried about having to win the final two games to save his job.
Or it could mean nothing. It could mean general manager John Idzik is calling the shots. There are many ways to interpret it.
Bush
"We're going to utilize out entire defensive roster the next couple of weeks and we'll get a chance to evaluate some guys who haven't played as much," defensive coordinator Dennis Thurman said, mentioning safeties
Josh Bush
and
Jaiquawn Jarrett
among that group.
Thurman emphasized they're still trying to win the games. He acknowledged "it can be difficult" to balance it, adding, "But we have to try to do it. It's something that's important to us, to get a look at these guys on tape in game action against another team's first unit."
There was no official word on whether they will take the same approach on offense, but it wouldn't be surprising to see wide receiver
Saalim Hakim
, running back
Alex Green
and tight end
Zach Sudfeld
in expanded roles.
The Jets are starting five rookies on both sides of the ball, so it's not like the bench is filled with young players starved for playing time.
If Bush and Jarrett see more time, it would appear that future Hall of Famer
Ed Reed
would have a reduced role. Reed, 35, has played the vast majority of the defensive snaps since signing with the Jets last month.
Statistically, this has been a disappointing season for the defense, which ranks 12th in yards allowed. In eight seasons as a defensive coordinator (
Baltimore Ravens
) and head coach, Ryan's defense has ranked no lower than eighth -- and that was last season.
In the preseason, Ryan predicted a top-five finish.
"I just assumed that's where we'd always be," he said. "I'd just assumed we'd be there, but to me, it's just the wins and the losses. I think that's the disappointment. That's where the disappointment comes in."
November, 15, 2013
11/15/13
10:25
AM ET
Newly signed safety
Ed Reed
will have a "defined role" Sunday against the
Buffalo Bills
, said
New York Jets
defensive coordinator Dennis Thurman, adding: "We're going to use him in situations where we feel like he can help us be successful."
Reed
Presumably, that means passing situations where he can do what he does best -- play the deep middle in a single-high safety look. Of course, it wouldn't be at all surprising if Reed plays a significant amount of snaps. That would mean more bench time for
Antonio Allen
and
Jaiquawn Jarrett
, who have been sharing the No. 2 safety spot.
Here's a breakdown of how the Jets have divided the playing time at safety through nine games:
Dawan Landry
-- 620/626 snaps (99 percent)
Antonio Allen -- 397/626 snaps (63 percent)
Jaiquawn Jarrett -- 234/626 snaps (37 percent)
Josh Bush
-- 47/626 snaps (8 percent)
October, 18, 2013
10/18/13
4:00
PM ET
Rex Ryan wanted his players so focused and well-rested for the
New England Patriots
that he told them to skip household chores for a week. On Sunday, we'll find out if the couch-potato approach worked.
It would help if they could hold on to the ball.
That has been the biggest difference between the
New York Jets
and Patriots over the last few years -- ball security. During their current five-game losing streak to the Patriots, the Jets are minus-11 in turnover margin. They give it away easier than day-old cheesecake at a bake sale. Can they reverse the trend? Kickoff is at 1 p.m. at MetLife Stadium, where the Patriots (5-1) will try to win their 13th straight AFC East game. The Jets (3-3) need a win to stay in the thick of the division race.
What to watch for:
[+] Enlarge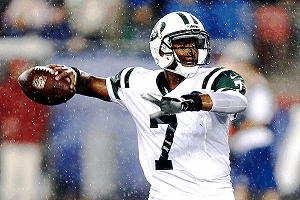 Mark L. Baer/USA TODAY SportsGeno Smith had a rough first game against the Patriots, going 15-for-35 passing with three picks.
1. A second look for Geno
: Rookie QB
Geno Smith
should fare better this time around. Then again, it can't get worse than the first meeting in Week 2, when he threw three interceptions in the final 11 plays. His familiarity with the Patriots, coupled with a full week to prepare (Round 1 was on a Thursday), is bound to help. It's all about game management. Smith won't see a lot of pressure schemes from Patriots coach Bill Belichick, who will test the kid's patience by forcing him to dink and dunk. The Patriots may take a more conservative approach than usual if CB
Aqib Talib
(hip) doesn't play. Statistically, there's a big drop-off when he's off the field. Talib intercepted Smith twice in the first game.
2. Hey, Marty: Run!:
Offensive coordinator Marty Mornhinweg tried to establish a ground game last week, but he gave up after a quarter. This time, he needs to stick with it. The Patriots have gaping -- repeat, gaping -- holes in their front seven with DT
Vince Wilfork
and LB
Jerod Mayo
done for the season. DT
Tommy Kelly
also could miss the game, meaning they will start two unheralded rookies at defensive tackle --
Joe Vellano
, an undrafted free agent, and
Chris Jones
, cut by two other teams. If C
Nick Mangold
and RG
Willie Colon
don't control the point of attack, something is wrong. Of course, this will require a commitment from the pass-happy Mornhinweg. The Jets will miss
Mike Goodson
's outside speed, but they won't need it if
Bilal Powell
and
Chris Ivory
can hammer away inside the tackles.
3. Frustrating Brady isn't enough
: Can anybody remember the last time the Jets intercepted
Tom Brady
? It was Oct. 9, 2011: CB
Antonio Cromartie
picked Brady on the final play of the first half. Since then, he has gone 163 passes against the Jets without an interception. That's ridiculous. In Week 2, the Jets proved a dominant effort versus Brady doesn't mean much without turnovers. They held the Patriots to nine first downs, yet they couldn't create any takeaways and lost, 13-10. The Jets need a big day from their corners, especially Cromartie, who admitted he's having only a "C year." Cro & Co. need to be ready for a lot of quick screens, which puts a premium on tackling. Brady's receiving corps has 16 drops, the third-highest total in the league.
4. Dealing with Gronk
: This changes things. Assuming TE
Rob Gronkowski
plays -- he was cleared Friday by doctors -- the Patriots now have a major weapon at their disposal, especially in the red zone. Their red zone efficiency sagged without the 6-foot-7 Gronk, Brady's favorite target. Since 2010, his completion percentage to Gronkowski is 72.2, about 10 percent higher than to other receivers, according to ESPN Stats & Information. In his last two games against the Jets, Gronkowski caught 14 passes for 191 yards and two touchdowns. If the Jets show as much respect to him as they did to
Tony Gonzalez
two weeks ago, you can expect double-vice coverage in the red zone. S
Jaiquawn Jarrett
also was heavily involved in the Gonzalez plan. Would the Jets put Cromartie on Gronk in certain situations? Just a thought.
5. Feed the green beast:
The Jets, trying to establish a true home-field advantage, want their fans to be loud and green. Ryan asked fans to wear green, creating a "Green Out" effect. OK, fine, but it would help to grab the attention of the wine-sipping, shrimp-eating masses if they jumped to an early lead. The Jets have led for only 52 minutes in six games, half of which came in the win over the
Buffalo Bills
. A dynamic, game-changing play in the first quarter would help immensely. Maybe this is where
Josh Cribbs
becomes a factor. Maybe he can add some sizzle to the special teams. A big play on defense would help, too, but the Jets are allergic to takeaways. In fact, they've gone 207 passes without an interception. They can't be taken seriously as a top-tier defense unless they make some plays.
August, 30, 2013
8/30/13
11:03
AM ET
Ten takeaways from the Jets' 27-20 win over the Eagles:
1. Looking like Geno:
I left the stadium early Friday morning thinking it'll be
Geno Smith
at quarterback when the Jets open against the Bucs.
Mark Sanchez
(shoulder) still hasn't resumed throwing, and I know there was some thought that he'd already be throwing by now. He has five days to make a rapid recovery, because I think the powers-that-be will want to make a decision by Wednesday. If Smith starts, he'll need every practice rep.
[+] Enlarge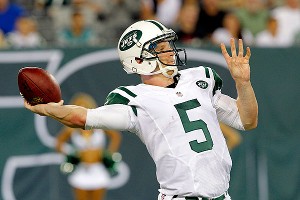 Hunter Martin/Philadelphia Eagles/Getty ImagesJets QB Matt Simms completed a strong preseason with his effort on Thursday against the Eagles.
2. Son of Phil shines
:
Matt Simms
was so good that Rex Ryan hinted after the game he could keep four quarterbacks. I think that might be more about the injuries to Sanchez and
Greg McElroy
(knee) than a reflection of awesome quarterback depth. Listening to sports radio on the way home, it's amazing to me that so many people want Simms to be the Week 1 starter. Yes, it was a strong preseason, but it came against second- and third-string players. Simms hasn't taken a first-team rep all summer. Perspective, please.
3. Tone's dress rehearsal
: Not only did
Santonio Holmes
participate in another pre-game warmup, but he did it in full uniform -- another baby step. The sense I get is that the Jets are hoping Holmes (foot) can play in the opener. As we've come to learn, Holmes may have a different opinion.
4. Hold on, Vlad
: OK, I admit it, I drank some of the Kool-Aid on
Vladimir Ducasse
. After his start against the Giants, and the subsequent release of
Stephen Peterman
, the Jets gave the impression that Ducasse finally realized his potential. But against the Eagles, rookie
Brian Winters
started at left guard, with Ryan later revealing that Ducasse and Winters are locked in a competition for the starting job. So let me get this straight: Ducasse, a three-year veteran, is neck-and-neck with a rookie who's played only two preseason games? I think we know where this is headed.
5. Safety dance
: Ryan said the safety competition between
Antonio Allen
and
Jaiquawn Jarrett
is "too close to call." Both made plays Thursday, including an interception for a touchdown by Allen. It sounds like Ryan may not declare a winner, noting it could go week-to-week based on the opponent. But here's the trouble with that: Allen and Jarrett are similar players, both "box" safeties. So, too, is
Dawan Landry
. This could be trouble against a spread offense.
6. Good grief, Jason
: Everybody is entitled to a bad night, but this was a really bad night for LT
Jason Smith
, who let more people pass him than a crossing guard. He made
Wayne Hunter
look like Anthony Munoz. Speaking of Hunter, he's available and the Jets need a backup swing tackle. Kidding.
7. Making a late push
: Players that really helped themselves heading into the final cut -- Simms, RB
Kahlil Bell
, LB
Ricky Sapp
, LB
Nick Bellore
, LB
Danny Lansanah
and DE
Leger Douzable
. CB
Mike Edwards
played well on kick coverage, but he was too tentative on kickoff returns.
8. Head scratcher
: It was strange to see
Kyle Wilson
in this game, considering Ryan bubble-wrapped almost every starter and key reserve. In theory, Wilson could be an opening-day starter, considering first-round pick
Dee Milliner
(calf) still is recovering from an injury. Milliner said he expects to play, but they'd still need Wilson in the nickel. Ryan said he used Wilson because he wanted to give him a chance to return punts and kickoffs, and he figured he might as well let him play cornerback, too. Something smells fishy.
9. Oh, Zach
: The
Wes Welker
wannabe had a solid camp, but
Zach Rogers
may have cost himself a chance by muffing a punt and alligator-arming a perfect pass. Still think he has a chance for the practice squad.
10. Not-so-chipper Chip
: If you're Eagles coach Chip Kelly, how can you feel comfortable with your backup QBs?
Nick Foles
and
Matt Barkley
were a combined 19-for-44. Simms threw 44 passes, too, except he completed 33.
August, 29, 2013
8/29/13
10:13
PM ET
EAST RUTHERFORD, N.J. -- The
New York Jets
' quarterback competition took a night off, as neither
Mark Sanchez
nor
Geno Smith
played Thursday night in the final preseason game.
Matt Simms
got the call and led the Jets to a
27-20 victory
over the
Philadelphia Eagles
at MetLife Stadium.

What it means:
The Jets finished the preseason at 3-1. Big deal. No one will remember their record in 24 hours. The focus shifts immediately to opening day and the Tampa Bay Buccaneers. There are a myriad questions for the Jets, starting with the quarterback position: Smith or Sanchez? Sanchez (shoulder) remains day-to-day and should know more about his status when he meets with the medical staff over the weekend.
No Geno:
That the Jets didn't play Smith suggests they believe there's a good chance he will be the opening-day starter. The rookie could've used the work -- his preseason consisted of 3½ quarters -- but it would've been too risky to expose him to potential injury. Coach Rex Ryan bubble-wrapped almost his entire starting lineup. The only projected starters/key reserves that saw action were
Vladimir Ducasse
(started at right guard), cornerback
Kyle Wilson
and safety
Antonio Allen
. Why play Wilson, a virtual starter? It was very curious and, no doubt, will fuel speculation about his future. Were the Jets showcasing him for a trade? Wilson has been a first-round disappointment, but he has value because of his versatility.
Tough dude, Simms:
Battling for the No. 3 QB job, Simms was absolutely terrific. Undaunted by a seven-sack first half, Son of Phil completed 33 of 44 passes for 285 yards and no turnovers, although there were a couple of near-interceptions. He went 25-for-27 in one stretch, shades of his dad in Super Bowl XXI. He showed toughness, poise and accuracy. How can he not make the team?
Greg McElroy
(knee), who didn't play, should be worried about his roster spot. Newly signed
Graham Harrell
didn't play, but could factor into the equation.
Porous pass protection:
The Jets had better hope their starting offensive linemen stay healthy, because the backups are shaky -- and that's being kind. They could be in the market for a backup swing tackle because veteran
Jason Smith
, who re-signed last week, played quite possibly one of the worst games ever by a lineman. Facing the Eagles' backups, Smith -- the No. 2 overall pick in 2009 -- allowed at least three sacks. He was pulled at halftime, the best thing to happen to Simms all night.
Defensive stand:
The Jets' No. 2 defense dominated Chip Kelly's No. 2 offense. LB
Ricky Sapp
, LB
Danny Lansanah
, DE
Leger Douzable
, LB
Nick Bellore
and S
Jaiquawn Jarrett
were among the standouts.
Kicking competition:
It was a draw between incumbent
Nick Folk
and challenger
Dan Carpenter
. Folk was good from 28 yards, Carpenter from 43. Each recorded a touchback on his only kickoff.
What's ahead:
Now comes the bloody part of the business. Teams must pare their rosters to 53 by 6 p.m. ET Saturday, meaning the Jets have to slice 22 players over the next 48 hours.
August, 28, 2013
8/28/13
8:14
PM ET
FLORHAM PARK, N.J. -- The Jets close the preseason Thursday against the Eagles at MetLife Stadium -- the annual backup bowl. Kickoff is 7 p.m. Stories to follow:


1. Quarterback drama on hold
:
Mark Sanchez
(shoulder) is out and, although the team hasn't made it official, rookie
Geno Smith
also will sit. This is a smart move by coach Rex Ryan. Really, it's the only move. Sure, Smith could use the work, as he showed in throwing three interceptions and taking a safety Saturday against the Giants, but it makes no sense to expose him to potential injury. After all, Smith could be the opening-day starter, depending on Sanchez's recovery. Ryan messed up last week with Sanchez, and he knows another blunder of that magnitude would put him in Woody Johnson's doghouse. (Probably the most luxurious doghouse in the neighborhood, though.)
2. The Simms spotlight
:
Matt Simms
, who entered camp fourth on the depth chart, will start under center against the Eagles. He'll probably play most of the game, considering
Greg McElroy
(knee) is out. This is the opportunity of a lifetime for Simms, son of Giants icon Phil Simms. He's having a terrific preseason, sporting a 137.5 passer rating, and could conceivably dislodge McElroy from the No. 3 job. Simms is rough around the edges, but he has the best arm on the team and the coaches love his moxie. Newly signed
Graham Harrell
, who arrived Wednesday, will be available for relief duty. The Eagles will start No. 2 QB
Nick Foles
, a former pupil of new Jets offensive coordinator Marty Mornhinweg. If the Jets were concerned about Sanchez's health to the point where they felt they needed a veteran, it would fuel heavy Foles speculation.
3. Position battles (other than quarterback)
: Placekicker and free safety remain open. PK
Dan Carpenter
was signed this week to compete with incumbent
Nick Folk
, who imperiled his spot last week with a missed field goal in OT.
Jaiquawn Jarrett
, a former second-round pick of the Eagles, is expected to start at free safety, but
Antonio Allen
is leading the competition.
4. Cinderella lives in Jersey
: WR
Ryan Spadola
, an undrafted rookie from Howell, N.J., via Lehigh, is the feel-good story of the summer. He's inching his way up the depth chart and has an outstanding chance to make the 53-man roster. Spadola leads the team with 169 receiving yards on seven catches, including a 70-yard play Saturday that set up the game-winning field goal in overtime. He's battling veterans
Ben Obomanu
and
Mohamed Massaquoi
for the fifth receiver spot; there's also a chance the Jets could keep six. It would be a stunner if Spadola is cut.
5. On the line
: This will be an important game for the three draft picks on the offensive line -- LG
Brian Winters
(third round), OT
Oday Aboushi
(fifth) and G
Will Campbell
(sixth). Aboushi and Campbell are on the bubble and need to play well to make the team. Aboushi's chances were hurt with last week's return of veteran backup
Jason Smith
. Campbell, making the transition to offense after playing defensive line in college, looks bound for the practice squad. Winters, uneven last week in his debut, could push presumptive starter
Vladimir Ducasse
as the season progresses.
August, 10, 2013
8/10/13
5:50
PM ET
CORTLAND, N.Y. -- Observations from the press box after the
New York Jets
' 26-17 loss to the
Detroit Lions
in the preseason opener:
1. A Rex-storm
: I think people are getting carried away with Rex Ryan's admission that he missed plays on offense -- including a lot of
Geno Smith
-- because he was too busy with the defense on the sideline. Granted, it was highly unusual for a head coach to admit such a thing; most coaches would've talked around it by saying, "I need to watch the tape." But let's remember one thing: It was a
preseason
game. If it had been the regular season, yes, he'd deserve criticism.
Presumably, Ryan is using the preseason to fix a defense that has seven new starters. When the real games start, he'll be in head-coach mode, managing the entire game -- at least he'd better be. He took a heavy-handed approach with the defense in 2009 and 2010, and that didn't stop the Jets from making the playoffs, did it?
2. MartyBall
: It serves no purpose to question play calling in the preseason -- coaches are in an experimental mode -- but it's worth noting that the Jets called 42 pass plays and only 16 runs against the Lions. Offensive coordinator Marty Mornhinweg is known as a pass-happy coach, a style that usually doesn't marry well with defensive-minded head coaches. Just saying.
[+] Enlarge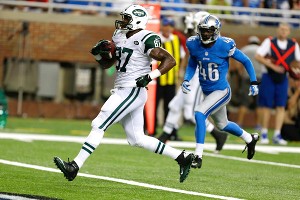 AP Photo/Scott BoehmJeff Cumberland scored in the first quarter. Last season, the Jets' offense didn't produce a TD until the fourth preseason game.
3. Off the Mark
: I watched
Mark Sanchez
's pick-6 over and over, and I still can't believe he made that throw. Rookie fullback
Tommy Bohanon
has to do a better job of leaking out of the backfield, but he was on his knees -- knocked over by ex-Jet
C.J. Mosley
-- when Sanchez lobbed the pass. Sanchez, backpedaling in the face of pressure, panicked.
But let's give credit where it's due: On the 26-yard touchdown pass to
Jeff Cumberland
, Sanchez made a fantastic read. He recognized 3-by-2 coverage on the weak side, knowing the Lions had no deep help on the strong side, where Cumberland ran a seam route. Sanchez showed nice anticipation, releasing the ball a split-second before Cumberland broke away from the linebacker.
As I noted Friday night
, Sanchez has moved into the lead for the starting job.
4. The new Geno
: Rookie QB Geno Smith played almost exclusively in the shotgun at West Virginia, so there was some question as to how he'd respond to playing under center in a traditional offense. There were no noticeable hiccups in the game. In fact, he was 3-for-3 for 27 yards under center and 3-for-4 for 20 yards from shotgun.
5. Rough debut
: RG
Willie Colon
was a solid player for many years with the Steelers, but he got off to a shaky start in his Jets debut. He was called for two penalties, and that's noteworthy because he was the Steelers' most penalized offensive player last season -- 12 penalties. That's a crazy amount for an interior lineman. Colon also allowed the pressure that caused Smith to have a pass batted at the line.
6. Uh-oh, Oday
: I think OT
Oday Aboushi
, a fifth-round pick from Virginia, is on the roster bubble. Aboushi got beat by rookie DE
Devin Taylor
on a strip sack of
Greg McElroy
, and he also was flagged for two penalties (one declined). The Jets are looking for a backup swing tackle. Aboushi is a candidate for the job, but so is
J.B. Shugarts
, a first-year player from Ohio State. Shugarts played 36 snaps in the game, more than any offensive lineman.
7. Big Mac under attack
: You have to admire McElroy's moxie, but, man, he takes a lot of hits. He was sacked three times and absorbed what appeared to be a helmet-to-helmet hit on one play -- it wasn't called. McElroy said he was fine after the game, but he also said he was fine after last December's beatdown inflicted by the Chargers, and that turned out to be a concusssion. Either way, it looks like he has locked up the No. 3 job. He made nice improv play on his 9-yard touchdown pass to
Zach Rogers
.
8. J.J. is dy-no-mite
: The coaches went into the game buzzing about former Eagles S
Jaiquawn Jarrett
, eager to see him in a game setting after impressive work on the practice field and in the classroom. He responded nicely and has leap frogged
Antonio Allen
on the depth chart, according to Ryan. Jarrett was a second-round pick in 2011, so you know the physical talent is there.
9. Silver-lining playbook:
Looking for a positive from the game? The Jets scored two offensive touchdowns. A year ago, they didn't score one until the fourth preseason game -- and that came from the third-team offense.
10. Calling all runners:
The Jets lost RB
John Griffin
(broken leg) for the season, testing their backfield depth, but they expect
Chris Ivory
(hamstring) and
Joe McKnight
(head) to practice Sunday. For Ivory, it would his first full practice of camp.
August, 9, 2013
8/09/13
9:29
AM ET
CORTLAND, N.Y. -- The Jets open the preseason Friday at the Lions. Kickoff is 7:30 p.m. Here is what to watch for:
1. Quarterback battle, Round 1
:
Mark Sanchez
starts,
Geno Smith
relieves. Sanchez figures to play a series or two with the starters before yielding to the rookie, who might get a series with the first unit. Smith will stick around and play with the backups as he attempts to convince the powers-that-be that he's ready to take over the team. The focus is on Smith, but it'll be interesting to see Sanchez in Marty Mornhinweg's West Coast offense. He loves the system. We'll see if it loves him back.


2. The rookies
: The Jets could open with three in the starting lineup -- DT
Sheldon Richardson
, CB
Dee Milliner
and FB
Tommy Bohanon
, the only fullback on the traveling roster. Incumbent
Lex Hilliard
didn't make the trip with an undisclosed injury. Milliner is rusty, which is to be expected. He missed the offseason and the first few days of camp, so his conditioning and technique still need work. Just for kicks, Rex Ryan should let Milliner cover
Calvin Johnson
for a couple of plays. Now
that
would be a welcome-to-the-NFL moment. Rookie LG
Brian Winters
(ankle) didn't make the trip, hurting his chances of winning a starting job.
3. Empty stable:
Chris Ivory
(hamstring) and
Joe McKnight
(head) are out, so the workload will fall to
Bilal Powell
. There's some concern among the coaches that Powell is being overworked, so don't expect a super-heavy work day.
John Griffin
and
Chad Spann
will see some carries as well. Mornhinweg, known for his pass-happy philosophy, will have no problem throwing it all over Ford Field.
4. Mega Who?
When the Jets drafted WR
Stephen Hill
last year in the second round, they made the mistake of comparing him, from a size-speed standpoint, to another Georgia Tech alum -- Johnson, aka MegaTron. Hill is nowhere close to Johnson, but he has made strides on the practice field, especially with his technique. Now he has to take it to the game. With
Santonio Holmes
in limbo, they could be relying on Hill to be their No. 1 receiver.
5. New-look defense
: They have seven new starters, so there's bound to be growing pains. They could show up in the secondary, which was overhauled in the offseason. The only returning starter is CB
Antonio Cromartie
. The Lions like to spread the field, and they have a quarterback (
Matthew Stafford
) who can get the ball anywhere on the field. This should be a nice first test for the Jets' sub packages. Watch LB
Demario Davis
; he brings a pass-coverage dimension to the linebacking corps.
6. Q's debut
: Former No. 1 pick
Quinton Coples
plays his first game at outside linebacker. It has been a quiet camp for the former lineman. Part of that could be attributed to the position switch. But the coaches also want him to play with a greater sense of urgency. The feeling around the team is that Coples is the key to the defense. If he thrives in his new role, the defense has a chance to be really good.
7. Safety in numbers
: The most unsettled position is free safety.
Antonio Allen
has received most of the reps, but he's hardly a sure thing. Former Eagle
Jaiquawn Jarrett
has impressed the coaches with his approach and he could sneak in and grab the job.