January, 17, 2011
1/17/11
10:43
AM ET
Mark Sanchez
turned 24 in November.
Already, he has tied the NFL record for postseason road victories.
Sanchez raised his road playoff record to 4-1 with the
New York Jets
' colossal victory over the
New England Patriots
in Gillette Stadium.
He's tied with Len Dawson, Roger Staubach,
Jake Delhomme
and
Joe Flacco
for the most all-time. Super Bowls aren't factored into the stat because they're neutral-site games with no home team.
Sanchez has won as many road playoff games in his career as
Brett Favre
(three) and
Dan Marino
(one) combined.
Sanchez completed 16 of his 25 attempts for 194 yards and three touchdowns. He posted a 127.3 passer rating. He became only the second quarterback to throw for at least three touchdowns without an interception against the Patriots in the postseason. Delhomme did it for the
Carolina Panthers
in Super Bowl XXXVIII.
Only one quarterback had that kind of performance against the Patriots in the regular season. That was Sanchez, too, in a Week 2 victory at the Meadowlands.
December, 23, 2010
12/23/10
12:03
AM ET
The NFL has not announced it's ceasing operations, but an announcement might be forthcoming.
On Wednesday, the league made the kind of decision it could regret.
It crossed
Arthur Moats
.
NFL statisticians took away a half sack from the surging
Buffalo Bills
' rookie linebacker and awarded it to nose tackle
Kyle Williams
.
Bills fans familiar with the Moats fable expect repercussions.
Moats, most known for delivering the wicked hit
that ended
Brett Favre
's hallowed streak, has been the inspiration for a
Tim Tebow
/Chuck Norris-style Twitter campaign started by Jeremy White, co-host of the morning show on Buffalo sports-radio station WGR.
For fun, White has been warning
#DontCrossTheMoats
since training camp.
Favre discovered what the admonition was all about.
Moats' teammates started calling him the "Legend Killer."
When veteran Bills receiver
Lee Evans
' streak of 109 straight games ended two weeks later, folks remarked the all-powerful Moats must've had something to do with it.
Upon hearing the NFL had taken away a half sack, Shawn Stepner of Buffalo ABC affiliate WKBW tweeted: "
I bet Moats doesn't let the NFL have a season in 2011!
"
White reasoned
Moats must have given the league permission
to make the stat change.
Moats, a sixth-round draft choice from James Madison, has gotten onto the field lately because of injuries and is taking advantage of the opportunity.
He sidelined Favre in Week 13, recorded a fourth-quarter strip-sack of
Jake Delhomme
in a Week 14 victory over the
Cleveland Browns
and notched another sack (even after the correction) of
Chad Henne
to help the Bills beat the
Miami Dolphins
.
Moats was nominated for AFC defensive player of the week and NFL rookie of the week for Sunday's performance.
"In the last four or five weeks he might have made as much progress as anybody on our football team," Bills head coach Chan Gailey said. "He's learning how to play outside 'backer. He started as an inside 'backer in training camp and in the offseason, and we ended up moving him to outside 'backer. He is learning to play the position, and he's got a chance to be a good outside 'backer before it's over with."
December, 13, 2010
12/13/10
4:10
PM ET
With the way
Arthur Moats
has been playing lately, the
Buffalo Bills
rookie linebacker should have a lot more football memories to make.
That's why he claimed his interest level in Monday night's game between the
New York Giants
and
Minnesota Vikings
was just like any other fan's.
[+] Enlarge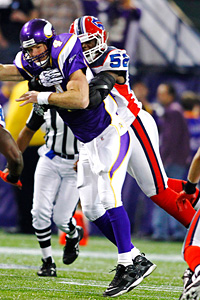 Bruce Kluckhohn/US PresswireBuffalo linebacker Arthur Moats knocked Minnesota quarterback Brett Favre out of the game when they faced off in Week 13.
While he might think of it that way, it's not entirely accurate. In a few hours, Moats might go down in history as the player who ended Minnesota quarterback
Brett Favre
's incredible streak of 297 starts.
"Everyone's checking to see if he's playing or not," Moats told me by phone from the Bills' facility in Orchard Park, N.Y. "We all know it's a big deal. It's hard to play that many games in a row, and I don't know if there will be anyone to touch that record."
Moats could become the answer to a trivia question.
Moats drilled Favre in the first quarter of their Week 13 game at the Metrodome. Favre left his feet and came crashing down on the turf. His right shoulder hit first. Favre left the game and didn't return.
Favre told ESPN's Ed Werder he would not have played Sunday in the Giants game against the Vikings. The game has been delayed because of the frightening Metrodome roof collapse and the extra time might help Favre play Monday night, although head coach Leslie Frazier says the future Hall of Famer remains doubtful.
"If it happens, people will know my name," Moats said. "That's not the way I want to get my name out there, for hurting somebody. "
Moats has been a significant contributor for the Bills. The sixth-round draft choice from James Madison made his first NFL start Sunday against the
Cleveland Browns
. He ran past Pro Bowl left tackle
Joe Thomas
to record a strip sack of
Jake Delhomme
in the 13-6 victory.
Moats said the coaches haven't specifically told him how much they admire the progress he has made as a late-round pick from the Colonial Athletic Association, but he can tell what the Bills think of him.
"Their actions are showing that," Moats said. "I'm out there in critical situations. It feels good as a player because it means I've showed the coaches they can trust me to be in the right place and to make plays. When the game is on the line, that's when you want to be on the field."
Moats could be a part of the Bills' future. They have struggled on defense for much of the season in their transition from a Tampa 2 to a 3-4 alignment, but they have shown signs of growth in the past couple months. Four of their past seven opponents have scored 16 points or fewer in regulation.
"I definitely feel like we're jelling on defense," Moats said. "Everyone knows we put in a new defense, and all of us had to get used to that. We're starting to come together and know it's important that we finish up strong so we can take it into the offseason and next year."
December, 12, 2010
12/12/10
4:01
PM ET
Wrapping up the
Buffalo Bills
'
victory against
the
Cleveland Browns
.


What it means:
The Bills rebounded from a ghastly loss at the Metrodome to win their third game in five tries. The Bills continue to piece together an admirable second half of the season, creating momentum that will help their rebuilding process.
Play of the game:
Tough-luck cornerback
Leodis McKelvin
intercepted Browns quarterback
Jake Delhomme
at the Bills' 32-yard line with about four minutes to play.
Streak continues:
Bills quarterback
Ryan Fitzpatrick
connected with
David Nelson
for an 11-yard touchdown in the second quarter. Fitzpatrick has thrown a TD pass in 14 straight games, the team's longest streak since
Jim Kelly
had 18 in row in 1986-87.
Bills defense steps up:
Browns running back
Peyton Hillis
plowed forth for 49 yards on their first possession, but the Bills stuffed him for 1 and zero yards at their 1-yard line to force a field goal. Hillis rushed for 57 yards the rest of the game and fumbled three times, losing one. Delhomme threw for just 86 yards.
Tight ends make an appearance:
Bills tight ends have been invisible this year, but
Jonathan Stupar
had three catches for a game-high 45 yards.
David Martin
added a reception for 13 yards.
Don't cross Moats:
A week after perhaps ending
Brett Favre
's Iron Man streak, Bills rookie outside linebacker
Arthur Moats
had a strip sack of Delhomme to set up a
Rian Lindell
field goal early in the fourth quarter.
What's next:
The Bills will resume their AFC East schedule after two and half months of non-divisional games. The Bills will visit the
Miami Dolphins
at Sun Life Stadium.
December, 9, 2010
12/09/10
11:29
AM ET
In AccuScore's analysis of Sunday's annual game between division also-rans, it doesn't seem the
Buffalo Bills
will have as much say as the
Cleveland Browns
do.
The two key variables depend on whether
Colt McCoy
starts at quarterback and whether
Peyton Hillis
rushes for 100 yards against the NFL's worst run defense.
McCoy has an injured ankle. In simulations where McCoy played, the Browns won 58 percent of the time. In simulations where he didn't, the Bills won 58 percent of the time.
Hillis hit triple-digits in 50 percent of the simulations, and when he did the Browns won 74 percent of the games. When Hillis rushed for under 100 yards, the Bills won 65 percent of the games.
"The Browns are a very strong football team and he's a strong, downhill runner," Bills coach Chan Gailey said. "The thing about it is, if you load up inside, he can get outside as well. We've just got to try to get bodies around him as much as we can and get him to the ground. That's going to be the biggest thing.
"He's a fighter and a hustler, and he gets every yard he can get. You've got to try to not let him fall forward. You've got to keep trying to knock him back."
One factor the Bills can control: If they commit no more than one turnover, their chances rise to 62 percent.
December, 8, 2010
12/08/10
9:17
AM ET
»
NFC Stock Watch
:
East
|
West
|
North
|
South
»
AFC
:
East
|
West
|
North
|
South
FALLING
1. Jets secondary:
Tom Brady
had a rougher go against the Jets in Week 2 with
Randy Moss
on his team and star cornerback
Darrelle Revis
out of the game. Brady didn't throw Revis' way Monday night, but the Patriots quarterback found plenty of holes to exploit. Cornerback
Antonio Cromartie
had a bad game covering and tackling. Safety
Jim Leonhard
already was done for the season, and safety
James Ihedigbo
was hurt Monday night.
2. Mark Sanchez, Jets quarterback:
He went into Monday night 3-0 against the AFC East with eight touchdowns and zero interceptions. So Sanchez had his worst game of the season, completing barely half of his passes and throwing a season-high three interceptions. His 27.8 passer rating was the measliest since throwing five interceptions against the Bills in Week 6 last year.
3. Jets kicking game:
Nick Folk
has missed at least one field-goal attempt in four straight games and five of his past six games.
Steve Weatherford
must've been punting cinder blocks Monday. He averaged 30.7 yards, matching the worst game of his career.
[+] Enlarge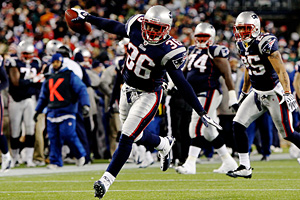 Jim Rogash/Getty ImagesNew England safety James Sanders collected one of the Patriots' three interceptions on Monday against the Jets.
RISING
1. Patriots pass defense:
Their numbers are deplorable when it comes to yards and points through the air, but they were awesome Monday and keep coming up with interceptions at big times. They've collected eight interceptions the past three games. They picked off Sanchez three times, two weeks after doing the same to
Peyton Manning
. The Patriots are tied for second in the NFL with 18 interceptions. Rookie cornerback
Devin McCourty
has all six of his interceptions in the past seven games.
2. Cameron Wake, Dolphins outside linebacker:
Wake padded his sack total with 1.5 against the Browns, putting him in the NFL lead with a dozen. He dropped
Jake Delhomme
on a second-and-2 play just inside the two-minute warning to help force a punt the Dolphins couldn't capitalize on.
3. Brandon Spikes, Patriots inside linebacker:
The rookie snared his first NFL interception at a critical time. The Jets were marching on the opening second-half possession and about to cut into the Patriots' 24-3 lead. On second-and-8 from the Patriots' 9-yard line, Spikes didn't bite on a play-action pass and picked it off at the Patriots' 2-yard line.
December, 3, 2010
12/03/10
9:15
AM ET

ESPN analysts Darren Woodson and Mark Schlereth preview Sunday's game between the Cleveland Browns and Miami Dolphins in Sun Life Stadium. Woodson and Schlereth predict the Dolphins to win an old-school, smashmouth showdown.
November, 14, 2010
11/14/10
11:49
AM ET
August, 31, 2010
8/31/10
11:40
AM ET
ESPN.com's John Clayton has sorted out the
NFL's starting quarterbacks from No. 1 through 33
for your debating pleasure.
He breaks them down into three divisions: elite, the Chad Penningtons (strong with a supporting cast, but not great) and hit or miss. He listed 33 quarterbacks because
Ben Roethlisberger
's suspension will prevent him from being the
Pittsburgh Steelers
' starter on opening day.
Clayton also gives his percentage likelihood for non-elite quarterback to break into the upper class.

Sanchez

Henne
Here's where he placed AFC East quarterbacks:
2. Tom Brady, Patriots:
He ranks behind only
Peyton Manning
. Clayton admits he nearly put
Drew Brees
in front of Brady, too.
23. Mark Sanchez, Jets:
Preseason performances haven't supported the theory, but Clayton believes
Santonio Holmes
and
LaDainian Tomlinson
will help Sanchez develop. Clayton puts his chances of becoming elite at 50 percent.
25. Chad Henne, Dolphins:
Dolfans are going to howl over this one. Not only have they been passionate about Henne having a brighter future than Sanchez, but also they're probably not going to agree with 24 quarterbacks being more preferable. Clayton writes defenses figured Henne out in the second half of the season and reckons Henne has a 45 percent chance of being elite someday.
31. Trent Edwards, Bills:
He has looked sharp in the past two preseason games, but that doesn't account for much on Clayton's list. Edwards finished ahead of only
Matt Moore
and
Jake Delhomme
. Chances of becoming elite are 0 percent.
October, 28, 2009
10/28/09
4:30
PM ET
| | |
| --- | --- |
| | |
| | Doug Benc/Getty Images |
| | Buffalo rookie free safety Jairus Bird is determined to make receivers beat him to the ball. |
The phone chirped. "
Chicago Bears
" scrolled across the caller ID.
The voice on the other end was buoyant, a rumble of laughter detectable underneath each syllable.
"Hello, this is Gill Byrd.
Jairus Byrd
used to be my son. Now I'm Jairus Byrd's father."
For all of Jairus Byrd's life, he was identified as the younger boy of Gill Byrd, a two-time Pro Bowl cornerback for the
San Diego Chargers
and Bears assistant coach.
As dad acknowledged over the phone, that perception has changed over the past few weeks.
Jairus Byrd, a rookie free safety for the
Buffalo Bills
, has already made a name for himself. He's doing it emphatically.
Through the first seven games of his NFL career, he has been Buffalo's most valuable player.
"Clearly, he's got skills that are not ordinary even for this level," said Bills head coach Dick Jauron, "and he's using them."
Jairus Byrd ranks second in the NFL with five interceptions, one behind
New Orleans Saints
safety
Darren Sharper
. Byrd has snagged all of his interceptions over the past three games and has picked off a pair in two games straight.
Without his interceptions, the Bills wouldn't lead the NFL in takeaways and probably wouldn't have beaten the
New York Jets
or
Carolina Panthers
the past two Sundays. Each of his past three interceptions has set up a Bills touchdown.
In a season that has been rife with letdowns for Bills fans, Byrd has been a revelation.
"I think he can be an All-Pro consistently," said Jairus Byrd's more decorated mentor, eight-time Pro Bowl cornerback Aeneas Williams, a close friend of the Byrd family. "I think he has the ability.
"What makes you an impact player is when that offensive team, going into their game plan during the week, has to account for you. I believe he's definitely one of those guys that -- if they're not already accounting for him -- they're at least acknowledging 'You need to know where 31 is.'"
Jairus Byrd's uniform number is becoming fashionable in Buffalo, and you can already project his jerseys will be popular Christmas gifts.
Buffalo storylines this season have been dominated by
Terrell Owens
' lack of production, disgust over Jauron's continued employment,
Marshawn Lynch
's suspension, two invasions of players' homes, myriad injuries and game-losing fumbles in the final minutes.
Jairus Byrd has given Bills fans a reason to cheer.
"Everything's gone so fast," he said. "I haven't really had the chance think about where I am, what's going on. I try not to focus on that. It's just getting wins and helping the team."
Injuries to safeties
Donte Whitner
and
Bryan Scott
gave him his opportunity to start. When Whitner and Scott both are healthy, it's impossible to imagine the Bills removing Jairus Byrd from the lineup.
He's the first rookie to record five interceptions in a month since Bears safety Mark Carrier in December 1990 and the first rookie with two interceptions in consecutive games since
Dallas Cowboys
cornerback Everson Walls in 1981.
With nine regular-season games to play, Jairus Byrd is three interceptions away from Buffalo's rookie interceptions record (Archie Matsos) and halfway to its overall season record (Billy Atkins, Tom Janik). And he's already within two interceptions of matching his father's best season.
"I'm always trying to compete with him," Jairus Byrd said. "I tell him I'm going to get him."
When informed how close Jairus was to matching him, Gill groaned in near-defeat, "Aw, man."
Few expected Jairus Byrd to make such an immediate impact when the Bills drafted him in the second round out of Oregon. He missed minicamp because of Oregon's quarterly academic schedule. He missed much of training camp while recovering from sports hernia surgery and didn't sign his contract until the end of July.
"They got a first-round talent," Williams said, conceding that his fondness for Jairus might hurt the credibility of his assessment. "The only reason maybe he didn't go in the first round is he's not a blazer as it relates to his 40 time."
Jairus Byrd has phenomenal instincts when it comes to coming up with the ball. He never has had fewer than five interceptions in a season, leaving Oregon a year early with 17 of them. He led or tied for the Pac-10 lead in interceptions his sophomore and junior seasons. He also forced two fumbles and recovered four.
Ask him to explain how he keeps coming up with the ball, and he laughs. Then he delivers a pat answer about how his teammates deserve all the credit. You can sense he has been asked the question so frequently, but he's unable to put his knack into words.
"The guys have done a nice job of getting him ready," said Jauron, himself a Pro Bowl safety for the
Detroit Lions
. "But nobody's making those plays except Jairus. ... He's got qualities -- and a lot of them."
| | |
| --- | --- |
| | |
| | Doug Benc/Getty Images |
| | Former Chargers cornerback Gill Byrd is passing all his knowledge onto his son, Jairus. |
Williams can explain the secret to Jairus Byrd's intrinsic homing skills because Williams learned it from Gill Byrd nearly two decades ago.
Bills teammates claim Jairus Byrd demonstrates advanced football maturity, and it's easy to see why. He's a superb case study in determining whether nature or nurture determines a man's potential.
Yes, he has the bloodlines. Gill Byrd played 10 seasons for the Chargers and is in their Hall of Fame.
Perhaps more importantly, Jairus Byrd's nest was the NFL locker room. His father worked in the
Green Bay Packers
front office and has been an assistant coach for the
St. Louis Rams
and Bears. Gill also credited the "discipline and encouragement" from Jairus' mother, Marilyn, and the drive to compete with Gill Byrd II, the older son by two years who became a star defensive back at New Mexico State.
But it was in St. Louis where Williams took Jairus Byrd, then a high school student, under his wing. The two became so close that Jairus Byrd still calls him Uncle Aeneas.
"It wouldn't just be running and talking football," Gill Byrd said. "It'd be talking life. It'd be talking about what it takes to be a man of God, life lessons. On top of that, he learned football and techniques from one of the best."
Williams' involvement has been critical to Jairus Byrd's development because the rookie has no distinct memories of his father playing and never has seen a frame of game tape. He turned six during his father's final season. Old-school programming on the NFL Network or ESPN Classic haven't presented a glimpse.
The only footage Jairus Byrd has seen of Gill in action was grainy practice film somebody burned onto a DVD for a joke.
Williams' tutelage meant "having someone he did watch play and look up to show him 'Yes, this is what it's all about,'" Gill Byrd said. "As with any child, you need multiple voices to deliver the same message to get things across. That old saying, 'It takes a village to raise a child,' I think it's appropriate even in the athletic arena."
Williams simply is returning the love Gill Byrd showed him for years. Long before Gill Byrd joined the Rams' coaching staff, he'd been teaching Williams everything he knew.
Williams emerged from Southern University in 1991 hungry for information that could give him an edge. He sought out top defensive backs because he wanted to soak in their insight. He flew to Houston to meet Ken Houston, tracked down Michael Haynes and reached out to Gill Byrd.
For the next few summers, Gill Byrd and Williams worked out in San Diego. Soon after they met, Gill imparted some words that changed the way Williams played the game and sent him on his way to a career highlighted by 55 interceptions, 23 fumble recoveries and 12 defensive touchdowns.
Williams called it "that little, subtle change" in his attitude, and he's sure Gill ingrained it in Jairus, too.
"Most defensive backs play with a philosophy of 'I can't get beat,' or 'Nobody can beat me,' " Williams said. "Gill made me understand, no, my philosophy has to be 'They have to beat me,' which sounds like just words, but for me it really catapulted me to another level of understanding.
"Just think of all the defensive backs you see in a game that are right next to the receiver but never turn back to look for the ball. It's because all that guy's life he's been told 'Don't get beat.' "
A thirst for knowledge has splashed Jairus Byrd. He still texts Williams in search of any tip he can get on certain receivers (Williams shared one of
Randy Moss
' big tells) and will wheedle advice from the legends who hang around One Bills Drive. Hall of Fame running back Thurman Thomas already is a big fan.
"I try to absorb everything I can," Jairus Byrd said. "My father taught me how to be a pro in life, how to be man. He's always told me to be slow to speak and quick to hear. That's pretty much the biggest thing I learned from him."
Some might look at Jairus Byrd's interceptions and flick a dismissive wrist. He has been feasting on bad quarterback play --
Derek Anderson
,
Mark Sanchez
,
Jake Delhomme
. Passes have been overthrown. Balls are bouncing off receivers' hands and right to him.
Skeptics would say Jairus Byrd is a lucky duck.
"Is it luck when you study your opponent and know their tendencies?" Gill Byrd asked. "Is it luck when you play hard and hustle? Is it luck when you find the ball, track the ball and have nothing else in sight? Is it luck when you have the hand-eye coordination to catch the ball?
"I would say it's a lot of hard work, a lot of dedication. Not too many guys get lucky that often."
Or so quickly.
May, 22, 2009
5/22/09
3:10
PM ET
Posted by ESPN.com's Tim Graham
While on a lunch run Friday afternoon I caught a bit of Colin Cowherd's ESPN Radio show, during which he went down the list of quarterbacks the New York Jets would face this year.
Cowherd was making a point that regardless of how much coach Rex Ryan ramps up the Jets' defense, they'll probably find themselves in more shootouts than 16-14 games. On those grounds, Cowherd made the case the Jets should use the more experienced Kellen Clemens instead of glamour rookie Mark Sanchez.
That inspired me to put together a rundown of all the quarterbacks each AFC East team will face this year.
On paper, it looks like the Miami Dolphins and Jets will face the scariest lineups. The New England Patriots catch a break because, well, they don't have to face Tom Brady twice like the rest of the division does.
Here's the rundown, alphabetized by AFC East team and in rough order of who'll they face as the season goes on:

Buffalo Bills

Miami Dolphins

New England Patriots

New York Jets
January, 3, 2009
1/03/09
8:30
AM ET
Posted by ESPN.com's Tim Graham
DAVIE, Fla. -- This notion is insinuated but never really delved into when discussing the merits of Chad Pennington as an MVP candidate:
The guy who would have been the Miami Dolphins' quarterback couldn't have gotten them to the playoffs.
| | |
| --- | --- |
| | |
| | Jonathan Brownfield-US PRESSWIRE |
| | Through a series of fateful "ifs, former Dolphins quarterback Josh McCown, now with Carolina, won't be starting in Miami's playoff game Sunday. |
So I decided to ask the man himself.
"As a competitor, I don't agree because I have confidence in myself," said Josh McCown, who the Dolphins dealt to the Carolina Panthers after they acquired Pennington. "But at the same time I can't play that game. I can't get in a time machine to prove myself.
"I just give Chad all the credit for getting it done. He ran that offense and made the most of that opportunity."
That McCown wasn't the Dolphins' quarterback this year was a series of "ifs" come true.
If Brett Favre hadn't decided to play again ... and if the Green Bay Packers hadn't rebuffed him ... and if the New York Jets hadn't swung the trade ... and if the Jets hadn't released Pennington ... and if Pennington hadn't been convinced a 1-15 team was worth his while ... then the Dolphins wouldn't have traded McCown to Carolina.
And maybe McCown is starting against the Baltimore Ravens on Sunday. Maybe.
"The way Chad's playing, maybe the Jets are in the playoffs," McCown said with a laugh. He's spending the Panthers' first-round bye weekend in Davie, where his wife and four children have stayed at their house a few blocks from the Dolphins complex.
"I'm a human being. I'm not going to sit here and say it wouldn't be fun to be playing down here and be on the field and have a chance to lead those guys.
"It's hard to say. All I know is that's where my faith comes into play. The big man had a different plan for me, and I was supposed to be in Carolina this year."
McCown has backed up Jake Delhomme all season, appearing in two games but not throwing a pass.
But when McCown signed a two-year contract with the Dolphins on the opening day of free agency, he thought he would stick around. His career numbers are pedestrian, but he has played for some awful Arizona, Detroit and Oakland teams.
Dolphins football operations boss Bill Parcells and general manager Jeff Ireland obviously saw something they liked when they brought McCown aboard.
But McCown knew his days were numbered when they signed Pennington in August.
"I don't want to sound like a super-righteous man," McCown said, "but at the end of the day after I punched the pillow and screamed and got upset I said 'This is God's plan' and just moved on. That's how I don't get down in the dumps."
McCown said he and his agent began to examine other rosters because he assumed he would be cut. Most teams had their starters by then, so they looked at strong organizations with attractive offensive systems in need of a quality backup. They narrowed their best options down to three teams, one of which was Carolina.
"When Jeff Ireland called, that's the only thing that was disheartening. When he said 'We've traded you to Carolina,' I was excited. That was a big blessing.
"It was mixed emotions. I was excited about the new team, but at the same time you go into this thing with the mind-set of what you're trying to build and you have a bond with those guys.
"I was involved in the offseason program here. I was, to a certain degree, providing leadership to the program. I feel I helped lay some of the groundwork because when so much is new you're trying hard to lay down a culture."
McCown, playing on his fifth team in the past four years, insisted he wouldn't trade his current situation aside from being separated from his family. McCown, after playing under Lane Kiffin, Rod Marinelli and Dave McGinnis, is enjoying John Fox's established and proven program.
"Would I have won games the same way Chad won them? Maybe not," McCown said. "I would like to think that I could have had the same success, but nothing against Chad. He stepped into a situation and made the most of it. For me, I'll just wait for the next opportunity.
"But I guess I was destined to win the division one way or the other."
September, 22, 2008
9/22/08
2:18
PM ET
Posted by ESPN.com's Tim Graham
Miami Dolphins quarterbacks coach David Lee is getting much of the credit for installing the gimmick offense they ran Sunday to flummox the New England Patriots.
Running back Ronnie Brown scored four rushing touchdowns in a 38-13 rout. Brown also threw a touchdown pass.
The Wildcat offense, as the Dolphins call it, put Brown in a shotgun formation, spread quarterback Chad Pennington wide and lined up Ricky Williams as a wingback who would counter. The Patriots were fooled out of their socks.
Lee used that ploy at Arkansas with Darren McFadden and Felix Jones.
But Dolphins offensive coordinator Dan Henning ran a similar system before in the NFL -- and to a much higher degree.
Henning was the Carolina Panthers' offensive coordinator when they found themselves in a bind heading into a December 2006 game against the Atlanta Falcons.
The Panthers had lost four straight games (the Dolphins had lost 20 of their past 21 games).
The Panthers were coming off an embarrassing 37-3 loss to the Pittsburgh Steelers (the Dolphins were coming off an embarrassing 31-10 loss to the Arizona Cardinals).
Panthers quarterback Jake Delhomme was injured, and backup Chris Weinke was too hurt to practice during the week and hadn't won in 17 career starts (Dolphins quarterback Chad Pennington had been ineffective through two games).
The Panthers had two capable rushers in DeShaun Foster and DeAngelo Williams (the Dolphins have two capable backs in Brown and Ricky Williams).
Henning's solution was to snap directly to DeAngelo Williams and hand off to Foster.
Unlike the Dolphins, who picked their spots with the Wildcat, Henning went full-scale with his gimmick.
The Panthers ran 52 times that day and held the ball for nearly 42 minutes in a 10-7 victory. The Panthers tried seven passes, one of them going for the game's only touchdown.