June, 16, 2014
6/16/14
9:45
PM ET
The
New York Jets
open a three-day, mandatory minicamp Tuesday, the final phase of their offseason program. Their next time on the field will be July 24, the first training-camp practice in Cortland, New York.
A few of the top minicamp storylines:
1. Geno's exclamation point:
Geno Smith
can cap a positive offseason with a strong performance over the next three days. Rex Ryan loves the way the Smith-
Michael Vick
dynamic is working out, with Smith benefitting from Vick's presence and experience. Of course, it's only June. The landscape changes in training camp, when the scrutiny (and pressure) become more intense.
2. Kiddie corps:
Fourth-round pick
Shaq Evans
returns to the team after missing organized team activities due to school obligations. Obviously, he's behind his fellow rookie receivers, fourth rounder
Jalen Saunders
and sixth rounder
Quincy Enunwa
. Evans has the most complete skill set of the three (scouts say he plays faster than his 40 time), so it'll be nice to get an extended look at him. The rookies are being hit with a lot of new material from the playbook, so there will be plenty of hiccups. Wide receiver is the quintissential John Idzik position because of the intense competition; so many roles and jobs are up in the air.
3. Mystery man:
Troubled running back
Mike Goodson
, who skipped the voluntary portion of the offseason, is expected to attend, according to Ryan. According to the CBA, any player that skips the mandatory minicamp is subject to nearly $70,000 in fines. A cryptic Ryan said last week he hadn't heard from Goodson, who still faces a gun-possession charge stemming from his arrest last May. Goodson is eight months removed from major knee surgery, so he probably won't be cleared until training camp -- if he's still on the team.
4. Revamped secondary
: There have been rumors about the Jets pursuing former
Kansas City Chiefs
cornerback
Brandon Flowers
, but don't hold your breath, folks. Idzik prefers young, homegrown players that don't eat up a lot of cap space. It's possible that four of the top six defensive backs this season will be first-, second- and third-year players --
Dee Milliner
,
Antonio Allen
,
Calvin Pryor
and
Dexter McDougle
. Maybe, if the kids stink it up in minicamp, he'll consider Flowers, but it probably would take an injury to projected starter
Dimitri Patterson
. Curious to see if Pryor and Allen continue to take first-team reps in minicamp, with
Dawan Landry
backing up.
May, 19, 2014
5/19/14
11:09
AM ET
Saturday's drops notwithstanding, Rex Ryan likes the look of his 2014 receiving corps. The
New York Jets
spent money ($15 million guaranteed for
Eric Decker
) and draft picks (three) to improve the weakest position on the team.
"From top to bottom," Ryan said, "it's a much better group of receivers than we had probably at any point last year."
[+] Enlarge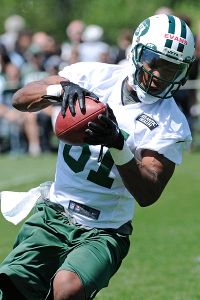 Bill Kostroun/AP PhotoPerhaps rookie Shaq Evans could develop into the Jets' No. 1 receiver role this season.
Let's examine that statement.
The high point last year, if you could call it that, was the start of the season, when the Jets' top three wideouts were
Santonio Holmes
,
Stephen Hill
and
Jeremy Kerley
. (Incredibly, the trio played only one game together -- the opener.) You could argue they ended the season in better shape, with the surprising
David Nelson
replacing the injured Hill. Either way, the narrative is the same: It was a deficient receiving corps that lacked speed, depth and a true No. 1, because even when Holmes was healthy, he wasn't really healthy. Clearly, he was a diminished player because of his surgically repaired foot from 2012.
You know what? For the sake of comparison, let's drop the "at-any-point" qualifier and look at the group as a whole. The top receivers last year, in my opinion, were Holmes, Kerley, Nelson, Hill,
Clyde Gates
,
Greg Salas
and
Josh Cribbs
, who really didn't play much receiver. The latter three are marginal NFL players.
The top receivers this year, as of now, are Decker, Kerley, Nelson, Hill,
Jacoby Ford
, Gates,
Shaq Evans
,
Jalen Saunders
and
Quincy Enunwa
. This time, the latter three are rookies with varying degrees of upside. Based on what I saw from rookie camp, and from talking to talent evaluators around the league, Evans has the best chance to make an immediate contribution among the rookies. His skill set is more complete than the others.
"We'll see what kind of receivers we have," Ryan said, "but you could put out an unbelievable (4x100) relay team."
To me, Decker is an upgrade over Holmes, although there are many who question whether Decker is a legitimate No. 1 receiver. Beyond Decker, the top four could be the same as last year, with Kerley, Nelson and Hill filling out the top spots. The Jets still lack a home-run hitter, a need they failed to address in the offseason. Someone has to develop into that guy and crack the top four. Maybe it can be Hill -- if he's healthy and consistent. Maybe it can be Ford -- if he's healthy and can recapture the promise he showed as a rookie with the
Oakland Raiders
in 2010. Maybe it can be one of the rookies.
So, yes, I'd agree with Ryan's statement that it's a better overall unit than last season, but I wonder whether it's as good as it needs to be.
May, 17, 2014
5/17/14
2:35
PM ET
FLORHAM PARK, N.J. -- The
New York Jets
practiced for two hours Saturday under sunny skies. A few takeaways from Day 2 of rookie camp:
Pryor
Good to the last drop
: In the what has become a rite of spring around the Jets, the receivers struggled with drops throughout practice. All three draft picks dropped at least one pass --
Jalen Saunders
,
Shaq Evans
and
Quincy Enunwa
. Not even tight end
Jace Amaro
, a sure-handed pass-catcher, was immune. Many of the drops came against "air," which can be attributed to a lack of concentration. It was a particularly tough day for Saunders, who dropped a long ball and a well-thrown pass on a crossing route. The dropsie epidemic strikes the Jets every spring. This time, coach Rex Ryan wasn't critical. He chalked it up to rookies being rookies. "Their heads are spinning," he said. The Jets need one of these rookies to stand out from the crowd, emerging as a contributor.
Calvin a quick study
: First-round pick
Calvin Pryor
didn't make any eye-catching plays (remember, these are non-contact practices), but he continued to impress the coaches with his knowledge of the defense. Ryan praised the hard-hitting safety for being a quick study, calling him the most impressive player in camp. Specifically, he said the former Louisville standout has "great pattern recognition." Pryor definitely has a swagger, admitting afterward that he loves to talk trash. Nothing wrong with that; the Jets could use a little more of that attitude on defense.
Boyd can relate to Geno
:
Tajh Boyd
is experiencing what
Geno Smith
went through a year ago, learning a pro-style offense after playing almost exclusively in the shotgun in college. The footwork is different. So is the timing of the pass routes. It's not an easy transition, which explains why Boyd has struggled with his accuracy in this camp. There were some hiccups on short and intermediate routes, but say this for Boyd: He throws a good deep ball. He was victimized by a couple of drops on long passes. Speaking to him afterward, Boyd came across as confident and charismatic. It's easy to see why he was considered such a good leader at Clemson.
Odds and ends:
Safety
Rontez Miles
, who spent most of last season on the practice squad, is attending the camp, but he's still not 100 percent after offseason hip surgery. ... Running back
Alex Green
remains on the roster. On Friday night, he sent out a tweet that suggested he had been released. He apparently thought he was toasted after the Jets acquired
Daryl Richardson
on waivers. Ryan said Green made an incorrect assumption. ... Ryan felt they were "loaded at running back" before picking up Richardson, but he believes that Richardson upgrades the position. They have five veterans at running back. ... Pryor switched his number, changing to 25.
May, 16, 2014
5/16/14
5:00
AM ET
The
New York Jets
' largest draft class since 1998 will participate in a three-day rookie camp, starting Friday. Only the first two days are open to the media. No portion is open to the public. What we might see from the Idzik 12:
Pryor
1. The Louisville Slugger
: First-round pick
Calvin Pryor
won't generate as much rookie-camp buzz as
Geno Smith
did last year, but that's because he's a safety, not a quarterback. Because he's a safety known for his physical style of play, Pryor probably won't get a chance to show everyone why they called him the "Louisville Slugger" in college. After all, it's a non-contact camp. Nevertheless, it'll be interesting to see his movement skills and how well he responds in pass coverage. That wasn't his forte in college.
2. The catcher
: By the nature of his position and college résumé, second-round pick
Jace Amaro
, a record-setting tight end at Texas Tech, will draw the most attention in camp. He put up video-game numbers in the Big 12, which plays no defense, so it'll be fascinating to see if he's the real deal. There will be a learning curve, as he attempts to get acclimated in a pro-style offense. The matchup everyone wants to see, of course, is Amaro vs. Pryor in a one-on-one coverage drill.
3. A mini-Senior Bowl
: The Jets devoted nearly half their 12-player draft to wide receivers and cornerbacks -- three receivers (
Jalen Saunders
,
Shaq Evans
and
Quincy Enunwa
) and two corners (
Dexter McDougle
and
Brandon Dixon
). There will be ample head-to-head opportunities, turning rookie camp into scaled-down version of an all-star game. It'll be ideal for evaluation purposes. McDougle, who underwent shoulder surgery last September and missed the season, could be limited.
4. The Tajh Show
: Quarterback
Tajh Boyd
was surprised he lasted until the sixth round; he felt he was a first-round talent. Well, now he gets a chance to prove the skeptics wrong. It won't happen in one weekend, as this will mark the start of a long, arduous process, but you know what they say about first impressions. The former Clemson star has a lot of work ahead of him, learning a pro-style offense and cleaning up mechanical flaws in his delivery.
5. Big Mac
: This will be the media's first chance to see new special teams coordinator Thomas McGaughey, who replaces Ben Kotwica.
May, 13, 2014
5/13/14
10:30
AM ET
Leftover "sound" bites from draft weekend, with general manager John Idzik, Rex Ryan and senior director of college scouting Terry Bradway discussing some of the
New York Jets
' second- and third-day draft picks:

Amaro
Idzik on whether second-round tight end Jace Amaro can block well enough to be used in-line or flexed out as a receiver
: "I think we can do both, really. He hadn't been in-line as much. He did do a little bit of that at (Texas) Tech. He certainly has the size and he has the will, too. You see him get after it as a blocker. I think he has the size and now it's just a matter of getting a (few) more reps at doing it. We're not concerned that way.
Ryan on third-round cornerback Dex McDougle
: "When we watched him, we saw a guy that we think has versatility, can play outside, can play inside as a nickel possibly. Obviously, we like his cover skills. But we think he's a complete corner. We think he can tackle. We know he can tackle. He's aggressive. He'll challenge you at the line of scrimmage. He's got good ball skills. And, obviously, we feel good he can run. But (he's) a very aggressive player as well. And the thing that I thought was impressive."
Bradway on fourth-round wide receiver Jalen Saunders, listed at 5-foot-9, 175 pounds
: "I think he's played both inside and outside. You're right, he is smaller in stature, but he's as tough as they come. You go watch him play ... no fear. He's blocking bigger guys. He's breaking some tackles. He's a dynamic playmaker with a ball in his hands, too. He brings that return element. It was really an attractive pick for us."
Ryan on sixth-round cornerback Brandon Dixon
: "He's coming from a small school (Northwest Missouri State). So I get that, that there'll be some developing there. But at his school, wow, it was zero coverage or cover-1. So, he's got the guts, I'll tell you that. He's played it. The measurables, he's got size, he's got speed, and the thing that I was impressed with when you saw all the scouts' grades and the coaches', it was competitiveness. This young man is a competitor, and I think that's what he's going to bring. How quick he learns the system and all that, we'll have to determine that at a different time. But I love the competitiveness and obviously his God-given size-speed combination is rare."
Ryan on fifth-round linebacker Jeremiah George, only 5-11, 234 pounds
: "I like having the flexibility of playing a 'Mike' linebacker or a 'Will' linebacker. ... So here, he fits a role. We'll try to teach him both. We'll flip both those guys. That's what you want to have, that kind of flexibility. We love the fact that he's a run-hit guy, loves to play. He's got great passion for the game. You mentioned the production. We saw all that. We really like him. ... Sometimes (size) can be overrated. Zach Thomas was one of the best linebackers in the league and he was much smaller in a 3-4."
Idzik on whether linebacker Trevor Reilly's age (26) dropped him to the seventh round
: "That may be a factor. The bottom line is, what do you think of him as a player and a person? Again, he fit that way for us."
May, 12, 2014
5/12/14
2:00
PM ET
One of the lingering questions involving the
New York Jets
is whether they adequately addressed their wide-receiver need in the draft.
Amid the endless pre-draft hype, they were linked to big-name prospects such as
Odell Beckham
Jr.
,
Brandin Cooks
and
Marqise Lee
. They went hard after receivers on the third day, selecting three wideouts, but it's never a sure thing when you're relying on middle- and late-round picks. ESPN draft analyst Todd McShay agrees, claiming the Jets' draft strategy underscores their belief that
Eric Decker
-- the No. 2 receiver with the
Denver Broncos
-- will be their top dog for the foreseeable future.
"Outside of (the three picks), I don't think they were really able to solve their problem at wide receiver," McShay said Monday on a media conference call. "You have to believe Eric Decker is your No. 1 if you're going to spend that money" -- meaning the five-year, $36.25 million contract.

Amaro
The Jets drafted
Jalen Saunders
(fourth round),
Shaq Evans
(fourth) and
Quincy Enunwa
(sixth), but their key draft pick is tight end
Jace Amaro
(second). McShay described Amaro as a "big wide receiver" who needs to make an immediate impact. To me, he's the key to the draft.
"Ultimately, you need Amaro to come in and contribute, and you need more from
Stephen Hill
and you need Eric Decker to play the way he was paid," McShay said. "Hopefully, between Saunders, Evans and Enunwa, if you hit on one of those guys, you'll fill out the depth a little bit."
McShay believes the Jets got good value with their first two picks, safety
Calvin Pryor
and Amaro, but he wonders if they reached for need in the third round, taking cornerback
Dex McDougle
. No matter how team officials try to spin it, this was a "need" draft for the Jets. It's the kind of strategy that results in reaches, which end up being bad picks.
"Could they have gone wide receiver there? Yeah, sure, there were some better players at wide receiver available (in the third round), but they're still trying to fill in that secondary and get the right guys there," McShay said.
Pryor
McShay offered a few other takeaways on the Jets' draft. He sees Pryor as a great fit in Rex Ryan's defense, but he wonders if he'll have to dial back his aggressive ways to conform to the new safety rules.
"I know some Jets fans were frustrated they went with (him) at 18, but he was just a really good value and he fits what they want," McShay said. "They want a guy who's going to set a tone physically, who's tough. He's got enough range to cover the deep third and the deep middle of the field. He's never going to be a matchup safety, but he can cover in zone, he's capable of playing in the box and he's going to fill the alley hard. I mean, he knocked some guys out. He's probably going to wind up with some fines in the league, and he may have to adjust his mentality a little bit, but he's a perfect Rex Ryan-type football player."
The criticism of Amaro is he's a below average blocker. Doesn't matter, according to McShay.
"He can block a little bit, but ultimately all they did was draft a big wide receiver they can flex out and put in the slot, even split out wide at times and try to create some mismatches," he said. "I really like that pick for the Jets."
McShay's take on the next three picks:
McDougle: "I like his tape. He has durability issues, but I thought he was one of the under-rated players in this draft. When you studied what he did in 2012 and his first couple of games this season, he's got a lot of potential. They obviously love drafting defensive backs."
Saunders: "He's quick. He's a good slot receiver, he makes plays and he create after the catch."
Evans: "We had him in that fourth/fifth-round range. He doesn't have explosive burst. He's not going to stretch the field much vertically, but he has good hands and I thought he had a really good performance at the Senior Bowl. He's got a chance to stick maybe as the No. 4 or No. 5."