September, 11, 2012
9/11/12
2:00
PM ET

The
Buffalo Bills
were throttled by the
New York Jets
in a 48-28 loss in Week 1. The Bills will try to bounce back and get to .500 with Sunday's home game against the
Kansas City Chiefs
.
Here is a reason to be hopeful and a reason to be concerned about Buffalo in Week 2:
Reason for hope: RB C.J. Spiller
Spiller was like a rainbow shining for Buffalo in midst of a dreary day. Spiller is currently the NFL's rushing leader after gaining 169 yards and a touchdown against a tough New York defense. He looks
ready to turn it up
in his third year and will get that opportunity with
Fred Jackson
(knee) out at least a month. With injuries to Jackson and receiver
David Nelson
, the Bills should let Spiller do his thing early and often this week. He is a home-run hitter who can take it the distance at any time.
Reason for concern: Defense
New York's offense, which couldn't score a touchdown in the preseason, pretty much did what it wanted against Buffalo's defense. The $100 million acquisition of
Mario Williams
registered
just one tackle
. The secondary couldn't cover anyone and the young corners were exposed. Maybe it was just a bad week. The Bills will do everything they can to fix things defensively in practice. But the Jets' offense was by no means a juggernaut. The Chiefs can present more problems on paper with running back
Jamaal Charles
, receiver
Dwayne Bowe
and others. Buffalo's defense needs to be more detailed and feed off the energy at home.
May, 18, 2011
5/18/11
11:00
AM ET
At some point, the unlikely collection of NFL teammates struck somebody as unusual, and they began to sort out who the highest draft pick was.
Together last month for a mini passing camp near quarterback
Ryan Fitzpatrick
's home in Arizona, eight
Buffalo Bills
players laughed about their long-shot backgrounds.
Sophomore receiver
Marcus Easley
was the closest thing to a bonus baby, and he was a fourth-round draft choice with zero NFL games. So who was next in line? Backup quarterback
Levi Brown
was the answer, a seventh-round pick last year, 209th overall, and unable to make the roster out of training camp.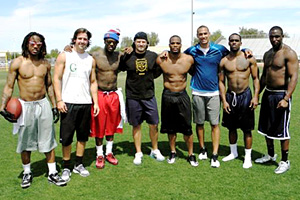 Courtesy of David NelsonBills players (L to R) Naaman Roosevelt, Levi Brown, Steve Johnson, Ryan Fitzpatrick, Fred Jackson, David Nelson, Donald Jones and Marcus Easley pose for a picture following a workout last month.
Wide receiver
Steve Johnson
went 224th, Fitzpatrick 250th. Running back
Fred Jackson
and receivers
David Nelson
,
Donald Jones
and
Naaman Roosevelt
weren't drafted at all.
"This is testament of who we are as a group," Nelson said Tuesday night from his home in Dallas. "We all believe in each other. We all push each other. We all compete with each other. We know we're against the odds. We're a bunch of guys nobody gave a chance to."
The Bills have a couple of first-rounders in their offense who didn't attend the workouts. Running back
C.J. Spiller
and receiver
Lee Evans
are important components, but it's impressive to consider such a big contingent of overlooked players making up a team's offensive core.
Nelson and the rest of that gang can speak with a little more conviction about their futures in Buffalo now. When they gathered for some casual workouts, there was plenty of doubt about the direction of the offense.
The draft hadn't taken place yet, and the Bills owned the third and 34th selections. There was considerable talk about a quarterback being a serious option. If Auburn star
Cam Newton
still were on the board, could the Bills pass him up? Missouri quarterback
Blaine Gabbert
might have been a possibility, and it was anybody's guess who would still be on the board in the second round.
"I'm sure Fitz was bracing for something," Jackson said Tuesday of the pre-draft mood. "Everybody had to be."
One thing was for sure among the Bills' players: They were rooting for the front office to stand pat at quarterback.
"We've been talking about it as a receiver group for a while," Nelson said. "We were hoping that they would stay away from quarterbacks in the draft because we have all the confidence in the world in Fitz and what he can do. We like the direction we're headed in with him."
The Bills gave their offensive players a major vote of confidence last month. Of their nine draft choices, only two play offense. They drafted Clemson tackle
Chris Hairston
in the fourth round and North Carolina running back
Johnny White
in the fifth round.
The Bills will acquire more offensive players whenever free agency dawns. General manager Buddy Nix has said they will sign another quarterback, but the club sent a strong message about Fitzpatrick's standing when they didn't draft one.
"They showed they have a lot of faith in Fitz," Jackson said. "Me and my teammates all have a lot of faith in him, too. We're excited about that. I'm looking forward to working with him and trying to build on what we did last year and making that playoff push."
Fitzpatrick and Jackson will enter the 2011 season with substantially more juice than they had last summer. Both of them were considered backups.
"You have to say that it had some kind of affect on us," Jackson said. "We weren't on the same page when we got in the lineup, but that's part of the game, and we have to adjust.
"It does hurt to not get the reps, but as long as you mentally prepare like you are the No. 1 guy, you can hit the ground running. Hopefully, now we can get those reps and go into this season as the No. 1 guys and put this team on our shoulders and make some plays."
[+] Enlarge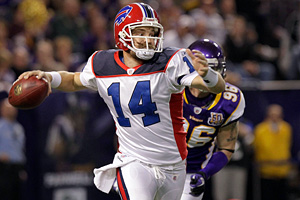 Nick Laham/Getty ImagesThe Bills are confident in Ryan Fitzpatrick's ability to lead the team.
Fitzpatrick won over the Bills' locker room and much of their fan base last year.
Trent Edwards
' presence had worn thin everywhere. The man known as "Captain Checkdown" was uninspiring at best. He was frequently injured and rarely showed a hint of nerve.
New coach Chan Gailey backed him in the beginning. Edwards took most of the offseason reps and was named the No. 1 quarterback when training camp opened. Edwards started all four preseason games.
Fitzpatrick, Brown and
Brian Brohm
fought over the scraps. Fitzpatrick attempted 23 passes before the season.
Asked at the NFL scouting combine in February whether he regretted those decisions, Gailey replied, "Shoot, yeah. If I knew then what I know now, I wouldn't have done that."
At 0-2, the Bills made an abrupt change. They waived Edwards.
Fitzpatrick was a jolt to the huddle, to the Ralph Wilson Stadium crowd, to the community. He grew a bird's-nest beard and called himself the "Amish Rifle." He wore his wedding ring during games. He actually threw the ball downfield.
He made the games entertaining again, even the defeats. Fans forgave him for occasional reckless interceptions.
Jackson was in a similar situation despite rushing for more than 1,000 yards the previous season.
He was in a crowded backfield with
Marshawn Lynch
and hotshot rookie Spiller and didn't start the first four games, carrying the ball 20 times for 87 yards through the first quarter of the season.
When the Bills traded Lynch for a 2011 fourth-round draft choice and a conditional 2012 sixth-round pick, the door opened for Jackson again.
"Right now, I feel like I'm the No. 1 guy and C.J. will come in and get a lot of plays," Jackson said. "I feel like I'm going to be the guy that's carrying the load and has got to make that running game go.
"I'm sure C.J.'s working hard and will [have] the opportunities as well, but I just got to shoulder the load and take the pressure off Fitz and make us a balanced offense. I want to be that guy."
Spiller generated preseason buzz for rookie of the year honors, but he had a disappointing campaign (283 rushing yards and no touchdowns, 157 receiving yards and one touchdown) and still has much to prove.
Jackson rushed for 614 yards in the second half of the season, tying with
Ray Rice
for sixth in the NFL in that span. The running backs ahead of them were
Arian Foster
,
Jamaal Charles
,
Maurice Jones-Drew
,
Chris Johnson
and
BenJarvus Green-Ellis
. Nice company.
The Bills ranked 25th in total offense, 18th in run offense and 24th in pass offense. Not too swift compared to the rest of the NFL.
But all of their best offensive superlatives in 15 categories (points, first downs, yards, etc.) happened Oct. 24 or later. The same can be said about individual player superlatives, aside from Fitzpatrick's 71.4 completion percentage in Week 3 against the
New England Patriots
.
The Bills obviously found enough there to make a commitment, and the players aren't crying for help. They're thrilled the group will stay together.
"We did some good things on offense last year," Jackson said. "We feel like if we could get back on the field healthy and get another crack at this thing, we'll continue to have some success."
April, 11, 2011
4/11/11
2:39
PM ET
April, 4, 2011
4/04/11
1:27
PM ET
March, 24, 2011
3/24/11
3:20
PM ET
You still have a few more days to select which players advance from the
first round of the Madden 12 cover tournament
.
ESPN.com
video game writer Jon Robinson blogged some updates
Thursday, and
New York Jets
quarterback
Mark Sanchez
is having a tougher time than expected with
Miami Dolphins
left tackle
Jake Long
.
Other surprises include
Denver Broncos
quarterback
Tim Tebow
getting thumped by
Kansas City Chiefs
running back
Jamaal Charles
.
The battle between
Buffalo Bills
receiver
Steve Johnson
and
New England Patriots
running back
Danny Woodhead
wasn't mentioned.
If you're a gamer who wants a sneak preview, you can watch the Madden 12 highlight videos for each of the 32 entries in the bracket.
I've included the Woodhead video below. Click on the other three AFC East nominees to see theirs: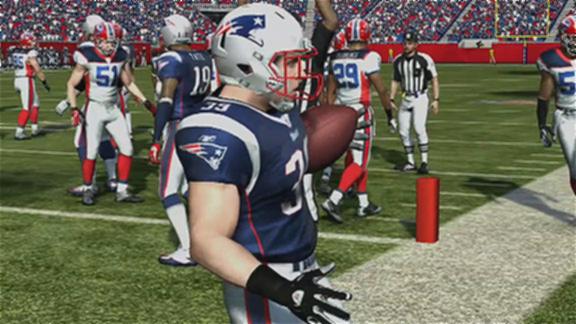 March, 15, 2011
3/15/11
1:00
PM ET
ESPN.com debuted its
positional power rankings series last week
with wide receivers. The two articles I wrote about my ballot (and
my breakdown of the AFC East
) sparked lively discussions about my process.
Readers demanded to know my criteria. My explanation seemed to chafe a few. I stated that my ballot simply reflected my personal taste about how they performed last season.
Stats are a part of equation. They must be to an extent. But if I wanted to go purely on stats, then I would post a link to ESPN.com's fantasy leaders.
I steer clear of metrics. You can pick and choose a specific mathematical equation and make it support any case -- even though you might be comparing a slot receiver catching passes from an elite quarterback to a No. 1 receiver who's constantly double covered on a run-oriented offense. Can't do it.
In the end, it comes down to subjective judgment. Feel free to disagree. An exchange of ideas is the whole point. I don't need to agree with you, and you don't need to accept my list as gospel. Agents won't use the AFC East blog in contract negotiations. The Pro Football Hall of Fame won't use my power rankings to determine induction.
In response to a question about underrated
Buffalo Bills
running back Cookie Gilchrist for the documentary "Full Color Football: The History of the American Football League," legendary runner Jim Brown summed up my sentiments.
"Who gets compared to me and all of that, I couldn't care less about," Brown said. "I don't compare a rose to a petunia. They both have their own kind of beauty. It all depends on what you prefer."
And for those who require statistical reasoning, I share with you a quote another
Cleveland Browns
Hall of Famer told me a couple months ago for a story about
Andre Reed
's induction hopes.
"Our game is beginning to resemble baseball in which everyone is looking at numbers," said Paul Warfield, a member of the undefeated 1972
Miami Dolphins
team. "Numbers tell the story to a degree, but I like to look at one's full body of work. You're supposed to be able to do a lot of things.
"As a receiver, catching the ball is primary and important. But I don't think it takes very much skill or maneuverability to step a couple yards off the line of scrimmage and someone pops you with a pass several times."
So, as you peruse my ballots the next several Tuesdays, that's where I'm coming from.
This week's power rankings position is running back
.
My ballot:
The most obvious omission was
St. Louis Rams
running back
Steven Jackson
. I thought long and hard about including him, but I couldn't talk myself into it. Jackson scored only six touchdowns and had little impact in the passing game. Of the 17 backs who rushed for 1,000 yards, his 3.8 yards per carry were better than only
Cedric Benson
's average.
Some might point out that defenses girded up to remove Jackson from the game, but there are other runners on that list who had worse quarterback situations than the Rams did. I think people still see Jackson as the all-around superstar from 2006.
Hillis was another tough call because of his fumbles. But he was Cleveland's entire offense. Opponents still couldn't stop him. He also added 61 receptions for another 477 yards and a couple touchdowns, numbers that get overlooked.
I'll come back later Tuesday with a ranking of AFC East backs.
February, 1, 2011
2/01/11
10:44
AM ET
The Associated Press will announce its 2010 offensive player of the year on Tuesday.
Some might assume it's a foregone conclusion
New England Patriots
quarterback
Tom Brady
will win the award because he's virtually guaranteed to be named MVP on Sunday and, well, he plays offense.
Frequently, though, the MVP and the offensive player of the year do not match. The reason is that MVP is a more transcendent honor that goes beyond stats and includes team success, while the offensive player of the year award generally is based on prolific production.
Brady
Since the AP began naming a top offensive and defensive player in 1972, the OPOY and MVP have differed 16 times. They've differed 13 times since 1986 and six times since 1999.
For instance, quarterback
Peyton Manning
was voted MVP the past two seasons for guiding the
Indianapolis Colts
to dominant regular seasons. But
Tennessee Titans
running back
Chris Johnson
(record 2,509 yards from scrimmage) was OPOY for last season.
New Orleans Saints
quarterback
Drew Brees
(15 yards short of Dan Marino's passing yardage record) was OPOY for 2008.
The last player to match? Brady in 2007.
There's a good chance he'll win both again for 2010 because he posted amazing personal stats while quarterbacking the Patriots to a league-high 14 victories. Brady led the NFL with 36 touchdown passes and a 111.0 passer rating (fifth all-time) while throwing a league-low four interceptions. He broke the record for most attempts without an interception.
The AP panel made Brady a unanimous selection at quarterback, but he'll probably lose some votes for OPOY. Top candidates to snag some include
Houston Texans
running back
Arian Foster
(led NFL in rushing yards and TDs),
Kansas City Chiefs
running back
Jamaal Charles
(6.4 yards per carry) and
Atlanta Falcons
receiver
Roddy White
(led NFL in receptions and second in yards).
Since nobody else in the AFC East deserves a look for OPOY, let's narrow the focus to the division only and set Brady aside for the sake of discussion.
Who had the second-best offensive year in the AFC East?
That's a tough call.
Patriots back
BenJarvus Green-Ellis
was the only 1,000-yard rusher, albeit barely, and scored 13 touchdowns.
Miami Dolphins
receiver
Brandon Marshall
tied Patriots receiver
Wes Welker
for the division lead with 86 receptions and gained 1,014 yards but scored only three touchdowns. Welker had 848 yards and seven touchdowns.
Buffalo Bills
receiver
Steve Johnson
had a fabulous season with 82 receptions, 1,073 yards and 10 touchdowns.
The
New York Jets
spread the ball around so much, nobody recorded staggering numbers, but receivers
Santonio Holmes
and
Braylon Edwards
each had great campaigns.
Who do you think had the best season among those not named Brady?
October, 31, 2010
10/31/10
4:49
PM ET
Some thoughts about the Buffalo Bills'
13-10
loss to the Kansas City Chiefs.
What it means:
Heartbreak again. For the second straight week, the Bills hung tough with a team many expected to annihilate them and went into overtime before losing by a field goal. The Bills are 0-7.


Torture:
In sudden death, Bills kicker
Rian Lindell
missed a 53-yard attempt. On the ensuing possession, Chiefs kicker
Ryan Succop
missed a 39-yard try before closing them out as bonus time expired.
Live and die with Fitzpatrick:
Bills quarterback
Ryan Fitzpatrick
extended his streak of touchdown passes to eight games, tying the game with a 4-yard toss to
Steve Johnson
in the fourth quarter.
Then the Bills had the ball on the Chiefs' 41-yard line with 32 seconds left in regulation.
Eric Berry
intercepted at the 27. In overtime, Fitzpatrick was flagged for intentional grounding on a third-down play from the Chiefs' 42-yard line, forcing a punt rather than a possible field goal.
Bills defense pro and con:
The Bills held the Chiefs to just 10 points in regulation time, but they also got trampled for 254 rushing yards by
Jamaal Charles
(177) and
Thomas Jones
(77).
Johnson's streak intact:
His touchdown reception gives him at least one score in five straight games, tying a club record held by Elbert Dubenion (1964),
Eric Moulds
(1999) and
Lee Evans
(2004).
What's next:
The Bills play their annual "home game" in Toronto in Week 9. The
Chicago Bears
will be their opponent.
October, 29, 2010
10/29/10
5:24
PM ET
October, 28, 2010
10/28/10
4:47
PM ET
AccuScore's computers weren't overly impressed with the
Buffalo Bills
' offensive explosion last week against a respected
Baltimore Ravens
' defense.
In a departure from Las Vegas' line of thinking, AccuScore forecasts the Bills as the second-biggest underdogs of Week 8. They will play the
Kansas City Chiefs
in Arrowhead Stadium.
AccuScore's 10,000 simulations project the Chiefs as 67 percent favorites. Only the
Indianapolis Colts
have a greater probability this week in their game against the
Houston Texans
.
Some other AccuScore predictions to consider for the Bills: hot quarterback
Ryan Fitzpatrick
has a 61 percent chance of throwing at least one interception, and if he does, then the Chiefs become 73 percent favorites.
But if Fitzpatrick throws no more than one interception and the Bills' atrocious run defense can keep
Thomas Jones
and
Jamaal Charles
under 5 yards a carry, then the Bills turn into 56 percent favorites.
October, 28, 2010
10/28/10
10:41
AM ET
ORCHARD PARK, N.Y. --
Buffalo Bills
coach Chan Gailey responded with an expression that said
Yeah, no kiddin'!
when I brought up the adversity his defensive line will face Sunday against the
Kansas City Chiefs
.
Buffalo still owns the NFL's worst run defense despite morphing its 3-4 scheme into more of a four-man front a few weeks ago. Kansas City ranks first in rushing yards per game.
The Chiefs have a pair of running backs who can sting a defense.
Jamaal Charles
and
Thomas Jones
have combined for 950 yards and five touchdowns already. Charles is averaging 6 yards a carry with two touchdowns. Jones is averaging 4.7 yards a carry and has three touchdowns.
The Bills have been particularly vulnerable between the tackles, surrendering a league-high 476 yards on rushes up the middle, according to ESPN Stats & Information.
For Gailey, there's only one answer for his D-line.
"You've got to whip the blocker and get off the blocker and make the tackle," Gailey said. "You've got to do what you're responsible for in your gap. That's the one thing we've got to continue to get better at is getting on the block so that they can't knock you off the ball and then getting off the block and getting to the tackle.
"That's the No. 1 thing about playing defense: Can you get off the blocker and get to the ball without giving up your gap responsibility? That's it in a nutshell. It's not that easy, but it's an easier explanation than it is to do."
August, 17, 2010
8/17/10
11:40
AM ET
In the latest edition of their "Man 2 Man" series, ESPN fantasy gadabouts Matthew Berry and Eric Karabell debate the merits of a pair of running backs projected for the second round:
Shonn Greene
of the
New York Jets
and
Jamaal Charles
of the
Kansas City Chiefs
.
They also give their take on
LaDainian Tomlinson
and goal-line carries.
Karabell goes with Charles:
"The second half of last season, he was arguably the best running back in all of fantasy not named
Chris Johnson
. Charles was terrific, and I think the reason why people were scared of him is because
Thomas Jones
is there. Thomas Jones may or may not be on top of the depth chart. Don't worry about that. Charles is really, really good. He can catch passes. He can break long runs. ... I almost have Charles in my top 10. I trust that Thomas Jones is going to be the backup. Charles is going to get at least 75 percent of the rushes."
Berry prefers Greene:
"Last year, 607 rushing attempts for the New York Jets. No other team came within 50 of that, the most in the NFL. Third-most rushing touchdowns last year. There were three games Shonn Greene got at least 19 carries, and in each of those games he had at least 128 rushing yards, and he scored in each game. He's running behind one of the best offensive lines in football on a team that is going to run the ball."
April, 13, 2010
4/13/10
9:33
PM ET
According to a report by Yahoo! Sports writer Charles Robinson, the
Buffalo Bills
haven't been actively trying to move running back
Marshawn Lynch
, but they'll entertain offers and are
open to trading Lynch for a package that includes a second-round pick
.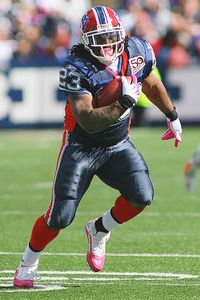 Rick Stewart/Getty ImagesIn three seasons with the Bills, Marshawn Lynch has rushed for 2,601 yards, but he has run into trouble away from the field.
Yeah, good luck with that.
A second-round pick?
Robinson, citing an unnamed sources, reports the
Seattle Seahawks
have had internal discussions about making a play for Lynch.
Lynch has the potential to be elite
. That's why the Bills drafted him 12th overall three years ago. He rushed for over 1,000 yards in his first two seasons and made a Pro Bowl.
But Lynch, much like
Santonio Holmes
, is one misstep away from a long suspension. Lynch began last season with a three-game suspension for repeated misbehavior. He was involved in a hit-and-run incident in Buffalo and made a plea deal on gun charges in California. He has been accused of other transgressions, too.
A second-round pick for a player with Lynch's rap sheet seems expensive.
The Scouts Inc. draft board
projects Cal's
Jahvid Best
and Ole Miss'
Dexter McCluster
as second-round picks in this year's draft.
Talented running backs aren't that difficult to discover. Lynch eventually lost his starting job to
Fred Jackson
, a Division III product who wasn't drafted at all.
Here's a list of running backs who have been drafted in the third round:
Shonn Greene
,
Frank Gore
,
Steve Slaton
and
Jamaal Charles
. In the fourth round:
Marion Barber
,
Brandon Jacobs
and
Darren Sproles
.
If you'll allow me to mix up positions, the
New York Jets
acquired Holmes for a fifth-round choice. There's a belief the
Denver Broncos
will accept a high second-round pick for
Brandon Marshall
.
Buffalo might very well pull the trigger on a Lynch trade, but if the front office can finagle a second-round draft pick out of another team, then it will be a substantial coup.