September, 5, 2010
9/05/10
9:11
PM ET
From the starting lineup of their regular-season finale, the
New York Jets
have lopped 77 seasons of experience.
No wonder head coach
Rex Ryan was bemoaning a lack of leadership
in the latest episode of "Hard Knocks."
On Sunday, the Jets released veteran fullback
Tony Richardson
-- a day after he survived the cutdown deadline for the 53-man roster.
Richardson is trying to play a 16th NFL season. He was outplayed by rookie
John Conner
, but it was clear watching "Hard Knocks" the Jets coaching staff viewed Richardson as highly important to the 2010 cause. He was considered perhaps the most prominent leader in the locker room.
"Each season, there are difficult choices when constructing the 53-man roster, and this year is no exception," Jets general manager Mike Tannenbaum said in a statement. "We appreciate Tony's contributions and leadership over the past two seasons and have nothing but the highest respect for him as a person and as a player."
The Jets also waived running back
Chauncey Washington
and receiver
David Clowney
. The dismissals cleared way for three waiver pickups: receiver
Patrick Turner
from the
Miami Dolphins
, tackle
Patrick Brown
from the
Minnesota Vikings
and defensive tackle
Marcus Dixon
from the
Dallas Cowboys
.
Richardson joined a long list of veterans who aren't around from a roster that was good enough to get the Jets to the AFC Championship Game, among them running back
Thomas Jones
(10 seasons), guard
Alan Faneca
(12 seasons), defensive end
Marques Douglas
(nine seasons), kicker
Jay Feely
(nine seasons) and long snapper
James Dearth
(nine seasons).
In fact, of the 10 most experienced players on the Jets' final roster last year, including injured reserve, only three remain: right tackle
Damien Woody
, nose tackle
Kris Jenkins
and defensive end
Shaun Ellis
.
Granted, the Jets did add veterans via free agency. Quarterback
Mark Brunell
is entering his 18th season, running back
LaDainian Tomlinson
his 10th and pass-rusher
Jason Taylor
his 14th. But all of them were signed with the intention to be backups.
You have to wonder whether the Jets have over-tinkered their roster.
August, 18, 2010
8/18/10
1:30
PM ET
ESPN.com NFL Power Ranking
(pre-camp): 7
CORTLAND, N.Y. -- There's a healthy chance you're already sick of the
New York Jets
.
You're sick of their loudmouth coach, sick of their hotshot quarterback, sick of their trash-talking defense, sick of their wheeler-dealer general manager, sick of hearing about their HBO series, sick of their delirious fans.
Get used to it all. They're not going away.
Every team wants to kiss the Lombardi Trophy, but the Jets have drawn the disdain of 31 other teams and their fans by being so cocksure about their plans.
Whether the Jets win a championship or crash and burn on their approach, they'll remain the NFL's most fascinating team in 2010. Win or lose, they're going to be a season-long story.
"That's our own expectations," Jets quarterback
Mark Sanchez
said on the first day of training camp at SUNY Cortland. "That's why we feed off of it. It's our own mentality, that Super Bowl-champion mentality. That's what we want, and that's what we're striving for. ... Now, we need to do it every day and prove it."
THREE HOT ISSUES
[+] Enlarge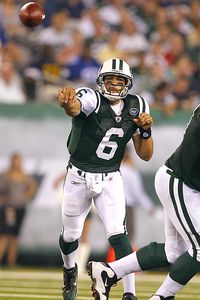 Jim O'Connor/US PresswireThe Jets are hoping Mark Sanchez has matured as a quarterback heading into his second season.
1. Can Sanchez handle the pressure?
There's a lot of skepticism surrounding the man at the controls. Sanchez threw 20 interceptions last year as a rookie. He fumbled 10 times and lost three of them. He was so befuddled at one point, the Jets had to give him a color-coded wristband to help him comprehend the plays.
The Jets hope he matured considerably over the offseason. To help him along as a passer, they added receivers
Santonio Holmes
and
Laveranues Coles
and out-of-the-backfield target
LaDainian Tomlinson
.
Sanchez still has to make the right calls and decisions. Coaches and teammates note his indefatigable work ethic.
And there's no disputing how impressive he appeared down the 2009 homestretch. Offensive coordinator Brian Schottenheimer corralled him in time to salvage the season. Although Sanchez had more than 20 attempts in only three games after Thanksgiving, the Jets won six of those eight outings, two of them on the road in the playoffs.
Sanchez will need to shoulder much more responsibility this year. How he handles being the leading man of a Super Bowl contender will determine the Jets' fate.
2. How will Darrelle Revis' holdout affect the season?
There's a belief among the Jets their defense will take care of itself. As nose tackle
Kris Jenkins
pointed out before training camp began, fans swooned when he suffered a season-ending knee injury six games into last season, but the Jets still finished with the NFL's top-rated total defense, scoring defense and pass defense.
Revis, of course, played an integral part. Maybe the
most
integral part.
All he did was establish himself as the preeminent shutdown cornerback. Revis was so good at shutting down the other team's top receivers, the Jets never had to worry about double-covering. That, in effect, gave them an extra defender to use however they wanted.
The Jets have cornerback depth to help them cope if Revis holds out into the season. They traded for cornerback
Antonio Cromartie
, a sensational cover corner (though not nearly the run defender Revis is).
Dwight Lowery
and first-round draft pick
Kyle Wilson
are capable.
But none of them are as good as Revis is. His return would provide invaluable peace of mind.
[+] Enlarge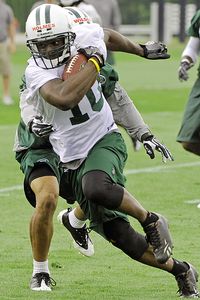 AP Photo/Bill KostrounSantonio Holmes was just one of the Jets' high-profile offseason acquisitions.
3. Did the Jets ruin a good thing with too many roster moves?
The Jets came within a half of the Super Bowl, taking a lead into the third quarter against the
Indianapolis Colts
-- in Lucas Oil Stadium, no less. It was a young team on the make, the type of roster you'd like to keep as intact as possible.
Or so you would think. Ryan and general manager Mike Tannenbaum got rid of a few starters with big voices in the locker room. Gone were the lead running back on the NFL's top ground attack (
Thomas Jones
), a perennial Pro Bowl left guard (
Alan Faneca
), a starting safety (
Kerry Rhodes
) and a respected kicker (
Jay Feely
).
The Jets made some high-profile acquisitions, too. But perhaps the two biggest moves, Holmes and Cromartie, were poaching other teams' misfits. They also signed Tomlinson and outside linebacker
Jason Taylor
, classy veterans but with question marks about what they have left.
BIGGEST SURPRISE
Other than references to his nickname, not much was written or said about Kentucky fullback
John Conner
when the Jets drafted him in the fifth round. The Jets had re-signed
Tony Richardson
for a 17th season, and they wouldn't bring him back if he wasn't going to keep his job, right?
Richardson might be on the bubble. Ryan has been diplomatic in speaking about Richardson's value to the Jets as a locker-room leader, but there's no doubt Ryan loves The Terminator. Conner has been a thumper in camp. Conner will make the team, and keeping two fullbacks is a luxury.
BIGGEST DISAPPOINTMENT
Revis' holdout is a shame on multiple levels. Both sides are standing by principles that are fully understandable. Revis is the NFL's best defender and wants to be paid as such. The Jets, meanwhile, have a signed contract that lasts three more years and refuse to consider as any kind of standard the
Oakland Raiders
' ridiculous deal with
Nnamdi Asomugha
, the league's highest-paid cornerback.
Unless they can reach a compromise or the Jets win the Super Bowl without him, both sides will forever regret this dispute. The Jets have a chance to win their first championship in four decades, and Revis might never get this kind of shot to win a title regardless of where he finishes his career.
OBSERVATION DECK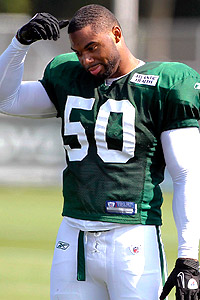 William Perlman/The Star Ledger/US PresswireNew York is comfortable with Vernon Gholston at defensive end in passing situations.
July, 20, 2010
7/20/10
9:39
PM ET
New York Jets
nose tackle
Kris Jenkins
beamed into the NFL Network studios and
delivered some pointed remarks
about Jets fans and some former teammates.
"NFL Total Access" host Rich Eisen asked Jenkins to advise nervous Jets fans how to approach a season full of expectations but also question marks because of such key departures as running backs
Thomas Jones
and
Leon Washington
, guard
Alan Faneca
and safety
Kerry Rhodes
.
[+] Enlarge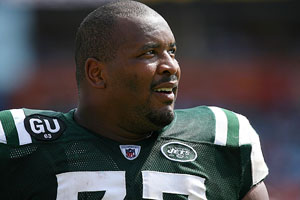 Doug Benc/Getty ImagesJets' nose tackle Kris Jenkins has a message for departed teammates: "We've had some real men come in and step in for the women that we lost."
"Suck it up. That's what y'all being doing so far," Jenkins said of the fans. "Look, you've got to understand that this is football, and if I could make a public-service announcement, I will say this: New York fans, we love you. This is Kris Jenkins. I am a little bit of a clown in my free time, so if I hurt your feelings I'm really not going to apologize because this is my time right now. ...
"If we win, then you get all your dreams coming true. If we lose, then you all get to do what you've been doing for a long time and talk about us until you basically run us out of the city. So you're going to get what you want either way. But we're going for a Super Bowl. So sit back, enjoy the ride. We're planning on doing it big."
Jenkins continued with a curious and disparaging comment about players who have left -- without naming names.
"We have great guys who have come in to step up, to fill in the void of some of these big losses that we have had this season," Jenkins said.
"Then in some other cases, we've had some real men come in and step in for the women that we lost. So we're going to be OK. Don't worry about it."
Jenkins probably was being that aforementioned clown, but Eisen didn't follow up with another question to clarify who Jenkins was referring to. Some players left on rougher terms than others. Many Jets weren't pleased to see guys like Jones, Faneca and kicker
Jay Feely
leave.
Rhodes would be a good guess as to one player Jenkins meant. But Jenkins did say "women" plural.
For the record, Jets who were on the final 2009 roster but not currently with the team (in addition to those listed above) are receiver
Wallace Wright
, defensive tackler
Howard Green
, defensive end
Marques Douglas
, linebackers
Marques Murrell
and
Ryan Fowler
, cornerbacks
Lito Sheppard
and
Donald Strickland
, special-teams ace
Larry Izzo
and long snapper
James Dearth
.
Douglas reportedly will re-sign with the Jets later this week.
June, 5, 2010
6/05/10
11:56
AM ET
By
ESPN.com staff
| ESPN.com
March, 4, 2010
3/04/10
8:24
AM ET

Buffalo Bills
Potential unrestricted free agents:
DE
Ryan Denney
, LB
Chris Draft
, DB
Todd Johnson
, G
Seth McKinney
, WR
Terrell Owens
, WR
Josh Reed
, S
Bryan Scott
, G
Kendall Simmons
, LB
Josh Stamer
.
Potential restricted free agents:
LB
Keith Ellison
, QB
Gibran Hamdan
, G
Richie Incognito
, TE
Joe Klopfenstein
, TE
Derek Schouman
, T
Jonathan Scott
, S
George Wilson
, CB
Ashton Youboty
.
Franchise player:
None.
What to expect:
The Bills are in a rebuilding mode and shouldn't be in too much of a hurry to sign their free agents. In fact, they took the unusual step of publicly announcing they wouldn't offer Owens, Reed or Denney contracts. The most attractive players are Incognito and Wilson. Most of the rest were bit players and injury replacements.

Miami Dolphins
Potential unrestricted free agents:
NT
Jason Ferguson
, CB
Nate Jones
, QB
Chad Pennington
, OLB
Jason Taylor
.
Potential restricted free agents:
RB
Ronnie Brown
, TE
Anthony Fasano
, OLB
Quentin Moses
.
Franchise player:
None.
What to expect:
The Dolphins have a tough decision to make on Ferguson. He'll turn 36 during the 2010 season and is coming off a serious quadriceps injury. Without him, however, the Dolphins have a massive void in their 3-4 defense at a position that's difficult to replace. Pennington, Jones and Taylor all could be gone.

New England Patriots
Potential unrestricted free agents:
OLB
Tully Banta-Cain
, CB
Leigh Bodden
, OLB
Derrick Burgess
, RB
Kevin Faulk
, DE
Jarvis Green
, P
Chris Hanson
, G
Stephen Neal
, ILB
Junior Seau
, TE
Benjamin Watson
.
Potential restricted free agents:
K
Stephen Gostkowski
, G
Logan Mankins
, OLB
Pierre Woods
.
Franchise player:
NT
Vince Wilfork
.
What to expect:
Several starters are about to go up for bids, and the Patriots can't keep them all. Expect Faulk to be re-signed without much fuss. Neal, Bodden and Banta-Cain comprise a group they'd have trouble replacing. All three could fetch offers the Patriots would rather not match. Don't count on Watson coming back.

New York Jets
Potential unrestricted free agents:
LS
James Dearth
, DE
Marques Douglas
, K
Jay Feely
, LB
Ryan Fowler
, TE
Ben Hartsock
, LB
Larry Izzo
, FB
Tony Richardson
.
Potential restricted free agents:
QB
Kellen Clemens
, CB
Drew Coleman
, WR
Braylon Edwards
, DT
Howard Green
, T
Wayne Hunter
, WR
Brad Smith
, S
Eric Smith
, RB
Leon Washington
.
Franchise player:
None.
What to expect:
As a "final eight" team, the Jets have to window shop until one of their UFAs sign elsewhere. General manager Mike Tannenbaum is creative. Don't be surprised if the Jets use trades to upgrade. The key restricted free agent to monitor will be Washington, who received a second-round tender. His agent has been tweeting alarms the Pro Bowler could sign an offer sheet and dare the Jets to match.
December, 24, 2009
12/24/09
11:50
AM ET
With two games yet to play, the
New York Jets
felt it was safe to announce their team awards.
It's difficult to see anything happening to make any of these selections look premature.
Teammates selected NFL defensive player of the year candidate
Darrelle Revis
for the
Curtis Martin
MVP Award and running back
Thomas Jones
for the Dennis Byrd Most Inspirational Player Award
Revis has been a lights-out defender all year. His six interceptions are tied for fifth in the NFL, and his 36 passes defensed lead the league by a comfortable margin.
Thomas was last year's team MVP for leading the AFC in rushing. A significant dropoff was expected for the 31-year-old power back, but he anchored a run offense that ranks first in the NFL. He ranks fifth individually with 1,219 yards and 11 touchdowns.
Inside linebacker
David Harris
received the Ed Block Courage Award. Left tackle
D'Brickashaw Ferguson
was given the Marty Lyons Award for Community Service. Long-snapper
James Dearth
was honored with the
Kyle Clifton
Good Guy Award.
May, 2, 2009
5/02/09
4:33
PM ET
Posted by ESPN.com's Tim Graham
For the first time in five years, J'Nathan Bullock pulled a helmet over his ears.
"It messed with all sorts of things," Bullock said Saturday by phone from the New York Jets facility in Florham Park, N.J.. "My neck, my vision, my timing, everything was off. I'm still getting used to it.
"Today, I woke up with a sore neck and my head was banging."
While most participants in this weekend's rookie camp can strap on their equipment as easily as most folks slip into a pair of loafers, Bullock is relearning even the simplest routines.
Bullock hasn't played football since high school. The Jets signed him as an undrafted rookie in hopes of turning him into a tight end.
Bullock was a 6-foot-5, 240-pound power forward at Cleveland State. He led the Vikings into the second round of the NCAA basketball tournament by averaging 15.2 points and 7.1 rebounds a game.
When he took off his football pads for the last time at Flint Northern High in Michigan, he figured it was forever.
"There weren't any thoughts about the NFL marinating," Bullock said.
Shortly after Cleveland State was eliminated from the tournament, he received queries from the Buffalo Bills and Chicago Bears.
That got him wondering.
"It caused some deep thought," Bullock said. "The idea resonated in my mind when actual teams started talking to me.
"I had aspirations to play in the NBA, but I took a turn. That's life."
Because Cleveland State doesn't offer football -- pro-football-reference.com lists no alumni in its database -- Bullock staged a workout for NFL scouts on the campus soccer pitch.
With visions of discovering the next Antonio Gates, a Kent State hoopster who went on to star for the San Diego Chargers, over half the league was represented at Bullock's workout. But Bullock said only the Jets sent a position coach. That won him over.
Bullock's goal is to make the 53-man roster. The Jets need help at tight end. Their depth chart consists of Dustin Keller and James Dearth, a long snapper with three catches in nine NFL seasons. The Jets released Chris Baker and haven't re-signed Bubba Franks.
The Jets didn't draft any tight ends. They brought in only Bullock, Utah State's Rob Myers and Arkansas' Andrew Davie as rookie free agents. Davie also is a long snapper. He caught eight passes for 71 yards and three touchdowns last year.
It would be interesting to see if he would clear waivers if the Jets tried to place him on their practice squad.
He insisted he isn't flippant about football, that he's not treating it as some fling before returning to the hardwood.
"Once something's on my plate, I go at it wholeheartedly," Bullock said. "I'm giving it 110 percent. I'm not going to cheat the Jets."
But Bullock admitted he had a rough time in his first two practices.
"I would want to make a better first impression because my expectations are high, probably too high," Bullock said. "I was fighting it all day [Friday]. I'm trying to learn the system and plays. It's hard to play naturally through all the mental parts.
"I haven't played up to my ability, but this is a different environment and we're at the beginning of the process."