November, 18, 2013
11/18/13
11:33
PM ET
CHARLOTTE, N.C. -- A few thoughts on the
New England Patriots
' 24-20
loss
to the
Carolina Panthers
:

What it means:
Great game as
Cam Newton
outdueled
Tom Brady
. Brady brought his "A" game but this was Newton's night. He had some dazzling runs against a defense that couldn't make the stop at the critical time. The Patriots fall to 7-3, and they will look back at some lost opportunities as this game was there for the taking. This was a limited-possession game -- the Patriots had just seven offensive drives -- which magnified mistakes on both sides. The Patriots had more of them early and trailed 10-3 at the half before the teams combined to play an exciting second half. A third-and-1 incomplete pass through the back of the end zone forced the Patriots to settle for a field goal to go up 20-17, which set up the Panthers' game-winning touchdown drive. The Patriots fought to the finish, but their final drive fell short with the clock also working against them. Should a penalty have been called on the final play? Fair question.
Aqib Talib vs. Steve Smith:
This was the matchup within the matchup and the win goes to Smith, the Panthers' veteran receiver. The two were jawing from the get-go and had to be separated several times after plays. Talib appeared to lose his cool early. Smith beat Talib for a 42-yard gain down the left side in the first quarter, which was a tone-setter of sorts for a one-on-one battle that was especially fun to watch. Talib ultimately left the game in the fourth quarter with a hip injury and didn't return.
Stock watch:
Patriots running back
Stevan Ridley
's ball-security issues resurfaced. He fumbled on the team's second drive and was kept on the sideline for 18 snaps before the coaches went back to him. Ridley runs hard, but if he continues to struggle holding on to the ball, it will likely lead to a drop in his playing time.
Injuries to monitor:
Patriots No. 2 tight end
Michael Hoomanawanui
left the game in the second quarter with a knee injury and did not return. In his absence, five-year veteran
Matthew Mulligan
bumped up the depth chart and fullback
James Develin
was utilized a bit more. Also, as noted above, Talib left with a hip injury in the fourth quarter.
Leg whip by Cannon draws scrutiny:
Patriots tight tackle
Marcus Cannon
's leg whip on Panthers defensive end
Charles Johnson
, which knocked Johnson out of the game with a knee injury, wasn't penalized. But Cannon will likely hear from the NFL in terms of a fine.
Turnover streak snapped:
The Patriots had forced a turnover in 36 straight games entering the night, which was the longest active streak in the NFL, but that came to an end.
What's next:
The Patriots return home to host the
Denver Broncos
on Sunday night. Another Brady versus
Peyton Manning
matchup will be a top storyline, along with receiver
Wes Welker
's return to town. Welker sustained a concussion in the Broncos' win over the Chiefs on Sunday and his status will be monitored closely.
September, 12, 2013
9/12/13
9:29
PM ET
FOXBOROUGH, Mass. – After 15 minutes of play, the
New England Patriots
lead the
New York Jets
10-3
. Passing along quick-hit notes and observations from the first quarter:


1. Offense starts fast.
No Amendola, Gronk and Vereen? No problem, at least to start, as
Tom Brady
found rookie wide receiver
Aaron Dobson
for a 39-yard touchdown on the team's opening drive. Dobson was untouched and uncovered on the play, taking his first career catch for a score. The offense started with two backs and two receivers on the field, with fullback
James Develin
getting some early offensive run.
2. Talib forces Hill fumble.
The Jets looked to have a big play on their hands when quarterback
Geno Smith
hooked up with
Stephen Hill
up the seam, but New England cornerback
Aqib Talib
saved his defense by forcing a fumble that was scooped up by
Devin McCourty
and returned deep into Jets territory. The end result: a chip-shot field goal by
Stephen Gostkowski
to put the Patriots up 10-0.
3. Jets claw back.
The Jets, briefly, cut the lead to 10-6, though a touchdown throw from Smith to
Clyde Gates
was called an incompletion after a video review. Smith deserves credit for putting together an impressive drive, standing tall in the pocket and delivering a couple of solid throws.
4. Connolly, Gregory each banged up.
Both eventually returned to the game, but right guard
Dan Connolly
and safety
Steve Gregory
had to receive medical attention during the first quarter. Hard to tell specifically what they were dealing with, but it looked like a left-hand issue for Connolly.
Marcus Cannon
stepped in for Connolly, while rookie
Duron Harmon
took Gregory's place.
5. Penalty box.
The following Patriots were flagged for penalties during the first quarter: offensive tackle
Nate Solder
(holding; declined) and defensive end
Chandler Jones
(roughing the passer).
September, 2, 2013
9/02/13
3:32
PM ET
FOXBOROUGH, Mass. -- The Patriots have waived fullback
James Develin
, a league source confirmed.
Develin, signed to the team's practice squad on Sept. 1 of last season, eventually landed on the active roster in late November, providing special-teams value.
He worked at tight end during portions of training camp this year, and with the team down to just three tight ends on the active roster -- one of which is the recovering
Rob Gronkowski
-- there was a feeling that he might earn some reps as an H-back type player to provide offensive versatility.
The Brown graduate entered the league in 2010 when he was signed to the Bengals' practice squad after a stint in the United Football League.
The Patriots' roster is now at 52 players. During his Monday afternoon news conference, coach Bill Belichick suggested that the team would remain active with its roster tweaks.
"There are probably going to be roster moves over the next few days," he said. "I don't even know what they are but it's just that time of year. Between the practice squad and the roster, there's a lot of transition. I don't know, there could be."
Nick Underhill of MassLive.com first reported the news.
August, 31, 2013
8/31/13
3:07
PM ET
Sharing non-
Tim Tebow
-based thoughts on some of the Patriots' roster moves today:
1a. The change at punter, with
Zoltan Mesko
out and rookie
Ryan Allen
in, has many layers. Both showed this preseason that they are deserving of punting in the NFL this season and that's why I took the unconventional approach of keeping both on a
final 53-man roster projection
(the idea being that maybe it would have been easier to slide Allen to the practice squad after a few weeks). Allen's upside is obvious; his leg is a bit stronger than Mesko's. But Mesko's control and directional punting seemed a notch above over the course of training camp and the preseason. However, Allen's three second-half punts on Thursday might have been the clincher, which showed his potential when it comes to control and directional punting.
Mesko
Allen
1b. Economics shouldn't have been the primary reason for the decision to go with Allen over Mesko, but it has to be a consideration. Mesko was due to earn $1.3 million in the final year of his contract. Allen has a three-year contract and is due to earn $405,000 this season.
1c. There is a trickle-down effect when it comes to the field-goal operation, as Mesko has served as the primary holder for kicker
Stephen Gostkowski
. Allen didn't hold at Louisiana Tech, but he's worked on the skill since joining the Patriots. Allen will likely become the primary holder, although backup quarterback
Ryan Mallett
could also be a consideration for the role.
1d. In 2005, the Patriots released rookie kicker
Robbie Gould
after an impressive camp and later regretted it when
Adam Vinatieri
departed in free agency the following year. I wondered how much that experience might have played a factor in this decision.
1e. Mesko goes down as one of the players who was most fun to cover. He also seemed most genuine and his farewell message to fans was most classy. One of my favorite personal memories of Mesko was how he was brought to tears after receiving the team's community service award in 2012. It meant so much to him and the emotions took over.
2. The biggest surprise has come among the reserves at defensive end, with
Justin Francis
,
Marcus Benard
and
Jermaine Cunningham
all being cut. They projected to the 3-4-5 spots on the depth chart. Health was likely a factor with Francis and Cunningham, as they have been sidelined. There is always the possibility for them to return if not picked up elsewhere, but an initial thought is that 2013 seventh-round pick
Michael Buchanan
(
previous film breakdown
) has impressed to the point that the coaching staff felt comfortable letting go of more experienced depth at the position.
Buchanan was impressive on Thursday
.
3. Tight end
Michael Hoomanawanui
was scheduled to earn $1.3 million, but he's agreed to reduce the salary this year with the chance to recoup some of the earnings in incentives, which helped him stick on the roster. Hoomanawanui's smarts, professionalism and dependability made an impression on the coaching staff last season. That he was the last tight end standing among the group of himself,
Jake Ballard
and
Daniel Fells
is a minor surprise.
4. The release of defensive tackle
Marcus Forston
was a mild surprise from this viewpoint. This could mean that rookie defensive tackle
Joe Vellano
is the top backup behind
Vince Wilfork
and
Tommy Kelly
.
Vellano caught the eye early in training camp
, but still didn't think he'd top Forston at this point.
5. Still waiting to hear the fate of presumed bubble players like Vellano, safety
Adrian Wilson
, running back
Leon Washington
, linebacker
Jeff Tarpinian
, cornerback
Marquice Cole
, fullback
James Develin
and linebacker
Steve Beauharnais
.
August, 25, 2013
8/25/13
9:01
AM ET
One of the common refrains heard around the NFL in recent years is that the fullback position is on the verge of becoming extinct.
Here in New England was no exception. In 2011, for example, the Patriots didn't carry a pure fullback on their roster as the plan was to build around a two-tight end attack.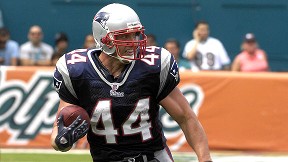 Al Messerschmidt/Getty ImagesThe Patriots haven't regularly featured the fullback position since Heath Evans' heyday.
Over the years, it's been
Sam Gash
...
Marc Edwards
...
Heath Evans
and then a big gaping hole. Sometimes the Patriots have used a tight end in that role (
Michael Hoomanawanui
last year). Other times, it has been an offensive lineman.
But could the pure fullback be on the verge of making a comeback with the Patriots?
That was one question that came to mind after watching hard-nosed
James Develin
play some meaningful first-unit snaps in the team's past two preseason games, as the Patriots worked on their two-back sets.
Then you consider that if the Patriots are going to be without tight end
Rob Gronkowski
early in the season, maybe they're looking for different ways to make up for his strong blocking presence in the running game.
And there was also 2012, when the Patriots brought three fullbacks to training camp --
Spencer Larsen
,
Tony Fiammetta
and
Eric Kettani
-- which seemed to reflect some desire to re-introduce the position into the attack. It didn't work out, but the intent was there.
So the topic was broached with Bill Belichick on Friday.
And boy, did he take the football and run with it.
The question was on the difference between a personnel grouping of "12" personnel (1 back, 2 tight ends) and "21" personnel (2 backs, 1 tight end).
We'll step out of the way and let Belichick take over:
[+] Enlarge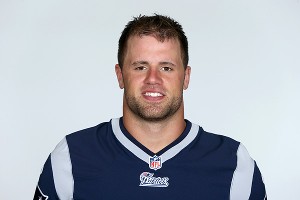 AP PhotoJames Develin could be in line to make the roster if Bill Belichick wants to feature a fullback on offense.
"Fundamentally, when you have one back in the backfield and you have four on-the-line receivers, that gives you an ability to get into the defense potentially with four people. Or even if it's three of them, sometimes the defense isn't sure which three of them it is. One tight end could be in it and the other guy could be in protection, that type of thing. I think you're able to attack the defense from the line of scrimmage a little bit quicker and with a little less predictability, depending on who those players are, of course. That's certainly a factor.
"But as far as your running gaps, I mean, you can put more width at the formation by having a [second tight end] on the line, whether it's four on one side and two on the other side of the center or three and three. You just have a wider front, which there are some advantages to that.
"By having [a fullback] in the backfield, you can create that same four-man surface or three-man surface after the snap so the defense doesn't know where the four-man surface or three-man surface is. The fullback has to -- he can build that from the backfield. And then there are also, let's say, a greater variety of blocking schemes with the fullback in the backfield because he can block different guys and come from different angles. He's not always behind the quarterback. He could be offset one way or the other and create different blocking schemes and angles that it's harder to get from the line of scrimmage.
"Also, depending on who your tight end is, it can be a little bit easier to pass protect seven men because two of them are in the backfield instead of us having one in the backfield. And then when you start running guys up the middle in the gaps and things like that. I think fundamentally it's a little easier to pick them up when you a have a guy in the backfield that can step up and block him from the fullback position as opposed to a tight end in the line of scrimmage who probably isn't going to be able to loop back in and get him, so the line is probably all going to have to gap down or not gap down if the guy drops out and all that.
"It just creates a different ... it creates some advantages, I think, and it also creates some things you have to deal with. You just have to decide how you want to deal with them.
"Obviously when you have a guy in the backfield, it's harder to get those two receivers vertically into the defense in the passing game. They're usually running shorter routes to the flat or checking over the ball or those kind of things, short crossing routes -- versus having that fourth receiver on the line of scrimmage who can run some downfield routes, again depending on who the individual person is. The skill definitely changes what you can do with that guy.
"So, I mean, I think those are the things that come into play. Some teams are very settled in one type of offense or another, so all of their plays and their rules or their adjustments come from that particular set. And other teams use multiple looks to, say, run the same plays or the same concepts to try to give the defense a different look. It's harder for them to zero in on what they're doing. But they're able to do similar things from different personnel groups or different formations. That's a long answer to a really short question, but hopefully that helps a little bit."
Sure does. Thanks much.
It only piques the interest that much more on if the pure fullback might be making a comeback in New England.
August, 23, 2013
8/23/13
9:30
AM ET
DETROIT -- Some leftover thoughts and observations from the Patriots' 40-9 loss to the Lions:
1. It seemed like incumbent punter
Zoltan Mesko
had created some separation on rookie Ryan Allen leading into the game, and that was reinforced after the game as well. Mesko punted four times, while Allen punted just once (it was a 53-yarder, but wasn't hit particularly well and took a favorable bounce). Mesko also held on kicker
Stephen Gostkowski
's lone field-goal attempt. Hard to imagine Mesko losing the job at this point. His final stats: 4 punts, 195 yards, 48.8 avg., 43.0 net and one inside the 20.
2. Fullback
James Develin
's inclusion on the first-unit kickoff return could bode well for his chances to make the roster. Develin lined up in the wedge position opposite defensive end
Marcus Benard
(he was on 3 special teams units). Tight end
Michael Hoomanawanui
had been used there in the first two preseason games, which could signal that he's on shaky ground to stick. As a fullback, Develin played nine snaps with the first-unit offense. One downer to his night: Not being able to pick up a first down on a fourth-and-inches carry late in the second quarter.
3. Working on the dime package (six defensive backs) seemed to be a top priority for the Patriots, and we saw safety
Adrian Wilson
move down to a linebacker-type role in that grouping. He was involved in
Reggie Bush
's 67-yard catch-and-run, taking a bad angle that helped spring Bush free, and didn't seem to be entirely comfortable reading and reacting to what was unfolding in front of him. The Patriots started
Devin McCourty
and
Steve Gregory
at safety, which seems to be viewed as their best coverage-type players at the position. Wilson came on in the second half.
4. Tough night for the offensive line, as the Lions -- powered by
Ndamukong Suh
and
Nick Fairley
at tackle -- won the battle at the line of scrimmage. The Patriots had 18 carries for 32 yards at the half and had been turned one-dimensional on offense, which is never the way they want to play. Then add in two penalties (
Logan Mankins
false start,
Sebastian Vollmer
holding) and two sacks of
Tom Brady
and it just wasn't their night.
5. Coaches often like to see how a player responds to adversity and while it's easy to look at receiver
Kenbrell Thompkins
' stat line (8 catches for 116 yards) and conclude he was a top performer, that overlooks one aspect of his night. Thompkins dropped what would have been first-down reception that ended the team's second drive. His ability to move on to the next play was evident as he proceeded to make some big plays for the team the rest of the way.
6. Rookie safety
Duron Harmon
served as the personal protector on the punt team. As the coaching staff considers which 46 players to dress on game day, special teams can be a big factor for a reserve safety like Harmon. He was also part of the top kickoff coverage unit and on the punt return unit.
August, 23, 2013
8/23/13
8:53
AM ET
DETROIT -- In tabulating the snaps played by skill-position players with the first-unit offense, one aspect stood out -- after losing fumbles,
Brandon Bolden
and
Shane Vereen
didn't play again for the rest of the half.
Here is the breakdown of snaps played (includes penalties, not half-ending kneel-down):
QB
Tom Brady
-- 46 of 46
WR
Julian Edelman
-- 45 of 46
WR
Aaron Dobson
-- 31 of 46
WR
Kenbrell Thompkins
-- 31 of 46
TE
Jake Ballard
-- 27 of 46
RB
Stevan Ridley
-- 21 of 46
TE
Zach Sudfeld
-- 19 of 46
TE
Michael Hoomanawanui
-- 16 of 46
RB
Shane Vereen
-- 10 of 46
FB
James Develin
-- 9 of 46
RB
Leon Washington
-- 8 of 46
WR
Josh Boyce
-- 6 of 46
RB
LeGarrette Blount
-- 4 of 46
RB Brandon Bolden -- 3 of 46
QUICK-HIT THOUGHTS:
Julian Edelman filled in for the hobbled
Danny Amendola
, playing every snap but the short-yardage fourth-and-1 run in the second quarter when the Patriots called on three tight ends and a fullback and running back. ... Edelman and Kenbrell Thompkins opened the game in the two-receiver package, with Aaron Dobson coming on as the third receiver. The Patriots utilized the three-receiver package quite a bit, even turning to a four-wide look at times. ... At tight end, Jake Ballard and Zach Sudfeld opened as the top combination. Ballard has gradually upped his workload this preseason, with his 27 snaps a high. ... At running back, Stevan Ridley was the clear No. 1 option.
August, 17, 2013
8/17/13
1:25
AM ET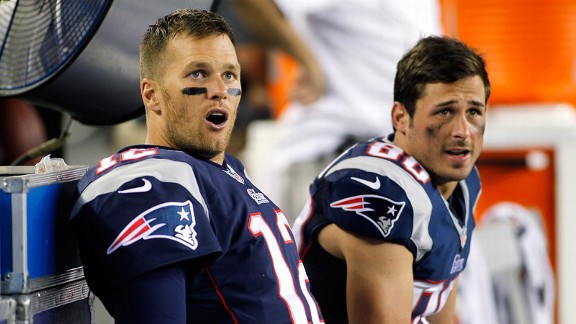 Stew Milne/USA TODAY SportsTom Brady and Danny Amendola got some quality work done early against Tampa Bay.
FOXBOROUGH, Mass. -- The
New England Patriots
improved to 2-0 in the preseason with a
25-21 win
over the
Tampa Bay Buccaneers
on Friday night, their first exhibition game at Gillette Stadium of 2013.
The win wraps up a second straight week of joint practices, as the Buccaneers spent Tuesday, Wednesday and Thursday working alongside the Patriots in advance of the game.
Below are 12 takeaways from Friday's action, including some underlying storylines that may have gone unnoticed upon first glance:
1. So much for the concerns about how a recent knee injury might impact
Tom Brady
's performance, as the quarterback was masterful two days after going down in a scary moment during Wednesday's practice. Brady had just one incompletion on the evening, carving the Buccaneers defense on an opening-drive score and looking precise on nearly every one of his throws. Brady had his usual command of the offense, and continues to be in sync with his new cast of receivers, led by
Danny Amendola
.
2. Amendola was the best receiver on the field Friday night, and he showed off what makes him unique as a player: his precise route running, stop-on-a-dime quickness with the ball in his hands, and the ability to stress a defense up the field as well. Amendola sneaked behind the defense on a post for a score, and the spacing on the route was an important takeaway. The 2013 version of the Patriots offense, at least in early viewings, has shown an ability to spread a defense thin both horizontally and vertically. They have some perimeter presence with
Aaron Dobson
and
Kenbrell Thompkins
, but also some slot stressers in Amendola and the tight ends. This isn't to say that this year's offense will be better than last year's, just different.
3. After the game, Patriots coach Bill Belichick explained he that decided to receive after winning the coin toss in order to give his team a chance for a fast start. The move paid off with a touchdown for his offense, and the defense followed suit, forcing a stop on the Bucs' opening drive. The first defensive play from scrimmage was a blitz-up-the-middle sack from linebacker
Brandon Spikes
, one of three first-quarter sacks for the Patriots. That's a critical component to this defense's success, as they struggled to pressure the various Eagles quarterbacks last week. Each of the Patriots' starters at defensive end,
Chandler Jones
and
Rob Ninkovich
, recorded at least one sack as well.
[+] Enlarge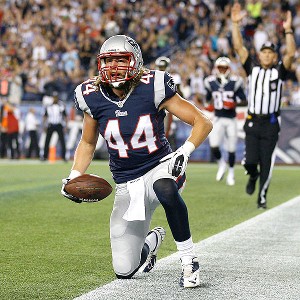 Stew Milne/USA TODAY SportsZach Sudfeld caught this two-point conversion from Tom Brady and later added a 22-yard TD from Ryan Mallett.
4. There were some ups and downs from
Ryan Mallett
during the second quarter, as he came in to relieve Brady, completing 12-of-20 passes, including a 22-yard score to tight end
Zach Sudfeld
. We've learned before that the evaluation process of a backup quarterback extends far beyond preseason game action, as many will recall an uneasy 2008 preseason for
Matt Cassel
that left many outside of the organization uncomfortable with the thought of him as a fill-in starter. Cassel went on to help the team to 11 wins that season, reinforcing that we have to look at preseason games as just a piece of the puzzle. Mallett flexed his effortless arm strength on some throws, while he had misses that you'd count on him to make if he were the starter. The most important takeaway from tonight is an evaluation of a player's traits. For Mallett, we still want to see more before making a hard-line evaluation one way or another.
5. There's been an abundance of talk about the Patriots' rookie receivers during training camp (and we'll include Sudfeld in that group), but it was the one who was drafted highest, Aaron Dobson, who appeared to have the smallest role in the early portion of the game. Dobson took just one snap during the opening drive, far fewer than Kenbrell Thompkins, and that could be a sign that Dobson is further down the depth chart at this time. The two are different types of perimeter receivers, with Thompkins a more refined route runner and with better quickness, but Dobson holds the edge in size and length, an important set of traits in the red zone and competitive catch situations.
6. Nose tackle
Vince Wilfork
didn't play a heavy dose of snaps tonight (neither did
Jerod Mayo
), which gave us a chance to check out the rotation of defensive tackles behind him. Veteran
Tommy Kelly
is effectively the second starter in our estimation, but the picture becomes much less clear after that.
Marcus Forston
flashed on a goal-line play that resulted in a tackle for loss, while undrafted rookies
Cory Grissom
and
Joe Vellano
also showed some ability to generate interior push. Forston was a surprise to make the 53-man roster last season as an undrafted free agent, and the door appears to be open for another undrafted free agent to land on the active roster this year, especially if
Armond Armstead
is unable to return before the start of the regular season.
7. A few special-teams thoughts: Kickoff coverage was an area of strength for the Patriots throughout the 2012 season, but tonight it fell short of expectations. The Bucs returned their first kickoff 63 yards, far too much to give up. On the positive side, ace special-teamer
Matthew Slater
had a textbook take-down in punt coverage from his gunner position, a role he drew praise from Bill Belichick for earlier this week. Finally, for the second straight game, we'll give the edge to punter
Zoltan Mesko
over
Ryan Allen
in the competition (this week was a clear victory for the incumbent starter). Allen was unable to pin a plus-50 punt deep in Tampa territory, and Mesko had a substantial edge in overall average (44.3 to 39).
8. While the Patriots feel good about their starting trio of cornerbacks --
Aqib Talib
,
Alfonzo Dennard
and
Kyle Arrington
-- the depth at the position is an area to monitor. Rookie
Logan Ryan
had the defensive play of the night, hauling in an interception for a touchdown. That comes after last week's failed interception against the Eagles. Veteran
Marquice Cole
provides some slot presence and special-teams value, but Ryan duplicates much of what Cole is able to do. If
Ras-I Dowling
is unable to return soon from injury, Ryan could effectively work himself into the fourth cornerback job, which could turn into third cornerback duties if Alfonzo Dennard faces jail time stemming from his July arrest.
9. Preseason games aren't always predictive of what the regular season will hold, but we saw quite a few two-back sets from the Patriots early on in the game. That's not something we saw much of last season or even last week, but fullback
James Develin
was on the field to start the game and played a handful of snaps on the Patriots' 15-play opening drive. When Josh McDaniels returned to New England, there was a belief that he might bring more two-back sets with him. Although that wasn't the case in 2012, we saw a steady dose of it on Friday night. Develin could be in competition with
Michael Hoomanawanui
for a roster spot.
10. There may not even be a starting job for him to win, but second-round pick
Jamie Collins
had strong stretches on defense Friday night, the second time in as many preseason games that he's impressed. The rangy, long 23-year-old worked almost exclusively as a strong-side linebacker from a stand-up alignment, which appears to be the role he has settled into (and one that
Dont'a Hightower
handles among the starting group). What will be interesting is to see if his movement skills are enough to translate into a prominent coverage linebacker role in sub defensive packages. One area that stood out for Collins tonight: his ability to stack and shed in the running game, an area we though he could improve upon from his college tape.
11. Left tackle
Nate Solder
took some heat this week after allowing his defender to rush through him during practice, which led to Brady going down and dinging his knee. Truth be told, that's a part of playing left tackle in the NFL -- there are many talented rushers -- but it looked like Solder had a steady performance tonight. That's par for the course for the 25-year-old, viewed by many as a high-upside left tackle, but he deserves credit for bouncing back after what was likely a long Wednesday night for him.
12. For the second consecutive week,
Jake Ballard
was used as the blocking tight end with the starting offense. From our initial viewing, it looked like another strong effort from the burly tight end, as he helped to set the edge and kick-start the running game. He played 19 snaps tonight, seven more than his 12 against the Eagles.
July, 5, 2013
7/05/13
8:00
AM ET
Here are the most interesting stories Friday in the AFC East:
Morning take: Optimism is high in Miami, but Pouncey is doing the right thing by avoiding prognostication. Leave that to the AFC East blog -- which picked the Dolphins as its sleeper team for 2013.
Morning take: Shawn Powell beat out longtime Bills punter Brian Moorman last year. So you have to make Powell a sizable favorite to keep his job over Brian Stahovich in training camp.
Morning take: Probably not. The Patriots have several issues on offense, and a fullback can't fix them.
Morning take: Holmes' return has been a mystery. His broken foot has taken a while to heal and he probably won't be full-go in training camp. The Jets can certainly use Holmes as soon as possible.