October, 26, 2011
10/26/11
3:46
PM ET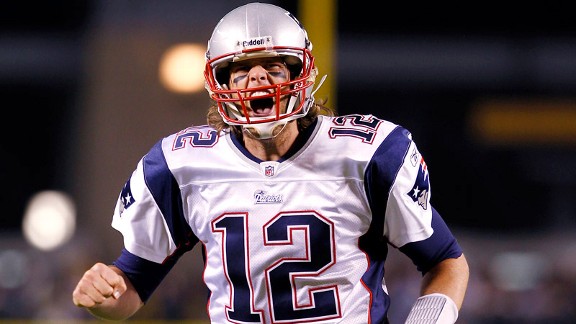 Joe Robbins/Getty ImagesTom Brady will be looking to improve his career record against the Steelers to 7-1 on Sunday.
This is not opinion. This is fact.
Tom Brady
owns the
Pittsburgh Steelers
. There is no simpler way to put it.
The
New England Patriots
' future Hall of Famer dominates the "Steel Curtain" defense like no other quarterback in NFL history. Brady beats Pittsburgh at Heinz Field. He beats Pittsburgh at Gillette Stadium. He owns the Steelers in the regular season and in the playoffs.
Brady is an impressive 6-1 all-time against Pittsburgh. He will look to add to that record Sunday when the Patriots (5-1) travel to meet the Steelers (5-2) in a possible playoff preview.
Brady is the one quarterback Pittsburgh's vaunted defense doesn't want to see on the opposing sideline. According to ESPN Stats & Information, he's thrown for 2,008 yards and 14 touchdowns, with only three interceptions against the Steelers.
Brady also has a 104.8 career passer rating versus Pittsburgh and a 67.8 completion percentage.
"It's just a terrible matchup for the Steelers," Matt Williamson of Scouts Inc. explained. "Any time you design a defense or offense, you're going to have strengths and weaknesses. ... Their defense isn't a good fit for the Patriots. If you're just looking at the roster, you want to force the Steelers to play nickel. You want to take
Casey Hampton
off the field when he's healthy and replace him with
William Gay
. Hampton is a good player and Gay isn't. The Patriots have the weapons and the receiving threats to do that."
On paper, this looks like it will be a tough battle between New England's No. 1-ranked offense and Pittsburgh's third-ranked defense. But Brady's history with Pittsburgh proves that the battle may not be so tough after all.
Steelers defensive coordinator Dick LeBeau's zone-blitz scheme thrives off disguise and confusion. But Brady, 34, is so cerebral that he stays one step ahead of Pittsburgh.
[+] Enlarge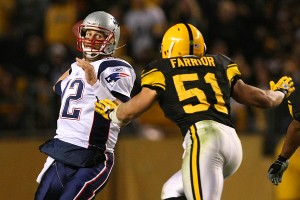 Jason Bridge/US PresswireAgainst the Steelers in 2010, Tom Brady was 30-of-43 for 350 yards and three touchdowns.
The most recent meeting in 2010 was a perfect example. Brady read Pittsburgh's defense like a book. He utilized short, decisive passes to carve up the Steelers and was 30-of-43 for 350 yards and three touchdowns.
Brady makes it look easy against Pittsburgh. Steelers head coach Mike Tomlin, now in his fifth season, has yet to beat Brady.
"He is just very good physically and mentally," Tomlin said this week. "He is very talented in both areas. He is tough to trick, he makes quick decisions, he has pinpoint accuracy and he has the arm to do the things he desires to do."
Schematically, Pittsburgh has a hard time adjusting to New England's multiple formations. For years the Patriots have used the spread offense to pick apart the Steelers' 3-4 defense. Other teams are starting to catch on. The
Green Bay Packers
did some of the same things to beat Pittsburgh in Super Bowl XLV this past February.
Pittsburgh's biggest strength is its front seven and its biggest weakness is cornerback depth. New England is able to dictate Pittsburgh's personnel groupings by putting three or more receivers on the field. Stud tight ends
Aaron Hernandez
and
Rob Gronkowski
often are moved outside the box and used as receivers. This forces Pittsburgh to go three- and four-deep at corner, while removing a linebacker or defensive lineman.
If Pittsburgh stays in its base defense, Patriots receivers like
Wes Welker
, Hernandez and Gronkowski could have a field day against far-less athletic linebackers
James Farrior
,
LaMarr Woodley
and
Larry Foote
.
If Pittsburgh takes its linebackers off the field in favor of extra cornerbacks like William Gay and
Keenan Lewis
, New England will have an easier time running the ball with its deep stable of running backs. The Patriots are tied for 10th in the NFL in rushing and average 4.6 yards per carry.
There are no easy answers for the Steelers.
"Both teams know each other well, so I don't think there will be a ton of surprises here," Patriots head coach Bill Belichick said this week. "It will come down to preparation, execution and decision-making on game day."
It also doesn't help Pittsburgh that Pro Bowl outside linebacker
James Harrison
will miss his fourth consecutive game with an eye injury. Getting to Brady is key, and Woodley (seven sacks) has been Pittsburgh's only consistent pass-rusher this year.
"I think [Harrison] is one of the top 10 or 15 players in the league, and now they're weaker at two positions," Williamson said. "
Lawrence Timmons
was a force on the inside. Now, he's disappeared on the outside. So they're much weaker there, and they're much weaker inside where Timmons used to be."
The key chess match in this game will be between Brady and Pittsburgh safety and reigning Defensive Player of the Year
Troy Polamalu
. Brady usually gets the best of Polamalu with his ability to make great pre-snap reads.
But Brady knows Polamalu is capable of making big plays at any time. Polamalu has 43 tackles and one sack this season.
"Troy is a phenomenal player," Brady said this week on WEEI radio in Boston. "I watched a bunch of his highlights with Coach Belichick yesterday in our film study. He's as good as he's ever been. He flies around the field. He's incredibly fast and instinctive. He covers a lot of ground out there. You have to keep your eyes on him on every play."
Giving the Patriots two weeks to prepare is bad news for opponents.
According to the Elias Sports Bureau, Belichick is 8-0 after the bye since 2003. The Patriots have the second-longest active win streak following the bye, trailing the
Philadelphia Eagles
, who have won 12 in a row.
"New England adapts week-to-week to their opponent better than anyone in league on both sides of the ball," Williamson said. "Where I think the Steelers are more like 'We're the Steelers, and we're just better than you.'"
The Steelers have won championships. But they haven't been better than the Patriots for a long time.
It will remain that way until Pittsburgh solves the Brady conundrum.
February, 1, 2011
2/01/11
12:19
PM ET
Miami Dolphins
Buffalo Bills
New England Patriots
New York Jets

December, 19, 2010
12/19/10
2:02
PM ET
ESPN reporter Michael Smith delivers pregame insights from Heinz Field, where the
New York Jets
will play the
Pittsburgh Steelers
at 4:15 p.m.
Smith discusses Jets quarterback
Mark Sanchez
's mindset entering the game and the impact absent safety
Troy Polamalu
might have on the Steelers' defense.
November, 28, 2010
11/28/10
8:15
PM ET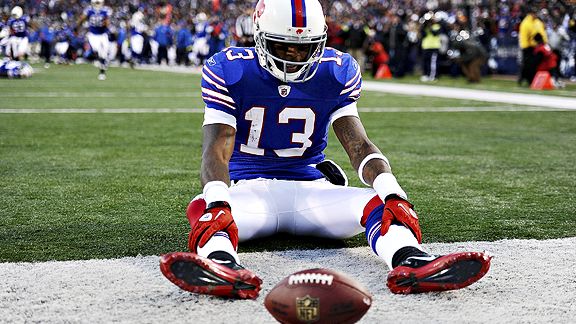 Karl Walter/Getty ImagesSteve Johnson had five dropped passes Sunday, including what would have been the game-winning touchdown during overtime.
ORCHARD PARK, N.Y. -- Tears still were welled in
Steve Johnson
's bloodshot eyes when he stepped down from the podium, walked out of the postgame interview room and exited Ralph Wilson Stadium up the tunnel ramp.
Based on how he was dressed, he should have headed back to the locker room. But Johnson clearly was in another world as he dejectedly trudged toward the parking lot in a sleeveless shirt, basketball shorts, his red
Buffalo Bills
leggings and untied sneakers.
The wind made it feel like 31 degrees and there was snow on the ground. On this day, though, Johnson couldn't catch a cold.
Johnson has been Buffalo's breakout star, a 2008 seventh-round draft pick on pace to break the club's season record for touchdown receptions.
He should have caught his 10th touchdown Sunday. He should have beaten the
Pittsburgh Steelers
in overtime Sunday. He was wide open for an arcing 40-yard bomb. He dropped it in the end zone.
The Steelers kicked a field goal on the next possession to win
19-16
.
A third straight Bills victory caromed off Johnson's fingers. They lost for the third time in sudden death, becoming the fifth team to do so since overtime was instituted in 1974 and just the second over the past 20 seasons.
Johnson was so despondent after the game, he took to Twitter where he questioned a higher power for
allowing him to drop the would-be touchdown
.
"I PRAISE YOU 24/7!!!!!! AND THIS HOW YOU DO ME!!!!! YOU EXPECT ME TO LEARN FROM THIS??? HOW???!!! ILL NEVER FORGET THIS!! EVER!!! THX THO..."
In his postgame news conference before he left the stadium, Johnson's emotions were raw.
"It comes down to one play and you drop the ball," Johnson said. "We'll bounce back, of course. The season's not over yet. We're going to have to bounce back, and we will.
"I'll never get over it. Ever. The Buffalo Bills will get over it, but I won't. You're a receiver. You don't drop the ball. I won't get over it."
The Bills (2-9) are playing terrifically lately and have grown significantly since the season began. They have lost three games by an overtime field goal to teams that are at least tied for first place in their divisions. They are clearly not the NFL's worst team, a distinction that was in question a few weeks ago.
The loss should not be blamed solely on Johnson. His end zone flub came on first down, giving the Bills two more chances to move the chains or get into field goal range for
Rian Lindell
, who had kicked a 49-yarder with two seconds left in regulation time.
After Johnson's end zone drop, the Bills' defense could have made a stop on the next possession. Instead, the Steelers ended the game with a 13-play drive, converting a third-and-8 along the way.
Leodis McKelvin
would have returned the overtime kickoff for a touchdown had he not tripped over teammate
Arthur Moats
in the open field.
But Johnson's failure to latch on will take the spotlight because it could have ended the game right then and there.
"We're playing the Pittsburgh Steelers, and the Buffalo Bills come to play football, and it just so happened today that I had 75 drops in the game," said Johnson, who has become a bit of a media sensation the past couple weeks.
Johnson made a statement a week earlier with three touchdowns in the Bills' amazing comeback victory over the
Cincinnati Bengals
. He had more catches, yards and points than
Terrell Owens
and
Chad Ochocinco
combined. Johnson wore an undershirt that read "Why So Serious" in reference to The Joker, a message to the receiving tandem who call themselves Batman and Robin.
Johnson could not laugh Sunday. His magical season was interrupted.
"You talk about a guy who has been extremely hot, making a ton of plays for them," Steelers safety
Ryan Clark
said.
[+] Enlarge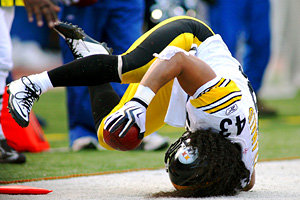 Rick Stewart/Getty ImagesTroy Polamalu intercepted one of Johnson's five dropped passes.
Drops are not an official NFL statistic and are open to interpretation, but CBS Sports had Johnson down for five. Another drop resulted in a
Troy Polamalu
interception near the goal line in the fourth quarter.
Clark explained there was not a blown coverage on the play in overtime. Johnson was wide open because he ran a fabulous route.
Johnson scorched Steelers cornerback
Ike Taylor
so badly up the left sideline that even after Johnson dropped
Ryan Fitzpatrick
's perfect pass, the Bills' sideline celebrated what they thought was their third straight victory.
"Game over," Steelers linebacker
James Farrior
said. "That's what everybody else was thinking. The Buffalo fans, the Buffalo sideline, our sideline. I think everybody thought it was a catch."
Johnson sat stunned in the end zone for several seconds until receiver
David Nelson
pulled him up. Johnson took the end zone gaffe hard in the locker room, too.
"If you're not emotional and hard on yourself, then I would question his passion for the game," Bills safety
George Wilson
said. "But, man, that guy is over there crying his eyes out. He knows how precious those moments are.
"If we want to be one of the elite teams in this league, we have to make the big plays in the big moments. Steve has been making big plays for us all year. That play doesn't make me believe any less in him. He's been beasting out on the field all year."
Johnson did have seven receptions for 68 yards. He leads the Bills with 59 catches for 796 yards and nine touchdowns.
Bill Brooks
holds Buffalo's record with 11 touchdown receptions.
"No matter what, I want him on my team for the rest of my career," said Bills running back
Fred Jackson
, who gained 163 yards from scrimmage and scored the lone Bills touchdown.
"It's uncharacteristic of him, and I know that. I know he's going to make plays for us. I'm not going to define his whole season off of that one play."
January, 28, 2009
1/28/09
7:15
AM ET
Posted by ESPN.com's Tim Graham
New England Patriots
Buffalo Bills
Miami Dolphins
New York Jets