August, 29, 2012
8/29/12
12:00
PM ET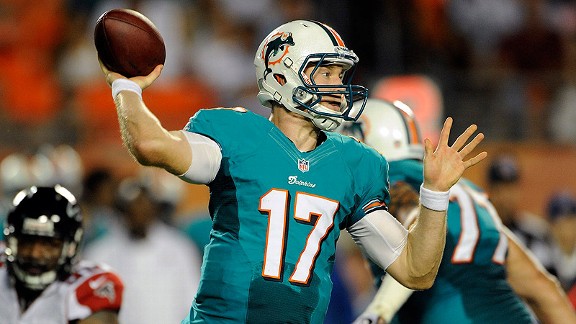 Ronald C. Modra/Sports Imagery/Getty ImagesRyan Tannehill's supporting cast in Miami lags behind those of other rookie QB starters.
Quarterback
Ryan Tannehill
is about to accomplish something even the great Dan Marino couldn't with the
Miami Dolphins
.
Tannehill, a rookie, will be Miami's Week 1 starter Sept. 9 against the
Houston Texans
. Marino, a Hall of Famer, didn't see his first NFL action until Week 3 of his 1983 rookie season and finished with nine starts in 11 games.
The Tannehill era is beginning sooner than expected. A surprising series of events -- which included a knee injury to veteran quarterback
David Garrard
and struggles from former starter
Matt Moore
-- propelled him into the starting lineup. This year's No. 8 overall pick has been a fast learner, in part due to his collegiate experience in a West Coast system run by current Dolphins offensive coordinator Mike Sherman.
Sept. 9 is not only historic for the Dolphins, but it's a good personal moment for Tannehill. He gets to make his NFL debut where it all started -- in his home state of Texas.
"If it would have been in Buffalo or San Diego, I'm excited," Tannehill said this week. "Obviously, it's nice to go back to my home state. I'll have a lot of friends and family there, but I'm just excited to play in my first real NFL game, a real season opener. I'm excited for this team. I'm excited for what we can do."
But what are realistic expectations for Tannehill in 2012? He is one of five rookie quarterbacks -- including four first-rounders -- who will start in Week 1. That's an NFL record.
The AFC East blog, with an assist from ESPN Stats & Information, crunched some numbers on rookie quarterbacks who started in Week 1 from the past five years. Here's what we found:
These average numbers are respectable for Tannehill and should be the bar for his rookie season. If he throws for more than 3,100 yards and has more touchdowns than interceptions, it would be a great first season. The average passer rating also was 77.2, which is not bad.
But you have to consider what many of these quarterbacks had around them as rookies and how that compares to Tannehill's supporting cast in Miami. For example, Stafford had stud receiver
Calvin Johnson
in Detroit. Ryan had
Roddy White
in Atlanta. Dalton had
A.J. Green
in Cincinnati and Newton had
Steve Smith
in Carolina. These are all legitimate No. 1 receivers who make the job of a rookie quarterback much easier.
Tannehill has no receiver close to that caliber, and it certainly will hurt the rookie. Tannehill is working with one of the worst receiving corps in the NFL. His top targets include
Legedu Naanee
,
Davone Bess
and, if healthy,
Brian Hartline
.
Miami needs receivers in the worst way. There is no getting around it. The Dolphins have an unproductive group that's having trouble making plays and catching the football this preseason. Miami has to be concerned that this could stunt Tannehill's growth.
"Well, they haven't helped matters," Sherman said of his receivers. "I wish they would say, 'Hey, I'm the guy' and jump up on the table by having a knockout performance, and that hasn't necessarily happened just yet. ... I think we'll keep Bess. I can pretty much guarantee that, but there's only one of him. We need to fill in the other spots."
The good thing I noticed about Tannehill is that he hasn't appeared to be shaken by the drops and poor play from his receivers. In many cases, he's taken the blame, which is a smart move on his part. He must stay poised throughout this process and weather the initial growing pains.
Getting Tannehill better receivers could come via trade or free agency. The Dolphins have a wealth of draft picks. Miami has a first-round pick, two second-rounders and two third-rounders in the 2013 draft. That is valuable ammunition that could potentially land a receiver for this season. We mentioned
Green Bay Packers
backup receiver
James Jones
as a potential target. Dolphins head coach Joe Philbin coached Jones when Philbin was the offensive coordinator in Green Bay.
But the most likely option is scanning the waiver wire for veterans released by other teams. There will be plenty of receivers becoming available Friday when teams are mandated to trim rosters from 75 to 53 players. Veteran pass-catchers such as tight end
Chris Cooley
and receivers
Jabar Gaffney
and
Donte Stallworth
already have hit the open market.
Until then, Wednesday night will be the final tune-up for Tannehill with the group he has. The Dolphins travel to play the
Dallas Cowboys
in the preseason finale. But after that, the Dolphins and Tannehill are playing for keeps.
"I don't know exactly how many snaps I'll get, but I want to go out and take advantage of every rep," Tannehill said. "Really play like we can as an offense [and] really move the ball and be consistent. I think that's the one thing that I've kind of focused on is being more consistent as an offense, being more consistent as a quarterback."
August, 28, 2012
8/28/12
11:00
AM ET
General manager Jeff Ireland said the
Miami Dolphins
are not waving the white flag on the 2012 season. In fact, Ireland hinted that the team, which just acquired a second-round pick for corner
Vontae Davis
, might be in the market for an immediate upgrade via trade.
"Everybody looks at draft picks (as if) you have to use them when the draft comes around," Ireland
told the Palm Beach Post
this week. "I'm not saying that there's more to come, but I would just tell you that if something more would arise, you have ammunition. And you can use that ammunition any time you want to, now or in the future."
Assuming the Dolphins are looking at wide receivers -- their biggest need -- let's examine a few possibilities.

Wallace
Mike Wallace, Pittsburgh Steelers
Thoughts:
The Steelers already said they are not trading Wallace, and they are an organization that's usually stern in its convictions. Pittsburgh also refuses to negotiate until Wallace joins the team. He reportedly will do so this week. But even if Miami can put together an attractive package of draft picks, the Dolphins couldn't make Wallace one of the NFL's highest-paid receivers with their limited cap room. I don't see it.
Chances:
Slim
Bowe
Dwayne Bowe, Kansas City Chiefs
Thoughts:
Bowe is a big receiver Miami could use in its West Coast system. Bowe is playing on a one-year franchise tag and could make rookie quarterback
Ryan Tannehill
's job a lot easier. Again, with a big name like Bowe, Miami would get hit twice because it would lose quality draft picks and require a big extension the team doesn't have much room for.
Chances:
Slim
Jones
James Jones, Green Bay Packers
Thoughts:
Miami head coach Joe Philbin knows Jones well after coaching him in Green Bay. Jones is a good fit and knows the West Coast offense. He's also expendable as the fourth receiver on Green Bay's depth chart. The Packers are wealthy at receiver and may be willing to part ways with Jones for a nice draft pick.
Chances:
Decent
Owens
Terrell Owens, free agent
Thoughts:
Owens comes with character issues and is exactly the type of player Philbin doesn't want in his locker room. After trading
Brandon Marshall
and cutting
Chad Johnson
, signing Owens would send the wrong message and come off as desperate. Ireland already told reporters he's probably not interested.
Chances:
Slim
If Miami goes into the season with this current group, it is going to be a long year for the passing game. I expect the Dolphins to at least field some calls and, at the very least, make some waiver wire pickups. Getting a huge name would be a surprise, although a familiar player like Jones would be realistic.
June, 15, 2012
6/15/12
4:00
PM ET

Anytime a
Green Bay Packers
receiver is mentioned as potential trade bait, the first team that comes to mind is the
Miami Dolphins
and rookie head coach Joe Philbin.
First,
Donald Driver
's name came out of the rumor mill. The latest Packers receiver whose
name is being thrown
around is
James Jones
. Green Bay's backup has two years left on his contract and plays behind
Greg Jennings
, Driver and
Jordy Nelson
.
If the rumors are true, the Packers may be willing to move their backup receiver for the right price. Miami isn't a team which likes to give up draft picks. But the Dolphins' receivers haven't impressed this offseason, which is a reason they jumped at the chance to sign 34-year-old
Chad Ochocinco
once he was released by the
New England Patriots
.
Jones, 28, is closer to his prime and played under Philbin last year when Philbin was the offensive coordinator in Green Bay. They know each other well, and it wouldn't be much of a learning curve for Jones.
I don't think Miami will make any trades for a wideout at this point. The Dolphins probably want to go into training camp with the group they have. But if Miami's receivers continue to struggle, Jones could be a name to keep on the back burner.
July, 30, 2011
7/30/11
5:15
PM ET
By
ESPN.com staff
| ESPN.com