March, 15, 2012
3/15/12
5:13
PM ET
The
New York Jets
continue their search for a backup quarterback behind
Mark Sanchez
. According to
the Denver Post
, the Jets will host former Broncos and
Cleveland Browns
quarterback
Brady Quinn
on Friday.
Quinn, a former first-round pick, was
Tim Tebow
's backup in Denver last season. He expressed disappointment that he didn't get a chance to play with the Broncos over Tebow recently in a controversial interview with GQ magazine. Quinn later apologized for his comments.
The Jets are looking for a viable No. 2 quarterback, but that became increasingly difficult after New York agreed to
a $58.25 million extension
with Sanchez. The contract ensures Sanchez is the starter for at least the next two seasons. Borderline starters such as
Chad Henne
(Jacksonville),
Kyle Orton
(Dallas) and
Jason Campbell
(Chicago) all signed with other teams.
Quinn has starting experience. He started 12 games with Cleveland, and has thrown 10 career touchdowns and nine interceptions.
The Jets also met with former
Detroit Lions
backup quarterback
Drew Stanton
on Thursday. Stanton has four career starts in four seasons.
March, 13, 2012
3/13/12
12:30
PM ET

The
New York Jets
wanted to sign a quality backup quarterback this offseason who could provide support and a push for starter
Mark Sanchez
.
Then they gave Sanchez a five-year, $58.25 million extension that ensures he will be the starter for at least
the next two seasons
. Will that hurt New York's chances of getting a quality backup when free agency opens Tuesday?
Solid No. 2 quarterback options like
Chad Henne
and others might look the other way now when it comes to the Jets. Sanchez, before the extension, entered the season on the hot seat. But New York's commitment sends a clear message that the Jets are all-in with the fourth-year quarterback. Injury is pretty much the only way Sanchez isn't starting.
The Jets have a connection with Henne in new offensive coordinator Tony Sparano, most recently the Dolphins' head coach. But Henne will have options, which the
AFC East blog listed here
. The same goes for
Jason Campbell
,
Kyle Orton
or any other veteran starter looking to challenge for a starting job.
It could be tough for New York to find a middle ground. The Jets don't want another
Mark Brunell
situation in 2012. But finding a quality backup like Henne just got tougher with Sanchez so firmly in the fold.
December, 19, 2010
12/19/10
10:06
AM ET
How long has it been since Patriots quarterback
Tom Brady
threw an interception? The Jets were considered the team to beat in the AFC.
If that seems like a long time ago, you're right.
Brady
Brady hasn't thrown an interception since Week 6 against the Ravens, a stretch of 268 attempts. That ranks sixth all-time.
He would climb into second place with 27 more interception-free attempts Sunday night against the Packers.
Here's the list of longest streaks:
Bernie Kosar, 1990-91 for the Browns -- 308
Bart Starr, 1964-65 for the Packers -- 294
Jeff George, 1993-94 for the Colts and Falcons -- 279
Rich Gannon, 2001 for the Raiders -- 277
Jason Campbell, 2007-08 for the Redskins -- 271
Tom Brady, 2010 for the Patriots -- 268
Brady has tied the NFL record with six consecutive games of at least two touchdown passes and no interceptions. In his past eight games he has 19 TDs, zero interceptions and only two ratings under 100.
The Patriots have a league-leading plus-18 turnover ratio and haven't committed any in five straight games, which is an NFL record.
September, 3, 2010
9/03/10
9:47
AM ET
Quarterbacks commonly are referred to as field generals. Bill Simmons likes to watch movies.
So he smushed the two together and came up with his
quarterback rankings as portrayed by favorite war movies
of his generation.
I recommend reading the whole spiel, but I'm sharing his AFC East entries.
3. Tom Brady, Patriots:
He's listed under "Three Kings" between
Peyton Manning
and
Aaron Rodgers
. All of them are behind No. 1
Drew Brees
, who's by his lonesome under "Glory." Simmons points to a "monster Brady fantasy season" because he has the weapons and the Patriots have a "potentially lousy defense" that could increase Brady's number of possessions.
Simmons writes:
Seems a little high? Know that Football Outsiders had him ranked first in its adjusted rankings -- on top of the yearly reality that he doesn't get eight home games in a dome like Brees or Manning, FO calculates that he played the hardest schedule of pass defense opponents of any QB since 1993 -- and remember that it takes two years to fully recover from reconstructive knee surgery.
19. Chad Henne, Dolphins:
He and Raiders quarterback
Jason Campbell
comprise the "The Thin Red Line" category. On Simmons' Backhanded Compliment Scale for quarterbacks, he rated Henne an 8.5 between "He's not pretty, but he's pretty effective," and "You could make the playoffs with this guy."
21. Mark Sanchez, Jets:
As sophomore starters, Sanchez and Lions quarterback
Matthew Stafford
fall under "Rambo: First Blood Part II."
Simmons writes:
Sanchez's second year is threatening to play out like a "Tosh.0" clip in which a dumb teenager walking a tightrope between two apartment building roofs ends up plunging head-first into a dumpster. During the latest "Hard Knocks," @KristerJohnson tweeted me, "Mark Sanchez is the most charismatic, entertaining mediocre QB I've ever seen." Thought that summed it up.
30. Trent Edwards, Bills:
He's in the worst grouping, "Apocalypse Now."
Simmons writes:
It's always fun when a QB sucks, but especially when fans are in deep denial and say things like, "If he had time to throw, I think he'd have a chance to be good" (like Bills fans do with Edwards). ... Deep denial. It's a dangerous drug.
April, 9, 2010
4/09/10
8:12
AM ET
On the latest edition of "Cold Hard Facts," anchor Jay Harris asks NFL insider Adam Schefter to name three players who could be traded soon.
"No. 1, the
Buffalo Bills
running back,
Marshawn Lynch
," Schefter replies. "They have a new coach, a new GM and any time there are new people in charge, they bring in their own players. Marshawn Lynch could be traded on or before the draft."
A recent Buffalo News story claims
Lynch wants out of Buffalo
. A recent Olean Times Herald column says the
Bills would like to move him
. But Lynch has no leverage, and the Bills probably couldn't get enough in return for him to make it worth their while from a personnel standpoint.
The other two players Schefter names in response to Hill's question could end up in the AFC East:
Denver Broncos
receiver
Brandon Marshall
and
Washington Redskins
quarterback
Jason Campbell
.
All four AFC East teams have concerns at receiver, although New York Daily News writer Rich Cimini recently reported the
New York Jets
are uninterested in Marshall.
The Bills have an unsettled quarterback situation, and
Campbell could be better than the trio
(
Trent Edwards
,
Ryan Fitzpatrick
,
Brian Brohm
) on their roster.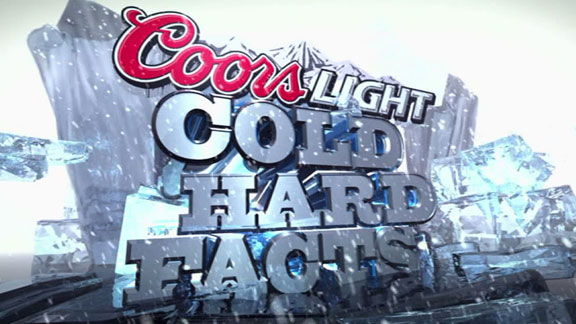 April, 6, 2010
4/06/10
12:29
PM ET
Buffalo Bills
Miami Dolphins
New England Patriots
New York Jets
April, 5, 2010
4/05/10
4:33
PM ET
One way we know
Jason Campbell
would look right at home in a
Buffalo Bills
uniform is that he knows how to take a sack.
[+] Enlarge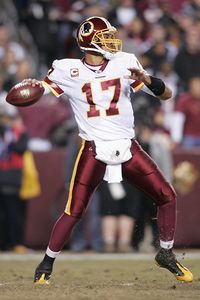 Icon SMIJason Campbell is expendable in D.C. and could be a good fit in Buffalo's run-first offense.
Only two quarterbacks were sacked more than Campbell last year, and the Bills arguably had the NFL's worst pass-blocking offensive line.
In light on Sunday night's
Donovan McNabb
trade to the
Washington Redskins
, Campbell could be on his way to Buffalo.
The Bills made a play for McNabb
and reportedly are interested in acquiring Campbell, who now is unnecessary in Washington.
To take the matchmaking process a step beyond the initial imagery of Campbell lying in a fetal position, I reached out to Scouts Inc. analyst Matt Williamson for his take on whether Campbell would excel under Bills head coach Chan Gailey.
"If I were Buffalo, I would send my second-round pick to Washington right now for Campbell," Williamson said. "Right now."
The Bills' second-round draft pick is the 41st selection. The Redskins drafted Campbell 25th overall five years ago.
Campbell is coming off a season in which he completed 64.5 percent of his passes for 3,618 yards and 20 touchdowns with 15 interceptions.
"I like the fit," Williamson said. "Campbell has upside to me, and I actually thought last year was his best yet. The poor guy has gone through coordinators and offensive systems at a remarkable rate since joining the league. That is just too difficult. You can't succeed that way.
"In Buffalo, you would hope that he would have Gailey at least for two years and, hopefully, more. There would be much less pressure overall on him. It would be a run-first offense, and I think he certainly has the arm strength and overall physicality to succeed in that weather and environment.
"His style of play seems to fit the system, environment and franchise as a whole."
April, 5, 2010
4/05/10
1:30
AM ET
The
Buffalo Bills
deserve credit for thinking big.
They failed in their quest to acquire quarterback
Donovan McNabb
, but Bills fans should be thrilled their front office at least tried something that bold.
The
Philadelphia Eagles
traded McNabb to the
Washington Redskins
on Easter night for a second-round pick in this year's draft plus a third- or fourth-round pick in the 2011 draft.
We don't know exactly what the Bills were offering. The Redskins' second-round pick was the 37th overall, four slots better than the Bills' second-rounder. But the Bills might have sweetened the deal with additional picks or players.
But the Bills couldn't swing the deal because McNabb was unwilling to sign an extension. He's entering the final year of his contract, and trading away assets for a veteran who'd be around for one unhappy season would have been ludicrous.
Multiple reports state
McNabb simply didn't want to play for the Bills
or the
Oakland Raiders
.
ESPN's Sal Paolantonio reports the Bills and Raiders had the two best offers on the table just last week. Yahoo! Sports writer Jason Cole reports the
Bills were willing to offer McNabb an extension
, but he wasn't interested.
While McNabb's rejection certainly was influenced by the Bills' dysfunction during a long decade without a playoff appearance, it shouldn't be a reflection of their current front office.
Rookie general manager Buddy Nix and new head coach Chan Gailey identified a need and went after one of the most accomplished quarterbacks in the league, a five-time Pro Bowler with 216 career touchdown passes and 100 interceptions.
Their pursuit of McNabb was inspired and far more significant to the franchise's potential well-being than the splash they made with one-and-done diva receiver
Terrell Owens
last year.
Nix and Gailey repeatedly declined to publicly reveal their depth chart, insisting
Trent Edwards
,
Ryan Fitzpatrick
and
Brian Brohm
are interchangeable at this point. But Nix and Gailey also have mentioned multiple times they're on the lookout for a fourth quarterback.
At the recent NFL owners meetings in Orlando, Fla., Gailey noted he wanted to have his quarterback situation sorted out before the draft, which begins April 22.
"You'd like to have everything settled before you went into the draft," Gailey said. "The problem comes if you don't solve an issue before the draft. Then you have to try and solve it in the draft. Then if you don't solve it before the draft or in the draft, now your back's to the wall and everybody knows it. That's a bind you get into. Now they can hold you up."
What do the Bills do now?
Drafting a quarterback becomes a greater possibility. The Bills hold the ninth overall pick, but they have so many needs. Maybe Notre Dame quarterback
Jimmy Clausen
still will be on the board, creating a difficult decision. If the Bills go with another position in the first round and hold off until the 41st pick to look at quarterbacks, then University of Florida icon
Tim Tebow
, Texas'
Colt McCoy
or Central Michigan
Dan LeFevour
might become an attractive option.
Jason Campbell
automatically becomes a possibility. He's a restricted free agent with a first-round tender, so an offer sheet is unlikely. But a trade could be worked out because he's not needed in Washington anymore.
Some unrestricted free agents:
Kyle Boller
,
Daunte Culpepper
,
Josh McCown
,
Patrick Ramsey
and
Chris Simms
. Other getable restricted free agents:
Kellen Clemens
and
Troy Smith
.
And, for the record,
J.P. Losman
's still out there.
Regardless of where the Bills find that fourth quarterback, it's impressive to know they aimed for McNabb.
If this is how Bills fans can expect their team to operate under their new front office, then there's genuine reason to get excited.
February, 26, 2010
2/26/10
12:00
AM ET
INDIANAPOLIS --
Buffalo Bills
message boards are going kooky nuts over the rumor that the club is working out a deal that would send safety
Donte Whitner
to the
Washington Redskins
for quarterback
Jason Campbell
.
The rumor picked up speed here
at the NFL scouting combine when Washington Post reporter Jason Reid blogged about it and said both he and NFL Network insider Jason LaCanfora were tracking it.
NFC East gadabout Matt Mosley picked up the phone and learned, from an unnamed league source,
the Redskins have assured Campbell the rumor is bogus
.
Mosley writes Redskins coach Mike Shanahan intends to keep Campbell and general manager Bruce Allen will meet with agent Joel Segal in Indianapolis to discuss Campbell's future.
Mosley writes: "Unless another team blows the Skins away with a trade offer, I think Campbell will be back in 2010."
February, 25, 2010
2/25/10
5:20
PM ET
INDIANAPOLIS -- While
a weird rumor
about the
Buffalo Bills
being interested in
Washington Redskins
quarterback
Jason Campbell
is floating around,
Miami Dolphins
general manager Jeff Ireland seemed to shoot down another bit of speculation that has refused to die.

White

Thigpen
Since the Bills hired head coach Chan Gailey, readers have been asking me if there's any truth the Bills were targeting Dolphins backup quarterback
Tyler Thigpen
.
I have no idea where those whispers came from aside from the link Gailey and Thigpen had with the
Kansas City Chiefs
.
It made no sense to me the moment I heard it. The Dolphins liked Thigpen enough to trade for him last year. To turn around and deal him a half-year later -- within the division, no less -- is implausible.
At the NFL scouting combine on Thursday, Ireland said Thigpen and sophomore
Pat White
will vie for the No. 2 job behind
Chad Henne
.
"They're going to be fighting for the No. 2, No. 3 position," Ireland said. "I think Tyler's going to go into it thinking 'I can win this job,' and Pat's got to do the same thing. We feel like we've got three young, good quarterbacks on this roster that can contribute to this team."
Ireland also commented on
Chad Pennington
's potential future with the team. Pennington is an unrestricted free agent coming off a third reconstructive surgery on his throwing shoulder.
With Henne the unquestioned starter -- Ireland called him "our quarterback and the future of our organization right now" -- Pennington wouldn't be brought in to compete for the job.
"We've talked to Chad on a number of different avenues," Ireland said. "Obviously, that's a decision that would show you my cards on where we're going in our offseason plan. I like Chad a lot. I think he's tremendous for the team, a tremendous leader. But those decisions will be coming later."
As for the Bills' quarterback situation, Gailey was vague and mentioned neither
Trent Edwards
nor
Ryan Fitzpatrick
by name.
"You know, every team in the league that doesn't have an All-Pro quarterback or somebody that got votes for All-Pro is looking to improve their position," Gailey said. "So I think that if you look at every position on the field, you are always trying to upgrade your football team.
"We'll evaluate what's available and if we can improve our situation, we'll try to improve it. Everybody is trying to do that at every position -- not just quarterback, but every position."
April, 2, 2009
4/02/09
9:00
AM ET
Posted by ESPN.com's Tim Graham
What type of prospect should the Miami Dolphins expect with the 25th selection in the draft?
I thought it would be helpful to look back over the past 10 years to see what each AFC East club's first-round draft slot has produced.

There have certainly been some duds at No. 25. Antuan Edwards, Freddie Mitchell and William Joseph prove that the honor of being a first-round draft pick doesn't guarantee much of anything in the NFL.
But teams have mined some diamonds in recent years, including a Super Bowl MVP, a sophomore All-Pro and a starting quarterback.
1999 Antuan Edwards, S, Packers: Journeyman managed 16 games as a rookie and started only 32 games in a career that ended in 2005.
2000 Chris Hovan, DT, Vikings: Blood-and-guts lineman has started 133 of his 140 NFL games and was a second-team All-Pro in 2002.
2001 Freddie Mitchell, WR, Eagles: Lasted only four seasons, maxing out in 2003 with 35 catches for 498 yards and two touchdowns.
2002 Charles Grant, DE, Saints: Seven-year starter recorded 27 sacks in his first three seasons.
2003 William Joseph, DT, Giants: Has started only 17 games in his four seasons and failed to make the Raiders out of training camp last year.
2004 Ahmad Carroll, CB, Packers: Is on his fourth team and hasn't started since 2006.
2005 Jason Campbell, QB, Redskins: Already has 36 starts after three seasons, with a 35-23 touchdown-to-interception ratio.
2006 Santonio Holmes, WR, Steelers: Super Bowl MVP has 156 receptions for 2,587 yards and 15 touchdowns as No. 2 receiver.
2007 Jon Beason, LB, Panthers: Already an All-Pro, he has started every one of his NFL games.
2008 Mike Jenkins, CB, Cowboys: Played in 14 games and started three as a rookie.

February, 12, 2009
2/12/09
9:00
AM ET
Posted by ESPN.com's Tim Graham
As you probably can understand, I was a tad too occupied Wednesday to listen in on ESPN draft overlord Mel Kiper Jr.'s national conference call.
The New York Jets announced something or other at the same time. I assumed ESPN would do me a solid and reschedule Mel for a time that better suited my schedule. Then I remembered I don't rate.
So I must lean on ever-vigilant Boston Globe reporter Mike Reiss for an interesting Kiper exchange in which he called New England Patriots quarterback Matt Cassel a better option than anybody in the draft.
Reiss asked if Kiper were in charge of the Detroit Lions or Kansas City Chiefs and had the option of trading for Cassel or drafting either of the best prospects on the board, what would the proper play be?
The Lions own the 1st, 20th and 33rd draft choices. The Chiefs have the 3rd and 34th.
"If I were Detroit or Kansas City, I would make that move [trade for Cassel] in a heartbeat," Kiper said. "If you're asking me if I would rather have Matt Cassel or Matthew Stafford or Mark Sanchez, I'd rather have Matt Cassel."
Kiper called Cassel the best quarterback from the 2005 draft class that included Alex Smith, Aaron Rodgers and Jason Campbell.
"He looked like he should have been the No. 1 overall pick in the draft," Kiper said of the seventh-round draft choice who entered 2008 without a start since high school. "It's amazing. To watch him play this year, if he would have been the No. 1 pick in the draft, people would have been very happy with the way he's playing right now.
"He came out the same year the other three quarterbacks did, and right now he's better than those other three, and I'm including [Jay] Cutler in that. I would rather have Cassel than Cutler.
"So, to me, I think Cassel is more than worthy of being a guy that the Kansas City Chiefs or Detroit Lions go after. He's played to the level of a No. 1 pick overall this year."