September, 27, 2013
9/27/13
12:00
PM ET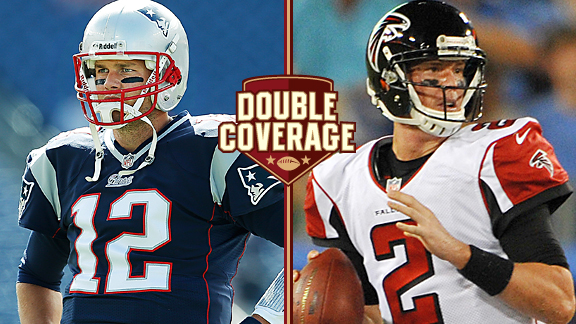 Getty ImagesTom Brady and Matt Ryan have both come in for heaping praise ahead of Sunday's meeting.
ATLANTA -- There are $100 million reasons why
Matt Ryan
should be talked about among the NFL's elite quarterbacks. One thing the
Atlanta Falcons
quarterback doesn't have that his Sunday-night counterpart possesses is a Super Bowl ring.
Ryan's showdown with
New England Patriots
star
Tom Brady
is sure to be a hot topic throughout Week 4. He already lost one such head-to-head matchup, when
Drew Brees
and the
New Orleans Saints
got the better of Ryan and the Falcons in the season opener (23-17).
So how will Ryan fare against the Pats? He'll need help from all phases, something he didn't receive in last week's loss to the
Miami Dolphins
.
ESPN.com Falcons team reporter Vaughn McClure and Patriots reporter Mike Reiss break it down:
McClure:
The Falcons were touted as a Super Bowl contender -- and possibly a favorite -- going into the season. But now, at 1-2, they find themselves in almost a must-win situation at home. How will the Patriots respond to the hostile environment they'll enter Sunday night at the Georgia Dome?
Reiss:
With 13 rookies on the 53-man roster -- including receivers
Aaron Dobson
(second round) and
Kenbrell Thompkins
(undrafted), who are playing key roles -- there is an element of unknown for the Patriots when projecting how the team will respond. Some of these players simply haven't experienced this environment and prime-time stage. It's rare for a Patriots team to be relying on such a large number of rookies for significant contributions, and that is one of the interesting storylines from a New England perspective this week. Other storylines are if this might be tight end
Rob Gronkowski
's season debut, if receiver
Danny Amendola
will also return after missing two games with a groin injury and if the defense -- which has been solid against lesser competition (
Jets
,
Bills
,
Buccaneers
) -- can limit an explosive passing game that is easily the best the unit has seen to this point in the season. Give us a feel for how things are going for the Falcons on offense.
McClure:
Not too well, at the moment. Head coach Mike Smith's biggest complaint is how inefficient his team has been in the red zone. During the Week 3 loss to the Dolphins, the Falcons were 2-of-5 in red zone opportunities. For the season, they are 6-of-12 (50 percent) in terms of touchdowns in the red zone, but offensive coordinator Dirk Koetter wants that number to be a bit higher. Having bruising running back
Steven Jackson
in the lineup would no doubt help in goal-line situations, but Jackson will miss Sunday's game while nursing a hamstring injury. Receiver
Roddy White
is also a solid red zone target, but White is not 100 percent healthy coming off a high-ankle sprain. Ryan still has
Julio Jones
and
Tony Gonzalez
as primary scoring weapons. How do you think the Patriots will keep up with the speedy receiver and ageless tight end?
Reiss:
I think it starts with how they decide to match up against the Falcons' "11 personnel" (one back, one tight end), because that looks like the most explosive package -- receivers Jones, White and
Harry Douglas
, with Gonzalez at tight end and either
Jacquizz Rodgers
or
Jason Snelling
at running back. Last Sunday against the Buccaneers' "11 personnel," the Patriots stayed in their base defense but played with three cornerbacks in the secondary -- their way of staying sturdy against the run but adding a coverage element to the secondary. I'd be surprised if we see that this week because the Falcons are much more potent in the passing game. So I could envision the Patriots turning to a coverage-heavy dime defense (six defensive backs), specifically with Jones and Gonzalez in mind, with the thought that a lighter box might be enough to limit the running game. For the Falcons, how are things shaping up on defense?
McClure:
The defense has had its issues. Take the Miami game, for example. The Falcons held a 23-20 lead with just less than five minutes remaining in regulation. The defense needed to close, needed to put pressure on Dolphins quarterback
Ryan Tannehill
, needed to lock down the receivers. Instead, the Falcons played soft coverage after the Dolphins reached midfield and couldn't disrupt Tannehill's rhythm. In the end, Tannehill engineered a 13-play, 75-yard drive that ended with his game-winning touchdown pass to
Dion Sims
. Not playing tight coverage and not wrapping up on tackles cost the Falcons in that game, and it could cost them the rest of the season if they don't find a way to correct those problems immediately. They could use their defensive leader, linebacker
Sean Weatherspoon
, who was placed on injured reserve (foot) with a designation to return in Week 11. One other aspect noticeable in Miami was how the Dolphins tight ends won their one-on-one matchups against the Falcons on that final drive. That being said, will Atlanta have to contend with one of the best tight ends in the league, Gronkowski?
Reiss:
We might not know the answer for sure until 90 minutes before kickoff, but things have been pointing in that direction. The one area the Patriots could use Gronkowski most, at least initially, is in the red zone. One season after ranking first in the NFL in red zone touchdown percentage (which we acknowledge isn't a foolproof stat), the Patriots rank last (4-of-13). It's going to be hard to win a game like this settling for field goals. Speaking of which, let's not overlook special teams. The Patriots are getting good contributions in that third phase of the game, with a 53-yard field goal by
Stephen Gostkowski
a highlight in Sunday's victory over the Buccaneers. How about the Falcons?
McClure:
Yet another area in which the Falcons could use much improvement. Against the Dolphins, returner Douglas fumbled a punt he admitted he shouldn't have fielded in the first place. It translated into a Dolphins touchdown three plays later. The usually reliable
Matt Bryant
missed a 35-yard field goal in the fourth quarter. And the Falcons had three penalties on special teams: two holds and an illegal block above the waist. Through three games, the Falcons are ranked 26th in punt return average and 30th in kickoff return average, although they've returned just one kickoff. Those special-teams issues are enough to cause special-teams coordinator Keith Armstrong to blow a gasket. Speaking of that, is Brady still yelling at his receivers?
Reiss:
Could you hear him down there in Atlanta? That was probably the most talked about storyline after New England's 13-10 win over the Jets on Sept. 12, whether Brady's on-field frustrations were making things tougher on the young receivers than they needed to be. But it was mostly yelling at himself this past Sunday. He was upset with an end zone interception he said he shouldn't have thrown. And he missed some open receivers, too. So while Brady's stats were better last week, his performance wasn't up to his own high standard, and it was actually more about him than the young pass-catchers, who turned in their best performance of the season. What is Ryan saying about this matchup?
McClure:
Ryan said plenty about the Patriots when he addressed the media in the locker room Wednesday. He said he expects to see a lot of man-to-man coverage and complimented the Patriots for being very sound with their technique. He believes the front seven does a great job of creating pressure in both the run game and against the pass. Of course, Ryan gave much credit to Brady for being one of the top quarterbacks in the league for such a long time. In fact, Ryan joked that he hoped to be around as long as Brady. And Ryan singled out
Vince Wilfork
for not only being a disruptive force up front, but for being a 325-pound guy who plays a lot of snaps. So what's the word from Bill Belichick?
Reiss:
Belichick complimented Ryan, saying among other things that Ryan has very few bad plays. He shared his belief that consistency is the mark of any great player and Ryan is "pretty consistent -- every play, every game, every series." And, according to Brady, Belichick said the following to players this week: "If you love football, then Sunday night at 8:30 in Atlanta will be the place to be." Hard to imagine many would disagree about that. This is going to be fun.
.
September, 20, 2013
9/20/13
12:00
PM ET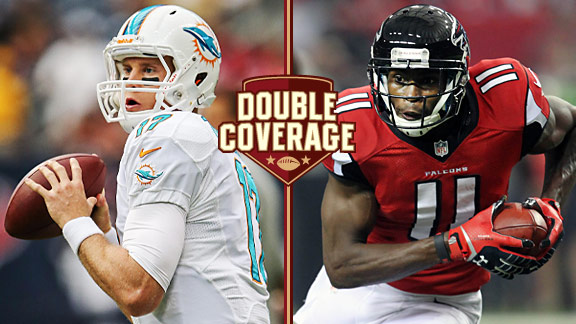 USA TODAY SportsRyan Tannehill and the undefeated Dolphins will try to upset Julio Jones and the Atlanta Falcons.
The
Miami Dolphins
are basking in the light of a 2-0 start while the
Atlanta Falcons
are just trying to find some healthy bodies.
The two teams play each other Sunday in a game that has big implications in the AFC East and NFC South races.
ESPN Dolphins reporter James Walker and ESPN Buccaneers reporter Pat Yasinskas examine this matchup:
Yasinskas:
James, like many, I thought the Dolphins would be an improved team. But it's looking like they might be even better than I thought. They've gone out and started their season with two big wins on the road. What's going right for the Dolphins and, more importantly, how good are they?
Walker:
It's early, Pat, but Miami is already exceeding my expectations. I pegged the Dolphins to be an 8-8 team this year. That still could happen if the team loses focus, but Miami is on pace to do better. I credit two things: improved playmaking ability and the growth of second-year quarterback
Ryan Tannehill
. Miami committed more than $200 million in free-agent contracts to players like receiver
Mike Wallace
, cornerback
Brent Grimes
and linebackers
Dannell Ellerbe
and
Philip Wheeler
. All of those players came up big in last Sunday's win over the
Indianapolis Colts
. When you add in the fact Tannehill has improved in his second year, it's easy to see why the Dolphins are also taking the next step. Atlanta is a team many believe is a Super Bowl contender, but the group is banged up. Pat, how much will injuries impact the Falcons in this game?
Yasinskas:
Atlanta has some major injury problems. The Falcons had to put defensive end/linebacker
Kroy Biermann
and fullback
Bradie Ewing
on injured reserve this week and there are reports that running back
Steven Jackson
will miss a few weeks. The loss of Biermann means the Falcons will have to play rookies
Joplo Bartu
and
Paul Worrilow
at linebacker and second-year pro
Jonathan Massaquoi
at defensive end. If Jackson is out, the Falcons will have to go with
Jacquizz Rodgers
and
Jason Snelling
as their running backs, and that's a sharp drop-off. That probably means the Falcons will pass even more than usual and rely on
Roddy White
and
Julio Jones
. Is Miami's secondary ready for that tandem?
Walker:
I had a good conversation with Miami's top cornerback, Grimes, on Tuesday. He was complimentary of both White and Jones -- and Grimes would know. The former Falcon watched both receivers grow in Atlanta and practiced against them. It will be fun to see who has the advantage between Grimes and White/Jones, depending on the play. Grimes told me they all know each other so well that it's probably a push. The bigger concern for Miami's secondary is the other cornerback spot. Veteran starter
Dimitri Patterson
didn't play in Week 2 due to a groin injury. He's working his way back and could play Sunday. Rookie corners
Will Davis
and
Jamar Taylor
also returned to practice this week, which could provide depth. Similar to the game against Indianapolis, Miami must do a lot of things schematically to cover up its issues opposite Grimes. That includes using the safeties over the top and getting a good pass rush. Speaking of pass rush, the Dolphins have nine sacks in the first two games. Can they exploit the Falcons in this area?
Yasinskas:
Miami's pass rush has to be a major concern for the Falcons. Atlanta revamped its offensive line in the offseason and it's taking some time to come together. The right side of the line is of particular concern with guard
Garrett Reynolds
and
Lamar Holmes
as the starters. Reynolds is average at best and Holmes, a second-year pro, was thrown into the starting lineup when
Mike Johnson
went down with an injury in the preseason. Holmes is very much a work in progress, so the Falcons will have to try to give him some help by getting their tight ends and running backs involved as pass-blockers. Still, Atlanta should be able to move the ball through the air because it has
Matt Ryan
, Jones, White and tight end
Tony Gonzalez
. Has Tannehill developed enough to win a shootout?
Walker:
That's an interesting question, Pat. I'm not sure anyone -- even Miami's coaching staff -- has the answer. I did notice the Dolphins' game plan in Week 1 against Cleveland was fairly conservative compared to Week 2 against Indianapolis. Those are two different teams, and perhaps the Dolphins realized they needed to be more aggressive throwing and take more vertical shots deep to match Colts quarterback
Andrew Luck
. This is a similar type of challenge, because Atlanta's offense is built around scoring points in the passing game. Tannehill is getting better at taking over parts of a game in Year 2. His play in the second half the past two weeks has been terrific. The Dolphins are outscoring opponents 24-6 in the third and fourth quarters, in part because Tannehill is moving the chains, putting points on the board and keeping Miami's defense fresh. I don't expect this game to be all on Tannehill's shoulders. The defense remains the strength of the Dolphins. Keeping Atlanta's scoring around 23 points or fewer, as opposed to having Tannehill throw for 400 yards, is probably Miami's best shot to win.
July, 25, 2011
7/25/11
3:29
PM ET
»
NFC
:
East
|
West
|
North
|
South
»
AFC
:
East
|
West
|
North
|
South
»
Unrestricted FAs
A look at the free-agent priorities for each AFC East team:

Buffalo Bills
1. Add new blood
: For the most part, most of the Bills' free-agents-to-be would not be big losses. Buffalo should have plenty of money to spend once free agency does finally open. Obviously, this has been a losing franchise for some time now, and transforming the roster and changing the culture of the organization should be a very good thing. The Bills did take a fine step in the right direction in the 2011 draft, taking several prospects from big-college programs with winning histories.
2. Keep Paul Posluszny
: Although inside linebackers generally are not difficult to find, Posluszny is the type of guy Buffalo needs to keep within the organization. He is productive, tough and able to lead the defense on every down. Last season wasn't his best, but Posluszny was fantastic in 2009, and I fully expect him to get back to that form, especially playing behind what should be a vastly improved young interior defensive line.
3. Eliminate needs
: I list the Bills' three greatest needs as left tackle, outside linebacker and tight end. Rome wasn't built in a day, but if Buffalo could knock out one or two of these needs in free agency, it would go a very long way in its rebuilding process.
Jared Gaither
or
Doug Free
could potentially fill Buffalo's left tackle position for years to come, while
Matt Light
could hold down the fort and provide leadership until
Chris Hairston
or a future draft pick is ready. An outside linebacker such as
Manny Lawson
,
Matt Roth
or
Mathias Kiwanuka
could also be money very well spent to pose an edge presence opposite
Arthur Moats
, whom
I featured in my Soon to be Stars series
.
Zach Miller
is really the only free-agent tight end who would qualify.
Top free agents
: Posluszny,
Donte Whitner
,
Drayton Florence

Miami Dolphins
1. Add running back help
: Miami used the 62nd overall pick in 2011 to select
Daniel Thomas
, a big, bruising runner with a lot of ability. But of course, Thomas is going to be a rookie this season, and fully counting on him to carry the load and learn the pass protections would be foolish. Miami needs a backup plan. Bringing back
Ronnie Brown
, or more likely,
Ricky Williams
, wouldn't be a terrible situation. But just adding Brown or Williams wouldn't be enough. Snatching up
Ahmad Bradshaw
or
DeAngelo Williams
would obviously be a huge addition and would push Thomas to backup status. Even bringing in a reliable back like
Joseph Addai
or
Jason Snelling
might do the trick as Thomas develops. Another option is to add a specialty player like
Darren Sproles
.
2. Find competition for Chad Henne
: Personally, I am not ready to write off Henne. I believe in the approach that Miami has taken this offseason. The Dolphins have surrounded him with pieces to make his life much easier. But still, adding a veteran signal-caller seems like a must at this point. Suitable options include
Marc Bulger
,
Donovan McNabb
or even
Vince Young
, who is soon to be released by Tennessee. If quarterback remains a problem after this year, then Miami needs to sell the farm to draft its next franchise quarterback. But in the meantime, this would be my approach.
3. Make a splash on D
: To me, the Dolphins' three biggest needs are quarterback, running back and then free safety. Even if Miami didn't add a defender of any sort in free agency, I would rank its 2011 defense among the best in the NFL. I am that high on this group. But what if the Dolphins could land a real talent at free safety? Imagine the possibilities. This is a deep free-agent class of safeties. I would love to see the Dolphins sign someone like
Michael Huff
or especially
Eric Weddle
. Even adding a solid player with upside like
Brodney Pool
would be helpful here.
Top free agents
: Ronnie Brown, Ricky Williams,
Tony McDaniel
,
Richie Incognito
,
Tyler Thigpen

New England Patriots
1. Lock up Logan Mankins
: Because the Patriots designated Mankins their franchise player, I didn't include him among their top free agents. But New England does have to get him locked up. Mankins might just be the best guard in all of football. With Matt Light potentially leaving town, the Patriots cannot afford additional unrest along their offensive line. Mankins would be the ideal player to line up next to
Nate Solder
to help the rookie's transition to the NFL.
2. Find a pass-rusher
: I see outside linebacker as New England's greatest need, followed distantly by wide receiver and defensive end. Although I expect
Jermaine Cunningham
to develop quickly into a solid starter, adding one more edge player who can be disruptive on throwing downs is something that still needs to be addressed after the team curiously ignored it in the draft. The name I like best for the Patriots here is Mathias Kiwanuka, if his health checks out. He is smart, versatile and has some experience at linebacker. Two other players who fit the bill are Matt Roth and Manny Lawson.
3. Acquire a deep threat
: I am not as sold as most that New England must add a wide receiver who can stretch the field. But this is a tremendous organization, and the Pats just don't have many needs, so picking up such a luxury player could be the difference between a Super Bowl championship or another early exit in the postseason. My favorite fit for the Patriots is
Braylon Edwards
. Edwards is immensely talented, and if submersed in this environment with
Tom Brady
throwing him the ball, he could quickly rank among the top wideouts in all of football.
Top free agents
: Matt Light,
Gerard Warren

New York Jets
1. Make critical decisions on their own players
: The Jets have a lot of free agents, and they are one of the teams in the league with the least amount of money to spend as it stands today. New York has come very close to its goal the past couple of seasons, but this free-agency period is absolutely critical to staying among the best teams in the NFL.
2. Address wide receiver
: Considering who is up for free agency, wide receiver has to be the biggest worry for the Jets right now. I greatly respect Braylon Edwards' abilities, but
Santonio Holmes
is just the better player right now. In fact, I see Holmes as a top-10 wide receiver. He is incredible in the clutch.
Mark Sanchez
needs quality options to throw to at this point of his young career. If the Jets brought back Holmes, increased TE Dustin Keller's role and also found a bargain at wide receiver late in free agency (maybe
Randy Moss
or
Chad Ochocinco
), then I think they would be OK.
3. Don't forget about the trenches
: The Jets are a physical team that is strong on both lines of scrimmage. Two of their starting offensive line spots are uncertain at this point. And although they drafted
Muhammad Wilkerson
and Kendrick Ellis, rookie defensive linemen rarely make a major impact -- especially in a 3-4.
Shaun Ellis
is probably going to be playing elsewhere, and New York doesn't have a high-end outside linebacker. So there are concerns up front. The Jets will have to sign some cheaper veteran options -- probably to one-year contracts -- to shore things up.
Top free agents
: Santonio Holmes, Braylon Edwards, Shaun Ellis,
Antonio Cromartie
, Brodney Pool,
Brad Smith
Scouts Inc. watches games, breaks down film and studies football from all angles for ESPN.com. Follow Matt Williamson on Twitter @WilliamsonNFL.