May, 31, 2011
5/31/11
1:53
PM ET
Next up in ESPN.com's Power Rankings series were the
best offensive players who aren't quarterbacks
.
I was surprised to see only three offensive linemen appear on the ballots of our eight panelists:
Miami Dolphins
left tackle
Jake Long
,
Cleveland Browns
left tackle
Joe Thomas
and
New York Jets
center
Nick Mangold
.
Only four voters, including me, mentioned more than one lineman. AFC South blogger Paul Kuharsky and NFC South blogger Pat Yaskinkas must have been assembling fantasy teams because they didn't name a single grunt.
My ballot:
Adrian Peterson, Vikings running back
Larry Fitzgerald, Cardinals receiver
Andre Johnson, Texans receiver
Chris Johnson, Titans running back
Calvin Johnson, Lions receiver
Jake Long, Dolphins left tackle
Antonio Gates, Chargers tight end
Nick Mangold, Jets center
Roddy White, Falcons receiver
Jason Witten, Cowboys tight end
Nobody can argue against how crucial offensive linemen are to a team's success. And since we removed quarterbacks from the equation, they make even more sense to appear on this list. If a team has an established quarterback, then the next thing to do is protect him.
Without offensive linemen, there's not enough time for the star receivers to get open or lanes for running backs to bolt through.
The importance of left tackles was underscored when the Dolphins selected Long first overall in 2008. Long has lived up to the expectations at a critical position by making the Pro Bowl each of this three seasons. He was voted All-Pro last year.
Mangold is the best center in the game. While centers aren't necessarily viewed as prominent enough to draft early, Mangold's dominance is indisputable. He has been an All-Pro the past two seasons and a Pro Bowler three straight. That's why he made my list.
March, 29, 2011
3/29/11
1:00
PM ET
I understand why
New York Jets
tight end
Dustin Keller
didn't generate more attention in ESPN.com's positional Power Rankings this week.
He's one of those players you need to watch on a regular basis to fully appreciate him. Keller's numbers don't stack up with the most prolific tight ends because he doesn't get the opportunities they do.
That's the only reason he didn't make the Power Rankings cut, finishing 12th. Only three voters on our panel listed him on their ballots. Here's mine:
Dustin Keller, New York Jets
Keller is a weapon all over the field. He's not just a threat in the red zone. He can stretch a defense, too. Only six tight ends had multiple plays of 40-plus yards last year. Keller was one of them.
Through the first four weeks of the season, Keller had 19 receptions for 254 yards and five touchdowns. But he didn't get as much consideration when
Santonio Holmes
returned from a four-game suspension and joined a receiving corps that included
Braylon Edwards
and
Jerricho Cotchery
.
So when you check the final numbers for tight ends last season, you see Keller ranked 11th in receptions, ninth in yards, sixth in average yards (minimum 40 catches) and tied for eighth in touchdowns.
It's easy to see how he can get bumped from the Power Rankings top 10 when opinions are in play and an injured star such as Clark must be accounted for.
As for the rest of my ballot, the players I must justify are Watson's inclusion and
Washington Redskins
tight end
Chris Cooley
's exclusion.
As with a few of my previous Power Rankings ballots, this comes down to personal taste. Cooley has great numbers, but so would a lot of other tight ends if they were targeted 123 times in a season. Furthermore, those targets are quick, high-percentage throws. Cooley had only nine plays of 20 yards or more and none that went at least 40 yards. He also fumbled three times.
A lack of big plays also is why I had Gonzalez rated so low. He had only five plays of 20-plus yards and none over 40 yards.
Witten was targeted a league-high 126 times, but he had 17 more receptions, 153 more yards and six more touchdowns than Cooley.
Watson, to me, was a bigger force in Cleveland's offense than other tight ends were to their teams. He finished fifth among all tight ends in receptions, fifth in yards and 13th in average yards (minimum 40 catches). Watson tied Cooley for third with 40 first-down receptions -- but on 25 fewer targets.
Check back later for my rundown of AFC East tight ends.
March, 1, 2011
3/01/11
12:17
PM ET
INDIANAPOLIS -- The NFL is a league of imitators. One team does something well, another team will try to emulate it.
The
New England Patriots
seemed progressively retro when they morphed their shotgun offense into sets with multiple tight ends. The Patriots used rookies
Rob Gronkowski
and
Aaron Hernandez
and in-line blocker
Alge Crumpler
masterfully.
At the NFL scouting combine in Lucas Oil Stadium, I asked
Buffalo Bills
coach Chan Gailey if he thought the Patriots' success could spark a trend and make an otherwise weak tight ends class more valuable in this year's draft.
"That's all on who you have," Gailey said. "If you have those two tight ends [the Patriots] had, you've got to think about 'How am I going to use these guys? How am I going to get them in the game?'
"If you get that personnel, you've got to use it."
Gailey doesn't have that personnel. He is a bright offensive coach with a gaping hole at tight end.
Bills tight ends combined for 23 receptions, 187 yards and one touchdown last season.
Jonathan Stupar
was their most prolific tight end with a dozen catches for 111 yards and no touchdowns. That was an acceptable week for Gronkowski, Hernandez or
New York Jets
tight end
Dustin Keller
.
By comparison, Patriots tight ends combined for 93 catches, 1,161 yards and 18 touchdowns. Keller had a Jets-high 55 catches for 687 yards and five touchdowns.
Miami Dolphins
tight end
Anthony Fasano
had 39 receptions for 528 yards and four touchdowns, and that apparently wasn't enough. The Dolphins reportedly gave free agent
Jeremy Shockey
a physical last week.
Buffalo's disappointment at the position can be summed up with
Shawn Nelson
, a 2009 fourth-round pick who missed more games while serving a drug suspension (four) than he had receptions (three).
"The question for us is where we want a blocker because we want to run the ball and be effective there," Gailey said. "We'd like to have a pass-catcher.
"We just have to find the best football player at that position, knowing that we have to have at least one blocker and one receiver. You'd like to have two in one. But you may not be able to find that guy."
The Bills are intrigued by
Scott Chandler
, who they pulled off the waiver wire from the
Dallas Cowboys
in December.
Chandler has had the misfortune of playing on teams with established tight ends. The
San Diego Chargers
drafted him in the fourth round in 2007, but they have
Antonio Gates
. He signed with the Cowboys in 2009, but they have
Jason Witten
. The
New York Giants
signed him off the Cowboys' practice squad later that year, but they had
Kevin Boss
.
Gailey said Chandler "gives us a chance at that" two-way tight end. "So it'll be interesting for me."
Notre Dame tight end
Kyle Rudolph
is considered by many analysts to be atop this year's draft class.
Virgil Green
from Nevada has some scouts buzzing, but he's undersized at 6-foot-3 and 249 pounds and is from the H-back mold.
February, 7, 2011
2/07/11
12:15
PM ET
New England Patriots
quarterback
Tom Brady
was a unanimous selection for
The Associated Press 2010 Most Valuable Player Award
and for the All-Pro squad. He also won the AP's 2010 Offensive Player of the Year.
Fans, players and coaches voted him the AFC's starter for the Pro Bowl.
But the NFL Alumni Association didn't view Brady as the NFL's best quarterback in 2010.
Alumni membership voted
San Diego Chargers
quarterback
Philip Rivers
to their annual all-star team.
Allrighty.
I
can't argue with the credentials of the voters
, at least.
The all-stars were selected by simple majority of NFL Alumni.
Miami Dolphins
consultant
Bill Parcells compiled the list of nominees
, three at each general position.
The AFC East sent two teams to the playoffs, but couldn't get anybody honored by the NFL alumni. Provincial nominees were Brady,
New York Jets
tight end
Dustin Keller
, Dolphins offensive lineman
Jake Long
and outside linebacker
Cameron Wake
and
Buffalo Bills
defensive lineman
Kyle Williams
.
Parcells did not list Brady among his three candidates for Player of the Year, meaning the star quarterback couldn't be elected for that award. Parcells also didn't include Bill Belichick among his top coach candidates. Parcells' former defensive coordinator was the
landslide winner of the AP's 2010 Coach of the Year Award
.
The NFL Alumni awards for 2010:
Quarterback: Philip Rivers, Chargers
Running back: Maurice Jones-Drew, Jaguars
Wide receiver: Roddy White, Falcons
Tight end: Jason Witten, Cowboys
Offensive line: Josh Sitton, Packers
Defensive lineman: Ndamukong Suh, Lions
Linebacker: Patrick Willis, 49ers
Defensive back: Aqib Talib, Buccaneers
Special teams: Devin Hester, Bears
Spirit Award: Felix Jones, Cowboys
Coach of the Year: Todd Haley, Chiefs
Player of the Year: Troy Polamalu, Steelers
January, 31, 2011
1/31/11
7:08
PM ET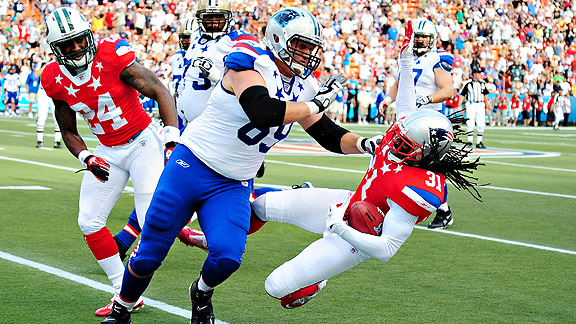 Kyle Terada/US PresswireHelp us caption this photo of Carolina's Jordan Gross drilling New England's Brandon Merriweather.
There was an actual hit delivered Sunday in the Pro Bowl.
We have photographic evidence.
Fittingly, the shot didn't count.
With about 6:30 left in a worthless exhibition slightly less entertaining than a walk-through OTA session,
Dallas Cowboys
tight end
Jason Witten
caught a pass and appeared to fumble on his way to the Aloha Stadium turf.
New England Patriots
safety
Brandon Meriweather
collected the loose ball and returned it.
All day, "tacklers" tried to hang onto ball carriers until the forward-progress whistle or to nudge them out of bounds.
I've seen more action on the Pro Bowlers Tour.
But
Carolina Panthers
tackle
Jordan Gross
relished the opportunity to deliver a hit. So he did, obliterating Meriweather with a helmet-to-helmet blast. But officials ruled Witten was down before the ball came loose. All was for naught -- aside from us getting the chance to witness an honest football collision.
In the photo,
New York Jets
cornerback
Darrelle Revis
might be grimacing or laughing. I can't tell.
Please take a moment and write a caption for this photo. Try to sum up the play within the context of such a flaccid event.
And try to be funny.
January, 29, 2009
1/29/09
11:00
AM ET
Posted by ESPN.com's Tim Graham
The New England Patriots have a marvelous track record when it comes to locating talent.
While it might be unfair to the rest of the AFC East to let the Patriots cherry-pick any player they want, we can't exclude them from our endeavor.

As explained in the previous post, I'm posing this question for each AFC East club:
If money, contracts and salary-cap restraints were no object, and you could choose any player in the NFL to add to your team, whom would you acquire?
The Patriots went 11-5, but that wasn't good enough to return to the playoffs. They have weaknesses.
Dallas Cowboys tight end Jason Witten would represent the offensive weapon Benjamin Watson hasn't become. New York Giants guard Chris Snee would help even up a line that has Pro Bowlers on the left side.
But maybe defense is the way to go. Pittsburgh Steelers outside linebacker James Harrison fits the mold of overachievers and former castoffs the Patriots always seem to maximize. Or what about placing Carolina Panthers linebacker Jon Beason next to Jerod Mayo?
The most effective injection, however, might be in the secondary. Steelers strong safety Troy Polamalu would replace an aging Rodney Harrison and create all sorts of new defensive possibilities.
Cornerback has been a need since Asante Samuel split. The Patriots might consider Nnamdi Asomugha of the Oakland Raiders or Cortland Finnegan of the Tennessee Titans. Then again, they could swipe one of the New York Jets' best players in Darrelle Revis.
Those are some thoughts to get you started. Please share your thoughts below or drop a line in my AFC East mailbag. I will gather the responses and make a selection Monday based on what you have to say.
September, 4, 2008
9/04/08
10:40
AM ET
Posted by ESPN.com's Tim Graham
I'm not above stealing a good blog idea when I see one. So with props to AFC North reporter James Walker and NFC South reporter Pat Yasinskas, here is the inaugural preseason All-AFC East offense.
The defense and special teams -- all the way down to the holder -- will be unveiled Friday and Saturday.
QUARTERBACK: Tom Brady, Patriots.
Even if Brett Favre, the NFL's greatest statistical passer, were 31 years old, Brady still would get the nod. Brady has won three Super Bowls. He won with a pedestrian receiving corps, and once he had elite targets, he rewrote the season record book.
RUNNING BACK: Marshawn Lynch, Bills.
Of all the backs in the division, Lynch possesses the best combination of talent, toughness and youth. Ronnie Brown would be the choice if he weren't coming off a reconstructed right knee and showing a proclivity for appearing on injury reports.
FULLBACK: Tony Richardson, Jets.
The 14-year vet still has it. Richardson went to the Pro Bowl last season after blocking for his sixth 1,000-yard rusher. He has cleared pathways for Adrian Peterson, Chester Taylor, Larry Johnson and Priest Holmes.
WIDE RECEIVERS: Randy Moss, Patriots, and Lee Evans, Bills.
The first selection was simple, to say the least. Moss is the greatest receiver in the game and maybe the best ever. Laveranues Coles, who has grabbed 90 passes twice and rolled up 1,000 yards thrice, would be the other selection if not for his injury problems. Wes Welker's gaudy stats as a slot receiver make him an interesting candidate. But Evans is a special talent who has been overlooked. He's coming off a down year because a sputtering offense allowed opponents to double cover him. But Evans is a Pro Bowl talent and the second-best No. 1 receiver in the AFC East.
TIGHT END: Chris Baker, Jets.
This was a tough one. Ben Watson might be the most physically gifted, but the Patriots' red-zone target can't seem to stay on the field because of injuries.. Baker is coming off a career season of 41 catches for 409 yards and three touchdowns for a team that scored 14 points or less in games. But by the end of 2008 his teammate, rookie Dustin Keller, might emerge as one of the NFL's more dangerous receiving ends. Anthony Fasano could have a breakout year for the Dolphins now that he's no longer behind Jason Witten in Dallas.
LEFT TACKLE: Matt Light, Patriots.
Put an asterisk on this one. Bills holdout Jason Peters would be the pick if he weren't twiddling his thumbs. Light is one of the NFL's elite blindside protectors. He has made the past two Pro Bowls and was a first-team All Pro last year.
LEFT GUARD: Alan Faneca, Jets.
Every AFC East team has an imposing left guard. Derrick Dockery (Bills), Justin Smiley (Dolphins) and Faneca were among the most coveted players in their free-agent classes. Logan Mankins (Patriots) is a budding star. But Faneca has played in seven straight Pro Bowls. He was a first-team All Pro last season.
CENTER: Dan Koppen, Patriots.
Nick Mangold (Jets) and Samson Satele (Dolphins) can be franchise keystones, but Koppen is more established. Koppen went to his first Pro Bowl last season as a key member of a line that allowed only 21 sacks.
RIGHT GUARD: Brandon Moore, Jets.
The most anonymous AFC East position is right guard. Donald Thomas (Dolphins) is a rookie who didn't start until his senior year at UConn, where he walked on. Brad Butler (Bills) became a starter last year. Billy Yates (Patriots) wasn't drafted and has five career starts in five NFL seasons. Moore wasn't drafted either, but he has started 57 straight games for the Jets.
RIGHT TACKLE: Vernon Carey, Dolphins.
Jets newcomer Damien Woody is the most decorated player among this year's AFC East right tackles, but he has barely played the position, going to one Pro Bowl as a center and winning three Super Bowls with the Patriots as a center and guard. Carey is moving back to his natural right side after a season on the left. He's the most established of the bunch.