November, 10, 2014
11/10/14
12:00
PM ET
The
Miami Dolphins
(5-4) saw their three-game winning streak come to an end Sunday in a 20-16 loss to the
Detroit Lions
(7-2).
Here are five additional thoughts and observations:
The Lions might have provided the first blueprint for stopping Miami's read option.
Dolphins quarterback
Ryan Tannehill
had a lot of success running that play this season and entered the game averaging 7.9 yards per carry. But Detroit made sure to keep a defender on Tannehill, which often forced the handoff to the running back. Tannehill had 0 yards on two carries. Detroit also did a good job of constantly hitting Tannehill during the read option and when passing. That took a physical toll on Tannehill and made him think twice about running.
Grimes
It was a lot of fun watching the game within the game between Dolphins cornerback Brent Grimes and Lions receiver Calvin Johnson
. Both players brought their "A" game and made big plays. Johnson beat Grimes deep for a 49-yard touchdown catch in the first half, and Grimes responded with a one-handed interception against Johnson in the third quarter. Still, I'm not sure how you stop Johnson unless a defense constantly double- and triple-teams. Grimes played Johnson about as well as you can, and Johnson still finished with seven receptions for 113 yards and a touchdown.
Branden Albert's knee injury means Dolphins rookie first-round pick Ja'Wuan James now is in the spotlight at left tackle.
James has been one of the NFL's top offensive rookies with nine straight starts at right tackle. He has done a good job of plugging the spot right away to protect Tannehill's front side. But moving to the left side means James must handle the opponent's top pass-rushers each week. The pressure on James will be higher moving forward.
Dolphins starting running back Lamar Miller didn't look himself on Sunday.
Miller, who has a shoulder injury, gained just 10 yards on four carries. It was clear he was playing hurt. The Dolphins ran the ball just 19 times total, and rookie free-agent pickup
Damien Williams
led the team with 34 yards on seven carries. It is doubtful Miller will get close to 100 percent before Thursday's game against the
Buffalo Bills
.
Speaking of the Bills, Thursday's game will mark the third different Buffalo quarterback Miami has faced in the past three games
. Last season, Miami native Thad Lewis led the Bills to complete a season sweep over the Dolphins.
EJ Manuel
led Buffalo to a Week 2 win over the Dolphins in September. This week veteran
Kyle Orton
will face the Dolphins. Orton has added stability and good decision-making to Buffalo's offense. He has a 98.4 passer rating with 10 touchdowns and just three interceptions.
November, 9, 2014
11/09/14
8:30
PM ET
DETROIT -- All
Mike Wallace
could do was grimace.
When approached in the locker room after a 20-16 loss to the
Detroit Lions
, the
Miami Dolphins
' leading receiver knew he would be asked about the offense's baffling inconsistency. It has been a consistent trend that showed up again in Sunday's loss that dropped Miami to 5-4.
"It's the same thing I tell you every week," Wallace said. "We have to find our balance, man. We can't keep doing this on offense. We can't be up and down to be the team that we want to be. We have to be able to finish football games. Our defense played great once again.
[+] Enlarge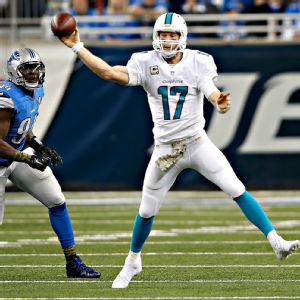 Joe Robbins/Getty ImagesRyan Tannehill and the Dolphins mustered only 228 yards against the Lions.
"[The Lions] are going to score points. They have
Calvin Johnson
and it's going to happen. I feel like they did a great job on defense. We had a chance to kill the game and we didn't do it again on our end on offense."
Sure, Miami's defense gave up the go-ahead touchdown to Detroit with 29 seconds remaining.
Matthew Stafford
connected on an 11-yard touchdown throw to
Theo Riddick
, despite good coverage by Dolphins safety
Reshad Jones
.
But you can't pin this loss, which ended a three-game winning streak, on the defense.
The Dolphins' offense gained just 228 yards. Miami trailed by 10 points in the first quarter after the offense lost a combined 20 yards on its first two drives, the worst start by any team's offense since 2001, according to ESPN Stats & Information research.
Seven of Miami's 11 drives lasted five plays or fewer. Still, Miami somehow held a 16-13 lead with 4:19 remaining after a
Caleb Sturgis
field goal. The defense forced another three-and-out by Detroit, and Miami's offense gave the ball right back. The Dolphins' three-and-out led to the Lions' decisive drive against Miami's worn-down defense.
"We put our defense in bad spots every time," Dolphins center
Samson Satele
said. "So we have to pick up our game. We have a great defense and outstanding special teams."
Wallace has grown into the No. 1 fan of Miami's defense, which entered the weekend ranked third in the NFL. Wallace is impressed how often his defense keeps the Dolphins in games. During the weeks when Miami's offense shows up, it usually means a big victory. Last week's 37-0 win over the
San Diego Chargers
was a good example of both sides of the football showing up.
However, in Wallace's words, the Dolphins' inconsistent offense too often makes them a one-sided team, and he's exactly right. Miami can beat the Jacksonvilles of the world without a strong performance on offense. But to truly be a playoff contender and beat good teams like Detroit and the
Green Bay Packers
, Miami's offense must show up.
"Definitely, definitely, definitely we have to hold our own weight. I always say we have to be able to hold our own weight," Wallace said. "We have to be able to kill games. That game should have never even come down to the last drive."
The losses to the Lions and Packers could be two games Miami looks back on after the season as missed opportunities.
"It hurts, because the defense is doing their job all game," Dolphins rookie offensive tackle Ja'Wuan James said. "They're all fighting and battling and we finally got an opportunity to end the game and we couldn't. That's the second time it's happened. We gotta do something to correct that."
The Dolphins enter the second half of the season still searching for consistency. They've had games in which the offense scored 37, 33 and 31 points, as well as games where it scored 10, 13 and 16. The offensive identity varies week-to-week.
"I don't know, it's got to be the mentality," Wallace explained. "We have the talent. We have the guys. I know we
want to
do it, but
we have
to do it."
The Dolphins have no time to sulk. They have a quick turnaround in Week 11 with a Thursday game against the
Buffalo Bills
. This could turn out to be an elimination game with both AFC East teams sitting at 5-4 in a crowded playoff field. Buffalo also has won three straight games -- and four of five -- against Miami in this series.
"It sucks right now, but as soon as we land [in Miami] we have to focus on Buffalo," Satele said. "Every time we lose a game, in my head the next team gotta pay. Unfortunately it's the Buffalo Bills and we have to step up."
October, 9, 2014
10/09/14
4:15
PM ET
DAVIE, Fla. –
Miami Dolphins
starting offensive tackle
Ja'Wuan James
is getting the biggest test of his career on Sunday. He must block Pro Bowl pass-rushers
Clay Matthews
and
Julius Peppers
.
Welcome to the NFL, rookie.
James, Miami's No. 19 overall pick, will have his hands full when the Dolphins (2-2) host the
Green Bay Packers
(3-2) at Sun Life Stadium. Peppers will start opposite James at left outside linebacker. But Matthews also moves around in Green Bay's defensive scheme and will get playing time against Miami's rookie right tackle. Peppers and Matthews have combined for 171 career sacks.
James
It will be up to James to see that those sack numbers don't increase this week.
"I see that as a great opportunity. I'm a competitor," James said of facing Peppers and Matthews. "That's what I love to do. As offensive linemen, we don't catch touchdowns. We compete against each other [in the trenches]."
Miami drafted James because general manager Dennis Hickey and his staff believed he was NFL-ready. James had 49 career starts at the University of Tennessee and has answered the call in Miami so far.
James played in all four games for the Dolphins and hasn't missed a snap. According to Pro Football Focus, James allowed just one sack and three quarterback hits this season. PFF rated James the No. 26 offensive tackle (right and left) in the NFL, which is a solid number for a rookie. Dolphins teammate and left tackle
Branden Albert
was rated the third-best tackle.
Miami has only allowed nine sacks in four games.
"He's got good poise for a young player," Dolphins head coach Joe Philbin said of James. "I think he's been good on the sideline. When he comes off the field, I think he can communicate what's happening. If he did make a mistake, he can fix it."
Peppers, 34, continues to make big plays in his 13th season. Last week, Peppers returned an interception 49 yards for a touchdown against the
Minnesota Vikings
in one of the most impressive defensive plays of the season.
James, 22, is a dozen years younger than Peppers but looks forward to the challenge of keeping him off Dolphins quarterback
Ryan Tannehill
this Sunday.
"It's really amazing. That's one of the people I watched a lot growing up," James said. "He's a great player. I always thought he was a great player and very athletic -- even watching him as a basketball player at North Carolina.
"It's going to be fun to compete against him. But at the same time, it's kind of cool to think I'm going to be going against Julius Peppers."
July, 31, 2014
7/31/14
1:00
PM ET
DAVIE, Fla. -- A daily review of the hot topics coming out of
Miami Dolphins
training camp:
After a poor practice on Wednesday, the Dolphins' offense responded Thursday with a better session. Miami's offense was crisper with fewer drops and no apparent sacks. Quarterbacks Ryan Tannehill and backup Pat Devlin both made several nice throws in the full-padded practice. Dolphins tight end Charles Clay and receiver Rishard Matthews were two who consistently made plays.
However, there was a recurring issue with poor snaps. On Thursday, centers Nate Garner and David Arkin combined for three bad snaps in team drills. The Dolphins have been plagued by bad snaps all camp with Pro Bowl center Mike Pouncey sidelined with a hip injury. Garner, Arkin and Shelley Smith have all experienced bad snaps in the first week of camp. "In football, you can't win with the ball on the ground," Dolphins head coach Joe Philbin said. "I'm confident we're going to get it fixed."
On the injury front, receiver Mike Wallace (hamstring), center Sam Brenner (ankle) and receiver Damian Williams (unknown) all sat out practice Thursday. Receiver Matt Hazel and defensive tackle Anthony Johnson were banged up in practice and did not finish.
Miami had a good session of one-on-ones between the offensive line and defensive line. The Dolphins' defensive line has mostly won in camp, but the offense showed well on Thursday. Among the one-on-one victories were left tackle Branden Albert over defensive ends Olivier Vernon and Dion Jordan, and first-round pick Ja'Wuan James over defensive end Terrence Fede.
The Dolphins will return to the practice field Friday at 8 a.m. ET for their final practice of the week. Miami will hold its annual team scrimmage at Sun Life Stadium on Saturday at 9:30 am.
July, 28, 2014
7/28/14
4:00
PM ET
DAVIE, Fla. -- The
Miami Dolphins
will produce a rarity in the NFL when they take the field Sept. 7 for their regular-season opener against the reigning AFC East champion
New England Patriots
. Miami will boast five new starters on the offensive line, which has raised some concerns in South Florida.
[+] Enlarge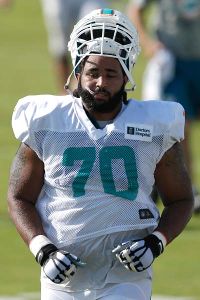 Alan Diaz/AP PhotoThe Dolphins will be counting on second-year guard Dallas Thomas to bolster the offensive line.
Granted, last year's offensive line struggled mightily and set a franchise record for quarterback sacks allowed in 2013 with 58. But wholesale changes at every position present new concerns about continuity.
Although things could change due to injuries and competition, Miami's new starting five is rookie right tackle
Ja'Wuan James
, right guard
Dallas Thomas
, center
Shelley Smith
, left guard
Daryn Colledge
and left tackle
Branden Albert
.
After three days of practices, Miami's new offensive line has struggled against its veteran defensive line in team drills. There have been multiple sacks allowed. Sometimes the running game is inconsistent. On the first day, there were two fumbled snaps between Smith and starting quarterback
Ryan Tannehill
.
The Dolphins have about five weeks and four exhibition games to iron things out before the regular season.
"We're always attempting to get the five best players that we possibly can out on the field at one time," Dolphins head coach Joe Philbin said over the weekend. "I will tell you that we're going to be looking at a number of combinations."
The Dolphins are without Pro Bowl center
Mike Pouncey
, thanks to hip surgery this summer. He's expected to miss anywhere between four-to-eight games. Pouncey was the only holdover from last season's starting lineup.
But perhaps the biggest concern is the inexperienced right side of the offensive line with Thomas and James. They are former college teammates at the University of Tennessee, but neither player has started an NFL game. Opponents certainly will attack this area to see if they can rattle Miami's offense.
"No concern," Albert said bluntly of the right side of the line. "We're professionals. I don't care how young you are, we're professional athletes. Each and every day they're getting better, we're getting better, and that's all we need to worry about."
July, 26, 2014
7/26/14
1:00
PM ET
DAVIE, Fla. --
Miami Dolphins
defensive end
Cameron Wake
has three Pro Bowls on his resume and gaudy sack numbers. He's earned team MVP honors in Miami, as well as a pair of Defensive Player of the Year awards during his stint in the CFL.
But there is one thing the 32-year-old Wake is still chasing in his accomplished football career: a postseason appearance. Wake has never played a down in the NFL playoffs during his five-year NFL career. He arrived from the CFL to Miami in 2009, one year after the Dolphins last made the postseason. Since then, Miami has a record of 35-45 with zero winning seasons.
[+] Enlarge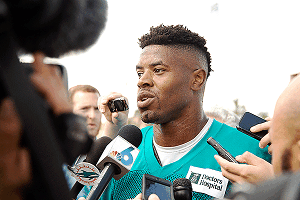 AP PhotoThe Dolphins' Cameron Wake has notched 23.5 sacks in the past two seasons.
Wake doesn't want to be remembered as one of Miami's greatest players never to reach the postseason. As players get older, they get wiser and more reflective. Wake said he recently talked to his younger Dolphins teammates about urgency this year and having a win-now mentality.
"I've been here with great teams, great players, and I haven't been to the playoffs once," Wake said disappointingly. "So I'm trying to profess how hard it is to win in this league. It takes so much -- that extra rep, that extra bench press, whatever it may be -- to make that happen.
"For me, as you know, it's the thing that's eluded me so far in my career. I'm trying to do everything I can personally and for the team to make that happen this year."
Wake's urgency was on display Saturday on the practice field. On a hot July practice, Wake had a strong day against Dolphins rookie right tackle Ja'Waun James.
Wake plowed through James in one-on-one drills and recorded a batted ball and a sack in team drills. Wake was a handful all practice for the rookie at a point in his career when Wake doesn't have to prove himself.
"He practices hard," Dolphins head coach Joe Philbin said. "I think the one thing I really appreciate about Cam Wake is -- obviously you want the performance and production on game day – but he does a great job in practice."
The Dolphins need another big season from Wake. This is a big year for many in the organization, and Miami needs a healthy and productive Wake to wreak havoc on quarterbacks and provide leadership on defense.
Wake plays a physically demanding position, but part of his success is due to good nutrition. Wake stays in optimum shape and closely monitors his diet. That's partially led to Wake recording 23.5 sacks the past two seasons after the age of 30.
"I've never looked at a number," Wake explained. "I never said I want to play 10 years. Is that 10 years from school, because I've been out of school 10 years? So it's hard to put that number out there.
"I just want to play for as long as I can, be successful and help whatever team, whatever situation I'm in win. How many more years is that? Who knows?"
July, 24, 2014
7/24/14
3:20
PM ET
The
Miami Dolphins
will begin their 2014 training camp on Friday amid many expectations following last year's 8-8 season. This is an important season for many within the organization, starting with head coach Joe Philbin and quarterback
Ryan Tannehill
, who are both 15-17 the past two seasons.
ESPN.com's Dolphins blog will be there every step of the way for Miami's training camp. Here are some things we will be monitoring closely as practices begin:
1. Dolphins' plan at center
Pouncey
The Dolphins have been mum on their contingency plans at center since starter
Mike Pouncey
underwent
recent hip surgery
. Pouncey initially was expected to miss approximately four to six games. But the Miami Herald reported Wednesday that Pouncey could be out as many as eight weeks. Friday's first practice will reveal what Miami's coaching staff has in mind. It could be
Sam Brenner
or
Nate Garner
at first-team center. Maybe guard
Shelley Smith
moves to center. But what happens Friday might not stick two weeks from now or in Week 1 against the
New England Patriots
. However, this is a valuable time for Miami to start figuring out how to replace its Pro Bowl center.
2. Ryan Tannehill's development
Tannehill
All eyes will be on Miami's third-year quarterback as he tries to put together his first winning season. Tannehill is learning a new, up-tempo scheme under first-year offensive coordinator Bill Lazor. There were some growing pains in organized team activities and minicamp, with a mix of good and bad practices from Tannehill. He must put together a strong and consistent training camp, starting Friday.
3. Rookie development
In an important season, the Dolphins cannot afford to have a repeat of 2013 with their rookie class. Miami needs valuable draft picks such as
Ja'Wuan James
,
Jarvis Landry
,
Billy Turner
and
Walt Aikens
to immediately contribute and find roles. The Dolphins got very little from last year's draft class, and it was a significant reason they were unable to get over the hump. For Miami to reach its potential, the Dolphins must get quality production from both their first- and second-year players.
June, 19, 2014
6/19/14
2:00
PM ET
DAVIE, Fla. -- The
Miami Dolphins
shook things up on the final day of mandatory minicamp. Instead of a typical practice, head coach Joe Philbin staged a full-scale scrimmage between the aqua team led by starting quarterback
Ryan Tannehill
and the white team led by No. 2 quarterback
Matt Moore
.
In the end Moore's white team won, 16-13, in a game that came down to the final play. Players were happy to get a taste of their first "game" situations of the 2014 season.
"It's exciting to be in this type of atmosphere," Dolphins rookie receiver
Jarvis Landry
said after the scrimmage. "We've been talking a lot about bringing that intensity to the field, and I think the guys came with it today in practice. Hopefully, it carries on when we return."
The Dolphins will take about a month off before returning to the field for training camp.
Here are some additional notes from Thursday's scrimmage:
[+] Enlarge

AP Photo/Wilfredo LeeOlivier Vernon was one of the stars of Friday's scrimmage, notching 2.5 sacks.

The most lopsided battle was Miami's defensive line against its offensive line. The Dolphins' defensive line on both teams put on a dominant performance, which unofficially included eight total sacks. Olivier Vernon led the Dolphins with 2.5 sacks, including a pair against Pro Bowl left tackle Branden Albert. "He's real, real good," Albert said after the scrimmage. "I didn't even know who he was until I got here. He's a good football player. He made some good plays. That's part of the game. He got better since I got here."

Dolphins rookie right tackle Ja'Wuan James also struggled against Pro Bowl defensive end Cameron Wake. The veteran defensive end showed an array of moves. Wake got a half sack against James and nearly got another sack that caused James to get a holding penalty. "His experienced level, his technical stuff, his hands, everything is good," James said of Wake. "You can't make many mistakes and I have to learn from it."

Tannehill had a decent outing for the aqua team. He threw his team's only touchdown pass with a beautiful 19-yard strike to receiver Armon Binns. Tannehill also made several connections to Landry and tight end Charles Clay that moved the chains. The primary reason his white team stalled was due to poor pass protection, which was a common theme from last season. The Dolphins allowed a franchise-record 58 sacks last season.

Speaking of Landry, he looked more impressive in a game situation Thursday. Landry isn't the biggest or fastest receiver. But he has strong hands and runs good routes. Landry got open on several occasions and made some nice catches over the middle for first downs. He could be a "gamer" type of player -- one who doesn't wow you in practice but knows how to play well in real games.

Veteran players who sat out of Thursday's scrimmage included defensive lineman Jared Odrick, cornerback Cortland Finnegan, linebacker Koa Misi and running back Knowshon Moreno.

Former Dolphins defensive end Jason Taylor continues to assist the team's coaching staff and work with Miami's young defensive linemen. According to Philbin, Taylor is always welcome to help but the Dolphins haven't finalized anything in terms of a full-time position. From the sound of it, Taylor could have a choice to join the team in some capacity as long as he's willing to put in the long hours.

Now that the offseason program is over, Philbin was asked to list several players who stood out. Philbin cited guard Dallas Thomas, receiver Rishard Matthews and cornerbacks Jamar Taylor and Will Davis.
May, 10, 2014
5/10/14
12:05
AM ET
DAVIE, Fla. -- On Friday, the major complaint in South Florida was that the
Miami Dolphins
didn't pull off a trade to move down in the first round of the NFL draft for more picks. General manager Dennis Hickey, in his first year, went the conservative route by staying at No. 19, where he took right tackle
Ja'Wuan James
. Many felt Hickey played it too safe.
But "Conservative Dennis" morphed into "Trader Dennis" on Day 2. Hickey resembled a busy stock trader on Wall Street by unexpectedly working out three deals in one day.
[+] Enlarge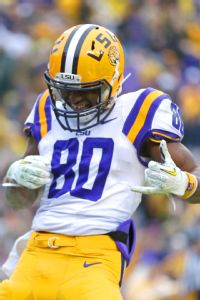 AP Photo/Gerald HerbertThe Dolphins' Day 2 haul included LSU receiver Jarvis Landry.
Here is the breakdown:
The Dolphins traded their initial second-round pick (No. 50 overall) to the San Diego Chargers for their second-rounder (No. 57) and fourth-rounder (No. 125).

Miami then traded again in the second round (No. 57) with the San Francisco 49ers for their second- and fifth-round picks (Nos. 63 and 171). The Dolphins selected former LSU wide receiver Jarvis Landry in the second round.

Finally, Miami quickly moved up in the third round (No. 67) to select North Dakota State offensive lineman Billy Turner after trading their third- and fourth-round picks (Nos. 81 and 116) to the Oakland Raiders.
By the end of the night, Hickey traded with every NFL team in the state of California. It was a bold move from Miami's first-year general manager and a complete 180 from the strategy we saw Thursday.
"Productive day; it felt like a day on the trading floor," a relieved Hickey said Friday night after finally catching his breath. "A lot of movement. I really have to say a special thanks to the people in the draft room working the phones. For every trade that's consummated, there's about 12 to 15 calls that are made before you actually get one. It's a lot of work."
Hickey was Miami's mystery man coming into this draft. He was on the staff of the
Tampa Bay Buccaneers
for 18 years under different regimes and never had final say on personnel. Therefore, it was difficult to pinpoint how much credit Hickey deserved for Tampa Bay's hits and misses over that span.
We learned much more about Hickey's draft personality in the past 48 hours. He's not afraid to play it safe, which he did in Day 1. Hickey also isn't afraid to shake things up, as evidenced by three Day 2 trades in a matter of hours. That kind of flexibility is a good trait for a general manager.
Of course, all of this wheeling and dealing means little if Hickey doesn't hit on these selections. He says he believes he drafted a competitive and reliable receiver in Landry, who played second fiddle to college teammate and first-round pick Odell Beckham Jr. at LSU. Asked to describe his role in LSU's receiving corps compared to Beckham's, Landry said, laughing, "I was the reliable guy."
Turner comes from a small school but has flexibility to play guard and offensive tackle. His best shot for playing time is at guard, where he can compete with
Sam Brenner
, Nate Garner and
Dallas Thomas
for a starting job.
Time will tell if both Day 2 rookies pan out for the Dolphins. But Hickey deserves credit for manipulating the draft board to get players he covets.