April, 26, 2012
4/26/12
11:03
PM ET
DAVIE, Fla. -- There is no bigger boom-or-bust prospect in the 2012 draft than former Texas A&M quarterback
Ryan Tannehill
. Is he the next prolific NFL quarterback, or simply a product of pre-draft hype that led to becoming a top-10 pick?
Opinions vary. But the
Miami Dolphins
believe they have the answers to the Tannehill question. Miami has more inside knowledge on Tannehill than any other team and drafted its quarterback of the future with the No. 8 overall pick Thursday night.
Tannehill will rejoin Dolphins offensive coordinator and former Aggies coach Mike Sherman, who says Tannehill is a star in the making. There are many critics who believe Tannehill is fool's gold, but the Dolphins are very confident they made the right choice.
"This was an all-in decision," Dolphins general manager Jeff Ireland said firmly. "From the football side, our scouts, our coaches ... we all felt very, very good about it."
Ireland hit the nail on the head. The Dolphins are betting the foreseeable future of the franchise on Tannehill -- for better or for worse.
If Tannehill develops into an upper-echelon quarterback, the Dolphins finally have the biggest piece to change their misfortunes. If Tannehill is a bust, it will set Miami back another three or four years.
"We're excited and thrilled," Dolphins owner Stephen Ross said of their first-round pick. "I've always said you need to be strong at the quarterback position, and now that's one of the strengths of this team. So I couldn't be happier."
The pick doesn't come without pressure. It's been 29 years since the Dolphins drafted a quarterback in the first round:
Dan Marino
in 1983. Those are some big shoes to fill.
It's also no coincidence Miami hasn't had a legitimate, franchise quarterback since Marino retired in 2000. The list of mediocre starting quarterbacks since included
Cleo Lemon
,
Joey Harrington
,
Trent Green
,
Jay Fiedler
,
A.J. Feeley
,
John Beck
and most recently
Chad Henne
. Tannehill will try to avoid being the next name on this infamous list.
Tannehill had only 19 career starts in college. There is a learning curve with Tannehill that isn't as steep for other top quarterback prospects like
Andrew Luck
and
Robert Griffin III
, who went No. 1 and No. 2 to the
Indianapolis Colts
and
Washington Redskins
, respectively.
The good news is Tannehill is not expected to play in 2012. Barring unexpected injuries to Miami veteran quarterbacks
Matt Moore
and
David Garrard
, Tannehill probably will hold a clipboard next season. This will provide Tannehill ample time to learn the NFL game.
[+] Enlarge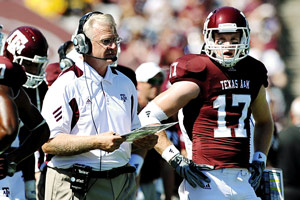 Icon SMIRyan Tannehill will be reunited with former Texas A&M coach Mike Sherman.
Dolphins rookie head coach and former Packers offensive coordinator Joe Philbin kept
Aaron Rodgers
on the bench for several years before he became a starter and it worked out fine. But that wasn't what Tannehill wanted to hear on draft day.
"I want to compete, that's just the competitor in me," Tannehill said in a conference call with the South Florida media. "Obviously with competition comes learning. It doesn't have to be a hostile competition. It's just competing."
Ireland said he's going to leave Tannehill's playing time next season up to the coaching staff. But chances are, we won't know much about Tannehill until 2013. The boom-or-bust talk will have to wait for at least a year.
But Tannehill's ceiling is high if things go right in Miami. It also doesn't hurt that the quarterback competition in the AFC East is not very stout. It's pretty much
Tom Brady
, and then there's everyone else.
Tannehill has the physical ability to potentially rise above the struggling quarterback pile in the division that includes
Mark Sanchez
,
Ryan Fitzpatrick
and
Tim Tebow
. If Tannehill becomes the second-best quarterback in the AFC East over the next two or three years, that's a huge advantage for the rebuilding Dolphins.
Remember this day, Dolphins fans. Tannehill is the draft pick that will either change Miami's misfortunes or extend the team's misery for several more years. The Tannehill mystery won't be solved overnight, but Miami feels it found the piece to eventually build this struggling franchise into a winner.
"I don't know if this energizes the fan base. What energizes the fan base is winning," Ross said. "I'm looking to field a winning team, because energizing a fan base only lasts a very short period of time.
"We're talking about winning in the long haul."
June, 10, 2011
6/10/11
8:41
AM ET
Football Outsiders senior writer Mike Tanier has been charting the top five quarterbacks of every NFL team. In his
latest column, he broke down the AFC East's best
. You should click on the links to read Tanier's reasoning and interesting stats on each selection.
A first-round pick from the famed 1983 draft class appears on every list.

Buffalo Bills
Joe Ferguson
Jack Kemp
Quick take: It's strange to see Flutie on the Bills' all-time list. When I arrived in Western New York 11 years ago, the area was hotly divided over him and
Rob Johnson
. Some fans wanted Flutie to just go away. But I agree with the list and, as Tanier, points out in his piece, this goes to show how few great quarterbacks there've been over the years.

Miami Dolphins
Bob Griese
Don Strock
Earl Morrall
Quick take: The Dolphins have a two Hall of Famers in their history, but you can see how much trouble they've had finding a replacement for Marino when you consider their fourth- and fifth-best quarterbacks are known for being quality backups. Granted, Morrall came off the sideline to help maintain the undefeated 1972 season. But he started 14 times over five seasons with Miami and just 40 percent of his career games.

New England Patriots
Drew Bledsoe
Babe Parilli
Steve Grogan
Tony Eason
Quick take: This is the only AFC East team with an active quarterback on the list. The rundown couldn't be more straightforward to me. Maybe you could flip Grogan and Parilli because of longevity and the neck roll.

New York Jets
(
from a previous Football Outsiders column
)
Joe Namath
Richard Todd
Quick take: Tanier notes that if you wanted to rank Sanchez fourth right now, then he wouldn't argue. Neither would I, although I'd be more comfortable with Sanchez replacing Todd on this list. Tanier also claims if Pennington had avoided one of his lost seasons, he might be the greatest quarterback in Jets history -- from a statistical standpoint.
November, 18, 2010
11/18/10
4:13
PM ET
Buffalo Bills
fans thought they had it rough, trying to find a semblance of quarterback stability since their Hall of Fame quarterback retired in 1996.
With
Tyler Thigpen
about to become the
Miami Dolphins
' third starting quarterback of the season, it's time to dust off that long list of quarterbacks to have started since
Dan Marino
hung up that weird boxing-boot cleat after the 1999 season.
Thigpen will be the 15th quarterback to start a game for Miami since Marino retired.
Only twice in those 11 seasons has a quarterback started all 16 games. Those "perfect seasons" came seven years and 11 new starting quarterbacks apart. The Bills at least had
Drew Bledsoe
starting 48 straight games from 2002 through 2004.
This will be the fourth season in which at least three quarterbacks started for the Dolphins since Marino retired.
2000:
Jay Fiedler
(15),
Damon Huard
(one)
2001: Fiedler (16)
2002: Fielder (10),
Ray Lucas
(six)
2003: Fiedler (11),
Brian Griese
(five)
2004:
A.J. Feeley
(eight), Fiedler (seven),
Sage Rosenfels
(one)
2005:
Gus Frerotte
(15), Rosenfels (one)
2006:
Joey Harrington
(11),
Daunte Culpepper
(four),
Cleo Lemon
(one)
2007: Lemon (seven),
Trent Green
(five),
John Beck
(four)
2008:
Chad Pennington
(16)
2009:
Chad Henne
(13), Pennington (three)
2010: Henne (eight), Pennington (one)
July, 21, 2010
7/21/10
9:27
AM ET
The
Buffalo Bills
have three identifiable running backs on their roster: a 2008 Pro Bowler, a 1,000-yard rusher last year and the ninth overall draft pick in 2010.
With such talent in the backfield, folks have wondered how new head coach Chan Gailey will delegate the touches among
Marshawn Lynch
,
Fred Jackson
and
C.J. Spiller
.
Those who assume Gailey will spread around carries with a semblance of equity shouldn't be so sure.
In fact, if Gailey doesn't designate a workhorse and ride him hard, it would be the first time he declines to do so since his rookie season as an offensive coordinator in 1988.
In an ESPN fantasy football column, Matthew Berry provides an
enlightening look at Gailey's history with running backs
since the
Dallas Cowboys
hired him to be head coach in 1998. The chart also included Gailey's subsequent play-calling gigs with the
Miami Dolphins
and
Kansas City Chiefs
.
As we can see, Gailey doesn't split carries. True, he had Emmitt Smith in Dallas, but Gailey saddled up Lamar Smith in two seasons with Miami and
Larry Johnson
, who played only 12 games for Kansas City in 2008.
Not included in Berry's chart are Gailey's pre-Dallas stops as offensive coordinator with the
Denver Broncos
(1988-89) and
Pittsburgh Steelers
(1996-97).
The trend of one dominant back generally remains.
In his first season as an NFL playcaller, Gailey had a pair of over-the-hill backs in Tony Dorsett and Sammy Winder. Dorsett had 181 carries for 703 yards, while Winder ran 149 for 543 yards. The next season, however, rookie Bobby Humphrey took over with 294 carries, nearly three times as many as Winder.
Jerome Bettis was Gailey's go-to guy in Pittsburgh. Eric Pegram managed 509 yards on only 97 carries in 1996, but the Steelers' second-leading rusher the next season was quarterback Kordell Stewart.
Gailey's track record shows an obvious preference for one back taking 300-plus handoffs.
NOTE: As readers correctly pointed out, Thurman Thomas was not Miami's second-most-productive back in 2000. That was J.J. Johnson. The chart has been adjusted, removing Thomas and inserting Johnson. Actually, quarterback Jay Fiedler had more rushing attempts than either of them.
October, 13, 2009
10/13/09
2:23
AM ET

Posted by ESPN.com's Tim Graham
MIAMI -- No matter how you break down the numbers,
Miami Dolphins
quarterback
Chad Henne
had a phenomenal night.
Henne Passing by Distance-to-go
--
10+ yds
Fewer than 10

Comp-Att

11-13

9-13

Yards

133

108

TD

1

1

Passer Rtg.

134.9

120.0
While the quirky Wildcat offense attracts much of the attention because it makes for good video, let's take a moment to digest how well Henne performed in Monday night's 31-27 victory over the
New York Jets
in Land Shark Stadium.
In his second NFL start, Henne completed 20 of 26 passes for 241 yards and two touchdowns with no interceptions. He had a 130.4 passer rating.
Henne's rating is 13th all-time for the Dolphins and the highest since
Jay Fiedler
posted a club-record 156.o rating on Nov. 27, 2003. Fiedler was 16 of 20 for 239 yards and three touchdowns.
Chad Pennington
rankins among the top 10 in career passer rating, but didn't hit 130 last year.
The Dolphins have won both of Henne's starts. That's not to say he's necessarily better than Pennington, who was runner-up to
Peyton Manning
for league MVP last season, but a team that can win with its backup quarterback is promising.
"I know the coaching staff has confidence in me," Henne said. "The offense can look me in the eye and know that I can take them down the field in tight situations and lead them to victory."
ESPN Stats & Information dissected Henne's night and came up with some notable stats.
Henne completed all seven of his play-action passes for 140 yards and two touchdowns.
On first down, Henne was 9 of 10 for 114 yards and one touchdown.
When the Dolphins needed 10 yards or more for a first down, Henne was 11 of 13 for 133 yards and one touchdown. When the Dolphins needed less than 10 yards for a first down, Henne was 9 of 13 for 108 yards and one touchdown.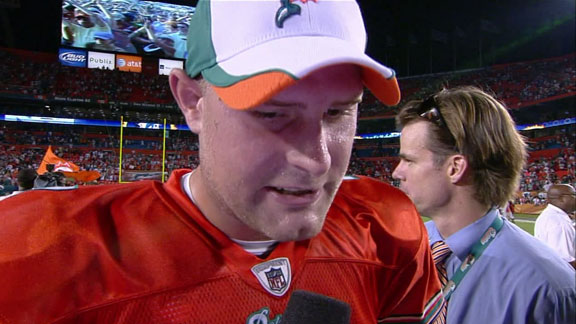 October, 4, 2009
10/04/09
9:41
PM ET
Nobody ever will replace
Dan Marino
with the
Miami Dolphins
.
But for crying out loud, they need to get a regular quarterback at some point.
Maybe
Chad Henne
will be that guy. That's why the Dolphins drafted him in the second round out of Michigan last year.
Henne made his first NFL start Sunday, completing 14 of 22 passes for 115 yards and one touchdown to beat the
Buffalo Bills
in Land Shark Stadium.
Henne become the 13th Dolphins quarterback to start since Marino retired. That was more recently than you probably think. Although it seems like a lifetime ago for Dolfans, the post-Marino era began in 2000.
Henne is only the fifth quarterback to win his first start for the Dolphins since Marino retired.
The rundown of quarterbacks who have started for Miami since Marino retired, with 2001 the only season they didn't use a new one (asterisk denotes winner in first start).
August, 7, 2009
8/07/09
2:00
PM ET
| | |
| --- | --- |
| | |
| | George Gojkovich/Getty Images |
| | After amassing 200 sacks over a 19-year NFL career, Bruce Smith will enter the Pro Football Hall of Fame on Saturday . |
If the speech Bruce Smith gave the afternoon the Buffalo Bills added his name to their Wall of Fame is any indication, then the legendary defensive end will proclaim his greatness again Saturday night, when he's inducted into the Pro Football Hall of Fame.
Smith hasn't been shy about
declaring himself the greatest
pass-rusher who ever lived.
2009 Hall of Fame Induction Coverage
Saturday in Canton, Ohio, six men will be hailed as the latest members of the Pro Football Hall of Fame. Bruce Smith, Rod Woodson, Ralph Wilson, Randall McDaniel, and posthumous honorees Derrick Thomas and Bob Hayes form the Class of 2009. The ceremonies will air live, beginning at 7 p.m. ET, on ESPN and ESPNHD. Follow ESPN.com's coverage.
" Our future HOF nominees: Story | Podcast


" Chat: Hall of Fame inductee Rod Woodson

" Chat: Hall of Famer Warren Moon

" Wickersham: Wilson valued for impact
" Scouts Inc.: Top 5 CBs in the NFL today

" Walker: Is Rod Woodson the best CB ever?
" Graham: Bruce Smith, Sackmaster
" Blogs: More Hall of Fame coverage
Funny thing is, Smith's temerity is unnecessary. His numbers speak for themselves.
Smith is a first-ballot Hall of Famer. Since the NFL made sacks an official stat in 1982, no other player has amassed more sacks than Smith's 200. He played 19 years, his final four with the Washington Redskins. He recorded double-digit sacks a record 13 seasons. He played in four Super Bowls. He twice was the Associated Press' Defensive Player of the Year. He was a first-team All-Pro eight times, a Pro Bowler 11 times. The NFL selected him for two all-decade teams.
Not a bad career if you're into that kind of stuff.
Smith has had his problems off the field. After two previous drunken-driving arrests that didn't lead to convictions, he was found guilty of it last month in Virginia Beach, an incident that has tempered the Hall of Fame merriment somewhat. Virginia Beach canceled festivities to honor Smith.
But Smith will take center stage in Canton, where he will assume his place among the all-time greats. He's the greatest No. 1 overall draft pick who didn't play quarterback.
And he'd probably tell you so.
Rather than speak to Smith about how remarkable he was, it's more insightful to speak with those who competed with him and against him.
Tony Paige, Virginia Tech teammate and former New York Jets running back:
"When he visited Virginia Tech, I was the guy that hosted him and showed him around the campus. He was one of the top recruits in the country. We played basketball that weekend, and this defensive lineman was dunking. He was 6-4, about 285 pounds coming out of high school, a phenomenal athlete. I think he a ran a 4.6 [in the 40-yard dash]. Any time you get a 6-foot-4, 285-pound man running the court like that, you knew right away this guy was going to be special."
Chris Spielman, former Detroit Lions and Bills linebacker:
"There've been two players in my career that every single week they did something that made me rewind the film 10 times. That would be Barry Sanders and Bruce Smith."
Jim McNally, former NFL offensive line coach and Buffalo native:
"He was so slippery. He could make himself small by dipping and turning and lowering his hips. He didn't stand up and come at you like a lot of guys. He was slithery."
Paige:
"He pushed guys around him because he practiced hard, played hard, studied the game. That's why he's going into the Hall of Fame. He wasn't just a gifted athlete. He always wanted to be better. He had that something on the inside you can't teach, a passion to succeed on every snap."
Jim Ritcher, former Bills left guard:
"When he arrived, he had so much talent. I've never seen a guy so quick off the ball. Recently, I was just showing one of my sons how quick Bruce was. I was showing him film on Bruce. Just as fast as that ball was coming back, that's how fast Bruce was coming off the ball. It was amazing."
Richmond Webb, former Miami Dolphins left tackle:
"He took no plays off. It was going to be 60 minutes of hell."
Steve Tasker, former Bills special-teamer:
"There was no question there were times he was not only the best defensive end, but maybe the best player at any position in the NFL."
Spielman:
"He'd do something that would make you say 'Come on now. Seriously. You're not doing that to an NFL player, are you?' He was something."
Merlin Olsen, Hall of Fame defensive tackle:
"Bruce was very, very quick coming off the line and coming up field far enough to force that offensive tackle to move violently to try to stay with him. Once you get those tackles moving, you have the chance to do all kinds of things with him. Not only did he have incredible quickness, he was so powerful. He could bull rush you if he wanted to. The offensive tackle knew that was possible
, so he couldn't get on his heels."
Ken O'Brien, former Jets quarterback:
"He had everything going on. He was big. He could power a guy. He could head slap him. He could swim move him. He could spin. He did all these things naturally. You have to figure however many sacks he finished with, two-third of those he was double- and triple-teamed."
Ritcher:
"Every day I had to practice against him was an eye-opener. Being able to study Bruce every day, I can imagine it would be a nightmare for other teams. I practiced against him so much. It was an all-day sucker going against Bruce."
O'Brien:
"We always had a guy that would come up with some injury that week."
Tasker:
"He'd get a shot on the quarterback that would cripple a horse."
Ritcher:
"That had to be terrifying for a quarterback, to know that no matter who they had at tackle -- and he could be a great tackle -- Bruce was going to get to you at some point. That had to be pretty terrifying to know, going into the game, this guy on your blind side is coming at you."
O'Brien:
"If you wanted to block him with one guy, there really was no way. He was going to expose that. It took a while for some people to pick up on it, that traditional methods of blocking weren't going to work."
McNally:
"Whoever was facing him the next game was nervous all week. They double-teamed him with guards, with running backs. Back when you could still get away with it, receivers were chipping him."
Tasker:
"We just got beat in a playoff game in Cleveland, the game when Ronnie Harmon dropped the ball. We were in the locker room, sitting there after a shootout, Bernie Kosar versus Jim Kelly, both teams over 30 points and we dropped a touchdown. So the score should have been even higher. He was getting dressed in his suit, kind of all by himself. I was standing near him. Now, we'd been around the block. We'd been the Bickering Bills. There'd been turmoil on the club, the last three or four games being the turning point for our organization. But Bruce said out loud to nobody in particular, 'You know it was the defense that lost it today. We let them score 40 points. That was our fault.' He was bumming out that the defense had done that, not that we dropped a touchdown. I'll never forget that. He took that loss hard. He also took some responsibility on his own shoulders. He knew there was responsibility that went along with being a great player."
Bill Belichick, New England Patriots coach and former New York Giants defensive coordinator:
"You had to game plan for Bruce Smith like you had to game plan for [Lawrence] Taylor. ... He was slick. A lot of times you look at the play and you say, 'OK, it looks like we got him blocked.' And then he gets off it somehow and is pressuring the quarterback. Similar to Taylor, even when they got blocked, they didn't stay blocked."
Olsen:
"In terms of having to set a game plan, he's exactly the same kind of person as Lawrence Taylor. If you didn't account for him, you were going to have trouble."
Tasker:
"I used to chuckle because he'd be in great shape and come into training camp and be injured and not practice. There was nothing wrong with him. He just didn't like training camp. They were built for veteran players and still Bruce would take the first three weeks off. That doesn't mean he wasn't ready."
Ritcher:
"He was named defensive player of the year a number of times, and when he wouldn't show for camp, we'd smile and know that was Bruce going for his money. Your career is so short. Bruce played 19 years, which is incredibly long, but most guys had to get the money while they could get it, and he was at the top of his game."
Spielman:
"He and [head coach] Marv Levy had an understanding. They were a perfect match. Marv had a saying, 'I don't need you to beat the Bills.' Bruce did what he had to do to get ready. He came to play."
Webb:
"You knew when you went to Buffalo you weren't going to hear snap counts. The thing that really stood out was I knew that he had to be one of the favorite players. If the game was tight and they would go to a TV timeout, when they would come back and blow whistle, he would make this quick motion with his hand, and the noise in the stadium was deafening. I was always amazed he could make that one little hand gesture and the crowd was right with him. That's not right."
O'Brien:
"He had a great sense of humor. He and Tony Paige would joke around. Therefore, Bruce Smith and I would joke around on the field. He was funny. I don't know if you're old enough to remember 'The Gong Show.' He used to have a little dance he used to do. He did it the week before and down at the line of scrimmage, he came up to me and said, 'Gene Gene, huh?' "
Tasker:
"We used to laugh at him. He'd say it when he was playing because, man, the guy would back it up. We go into New York on a Monday night. He gets four sacks and a forced fumble and just tears the New York Jets up. In the game, he unveiled this spin move nobody had seen before. I know there were a lot of left tackles watching the game that night and spitting their coffee out. 'What are you supposed to do with that?!' There's no defense for that. You have to expect that move to stop it. It was unbelievable. It was like a pitcher throwing a perfect game and then, all of a sudden, he throws a pitch he's never thrown in the middle of it. It was like Nolan Ryan throwing knuckleballs for strikes."
O'Brien:
"We tried to run some sort of reverse to maybe get him to bite with a pass rush. It was a quarterback's dream, where I get to block him and take him out. The play got stopped while I'm running outside toward him. He started laughing and said, 'Kenny, what are you doing to do? This reverse isn't going to work.' He would tell you about each formation and dissect the play as it went on. I always thought he would make an excellent coach if he ever had the inclination."
Webb:
"Bruce was probably known more as a pass-rusher and not so much against the run, but I think what he did as time went on, he worked on another area of his game. If they said he couldn't do it, he went out and proved them wrong. I liken it to Michael Jordan. When he came into the NBA, it was offense, dunks, blowing people's minds away as an entertainer. Then he started working on his defense and became defensive MVP, and as he became older he worked on that fadeaway shot. Just like Jordan, Bruce was a great athlete and a student of the game."
Spielman:
"I played with Bruce at the tail end of his career. What I remember is how he reshaped his body to go from 300-plus pounds to the point when I played with him in Buffalo and he was about 270. That was amazing, and it probably extended his career to be a dominant player at a much lighter weight."
Jay Fielder, former Dolphins quarterback:
"By the time I was playing it was little more toward the end of Bruce's career with the Redskins. He still was a great player. He wasn't defensive-player-of-the-year material like he was in the early or mid-'90s, but he was a guy you still had to keep an eye on."
Tasker:
"When he said that he's the best defensive end ever in the National Football League, I agree. In the time that we played, and I remember thinking this while we were playing, there were times he was the best player at any position in the league."
January, 4, 2009
1/04/09
2:59
PM ET
Posted by ESPN.com's Tim Graham
MIAMI -- Here are some Chad Pennington interception stats, courtesy ESPN researcher Mark Simon, that underscore how rare Sunday afternoon's performance against the Baltimore Ravens has been (three interceptions with 10 minutes left in the third quarter):
Pennington had thrown four interceptions in five career playoff games.
Three interceptions ties the Dolphins' record for most in a playoff game (Dan Marino, David Woodley, Jay Fiedler).
Pennington was 0-3 in postseason games in which he threw an interception.
The last time he threw three or more interceptions was Week 5 last year against the New York Giants.
In Pennington's last eight regular-season games: 234 pass attempts, three interceptions.

October, 9, 2008
10/09/08
4:34
PM ET
Posted by ESPN.com's Tim Graham
DAVIE, Fla. -- Miami Dolphins head coach Tony Sparano always has been an offensive coach. He has worked with some impressive quarterbacks: Mark Brunell, David Garrard, Drew Bledsoe, Vinny Testaverde, Tony Romo.
But Sparano hasn't seen efficiency like he has witnessed the past two weeks with Chad Pennington.
Chad Pennington has had nine career games with a 75% completion rate and no INTs.*
The active leaders:
Player
Games
Peyton Manning
14
Brett Favre
12
Drew Brees
11
Chad Pennington
9

Kurt Warner
9
* Minimum of 20 attempts.
Source: Elias Sports Bureau
"Honestly, I haven't been around this," Sparano said. "That's true. And I've been around some good quarterbacks."
Pennington is the NFL's all-time leader in accuracy among passers with at least 1,500 attempts. So he's had some economical performances. But Pennington is on a high-percentage spell even by his standards.
Pennington set a personal record when he completed 85 percent of his passes in the Week 3 victory over the New England Patriots. He came out of the bye week and completed 75.9 percent in Sunday's triumph over the San Diego Chargers.
In those games, he is 39 of 49 for 454 yards, one touchdown and no interceptions. He's the first Dolphins quarterback to have a plus-100 passer rating in consecutive games since Jay Fiedler six years ago. The last Dolphin to do it in three straight games was Dan Marino in 1994.
What makes Pennington's performance even more impressive is that he didn't join Miami until Aug. 9. He's still mastering the offense.
"As a quarterback," Pennington said, "what I pride myself on is decision-making and making good, solid decisions and not putting our defense in bad situations, making sure that our offense doesn't have too many negative plays. ... Whatever it takes for us to win, that's what I'm about.
"You can throw all of the stats out the window. That's what I'm about. If it means I have to throw the ball away five times and my completion percentage goes from 75 percent to 60 percent, that's OK with me because, to me, that's good football. You're not taking sacks, not putting your offense in negative situations."
ESPN researcher Jeremy Lundblad dug up some interesting stats regarding Pennington's last two games.
Pennington has 10 career games (one under 20 attempts) with 75 percent completions and no interceptions. But he never before had done it in back-to-back games.
This is the second time Pennington has completed 75 percent or more of his passes in consecutive games. He also did it in 2002.
As part of that stretch in 2002, Pennington had four straight games with a passer rating over 100.
Pennington is 17-6 when he starts and has a 100-plus passer rating.