July, 25, 2011
7/25/11
10:46
PM ET
Few owners in the history of professional sports have a moment like the one the
New England Patriots
' Robert Kraft experienced Monday afternoon in Washington, D.C.
At a time of deep personal pain, as he was grieving the death of his wife Myra, who passed away last Wednesday, Kraft was singled out as one of the main reasons the 2011 football season was saved. It was a powerful moment that couldn't be scripted.
To hear it was one thing. But this was one you had to see to really feel the impact.
It was the way 295-pound offensive lineman
Jeff Saturday
, a leader among the players' executive committee, brought his right arm around Kraft and pulled him close, Kraft's head nestling into Saturday's chest to receive the embrace with feeling.
If anyone needed a snapshot to know the NFL's lockout had officially come to an end, this was it. Players and owners united in a moment that had a strong New England twist.
For the follow story,
click here
.
March, 18, 2011
3/18/11
4:51
PM ET
NFL Players Association leaders
Drew Brees
,
Mike Vrabel
,
Jeff Saturday
,
Brian Dawkins
and
Domonique Foxworth
sat down with ESPN reporter George Smith to discuss the players' thoughts on labor negotiations, rookies attending the draft and an 18-game schedule.
Saturday called NFL commissioner Roger Goodell's recent letter sent directly to players an "attempt to divide us as a group of men."
September, 29, 2010
9/29/10
11:35
AM ET
Indianapolis Colts
fixtures
Peyton Manning
and
Jeff Saturday
are about to set a record.
Unless an injury befalls one of them, Sunday's game against the
Jacksonville Jaguars
will be the 158th start together for Manning and Saturday.
That will be the most quarterback-center exchanges since the NFL-AFL merger in 1970, breaking the record held the past 14 years by
Jim Kelly
and
Kent Hull
with the
Buffalo Bills
.
"The chemistry between those two is a must for a quarterback to be successful," Kelly said. "I was blessed because I had Kent Hull for more than 90 percent of the snaps that I took in the NFL."
Although the quarterback gets the credit for audibles at the line of scrimmage, something Manning is famous for, the center plays a crucial role.
"We would go up to the line and Kent would turn to me and say 'Get out of it,' " Kelley said. "He knew based on the alignment of the nose tackle whether it was a 3-4 or a 4-3. He always knew if the play was going to work by their initial alignment when we'd get up there. I wouldn't even ask any questions or wait to look."
In the AFC East,
New England Patriots
quarterback
Tom Brady
and center
Dan Koppen
are on the verge of breaking into the top five. They've started 103 games together and should surpass Phil Simms and Bart Oates on Halloween. Brady and Koppen have been to four Super Bowls together and won the first three.
New York Jets
quarterback
Mark Sanchez
and All-Pro center
Nick Mangold
have a long way to go to catch up, but they're next at 19 starts.
The
Miami Dolphins
have rotated their centers every year. Young quarterback
Chad Henne
and center
Joe Berger
started six games last year and all three this year.
New Buffalo Bills starting quarterback
Ryan Fitzpatrick
has started nine games with center
Geoff Hangartner
.
January, 22, 2010
1/22/10
3:41
PM ET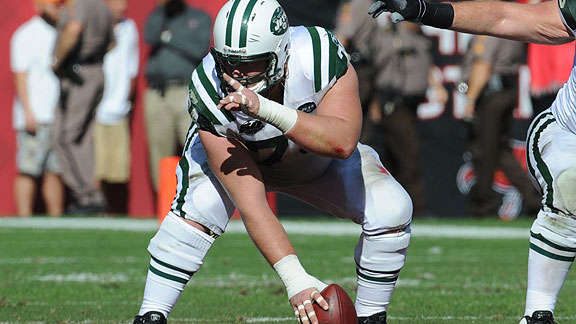 Al Messerschmidt/Getty Images
According to his teammates, Jets center Nick Mangold should do all his talking on the field.
FLORHAM PARK, N.J. -- When I entered the
New York Jets
' locker room on Wednesday and started asking players about center
Nick Mangold
, the warnings were clear.
Don't bother talking to Mangold. Save yourself the trouble.
"He loves to tell stories," said
Brandon Moore
, the guard who lines up to Mangold's right. "He's horrible at them."
Turns out Mangold is long-winded, tedious, awkward and, in the end, simply doesn't deliver.
"We always make it a point in our meeting room that when you tell a story, you better get to the punch line quick or we'll start clowning you," Jets right tackle
Damien Woody
said. "Everybody else knows how tell a story except him.
"He just drags it on and on. We'll make sleepy sounds or somebody will yell 'Next!' Come on, you're on the clock."
That's what stands out about Mangold's personality off the field.
So what makes him such an outstanding center?
"Now, that's a different story," Woody said, changing from a playful demeanor to a serious one. "He's the best center in the league. There's no disputing that."
Mangold is boringly great. He's in his fourth NFL season and already has been selected to a pair of Pro Bowls. He was voted All-Pro this season.
He's the anchor of an offensive line that paved the way for the NFL's top-rated run offense -- which starts its league-leading 35th straight game together when the Jets play the
Indianapolis Colts
on Sunday afternoon in the AFC Championship Game.
"He might just be the best offensive lineman in the entire league -- at least in the top five," Scouts Inc. analyst Matt Williamson said. "He just keeps getting better."
Jets fullback
Tony Richardson
called Mangold "a technician." Mangold is universally regarded as one of the most intelligent players in the game, and was able to recognize complicated NFL defensive schemes almost from the moment he came out of Ohio State with the 29th overall pick in 2006.
Unlike his stories, he's never off balance. He takes precise blocking angles. He's versatile enough to lock up with elite defensive tackles, skedaddle outside for help on the edge or hit a moving target downfield.
Williamson pointed out Mangold has an unusual body type for a center. He is listed at 6-foot-4, which is tall for a center. But he's so adept at leveraging his 305-pound frame underneath a defender that his height is never an issue, while his long arms make him extra tricky to circumvent.
"Mangold not only can play with power, but he can play with athletic ability and quickness," Williamson said. "It seems like just about every other center in the league is either a power guy or a finesse guy. Mangold is both. Overall, he's a stud."
Alan Faneca
, the perennial Pro Bowl left guard, and Jets offensive coordinator Brian Schottenheimer both consider Mangold a boon for the line because he can handle assignments -- even somebody as dangerous as
New England Patriots
nose tackle
Vince Wilfork
-- by himself.
Faneca agreed with the idea Mangold was the offense's version of
Darrelle Revis
, the type of player who can eliminate the opponent in front of him and reduce the game to 10 on 10.
"He makes all of our lives easier," Faneca said. "Some of the things that he's able to do, we're able to leave him alone. A lot of centers in this league might need a little help, might need a nudge. He's the kind of guy that allows us to work different combinations. It's big-time."
Jets linebacker
Bart Scott
recently said Mangold was the best center he's seen, listing names that included
Kevin Mawae
,
Matt Birk
and
Jeff Saturday
.
"He's special," Richardson said. "Our offensive line has been phenomenal across the board. Looking at Nick, he's like having a quarterback on your offensive line."
Based solely on what his teammates said about Mangold's inept interpersonal communication skills, it might have been surprising to watch him hold court with reporters all week in front of his locker stall.
But he's obviously comfortable talking about the game, his coaches, his teammates and the upcoming opponent. He speaks on those subjects much more freely than himself.
The only way to extract a comment about how well things have been going for him is when he speaks within the context of the entire offensive line, which produced three Pro Bowlers this season: Mangold, Faneca and left tackle
D'Brickashaw Ferguson
.
"When we first got together back in March, one of the things that was told to us was we were going to be one of the most physical teams out there," Mangold said. "That's helped in a big way of us being able to do the things we're able to do.
"When you watch our running backs get through the line and just pound on safeties and linebackers, you can feel it. It's a great feeling after you get the win, knowing you just physically beat somebody up out there."
If the Jets' offensive line can punish the Colts' soft run defense this week, then maybe Mangold and his mates will be off to Miami -- not to play in next weekend's Pro Bowl, but in the Super Bowl the week after.
That would be a Mangold story worth listening to.
June, 16, 2009
6/16/09
4:15
PM ET
| | |
| --- | --- |
| | |
| | AP Photo/David Duprey |
| | When all the Bills' running backs are active, free-agent signee Dominic Rhodes is probably No. 3 on the depth chart. |
Posted by ESPN.com's Tim Graham
ORCHARD PARK, N.Y. -- Dominic Rhodes was at the most exhilarating juncture of his career.
He was reveling in the glory as a Super Bowl champion, and he was more than a bit player for the Indianapolis Colts. He could have been the game's MVP.
Furthermore, Rhodes was headed to free agency. Convinced he deserved to be a starting back after years of mopping up for Edgerrin James and Joseph Addai, the big break was within sight.
Rhodes blew it.
He blew a .09, and he blew his best opportunity to show he could be somebody's leading man in 2007.
"That year, me and Travis Henry were the top backs in the free-agent market," Rhodes said last week after a Buffalo Bills minicamp practice. "I had high hopes for myself. I don't know, man."
Rhodes is certain his past transgressions still follow him. He has been arrested for DUI and domestic abuse. Two years ago, he was suspended as a repeat offender under the NFL's substance abuse policy.
As a free agent again this year, he wasn't pursued nearly as much as he figured. He did turn 30 in January. Signing a running back at that age is tantamount to buying a gallon of milk a day before the expiration date.
| | |
| --- | --- |
| | |
| | Stan Liu/US Presswire |
| | After being cut by the Raiders, Rhodes returned to Indianapolis last season and ran for 538 yards and six touchdowns. |
But Rhodes was coming off a productive season with the Colts. He gained 840 total yards as Addai's backup. He said he's happy to be with the Bills, but he thought he would've had more options.
"I was upset with how it went," Rhodes said. "I really figured I would get more interest and more teams would be coming to get me.
"But I sat back and realized some of the mistakes I made. I messed up."
Two weeks after running for a game-high 113 yards and a touchdown to help the Colts beat the Chicago Bears in Super Bowl XLI, Rhodes was failing field-sobriety tests at 3 a.m. on the Interstate-65 shoulder in Indianapolis.
Police arrested Rhodes for DUI, but the blunder didn't cost him right away. Three weeks later, the Oakland Raiders signed him to a two-year contract worth $7.5 million. And his legal problems improved. He pleaded guilty to reckless driving and had the DUI charges dropped.
Rhodes was in the clear. Or so he thought.
The NFL suspended him the first four games of 2007 as a repeat offender under its substance abuse policy. Rhodes forfeited almost $353,000 in game checks and fell out of favor with the Raiders' front office. They cut him after the season.
The undrafted overachiever from tiny Midwestern State had done so much to make it in NFL, but he prevented himself from experiencing all that was possible.
"More than the money, when you're 75 or 80 years old, you're going to look back on the opportunities missed," said Carolina Panthers quarterback Josh McCown, who was Rhodes' training camp roommate with the Raiders. "Those are going to be your regrets, regardless if there's a dollar sign attached or not. He realizes that was a missed opportunity. As a competitor in this business, you hate to miss any opportunity."
In 2002, Rhodes was arrested for domestic battery. Rhodes avoided a conviction. The judge placed him in a diversion program and mandated counseling.
"I'm not shying away from the fact I got in trouble," Rhodes said. "It's out there. People know. I'm ready to talk about it and make amends for it and help anyone else who needs help with it."
The timing of his DUI and the four-game suspension torpedoed his chance to become a feature back.
When he joined the Raiders, he fully expected to emerge as the starter. But in the first three games he was away from the team, LaMont Jordan rushed for 70, 159 and 121 yards. In Week 4, Jordan ran for 74 yards, while Justin Fargas ran for 179 yards.
"The four weeks off really hurt him in his heart because he missed being around us and playing the game," McCown said. "That's when it really set in what had happened.
"Even moving forward there was a thought process 'I'll sign with Oakland and win this appeal and go play and be opening day starter and parlay that into something bigger.' When the suspension came down, it was a blow to what he was hoping to get accomplished."
Rhodes played only six games for Oakland. He had only 24 yards through his first three appearances. He started the last two, rushing for more than 100 yards in each loss.
"I wished he would've gotten a chance to work in that offense the whole year," McCown said, "because I think he would have had a big year."
Rhodes returned to his comfort zone last season. Indianapolis was a security blanket.
Benevolent coach Tony Dungy welcomed him back. With such mainstays as Peyton Manning, Marvin Harrison, Reggie Wayne and Jeff Saturday, the offense hadn't changed. After seeing the grass was browner elsewhere, Rhodes was more willing to accept his backup role to Addai.
"We're barely a year and a half removed from my DUI," Rhodes said. "Teams were kind of scared of that. Teams that don't know you are scared. The Colts know me. They know that I'm not a bad guy."

Dominic Rhodes
#33 RB
Buffalo Bills


CAREER STATS
ATT
YDS
AVG
LNG
TD
777
3,114
4.0
77
26
Rhodes, who started four games last season when Addai was hurt, ran for 538 yards and six touchdowns. He caught 45 passes for 302 yards and three touchdowns. His nine combined scores matched the single-season career high he set as a rookie, when he filled in for James and rushed for 1,104 yards.
"One thing people forget is they think of him as a backup, but I think he's a little better football player than the perception," said former Colts coach Ted Marchibroda, who is a broadcast analyst for the team. "He did a great job filling in last year.
"I think he felt in his first stint with the Colts he should've been playing more, and he made it known. But not this time. He was real happy coming back with the Colts and did a good job."
But the offers didn't roll in. That was a nice development for the Bills, who failed to sign free agents Fred Taylor and Kevin Jones.
"I was excited to see him go back to Indy and hopefully rekindle what he had going there," McCown said. "When I saw he got to play in some games and was starting, I thought 'You know what? He's going to turn this into something good. It's going to work out for him.' I was surprised people didn't take more interest in him."
Rhodes signed a two-year contract that will pay him base salaries of $750,000 this year and $1.25 million next year. The deal included $450,000 in bonuses.
He's probably third on Buffalo's depth chart when everybody is active. Pro Bowl back Marshawn Lynch has been suspended for the first three games because of repeated malfeasance. Popular backup Fred Jackson should be the primary backup.
"The opportunity's there for me to get some touches," Rhodes said. "They wanted me the year I came into free agency after the Super Bowl, so I figured the second time is a charm.
"All I want to do is get out there and make some plays and just keep showing the league what I got and keep playing as long as I can."
Rhodes insists he's more mature than he used to be, that he has amended his lifestyle and learned from his mistakes.
Another misstep could lead to a season-long suspension.
"I have a chip on my shoulder," Rhodes said. "I came from a small school. I'm a smaller back. I run a lot different than most smaller backs. I'm a between-the-tackles guy and I'm always out there trying to prove a point and make sure people notice me when I'm on the field.
"That's just me. I'm always out to prove myself and give everything I got and make sure my teammates know I'm accountable."
February, 10, 2009
2/10/09
1:29
PM ET
| | |
| --- | --- |
| | |
| | G. Newman Lowrance/Getty Images |
| | The Dolphins traded Wes Welker to the Patriots for draft picks, one of which Miami used on Samson Satele, who may be out of a starting job. |
Posted by ESPN.com's Tim Graham
Despite a faction of Dolfans who've refused to concede because center Samson Satele just might forge a dominant career, I think we can safely declare a winner in the Wes Welker trade.
The Miami Dolphins got rolled in the parking lot.
As if Welker's 223 receptions and 2,240 yards in two seasons weren't enough to declare the New England Patriots clear victors, the Dolphins are extracting Satele from the middle of their offensive line.
Former Miami general manager Randy Mueller traded Welker to New England for second- and seventh-round draft picks in 2007. The Dolphins selected Satele and linebacker Abraham Wright.
Although the Dolphins waived Wright last spring, Satele had shown promise. He started all 16 games as a rookie, something no Dolphins center -- not even Hall of Famer Dwight Stephenson -- had done. Satele was Miami's first rookie offensive lineman since 2003 to start every game.
But it doesn't look like Satele will be Miami's center anymore, making the Welker trade even more lopsided.
It's becoming common knowledge in the NFL community the Dolphins already have decided Satele won't snap the ball next year because the 6-foot-3, 300-pound Hawaiian isn't physical enough.
An NFL source informed me Bill Parcells, Jeff Ireland and Tony Sparano have made finding a new O-line anchor their priority -- and they don't care if they land one through free agency or the draft. Satele could be rendered a depth player if he doesn't evolve into an effective guard.
The best available free-agent centers are Jeff Saturday, Matt Birk, Jason Brown and Brad Meester. Brown is a four-year pro, while the others have at least nine years of experience.
Draft gurus rank California's Alex Mack and Oregon's Max Unger as the best centers in this year's class.
The Dolphins own the 25th pick, and Mack seems to be in that neighborhood. ESPN's Mel Kiper and Todd McShay predict the Pittsburgh Steelers will take Mack with the 32nd selection. Scouts Inc. ranks him the 32nd-best prospect in the draft.

AFC EAST SCOREBOARD
Friday, 8/22
Saturday, 8/23