June, 11, 2012
6/11/12
2:00
PM ET
The
New England Patriots
will hold a mandatory three-day minicamp this week. The AFC East blog
will be at Gillette Stadium
to catch some of the action.

Here are three things we are keeping an eye on:
No. 1: Defensive improvements
There is only one big question I have about the reigning AFC champs: Can the defense make improvements following a horrible 2011 season? The Patriots know their 31st-ranked defense is a problem. They drafted all defensive players this year until the seventh round. Rookies such as defensive end
Chandler Jones
, linebacker
Dont'a Hightower
and safety
Tavon Wilson
are expected to make immediate contributions. Will the pass rush improve? Can the Patriots get better play from their corners and safeties? New England's offense will be a juggernaut again this year. But the defense must carry its weight.
No. 2: Who takes over at running back?
The Patriots have mostly unproven players at running back. But the coaching staff was confident enough in this group to let sure-handed tailback
BenJarvus Green-Ellis
walk in free agency. Second-year players
Stevan Ridley
and
Shane Vereen
are expected to make up for the production lost when Green-Ellis left. Ridley and Vereen have just 102 career carries between them. Free-agent pickup
Joseph Addai
and backup
Danny Woodhead
also will be in the mix. The Patriots like to have a committee of running backs at their disposal and often go with the hot hand. We will keep an eye on which tailbacks are separating from the pack early.
No. 3: Wide receivers
The Patriots have so much depth at receiver that
they didn't flinch
to cut six-time Pro Bowler
Chad Ochocinco
last week. That provides
some clarity
to the position, but there is still work to be done. Free-agent additions such as
Brandon Lloyd
and
Jabar Gaffney
are virtual locks, along with Pro Bowler
Wes Welker
. But other players such as
Deion Branch
,
Julian Edelman
,
Donte' Stallworth
,
Matthew Slater
and rookie
Jeremy Ebert
will compete for roster spots. It will be a competitive summer for this group, and minicamp is part of that evaluation.
June, 7, 2012
6/07/12
7:59
PM ET
The
New England Patriots
cut six-time Pro Bowl receiver
Chad Ochocinco
Thursday. Along with
Anthony Gonzalez
, Ochocinco was
the second receiver cut
before training camp who had a shot to make the team.

This reshuffles a crowded field of receivers for the reigning AFC champs. Let's take a look at the updated roster at the position:
Locks:
Wes Welker
,
Brandon Lloyd
,
Jabar Gaffney
Skinny:
Welker and Lloyd are the two starters and guaranteed locks to make the team. Gaffney was an underrated free-agent signing who should help the Patriots. He is one of quarterback
Tom Brady
's favorite receivers, and that carries a lot of weight in New England.
Solid footing:
Deion Branch
,
Matthew Slater
Skinny:
Branch is a veteran who knows the system well and continues to produce. A starter in 2011, Branch is a good receiver to have around for depth and knowledge. Slater is New England's best special-teams player and a captain. Slater might not help much on offense, but he's one of the NFL's best in the third phase of the game. That's enough for him to stick.
Work to do:
Julian Edelman
,
Donte' Stallworth
,
Jeremy Ebert
Skinny:
The Patriots are probably going to keep six or seven receivers on their 53-man roster. The recent release of Ochocinco and Gonzalez helps relieve some of the pressure. But these are the three receivers fighting for the final one or two roster spots. The easy prediction is Edelman and Stallworth if New England keeps seven receivers; Ebert is a seventh-round pick and a long shot. If the Patriots choose only six, Edelman might have an advantage with his versatility.
May, 18, 2012
5/18/12
9:15
AM ET
By
ESPN.com staff
| ESPN.com
Buffalo Bills
Cornerback Stephon Gilmore, the 10th overall pick in April's draft, is in the fold, the Buffalo News reported, after
signing a four-year contract
. Second-rounder Cordy Glenn and third-rounder T.J. Graham are now the only members of Buffalo's draft class yet to come to terms.
FoxSports.com's Adam Schein sizes up quarterback Vince Young, who
could be getting his last shot
in the NFL with the Bills. Schein: "There was a point where Young seemingly ruled the world. Today he is competing with Tyler Thigpen for the right to back up Ryan Fitzpatrick in Buffalo. What a sad, strange and wasted trip."
Miami Dolphins
Sixth-round pick B.J. Cunningham, a wide receiver from Michigan State, became
the first draftee to sign with the Dolphins
, the South Florida Sun-Sentinel reported.
The Sun-Sentinel's Omar Kelly
compares the Dolphins' outgoing players with those brought in to replace them
.
New England Patriots
Alfonzo Dennard, the Nebraska cornerback who fell to the Patriots in the seventh round of the draft after being arrested on suspicion of assaulting a police officer,
has agreed to a four-year contract
, a league source tells Mike Reiss.
The
team also signed Jeremy Ebert
, a seventh-round wide receiver out of Northwestern.
ESPNBoston.com has a
Q&A with fullback Spencer Larsen
.
New York Jets
Quinton Coples, the North Carolina defensive star whom the Jets selected 16th overall,
has signed with the team
, the Jets' official site reports. The deal, sources
told the New York Daily News
, is for four years, with a team option for a fifth year; the contract is expected to be a little shy of the $9.3 million ($5.2 million guaranteed) 15th pick Bruce Irvin got from Seattle.
Safety Antonio Allen
, a seventh-round pick from South Carolina, also signed with the team.
Defensive lineman Kenrick Ellis won't likely be deported to his native Jamaica but might have to serve additional jail time,
Manish Mehta reports
.
Former Jets punter Steve Weatherford lit into quarterback Mark Sanchez over a perceived lack of development during
an NFL.com podcast
: "As the years go on, I think you're expected to mature, skill-wise, and also mature as a leader, and to be honest with you, as much as I like the guy, I just haven't seen that."
May, 17, 2012
5/17/12
9:10
AM ET
By
ESPN.com staff
| ESPN.com
Buffalo Bills
Bills general manager Buddy Nix assured Ryan Fitzpatrick that he would be the team's starter ahead of the signing of Vince Young, the quarterback
told SiriusXM NFL Radio
on Wednesday.
Fourth-round draft selection Nigel Bradham relishes his
role on special teams
.
Miami Dolphins
Ovie Mughelli, a two-time Pro Bowl fullback who was a salary-cap casualty in Atlanta this offseason, is in South Florida for a Thursday workout with the Dolphins. It might be a signal,
Brian Biggane writes
, that the team is worried about Jerome Messam, who underwent his second knee surgery in five months this week.
Former Dolphins running back Ricky Williams
shared his views on concussions
with ESPN's Dan Le Batard.
New England Patriots
The Patriots
signed receiver Jeremy Ebert
, their seventh-round draft pick from Northwestern.
According to a Forbes report, Bill Belichick is the
highest-paid coach in sports
.
New York Jets
Darrelle Revis
led a chorus of Jets
praising new addition Tim Tebow, the New York Daily News reports. "He's a born leader," Revis said. "... It's the passion within ... of him wanting to be a leader, wanting to win. You see it in him all the time... eating lunch. Walking down the hallway you see it. He's just one of those guys."
Offensive tackle Wayne Hunter, coming off a tough 2011, received praise from new offensive line coach Dave DeGuglielmo. "This guy is the starting right tackle," DeGuglielmo
told ESPNNewYork.com
. "Until they tell me otherwise, until they ship him out of this building or until they shoot me dead in my office, that sonofagun is going to be the starting right tackle."
May, 9, 2012
5/09/12
12:30
PM ET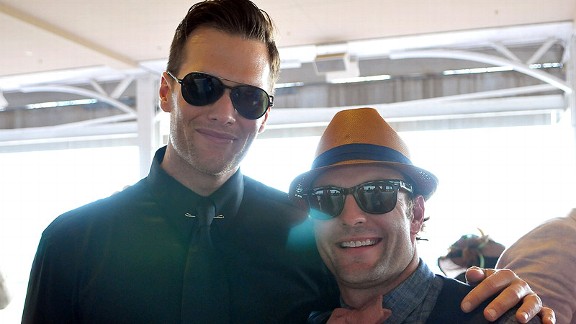 Stephen J. Cohen/WireImagePatriots stars Tom Brady, left, and Wes Welker were all smiles at the Kentucky Derby on Saturday.
New England Patriots
quarterback
Tom Brady
spent time with teammate
Wes Welker
last weekend at the Kentucky Derby. Between the schmoozing and excitement of horse racing, Brady should have given his top receiver a subtle message and said, "Buddy, it's time to get back to work."
There is one thing for certain about the Patriots: You do not fight the machine.
Welker is facing an uphill battle he cannot win. Many have tried before him and failed. Welker is not the exception.
Welker has yet to sign his franchise tender and hasn't decided how long he's going to protest New England's one-year, $9.5 million offer. The potential distraction has been held to a minimum thus far, but it would only grow stronger if Welker continued to skip New England's offseason program.
The Patriots' mandatory minicamp is scheduled for June 12. The best advice is for Welker to have his mind made up by that time. Missing New England's current voluntary program is not a big thing. But if Welker also chooses to skip the Patriots' three-day veteran minicamp, that is when he's hurting the team in the eyes of the coaching staff.
At that point the gloves may come off -- and Welker doesn't want that.
New England is emotionless and shrewd in negotiations. Just ask three-time Super Bowl winner Willie McGinest, who apparently still carries some level of bitterness about how he was handled by the Patriots at the end of his career. McGinest recently got into a Twitter spat with Welker about his contract situation and delivered this stern message.
"We're all expendable at Patriot Place," McGinest tweeted to Welker.
McGinest is right. NFL players in general are expendable, but even more so in New England.
Welker needs to be more mindful of how the Patriots often treat players like replaceable and interchangeable parts. It happened to McGinest, who spent the final three years of his career with the struggling
Cleveland Browns
. It happened to
Richard Seymour
, who was great for eight seasons with the Patriots and suddenly shipped to the
Oakland Raiders
for a first-round draft pick. The Patriots also traded future Hall of Fame receiver
Randy Moss
to the
Minnesota Vikings
when Moss grew unhappy about his contract.
Welker should know better. No one player is above the team in New England. That is the Patriot Way.
[+] Enlarge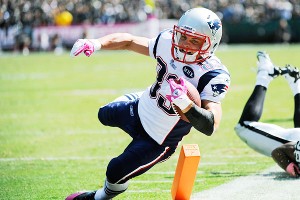 Thearon W. Henderson/Getty ImagesNew England signed four free-agent receivers, but can any of them match Wes Welker's production?
This is not to say Welker hasn't worked hard and doesn't have a point about long-term security. This is more about wisely navigating the cruel business side of the NFL. It's all about leverage. Welker has little. New England has plenty. Sometimes it's best to accept your fate and move forward.
Welker remains steadfast in shedding the franchise tag for a long-term contract.
"Through my body of work, through the past five years, I think what I've done I've earned a long-term deal," Welker recently told ESPN Boston Radio. "It's what I am looking for and what I want. Hopefully that's the case and hopefully we come to something where we can make that happen."
Do not think for one second that New England is not prepared for the worst. All the Patriots have done this offseason is sign wide receivers.
New England signed receivers
Brandon Lloyd
,
Jabar Gaffney
,
Anthony Gonzalez
and
Donte' Stallworth
in free agency. All are productive veterans who have a chance to add something to the offense. The Patriots also re-signed veteran
Deion Branch
, backup
Matthew Slater
, and drafted rookie receiver
Jeremy Ebert
.
Chad Ochocinco
and
Julian Edelman
also remain on the roster.
New England will have an elite passing game next season with or without Welker.
If Welker decides to stage a lengthy holdout, Lloyd and Gaffney would be the starters, while Branch, Gonzalez, Stallworth and Ochocinco compete in training camp for backup roles. New England also runs a lot of two tight-end sets with Pro Bowler
Rob Gronkowski
and
Aaron Hernandez
. This is still a very deep and talented group of targets for Brady, who also has a knack for making everyone around him a couple of notches better.
Despite 122 receptions and 1,569 yards last year, the Patriots have found a way to make Welker replaceable. But that's only if Welker chooses to be and doesn't sign his franchise tender.
The next move should be the best move by Welker. He should sign the franchise tag, take the $9.5 million and see if anything changes over the next several months at Patriot Place.
Because there's always a chance the Patriots could have a change of heart between now and August. New England has the salary-cap room to extend the 31-year-old Welker and give him the long-term security he's seeking. But it's going to be on the Patriots' terms, not Welker's.