September, 8, 2010
9/08/10
12:02
PM ET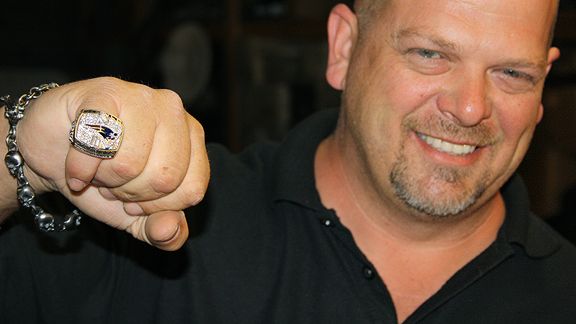 Laura Karaer"Pawn Stars" leading man Rick Harrison wears the New England Patriots' 2001 Super Bowl ring that used to belong to Brock Williams.
In the daily routine at his Las Vegas pawn shop, Rick Harrison ambles to his vault and takes inventory. He processes valuables cash-strapped folks deposited for collateral on loans. Whatever items are unclaimed after 120 days become his property.
In July 2006, he came across a sacred item abandoned.
"I actually made the joke that morning 'You know, one of these days I might open one of these envelopes and the Holy Grail's going to fall out,'" Harrison said.
What he came across that day was the NFL's holy grail, the object every player will pursue when the regular-season quest begins Thursday night: a sparkly Super Bowl ring.
A
New England Patriots
2001 championship ring now sits in Harrison's mirrored showcase, but you don't need to drop by Gold & Silver Pawn Shop at 713 South Las Vegas Blvd. to check it out.
That ring is the centerpiece of the opening to "Pawn Stars," the History Channel's hit series about the day-to-day operations of Harrison's family-owned shop. The most prominent item you see at the top of each show is the bauble and its shimmering Patriots logo.
To see the symbol of their franchise's
crowning achievement reduced to a pawn prop
must make the Patriots sick.
"That ring means the world to me," former Patriots linebacker Tedy Bruschi said. "When I look at it I think of guys like Roman Phifer, Drew Bledsoe and especially Dick Rehbein [the quarterback coach who died in August 2001]. So many men came together to bring the first-ever Super Bowl title to the fans of New England.
"Rings are hard to come by, but life can be even harder sometimes. If you needed the money, I understand. But if you just sold it for kicks, then you never truly understood the mission."
The "Pawn Stars" ring was issued to rookie defensive back Brock Williams, a third-round draft choice from Notre Dame in 2001. A knee injury prevented him from playing a down for the Patriots, but he was on the roster when they won that precious first title.
Williams did finally see some action, playing 10 games for the
Chicago Bears
and two more with the
Oakland Raiders
before recurring knee injuries forced him to retire.
[+] Enlarge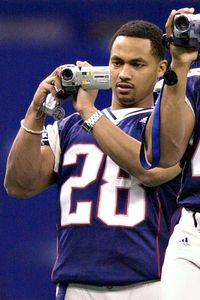 AP Photo/Steven SenneBrock Williams never played a down on the Patriots' 2001 team, but still received a Super Bowl ring.
Down on his luck and in need of a few bucks, Williams stopped by Harrison's pawn shop to hock the NFL's ultimate reminder of greatness.
Super Bowl XXXVI rings were the largest and most expensive produced up until then. They weighed 2.6 ounces, were
cast of 14-karat white gold and included 143 diamonds
. Faces featured Patriots logos in garnets and blue sapphires.
"It's the top of the heap," said Harrison. "The '01 Patriots ring is a pretty special ring."
Harrison recalled offering Williams a loan over $10,000. Williams declined, requesting just $2,600. By Nevada law, he had 120 days to pick up his item. With interest on the modest loan, he would've needed to pay about $3,600.
"We don't tell the customer this in the store, but we give everybody an extra three weeks because inevitably people are late," Harrison said. "So if people come in up to three weeks later, we say 'No problem.'
"But you can hold onto an item only so long. I've got a business to run."
Williams never showed up. To this day, he hasn't contacted Gold & Silver Pawn Shop about the item he left behind.
Harrison, a San Diego native who gave up his Chargers season tickets last year, has purchased several championship rings. He has a 1998
Denver Broncos
ring, a 2006 Miami Heat ring, a 1990 Cincinnati Reds ring, a Tampa Bay Rays 2008 ALCS ring and 50 or so college bowl rings. He has a couple of Olympic bronze medals.
But of the 40 to 50 championship rings pawned in his shop, all were reclaimed -- except this one.
"Most players, they treat them with reverence," Harrison said. "Apparently to some other players they don't mean as much."
Williams did not return messages for this story.
A couple Super Bowl XXXVI rings have changed hands for much more than $2,600.
Destitute linebacker Leonard Myers sold his on eBay for $32,600 in 2005. A staff ring (presented to a member of the front office)
sold at auction for $37,511 in 2008
.
Defensive back and special-teams player Je'Rod Cherry
raffled his ring for charity
in 2008. He said the ring raised $171,000 to build orphanages in Thailand and Cambodia, save children from sex trafficking there and feed impoverished children in Massachusetts and Ohio.
"A lot of people got help," Cherry said. "Children were taken out of brothels and given homes to live in. It's definitely something I'm proud to be a part of."
[+] Enlarge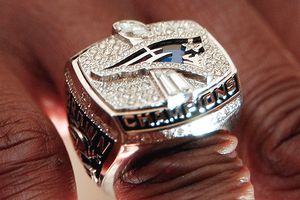 AP Photo/SEVANSBrock Williams' Super Bowl XXXVI ring isn't the only one that has changed ownership.
But to see one of those rings being lost for $2,600?
"Maybe if he was living in a third-world country, but he's living in America," Cherry said. "That money probably didn't go far.
"It saddens me that he was in that place, that the desperation kicked in and he needed to do that. I understand when you're struggling and need to do what you have to to get by. You have this nice ring and bills to pay."
Cherry, now an ESPNU broadcaster based in the Cleveland area, was on all three of New England's title teams and kept his other two rings. He could get the first one back if he wanted badly enough. It's back on the market for $40,000.
"If I didn't have two more it might be a greater sting to part with it," said Cherry, who also co-hosts "X's and O's with the Pros" on ESPN 850 in Cleveland. "But I do love what that ring represents, that Super Bowl championship."
That's certainly not what Williams' ring represents anymore on "Pawn Stars."
Now it's an eye-catching prop seen by multitudes. For the week ending Aug. 22, "Pawn Stars" ranked third and fourth in the cable ratings. Each episode drew more than 6 million viewers.
The
New York Jets
versus
New York Giants
preseason opener on "Monday Night Football" finished fifth with 5.6 million viewers. For another comparison, HBO's "Hard Knocks" has averaged about 845,000 viewers.
Harrison appeared on Tuesday night's "The Late Show with David Letterman," sitting down with the host for two segments, an invitation generally reserved for A-list celebrities.
Harrison told Letterman his business generates between $4 million and $5 million in jewelry-related pawn interest annually and that in a normal economy only 10 percent of hocked items go unclaimed.
But whatever's left behind doesn't compare to a Patriots ring.
Harrison said he won't sell the ring for less than $100,000, a wild sum, but one that reflects how much he loves the attention it generates for his store.
For him, the joy of owning a Super Bowl ring will last much longer than it did for Williams.
September, 23, 2009
9/23/09
4:30
PM ET
| | |
| --- | --- |
| | |
| | Jared Wickerham/Getty Images |
| | Tom Brady and the Patriots haven't looked like world-beaters through two games, but talk of their imminent demise may be exaggerated. |

Posted by ESPN.com's Tim Graham
Step away from the pier, Patriots fans.
Before you rope a cinder block around your Florsheims and leap into the harbor over the way your team has looked through the first two weeks, understand it's too early to jump.
Wait until the water's colder.
"They're only 1-1 for crissakes," ESPN analyst Herm Edwards said. "It's September."
That's right; the
New England Patriots
did win a game. Although it's easy to think of them as 0-2 after the way they've matched up against a pair of AFC East teams.
The Patriots should be winless. The
Buffalo Bills
donated a victory in the season opener, when
Leodis McKelvin
fumbled a kickoff inside the final two minutes and begged
Tom Brady
to be the hero. Brady obliged.
But there were no Brady gallantries last Sunday. The hyperactive
New York Jets
defense agitated him all afternoon, and the Patriots lost 16-9 at the Meadowlands.
The visceral reaction is doom. But it's too soon to draw any conclusions about the Patriots' chances this year.
"In November, you'll know," Edwards said. "When you hit November, you know your team and you know where you stand realistically."
A loss on Sunday versus the
Atlanta Falcons
in Gillette Stadium would give the Patriots their first losing record since they dropped the 2003 season opener to the Buffalo Bills. They haven't had a losing record after two games since they were 3-4 in 2002.
"I know most people are looking at it as 'Oh, they're done. They're finished,'" said Je'Rod Cherry, who played on all three of New England's championship teams and now works as a college football analyst for ESPN360.
"I've seen this before. I don't think people should panic."
September, 16, 2009
9/16/09
4:15
PM ET
| | |
| --- | --- |
| | |
| | US Presswire |
| | Jets coach Rex Ryan and Patriots coach Bill Belichick have different philosophies on what they say to the media. |

Posted by ESPN.com's Tim Graham
Bill Belichick has deftly avoided discussing Rex Ryan's commentary about not being intimidated by the
New England Patriots
and their Super Bowl rings.
Belichick chuckles at the questions, deflects them, dismisses the issue as trivial.
In his Gillette Stadium sacristy, however, Belichick will be taking Ryan's words far more seriously and expecting his players to do the same in preparations for Sunday's game against the
New York Jets
at the Meadowlands.
Ryan, the Jets' rookie head coach,
thumbed his nose at the Patriots' success
during a June interview on New York radio station WFAN.
"I never came here to kiss Bill Belichick's rings," Ryan said. "I came to win. Let's just put it that way. So we'll see what happens. I'm certainly not intimidated by New England or anybody else.
"I think we already have sent a message to them. So they can read between the lines. ... They can figure it out. And when they come here that second week of the season, we'll see."
Podcast: Rex Ryan voicemail
Jets coach Rex Ryan delivered a voicemail to Jets fans asking them for their help in the game against the Patriots. Listen

Ryan's bravado certainly will be used against him three months later. Bulletin board material? You better believe it.
"It'll be laminated, maybe even a banner over the stadium," said Je'Rod Cherry, a safety and special-teams ace on New England's three championship teams. "It'll be utilized.
"Bill is a smart, crafty guy. He will present it as blatant disrespect for the guys who were there throughout that run of Super Bowls, and he will use it to help the new guys identify with the Patriots' legacy. It will be a rallying call."
Cherry spent four seasons within Belichick's inner sanctum and is quite familiar with the coach's tactics for getting his players jacked.
Bulletin-board material is one of Belichick's favorite methods to stimulate players a little more in a sport that sometimes can be consumed by weekly routines.
"Whatever is between me and the team I think should stay between me and the team," Belichick said Wednesday when asked how he would implement Ryan's comments into this week's prep work.
Belichick is masterful at using the media to fire up his men. One of the more well-known examples came before the 2001 AFC championship game. Former
Pittsburgh Steelers
linebacker
Joey Porter
and safety
Lee Flowers
openly dismissed the Patriots.
Flowers said the Patriots were "one play away from being home," referring to the infamously lucky tuck-rule call. Porter bemoaned the hassles of making arrangements for family and friends to attend the Super Bowl.
Before the game Belichick showed the video clips to his team.
"You talk about fired up," Cherry said. "Just off the charts. That played huge."
The Patriots beat the Steelers and eventually claimed their first Super Bowl title.
The concept of such a motivational tool is easy to harrumph. After all, players get paid exorbitant sums of money to perform. Pride and will should be enough to get the juices flowing, right?
"You're dealing with guys with super egos," said Cherry, who
auctioned off his first Super Bowl ring
last year to build orphanages and save children from sex trafficking. "This is a gladiator sport. It's about toughness and making the other guy submit. If you can play off something to get an edge and to get that desired effect, you do it."
That's why Belichick was quick to silence receivers
Randy Moss
and
Wes Welker
for saying this year's offense could be better than the one that set records in 2007. That's why the
Miami Dolphins
hushed linebacker
Channing Crowder
, who engaged Ryan in an entertaining smackfest.
"As long as I can remember," said former Patriots linebacker
Andre Tippett
, a Hall of Famer, "I've always been cautioned to be careful with what you say, from high school to college to the pro level."
Few coaches discuss the importance of using the media as a device. Players like to pretend they pay no attention to what's being said in the media.
They insist they don't read newspaper clips, don't go on the Internet, don't tune into talk radio or turn or turn on the television. Never mind that most NFL locker rooms have ESPN showing at all times on several screens.
"Guys read the papers," Cherry said. "They want to know what you think about us."
Bulletin boards aren't mythological. They not only exist, but they also are an important tool whether or not teams want to admit it.
"It's part of the game," said Mike Haynes, a Hall of Fame cornerback for the Patriots and
Oakland Raiders
. "When I was on the Patriots it was right by where you came in to pick up your mail [in Schaefer Stadium]. You could not miss seeing it.
"On the Raiders, it was on a bulletin board, and the trainers would talk about it all the time. 'Hey, did you read that quote in the paper?' You couldn't avoid it."
Haynes claimed he never paid much attention to what opponents were saying, but there were teammates who bewildered him. Raiders cornerback Lester Hayes was prolific in talking junk through the press.
"Who am I to tell somebody not to talk?" Haynes said. "I always felt like if you have to do that, if it's going to help you, going to help us, by all means."
Former
Buffalo Bills
coach Marv Levy constantly harped on his players to refrain from making declarations that would might get an opponent riled up.
"We had guys that loved to talk," said Levy's quarterback and fellow Hall of Famer, Jim Kelly. "But he always would bring it up, whether it was a tough loss or a good game. He'd say 'Praise your opponent and don't you be the bulletin board for somebody else's team.' "
Perhaps talk is cheap, but it can prove costly.
In the days leading up to Super Bowl XXVI, gregarious Bills defensive line coach Chuck Dickerson ragged on the Redskins' offensive linemen. Dickerson, who later became a love-him-or-hate-him Buffalo radio personality, declared Mark Rypien hadn't been tested all year like he would by the Bills.
"It definitely made the bulletin board for the Redskins, and they thrived off it," Kelly said. "They used it to their advantage."
Rick Telander, covering Super Bowl XXVI for Time magazine, wrote that if the Bills and Redskins played 10 times, the Redskins would win nine -- "
10 if Dickerson were allowed to speak before every game
."
A passage from Telander's story:
Then came Dickerson's ill-timed assessment of the Hogs: Tackle Joe Jacoby was a "Neanderthal" who "slobbers a lot;" tackle Jim Lachey was a "ballerina in a 310-pound body;" and center [Jeff] Bostic was "ugly like the rest of them." The night before the game [head coach Joe] Gibbs showed the Skins a videotape of Dickerson making the remarks, in case anybody needed further motivation.
Tippett would start searching newspaper clips on Monday morning in search of fuel. The Internet wasn't available when he played. There was no trash talking through Facebook or Twitter like you see today.
But Tippett often stumbled across an item he could use for added inspiration.
"You just look for guys like a quarterback or a receiver, who at some point are vulnerable in games," Tippett said. "Cat says something he shouldn't be saying or is dogging your teammate, you take the opportunity to maybe hit them a little bit harder or hold them up a little longer. You have fun with it.
"At some point after a victory, you make note of that to him. You just go up and whisper in their ear to make them think about it: 'I remember what you said. What do you think about it now?'"
Was Ryan foolish to be so colorful in explaining why he's confident about his team?
That depends on which team you're rooting for.
"If I'm a Jets player, I'm excited about what he said," Cherry said. "I'd be thinking 'Screw the Patriots.' "
Or at least thumbtack them.
November, 26, 2008
11/26/08
11:14
AM ET
| | |
| --- | --- |
| | |
| | Bob Falcetti/Icon SMI |
| | Je'Rod Cherry won three Super Bowl rings with the Patriots. |
Je'Rod Cherry was oblivious to the fact he was poor until he was in the second grade. That's when his family moved from North Carolina to cultured and progressive Berkeley, Calif.
"I grew up wearing Toughskins and kids used to pick on me," said Cherry, who played nine seasons in the NFL. "I used to say, 'I'm going to grow up and be a football player and get all these things.'
"Well, I got all those things and thought, 'This is it?'"
The moment that summed up Cherry's restlessness is considered the most joyous moment in
New England Patriots
history. The special-teams ace anxiously watched from the same sideline as
Tom Brady
and
Willie McGinest
and Troy Brown and Bill Belichick while
Adam Vinatieri
kicked the 48-yard field goal to win the franchise's first Super Bowl.
The last of the confetti hadn't flittered to the turf before a curbing realization struck Cherry.
"I thought there would be a sense of completeness by winning the Super Bowl," Cherry said. "There definitely was a sense of accomplishment, but the sense of completeness didn't last a millisecond.
"I could see the confetti dropping, and then I thought, 'Man, there's got to be more.' There was no sense of fulfillment. You want to do it again. You have to do it again."
The symbol of ultimate victory is the championship ring. Cherry won three of them with the Patriots. None brought total satisfaction, not like he guessed.
Maybe that's what happens when you ripen in a place like Berkeley. You become highly introspective and philosophical about life. You consider the merits of unconventional thought to the point there's a healthy chance somebody eventually will consider you kooky.
| | |
| --- | --- |
| | |
| | Kaitlyn Montagna/Celebrities for Charity |
| | Je'Rod Cherry and his wife, Samua, hope to raise $200,000 by raffling off one of his Super Bowl rings. |
All of Cherry's distinctive life experiences have come together for Thanksgiving. Molded by his upbringing, influenced by his three Super Bowl victories and inspired by his profound religious beliefs, Cherry is making what many would consider the ultimate sporting sacrifice.
Cherry on Thanksgiving -- against the wishes of some adamant he keep it -- will raffle off his first Super Bowl ring, the one that started a dynasty, to raise money for several charities: Asia's Hope, Boston for Africa, Feed My Starving Children, the Italian Home for Children and the Celebrities for Charity Foundation.
Cherry wants to build orphanages in Thailand and Cambodia to save children from the sex trafficking that's common there. He also wants to feed poverty-stricken children in Massachusetts and Ohio, where he splits his time.
"He has a bigger purpose, and Super Bowl rings are just stuff," said Don Davis, who played special teams alongside Cherry with the Patriots and
New Orleans Saints
. "To most it might sound crazy, but he's got three of them.
"It's a great tribute to what kind of man he is. He's willing to show the world all that stuff is meaningless."
Cherry said that by Monday afternoon the raffle had generated $140,000 in tickets sold, but he's hoping a late push will increase the figure to $200,000. Anybody who wants to
enter the drawing still has until 9 a.m. Thursday
to buy tickets for $2, with a five-ticket minimum required. The drawing will be held later in the day.
He opted for a raffle-style fundraiser because he didn't want a few wealthy collectors bidding in an auction. Now the average fan has the opportunity to win it.
"It's an incredibly generous gesture," said Dave Atkins, founder and executive director of Asia's Hope. "I was shocked when I heard that he was willing to do this.
"It's going to make a difference with kids. They have no home. They have no hope. They have no future. Je'Rod will help rescue these children and put them in an orphan home that will be safe. They will go to school. They will get three meals a day. They will get all their shots to immunize them from diseases that would kill them."
But some have mixed emotions about Cherry's decision. Those who receive Super Bowl rings are considered part of a sacred fraternity. Many believe that raffling off such a meaningful symbol cheapens the accomplishment.
Imagine a 20-year-old gas-station attendant showing up at The Masters with a green jacket he bought on eBay.
"I can understand that mentality and those thoughts," said Davis, who wasn't on the 2001 team but was on the Patriots' other two title teams. "It's a tight-knit group and a brotherhood, and you hate when someone falls on hard times and ends up pawning it or selling it.
"But that's the reality of the deal. When that person gets it, that's really nobody else's business to care. It's yours. It's your property. You earned it. You can do with it what you feel."
Former Patriots linebacker Leonard Myers caused a stir in 2005 when he sold his Super Bowl ring -- the same version Cherry is raffling -- on eBay because he was broke.
Myers' career was brief, but the sixth-round pick played seven games as a rookie on the Patriots' first championship squad. Myers played only 17 games with three teams over his three NFL seasons. His ring reportedly sold for $32,600.
"The last thing I want people to think is that I'm disrespecting the NFL," Cherry said from his home in the Cleveland area, where he is a financial adviser. "Few guys possess what I do possess. The ring is a great showpiece to pass on as a family heirloom, but at the end of the day it's not going to complete you."
The Super Bowl XXXVI ring is a beauty. It was made by Jostens in 14-karat white gold and features 142 diamonds. The face of the ring shows the Patriots' logo in garnets and blue sapphires trimmed with diamonds. The raffle winner also will receive a cash prize of $16,265 to pay prize taxes.
| | |
| --- | --- |
| | |
| | Kaitlyn Montagna/Celebrities for Charity |
| | The Super Bowl XXXVI ring won by New England features 142 diamonds. |
Cherry usually kept his three Super Bowl rings in a safety-deposit box, taking them out only for special occasions. When he did wear a ring, it almost always was the one he's parting with.
"I wrestled with it," Cherry said. "I'd be lying if I said I didn't. I kept thinking I had to be nuts."
The ring represents the first championship Cherry ever won. He didn't win any titles in high school or at the University of California or his first five years in the NFL.
The Saints drafted him in the second round in 1996. He spent four seasons there and one with the
Philadelphia Eagles
before winning three Super Bowls in his four seasons with New England.
"If I could pick one I really don't wear much or don't care about, that would be fine," Cherry said. "But in the end it goes back to my relationship with God. I believe you want to give God the best and what means the most to you.
"This ring has more sentimental value for me. That was one of the neatest feelings I ever had because that year you had guys putting team ahead of self, making decisions not as individuals but for the good of the team.
"In the locker room you had people shutting their mouths. You had a quarterback controversy that really never developed because Drew Bledsoe never let it become a distraction. They were putting team ahead of self. It was Judeo-Christian principles in real life."
Cherry was pushed to sacrifice his Super Bowl ring while attending a youth conference in suburban Dayton, Ohio. He and his wife were chaperones from their church.
As part of the event, about 2,000 kids scattered around the area to mow lawns, paint houses and pick up trash to generate money to build orphanages. The group said it raised $96,000, but fell short of its goal.
A young lady named Courtney half-jokingly asked Cherry if he would sell one of his Super Bowl rings to make up the difference.
"I said 'You know what? I just might.' I spoke to my wife, and we thought it was a prompting by God," Cherry said. "So we decided to do it.
"I look back on the memories of what took place the year we won out first Super Bowl. Guys really laid it on the line for each other. You had that feeling of camaraderie I'd never experienced before in team sports.
"Those are great feelings. Now, what we're doing with the ring will be a greater feeling."