January, 27, 2014
1/27/14
3:30
PM ET
Former
Chicago Bears
general manager Jerry Angelo is a good follow on Twitter, as he offers a perspective of someone who has been responsible for putting together an NFL roster.
Today, he was critical of the
New England Patriots
' team-building approach in 2013.
[+] Enlarge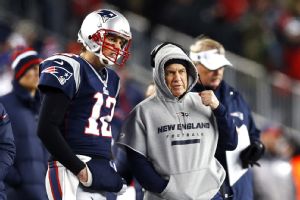 Greg M. Cooper/USA TODAY SportsJerry Angelo argues that the Patriots did not give Tom Brady enough talent at receiver.
In explaining his viewpoint, Angelo compared the
Denver Broncos
' approach with the Patriots' plan.
"When you have a great quarterback, you need to give him as many quality receivers as possible, regardless of where they are aligned on the field," he wrote,
using Sulia so he wasn't limited to 140 characters
. "... When you look at New England, the strengths of their offense was their line and running backs. When you break down Denver, it was their tight end and receivers.
"I believe, if you don't have an elite QB, you build your offense the way New England did, from the inside out. Protect the quarterback with a good offensive line and run the ball. A large part of your passing game is going to be based off run action. On the other hand, if you have a quarterback who sets the standard at his position, you built it around him from the outside in, meaning with top-notch receivers.
"This is where New England calculated wrong. Brady is an elite quarterback, and they handcuffed him with talented but unproven receivers. ... My point: New England missed the mark and Denver hit it."
Angelo then explained further.
"New England's problem is they fell in love with their system. A fatal mistake for successful coaches. I said Bill Belichick did one of his finest coaching jobs this year and I know it. I'm a great admirer and would agree with Bill Cowher when he said that Belichick would go down as the greatest coach in football. But in this case, his thinking was misguided.
"This shows you regardless of how great a coach is, if his philosophy isn't applicable to the strengths of his personnel, then it's unsound, not in principal, but in relevance to his personnel. And in football, the labor force starts with CEO of the offense, the quarterback."

QUICK-HIT THOUGHTS:
This is a strong opinion from Angelo, who was a regional scout with the Giants in the 1980s when Belichick was an assistant coach on staff. So the two have a connection that extends back decades and their connection was later highlighted by some trades they swung in 2003 and 2004. I don't detect any agenda here.
To me, the makeup of the Patriots' offense traces back to the decisions to extend the contracts of tight ends
Rob Gronkowski
and
Aaron Hernandez
after their first two seasons. The Patriots were banking on good health for Gronkowski (he didn't miss a game in his first two seasons) and obviously didn't see a murder charge coming for Hernandez. They then viewed
Danny Amendola
as a capable replacement for
Wes Welker
in 2013 and liked the idea of a Gronkowski/Hernandez/Amendola core. Young receivers
Aaron Dobson
,
Josh Boyce
and
Kenbrell Thompkins
could then complement that core, and if
Julian Edelman
was healthy, he'd be another valuable piece.
The plans obviously didn't unfold the way they hoped, and the young receivers were thrust into front-line roles. Not good. It's easy to say the plan was misguided now, but I didn't see too many criticizing those tight end contracts when they happened; in fact, many were applauding the organization for
finally
being proactive in contract-extension talks with young players. That doesn't take the Patriots off the hook, and Angelo's point is well-taken here. But things seem to move so fast these days that sometimes we forget about the context in which each personnel decision was made.
January, 27, 2011
1/27/11
4:00
PM ET
The
New York Jets
' season ended five days ago, but that hasn't stopped
Antonio Cromartie
from calling out anybody who irritates him.
Cromartie ripped NFL and union leaders on Monday over the looming labor confrontation that threatens to put the game in mothballs for an extended period. He dusted off his
Tom Brady
insult, referring to league and union bosses alike as "ass-----."
Players have rallied around their union leaders by condemning Cromartie's biting remarks, and one of them drew his ire in particular.
Seattle Seahawks
quarterback
Matt Hasselbeck
reportedly
tweeted on his verified account
, "Somebody ask Cromartie if he knows what CBA stands for." The tweet was deleted quickly.
But Cromartie heard about it and fired off a response:



A_Cromartie31

@Hasselbeck hey Matt if u have something to then say it be a man about it. Don't erase it. I will smash ur face in.
--
this quote
was brought to you by
quoteurl
Hasselbeck tried to laugh off the exchange with an apology:



Hasselbeck

@A_Cromartie31 Sorry for the joke man. No hard feelings. DB's & QB's have a hard time getting along I guess sometimes. lol
--
this quote
was brought to you by
quoteurl
Nothing forges union brotherhood better than Twitter, apparently.
Chicago Bears
general manager
Jerry Angelo ripped players who ridiculed
quarterback
Jay Cutler
on Twitter.
"I think it's crap," Angelo said. "I thought they were a union. If that's the way the unionize themselves, they have bigger issues than the ones they have with the owners. I'm very disappointed in that.
"That, to me, is dirty pool. It is what it is. People are allowed to say what they want to say but that doesn't mean that it's right. It's certainly not grounded."
Cromartie also threatened violence on
Pittsburgh Steelers
receiver
Hines Ward
a couple days before the AFC Championship Game.
Cromartie said the best remedy for dealing with Ward's
reputed dirty play was "Grab his ass by the throat and choke the s--- out of him."