April, 5, 2011
4/05/11
12:30
PM ET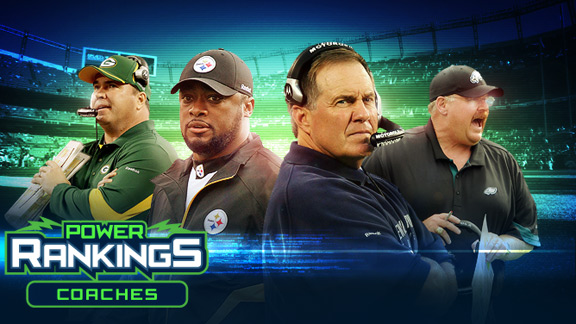 ESPN.com IllustrationNew England's Bill Belichick was the unanimous choice for the top spot when our writers ranked the best coaches in the game.
Bill Belichick is the great unifier.
For the first time in ESPN.com's individual Power Rankings series, the eight panelists reached unanimity. Each of us voted Belichick the NFL's best head coach, and there's little room for argument.
As someone who has scrolled through their comments for the past three years, I can hear the Spygate whiners already.
But Belichick hasn't won anything since the New England Patriots were caught videotaping defensive hand signals ...
That's true, I suppose, if you don't consider 51 victories, a .797 win percentage, three division titles and a trip to the Super Bowl not winning anything. I'm pretty sure fans of any team other than the
Green Bay Packers
,
New Orleans Saints
,
Pittsburgh Steelers
and
New York Giants
gladly would trade their past four years for the Patriots' so-called embarrassments.
And I'm guessing fans would find ways to justify those three Lombardi Trophies if their teams were in the Patriots' situation.
Belichick wasn't the only coach voted on with conviction. Head coaches are the fifth installment of our Power Rankings series, and the 13 combined nominees from our ballots were the lowest number of nominees so far. Our panel nominated 17 tight ends, 17 pass-rushers, 16 wide receivers and 15 running backs.
Pittsburgh Steelers coach Mike Tomlin was second in the Power Rankings, and the lowest he rated was sixth on NFC West blogger Mike Sando's ballot. The minus-4 differential from Sando -- not a substantial disparity at all -- was the largest negative margin relative to final placement in the entire process.
Sando explained his deviance from the pack.
"I favored coaches that walked into tough situations, won relatively quickly and then sustained the improvement over more than one season," Sando said in a statement issued through an NFC West blog spokesman. "Tomlin took over a healthy operation and kept it going. He deserves credit for that -- I ranked him sixth -- but not as much credit as if he had produced similar results after taking over a struggling franchise.
"We should view the success Bill Cowher enjoyed in a similar context. Both worked for an outstanding organization."
To be honest, I actually considered putting Cowher on my ballot just for the heck of it. But I opted against getting cute.
Let's take a closer look at how we voted:
We ranked
Philadelphia Eagles
coach Andy Reid third, and he was listed no lower than fifth -- on AFC West blogger Bill Williamson's and mine -- on anyone's ballot.
Tomlin led the way with four second-place votes. Reid received three. Green Bay coach Mike McCarthy got the other one and came in No. 4.
To further illustrate how closely the voting breakdown turned out, four coaches received third-place votes, four received fourth-place votes and four received fifth-place votes.
Our top seven head coaches were listed on every ballot.
The highest-rated coach not to be universally nominated was
Chicago Bears
boss Lovie Smith at No. 8. He didn't make AFC North blogger James Walker, AFC South blogger Paul Kuharsky and Williamson's ballots.
"Consistency is very important for head coaches, and Smith has more non-playoff seasons than playoff seasons," Walker said. "Smith seems to be on the hot seat every other year in Chicago, and he missed the playoffs three consecutive times from 2007 through '09. Despite a good run last year, Smith is a pedestrian 34-30 since '07."
Atlanta Falcons
coach
Mike Smith
came in ninth. He didn't appear on NFC North blogger Kevin Seifert's ballot because Smith hasn't won a playoff game yet. Seifert swore it had little to do with that Falcons school bus commercial that gets played incessantly on NFL Network. Three other panelists omitted Smith, too.
[+] Enlarge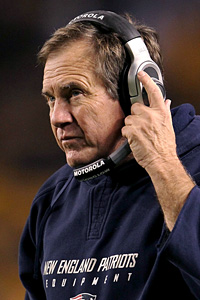 Chris McGrath/Getty ImagesBill Belichick has a 162-94 record in his 16 years as a head coach.
Baltimore Ravens
coach John Harbaugh and
Washington Redskins
coach Mike Shanahan tied for 10th.
What helped narrow the field is the constant turnover the NFL coaching profession experiences annually.
Eight teams have new coaches for 2011, ostensibly reducing the number of Power Rankings candidates to 24 from the jump. Nine more coaches have been with their current teams for two seasons or shorter.
A two-year stint didn't prevent the panel from voting for Shanahan, whose body of work includes a pair of Super Bowl titles with the
Denver Broncos
, or Rex Ryan, who has guided the
New York Jets
to the AFC Championship Game in each of his two campaigns.
Williamson and Walker had Shanahan rated seventh, his highest placement. Shanahan was absent on four other submissions, mine included.
"Shanahan may not have looked like a brilliant coach in his first year in Washington, but he deserves to be on this list," Williamson said. "He is not some old retread. With so much turnover in the coaching ranks, he is truly one of the last remaining of the old guard 'Super Coaches.' The guy has two rings and a lot of playoff appearances. I don't think he's a top-five guy at this particular time, but he belongs in the top 10."
Williamson and I each thought Ryan deserved to be rated fourth, although none of our comrades had Ryan higher than seventh.
My reasoning is that Ryan, despite not winning the Super Bowl, has a tractor-beam pull on his players -- and even other teams' players -- unlike any other coach in the league. Ryan carries serious clout with the people who matter most of all, the ones on his roster. That's powerful, and these are Power Rankings.
Another to receive votes despite two years at the helm was
Indianapolis Colts
coach Jim Caldwell. He came in 13th overall, eighth on Kuharsky's ballot and 10th on Walker's.
"I do not think he's a particularly good game-day coach," Kuharsky said of Caldwell. "The rationale he had for the late timeouts that helped the Colts lose at Jacksonville and to the Jets in the playoffs was flawed.
"But in terms of delivering a consistent message, setting expectations and holding a team together through an injury-riddled season, he did excellent work. And those are very important elements to the job."
The floor is yours. Let us know if you agree or disagree.
January, 23, 2010
1/23/10
3:21
PM ET
INDIANAPOLIS -- For weeks I've been harping on how critical it is for the
New York Jets
to maintain a one-score game. That allows them to keep pounding the ball and prevents them from leaving their fate to
Mark Sanchez
's rookie right arm.
There's another type of one-score game the Jets must be mindful of Sunday against the
Indianapolis Colts
.
A score, as in Gettysburg address parlance, also means 20. That's been a magical number of points for the Jets. When they've surrendered 20 or more points this season, they are 0-5. When they've allowed less than 20 points, they are 11-2.
The Jets gave up an NFL best 14.8 points per game in the regular season. They've allowed 14 in each of their playoff victories over the
Cincinnati Bengals
and
San Diego Chargers
.
"It's still a burr in my saddle that we gave up seven touchdowns without the defense being on the field because that number would be less than that," Ryan said this week at the Jets' facility in Florham Park, N.J. "It's just that it shows that we understand how to keep people out of the end zone for the most part."
The most points the Jets yielded in a victory this season was 17 against the
Tennessee Titans
in Week 3. The Jets also held the
Atlanta Falcons
to 10 points in Week 15, but lost.
The Colts averaged 26 points in the regular season and posted 20 on the
Baltimore Ravens
last weekend.
"They score about as well as anybody," Ryan said. "So it's a huge challenge. If we're going to keep Indianapolis from scoring 14 points, that's even a stretch for me to say. I know one thing: We're darn sure going to try."
Ryan-influenced defenses have had their troubles against Colts quarterback
Peyton Manning
.
Since Ryan joined the Ravens' defensive staff in 1999, his teams have given up an average of 26.1 points a game, not counting the Week 16 game in which Colts coach Jim Caldwell pulled Manning with almost six minutes left in the third quarter.
January, 23, 2010
1/23/10
1:00
PM ET
FLORHAM PARK, N.J. -- Jim Caldwell quietly eased into his promotion as
Indianapolis Colts
head coach. The transition was virtually seamless when Tony Dungy retired, abdicating to his designated heir.
New York Jets
coach who arrived with an eruption and set about an upheaval of an entire organization's persona.
This was no caretaker of successes past. Ryan, with a magnetism as large as his physique, a gravitational pull as it were, quickly became the center of the Jets' universe.
Ryan and Caldwell will intersect orbits Sunday in the AFC Championship Game. Rookie head coaches never have squared off for a conference title. One of them will be the fifth rookie coach to lead his team to the Super Bowl.
AFC South blogger Paul Kuharsky wrote about
Caldwell's straightforward and succinct approach
to coaching the Colts. He won 14 regular-season games, an eye-popping amount, yet only two more than the year before.
Ryan, meanwhile, finished the regular season 9-7, the same record as the Jets did last year under Eric Mangini. But their versions couldn't have been more different.
"This wasn't about Eric," Ryan said this week at the Jets' facility. "This was about me coming in. I was going to be true to myself. I never really needed to get advice from anybody else. I was coming here, open minded. I just wanted to put our plan in place, and that was what I focused on. It wasn't about things were done this way or that way. That meant nothing.
"I could have followed anybody here, but I was going to try to put together what I thought was a vision for our team and building a winner."
Ryan has transformed the culture in Florham Park. The Jets toiled under the austere watch of Mangini, who was fired after falling short of the playoffs with
Brett Favre
slinging interceptions about.
Now the Jets are all about fun and smack talk. The players are free to speak their minds, and with Ryan in charge their minds entertain fanciful thoughts. He talks them up like they're superstars. He makes bold predictions about meeting Barack Obama in the White House and being Super Bowl favorites after barely qualifying for the playoffs.
"You've got to prove him right," Jets safety
Kerry Rhodes
said. "If he has that much confidence in you to say that you're the best, you've got to go out there and prove it for him.
"When he says stuff, he's not just saying it to say it. At the end of the day, he's held accountable for what he says. If you don't live up to what he said, it kind of gives him a slap in the face."
January, 20, 2010
1/20/10
6:14
PM ET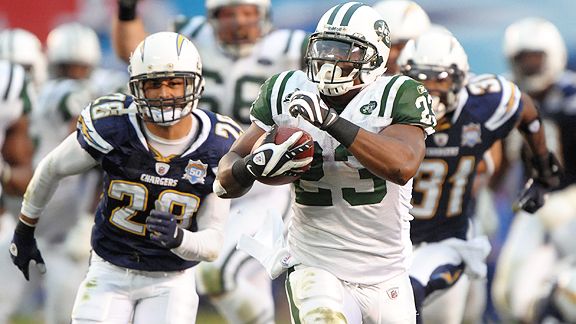 Kirby Lee/Image of Sport/US PresswireJets rookie running back Shonn Greene emerged as a home-run threat during the playoffs.
FLORHAM PARK, N.J. -- Talk to the
New York Jets
about their postseason rushing success and they will make it a point to mention it's a tandem backfield effort between veteran
Thomas Jones
and rookie
Shonn Greene
.
Make no mistake. Greene has carried the Jets' offense. In fact, the rookie who recorded 108 attempts in the regular season has been the league's offensive playoff MVP.
Greene was an afterthought for most of 2009, but stopping him Sunday will be critical to the
Indianapolis Colts
' chances of winning the AFC Championship Game in Lucas Oil Stadium.
"Shonn Greene is maybe one of the most powerful runners that we've seen," Colts coach Jim Caldwell said. "He's a big, downhill back that can really do a tremendous job of carrying the load an entire game and gets stronger as the game goes on."
Greene leads the NFL with 263 rushing yards in the playoffs, already ranking him third among all Jets backs in career postseason yardage. He has two long touchdown runs of 39 and 53 yards.
"I can't even describe how it feels when you see green grass and the end zone," Greene said after his 53-yard touchdown run proved to be the deciding points in Sunday's road victory over the
San Diego Chargers
. "It feels like you're in a dream."
The Jets feel the same way when they watch Greene run.
The stat-driven site
ProFootballFocus.com
says 169 of Greene's yards, a marvelous average of 3.8 yards per carry, have come after contact. Only two backs this postseason,
Ray Rice
of Baltimore and
Felix Jones
of Dallas, have rushed for more yards than Greene has after contact.
"He's a tough runner, man," Jets right tackle
Damien Woody
said. "He doesn't go down on first contact. He runs through people. He runs through arm tackles. He's just a tough guy to bring down. He just physically wears down defenses."
Greene's emergence came at the perfect time.
Jones mostly has been ineffective. Throughout the regular season, he defied the axiom that running backs over 30 are destined to fall apart. Jones finished third in the NFL with 1,402 yards rushing and 14 touchdowns.
The past two weeks, however, Jones has looked his age. He has been slowed by a left knee injury and isn't hitting holes as explosively as before.
The Jets handed off to Jones for a point-blank touchdown run in the first-round victory over the
Cincinnati Bengals
, but he has averaged 2.6 yards on 29 carries in both playoff games. He rushed 27 times in a game twice during the regular season.
Greene, meanwhile, has been electric. He rushed for 135 yards against the Bengals and 128 yards against the Chargers. He scored a touchdown in each game, sprinting 39 yards and 53 yards to the end zone.
"Greene is much fresher than Jones and really everyone else on the field in the playoffs right now," Scouts Inc. analyst Matt Williamson said. "The Jets used him very sparingly and, in turn, he has fresh, powerful legs, and it is really showing."
Williamson admitted he was skeptical of Greene, who left Iowa after winning the Doak Walker Award as the nation's top running back his junior year.
Some viewed Greene as lacking the speed to be a star NFL back, but the rookie's roughneck style has compensated and has made the Jets' front office look brilliant for trading up to take him with the first pick of the third round.
"He has a great burst and runs with vigor and violence," Williamson said. "He is very decisive for a rookie runner and isn't overwhelmed by the speed of the NFL game. He hits a hole with aggression and is very quick to get downhill with little wasted movement. He has the ideal, thick body type for his style of running and packs a lot of power on contact."
Greene also seems to have gotten past the fumble trouble that caused the Jets' coaching staff to lose confidence in him. In a span of six games in November and December, he committed three giveaways.
"This guy's young," Woody said, "but we knew he was a talented running back. He had some fumbling problems in the regular season. He had to earn that trust back from the coaching staff, but once he figured it out and did that, he's really taken off."