January, 7, 2011
1/07/11
6:34
PM ET
The
Miami Dolphins
prolonged their public relations disaster Friday.
Miami Herald beat writer Jeff Darlington reported the Dolphins had
set up a meeting with Eric Mangini, but canceled it
. Darlington wrote unidentified team sources informed him the Dolphins weren't going to speak with Mangini about being their coach, but just wanted to seek his advice.
Allrighty then.
Also reported Friday was
a looming contract adjustment for Sparano
, supposedly to smooth over any hard feelings. The Dolphins' front office embarrassed itself with a futile courtship of Stanford head coach Jim Harbaugh and and reported contact with retired
Pittsburgh Steelers
coach Bill Cowher.
Chicago Tribune and National Football Post writer Brad Biggs reported the
Dolphins never made an actual contract offer to Harbaugh
. Biggs, quoting an unnamed source, wrote Dolphins owner Stephen Ross was "intoxicated" with the idea of hiring Harbaugh after spending time with him in the days leading up to the Orange Bowl, but that Dolphins general manager Jeff Ireland remained behind Sparano.
The Dolphins called a news conference for 4:45 p.m. Friday presumably to declare their allegiance to Sparano and then postponed it until noon Saturday with no word about whether Sparano's contract has been amended or if he's coming back for next season at all.
Strange days indeed.
All this happened while I was traveling for Saturday night's playoff game between the
New York Jets
and
Indianapolis Colts
in Lucas Oil Stadium. I had been playing phone tag with ESPN analyst Herm Edwards all day, and once we finally connected, I had to ask for his take on the Miami madness.
"Feelings are hurt, obviously, because of the way things went about," said Edwards, the former Jets and
Kansas City Chiefs
coach. "But, hey, they didn't have a good record. They could have fired him.
"But that's the sad part. They had a coach under contract. They wouldn't fire him, but they went and interviewed people. If you're going to do that, man, you need to do that on the QT. This didn't have to be public. You don't need to bring that attention to your organization."
Edwards, though, stressed this saga won't necessarily drag down the team and noted the more critical concern should be what the Dolphins do at quarterback than the current mess.
"If you win, all this goes away," Edwards said. "If you win, this is no big deal. The good part is the season's over with. The players aren't even in the building right now.
"By the time training camp starts, if anything the players look at it and say 'The coach is in the same boat we're in.' The players get it. But if the quarterback doesn't get better they'll be in that same boat again in a year."
For additional perspective on what it's like to hang by thread, I rang up former
New York Giants
coach Jim Fassel for his thoughts.
"If you have the right guys on the team, they'll battle for the head coach," Fassel said. "Players know regardless, they're still going to be judged on their own performance. It won't affect their performance unless they're not very smart.
"The way it might play a role is in the discipline phase of it might say 'I don't care what he says to be anymore.' But that would a small minority of the players."
Edwards felt more sympathy for the coaching staff than for Sparano.
"The assistants are the ones who are suffering," Edwards said. "They're tied to the head coach. You want to let these 15 or so guys know because when the merry-go-round stops and all the jobs have been filled, you're stuck."
December, 1, 2010
12/01/10
10:09
AM ET

There's no news value to this video. But it sure is a lot of fun to watch.

"SportsCenter" provides a rundown of the 10 greatest NFL tirades. Talk about your favorites (or any you think should have been included) in the comments section. My personal favorites: Nos. 5, 3 and 2.
October, 21, 2010
10/21/10
4:44
PM ET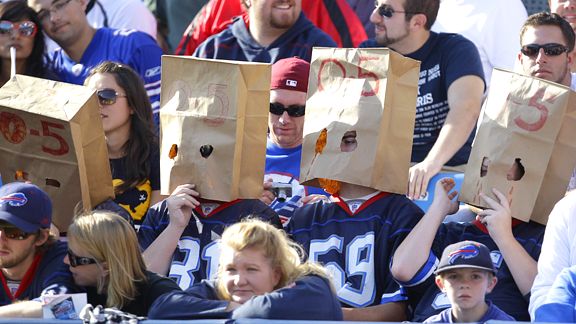 AP Photo/ David DupreyIt's been a tough season in Buffalo, where there are whispers of a possible 0-16 season by the Bills.
ORCHARD PARK, N.Y. -- Buffalo Bills linebacker Paul Posluszny laughed, but he wasn't happy to hear the question.
He kept chuckling throughout his response, although it was obvious by the tone in his voice and the look in his eyes that the topic agitated him.
How close would the game be if the Bills played the Las Vegas Locomotives of the United Football League?
"That's saying that we're minor-league, that a minor-league team could compete with us," said Posluszny, perched on a stool at his locker stall Thursday morning. "The thing that makes me mad is we put ourselves in this situation.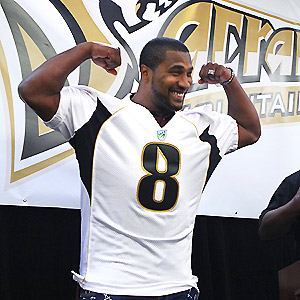 AP Photo/Rich PedroncelliThe UFL has several former NFL players, like Sacramento Mountain Lions QB Daunte Culpepper.
"If we're winning games or competitive, then you're not talking to me about this. But it's our fault. It's my fault. I can't blame you or Las Vegas. We've got to fix it."
The Bills are winless through five games and have played so poorly they're already being talked about as a legitimate candidate to finish the season 0-16. They've surrendered at least 30 points in four straight games, something that never had been done in franchise history.
The trend will be difficult to alter Sunday. The Bills will visit the Baltimore Ravens in M&T Bank Stadium.
For much of the season, the Bills have been out of their league.
Some in the UFL, a five-team league comprised of many former NFL players hoping to extend their careers, believe they would have a shot to beat Buffalo.
"I don't think we could compete with the upper two-thirds of the NFL," Locomotives head coach Jim Fassel said. "The lower-echelon teams, I think it would be an excellent game."
Hartford Colonials quarterback Josh McCown, who spent eight years in the NFL, predicted: "It would be fun to watch. I know one thing: There'd be a lot more pressure on Buffalo than there would be on Las Vegas. There'd be some good give and take."
With that in mind, I asked Las Vegas Sports Consultants, the oddsmaking firm that supplies the numbers for about 75 percent of Nevada's legal sportsbooks, to provide a legitimate spread for the Bills and Locomotives.
The Bills would be favored by 10.5 points on a neutral field.
That's a comfortable margin and not necessarily a true reflection of the difference in class between teams from different leagues. Spreads factor all sorts of game situations, and this number was tempered to account for the likelihood the Bills would outclass the Locomotives early and manage the clock for much of the contest.
"If Buffalo needed to win by four touchdowns and their lives depended on it, they probably could do it," Las Vegas Sports Consultants senior oddsmaker Mike Seba said. "But that's not usually the way it goes down."
Most notable about the spread for this fictional game isn't that the Bills are favored, but the number itself.
Nine NFL games, three of them involving the Bills, have featured a spread larger than 10.5 points so far this season. The Bills are 13-point underdogs Sunday against the Ravens, were 14.5-point underdogs to the New England Patriots in Week 3 and 12.5-point underdogs to the Green Bay Packers in Week 2.
Those numbers indicate the Bills are closer to the UFL than they are to the best NFL teams.
"Even though the Bills might be having a tough time, they're still the NFL," said Daunte Culpepper, the former Pro Bowl quarterback now playing for the UFL's Sacramento Mountain Lions. "I don't think anybody should overlook that. Those players are in the NFL for a reason."
Culpepper has heard this kind of barroom and message-board banter before.
He started five games for the Detroit Lions in 2008. That team became the first in NFL history to go 0-16. People wondered if the USC team that featured Mark Sanchez would give the Lions trouble.
But Culpepper wasn't totally dismissive of the Locomotives' chances against the Bills.
"I've played in the NFL, and I've played in the UFL. The competition is there," Culpepper said. "The ability and the level of play is there. The NFL is the best of the best, but there's only about 1,500 jobs in the NFL. There's more than 1,500 guys that can play at the NFL level."
UFL investor Mark Cuban pointed out the NFL is comprised of younger talent, but because of salary-cap issues and veteran minimum salaries, teams rarely fill out their rosters with the best 53 players available to them. That leaves plenty of NFL-caliber veterans out of work.
Cuban knows a little about sports business. He owns the NBA's Dallas Mavericks and has
tried to add Major League Baseball to his portfolio
. He nearly purchased the Texas Rangers this year.
"You can argue skill positions may be better in the NFL, but you can't argue experience," Cuban said. "The UFL rosters from the bottom up are far more experienced than the Bills are."
NFL teams are reluctant to take chances on veterans as they accrue experience. A player with four to six seasons in the NFL makes a minimum salary of $630,000. Players with seven to nine seasons must be paid at least $755,000.
The average 53-man NFL active roster had 15.7 players who are 24 or younger as of Wednesday, according to the Elias Sports Bureau. The winless Carolina Panthers had 27 players in that category. The Bills had 17.
Three of the UFL's five teams had nine or fewer players age 24 or under. The Locomotives had nine on their roster. The Florida Tuskers had two.
"People are afraid to take a five-year vested veteran and pay him the minimum and get the risk that he might get injured," Fassel said. "There's no question that adds up. All you need is five or six guys get hurt and that's $5 million in your cap."
Many NFL clubs don't spend anywhere near to the salary cap anyway. They commonly save money on their reserve players.
"It's not just Buffalo. It's every team," Cuban said. "The balance of talent versus cost versus winning is not an easy one to create. Sure, some teams may spend more than the Bills, but they all go through the same decision process."
As a result, the UFL can field bona-fide players at positions such as quarterback and running back and stock their coaching staffs with NFL-weathered coaches. Fassel, for instance, guided the New York Giants to a Super Bowl XXXV appearance 10 seasons ago.
Last year, Fassel won the UFL's inaugural championship game with former Bills quarterback J.P. Losman. At the time, I got a strong impression Bills fans gladly
would've traded their coach-quarterback combo
of Dick Jauron and Trent Edwards for Fassel and Losman.
Still, the consensus, even among the most ardent UFL supporters, is the Bills probably would beat the Locomotives handily.
"I have a lot of respect for those guys," Bills running back Fred Jackson said. He came up through the minors as a low-level arena player and then NFL Europa. "I know there's a lot of talent in those leagues. But this is the National Football League. This is the best of the best. I've got to believe with my whole heart it would be a one-sided affair."
There are no guarantees, though, and that's why this fictional game never would take place. It would be all risk, no reward for the NFL.
The last time a "minor league" was granted such an opportunity was in 1961, when the Hamilton Tiger-Cats of the more established Canadian Football League beat the fledgling American Football League's Bills in a preseason game.
"As a player for an NFL team, obviously it bothers us that's even a conversation out there," Posluszny said, "that we're playing so bad right now that people think a UFL team can compete with us because they can't.
"Once again, we're 0-5. We haven't proved to anybody that we're a big-time team. It's troubling to us because we're an NFL football team and we should be able to act like it and play like it and win games."
November, 25, 2009
11/25/09
1:30
PM ET
ESPN's Adam Schefter reports the
Buffalo Bills
met with
coaching candidate Mike Shanahan for seven hours
Monday night and Tuesday morning in Denver.
The report suggests Bills chief operating officer Russ Brandon interviewed for Shanahan rather than vice versa.
"We had an excellent meeting," Shanahan told Schefter on Wednesday. "I was really impressed with Russ Brandon and everything he had to say. We're going to stay in touch and see what develops."
The Bills are expected to take their time in making a hire and will interview several more candidates before they find the permanent replacement for Dick Jauron, who was fired last week and replaced with defensive coordinator Perry Fewell on an interim basis.
Almost all of the top-tier candidates have rebuffed the Bills' attempts to talk about the job. Substantive reports have stated Jon Gruden, Bill Cowher and Mike Holmgren have turned them down.
The next wave of candidates might include the likes of Brian Billick, Jim Fassel, Mike Martz and Jim Haslett, but the Bills seem hot for an offensive-minded coach, which could work against Haslett, a former Bills linebacker.
Billick had an 80-64 career record and won a Super Bowl with the
Baltimore Ravens
. Defense was the foundation of those Ravens teams, but Billick is a lifelong offensive coach who had a star quarterback only once in his nine seasons there. Billick won 13 games with
Steve McNair
in 2006.
Fassel went 58-53 as head coach of the
New York Giants
and won an NFC title. Bills fans might note some similarities between their team and the one Fassel took over in 1997. The Giants went 6-10 the year before, but Fassel guided them to a 10-5-1 record and the NFC East championship with Danny Kannel and Dave Brown as his quarterbacks.
Martz coached The Greatest Show on Turf with the
St. Louis Rams
for six seasons. He went 53-32 and won an NFC title. His offense ranked No. 1 in the NFL in 2000 and 2001 with such stars as
Kurt Warner
,
Torry Holt
and Marshall Faulk.
Another offensive-oriented coach who has been mentioned is longtime NFL offensive coordinator Marc Trestman, who has been tearing up the Canadian Football League as head coach of the Montreal Alouettes.
But one major hang-ups the Bills will have is their quarterback situation. They have no obvious starting quarterback on their roster. The organization apparently has given up on
Trent Edwards
, and
Ryan Fitzpatrick
isn't held in high regard. Newly acquired third-stringer
Brian Brohm
is a project.
Many coaches' names will be associated with the opening. Expect some surprises along the way.
November, 6, 2009
11/06/09
8:11
AM ET
We have a trade to propose.
J.P. Losman
and Jim Fassel for
Trent Edwards
and Dick Jauron. Straight up.
What do you think,
Buffalo Bills
fans?
The proposal was raised Thursday during my weekly spot on
Brad Riter's radio show on WECK in Buffalo
, and I loved the idea so much I informed Riter on the spot I was stealing it for the AFC East blog.
Bills fans have been fed up with Jauron's coaching and would consider relinquishing their claim to the chicken wing for his ouster. They've had it with Edwards as their quarterback, too.
But would they take back local pariah Losman if it meant they could have Fassel instead of Jauron?
The trade isn't going to happen. I don't think the NFL will be swinging any deals with the United Football League any time soon, and that's where Fassel and Losman are working.
Fassel is head coach of the Las Vegas Locomotives. Losman is his quarterback.
Fassel, the former
New York Giants
coach, has a 58-53-1 career NFL record and went to the Super Bowl in 2000.
Losman became one of the more detested players in recent Bills history because he was promoted as a future star yet couldn't get the Bills to the playoffs and played a reckless style.
But I have a feeling Bills fans have mellowed on Losman in light of Edwards' ineffectiveness, lack of development and timidity.
For the record, and not that Losman's stats with Las Vegas are any indication of what kind of season he would be having in the NFL, he has
completed 64.2 percent of his passes
for 994 yards (7.4 yards per attempt) and eight touchdowns with two interceptions.
So what do you think, Bills fans?
September, 4, 2009
9/04/09
6:14
PM ET

Posted by ESPN.com's Tim Graham
| | |
| --- | --- |
| | |
| | Photo by Scott Boehm/Getty Images |
| | Coach Dick Jauron was not pleased with how the offense was preparing and progressing. |
Less than two weeks before the regular season, three NFL clubs were
desperate enough to fire their offensive coordinators
.
"It's alarming that in this league it's getting to where people are feeling pressure even after the preseason," former
New York Giants
head coach Jim Fassel said. "You're kind of going, 'Wow. This season is going to be one wild ride.' "
ESPN analyst and former NFL head coach Herm Edwards said he knows how anxious struggling teams can get, but said "you've never seen it like this."
The
Buffalo Bills
fired offensive coordinator Turk Schonert on Friday, 10 days before opening their season against the
New England Patriots
on "Monday Night Football."
Four days ago, the
Kansas City Chiefs
fired their offensive coordinator, Chan Gailey. The
Tampa Bay Buccaneers
fired Jeff Jagodzinski on Thursday.
"Somebody does it," Fassel said, "and then you might think 'Hell, our offense isn't doing anything either. They did something about it. Why don't we?' Hopefully, that's not a trend."
Dick Jauron replaced Schonert
with quarterbacks coach
Alex Van Pelt
after the first-team offense failed to score a touchdown on any of its 16 preseason possessions.
Third-year quarterback
Trent Edwards
seemed to be wasting his time in exhibitions.
Jauron admitted Thursday night Edwards wasn't prepared
for them.
"I just didn't feel we were progressing, and I didn't get the sense that we were going to move forward," Jauron said.
Unlike the situations in Kansas City or Tampa Bay, the decision to remove Schonert wasn't made by a rookie head coach who wanted to get rid of a coordinator he hadn't worked with before.
Jauron is entering his ninth season as an NFL head coach. When he took over the Bills in 2006, he hired Schonert to be his quarterbacks coach. Jauron elevated him to offensive coordinator last year, giving Jauron plenty of background information to formulate an opinion on Schonert months before training camp.
Then, the day before teams must trim their rosters down to 53 players, the Turk came calling for Schonert:
Bring your playbook. You know, the one you put together for us.
"As head coach, your job is to get your staff right," Fassel said. "That's a major, major, major, major, major blowup."
Like a doctor being asked to explain the diagnosis of someone who's not his patient, Fassel declined to speak specifically about Schonert's dismissal.
But Fassel did offer general opinions about the decision to fire a coordinator so close to the start of a season.
"There's a belief when moves like this happen that the guy walks out of the building with all of their ills and problems," Fassel said. "But when you fire a guy that quick, that means you made a huge mistake of hiring him.
"The biggest thing for a head coach is to get the right guys in the right spots. You have to look at yourself as a coach and say 'I made a bad decision. This one is on me big-time.' That sometimes escapes the story: Wait a minute! Who hired you? Who set this up?
"That's a major faux pas."
Fassel coached the Giants for seven years, guiding them to the playoffs three times and the NFC championship in 2000. He now coaches the United Football League franchise in Las Vegas. His quarterback will be Trent Edwards' former backup,
J.P. Losman
.
Fassel added, however, a dramatic coordinator switch could have positive impact on a team.
"Sometimes it will give you a lift," Fassel said. "At the end of the day, we're only human. It's possible this could get everybody to come together when they were looking for somebody to blame. Sometimes it scares the players, who think 'I might be the next one to go.'
"A move like this has a tendency to wake everybody up, get out the smelling salts and 'Hey, we better wake up here.' "
December, 29, 2008
12/29/08
11:33
AM ET
Posted by ESPN.com's Tim Graham
NEW YORK -- Jets owner Woody Johnson was appalled by his team's performance throughout the course of the season, but said he made up his mind Sunday night he would fire head coach Eric Mangini.
So, Jets fans, feel free to us this forum to share your favorite Mangini memories or lobby for your preferred replacement. Here are a few names to mull:
Bill Cowher
Marty Schottenheimer (father of Jets offensive coordinator Brian Schottenheimer)
Jim Fassel
Brian Billick

Bill Parcells (could be a free agent)
Herm Edwards
Steve Spagnuolo
Josh McDaniels
Mike Mularkey
Rex Ryan

Paul Pasqualoni
Urban Meyer
The Jets finished 9-7 and missed the playoffs despite a splendid showing deep into November, when they had compiled an 8-3 record after consecutive road victories over the New England Patriots and the undefeated Tennessee Titans.
"We just felt we could get a better fit moving forward with someone else at this point," Johnson said at a Monday morning news conference.
But Johnson and general manager Mike Tannenbaum were vague and dodged questions when reporters tried to get specific reasons why Mangini was fired.
Maybe Mangini refused to accept demotion to the cafeteria. We're not sure yet.
Johnson suggested he had decided a change was needed early in the season, but there's no way Mangini's dismissal would be in the cards in November, when they were the fashionable pick to win the AFC and perhaps play an all-New York Super Bowl against the Giants.
Tannenbaum, who made the decision to trade for Brett Favre and cut Chad Pennington, apparently is safe.
"Mike has done a very good job trying to get talent and to fill all positions with talent and backups," Johnson said.
December, 23, 2008
12/23/08
2:34
PM ET
| | |
| --- | --- |
| | |
| | Joel Auerbach and Rich Kane-US PRESSWIRE |
| | While Brett Favre gets the publicity, Miami's Chad Pennington has outperformed his successor in New York this season. |
Posted by ESPN.com's Tim Graham
Four months ago, the New York Jets made their choice. Sixteen weeks later, would they repeat their decision?
Enamored with the chance to add a legendary quarterback to their tricked-out roster, the Jets traded for Brett Favre in training camp. To make room they dumped Chad Pennington, a move that might doom not only the Jets, but also the entire AFC East.
The Miami Dolphins added Pennington right away, a landing pad that probably didn't concern the Jets aside from the two times they would meet him in the regular season.
But that single transaction changed the division's total dynamic. Due in large part to Pennington, the Dolphins are in position to win the AFC East with a victory over the Jets on Sunday in the Meadowlands and could help eliminate the New England Patriots, too.
The Patriots and Buffalo Bills sure would have preferred Josh McCown running the Dolphins' offense.
Funny how Favre's arrival in the Big Apple struck fear in the other three AFC East locker rooms and front offices. Pennington to Miami was an afterthought.
The season didn't unfold according to New York's expectations. While Favre inspired an intrepid mindset and helped the Jets soar to an 8-3 record after consecutive road victories over the Patriots and unbeaten Tennessee Titans, a nosedive has them barely alive in the playoff race.
Pennington, meanwhile, owns the second-highest passer rating in the NFL. He has methodically guided the 10-5 Dolphins into position to make the playoffs after a 1-15 season. All they have to do is beat the Jets.
"I honestly believe this, and it's not a fence-riding situation, but I think both teams are better off with the quarterbacks they have," former New York Giants coach Jim Fassel said. "I don't know that Brett Favre would fit in Miami, and if Chad Pennington was still with the Jets I don't think those two teams would be where they are today."
But in a do-or-die situation, and that essentially is what Sunday will be for both clubs, which quarterback would you trust to come through?
If the players were to show up at the Meadowlands and be told to mingle on the field for a pickup game, would you take Favre or Pennington when choosing up sides?
"Favre's struggling to throw the ball," said Matt Williamson of Scouts Inc. "He's becoming Chad Pennington, but a much worse version because he's still a risk-taker at heart.
"He's a less-accurate, less-intelligent decision-making version of Chad Pennington. All his bad qualities are coming out, and his good qualities aren't there."
But at least two offense-minded Super Bowl coaches, Fassel and Sam Wyche, still lean toward Favre in an all-or-nothing situation.
Wyche, who helped mold a young Joe Montana and led the Cincinnati Bengals to the 1988 AFC championship, is aware of Pennington's fine season. But Wyche remains drawn to Favre's intangibles.
"Brett has been the proven winner over time not only over Pennington but virtually everybody that's played in his era," Wyche said. "If you go into a must-win game and you got both guys on your team, which one do you start? You put the guy with the most experience in a crucial game like this."
Former Pro Bowl quarterback and current ESPN analyst Kordell Stewart paused a while before making his pick, but he also gravitated toward Favre, admittedly because of that inescapable romantic notion of the old veteran coming through.
"There could be some magic in the air," Stewart said. "If I had to choose between the two, from a momentum standpoint it would be easy to say Pennington, but it's hard to go against Brett Favre because of his makeup. I'm going to go with Brett Favre."
Joe Theismann couldn't disagree more. The former league MVP and Super Bowl champion scoffed at the possibility Favre would be the better option Sunday.
Theismann considered it laughable Favre was selected to the Pro Bowl ahead of Pennington.
"Chad should have been in the Pro Bowl," Theismann said. "I think Favre was a sentimental choice. Chad Pennington has done more for the Miami Dolphins and played at a higher level than Brett has for the Jets.
"If Brett plays smart football and doesn't try and force something, he can make more throws. But which Brett are you going to get? I know what I'm going to get with Chad. You need consistency at that position. You need to know your guy is not going make decisions to cost you."
Fassel stressed Jets fans couldn't have expected the same results had Pennington stayed. A change was necessary for all parties.
"What the Jets needed in a quarterback, beyond the numbers, is what Favre provided the minute he walked into that locker room," Fassel said. "He gave that whole team a lift. There had to be a switch made."
Favre's initial bounce has rebounded the other way.
His mistakes have been a colossal problem for the Jets. He leads the NFL with 19 interceptions. He has thrown only two more touchdown passes.
Several factors are playing into Favre's floundering. He never had the foundation of minicamp reps (then again, neither did Pennington) and appears to be hitting a wall whether it's due strictly to being 39 years old, an undisclosed injury, not committing himself to an offseason conditioning program or a combination.
Williamson of Scouts Inc. doesn't like what he sees. Favre's arm strength isn't there anymore, but when it comes time to make a decision on where to throw, his instincts tell the swashbuckling quarterback he still can pull it off.
"He throws from so many goofy angles and off balance, but he still tries to do it," Williamson said. "He's so tough, and there's guys in his face and he's throwing off that back foot, but now the ball just hangs in the air. He used to be able to get away with some of those things. He isn't anymore."
The Elias Sports Bureau found on passes that travel more than 20 yards downfield, Favre has completed 13 of 53 passes for 435 yards, five touchdowns, nine interceptions and a 53.1 passer rating. He had an 85.8 rating on such throws last year.
"He really believes that he can get the ball places that he throws it," Theismann said. "He believes it. Your eyes tell you 'The hole is there.' Your arm says 'I'm going to try,' but it doesn't quite get there."
Theismann and Wyche were in harmony
on one point regarding Favre.
They strongly suggested Jets coach Eric Mangini sit Favre down on Saturday night and break down the turnover situation in no uncertain terms.
"You have a long talk with him about chancy throws," Wyche said. "You say 'Let's get real here, Brett. Turnovers are unforgivable in a game that decides the playoffs. You play smarter than you ever played, and you've played smart a lot of times.'"
In addition to ball security, Theismann noted the Jets can't win unless Favre checks down and makes short, smart passes.
"If I'm in that meeting Saturday night," Theismann said, "I sit down with Brett and say 'Look, man. You've done everything you could for us, but I need you to do one more thing. I need you to be very conscientious of dumping the ball off and throwing underneath.'
"I would almost make him sign an affidavit to show I discussed it with him."
Favre is playing so poorly over the past month, many are predicting this must be his last season.
Over his past four games he has thrown one touchdown pass and six interceptions. His passer ratings for those increasingly meaningful games were 60.9, 60.8, 61.4 and 48.7. If not for a miracle defensive touchdown against the Buffalo Bills two weeks ago, the Jets would have lost every one of them.
"I'm not saying that his career's over, but it sure looks like it is," Williamson said. "Maybe he comes back like gangbusters and something heals that we don't know about and he trains hard over the offseason and looks like the rocket-armed guy we remember.
"But he isn't there now, and he isn't going to be there next week."
Williamson also noted Favre "looks like he doesn't want to get hit that much anymore. It looks like his body hurts."
This wasn't the situation New York envisioned when its mayor practically handed Favre a key to the city before throwing a pass for the Jets, or when Mangini named his newborn son Zach Brett Mangini in homage to the first-ballot Hall of Famer and expectant savior.
"I'm not a Brett Favre fan anymore. I don't believe in him anymore," Williamson said. "But who do I want for one game? He's still hard to bet against because he does have something you can't put on paper. When the chips are down that guy has come through so many times that if they're down by four points with two minutes left, I don't think it would shock anybody if he sucked it up and brought the team back.
"He still has that and he always will, but I don't want him as my quarterback. I want to play against him, not with him."
December, 3, 2008
12/03/08
3:56
PM ET
| | |
| --- | --- |
| | |
| | Luc Leclerc/US Presswire |
| | A Buffalo Bills fan shows support during the second quarter of a preseason game between the Bills and the Pittsburgh Steelers played at the Rogers Centre in Toronto. |
Posted by ESPN.com's Tim Graham
Some of the details are hazy, but Steve Tasker clearly remembers how he felt walking off the frozen Rich Stadium carpet a loser in mid-December 1989.
The woebegone New Orleans Saints, they of the cozy Superdome and flaccid regular-season finishes, were coming to Orchard Park, N.Y., in December for a game against an organization one year away from four straight Super Bowl appearances.
Tasker, the Bills' special-teams missile, admitted he and his boys essentially had chalked up a victory during pregame exercises. We can't call them warm-ups -- not for that time of year in Western New York.
"There was snow on the field in the first half," Tasker said, "and they beat us. I think that had more to do with us expecting the weather to help us than them being good enough to beat us.
"That team came in and thought it was awesome to play a game outside in the snow in Buffalo. We thought 'They're going to fold their tents up and go home and the weather is going to kill them.' They went out and had fun, played their best game and beat us."
The point Tasker was trying to make is that weather conditions don't always favor the home team.
But that the Bills have allowed the Miami Dolphins to circumvent Ralph Wilson Stadium for Sunday's critical AFC East showdown certainly doesn't bother the road team either.
The Bills technically will be the host team when they play the Miami Dolphins in the Rogers Centre, the comfy, climate-controlled venue formerly known as SkyDome.
Dolphins coach Tony Sparano last week called the indoor game "a lucky draw."
The retractable roof will be sealed shut. The inside temperature will allow for golf shirts and loafers. The only breeze will emanate from the air-conditioning ducts.
Who knows what conditions will be like in Orchard Park. The wind almost certainly will be bone-chillingly cold and swirling. There might be snow or rain or a motorist's nightmare combination of the two.
The Dolphins are 7-5 and still have a shot to win the division. They control their own destiny. They're one game behind the first-place New York Jets and will meet them Dec. 28 in the season finale.
Buffalo is also in dire need of a victory. The Bills are mathematically alive at 6-6, but their playoff hopes are dimmer than that closet flashlight you haven't checked in four years.
The Bills have three teams ahead of them in the division standings and two other teams ahead of them in the wild-card race. Bills head coach Dick Jauron might need this game to save his job.
Every edge, no matter how seemingly trifling, is significant. The Bills have forfeited a biggie.
"At the end of the day," said former NFL head coach Jim Fassel, "you tell your players 'The field is 100 yards long, 53 yards wide and the rules are the same and we've got to go win. I don't care if it's at a high school stadium, in Buffalo or somebody's back yard, we've got get ready to play.'
| | |
| --- | --- |
| | |
| | Al Messerschmidt/Getty Images |
| | Bills fans won't need to 'bundle up' for their home game against Miami in Toronto. |
"But if it turns out the Dolphins win this game by less than seven points, if they had played outdoors in Buffalo, Buffalo probably wins the game."
For $78 million, the Bills sold off eight home games through 2012 to Toronto multibillionaire Ted Rogers, who passed away Tuesday morning. Rogers longed to permanently bring the NFL to Toronto. Luring the Bills is supposed to be the initial steps.
The Bills couldn't ignore the cash grab, but in the process they sacrificed a part of what makes them who they are.
Local weather is a huge part of a team's personality. Some warm-weather opponents can't deal with wintry conditions. The Dolphins are 2-7, including losing two playoff games, when they visit Orchard Park in December.
The Bills certainly didn't take advantage of their home field in Sunday's brutal 10-3 loss to the San Francisco 49ers in Ralph Wilson Stadium. Temperature at kickoff was 38 degrees, with 15 mph winds and a wind chill of 29 degrees.
So playing indoors in front of about 50,000 people, many of whom won't even be Bills fans, rather than 70,988 of your hardiest supporters?
"It can't hurt us," defensive end Chris Kelsay told the Globe & Mail in the Bills' locker room. "We aren't winning here."
Sunday's pregame preparations won't be foreign to the Bills. They used a preseason exhibition against the Pittsburgh Steelers as a dry run.
They will ride charter buses up the 90-mile stretch of Queen Elizabeth's Way from Buffalo to Toronto the day before the game. Other than that, their routine will remain quite similar to when they play in Ralph Wilson Stadium.
Despite fears the game wouldn't sell out, at least the Bills won't play in front of empty seats.
Adrian Montgomery, general manager for Rogers Communications and the chief organizer of the Bills in Toronto series, said the event is "down to the bare minimum" in available tickets. There won't be a blackout.
"The place is going to be rammed," Montgomery said. "We've sold out corporate suites. We've gotten great support, particularly in these strange economic times."
That the Dolphins have become competitive after a 1-15 season has helped ticket sales, but Montgomery claimed the crowd won't be bipartisan.
"This will be a Bills crowd," Montgomery said. "I suspect there will be a number of Miami Dolphins fans. I can't estimate how many, but the Bills will have 12 men on the field."
October, 14, 2008
10/14/08
11:11
AM ET
Posted by ESPN.com's Tim Graham
Former New York Giants coach Jim Fassel appeared Tuesday morning on "ESPN First Take" and shared his thoughts on the New England Patriots' quarterback situation.

Cassel
Guest anchor Bonnie Bernstein wondered if Cassel should have been removed from Sunday night's 30-10 loss to the San Diego Chargers and then asked how long the Patriots should keep using him.
"It really always goes back to the same thing: It's the coaches," replied Fassel, who called the game for Westwood One Radio. [Patriots coach Bill] "Belichick and his staff knows 'Is Matt Cassel doing what we're asking him to do, or is he just missing a lot of reads and making a lot of mistakes?'
"None of us know that. I can't even tell you that. All I know is the young man can function and can play quarterback based upon what they're trying to do.
"There was, like, five minutes to go in the third quarter and the Chargers were up 17-3. [The Patriots] were inside the 5, and they couldn't get it in. That would've made it a 17-10 game halfway through the third quarter. They were only one score away from tying the game up.
"So it wasn't like [Cassel] was a complete wash. I did the game. The Patriots didn't play well as a team, and it always comes back to the quarterback, but I think what [Belichick] has to do is stick with him, see what he needs to do to have some help, maybe streamline the packages of the offense.
"But I think they can win with him at quarterback, but he's going to have some up-and-down games, too."
New England's backup quarterback is rookie Kevin O'Connell. Second-year undrafted pro
Matt Gutierrez
is the third-stringer and threw one pass last season.