February, 24, 2011
2/24/11
9:07
AM ET
INDIANAPOLIS -- League sources at the NFL scouting combine tell me the
Miami Dolphins
aren't particularly interested in unattached safety
O.J. Atogwe
, but the
Buffalo Bills
probably will check him out.

Atogwe
Atogwe, released by the
St. Louis Rams
last week because he was due an $8 million roster bonus, could visit One Bills Drive right after the NFL scouting combine. The Bills hosted free-agent strong safety
Bob Sanders
on Tuesday night.
Atogwe already has visited the
Washington Redskins
, where former Rams defensive coordinator Jim Haslett works now. The six-year veteran started 15 games and was a captain for the Rams last season. He recorded three interceptions, two sacks and two forced fumbles.
He made a career-high eight interceptions in 2007. His best all-around campaign was 2008, when he had five interceptions, six forced fumbles and three recoveries.
Buffalo needs safety help because
Donte Whitner
and top backup
George Wilson
are about to become free agents.
Miami boasts a solid defensive unit, but its biggest weakness might be free safety. Strong safety
Yeremiah Bell
has been a asset. But for the past few years the Dolphins have been susceptible to deep plays up the middle. Last season was no different with
Chris Clemons
.
December, 23, 2009
12/23/09
8:11
AM ET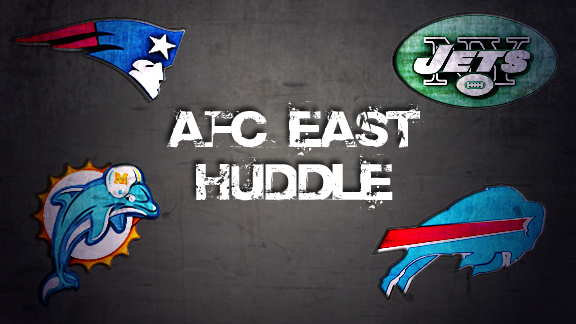 ESPN.com's John Clayton addresses the major issues for every club in the AFC East. Take a look at the names listed in the tags to get an idea of what kind of ground Clayton covers.
November, 27, 2009
11/27/09
9:13
AM ET
CBS Sports analyst Charley Casserly, a former general manager who could return to an NFL front office for 2010, shared his insight about the Buffalo Bills' coaching search on "The NFL Today."
"What the Bills coaches were told is this: Perry Fewell will be given serious consideration for the job. In fact, they were told he has a leg up right now because he's coaching the team. They were also told they were going to look at coaches who are available right now for interviews. One was Mike Shanahan. They interviewed him this past week on Tuesday.
"Also two other names I would look at: One is Jim Haslett, former NFL head coach also presently head coach of the Florida Tuskers, undefeated in the UFL; and head coach Marc Trestman of the Montreal Alouettes, with the top records in the CFL. I think both will get consideration. At the end of the year, one guy I would really look at hard here for them to see is Russ Grimm, the assistant head coach of the Arizona Cardinals.
"My personal opinion, I don't see Mike Shanahan ending up coaching the Buffalo Bills next year. I think what he'll look for is a team that is more playoff-ready, a team closer to being in the playoffs than the Buffalo Bills are right now."
November, 25, 2009
11/25/09
1:30
PM ET
ESPN's Adam Schefter reports the
Buffalo Bills
met with
coaching candidate Mike Shanahan for seven hours
Monday night and Tuesday morning in Denver.
The report suggests Bills chief operating officer Russ Brandon interviewed for Shanahan rather than vice versa.
"We had an excellent meeting," Shanahan told Schefter on Wednesday. "I was really impressed with Russ Brandon and everything he had to say. We're going to stay in touch and see what develops."
The Bills are expected to take their time in making a hire and will interview several more candidates before they find the permanent replacement for Dick Jauron, who was fired last week and replaced with defensive coordinator Perry Fewell on an interim basis.
Almost all of the top-tier candidates have rebuffed the Bills' attempts to talk about the job. Substantive reports have stated Jon Gruden, Bill Cowher and Mike Holmgren have turned them down.
The next wave of candidates might include the likes of Brian Billick, Jim Fassel, Mike Martz and Jim Haslett, but the Bills seem hot for an offensive-minded coach, which could work against Haslett, a former Bills linebacker.
Billick had an 80-64 career record and won a Super Bowl with the
Baltimore Ravens
. Defense was the foundation of those Ravens teams, but Billick is a lifelong offensive coach who had a star quarterback only once in his nine seasons there. Billick won 13 games with
Steve McNair
in 2006.
Fassel went 58-53 as head coach of the
New York Giants
and won an NFC title. Bills fans might note some similarities between their team and the one Fassel took over in 1997. The Giants went 6-10 the year before, but Fassel guided them to a 10-5-1 record and the NFC East championship with Danny Kannel and Dave Brown as his quarterbacks.
Martz coached The Greatest Show on Turf with the
St. Louis Rams
for six seasons. He went 53-32 and won an NFC title. His offense ranked No. 1 in the NFL in 2000 and 2001 with such stars as
Kurt Warner
,
Torry Holt
and Marshall Faulk.
Another offensive-oriented coach who has been mentioned is longtime NFL offensive coordinator Marc Trestman, who has been tearing up the Canadian Football League as head coach of the Montreal Alouettes.
But one major hang-ups the Bills will have is their quarterback situation. They have no obvious starting quarterback on their roster. The organization apparently has given up on
Trent Edwards
, and
Ryan Fitzpatrick
isn't held in high regard. Newly acquired third-stringer
Brian Brohm
is a project.
Many coaches' names will be associated with the opening. Expect some surprises along the way.
November, 18, 2009
11/18/09
3:59
PM ET
Just maybe,
Buffalo Bills
owner Ralph Wilson will make the out-of-character hire his fans have been begging for.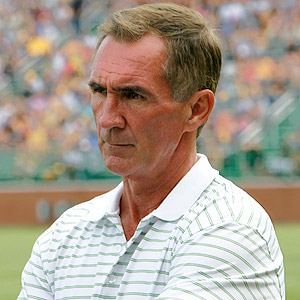 AP Photo/Keith SrakocicMike Shanahan took this season off from football after being fired by the Denver Broncos.
ESPN's Adam Schefter reports the
the Bills have contacted Mike Shanahan
about being their next head coach and are in the process of arranging to meet.
The Bills on Tuesday fired Dick Jauron and named defensive coordinator Perry Fewell the interim coach.
Shanahan won a pair of Super Bowls with the
Denver Broncos
. He had two losing records in his 14 seasons with the Broncos. His career record, including two years with the
Oakland Raiders
, is 146-98.
The Broncos fired Shanahan for finishing 8-8 last year and failing to make the playoffs despite a 4-1 start and being three games above .500 in mid-December. He decided to take a year off to contemplate his options but stayed around the game. He was Bill Belichick's guest at
New England Patriots
training camp this summer.
Shanahan would be an unusual hire for the Bills because Wilson has a history of hiring up-and-comers or retreads who don't command a big salary or organizational control. Shanahan, who would have his pick of most openings for 2010, would expect big money and would insist on being the loudest voice within the organization.
Schefter also mentions former
New Orleans Saints
and
St. Louis Rams
head coach Jim Haslett and former
San Diego Chargers
head coach Kevin Gilbride as possibilities. Haslett played linebacker for the Bills. Gilbride is a former Bills offensive coordinator.
Schefter, a former Broncos beat writer for the Denver Post, co-wrote a book "Think Like a Champion" with Shanahan in 1997.
November, 18, 2009
11/18/09
10:15
AM ET
ESPN.com's John Clayton takes a spin around the AFC East to discuss the Dick Jauron firing,
Ronnie Brown
's injury, the fallout from Bill Belichick's fourth-down decision and a change on the Jets' coaching staff.
November, 17, 2009
11/17/09
6:49
PM ET
Now that the
Buffalo Bills
have fired Dick Jauron, who are the candidates to be their head coach in 2010?
Here are some thoughts on a few potential candidates in no particular order: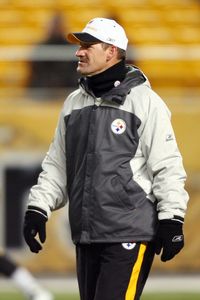 Jason Bridge-US PRESSWIREHiring former Pittsburgh Steelers coach Bill Cowher would be a splashy move for the Bills.
Bill Cowher:
It would take a gigantic change of philosophy for Bills owner Ralph Wilson to sign off on a larger-than-life coach such as Cowher. Wilson's modus operandi has been to pursue coaches who don't command a high salary and don't expect organizational control. Cowher essentially has his choice of any openings and will need to be dazzled by an offer the Bills have no history of making.
Mike Holmgren:
See Cowher.
Mike Shanahan:
See Holmgren.
Jon Gruden:
See Shanahan.
Tony Dungy:
See all of the above. Plus, he seems to enjoy retirement. He had peace of mind in leaving one of the NFL's elite franchises. It would be a colossal stunner if he would consider joining one of the decade's least successful clubs.
Marty Schottenheimer:
The former
Cleveland Browns
,
Kansas City Chiefs
and
San Diego Chargers
head coach has a reputation for getting his teams into the playoffs but not Super Bowls. Bills fans certainly would settle for that. Schottenheimer spent four seasons playing linebacker for Buffalo, winning an AFL championship his rookie year.
Jim Haslett:
Many observers see the former
New Orleans Saints
and
St. Louis Rams
head coach as the perfect choice. Teams often like to go with a coach that has a different personality from the one they just fired. Haslett would be that. He's fiery. He also has a history with Buffalo. He played linebacker for the Bills from 1979 through 1985 and got his start in coaching as an assistant for the University of Buffalo.
Brian Billick:
If the Bills wanted a coach with an offensive background, Billick is available. He was
Baltimore Ravens
coach for nine seasons, winning the Super Bowl in 2000.
Mike Martz:
Similar to Billick, he's an offensive coach with Super Bowl credentials and currently works for the NFL Network. He coached The Greatest Show on Turf with the Rams for six seasons.
Jim Fassel:
Fassel likely would be reasonably priced. He has been eager to get back into the NFL since he was fired as the Ravens' offensive coordinator in 2006. Fassel was head coach of the
New York Giants
from 1997 through 2003, winning one NFC title.
Perry Fewell:
The Bills' defensive coordinator has been named interim head coach. He never has been a head coach at any level, but when clubs look for an interim coach from within, they generally look to the offensive or defensive coordinator. Offensive coordinator Alex Van Pelt was installed 10 days before the regular season and hasn't exactly done a bang-up job.
Bobby April:
Buffalo's assistant head coach and special-teams coordinator would seem to be a candidate based on how highly he's respected around the league. But it doesn't bode well that Wilson bypassed him for Fewell.
Other names to consider:
Todd Bowles (
Miami Dolphins
secondary), Ted Cottrell (former Bills defensive coordinator), Jason Garrett (
Dallas Cowboys
offensive coordinator), Turner Gill (University of Buffalo head coach) Leslie Frazier (
Minnesota Vikings
defensive coordinator), Mike Leach (Texas Tech head coach), Paul Pasqualoni (Dolphins defensive coordinator), Brian Schottenheimer (
New York Jets
offensive coordinator), Marc Trestman (Montreal Alouettes head coach).
February, 22, 2009
2/22/09
12:43
PM ET
Posted by ESPN.com's Tim Graham
INDIANAPOLIS -- When Bill Belichick is feeling wistful, he can turn on NFL Network.
That's where he'll find most of the kicked-to-the-curb coaches he laments are no longer with teams.
Belichick on Sunday conducted an unscheduled news conference in the NFL scouting combine media center at Lucas Oil Stadium, and amid a rambling, 12-minute opening statement he expressed dismay such fixtures as Mike Shanahan, Jon Gruden, Steve Mariucci and Brian Billick weren't there as coaches.
| | |
| --- | --- |
| | |
| | Rich Kane-US PRESSWIRE |
| | Patriots coach Bill Belichick had plenty of praise for former Broncos coach Mike Shanahan. |
Belichick lost offensive coordinator Josh McDaniels, who replaced Shanahan with the Denver Broncos. Belichick's tight ends coach, Pete Mangurian, joined the revamped Tampa Bay Buccaneers staff after they fired Gruden.
Gruden, Billick and Mariucci have been analyzing the combine for NFL Network. Belichick didn't mention former defensive coordinator Romeo Crennel, whom the Cleveland Browns fired and replaced with another Belichick disciple, Eric Mangini.
Without being asked, here is what Belichick broached during his initial filibuster:
"It's been kind of fun to see some of the people here that meant so much to our team and my career over the years. At the same time, I think it's a little -- I don't know what the right word is. It just doesn't seem right, really, to not have people like Mike Shanahan and Jon Gruden, Brian Billick, Steve Mariucci, guys that I've coached against and in some cases not very well, not be head coaches in the National Football League.

"Mike Shanahan certainly is a Hall of Fame coach. I know I gotta be on the list of people that he'll thank [in the induction speech] because all the games that have been scheduled against us he's done pretty well, even when I was an assistant with the New York Jets and the Patriots. I haven't beaten him too many times. I'm not disappointed to not have him on my schedule. Believe me. It's just hard to believe that coaches like Mike Shanahan and Jon Gruden aren't coaching in the National Football League.

"But that's not my decision. That being said, we got plenty of things to do ourselves. I'm not trying to comment on everybody else's situation, but it's just odd for them to be here, but not in a coaching capacity. But that's the National Football League."
During the question-and-answer portion of Belichick's news conference, he was asked what he thought of top assistants such as Mike Martz and Jim Haslett being unemployed:
"I'm glad you followed up with that because I feel the same way I feel about that as I do about the head coaches. Mike Martz, there's another Super Bowl winner. And Jim Haslett, I have a tremendous respect for Jim Haslett and what he's done.
"Again, I can't really speak for what other teams are doing or not doing. Believe me, I have my hands full trying to just coach the team that I'm on. But it's ... You know, as a coach it's just sort of a little bit of an empty feeling to see people like that not in the game.
"As much as I don't want to compete against them, they certainly deserve to be at this level. They're great coaches. Mike Martz has had a tremendous offensive career. So is Jim on the defensive side of the ball as well as being head coaches.
"I don't know. You have to ask the people that do the hiring."
Belichick was asked what he thought of the trend in hiring hotshot assistants rather than recycle veteran coaches:
"Again, I don't know. I'm just trying to coach the Patriots, really. I'm not trying to solve the world's problems."
December, 31, 2008
12/31/08
5:58
PM ET
Posted by ESPN.com's Tim Graham

DAVIE, Fla. -- There already were beaucoup ways to illustrate how far the Miami Dolphins have come in the past year, but I've come across one more I wanted to share.
Dolphins left tackle Jake Long, barring an injury at practice or some other calamity, will become only the fourth No. 1 draft pick in NFL history to start in a playoff game Sunday against the Baltimore Ravens.
But each of the previous three instances had special circumstances.
1978 Earl Campbell, Houston Oilers: They finished 8-6 the year before, but acquired the Tampa Bay Buccaneers' No. 1 selection for tight end Jimmie Giles and four picks (quarterback Doug Williams, guard Brett Moritz, quarterback Chuck Fusina and defensive end Reggie Lewis).
1982 Ken Sims, New England Patriots: In a strike year, they made the bloated playoff field with a 5-4 record.
1991 Russell Maryland, Dallas Cowboys: They finished 7-9 the year before, but acquired the Patriots' No. 1 selection for two draft picks (tackle Pat Harlow and cornerback Jerome Henderson).
That means Long will be the first player taken by the team that finished in last place the year before to start a playoff game in a normal season.
Another bit of trivia underscores how far both teams have come heading in Sunday's matchup.
When Miami's Tony Sparano matches X's and O's with Baltimore's John Harbaugh, it will be only the third time in NFL history two rookie head coaches have squared off in the postseason, significant because coaches rarely step down after their teams reach the playoffs.
The first two times it's happened were 1950, when Paul Brown's Cleveland Browns beat Joe Stydahar's Los Angeles Rams for the NFL championship, and in 2000, when Jim Haslett coached the New Orleans Saints past Mike Martz and the St. Louis Rams.
October, 24, 2008
10/24/08
4:00
PM ET
Posted by ESPN.com's Tim Graham
Buffalo Bills (5-1) at Miami Dolphins (2-4), 1 p.m. ET
Eight weeks into the season, the Bills finally get to play a divisional game, and the matchup is more significant than it might appear.
Buffalo has been the AFC East's most consistent team, but a loss on Sunday would disrupt the lone constant.
The Dolphins have lost two straight, but they proved with back-to-back victories over the New England Patriots and San Diego Chargers that they can compete against anybody.
Sunday's outcome will come down to the run game. The Dolphins are concerned about Marshawn Lynch and Fred Jackson, and it doesn't look like they'll have nose tackle Jason Ferguson, who suffered an oblique injury and barely practiced this week.
Miami's success has been dictated by a run-first-pass-when-convenient philosophy. The Baltimore Ravens eliminated Ronnie Brown and Ricky Williams last Sunday, and the Dolphins simply don't have any gamebreakers in the passing game to compensate.
Kansas City Chiefs (1-5) at New York Jets (3-3), 1 p.m. ET
The Jets desperately need to win. They emerged from their Week 5 bye with the NFL's most enviable upcoming schedule. They kept the Cincinnati Bengals winless and then had games against the Oakland Raiders, Bills (it looked like a potential showdown for first place at the time) and St. Louis Rams.
The Jets fell to the Raiders in overtime and the Rams aren't the same team they were two weeks ago.
If the Jets want to keep pace in the division, they need to handle the Chiefs, who are having trouble at quarterback and running back and in the front office. A loss would drop the Jets below .500 with only nine games to play.
The Jets have been concentrating more on establishing a ground attack behind Thomas Jones in recent weeks, and Sunday should fall in line.
Kansas City ranks 31st in total defense, dead last in rushing defense and 13th in passing defense because opponents don't throw in the second half.
St. Louis Rams (2-4) at New England Patriots (4-2), 1 p.m. ET
Welcome to the Anybody's Guess Bowl presented by Dow Jones.
The Patriots have experienced wild swings. They haven't won or lost consecutive games since Weeks 1 and 2. They have either scored or surrendered at least 30 points their past four games.
While the Rams are pulling themselves together under new coach Jim Haslett, the Patriots are losing players left and right.
In the past week, they've placed running back Laurence Maroney and safety Rodney Harrison on season-ending injured reserve. Running back Sammy Morris probably won't play because he hurt his knee after rolling up 138 yards in the first half of Monday night's victory over the Denver Broncos. Several other injuries dot the roster.
But the Patriots are coming off their most dominant overall game of the season -- most points scored and fewest allowed. They ran for 257 yards and looked equally devastating with Kevin Faulk and BenJarvus Green-Ellis once Morris was out of the game.
The Rams rank 30th in run defense, giving up an average of 5.0 yards per attempt, 161.5 yards a game and 10 juicy touchdowns.