April, 26, 2011
4/26/11
11:02
PM ET
Jim Mandich, a member of the undefeated 1972
Miami Dolphins
and a beloved broadcaster for the club, has died after a long battle with bile-duct cancer. He was 62.
"When you think about Jim Mandich," said teammate Kim Bokamper, "you think Miami Dolphins."
The Dolphins confirmed Mandich's death Tuesday night but didn't have immediate details. He was diagnosed with cancer in early 2010. Chemotherapy had left him gaunt, but he continued to be the unwavering voice of the Dolphins.
[+] Enlarge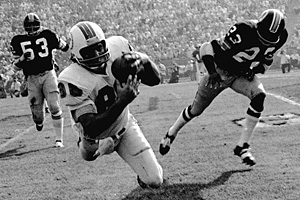 AP PhotoJim Mandich was a Dolphins tight end for eight seasons and accumulated 1,406 yards on 121 receptions. Mandich is shown here during Super Bowl VII in 1973.
He was a homer and unapologetic about it.
Former Dolphins running back Jim Kiick called the news "devastating."
"For the Dolphins organization, this will be very difficult," Kiick said. "Everyone -- former Dolphins all the way to the current players -- knew him as a teammate and a man."
Added Bokamper: "The scope of what he meant to the Dolphins can be measured by the people that respect him. You talk to Don Shula, you talk to Nick Buoniconti, you talk to Jake Scott, you talk to Larry Csonka and each one of those people respected Jim maybe like none other."
Hall of Fame receiver Paul Warfield said Mandich was "a man of character, committed, a loyal friend, a tremendous family man. You could depend on him. This is a loss for Miami."
Mandich was a Dolphins tight end for eight years, winning two Super Bowls. He earned the nickname "Mad Dog" for his recklessness on special teams and aggression going after the ball.
He finished with 121 catches for 1,406 yards and 23 touchdowns at a time when tight ends weren't prolific receiving threats. In 1974, he finished with more receptions and three times as many touchdowns as Warfield, who went to the Pro Bowl that year.
"He was a money player," former Dolphins safety Dick Anderson said. "When you go back to the 1972 season and some of the tight games we had, he made great, leaping catches. Whenever the ball got near him, he caught it."
Mandich set tight end records at the University of Michigan for catches and yardage. He was a Wolverines captain, the team's MVP and an All-American in 1969. He was inducted into Michigan's Athletic Hall of Honor in 1994 and the College Football Hall of Fame in 2004.
Warfield chuckled at the recollection of sharing an adjoining locker stall with Mandich. They had some things in common as fellow Northeast Ohioans who each joined the Dolphins in 1970. But there was a big difference: Warfield was an Ohio State man.
"His blood certainly was maize and blue," Warfield said. "He was one of the building blocks of that program, very instrumental in helping Michigan regain its status as a powerhouse. We often had many discussions and a few wagers."
Mandich also was an influential South Florida businessman in the trucking and construction industries and often mentored those around him.
Bokamper gleaned as much as he could from Mandich over the years, starting in 1976. That was Bokamper's rookie season and Mandich's penultimate with the Dolphins.
Not by complete coincidence, Bokamper also is a successful South Florida broadcaster. His business portfolio has included an Interstate Battery distributorship, a production company, a booking agency and a restaurant chain.
"Jim usually was the first and only guy that I called when I needed business advice," Bokamper said. "I just learned so much from him. There were times in my life he inspired me to figure it out and get it done.
"Jim was always a guy who looked at where he was, what resources were available and how he could maximize those resources. Unlike a lot of people who thought about doing things, he did them."
Even with all that, generations of Dolphins fans knew him as the charismatic voice of their team.
His signature "Awwww right, Miami!" call marked the team's big plays over the years. He also hosted a successful afternoon drive radio show on WQAM in Miami.
"You always knew where he stood," Anderson said. "He never pulled any punches.
"But he always had that winning attitude. He absolutely was a great teammate, a great friend."
Anderson's voice began to crack.
"I'm going to miss him," he said. "A lot of us are."
April, 18, 2010
4/18/10
12:09
PM ET
In case you overlooked it, NFL editor Sheldon Spencer delivered an impressive series in which he assembled the best teams by draft round in NFL history.
The project was considerable, and the results make for a fun read.
A breakdown of AFC East representatives underscores how important a strong draft is to winning championships. All but a handful of those players belonged to a team that was great for a long time.
Five players who made the cut played for the
Miami Dolphins
' undefeated 1972 squad and won multiple Super Bowls.
Seven more played in at least on Super Bowl for the
New England Patriots
, with three joining as free agents.
Three played in four straight Super Bowls for the
Buffalo Bills
.
Before you take a look at the list, check out Spencer's explanation of
how the draft all-stars were selected
.
First round:
Bills defensive end
Bruce Smith
, Patriots defensive end
Richard Seymour
, Chargers linebacker
Junior Seau
(Dolphins, Patriots).
Second round:
Bills running back
Thurman Thomas
(Dolphins), Dolphins center Dwight Stephenson, Dolphins defensive tackle Bob Baumhower.
Third round:
Dolphins running back Mercury Morris, 49ers receiver
Terrell Owens
(Bills), Patriots linebacker
Tedy Bruschi
.
Fourth round:
Bills receiver
Andre Reed
, Patriots cornerback
Asante Samuel
.
Fifth round:
Dolphins running back Jim Kiick, Patriots tight end
Ben Coates
, Dolphins linebacker
Zach Thomas
, Chargers safety
Rodney Harrison
(Patriots).
Sixth round:
Patriots quarterback
Tom Brady
, Jets defensive tackle Joe Klecko, Dolphins defensive end Doug Betters, Ravens outside linebacker
Adalius Thomas
(Patriots).
Seventh round plus:
Dolphins defensive tackle Manny Fernandez, Ravens linebacker
Bart Scott
(Jets).
August, 18, 2008
8/18/08
1:00
PM ET
Posted by ESPN.com's Tim Graham
| | |
| --- | --- |
| | |
| | Andy Lyons/Getty Images |
| | Dan Marino was a rookie All Pro and the youngest quarterback to start a Pro Bowl. |
Readers' pick: Dan Marino, QB
There was no way possible to get this one wrong. Dan Marino is the greatest Dolphin like the Beatles are the greatest band from Liverpool.
Marino finished with the third-highest percentage of any player in our franchise polls. Only by Barry Sanders and John Elway received higher shares.
Take a look at these numbers and then try to justify voting for Bob Griese:
Marino was a first-ballot Hall of Famer who retired as the most prolific passer in NFL history. His records, many since broken by Brett Favre, included most attempts (8,358), completions (4,967), yards (61,361) and touchdowns (420).
Marino was a rookie All Pro and the youngest quarterback to start a Pro Bowl. In his second season, he threw for 5,084 yards and 48 touchdowns. He had six 4,000-yard seasons. He passed for 400 or more yards 13 times and 300 or more yards 63 times, both NFL records. His 37 fourth-quarter comeback drives are second to Elway's 43.
OK, so Griese won a pair of Super Bowls and Marino didn't win any -- the only accomplishment missing from a stellar resume.
Marino never had the runners, never had a Larry Csonka or a Jim Kiick or a Mercury Morris. Year after year, he slung the Dolphins over his shoulder without a complete offense around him.
"The greatest disappointment as a team owner and a Dolphins fan," Dolphins owner Wayne Huizenga said at Marino's retirement announcement in March 2003, "is that you never won a Super Bowl."
That was the only disappointment.