September, 29, 2010
9/29/10
4:46
PM ET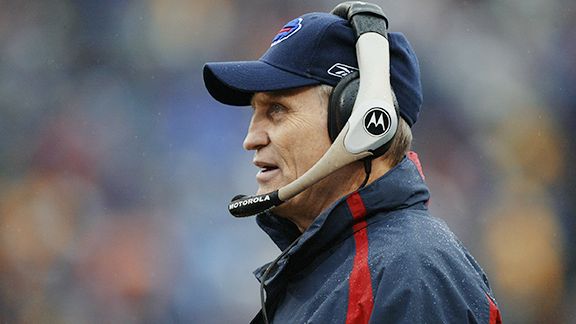 George Gojkovich/Getty ImagesJim McNally coached offensive lines for 28 years -- including four years with the Bills -- but now he's a consultant for the Jets, and he's helping them prepare for Sunday's game against Buffalo.
From his home in Orchard Park, N.Y., not far from Ralph Wilson Stadium, home of the
Buffalo Bills
, the Mouse quietly has been working for the
New York Jets
.
Jim "Mouse" McNally, one of the NFL's most respected assistant coaches, did not completely retire when he left the Bills in 2008. McNally surreptitiously has been helping to coach the Jets' offensive line from 300 miles away.
"Cat's out of the bag now, huh?" Jets offensive line coach Bill Callahan said with a chuckle. "God dang it."
Callahan mixed his metaphor, but there's no mistaking his respect for McNally, who coached NFL offensive lines for 28 years.
Callahan, a respected O-line coach himself, described McNally as being "like a golf pro" in his ability to scrutinize technique subtleties, labeled him "an encyclopedia of line play" and said McNally is "certainly one of the best coaches in modern football."
McNally, 66, technically is considered a Jets consultant. But the players call him "Coach." He breaks down Jets game and practice footage on his computer with
Hudl software, which allows him to download video
and playbook information through a secure Internet connection.
He's helping the Jets prepare for Sunday afternoon against the Bills in his backyard. The game will give McNally rare personal contact with the team he has been monitoring from afar since last summer.
"I look at practice every day," McNally said. "I look at the games. Then I talk to Coach Callahan about what I saw and the game plan and stuff like that."
McNally is in the Greater Buffalo Sports Hall of Fame. He grew up in suburban Kenmore, where he first was tagged "Mouse" in neighborhood pickup games. The nickname stuck when he stopped growing at 5-foot-8.
McNally's tenacity was evident by his compulsion to walk on as an offensive lineman for the University at Buffalo. He eventually played both offense and defense. On the coaching staff was a young Buddy Ryan, father of Jets head coach Rex Ryan. That link and a long relationship with Callahan are why McNally is helping a hometown rival.
McNally attended training camp at SUNY-Cortland last year as a guest. Callahan asked McNally to speak to his linemen. Eventually, McNally was breaking down film.
"I didn't purposely try to work for the Jets," McNally said. "Just my relationship with Callahan -- he's such a great friend of mine. It's something that keeps me busy. I don't do it full time.
"I'm kind of under the radar here in Buffalo. It was a convenient way to stay involved in pro football."
McNally rose to coaching prominence for his innovative methods. He spent 15 seasons with the
Cincinnati Bengals
, mentoring future Hall of Fame left tackle Anthony Munoz and four-time Pro Bowl guard
Max Montoya
. McNally also established his annual coaching clinic there, turning Cincinnati into what Callahan called "the Mecca" for O-line instruction.
McNally worked with the
Carolina Panthers
for four years, the
New York Giants
for five years and the Bills for four years.
"Technique was his greatest strength," said
Ross Tucker
, who started at left guard for McNally with the Bills in 2006. Tucker spent six seasons in the NFL and now is an ESPN analyst. "He had some technique things I never heard of that were effective and helpful."
One of McNally's inventive concepts was the "lazy forearm," an effective way to fend off a double team while keeping separation. Tucker explained it as a violent upward motion that pries a defender's shoulder back.
[+] Enlarge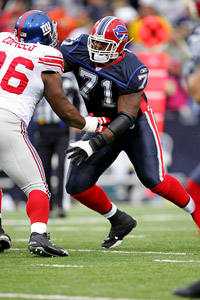 Paul Jasienski/Getty ImagesJason Peters, who came into the league as an undrafted tight end, became a Pro Bowl tackle under McNally's tutelage.
"He was innovative," Tucker said, "and he was creative from an X's and O's standpoint."
McNally's prized pupil in Buffalo was undrafted tight end
Jason Peters
. The Bills converted him to tackle, and McNally turned the raw specimen into a star. Although Peters became a contractual headache and forced the Bills to trade him, he has been selected to the past three Pro Bowls.
McNally was supposed to be on scene for "Hard Knocks" training camp this summer at SUNY-Cortland, but health issues prevented it. He underwent an emergency appendectomy and a serious follow-up surgery and myriad tests that sent him in and out of the hospital in June and July.
He has been getting out a little more now. He has been working with local high school teams such as St. Francis, Canisius and Kenmore West. He works as a fundraiser for his alma mater. He also has a website, where you can locate one of his upcoming clinics, learn about his annual camp and find instructional DVDs at
CoachMcNally.com
.
"I went from doing things all day long to sitting around the house and maybe taking a walk around the neighborhood," McNally said. "I've learned how to calm down a little bit. I don't have to leave the house at 6:30 in the morning. It's given me a perspective of that football life I had of 43 years of 'Go! Go! Go! Go! Go! Go!' "
The Jets are thrilled he hasn't stopped completely. He doesn't need to zoom around the practice field like he did when he wore a whistle around his neck.
A steady bit rate from his telecomm provider will do just fine.
"He's been tremendous for me," Callahan said. "He's a wealth of information and knowledge and experience. That's invaluable in so many ways. You're talking about one of the greatest line coaches of all-time.
"He easily could have faded away, but it's great he's still a part of the game. He has so much to give. He's unselfish that way in terms of sharing information and trying to get players better and coaches better, whether it's working with his youth leagues or the New York Jets."
August, 7, 2009
8/07/09
2:00
PM ET
| | |
| --- | --- |
| | |
| | George Gojkovich/Getty Images |
| | After amassing 200 sacks over a 19-year NFL career, Bruce Smith will enter the Pro Football Hall of Fame on Saturday . |
If the speech Bruce Smith gave the afternoon the Buffalo Bills added his name to their Wall of Fame is any indication, then the legendary defensive end will proclaim his greatness again Saturday night, when he's inducted into the Pro Football Hall of Fame.
Smith hasn't been shy about
declaring himself the greatest
pass-rusher who ever lived.
2009 Hall of Fame Induction Coverage
Saturday in Canton, Ohio, six men will be hailed as the latest members of the Pro Football Hall of Fame. Bruce Smith, Rod Woodson, Ralph Wilson, Randall McDaniel, and posthumous honorees Derrick Thomas and Bob Hayes form the Class of 2009. The ceremonies will air live, beginning at 7 p.m. ET, on ESPN and ESPNHD. Follow ESPN.com's coverage.
" Our future HOF nominees: Story | Podcast


" Chat: Hall of Fame inductee Rod Woodson

" Chat: Hall of Famer Warren Moon

" Wickersham: Wilson valued for impact
" Scouts Inc.: Top 5 CBs in the NFL today

" Walker: Is Rod Woodson the best CB ever?
" Graham: Bruce Smith, Sackmaster
" Blogs: More Hall of Fame coverage
Funny thing is, Smith's temerity is unnecessary. His numbers speak for themselves.
Smith is a first-ballot Hall of Famer. Since the NFL made sacks an official stat in 1982, no other player has amassed more sacks than Smith's 200. He played 19 years, his final four with the Washington Redskins. He recorded double-digit sacks a record 13 seasons. He played in four Super Bowls. He twice was the Associated Press' Defensive Player of the Year. He was a first-team All-Pro eight times, a Pro Bowler 11 times. The NFL selected him for two all-decade teams.
Not a bad career if you're into that kind of stuff.
Smith has had his problems off the field. After two previous drunken-driving arrests that didn't lead to convictions, he was found guilty of it last month in Virginia Beach, an incident that has tempered the Hall of Fame merriment somewhat. Virginia Beach canceled festivities to honor Smith.
But Smith will take center stage in Canton, where he will assume his place among the all-time greats. He's the greatest No. 1 overall draft pick who didn't play quarterback.
And he'd probably tell you so.
Rather than speak to Smith about how remarkable he was, it's more insightful to speak with those who competed with him and against him.
Tony Paige, Virginia Tech teammate and former New York Jets running back:
"When he visited Virginia Tech, I was the guy that hosted him and showed him around the campus. He was one of the top recruits in the country. We played basketball that weekend, and this defensive lineman was dunking. He was 6-4, about 285 pounds coming out of high school, a phenomenal athlete. I think he a ran a 4.6 [in the 40-yard dash]. Any time you get a 6-foot-4, 285-pound man running the court like that, you knew right away this guy was going to be special."
Chris Spielman, former Detroit Lions and Bills linebacker:
"There've been two players in my career that every single week they did something that made me rewind the film 10 times. That would be Barry Sanders and Bruce Smith."
Jim McNally, former NFL offensive line coach and Buffalo native:
"He was so slippery. He could make himself small by dipping and turning and lowering his hips. He didn't stand up and come at you like a lot of guys. He was slithery."
Paige:
"He pushed guys around him because he practiced hard, played hard, studied the game. That's why he's going into the Hall of Fame. He wasn't just a gifted athlete. He always wanted to be better. He had that something on the inside you can't teach, a passion to succeed on every snap."
Jim Ritcher, former Bills left guard:
"When he arrived, he had so much talent. I've never seen a guy so quick off the ball. Recently, I was just showing one of my sons how quick Bruce was. I was showing him film on Bruce. Just as fast as that ball was coming back, that's how fast Bruce was coming off the ball. It was amazing."
Richmond Webb, former Miami Dolphins left tackle:
"He took no plays off. It was going to be 60 minutes of hell."
Steve Tasker, former Bills special-teamer:
"There was no question there were times he was not only the best defensive end, but maybe the best player at any position in the NFL."
Spielman:
"He'd do something that would make you say 'Come on now. Seriously. You're not doing that to an NFL player, are you?' He was something."
Merlin Olsen, Hall of Fame defensive tackle:
"Bruce was very, very quick coming off the line and coming up field far enough to force that offensive tackle to move violently to try to stay with him. Once you get those tackles moving, you have the chance to do all kinds of things with him. Not only did he have incredible quickness, he was so powerful. He could bull rush you if he wanted to. The offensive tackle knew that was possible
, so he couldn't get on his heels."
Ken O'Brien, former Jets quarterback:
"He had everything going on. He was big. He could power a guy. He could head slap him. He could swim move him. He could spin. He did all these things naturally. You have to figure however many sacks he finished with, two-third of those he was double- and triple-teamed."
Ritcher:
"Every day I had to practice against him was an eye-opener. Being able to study Bruce every day, I can imagine it would be a nightmare for other teams. I practiced against him so much. It was an all-day sucker going against Bruce."
O'Brien:
"We always had a guy that would come up with some injury that week."
Tasker:
"He'd get a shot on the quarterback that would cripple a horse."
Ritcher:
"That had to be terrifying for a quarterback, to know that no matter who they had at tackle -- and he could be a great tackle -- Bruce was going to get to you at some point. That had to be pretty terrifying to know, going into the game, this guy on your blind side is coming at you."
O'Brien:
"If you wanted to block him with one guy, there really was no way. He was going to expose that. It took a while for some people to pick up on it, that traditional methods of blocking weren't going to work."
McNally:
"Whoever was facing him the next game was nervous all week. They double-teamed him with guards, with running backs. Back when you could still get away with it, receivers were chipping him."
Tasker:
"We just got beat in a playoff game in Cleveland, the game when Ronnie Harmon dropped the ball. We were in the locker room, sitting there after a shootout, Bernie Kosar versus Jim Kelly, both teams over 30 points and we dropped a touchdown. So the score should have been even higher. He was getting dressed in his suit, kind of all by himself. I was standing near him. Now, we'd been around the block. We'd been the Bickering Bills. There'd been turmoil on the club, the last three or four games being the turning point for our organization. But Bruce said out loud to nobody in particular, 'You know it was the defense that lost it today. We let them score 40 points. That was our fault.' He was bumming out that the defense had done that, not that we dropped a touchdown. I'll never forget that. He took that loss hard. He also took some responsibility on his own shoulders. He knew there was responsibility that went along with being a great player."
Bill Belichick, New England Patriots coach and former New York Giants defensive coordinator:
"You had to game plan for Bruce Smith like you had to game plan for [Lawrence] Taylor. ... He was slick. A lot of times you look at the play and you say, 'OK, it looks like we got him blocked.' And then he gets off it somehow and is pressuring the quarterback. Similar to Taylor, even when they got blocked, they didn't stay blocked."
Olsen:
"In terms of having to set a game plan, he's exactly the same kind of person as Lawrence Taylor. If you didn't account for him, you were going to have trouble."
Tasker:
"I used to chuckle because he'd be in great shape and come into training camp and be injured and not practice. There was nothing wrong with him. He just didn't like training camp. They were built for veteran players and still Bruce would take the first three weeks off. That doesn't mean he wasn't ready."
Ritcher:
"He was named defensive player of the year a number of times, and when he wouldn't show for camp, we'd smile and know that was Bruce going for his money. Your career is so short. Bruce played 19 years, which is incredibly long, but most guys had to get the money while they could get it, and he was at the top of his game."
Spielman:
"He and [head coach] Marv Levy had an understanding. They were a perfect match. Marv had a saying, 'I don't need you to beat the Bills.' Bruce did what he had to do to get ready. He came to play."
Webb:
"You knew when you went to Buffalo you weren't going to hear snap counts. The thing that really stood out was I knew that he had to be one of the favorite players. If the game was tight and they would go to a TV timeout, when they would come back and blow whistle, he would make this quick motion with his hand, and the noise in the stadium was deafening. I was always amazed he could make that one little hand gesture and the crowd was right with him. That's not right."
O'Brien:
"He had a great sense of humor. He and Tony Paige would joke around. Therefore, Bruce Smith and I would joke around on the field. He was funny. I don't know if you're old enough to remember 'The Gong Show.' He used to have a little dance he used to do. He did it the week before and down at the line of scrimmage, he came up to me and said, 'Gene Gene, huh?' "
Tasker:
"We used to laugh at him. He'd say it when he was playing because, man, the guy would back it up. We go into New York on a Monday night. He gets four sacks and a forced fumble and just tears the New York Jets up. In the game, he unveiled this spin move nobody had seen before. I know there were a lot of left tackles watching the game that night and spitting their coffee out. 'What are you supposed to do with that?!' There's no defense for that. You have to expect that move to stop it. It was unbelievable. It was like a pitcher throwing a perfect game and then, all of a sudden, he throws a pitch he's never thrown in the middle of it. It was like Nolan Ryan throwing knuckleballs for strikes."
O'Brien:
"We tried to run some sort of reverse to maybe get him to bite with a pass rush. It was a quarterback's dream, where I get to block him and take him out. The play got stopped while I'm running outside toward him. He started laughing and said, 'Kenny, what are you doing to do? This reverse isn't going to work.' He would tell you about each formation and dissect the play as it went on. I always thought he would make an excellent coach if he ever had the inclination."
Webb:
"Bruce was probably known more as a pass-rusher and not so much against the run, but I think what he did as time went on, he worked on another area of his game. If they said he couldn't do it, he went out and proved them wrong. I liken it to Michael Jordan. When he came into the NBA, it was offense, dunks, blowing people's minds away as an entertainer. Then he started working on his defense and became defensive MVP, and as he became older he worked on that fadeaway shot. Just like Jordan, Bruce was a great athlete and a student of the game."
Spielman:
"I played with Bruce at the tail end of his career. What I remember is how he reshaped his body to go from 300-plus pounds to the point when I played with him in Buffalo and he was about 270. That was amazing, and it probably extended his career to be a dominant player at a much lighter weight."
Jay Fielder, former Dolphins quarterback:
"By the time I was playing it was little more toward the end of Bruce's career with the Redskins. He still was a great player. He wasn't defensive-player-of-the-year material like he was in the early or mid-'90s, but he was a guy you still had to keep an eye on."
Tasker:
"When he said that he's the best defensive end ever in the National Football League, I agree. In the time that we played, and I remember thinking this while we were playing, there were times he was the best player at any position in the league."
August, 26, 2008
8/26/08
12:20
PM ET
Posted by ESPN.com's Tim Graham
There comes a time during a prolonged holdout when resentment begins to fray the bonds of union brotherhood.
At first, teammates root for their disgruntled comrade to stick it to The Man and squeeze as much money out of the front office as possible. Gradually, their support fades as they sweat and bleed together on the practice field, as they bank all those mind-numbing hours of film and playbook study, as they ice their pain.
| | |
| --- | --- |
| | |
| | Paul Jasienski/Getty Images |
| | Jason Peters was to make $3.25 million this season on a five-year contract he signed in July 2006. |
Sentiment in the Buffalo Bills' locker room already has begun to turn away from truant left tackle Jason Peters, who surely deserves more money but is exhausting the patience of those who should be supporting him most.
Peters is a Pro Bowler, but is Buffalo's third-highest-paid offensive lineman. He was to make $3.25 million this season on a five-year contract he signed in July 2006.
Communication between the sides has been so minimal the Bills' front office is merely assuming Peters wants more money. They can't say with 100 percent certainty, but it's a safe bet.
The Tennessee Titans in April signed their left tackle, Michael Roos, to a six-year extension worth $43 million. The Miami Dolphins used the first pick in the draft on left tackle Jake Long. They're paying him $57.75 million over five years, including $30 million in guarantees.
The Bills are hurting at tackle, yet it's abundantly clear they're not about to acquiesce. Owner Ralph Wilson isn't one to back down from a financial fight, especially not one with a player who has three years left on a deal already renegotiated once.
If Wilson yields here, only 23 players might report to Bills camp next year.
The Bills have declared publicly they won't renegotiate with Peters until he reports to the team (they're working out a new deal for receiver Lee Evans, who has been around). They also have made it known to Peters' agent, Eugene Parker, they're not willing to renegotiate 2008, insisting any additional money will be paid next year forward.
Sometimes the only leverage a player has is to hold out, and Peters is pushing it to the hilt.
The players are reconciling with the fact that, barring some dramatic development, Peters won't be showing up soon.
At least two prominent members of Buffalo's offense -- players who preferred to remain unidentified -- now wonder how much Peters will be able to contribute even if he does show up. Peters skipped voluntary workouts, mandatory minicamp and training camp while the Bills were installing new offensive coordinator Turk Schonert's system.
Although the 6-foot-4, 328-pound Peters established himself last year as one of the NFL's elite left tackles, there's a belief the new offense will present enough wrinkles to render him a liability if inserted into the lineup right away.
The longer Peters stays away, the harder it will be to integrate even if he's in great shape. Nobody can attest to his conditioning because he's been spotted less often than J.D. Salinger.