February, 19, 2014
Feb 19
11:01
PM ET
The fallout from the bullying scandal is officially underway in Miami.
The Miami Dolphins fired
offensive line coach Jim Turner and head trainer Kevin O'Neill on Wednesday evening after both were recently cited in the Ted Wells report.
O'Neill witnessed Dolphins players
Richie Incognito
,
John Jerry
and
Mike Pouncey
harass an assistant trainer but failed to report it. Turner failed as an overseer of the offensive line and, at times, was a willing participant. According to the report, Turner bought former Dolphin
Andrew McDonald
a male blowup doll as a joke about his sexuality, even though McDonald wasn't gay.
The Dolphins absolutely made the correct call to fire O'Neill and Turner. This was a good first step for Miami, which must immediately change its sordid locker-room culture.
O'Neill failed to do the right thing by reporting the harassment of his understudy, which could have potentially stopped things before they became huge. Turner was negligent and irresponsible by letting three of his starting offensive linemen run wild. The Wells report explained Miami's offensive line as an "anything goes" group. That must be eradicated.
Turner and O'Neill deserved to be the fall guys due to their level of culpability. But
as I wrote last week
, Miami's bullying scandal overall was a systemic failure by the entire organization.
How did head coach Joe Philbin or former general manager Jeff Ireland not know anything that was going on in their locker room? Why didn't any players step up to put an end to this before it became a major problem and a national media firestorm? The Dolphins are not expected to fire anyone else in leadership positions. But those who remain in Miami certainly have nothing to be proud of following the Wells report.
Miami's bullying scandal will go down as one of the most embarrassing chapters in the franchise's history. By firing Turner and O'Neill the Dolphins proved they are making the necessary changes to begin the healing process.
February, 18, 2014
Feb 18
11:00
AM ET
The
Miami Dolphins
have a lot going on this offseason.
Here is a look at whose stock is rising and falling this week:
Falling
Incognito
1. Richie Incognito, guard:
Incognito's already poor reputation took a bigger hit last week during the release of the Ted Wells report. Incognito harassed teammate
Jonathan Martin
and former teammate
Andrew McDonald
, according to the report. This will not make it easy for Incognito to find a job next season.
2. Jim Turner, offensive line coach:
Outside of Incognito, Turner most likely will be the biggest fall guy in Miami's bullying scandal. Turner was the supervisor responsible for the offensive line, which was described as an "anything goes" group. The Wells report also showed Turner, at times, was a willing participant in the banter, which doesn't look good. I wouldn't be surprised if Turner loses his job soon.
3. Mike Pouncey, center:
The Dolphins will have an interesting decision with Pouncey. Incognito was the ringleader, but Pouncey took part in the harassment. He's also under contract and is one of Miami's top players. Will Pouncey get fined? Suspended? That remains to be seen. But it's doubtful the Dolphins will offer Pouncey a contract extension, despite his quality play on the field.
Rising
1. Dennis Hickey, Dolphins GM:
This has to be exciting times for Miami's first-year general manager. He's running the show for the first time and will be a major part of Miami's plans at the NFL combine. College scouting is Hickey's strength. Therefore, this week's events will be right up his alley. Miami also has plenty of cap room for Hickey to spend in free agency in March.
Grimes
2. Brent Grimes, cornerback:
Grimes put in the work last season and made his second Pro Bowl. Now it's time to cash in. Grimes will be an unrestricted free agent in March and is in line to get a sizable contract extension. The Dolphins also can use the franchise tag on Grimes, which will pay him top dollar for 2014. Grimes wants long-term security, but he will get paid handsomely next season either way.
3. John Benton, assistant offensive line coach:
With Turner most likely on the way out, that may provide an opportunity for a quick promotion for Benton. He joined the team just last month. The Dolphins had an idea of Turner's role in the bullying scandal and hiring Benton, who formerly worked with the
Houston Texans
, may have been a pre-emptive move. Benton will work with a group that struggled mightily in 2013 and could face wholesale changes.
February, 15, 2014
Feb 15
10:00
AM ET
The
Miami Dolphins
have experienced great change this offseason. The team hired a new general manager in Dennis Hickey, a new offensive coordinator in Bill Lazor and will have more than 20 unrestricted and restricted free agents in March.

But there could be more changes coming on Miami's coaching staff. Dolphins offensive line coach Jim Turner's future is now hanging in the balance following the release of
the Ted Wells report
on Friday.
Turner had a reputation in Miami as a no-nonsense coach. There were many suspicions that he could be a potential fall guy in the Dolphins' high-profile bullying scandal involving offensive linemen
Richie Incognito
and
Jonathan Martin
. It turns out the Wells report cited Turner as not only a person who failed to put an end to Miami's poor football culture, but was at times a willing participant.
For starters, the Wells report indicated Turner was aware of some of the harassment involving his offensive linemen toward Martin and failed to do anything about it. He was a key part of
Miami's systemic failure
that I wrote about Friday. But the worst evidence against Turner was his participation in an ongoing joke that another player on the team was gay. Turner bought that player a male blow-up doll for Christmas, according to the Wells report.
That kind of poor leadership by Turner is an example of how his group of offensive linemen led the charge in Miami's screwed up locker-room culture. The Wells report described Turner's group as having a "freewheeling, 'anything goes' atmosphere." That must change immediately in Miami and most likely will cost Turner his job.
The Dolphins recently hired new assistant offensive line coach John Benton from the
Houston Texans
. There is a solid chance Benton will be Turner's replacement in Miami. The Dolphins are expected to make wholesale changes with the offensive line this offseason -- and that probably includes their position coach.
January, 31, 2014
Jan 31
4:48
PM ET
MIAMI -- It's been a week filled with back-and-forth banter between
Miami Dolphins
offensive linemen
Jonathan Martin
and
Richie Incognito
. For starters, Martin did his first interview with NBC Sports since the bullying scandal took place. Then, Incognito's camp went on a barrage to discredit Martin's claims with
statements
and
released text messages
.
Martin
Incognito
Now that the NFL investigation is in the books, both sides are angling in the battle for public perception. The soon-to-be released Ted Wells report
should tell all
. But the blunt truth is there will be no winners in the Martin-Incognito saga when it's all said and done.
At the very least, Incognito is a meathead football player. He's an alpha-male who uses vulgar language, texts and messages to teammates to get his point across. That's his idea of "friendship."
At the very least, Martin is socially awkward and proved he has trouble fitting in an NFL locker room. His willingness to communicate in equally crude ways, as Incognito proved, shows Martin is either weak-minded and gave into the culture or he's downright hypocritical. Neither is good.
The Dolphins, meanwhile, allowed this twisted relationship to fester over a year and a half. Martin claims he
told his position coach
, presumably offensive line coach Jim Turner. But not enough was done from an organizational standpoint to stop the madness. Therefore, no one comes away clean from this high-profile bullying scandal.
It will be hard for both Incognito and Martin
to find jobs
next season -- albeit for different reasons. NFL coaches and general managers will be afraid to take in a player with Incognito's bad-boy reputation. Meanwhile, players in the locker room will have a hard time deciding if Martin is trustworthy and mentally tough enough. Opportunities are fleeting for both parties.
The decisions Martin and Incognito made for more than a year will put a major scar on both players' careers. Based on their actions this week, someone is trying to come out the winner. But winning is not an option for either party.
January, 28, 2014
Jan 28
8:25
PM ET
DAVIE, Fla. -- On the same day the
Miami Dolphins
introduced their new general manager, a major issue from their recent past was brought to light when offensive tackle
Jonathan Martin
did
an interview with
NBC regarding the 2013 bullying scandal.
Martin
Martin, in an interview with Super Bowl-winning coach Tony Dungy, said he felt "trapped" by the locker-room atmosphere in Miami.
"I'm a grown man. I've been in locker rooms," Martin told NBC. "One incident doesn't bother me. It was the persistence.
"I felt trapped, like I didn't have a way to make it right. I thought it was best to remove myself from the situation."
The full interview will be released Wednesday. But here are some early thoughts on Martin's comments and his status with the Dolphins:
Right or wrong, Martin's comments won't help him in Miami, and it could hurt his chances of latching on with another team. According to some Dolphins players I spoke to, their biggest complaint was that Martin walked out on the team. Players felt he could have handled it in a better way than exiting in the middle of the season and sparking a national controversy for the Dolphins. Martin reiterated that it was best to "remove myself from the situation." Now other teams will have questions about Martin's toughness and whether or not he will walk away in the future.
that he doesn't expect either player to be back. It was an honest moment from Ross, despite the fact he tried to recant his statement soon after. Ross knows many of the details in the NFL report, which is expected to come out after the Super Bowl. The quickest way to begin moving on from the bullying scandal is not to have Martin and Incognito around the team in 2014.
Dolphins owner Stephen Ross said Tuesday
With that in mind, Martin remains under contract for two more years. Miami either must trade or release their 2012 second-round pick. Martin's value in the trade market is extremely low due to the bullying scandal and the fact everyone now knows Miami wants to part ways with him. It would be surprising if the Dolphins can get much -- or anything -- in return for Martin. That will be one of the early responsibilities of new Dolphins GM Dennis Hickey.
Overall, the sense I get from the Dolphins is they are confident they will come away from this scandal relatively unscathed. Miami head coach Joe Philbin received several strong endorsements from ownership and is safe. Offensive line coach Jim Turner remains on staff, although the Ted Wells report could impact his status. Miami already got rid of former general manager Jeff Ireland, although for different reasons. Ireland was responsible for drafting Martin in the second round in 2012 and signing Incognito in free agency in 2011.
January, 15, 2014
Jan 15
2:00
PM ET
MIAMI -- Although the hire of new offensive coordinator Bill Lazor gets the
ESPN.com's Dolphins page seal of approval
, the move doesn't come without questions.
Lazor, a former quarterbacks coach of the
Philadelphia Eagles
, will take over Miami's 27th-ranked offense in 2014. Here are several questions Lazor and the Dolphins must answer in the coming days and weeks:
1. Will Lazor bring in new assistants?
Thoughts:
Contractually, head coach Joe Philbin is in charge of hiring and firing his staff. But rest assured Lazor brought up the possibility of bringing his own assistants to Miami before accepting the job. Lazor had some leverage entering his interview with the Dolphins. Part of that leverage may have included bringing in position coaches he's more familiar with, potentially from Philadelphia. Miami offensive line coach Jim Turner should be particularly worried after his unit struggled in 2013.
2. What is Lazor's ability to call plays?
Thoughts:
Here is perhaps the biggest downside to Lazor's hire: He's never called plays in the NFL. To Lazor's credit, he did call plays at the University of Virginia. But calling plays against Bill Belichick next season will be a whole new ballgame. This is a big season coming up for Miami. Philbin is 15-17 in two years and could be fired if he misses the playoffs for three straight years. Lazor needs to be sharp right away calling plays for the offense to flourish.
3. How fast is Lazor's tempo?
Thoughts:
No offense was faster and ran more plays last year than Philadelphia's. Eagles head coach Chip Kelly brought his demanding style of offense to the NFL and was successful enough to win the NFC East division. Lazor is a West Coast coach, but there will be some elements from Kelly's offense in Miami. One most likely will be an increase in tempo. The Dolphins should be a faster offense that better dictates the pace of the game under Lazor in 2014.
December, 29, 2013
12/29/13
7:44
PM ET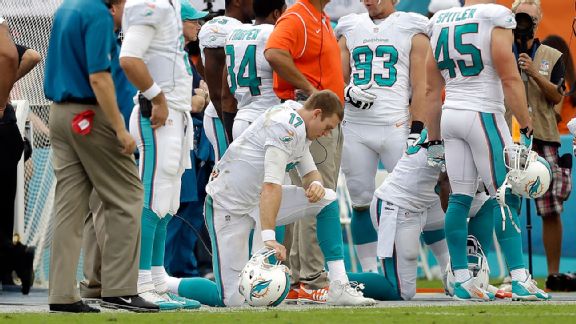 AP Photo/Alan DiazRyan Tannehill and the Dolphins ended the season with two straight losses and out of the playoffs.
MIAMI -- More than 70,000 fans at Sun Life Stadium expected a football celebration Sunday. The
Miami Dolphins
were a win away from their first playoff bid since 2008, and all that stood in their way were the inconsistent
New York Jets
.
Instead, the festive mood eventually changed to heartbreak for Dolphins fans. Miami lost a must-win game, 20-7, to New York to end the Dolphins' playoff hopes. It was the second straight loss and hapless effort to end Miami's season with an 8-8 record.
"I look at this as a losing season," disappointed Dolphins receiver
Mike Wallace
said. "We did too much, we wake up too early [and] work too hard to be 8-8. We have too much talent to be 8-8."
The Dolphins' sudden collapse raises many questions about where they go from here and what changes need to be made in the offseason.
Do the Dolphins get rid of general manager in Jeff Ireland? He put this team together last offseason with more than $100 million in guaranteed contracts.
Is Joe Philbin the right head coach? Philbin is 15-17 in two seasons in Miami.
Do the Dolphins have the right assistants? Particularly offensive coordinator Mike Sherman, who led Miami to only seven points in the final eight quarters of the season?
"It's not my job. That's the coach's job," Dolphins defensive tackle
Jared Odrick
said of evaluating the team's future. "I have to show up every day and work harder, and we all do.
"Something's got to change where we got to get over this hump. Someway, somehow we have to make it work."
Changes could --
and should
-- be coming in Miami. The only question is how many?
[+] Enlarge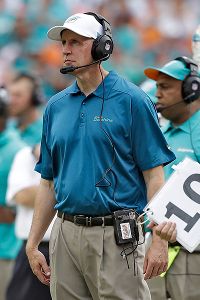 AP Photo/Lynne SladkyJoe Philbin, who is 15-17 in two seasons with Miami, is confident he can reverse the team's fortunes.
Someone will take the fall following the Dolphins' fifth consecutive non-winning season. There certainly will be player changes in the offseason. The Dolphins can start by making upgrades to their offensive line, for example.
Sherman and Dolphins offensive line coach Jim Turner also cannot feel secure about their coaching futures. Miami's offense underperformed all year, and Sherman's play-calling and Turner's position group are the primary reasons.
Philbin and Ireland will be tougher decisions that will go to the top with Dolphins owner Stephen Ross. Many Dolphins fans will want at least one gone, but Ross has gone against the popular decision before.
Expect Ross to look at the entire body of work and not just the final two games.
Miami's 2013 season included many highs and lows. The two lowest points were this two-game losing streak to close out the year and the
Richie Incognito
-
Jonathan Martin
bullying scandal.
"It wasn't dull, I can tell you that," Miami Pro Bowl defensive end
Cameron Wake
said of the season. "But 8-8, that's average. I don't look around this locker room and see average. I see above-average talent. I see exceptional talent."
The most puzzling part of the Dolphins' performances the past two weeks against the Jets and
Buffalo Bills
was the way they lost. Miami was embarrassed in back-to-back weeks against AFC East rivals and was outscored 39-7. The Dolphins looked flat, were ill-prepared and showed little intensity in both meetings.
The Jets and Bills had nothing to play for. But it appeared the roles were reversed in the final two games.
"I really can't explain it. We played two bad games in a row," Dolphins cornerback
Brent Grimes
said. "That's all you can say about it. ... It's just disappointing. We had a chance to go to the playoffs and we messed up. We blew two games and we've got to live with that."
The Dolphins didn't play well in any phase of the game. The offense scored one second-quarter touchdown, and the defense allowed 374 yards, which included 154 yards on the ground.
The Dolphins had a reputation for being a tough and resilient team. But that toughness faded in the past two weeks.
"You've got to take this feeling and let it really brand you here and leave a mark on you inside," Odrick said. "It's got to brand you hard enough to where you don't let it happen again."
Former Dolphins coach and Hall of Famer Don Shula offered a strong endorsement for Philbin before the game. Despite a roller-coaster season and a highly publicized bullying scandal, the Dolphins were in position to make their first playoff appearance since 2008. Philbin received much of the credit.
"I think that he's the right man for the job," Shula said.
Shula's endorsement should carry weight with Ross when he meets with his inner circle to determine the future direction of the Dolphins. However, Philbin wasn't in the mood to discuss the big picture Sunday evening.
"There will be a time and a place to assess the entire season, at the appropriate time," Philbin said.
The time to assess the Dolphins begins Monday. Miami's 2013 season is in the books, and it showed there are some pieces in place, but clearly not enough to be a playoff team.
November, 17, 2013
11/17/13
12:31
PM ET
Miami Dolphins
offensive line coach Jim Turner is on the hot seat for various reasons.
For starters, his offensive line has significantly underperformed on the football field. The Dolphins have allowed the most quarterback sacks (37) in the NFL and the running game is ranked 25th. Miami garnered a franchise-low 2 rushing yards in last week's loss to the previously winless
Tampa Bay Buccaneers
, mostly due to penetration allowed by Turner's struggling offensive line.
But the latest report
from ESPN's Adam Schefter and Chris Mortensen provides more troubling signs for Turner. Schefter and Mortensen report Turner is a "person of interest" in the NFL's investigation of bullying and harassment accusations by right tackle
Jonathan Martin
. Sources said Turner would "insult, bully and pile it on" Martin. Expect the NFL to ask Turner plenty of questions about this when investigators visit the Dolphins' facility.
It's no secret to those around the Dolphins that Turner is tough on his players. He has a military background and is a yeller. That is on full display when practice is open to the media.
A coach screaming at his players is nothing new. But if Turner indeed crossed the line with Martin with bullying tactics, this could have major repercussions for Turner and possibly others on Miami's coaching staff.
Based on performance alone, Turner hasn't done a good job with Miami's offensive line this year. Turner's much-maligned group is easily the weakest area of the team. Add in the fact that Turner might be linked in the
Richie Incognito
-Martin saga, and it certainly puts Turner's future with the Dolphins in question.
November, 6, 2013
11/06/13
9:00
AM ET
The
Miami Dolphins
(4-4) enter the midpoint of their season as a .500 team. There have been plenty of ups and downs in the first eight games.
Here is a look back at Miami's first-half grades:
June, 30, 2010
6/30/10
2:00
PM ET
Notable players:
QB Joe Namath, RB Emerson Boozer, RB Matt Snell, WR Don Maynard, WR George Sauer, G Dave Herman, T Winston Hill, DT John Elliott, DE Gerry Philbin, DE Verlon Biggs, MLB Al Atkinson, CB Johnny Sample, K Jim Turner.
[+] Enlarge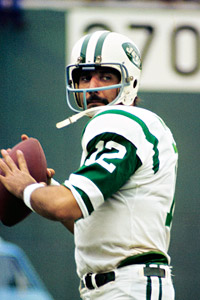 Darryl Norenberg/US PresswireJoe Namath and the Jets stunned the football world by winning Super Bowl III.
Analysis:
To sum up the glory of the season and the agony of being a
New York Jets
fan over the past 40 years, there's only one candidate for the best team in franchise history.
The 1968 Jets are iconic. They transformed the NFL with their landmark 16-7 victory over the Baltimore Colts in Super Bowl III, a result seared more deeply into legend with Joe Namath's renowned guarantee.
Those Jets remain the ultimate "any given Sunday" underdogs. They legitimized the upstart American Football League by knocking off the heavily favored Colts, an NFL institution. You can close your eyes and see the NFL Films clip of Namath wagging his index finger while he trotted toward the Orange Bowl tunnel.
But the Jets were no Buster Douglas fluke. While Namath was the leading man of an offense that averaged 29.9 points a game, the Jets owned the AFL's top-rated defense in yards allowed.
The Colts averaged 28.7 points a game. The fewest points they had scored in a game was 16, but the Jets' defense chased league MVP Earl Morrall from the game and made it easy for running back Matt Snell to hammer out the win.
Most impressive win:
Aside from the Super Bowl, the Jets' biggest victory was avenging their Heidi Game loss to the
Oakland Raiders
. A month and a half later in the AFL title game, the Jets' defense yielded 433 total yards. Still, New York won 27-23.
Broadway No:
The Jets' 1968 season is synonymous with Namath's swagger, but he wasn't always the driving force. Desperate to corral his recklessness, the Jets turned into a running team to the point Namath went 27 quarters without throwing a touchdown pass. Namath threw two more interceptions than he did touchdowns and finished with a 72.1 passer rating, 11th in the NFL.
Honorable mention
1969:
The Jets followed up their championship campaign with a 10-4 record but scored only six points in their first playoff game and lost. They wouldn't have another winning season for a dozen years.
1998:
Two seasons earlier, the Jets went 1-15. Head coach Bill Parcells navigated them to the AFC Championship Game behind the fifth highest-scoring offense and the second-stingiest defense.
1981:
After a 1-3-1 start, the New York Sack Exchange backstopped the Jets to their first playoff berth in 12 seasons. They closed out the regular season with a 7-1 rally.
February, 3, 2009
2/03/09
9:00
AM ET
Posted by ESPN.com's Tim Graham
The latest Pro Football Hall of Fame class was chosen Saturday. It was the 47th election, and for the 46th time, a full-time kicker or punter wasn't in the group.
They simply don't rate.
That's why Rick Sang founded the American Football Kicking Hall of Fame last year.
"The most impacting statement is that in 90 years of pro football, there's only one kicker inducted," Sang said. "You think about that. It's a major void.
| | |
| --- | --- |
| | |
| | Malcolm Emmons-US PRESSWIRE |
| | Jan Stenerud is the only kicker on the Hall of Fame. |
"The American Football Kicking Hall of Fame was about being proactive and not complaining about what the NFL wasn't doing. Their names aren't even coming up. There's so many guys you have to think about 'Who are they?'
"We just don't want them to be forgotten."
While part-time kickers such as Sammy Baugh, George Blanda and Lou Groza are enshrined in Canton, Jan Stenerud is the only pure leg-swinger to be honored.
The Kicking Hall of Fame inducted its second class two weeks ago. Added to the inaugural class of Baugh, Blanda, Groza and Jim Thorpe were Ray Guy, Pete Gogolak and Ben Agajanian.
"You make fun of kickers for not getting their uniforms dirty, or you say 'They don't hardly play.' And then you turn around and induct an owner," said Sang, also the director of ProKicker.com and a member of the Greater Augusta Sports Council in Georgia.
"It's a team sport, and if you're the best at your position and you impacted the game you deserve to be recognized."
Not acknowledging kickers isn't limited to Canton. Three AFC East teams fete their finest -- the Buffalo Bills have a Wall of Fame, the Miami Dolphins have an Honor Roll, the New England constructed the Hall at Patriot Place -- and none salute a kicker.
With Sang's cause in mind, here are the greatest kickers and punters in each AFC East club's history:
November, 26, 2008
11/26/08
4:55
PM ET
| | |
| --- | --- |
| | |
| | US Presswire |
| | Jets running backs Leon Washington and Thomas Jones have combined to score 18 touchdowns this season. |
Posted by ESPN.com's Tim Graham
The New York Jets are on pace to shatter their 40-year-old franchise record for most points scored in a season.
Through 11 games, the Jets have amassed 323 points for an average of 29.4 a game. They are on pace to score 470 points.
"If you're a defensive coordinator, you're scratching your head, saying 'What do I do?' " Jets quarterback Brett Favre said Wednesday.
"We're going to run it until you stop it, but we'll also mix in the quick-passing game, screens and things like that. You can't just commit to the box, you have to commit to the receivers as well."
In 1968, when the Jets won their Super Bowl, they posted 419 points in a 14-game regular season. Their average was 29.9 points a game with Joe Namath slinging the ball around Shea Stadium.
Both teams are remarkably balanced, although this year's version has generated more defensive point production and doesn't rely on its kicker as much.
All but three of the 1968 Jets' touchdowns were scored offensively. Namath accounted for 17 touchdowns, throwing 10 to Don Maynard. Matt Snell led them with six rushing touchdowns, while Emerson Boozer and Bill Mathis had five apiece.
Jim Turner set club records with 34 field goals and 145 points.
This year's edition has scored four defensive touchdowns and one on special teams.
Favre has thrown 20 touchdown passes to six receivers. Thomas Jones has rushed for nine touchdowns. Leon Washington has four rushing touchdowns, two receiving and one on a kick return.
"The key in all of this is the fact that our running game has really dominated, no different than our defense stopping the run," Favre said. "The fact we've been able to run the football at our discretion has made all the difference.
"For any quarterback, if you can run the football the way we're running it, you can dictate to defenses how they have to play you. Do they bring an extra guy in the box? If they do that, then a slant should be there, a go route or a back-shoulder throw."
Kicker Jay Feely won't challenge Turner's records, but he has 91 points.