May, 30, 2013
5/30/13
11:00
AM ET
Former head coach Jimmy Johnson is best known in the NFL for winning back-to-back Super Bowls with the
Dallas Cowboys
. Johnson took a 1-15 team in 1989 and turned it into a multiple Super Bowl winner by the time he left the Cowboys in 1993.

Johnson
But Johnson also has very strong ties in Miami, where he had success both at the collegiate and NFL level. The total body of work
earned Johnson the No. 13 spot
on ESPN.com's list of all-time great coaches.
Johnson's rise to fame among the coaching ranks began during his five very successful years as head coach of the Miami Hurricanes from 1984-88. Johnson's fiery coaching style led the Hurricanes to a national championship in 1987 and a stellar 52-9 overall record at Miami.
After leaving Dallas in 1993, Johnson came out of retirement three years later to lead the Dolphins. Johnson's goal was to get Hall of Fame quarterback
Dan Marino
a Super Bowl ring, but that never materialized.
Johnson had a 36-28 record in Miami and led the Dolphins to the playoffs in three of his four seasons. But Johnson was 2-3 in the postseason with the Dolphins and wasn't able to get over the hump. Johnson retired for the last time after 1999 season, which also happened to be the same time Marino retired. Both had a huge influence on the Miami football landscape in the 1980s and 1990s.
November, 8, 2011
11/08/11
5:05
PM ET
Here are the latest happenings Tuesday evening in the AFC East:
January, 21, 2011
1/21/11
10:50
AM ET
Buffalo Bills
coach Chan Gailey's defensive coaching staff has gotten a lot better.
FoxSports.com senior writer Alex Marvez reports
Dave Wannstedt will join Gailey's staff as assistant head coach
and inside linebackers assistant.
The move is an offseason victory for the Bills, an organization that struggled to attract top free agents because they haven't reached the playoffs in a decade. Wannstedt becomes the biggest name to join the Bills as an assistant coach since future Hall of Famer Dick LeBeau served on Gregg Williams' defensive staff in 2003 or since Sam Wyche was quarterbacks coach under Mike Mularkey in 2004.
It will be interesting to see how big a voice Wannstedt has on defensive game planning.
Gailey retained defensive coordinator George Edwards, who oversaw a slapdash unit that switched from Dick Jauron's 4-3 scheme to a 3-4. By the end of the season, the Bills were running multi-front schemes.
They ranked 24th in total defense, 32nd in run defense and third in pass defense (because opponents ran so much).
The Bills had an opening because Gailey fired inside linebackers coach DeMontie Cross.
Wannstedt agreed with the Bills after drawing interest from several other teams. He was available because he resigned as head coach at the University of Pittsburgh.
He was
Miami Dolphins
head coach from 2000 through 2004, taking them to the playoffs his first two seasons with Gailey as offensive coordinator. Wannstedt led the
Chicago Bears
from 1993 through 1998, reaching the postseason once.
Wannstedt gained notice as a sharp defensive mind under Jimmy Johnson with the Miami Hurricanes and
Dallas Cowboys
. He was Cowboys defensive coordinator in Super Bowl XXVII, holding the Bills to 17 points.
January, 13, 2011
1/13/11
6:03
PM ET
Dave Wannstedt met with the
Buffalo Bills
on Thursday to discuss how he might fit in with their defensive coaching staff.
Head coach Chan Gailey welcomed Wannstedt to One Bills Drive to see what job his old friend would be willing to do. Gailey previously stated his support of defensive coordinator George Edwards.
Wannstedt has been head coach of the
Chicago Bears
and
Miami Dolphins
and recently resigned under pressure as University of Pittsburgh head coach.
He's overqualified for the Bills' only apparent vacancy, inside linebackers assistant. But tack on the title of assistant head coach and the pay that goes along with it, and that might work.
"I think he would be a very good fit, but it remains to be seen if this is something he would like to do or not,"
Gailey said to BuffaloBills.com
. "So he'll have to think about it and see what direction he wants to go."
Gailey was Miami's offensive coordinator for two seasons while Wannstedt was head coach.
Before Wannstedt became a head coach, he was Miami Hurricanes and
Dallas Cowboys
defensive coordinator under Jimmy Johnson, winning a Super Bowl.
"He's extremely knowledgeable," Gailey said of Wannstedt. "He's a great human being, a great team guy, and he would bring some intensity to our team because I know what burns inside of him."
The Bills probably will have to compete with other teams for Wannstedt's services.
ESPN's Adam Schefter
previously reported Wannstedt also was expected to speak
with the
Cleveland Browns
,
San Diego Chargers
and
Carolina Panthers
.
July, 23, 2010
7/23/10
8:45
AM ET
Miami Dolphins
Buffalo Bills
New England Patriots
New York Jets

May, 21, 2010
5/21/10
8:36
AM ET
Time for another installment of "Speed Dial," where I call three people in my Rolodex and get their insight on a particular subject.
Today's question: I reach out to members of the Pro Football Hall of Fame's board of selectors to ask "Is
Zach Thomas
, who retired Thursday as a Miami Dolphin, worthy of enshrinement?"
Ed Bouchette, Pittsburgh Post-Gazette:
"Unless a guy's obvious, like Troy Aikman or Dan Marino or somebody like that, there's a reason you have a five-year period from the time a player retires until he's eligible. It gives us guys a chance to think about whether we want to vote for them or not. But my initial reaction? Zach Thomas just doesn't jump out at me as a Hall of Famer. Now, I'm not saying I won't vote for him. I have five years to think about it. But off the top of my head, he doesn't strike me as a Hall of Famer. But he's a candidate, and I'll look more into his career and talk to other people before I decide."
Dave Goldberg, AOL Fanhouse and formerly of The Associated Press:
"I always have an open mind on these things, but right now I don't think so. My first thought is he is one of those guys in the Hall of Very Good. He was a very good player for a long time, but did he stand out? No. There are so many of these guys, and he's one step away, one level below the Hall of Fame. I remember his first day in training camp with the Dolphins. I was there. Jimmy Johnson loved Zach Thomas from the first day. He was too small and a fifth-round pick, but he was smart and a leader and was quick. But as a Hall of Famer? Not quite. He didn't quite have the impact. I don't remember him dominating games, and that's what I think of when I think of Hall of Famers."
John McClain, Houston Chronicle:
"I've watched him since he was at Texas Tech. When I think of Dick Butkus or Ray Nitschke and Jack Lambert as the greatest inside linebackers in history, then, no, Zach doesn't belong. But I'm willing to listen to any evidence from anybody that can convince me that Zach has Hall of Fame credentials. Right off the bat, my initial thought for Zach going into the Hall of Fame is 'No,' when compared to the other guys, but I've said that before and changed my mind during the five years before he's eligible. I'm open-minded."
April, 29, 2010
4/29/10
8:33
PM ET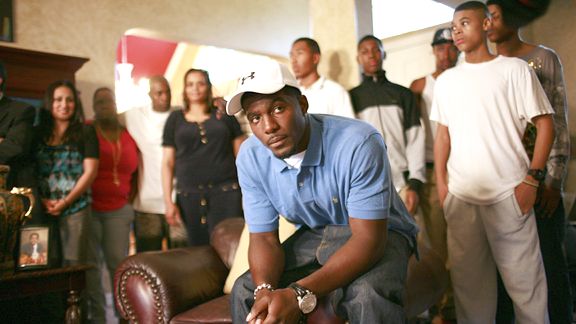 AP Photo/Tom PenningtonJeff Ireland's question to Dez Bryant (above) has stirred debate over NFL interview techniques, but former personnel director Ken Herock thinks teams should be able to ask players whatever they want.
Ken Herock's business is preparing prospects for NFL interviews.
He's not interested in 40-yard dash times or bench press repetitions. His mission is training college kids to make an impression when it's time to shake hands with general managers, scouts and head coaches before the draft.
The former NFL personnel director grooms them to be ready for anything because no subject is off the table -- not even questions about whether your mother is a hooker.
"I don't feel there are any topics off-limits," Herock said Thursday afternoon. "If anybody thinks they're off-limits, put yourself in the eyes of an employer that's going to hire a 21-year-old and pay him $15 million or $20 million."
Herock finds nary a problem with the controversial question
Miami Dolphins
general manager Jeff Ireland posed to Oklahoma State receiver
Dez Bryant
in a pre-draft interview.
Ireland asked if Bryant's mother was a prostitute. She has served 18 months in prison for selling crack and had admitted to abusing PCP, cocaine and marijuana.
"If somebody just comes out and says 'We hear your mom's a prostitute. Can you explain that situation to me?' I don't think there's anything offensive asking that question," Herock said.
Herock has serious credentials on the matter. He played as an AFL tight end for six seasons and has been a personnel executive for the
Oakland Raiders
,
Tampa Bay Buccaneers
,
Atlanta Falcons
and
Green Bay Packers
.
"

What's this big issue about? Big deal. I would want to know those things, and how do you find out unless you ask?

"

-- Former personnel director Ken Herock
For the past nine years
Herock has trained players to make a golden first impression
on NFL personnel evaluators in pre-draft interviews. Herock has worked with more than 600 players. A dozen, including University of Florida quarterback
Tim Tebow
, Boise State cornerback
Kyle Wilson
and Alabama linebacker
Rolando McClain
, were selected in the first round last week.
"I deal with this constantly," Herock said. "I have players whose parents are on drugs, are in jail, abandoned them, kicked them out of the house. I have to make sure my player is prepared to handle that in the right way when they're asked.
"I'm addressing these issues beforehand so they know how to answer every issue that's brought up to them."
Ireland's question to Bryant was revealed
in a Yahoo! Sports column Tuesday. Ireland called Bryant to apologize after the story was published, and the Dolphins released a statement on Ireland's behalf.
On Wednesday, the
NFL Players Association issued a statement
critical of Ireland, Dolphins owner Stephen Ross issued a statement to say
the club would conduct an internal review
and the NFL admonished Ireland's question as crude.
"What's this big issue about? Big deal," Herock said. "I would want to know those things, and how do you find out unless you ask?
"But it sounded offensive, asking that question the way it was asked. Maybe he came on real strong, but before I would ask that question, I would know for sure that she was. I wouldn't go on any hearsay. I don't think it's offensive to ask that if there was truth to it, but before I asked, I would make sure there was validity."
Another former NFL executive doesn't wonder why the question is such a big story. What puzzles him is why pre-draft interviews have gotten to be so consequential in the first place.
"I can never remember us or anybody else turning down a good player based on a bad interview," said Larry Lacewell, the
Dallas Cowboys
scouting director for 13 years.
Lacewell's tenure spanned from Jimmy Johnson to Bill Parcells. Ireland worked as a national scout under Lacewell for four seasons.
"We didn't take a player just because he had a good interview, and we sure as hell didn't turn one down because of a bad interview," Lacewell said. "These kids either come in there nervous and scared or like trained dogs.
"If you had depended on [11-time Pro Bowl offensive lineman]
Larry Allen
for an interview, you might not have hired him as a janitor. I'd love to hear from a team that didn't draft Larry Allen because he couldn't talk."
Bryant was considered the best receiver in this year's draft, but some believed he slid because he interviewed poorly.
As it would turn out, the Dolphins filled their need at receiver by acquiring
Brandon Marshall
from the
Denver Broncos
and traded out of their original draft position at No. 12. The Cowboys drafted Bryant with the 24th overall pick.
"There's a certain way to ask questions, and I think [Ireland] asked with the wrong approach," Herock said. "But I would have prepared my player to answer that question to where it wouldn't be offensive to him.
"They already know about his family. They just want to see how he reacts and how he's going to explain it and how he's going to handle it.
"I don't think that question was out of line."
January, 21, 2010
1/21/10
4:24
PM ET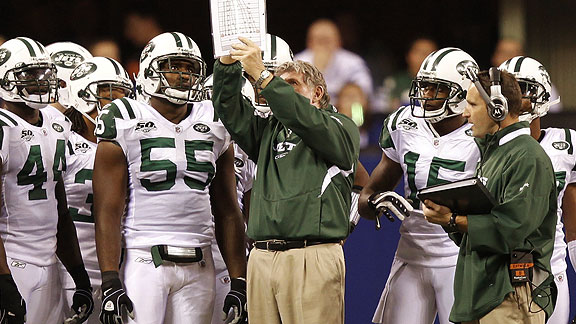 Joe Robbins/Getty ImagesJets special-teams coordinator Mike Westhoff has never reached the Super Bowl in 27 NFL seasons.
FLORHAM PARK, N.J. -- On Saturday night,
New York Jets
special-teams coordinator Mike Westhoff will address his players with a final review of Sunday's game plan for the
Indianapolis Colts
.
He will stress one sentiment in particular: Take nothing for granted.
Westhoff, one of the most respected assistants in the game, has been in the NFL for 27 years with the Baltimore and Indianapolis Colts,
Miami Dolphins
and Jets. He never has been in a Super Bowl.
The Jets are one victory away.
"I've had a relative amount of success as a coach," Westhoff said Thursday at the team's facility, "but that's something I have not had happen."
Westhoff is making his 13th playoff appearance. Yet despite serving under head coaches Don Shula and Jimmy Johnson, and being part of a team that featured
Dan Marino
at quarterback, Sunday will be Westhoff's second conference championship game and his first since 1992.
Marino "went his rookie year and didn't go back," Westhoff said. "He was pretty good. But there's something that was missing, something you don't have."
Westhoff has been to the Super Bowl as a fan, but not since he took his son to watch the
Denver Broncos
defeat the
Atlanta Falcons
in January 1999 at Pro Player Stadium.
He swore off attending another title game unless he was participating.
[+] Enlarge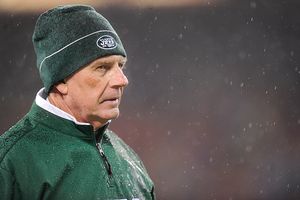 Rob Tringali/Sportschrome/Getty Images"To be in a situation like this and all the years I've had," Mike Westoff said, "to be coming into the final four and walk into that stadium? I love it."
"I knew I would never, never go again," Westhoff said. "It was very frustrating for me for the fact that you start looking at it as a coach instead of as a spectator.
"The best is to be in the middle of it and to come into that stadium at 3 o'clock on Sunday and to see the atmosphere and the feel it and the practices and the meetings.
"I don't want to go unless I'm part of it. I'd give anything to have that opportunity. We have a chance."
Westhoff's units have been amazingly consistent over the years. The Dallas Morning News has compiled an industry-accepted special-teams ranking system since 1990, and only three times have Westhoff's teams finished in the league's lower half.
"We kid with him that he invented the game," Jets head coach Rex Ryan said. "He's seen it all at least 25 times."
All except one very significant thing.
Westhoff, however, claimed his inability to get to a Super Bowl after nearly three decades of coaching in the NFL (he also coached eight college seasons) doesn't gnaw at him.
"Knowing myself as well as I do, I'm sure if I were there and won I'd be looking forward to see what's next," Westhoff said. "I just can't help it. That's the way it is.
"It's just something you keep fighting for, but there are so many factors that come into play to make that happen. You only control a certain amount and you can't let that drive you crazy."
Westhoff also has the perspective that football isn't life or death. In 1988, he was diagnosed with cancer in his left femur, which was destroyed and reconstructed with metal, grafts and cadaver parts. He spent the 2007 season on crutches.
"All you have to do is get one of those wristbands on and be in the waiting room at Sloan-Kettering for an X-ray, and you get a total perspective for things," Westhoff said.
"To be in a situation like this and all the years I've had, to be coming into the final four and walk into that stadium? I love it."
That doesn't mean the Super Bowl isn't massively important to him.
He's confident enough in his players that he already has begun working on game plans for the
Minnesota Vikings
and
New Orleans Saints
.
"I know for sure on Saturday night," Westhoff said, "when I stand up in front of that group that I have, my guys, and Rex is always in there, I'm quite certain that when I start my meetings that there will be no way I'm going to think this is the last time we'll meet."
December, 10, 2009
12/10/09
9:06
PM ET
New York Jets
special teams coach Mike Westhoff was with the
Miami Dolphins
when he scouted a pair of undersized Texas college linebackers who he thought could make an impact in the NFL.
In the past month, Westhoff has had blunt conversations with both players about ending their decorated careers because of injuries.
The Jets on Wednesday put
Larry Izzo
on injured reserve because of a herniated disk in his neck. The
Kansas City Chiefs
released
Zach Thomas
before the season because of repeated concussions.
Izzo and Thomas were overachievers who went on to play in a combined 10 Pro Bowls. Izzo, 35, was undrafted out of Rice. Thomas, 36, was a fifth-round draft choice from Texas Tech.
"I had the same conversation a month or so ago with Zach Thomas," Westhoff said of his sitdown with Izzo. "It was the same kind of conversation. I got those two guys on the same scouting trip. They should send me out more often, or I should do a better job, but that was pretty good.
"Sometimes you get certain types of injuries and it's enough. You have to pull the plug. Whether that's what this will mean for Larry, I don't know that. That's not my point, but it certainly could [be a career-ending injury] because you just can't continue. How far can you go?"
Izzo, whose career has been based on wicked collisions, had been experiencing what he thought were stingers in his right side, but learned the condition was much more serious than that.
"It's a tough thing," Westhoff said. "All of a sudden you have to rebuild some areas of your neck."
Regarding whether Izzo will play again, Westhoff said that even with surgery he "would have to probably guess that that might be a long shot."
Westhoff reminisced about how Dolphins head coach Jimmy Johnson signed off on adding Izzo to the team in 1996.
"Nobody knew who he was," Westhoff said. "I went down to Houston and talked to those people [at Rice]. Before I went there, the Canadian League wouldn't work him out, and the Arena [League] said no. His college coach told me that he was the best defensive player he ever had. Before [the coach] was at Rice, he was at Arkansas and Clemson. He said 'Now there is a certain role that he has to have. He can't do everything, but in a certain role, he's really good.'
"We took a chance. It was easy for us. Jimmy Johnson was a Southwest Conference guy himself. He liked that. We always kept a number of special-teams guys. That's all they did. That was Jimmy's philosophy. He didn't care if you could even line up anywhere else. He was going to have those guys. We had them. That was a lot of fun coaching."
November, 23, 2009
11/23/09
10:28
AM ET
The moment didn't occur in an NFL game, but it involved one of the most recognizable players in Buffalo Bills and New England Patriots history. Doug Flutie sits down with Brent Musburger to relive one of college football's legendary plays: the Hail Mary touchdown pass in Miami that won Flutie the Heisman Trophy.
The interview is presented in two parts, with
more reminiscing from Flutie here
.
November, 6, 2009
11/06/09
9:58
PM ET
Posted by ESPN.com's Tim Graham
Yahoo! Sports columnist Jason Cole recently stopped by Gillette Stadium for a few minutes in
New England Patriots
coach Bill Belichick's office. Cole came away with a
compelling Q&A interview with Belichick
that was posted Friday.
Belichick discussed a lot of topics, from the
Richard Seymour
trade to the two most important quarterback traits to how he handles watching his kids play sports.
But the exchange I found most interesting was Belichick's response to a question about why there are so many substandard teams in the NFL these days. Here is that exchange, but I highly recommend you read the whole interview:
Cole:
Why are there so many bad teams around the league this year?
Belichick:
Here's the only thing I'll say: I think to have a really good team in this league, you have to make a lot, a lot of good decisions. You have to have a lot of good people, players, coaches, whatever. You need a lot of those Conversely, to not be competitive, you would have to have a lot of bad decisions. One bad decision is not going to do it, one bad player is not going to do it, one bad coach is not going to do it. You're going to have to collectively, over a cumulative period of time, make a long series of bad decisions and accumulate a lot of players who are substandard for their position. There have to be a multitude of things that go wrong.
Cole:
Because you can keep yourself average for a long time?
Belichick:
That's the system. If you don't have good players, you have money to spend on players. If you have a bunch of good players, you eventually run out of money and you can't keep them all and somebody else gets them. That's the system, it keeps everybody average. We've seen teams be really good just on coaching. We've seen teams be competitive with just a few good players.
Cole:
Jimmy Johnson once said, if you don't take too many risks, you can win nine or 10 games a year.
Belichick:
Jimmy probably said the same thing to you that he once said to me: "You're really only competing with about 10 teams a year. If you just say out of the way, the other 20 teams will screw it up themselves. Whether it's ownership or personnel or coaching or some combination of factors." Ego, internal struggle, something will happen to two-thirds of the teams, that was Jimmy's theory. That leaves you with about 10 teams that you're going to have to really battle with. Those teams have it together. They're going to make good decisions and if you play bad football, they're going to take advantage of it. They're going to find some undrafted guy or some middle-round pick or some veteran free agent who is going to spark their team.
Pittsburgh is always going to be there. Indianapolis is always going to be there. They may not win it, but they'll be there. You're going to have to beat them. Philadelphia is going to be there. Yeah, [quarterback Donovan] McNabb might get hurt one year and they might go 7-9, but they're going to be there. You're still battling them on every front.
September, 21, 2008
9/21/08
11:26
AM ET
Posted by ESPN.com's Tim Graham
If the Miami Dolphins lose this afternoon in Gillette Stadium, then they will fall one game below .500 in the post-Don Shula era. It will be the first time that has happened since they finished the 1996 season -- the first without Shula in 26 years -- with a victory for an 8-8 record.
The Dolphins then enjoyed seven straight winning seasons under Jimmy Johnson and Dave Wannstedt.
The Dolphins have lost 20 of their past 21 games. Their 0-2 start makes them 97-97 since Shula retired. Another ugly season appears to be in store, so pulling back above .500 any time soon looks difficult.
They were 26 games over .500 post-Shula heading into 2004.