AFC East:

Joe DeLamielleure
February, 7, 2011
2/07/11
11:13
AM ET
New York Jets
Buffalo Bills
Miami Dolphins
New England Patriots

August, 26, 2010
8/26/10
11:04
AM ET
By
ESPN.com staff
| ESPN.com
Pro Football Hall of Famer Joe DeLamielleure

discusses what happened to players' salaries when the NFL moved to a 16-game schedule and pensions that haven't been paid. DeLamielleure says modern players have it much easier than he did.
May, 3, 2010
5/03/10
9:05
AM ET
Miami Dolphins
Buffalo Bills
New England Patriots
New York Jets
April, 10, 2010
4/10/10
1:33
PM ET
I have a few problems with the NFL's attempt to determine the
75 most valuable draft picks of all-time
.
The project was created to celebrate the 75th draft, which will begin April 22. Fans can vote through April 18.
On Thursday, the NFL provided a rundown of the
20 who've received the most votes so far
. The list indicated a popularity contest, not an actual consideration for draft value. One player among the list of 20,
New England Patriots
quarterback
Tom Brady
, was taken later than 82nd overall.
Not in the top 20? Pro Football Hall of Famers Deacon Jones, Roger Staubach, Ken Houston or Rayfield Wright, who were selected in the 14th, 10th, ninth and seventh rounds.
Also absent were former league MVPs Mark Moseley (14th round), Brian Sipe (13th round), Larry Brown (ninth round) and Terrell Davis (sixth round). Six-time Pro Bowler L.C. Greenwood (10th round), five-time Pro Bowler Tom Nalen (seventh round) and Bo Jackson (seventh round) weren't there either.
So I set out to post my own list on the blog.
I didn't get far.
Soon after I began sketching out my list, I noticed the ballot doesn't offer Wright as an option to begin with.
NFL.com set up the project by creating the pool
, 10 players from each team. Wright didn't make the cut. Another omission was Steve Largent, a fourth-round selection who retired as the all-time receptions leader.
The Houston Oilers drafted Largent. The Oilers/Tennessee Titans' list did, however, include Derrick Mason. And for those who might think Largent shouldn't qualify because he didn't play for the Oilers, know that kicker Gary Anderson is listed for the Buffalo Bills, tackle Leon Gray for the Miami Dolphins and punter Craig Hentrich for the New York Jets.
I gave up on the endeavor, but needed to expunge that draft-ranking jones from my system.
Thankfully,
I found an outlet at BuffaloBills.com
. It's running a satisfactory all-time draft poll that instructs visitors to "Select the 10 players you feel provided the team with the most value." So Anderson isn't an option.
Here's my Bills list:
1. Thurman Thomas, second round
2. Andre Reed, fourth round
3. Bruce Smith, first round
4. Jim Kelly, first round
5. O.J. Simpson, first round
6. George Saimes, sixth round (AFL)
7. Tom Sestak, 17th round (AFL)
8. Howard Ballard, 11th round
9. Darryl Talley, second round
10. Joe Ferguson, third round
Now I feel better.
The Bills' official list will be revealed April 22 at a season-ticket holder draft party.
March, 12, 2010
3/12/10
1:50
PM ET
To mark the NFL's 75th draft next month, the league has launched a neat venture to sort out the 75 greatest draft picks and
determine the all-time most valuable selection
.
NFL.com editors narrowed each team's list of candidates down to the top 10, which seems a little unfair to the organizations steeped in history. The Dallas Cowboys' 20th most impressive pick is more deserving than the Houston Texans' sixth.
[+] Enlarge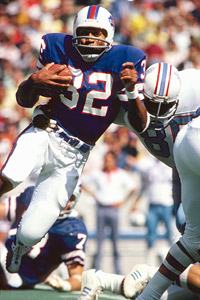 Malcolm Emmons/US PresswireO.J. Simpson is one of the best selections the Bills ever made.
I disagree with the decision to include players who didn't suit up for the teams that drafted them. For instance, tackle Leon Gray is listed for the Dolphins, kicker Gary Anderson for the Bills and punter Craig Hentrich for the Jets.
How can they be considered great draft picks if the teams that evaluated them declined to include them on their final rosters? Sounds to me like they were accidental draft picks more than savvy selections.
But if that's how they're going to do it, then I'd like to see Gary Fencik, a 10th-round pick in 1976, listed under the Dolphins.
Anyway, each team has 10 candidates fans can choose from when voting through April 18 at NFL.com. Parts of the list will be revealed on NFL.com and the NFL Network beginning April 19. The top 10 will be saved for the draft telecast.
The AFC East candidates, in alphabetical order:
Buffalo Bills:
Gary Anderson (seventh round, 1982); Ruben Brown (first round, 1995); Joe DeLamielleure (first round, 1973); Jim Kelly (first round, 1983); Reggie McKenzie (second round, 1972); Andre Reed (fourth round, 1985); O.J. Simpson (first round, 1969); Fred Smerlas (second round, 1979); Bruce Smith (first round, 1985); Thurman Thomas (second round, 1988).
Miami Dolphins:
Dick Anderson (third round, 1968); Larry Csonka (first round, 1968); Leon Gray (third round, 1973); Bob Griese (first round, 1967); Sam Madison (second round, 1997); Dan Marino (first round, 1983); Jake Scott (seventh round, 1970); Dwight Stephenson (second round, 1980); Jason Taylor (third round, 1997); Zach Thomas (fifth round, 1996).
New England Patriots:
Tom Brady (sixth round, 2000); Nick Buoniconti (13th round, 1962); John Hannah (first round, 1973); Mike Haynes (first round 1976); Lee Roy Jordan (second round, 1963); Ty Law (first round, 1995); Curtis Martin (third round, 1995); Lawyer Milloy (second round, 1996); Richard Seymour (first round, 2001); Andre Tippett (second round, 1982).
New York Jets:
Joe Fields (14th round, 1975); Mark Gastineau (1979); Craig Hentrich (eighth round, 2000); Keyshawn Johnson (first round, 1996); Joe Klecko (sixth round, 1977); Mo Lewis (third round, 1991); Joe Namath (first round, 1965); Marvin Powell (first round, 1977); John Riggins (first round, 1971); Wesley Walker (second round, 1977).
August, 5, 2009
8/05/09
3:25
PM ET
Posted by ESPN.com's Tim Graham
Two more Buffalo Bills will enter the Pro Football Hall of Fame this weekend.
Defensive end Bruce Smith and owner Ralph Wilson will join an honor roll that already includes Jim Kelly, Thurman Thomas, James Lofton, O.J. Simpson, Joe DeLamielleure, Billy Shaw and Marv Levy.
There has been plenty of debate about a couple of other Bills -- Andre Reed and Steve Tasker -- who might deserve inclusion.
Pod Vader (I can't believe I just typed that) asserts another name should be considered: Doug Flutie.
That's right, Bills fans. One of the most polarizing players in team history was discussed for a bust in Canton, Ohio, on ESPN's "Football Today" podcast

Wednesday.
Pod Vader explains his nomination by stating it's called the Pro Football Hall of Fame, and Flutie's gaudy USFL and CFL numbers should be considered. And then there was Flutie's dropkick for the New England Patriots.
Podcast host Jeremy Green had fellow Scouts Inc. analyst Matt Williamson and NFC South blogger Pat Yasinskas propose nominees for future Hall of Fame classes. Other names broached: Cris Carter, Dermontti Dawson and Rickey Jackson.
May, 24, 2009
5/24/09
8:40
AM ET
Posted by ESPN.com's Tim Graham
While Jim Kelly has aspirations of putting together a group that will buy the Buffalo Bills someday from Ralph Wilson's estate, he doesn't own the team yet.
Kelly won't make the call whether head coach Dick Jauron will stay or go. But after three straight 7-9 seasons under Jauron and no playoffs for nine years running, Kelly sees this as a make-or-break year for the Bills' coaching staff.
Kelly was a guest Friday morning on "The Opening Drive," a Sirius NFL Radio show hosted by Randy Cross. It was Kelly's turn to appear on a series of interviews called "Countdown to Canton," in which Pro Football Hall of Famers share their thoughts at 10 a.m. each Friday.
The best exchange came when Cross asked Kelly who will have the bigger adjustment period to get used to each other: new receiver Terrell Owens or Bills fans.
"I don't know. I guess it's a little premature to answer that one, but T.O. for sure when it starts to get really cold. But you know what? People talk about how he loves to talk and everything. People say he might be a disturbance in the locker room. You know what I say? I hope he is. We haven't had anything in the locker room. When you walk into a locker room on Monday and you don't know whether your team won or lost, something's got to change.

"The good thing about this year is, with not only T.O. getting a one-year contract, but the whole Buffalo Bills coaching staff got a one-year contract [Jauron actually received a three-year extension]. ... I love Dick Jauron to death, and I like some of the guys that are over there, and hopefully they get that thing turned around and they take this team to the playoffs because I guarantee Mr. Wilson is not going to settle for anything but making the playoffs this year.

"The pressure's on. The pressure's on Dick. The pressure's on Turk Schonert, the offensive coordinator. They got the people that they need. They got some receivers. They got a couple of good running backs. That good, solid offensive line, I think, should jell this year.

"So they have no excuses. It's time to show up, or just pack your bags, and there's going to be a lot of changes."
Sirius NFL Radio maintains and archive of "Countdown to Canton" interviews, including Bills legends Marv Levy, Thurman Thomas, Joe DeLamielleure and Billy Shaw.
February, 16, 2009
2/16/09
9:00
AM ET
Posted by ESPN.com's Tim Graham
After two weeks of polling, all the ballots have been counted to determine your picks for the Mount Rushmore of each AFC East team.
To play off ESPN's quest to determine the best sports Mount Rushmore from the 50 states, Washington, D.C., and Puerto Rico, I asked for your thoughts on the four legends who best symbolize the Buffalo Bills, Miami Dolphins, New England Patriots and New York Jets.
Readers mentioned 13 Bills, the fewest among the four teams, but the final foursome was clear cut.
They are quarterback Jim Kelly, defensive end Bruce Smith, running back O.J. Simpson and head coach Marv Levy.
That Rushmore includes four Hall of Famers and matches the one I suggested. Running back Thurman Thomas was the closest to breaking into the monument, receiving one fewer vote than Levy.
Here is how the top-10 voting broke down:
Jim Kelly
Bruce Smith
Marv Levy
O.J. Simpson
Thurman Thomas
Ralph Wilson
Jack Kemp
Bill Polian
Joe DeLamielleure
Billy Shaw
And a few comments from those who voted:
Stein in Canandaigua, N.Y., writes: My Bills Mount Rushmore 1) Jimbo- Quite possibly the most popular Bill ever. He was the face of the franchise during his playing days, and may be once again if he has a hand in keeping the Bills in Buffalo. 2)Ralphie- You've got to give credit to the man who gave Buffalo the Bills, and who allowed us to keeep them. 3)Marv- The greatest coach in the team's history. Because of Marv the Bills franchise had the highest winning percentage of the 90's (im pretty sure. TG?) 4) BRUUUUUUUUUCE- Though Bruce may not have been the most popular Bill, he is the only player on the Bills that can be considered the greatest of all time at his position. Honorable Mention to the Juice- Clearly one of the greatest Bills of all time, but obviously can never make it to Mount Rushmore
Jay in Naples, Fla., writes: Bills fans were called out, so I am offering my Bills Mount Rushmore. Billy Shaw (G 60's), Joe DeLamielleure (G 70's), Jim Kelly(QB 90's), and Bruce Smith (DE 90's). I think Bills fans are hard pressed to create this list because those teams in the 90's are so much about team and not individual players. How do you include Kelly and not Thurman Thomas or Andre Reed? How do you include Bruce and not Darryl Talley? Also, Marv Levy is as deserving as any player. In the end I made my choices based on the blue collar work ethic of the city of Buffalo and its rich football history. AFL great Shaw, DeLamielleure part of the great Electric Company O-line, Kelly and Smith as representitives of both sides of the ball on one of the greatest teams ever assembled.
elway79798 writes: Well, Doug Flutie would be on the mt. rushmore, but Wade Phillips would sneak up in the middle of the night, and change the carving into Rob Johnson.
October, 4, 2008
10/04/08
6:23
PM ET
Posted by ESPN.com's Tim Graham
After observing his teammate, fellow Hall of Famer and former friend stand two dramatic criminal trials, Joe DeLamielleure still is trying to figure out how the legal process works.
"You'd expect different verdicts in both cases, right?" DeLamielleure said from his home in North Carolina. "The general public would. I would."
DeLamielleure was speaking of O.J. Simpson, who late Friday night was found guilty of robbing two memorabilia dealers at gunpoint in Las Vegas. Simpson was convicted on all 12 counts he faced, including kidnapping and armed robbery. Legal experts predict he'll spend the rest of his life in prison.
The verdicts came down 13 years to the day Simpson was acquitted of killing ex-wife Nicole Brown Simpson and her companion, Ron Goldman.
"In the first case he was treated differently than somebody who was charged with murder because he was a celebrity," DeLamielleure said. "You wouldn't think it would be kidnapping and armed robbery and all that from a memorabilia dispute.
"But the justice system has a way of working things out sometimes."
I asked DeLamielleure if he thought Simpson committed the 1995 murders.
"I'm not going to say," DeLamielleure said. "So that's an answer right there if I'm not going to say. We really handled this delicately, all the teammates and the Buffalo organization and everything.
"It's a tragedy because people actually lost their lives in this whole mess. Somebody going to jail for this or that, that's the way it is. But the pain that this whole situation caused is sad. My heart's always gone out to the Goldman and the Brown families. They lost members of their family. And O.J.'s children lost their mother."
DeLamielleure played on the Buffalo Bills' celebrated Electric Company offensive line. When Simpson ran for 2,003 yards in 1973, many of them were gained with DeLamielleure pulling out in front of him.
"He was like Muhammad Ali and Willie Mays," DeLamielleure said. "Everybody knew him. What's really amazing is a lot of kids don't know O.J. Simpson was a great football player. They just think he was a guy who played football.
"That's how fleeting fame is. O.J., claimed that he said this, but Fred Shero, the great Philadelphia Flyers coach, said 'Fame is a vapor.' It disappears quickly."
DeLamielleure on Saturday already had been on the phone with left guard Reggie McKenzie, Simpson's best friend from their Bills days. While DeLamielleure and I were on the phone, former Bills quarterback Joe Ferguson beeped in to discuss Simpson's conviction.
"That's not the guy we knew as a player," DeLamielleure said. "He was a good guy. He really was. He was good teammate, and he worked his butt off.
"What happened after football, who knows?"
August, 21, 2008
8/21/08
12:25
PM ET
Posted by ESPN.com's Tim Graham
Joe DeLamielleure received a text message before daybreak this morning. The note jarred him, confused him. He thought it was a bad joke.
His longtime nemesis, Gene Upshaw, had died of pancreatic cancer. Upshaw was 63.
"It just doesn't seem possible," DeLamielleure told ESPN.com. "Gene always took care of himself. He was the guy who looked like he could still play. He was always in the news and he looked like a young guy. He was powerful."
DeLamielleure just saw Upshaw at the Pro Football Hall of Fame inductions in Canton, Ohio. Some of the members whispered about how much weight Upshaw had lost, but nobody knew he was gravely ill.
"Gene was one of those guys who was bigger than life," DeLamielleure said. "Certain people come into this world ... He was captain of the Raiders, one of the greatest players to play."
DeLamielleure and Upshaw engaged in furious exchanges over how Upshaw, as the longtime executive director of the NFL Players Association, allegedly catered to active players and shunned so many retirees desperate for financial and medical help.
Their vitriol made headlines in recent years, but DeLamielleure this morning was contemplative about Upshaw's passing.
"All the things I disagreed with, that's not really important today," DeLamielleure said. "You mourn the loss. We lost a Hall of Fame brother, too.
"Everybody's reaction is the same. All the guys who were complaining about the situation of the older players, they're shocked, and our sympathy goes to Gene's family. It's one thing to disagree with somebody professionally. I just feel terribly for his family."
The feud between the rugged offensive linemen escalated in June 2007, when Upshaw made a ferocious threat DeLamielleure took seriously.
"A guy like DeLamielleure says the things he said about me, you think I'm going to invite him to dinner?" Upshaw told the Philadelphia Daily News. "No. I'm going to break his ... damn neck."
"He was a tough guy," said DeLamielleure, who blocked on O.J. Simpson's famed "Electric Company" line. "We had a lot of the same characteristics, I think. We butted horns. He believed in what he was doing, and I believed in what I was doing and there was no between.
"I never had anything against Gene personally. I don't hate anybody in life. Sometimes you hate the position they take, but ..."
Still, DeLamielleure couldn't help but find Upshaw's passing ironic.
DeLamielleure and other NFL alumni advocates such as Mike Ditka, Jerry Kramer and Sam Huff pleaded with Upshaw for years to address myriad concerns, some of which contribute to frequent early deaths among former football players.
"Here's the deal: Everybody's in shock, but football players die younger than everyone," DeLamielleure said. "That's been the complaint. How sad. It's a sad day. It really is. There's something to this. Guys are dying younger. It's really weird. It's a weird feeling.
"The guys who played in the National Football League during our era, we think of dying young all the time. That's why I think when Gene dies you think 'Holy crap. Nobody's immune.' Walter Payton, Reggie White ... All these players passing away from natural causes, I guess, but why so young?
"So many friends are dead. It's not normal."
August, 2, 2008
8/02/08
10:58
AM ET
Posted by ESPN.com's Tim Graham
Joe DeLamielleure is considered a football student of the highest order.
He estimates he has visited the Pro Football Hall of Fame a dozen times before he was inducted in 2003. Conversations with him are sprinkled with obscure trivia questions and name dropping that demonstrates a humbling knowledge.
He also is a vocal advocate for retired players in need of financial assistance, waging war against NFL Players Association executive director Gene Upshaw.
DeLamielleure has passionate opinions and backs them up.
So people ought to listen when the sensational pulling guard for the Buffalo Bills and Cleveland Browns declares Andre Tippett was a better outside linebacker than Lawrence Taylor.
Tippett, who recorded 100 sacks for the New England Patriots, will be inducted into the Pro Football Hall of Fame Saturday.
"I thought he was better all around," DeLamielleure told ESPN.com by phone from Canton. "A lot of guys thought he was better.
"He played the run better than Lawrence Taylor. They never asked Lawrence Taylor to put his hand down on the ground. Lawrence Taylor was just a standup rusher.
"I always said if Tippett would have put his hand down on the ground every down, he probably would have been one of the top rushing defensive ends to ever play."
DeLamielleure was a member of the Electric Company, the gang who blocked for O.J. Simpson. Their coach was Jim Ringo, another Hall of Famer.
DeLamielleure said Ringo, a position coach for four Hall of Fame linemen, shared his belief Tippett was the best.
"Think of how many sacks Tippett had, and he always had a tight end on his side," DeLamielleure said. "He played the strong side. Lawrence Taylor was a weak-side linebacker."
Not surprisingly, DeLamielleure had a couple other names to push for induction. The first was his football role model, former Miami Dolphins guard Bob Kuechenberg, a finalist each of the past five years.
"John Hannah and I both looked at him when we were younger and said 'That's the guy we want to be like,' and we're in the Hall of Fame and he isn't," DeLamielleure said. "Strange."
Another oversight in DeLamielleure's mind is former New York Jets defensive lineman Joe Klecko.
"He made the Pro Bowl as a nose guard, as a defensive tackle and as a defensive end," DeLamielleure said.
"Think about that."
August, 2, 2008
8/02/08
2:29
AM ET
Posted by ESPN.com's Tim Graham
New York Jets fans evidently are realists. They have zero faith their team can pull off a trade for Brett Favre based on what turned up in my mailbag this week.
Nary a Favre question.
So allow me to present your Favre-free AFC East mailbag ...
Justin in Los Angeles writes: Based on what you see at Jets camp is there a guy there that can be a good option, aside from Chad? There are whispers of the 3rd sting guy showing life ... obviously no Favre ... what do you think?
Tim Graham: I'm just getting to Jets camp, but from what I've heard, Brett Ratliff was having a solid camp until a couple days ago, when he started throwing interceptions. But Ratliff is trying to beat out fifth-round pick Erik Ainge for the third slot. That's the extent of that.
The Jets' QB battle will come down to Chad Pennington's experience versus Kellen Clemens' potential -- or a trade.
---
Jehrid in Buffalo writes: With the Bills revamping their defense, do you think the offense will be good enough for a playoff birth this year?
Tim Graham: The most popular question in this week's mailbag dealt with the Bills' chances for the playoffs. So thanks to everyone for sending in their questions. I apologize I didn't answer each one. That would get a tad redundant.
So my answer to Jehrid is that Buffalo's offense absolutely is sufficient. I'm predicting a playoff berth for the Bills this year. Unless there's a distressful injury, the offense should be effective enough. RB Marshawn Lynch is a horse. Another sophomore, QB Trent Edwards, is the unquestioned starter. WR Lee Evans is an overlooked stud. New offensive coordinator Turk Schonert plans to open up the playcalling with more downfield plays, but he'll need to get his TEs more involved.
---
Tom in Buffalo writes: With the Jason Peters situation looking very grim, what does the Bills' offensive line look like at the tackle spot? Also, how much does this hurt the offense as long as Peters comes back before the end of camp?
Tim Graham: This is the X-factor for the Bills' hopes. LT Jason Peters is a veteran and an elite performer at his position. He can afford to miss all of camp if he's staying in shape. Langston Walker will hold down Peters' position for now.
---
Chris in Spencer, Mass., writes: I would love to see Chad Jackson step it up this year, do you think he will? Also, From what I've heard, Jerod Mayo is beasting it up in training camp. How long do you think it will take for him to crack the starting lineup?
Tim Graham: WR Chad Jackson has the ability, but there's so much talent ahead of him, the opportunities will be scarce. I was in Foxborough for a few days and wouldn't describe ILB Jerod Mayo as "beasting it up." He still has a lot to learn for that position, but he does possess all the physical tools.
---
Alan in West Palm Beach, Fla., writes
: Who do you think is the Dolphins top pick for QB? I really want them to stick with either Henne or Beck and move on from picking up tired old men who are a few years away from being eligible for Medicare.
Tim Graham: John Beck has looked miserable through the first week of camp. Chad Henne has been decent, but Josh McCown is the odds-on favorite to start Week 1.