June, 24, 2011
6/24/11
8:35
PM ET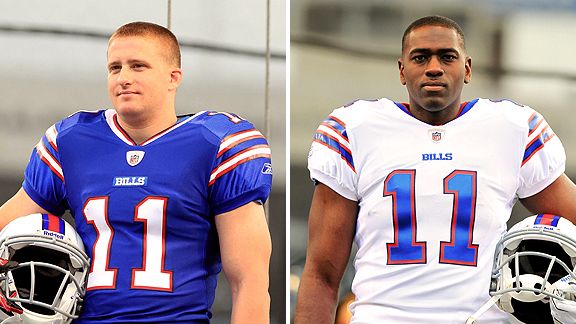 Kevin Hoffman/US PresswireArmy specialist Nick Stone (left) and Marine staff sergeant James McClendon modeled the new home (blue) and away jerseys during an unveiling ceremony.
The
Buffalo Bills
confirmed this week the reason they switched to red helmets in 1984 was
because quarterback Joe Ferguson was color blind
.
To curtail an interception rate that was soaring into the stratosphere, the Bills tried to separate themselves in a division rife with white helmets. Although the
New York Jets
were green at the time, the
New England Patriots
,
Miami Dolphins
and
Indianapolis Colts
all had white helmets.
"I always joke with Joe about that helmet change," Bills equipment manager Dave Hojnowski told BuffaloBills.com writer Chris Brown. "After he had left and gone to play for Detroit I told him, 'Boy, you left just in time because the next modification for the helmets was we were going to push a flashing yellow light on top.' Joe always thought that was really funny."
The Bills had some good memories in those uniforms, which were worn by a few future Pro Football Hall of Famers in four straight Super Bowls. But they have switched back to a uniform similar to those worn by Ferguson before they turned redheads.
In an unveiling ceremony Friday night in Ralph Wilson Stadium, the Bills officially introduced their new uniforms. They accidentally had been
leaked in April through an online trailer for the "Madden NFL 12"
video game.
"We'll definitely look good in them," Bills running back
Fred Jackson
told me a few weeks ago. He'd already seen the new uniforms. "It'll be a good change for us. I haven't met a guy on the team that was real enthused about the uniforms we did have. I can't think of one guy on our team that's not going to like the new ones.
"I'm looking forward to putting them on. Out with the old, in with the new. Let's start some new traditions."
June, 10, 2011
6/10/11
8:41
AM ET
Football Outsiders senior writer Mike Tanier has been charting the top five quarterbacks of every NFL team. In his
latest column, he broke down the AFC East's best
. You should click on the links to read Tanier's reasoning and interesting stats on each selection.
A first-round pick from the famed 1983 draft class appears on every list.

Buffalo Bills
Joe Ferguson
Jack Kemp
Quick take: It's strange to see Flutie on the Bills' all-time list. When I arrived in Western New York 11 years ago, the area was hotly divided over him and
Rob Johnson
. Some fans wanted Flutie to just go away. But I agree with the list and, as Tanier, points out in his piece, this goes to show how few great quarterbacks there've been over the years.

Miami Dolphins
Bob Griese
Don Strock
Earl Morrall
Quick take: The Dolphins have a two Hall of Famers in their history, but you can see how much trouble they've had finding a replacement for Marino when you consider their fourth- and fifth-best quarterbacks are known for being quality backups. Granted, Morrall came off the sideline to help maintain the undefeated 1972 season. But he started 14 times over five seasons with Miami and just 40 percent of his career games.

New England Patriots
Drew Bledsoe
Babe Parilli
Steve Grogan
Tony Eason
Quick take: This is the only AFC East team with an active quarterback on the list. The rundown couldn't be more straightforward to me. Maybe you could flip Grogan and Parilli because of longevity and the neck roll.

New York Jets
(
from a previous Football Outsiders column
)
Joe Namath
Richard Todd
Quick take: Tanier notes that if you wanted to rank Sanchez fourth right now, then he wouldn't argue. Neither would I, although I'd be more comfortable with Sanchez replacing Todd on this list. Tanier also claims if Pennington had avoided one of his lost seasons, he might be the greatest quarterback in Jets history -- from a statistical standpoint.
April, 25, 2011
4/25/11
10:21
PM ET
The
Buffalo Bills
' new uniform design apparently has been revealed.
A "Madden NFL 12" promotional video briefly posted on YouTube showed highlight clips of the game, including shots of Bills receiver
Steve Johnson
, outside linebacker
Chris Kelsay
safety
Donte Whitner
in the new duds.
A league source confirmed the uniforms shown in the clip -- an homage to the ones worn from 1975 through 1983 -- were the real deal.
As of 10:30 p.m. ET, the
video still was available on the EA Sports official site
. Keep your eyes peeled at about the 14-second mark (thanks to Bleacher Report writer Chris Trapasso for the Twitter tip).
For a mental picture of what the uniforms will look like, think the Joe Ferguson-era Bills but with a contemporary take.
The helmets will be white with the blue charging buffalo and gray facemasks. Jerseys will have broad stripes on the shoulders instead of the sleeve bottom. Pants will be blue or white, the opposite of the jersey. Blue pants will have red-between-white piping. White pants will have red-between-blue piping.
Socks will have blue-and-white striped tops, and players will have the option to wear blue or white shoes as opposed to black. Belts are believed to be gray.
It's difficult to judge when trying to picture the new uniforms in your mind and without a vivid photo.
But it's a clean, classic look I think will go over well with the fans.
November, 22, 2010
11/22/10
12:22
PM ET
Nearly 17 years ago, the
Buffalo Bills
pulled off the greatest comeback in NFL history. That's not just my opinion. The
Pro Football Hall of Fame
and
the NFL Network
have declared what transpired in January 1993 as the most epic rally the league has seen.
The Bills beat the Houston Oilers despite trailing by 32 points at halftime.
The stakes weren't nearly as high and the deficit not quite as deep Sunday. But the Bills pulled off a victory almost as astonishing in Paul Brown Stadium.
The
Cincinnati Bengals
led the Bills by 21 points early in the second quarter and 17 points at halftime. Then the Bills morphed into another team in the second half, scoring 35 unanswered points to turn a blowout defeat into a rout.
Some facts and figures pertaining to another epic Bills comeback:
Elias Sports Bureau notes it was the first time in NFL history a team at least seven games under .500 came back from a 21-point deficit to win on the road.
Also from Elias, the 18-point victory was the largest margin in NFL history by a team that trailed by at least 21 points.
It was the third time in franchise history the Bills won after falling behind by 21 points.
The 24 points Buffalo allowed in the second quarter were the third-most in club history. The 21 points Buffalo scored in the fourth quarter were sixth-most.
For the ninth time in Bills history, they had a 300-yard passer (Ryan Fitzpatrick), 100-yard receiver (Steve Johnson) and a 100-yard running back (Fred Jackson).
For only the fifth time, a Bills quarterback has two four-TD games in one season. Jim Kelly did it three times, Joe Ferguson once.
Buffalo's 49 points were their second-most of the past 19 years.
The last seven times the Bills have scored at least 40 points, it has happened on the road.
Strange stat to me: The Bengals haven't beaten the Bills since 1988.
Another strange stat: Even with all the great receivers Buffalo has had (Andre Reed, James Lofton, Jerry Butler, Eric Moulds), Johnson's three touchdown receptions put him only two behind the club record for most in a season. Bill Brooks had 11 in 1995.
"There's no quit in this team," Fitzpatrick said. "You really saw that in the second half. When you get that first win, then you start learning how to win, and everything starts falling into place. What a great team effort."
September, 13, 2009
9/13/09
6:05
PM ET

Posted by ESPN.com's Tim Graham
The
New York Jets
have unearthed some info that shows just how rare it is for a rookie quarterback to win a season opener on the road.
Mark Sanchez
became only the fourth since the NFL-AFL merger to accomplish the feat in Sunday's 24-7 victory over the
Houston Texans
in Reliant Stadium.
The first three:
February, 3, 2009
2/03/09
12:02
PM ET
Posted by ESPN.com's Tim Graham
The Buffalo Bills are on a nice run when it comes to accumulating Pro Football Hall of Famers in recent years.
Let's chisel out a spot for the best of the best.

ESPN has mounted an ambitious campaign to determine the sports Mount Rushmore for all 50 states, Washington, D.C., and Puerto Rico.
After 10,000 submissions from ESPN.com readers, each Rushmore has been determined. The list will be narrowed to the top five before the quintessential quartet is chosen. You can see the complete list and vote here.
To play off that theme, I'm asking visitors to the AFC East blog to name their favorite team's Mount Rushmore.
We're looking for the four legends you believe best symbolize the Bills.
My choices would be Jim Kelly, Bruce Smith, Marv Levy and O.J. Simpson. I know. Insert your carving joke here.
I might have added Steve Tasker or Andre Reed instead of The Juice, but that would mean the Bills Mount Rushmore would all come from the same team, and that's kind of sad. There should be different eras to honor.
I also thought about going with an all-quarterback foursome of Kelly, Joe Ferguson, Jack Kemp and ... well, that's where I ran into trouble. Doug Flutie?
No matter. I want to know what you think. Leave your suggestions in the comments section below or drop a note into my AFC East mailbag.
I'll tabulate the results and deliver your Bills Mount Rushmore on Feb. 16, the scheduled date when ESPN.com will announce the top five finalists in the big poll.